This One Pan Lemony Orecchiette with Sausage and Broccolini is a simple and quick pasta dish that also happens to be DELICIOUS. Orecchiette pasta, turkey sausage, blistered tomatoes and tender broccolini in a light and brothy, lemon parmesan sauce. Serves 4 to 6 in under an hour.
Truth be told, I could eat this whole pan.
It's a not brainer that sausage and pasta will make anything incredible, but my favorite thing about this dish is how the fresh tomatoes mingle with the garlic, lemon and parmesan. It ends up being apart of the sauce, which as you can imagine, is absolutely delicious. The best way for me to describe it is that it gives the sauce a subtle wine-esqe flavor. Yet there's no wine in this recipe. Unless you count what's in my glass (ha!).
I prefer to make my own homemade low-fat turkey sausage to cut out some fat, however you can totally use any sausage you like. Not on a diet, therefore not counting calories? Use traditional italian pork sausage. Want to use store-bought turkey sausage? Go for it! It's all up to you.
Whatever you do, make this recipe. It's a refreshingly light pasta dish that is satisfying and full of flavor.
Did I mention you make the whole thing in one pan?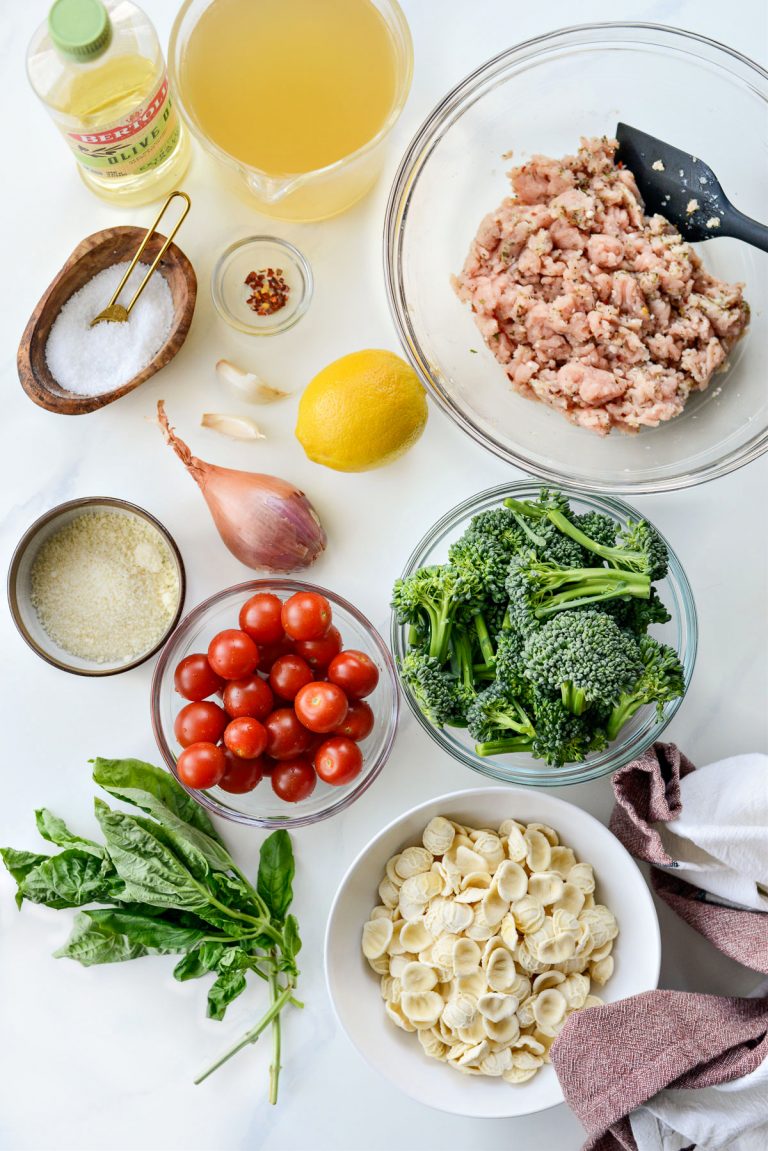 To Make This One Pan Lemony Orecchiette with Sausage and Broccolini You Will Need:
olive oil
turkey sausage – homemade or store bought
olive oil spray
shallot
kosher salt
cherry tomatoes
garlic
red pepper flakes
low-sodium chicken broth
orecchiette pasta
broccolini
lemon (zest and juice)
black pepper
parmesan cheese
fresh basil
Add 2 teaspoon olive oil to a deep sided skillet. Heat over medium-high and once hot, add in 1 pound turkey sausage.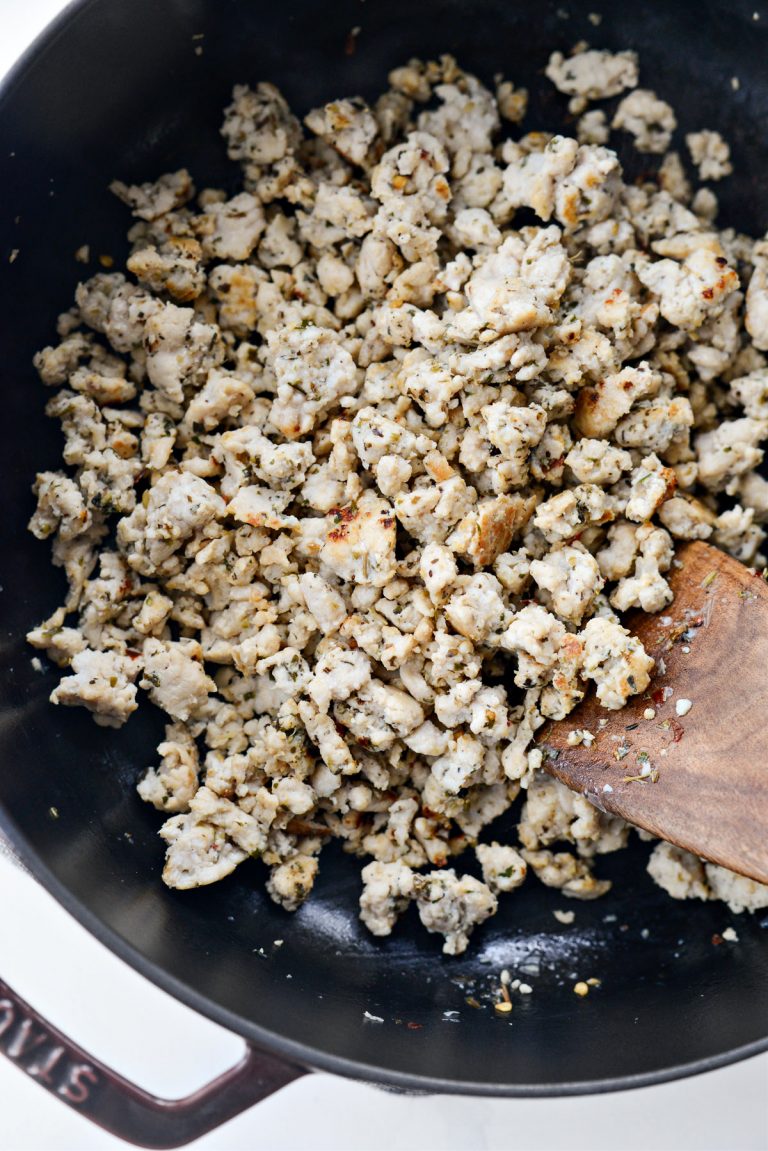 Cook until browned and no longer pink.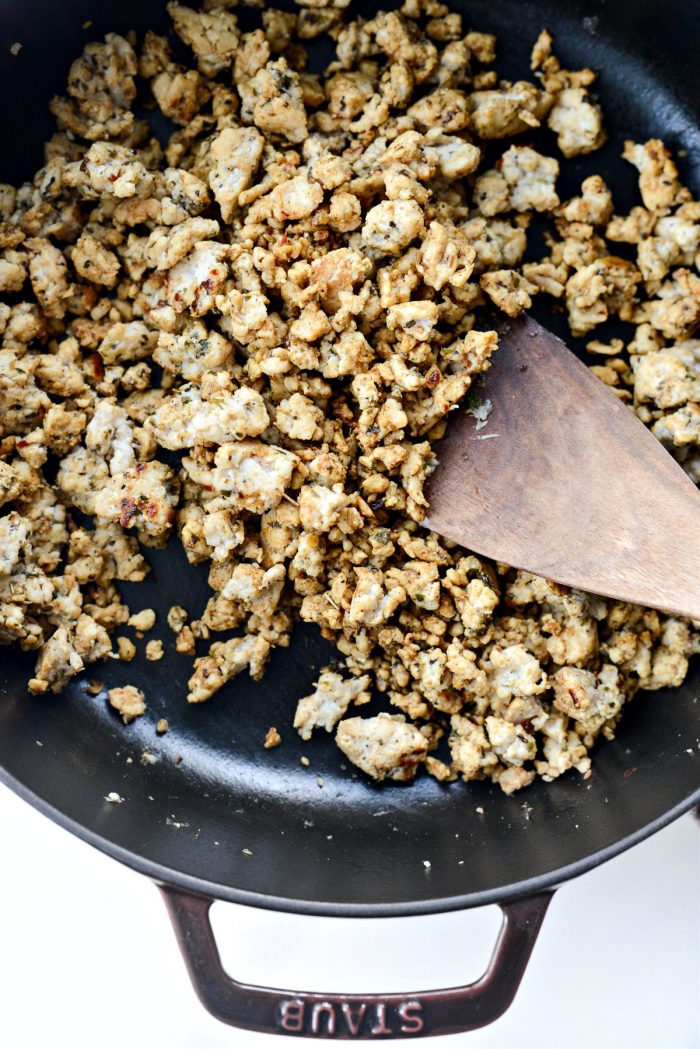 Add a few splashes of water and scrape the bottom of the pan.
Transfer the browned, fully cooked turkey sausage to a bowl.
Spray the same pan with olive oil and add in 1 finely chopped shallot with a pinch of kosher salt. If using a fattier sausage, you may not need to spray the skillet and just use the fat left in the pan.
Once the shallots are tender, add in 1 pint halved cherry tomatoes, 2 large cloves of minced garlic and a generous pinch of red pepper flakes.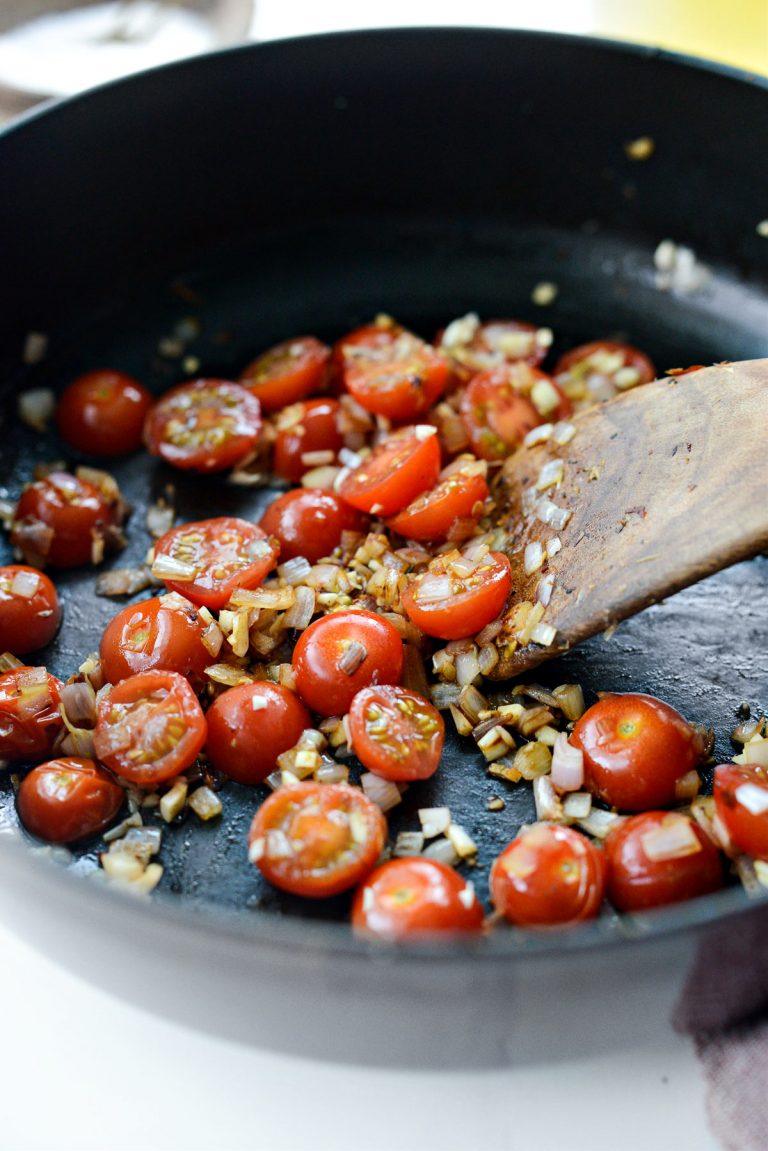 Stir and cook 1 to 2 minutes. The garlic should be fragrant and the tomatoes starting to blister.
Transfer the tomato shallot mixture to the bowl with the sausage.
Pour 1 quart (4 cups) low-sodium chicken broth into the pan, increase the heat to high and bring to a boil.
Next add in 8 ounces dry orecchiette. Stir often, cooking for 8 minutes.
To the pasta and broth, add in 6 to 8 ounces chopped broccolini.
Stir, occasionally for 4 to 6 minutes or until the fork tender. There may be a little broth left in the pan but that's quite alright.
It will become the sauce to this pasta dish!
To the broccolini and pasta, add the sausage, tomatoes, shallots and garlic, 1 teaspoon lemon zest and juice from 1/2 to 1 full lemon – just depends on how lemony you like it.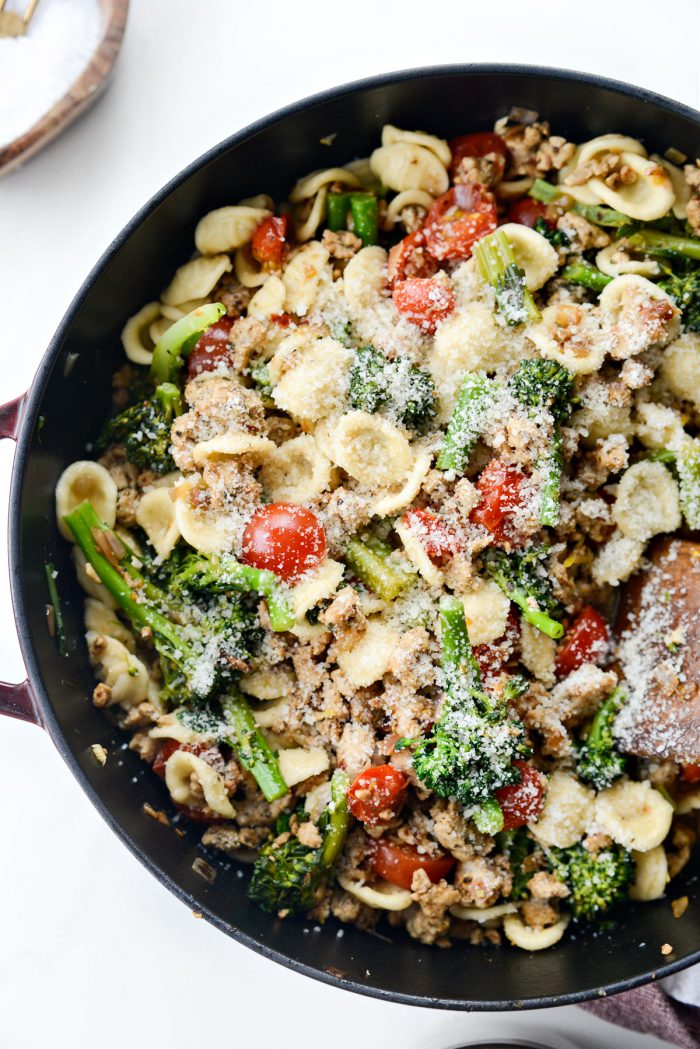 Stir in 1/4 cup parmesan and tear 1/3 cup (loosely packed) basil. Taste before seasoning with 1/2 teaspoon kosher salt and lots of freshly ground black pepper, or to your preference.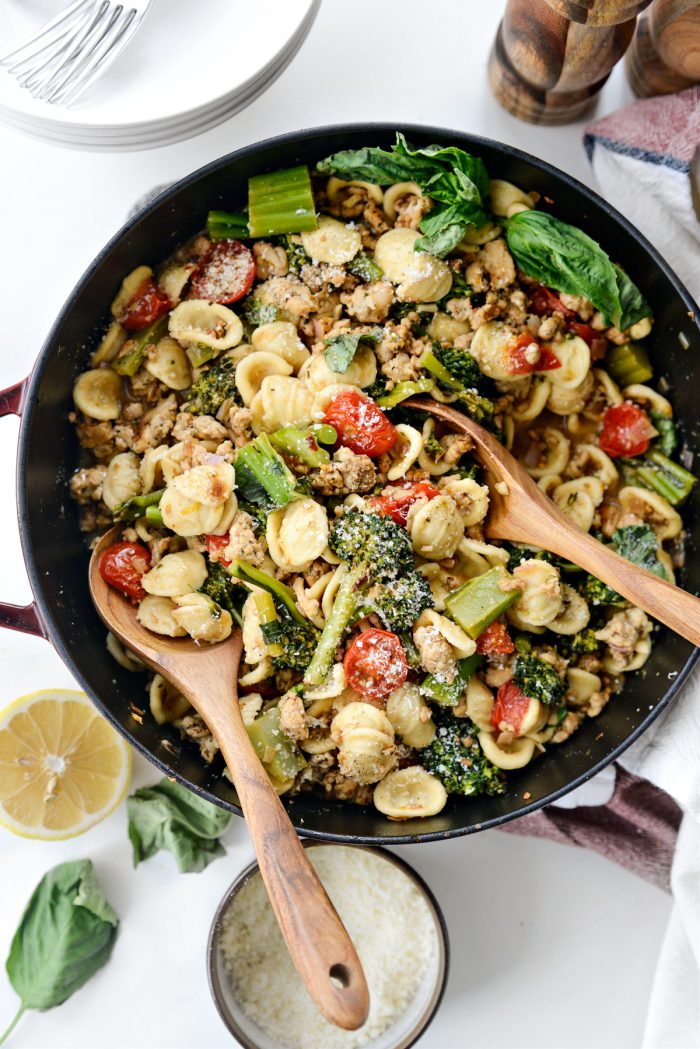 I serve this with a glass of Chardonnay and extra parmesan.
Craving a healthy and yet satisfying dinner? This one skillet pasta is your new BFF.
Enjoy! And if you give this One Pan Lemony Orecchiette with Sausage and Broccolini recipe a try, let me know! Snap a photo and tag me on twitter or instagram!
This post may contain affiliate links.
Buy the Cookbook: Simply Scratch : 120 Wholesome Homemade Recipes Made Easy Now available on Amazon »
THANK YOU in advance for your support!