In My Grandma's Greek Dressing Recipe you'll find simple ingredients like fresh garlic and lemon juice, oregano and olive oil. Seasoned, simply with kosher salt and freshly ground black pepper, for the absolute BEST Greek salad dressing you'll ever taste.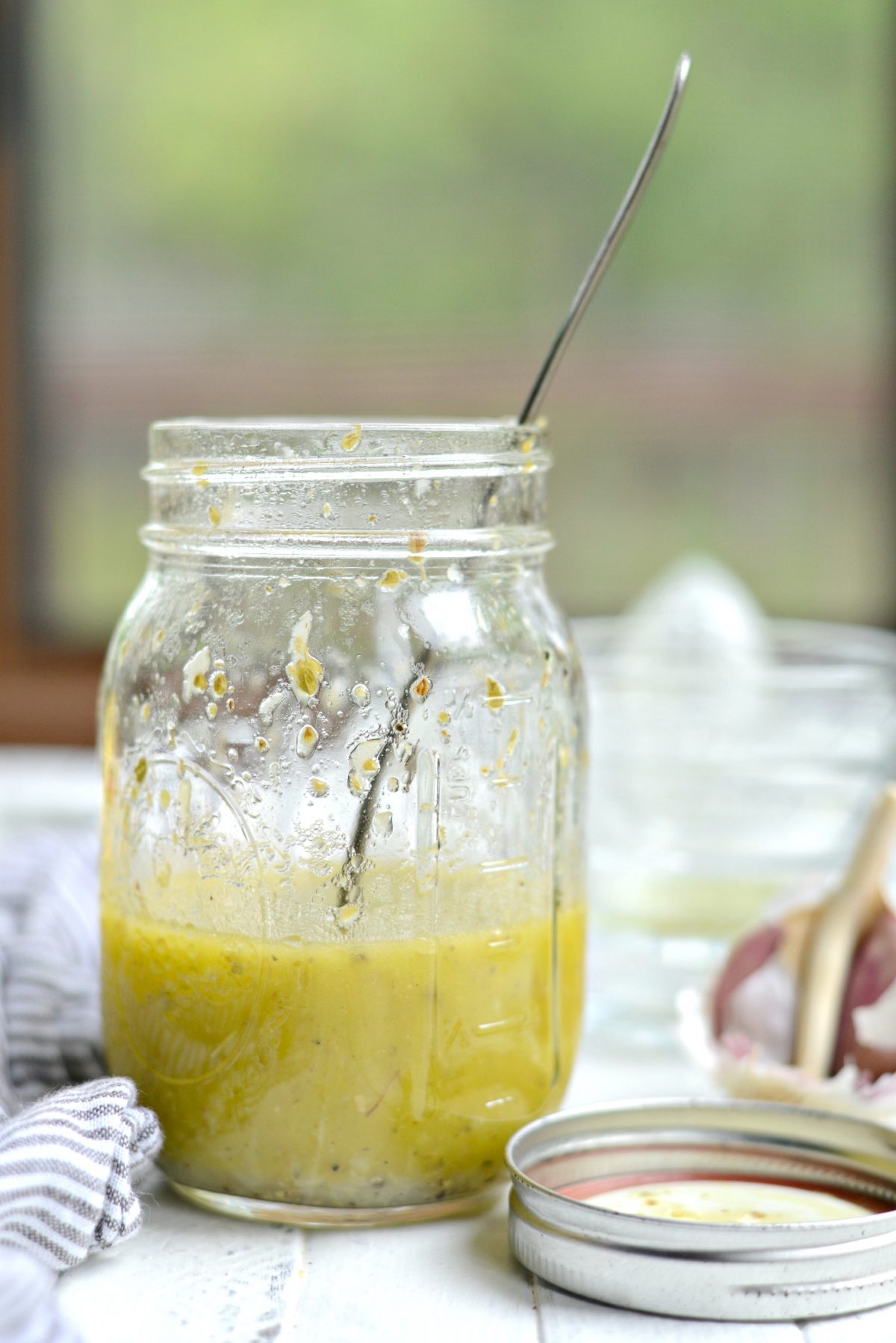 This is by far my most popular salad dressing on Simply Scratch. So popular I knew I had to include in my cookbook. I think people love it because it tastes real and authentic and all that's required are just a few simple pantry ingredients, a jar and of course, a yummy big fat Greek salad. To make my grandma's Greek salad dressing is so incredibly easy, just add everything into a jar, secure the lid and shake! The end result? Amazing. I could literally drink this stuff from the bottle. Just kidding, that would leave a horrible oil-stache which would be so not attractive.
This Greek salad dressing is can also be a marinade for chicken. Toss chicken breasts or thighs into a resealable bag or Tupperware container, pour and toss. Marinade for a 30 minutes to 1 hour and grill! You can see it done here in my Greek Chicken Pita recipe and it was simply delicious. This is as straightforward as it gets and I think you'll love it just as much as I do!
Let's roll.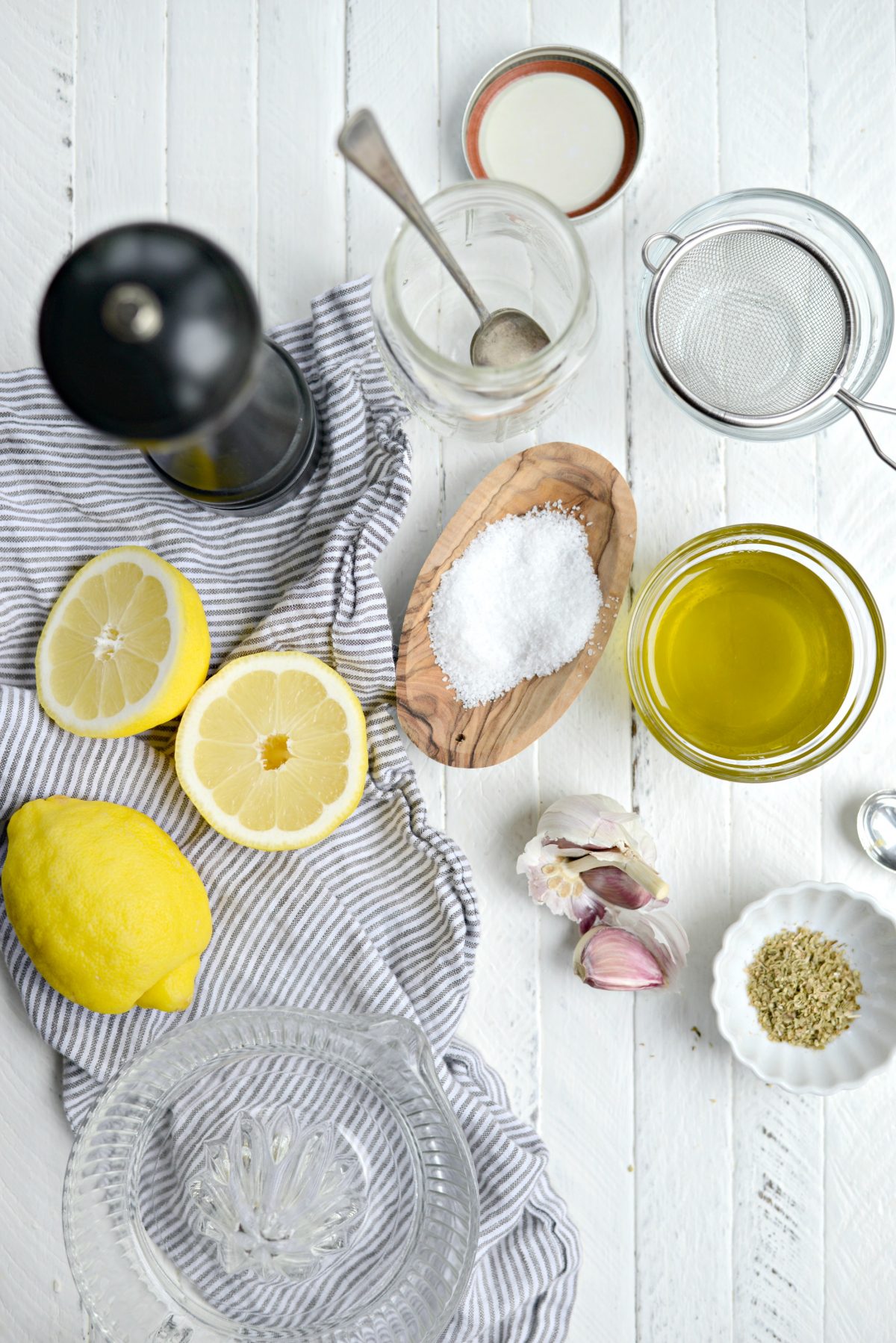 To Make This Greek Dressing Recipe You Will Need:
olive oil
lemon
garlic
dried oregano
kosher salt
ground black pepper.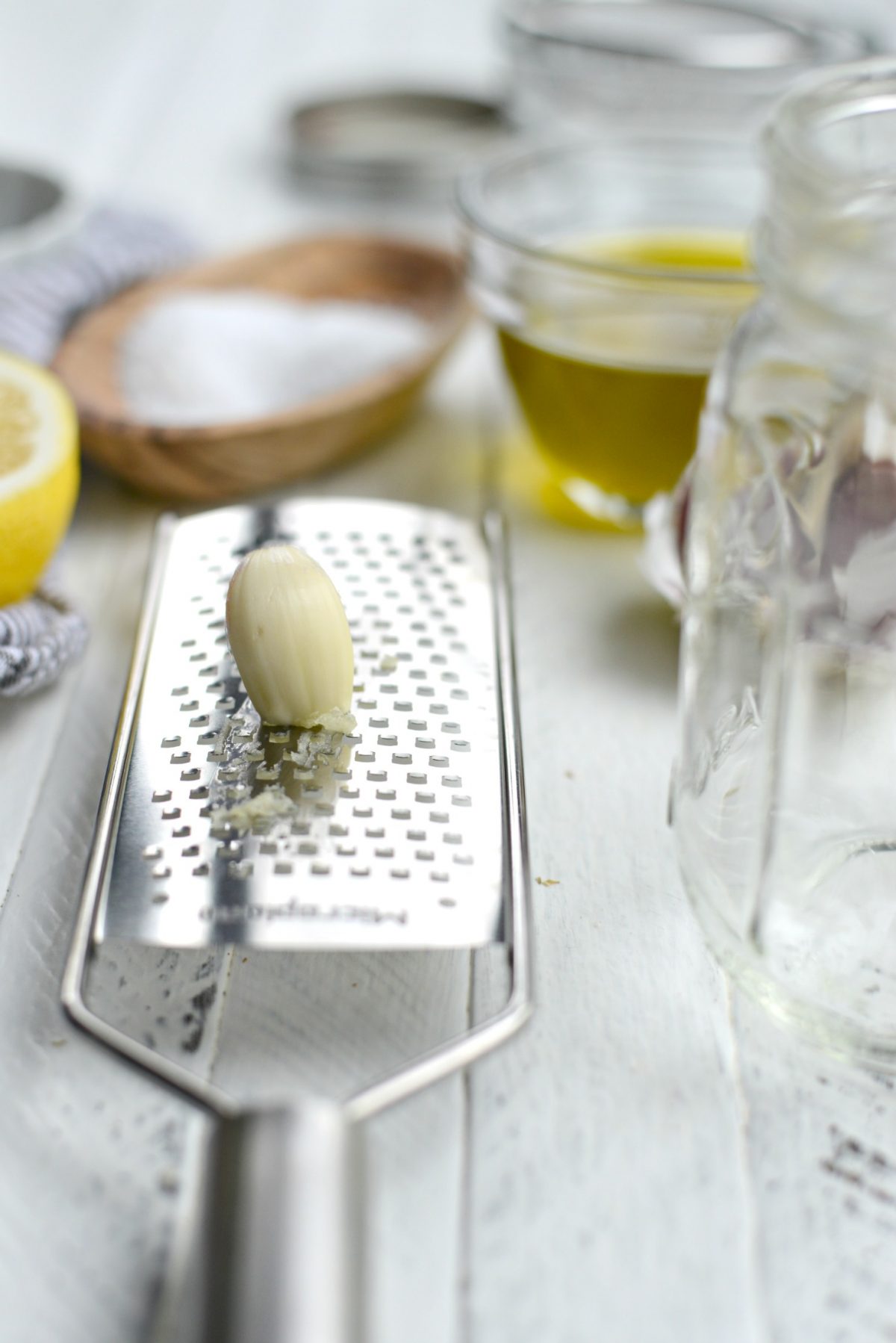 First grate one large garlic clove directly into a glass jar. If you don't have a microplane, then finely mincing or squeezing the clove in a garlic press will do the trick just fine.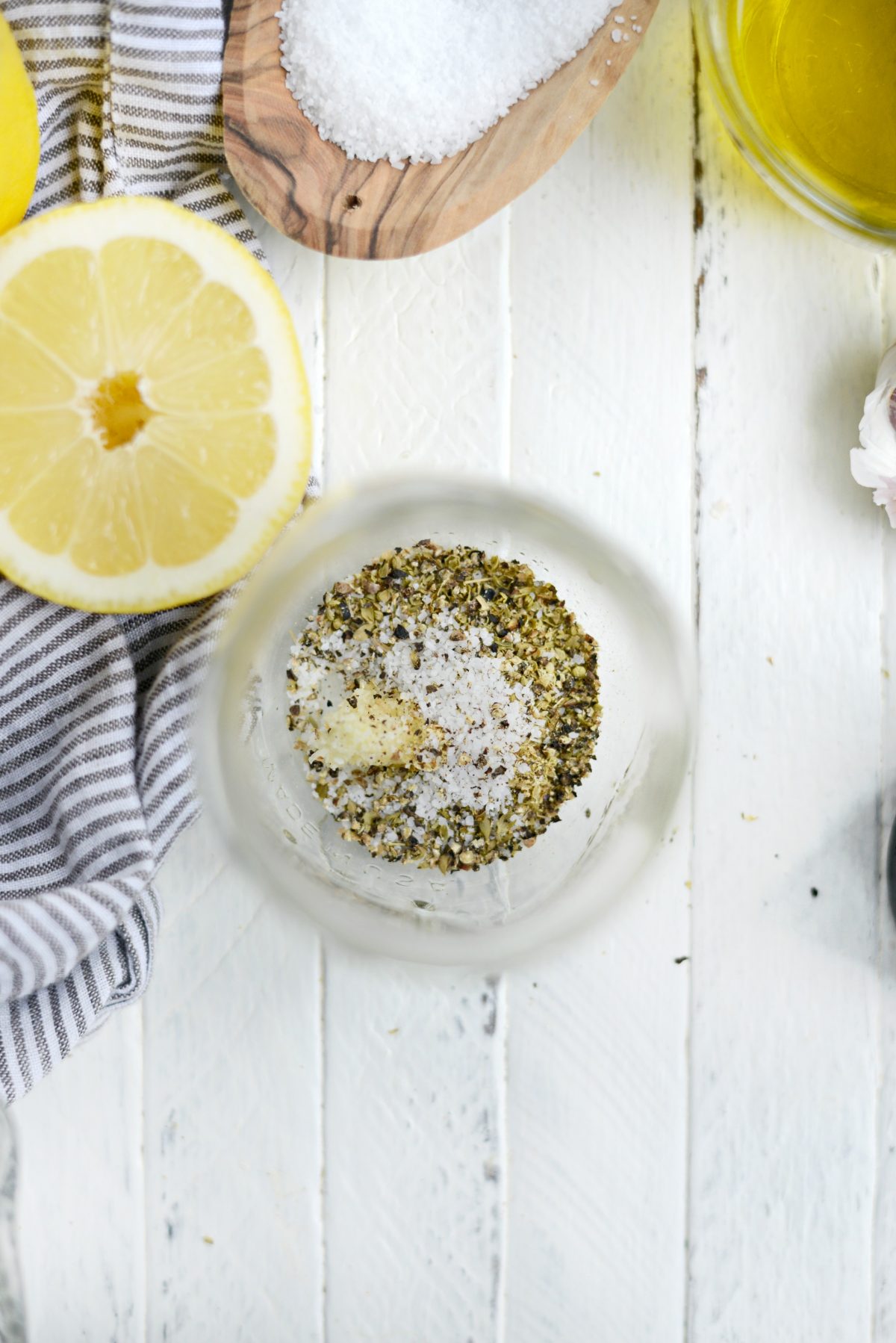 Measure and add in a teaspoon of the dried oregano (I crumble this in the palm of my hand before adding), a 1/2 teaspoon of kosher salt and a 1/4 teaspoon of ground black pepper.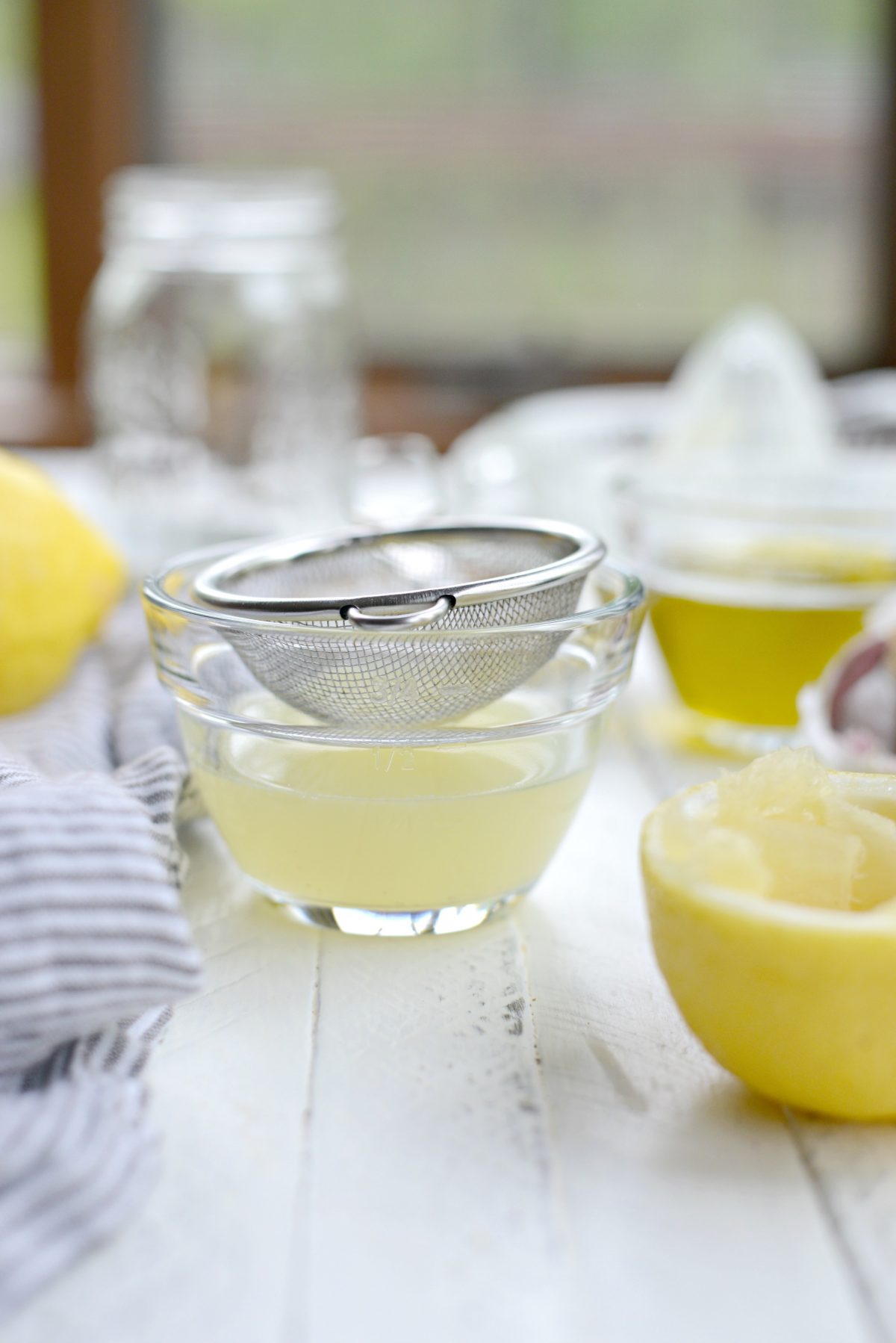 Cut the lemon in half and squeeze out all of the juice. You will need 1/4 cup of fresh lemon juice, which it typically one whole large lemon. Strain the juice through a small mesh strainer to catch and seeds and pulp.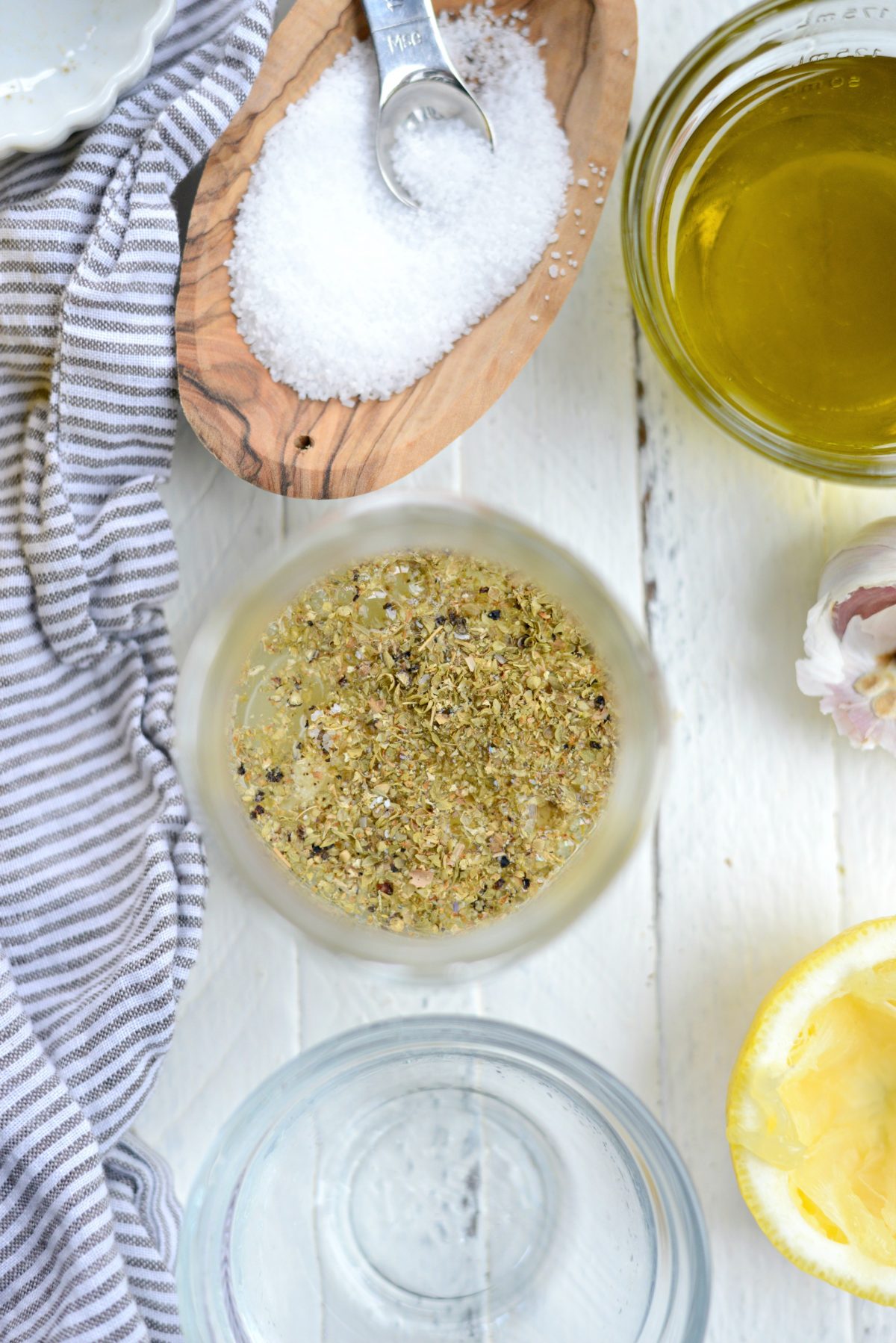 Next, pour the lemon juice into the jar with the garlic, oregano, salt and pepper.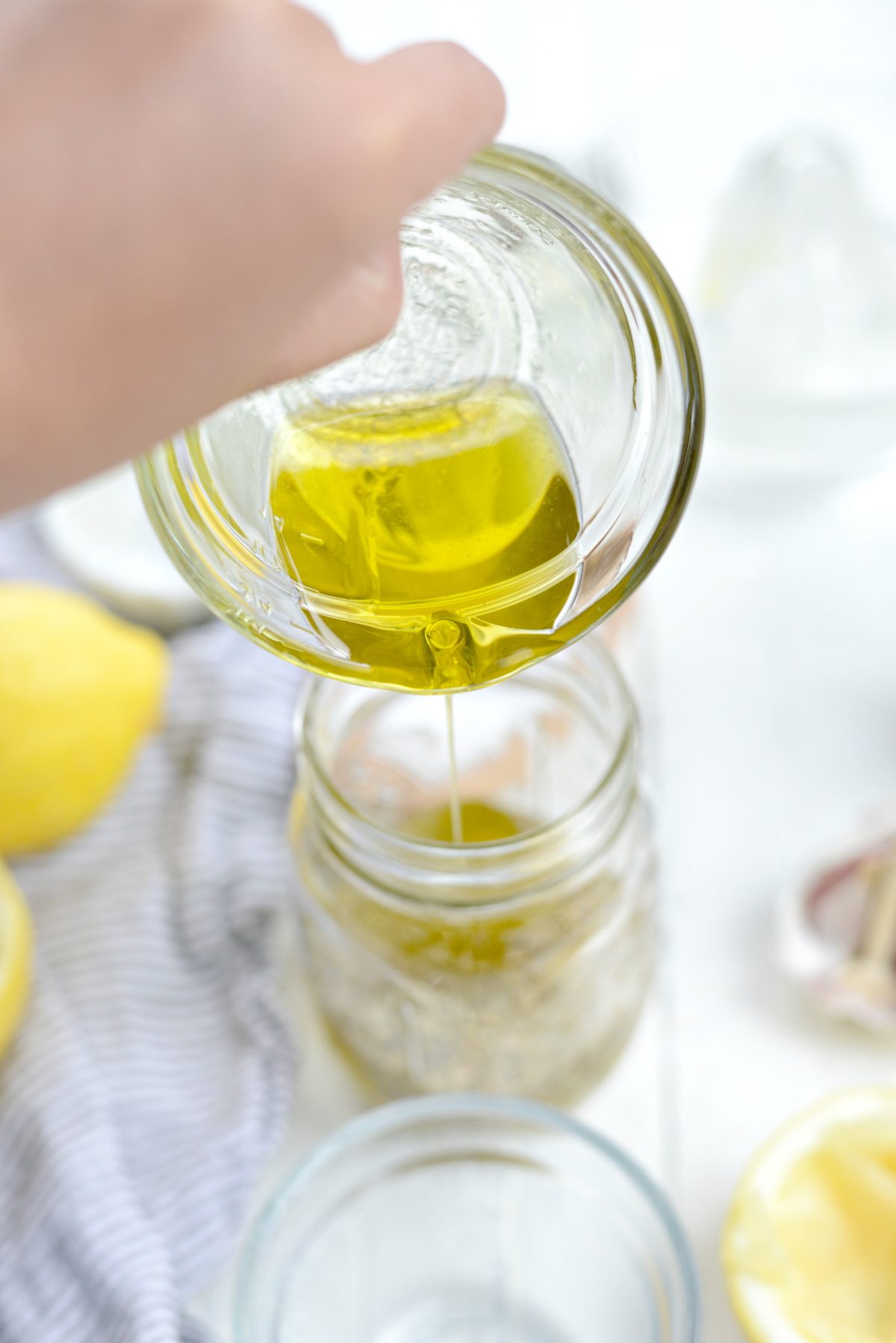 Then measure and pour in a 1/2 cup of good quality olive oil.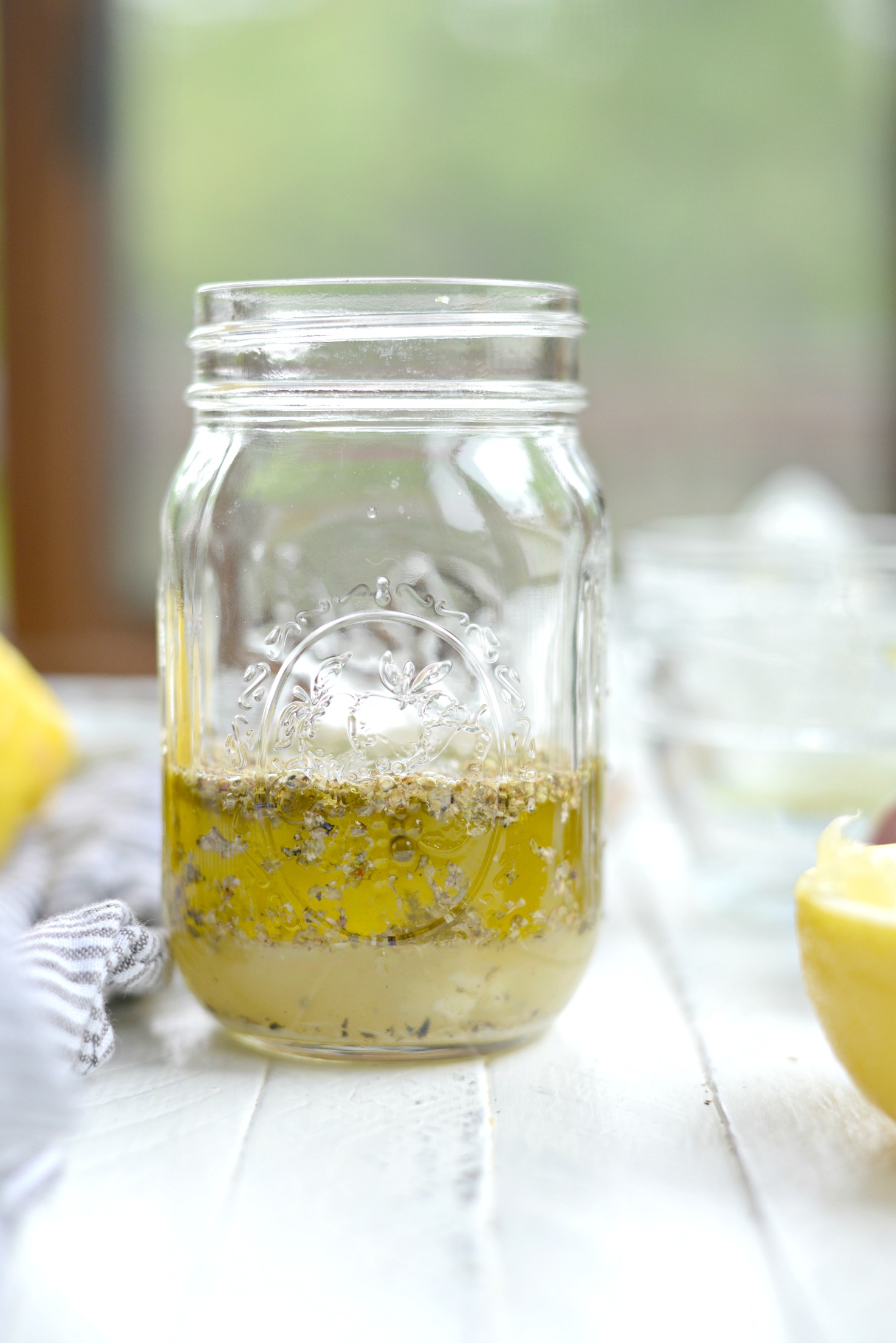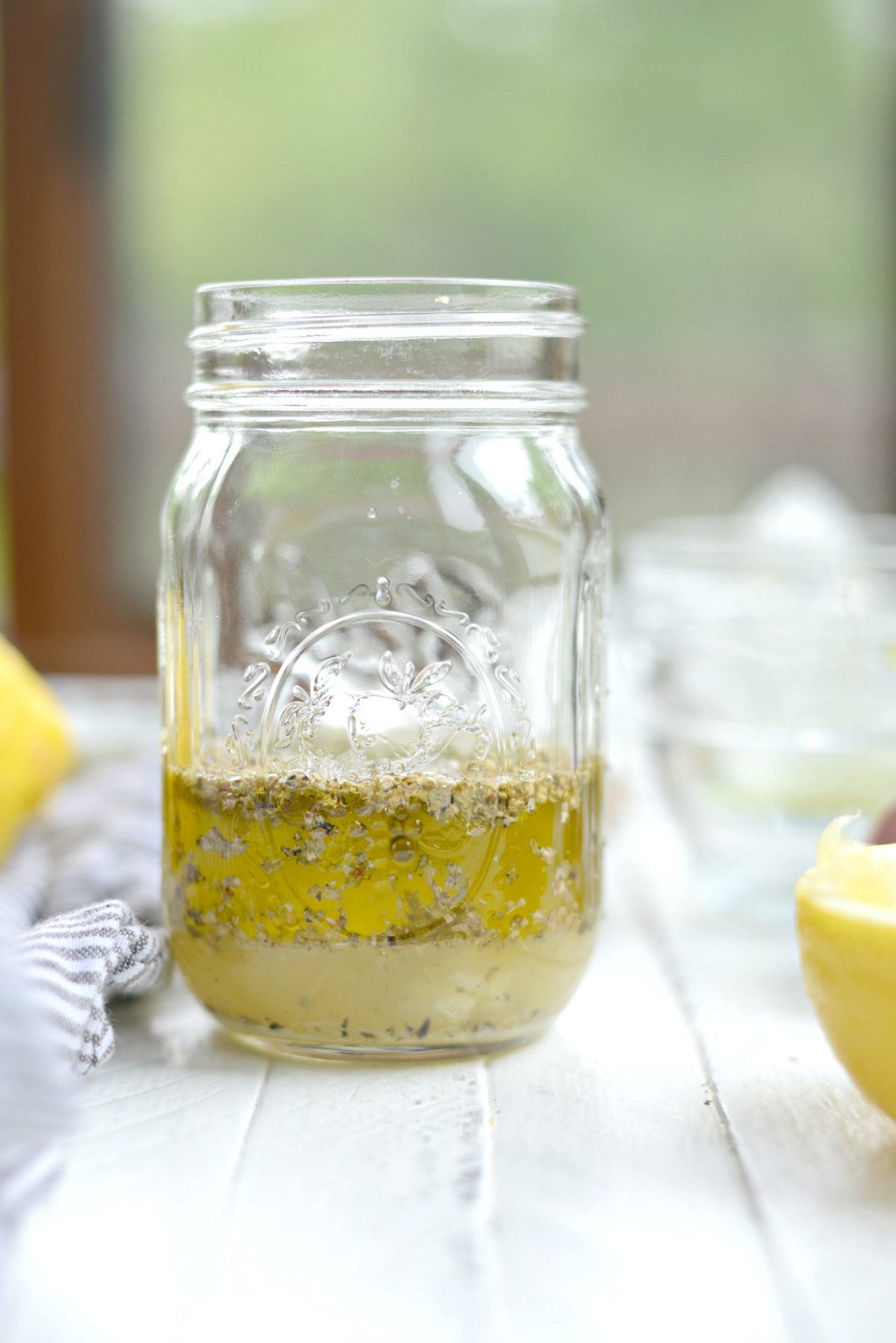 Now if this wasn't already so boringly easy, screw on the lid…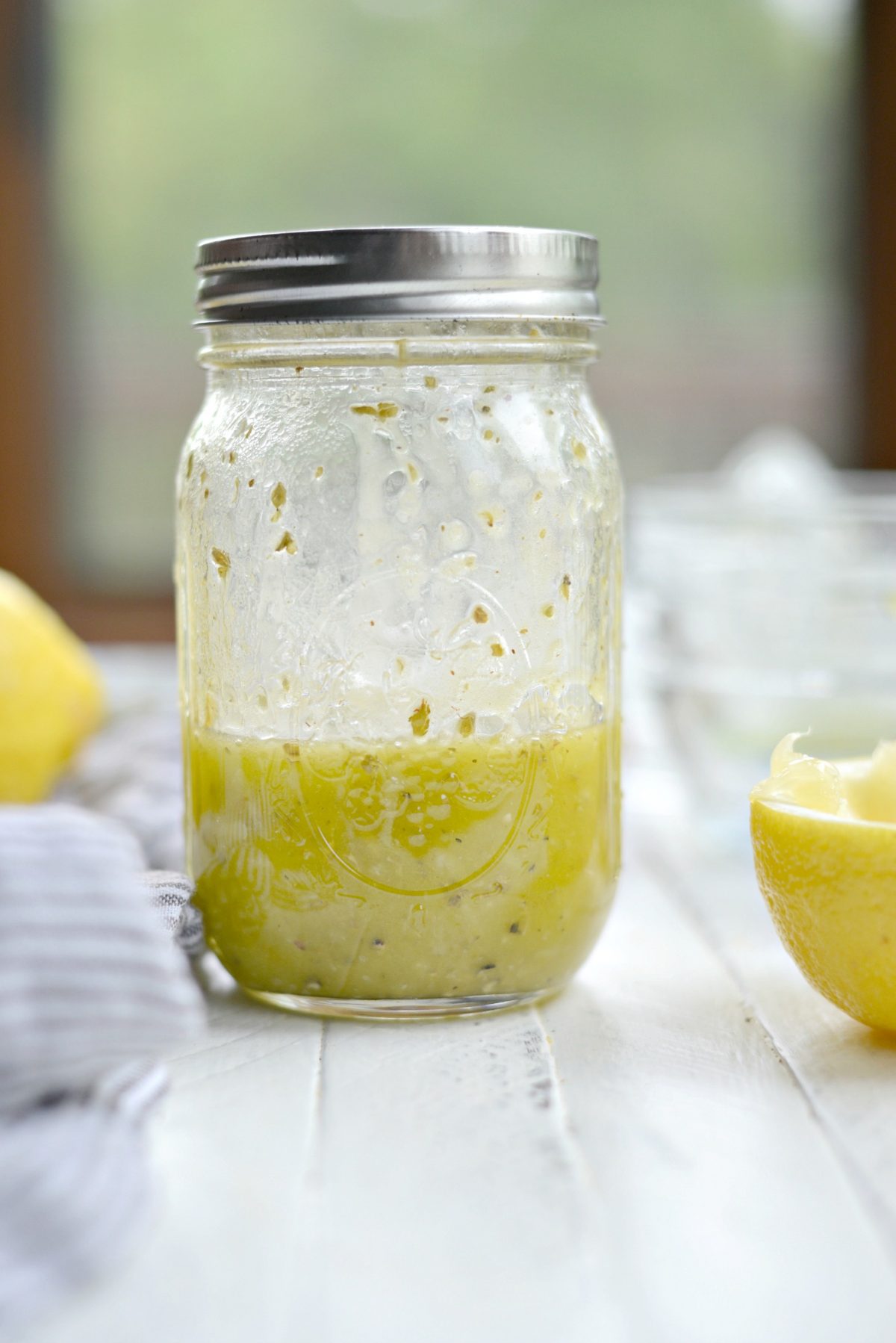 …and shake it good.
That's it! I know, a whole step-by-step post on how to make the best Greek dressing.
However, this Greek dressing recipe is far from boring. Now all you need now is a nice big fat Greek salad filled with chopped fresh lettuce, crumbled feta, juicy tomatoes, thinly sliced red onion, salty kalamata olives and pickled beets and then serve with as much or as little of the Greek dressing as you like.
Here's my go-to Greek salad recipe. But if you're craving a creamy Greek dressing, I took My Grandma's Greek Salad Dressing and swapped in fresh herbs and made it luscious with a little mayo and Greek yogurt.
Enjoy! And if you give this Greek Salad Dressing recipe a try, let me know! Snap a photo and tag me on twitter or instagram!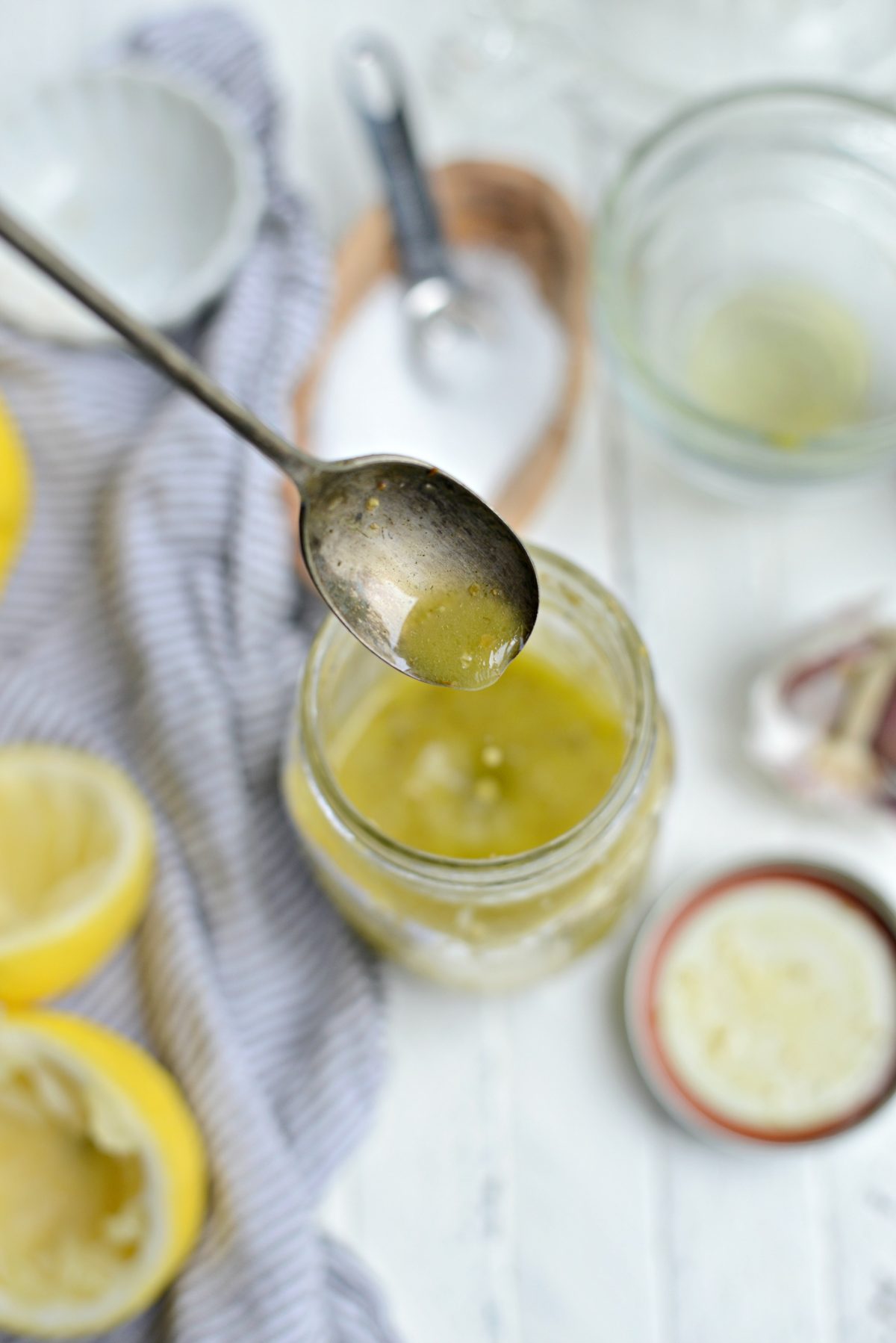 Yield: 6 servings
My Grandma's Greek Dressing Recipe
Only the easiest and absolute best Greek dressing recipe!
Ingredients
1 clove garlic, grated or squeezed through a garlic press
1 teaspoon dried oregano, rubbed in palm
1/2 teaspoon kosher salt
1/4 teaspoon freshly ground black pepper
1/4 cup freshly squeezed lemon juice, about 1 lemon, strained of pulp and seeds
1/2 cup good quality olive oil
Instructions
In a glass jar or container with a tight fitting lid, grate in a clove of garlic. Then measure and add in the oregano, salt and black pepper.

Pour in the (strained) freshly squeezed lemon juice and olive oil.

Shake. Pour. Swoon.

Store salad dressing in the fridge. Pull the dressing out 10-15 minutes prior to using to warm it up if the oil solidifies or simply run the jar under warm tap water.
Serving: 2tablespoons, Calories: 163kcal, Carbohydrates: 1g, Protein: 1g, Fat: 18g, Saturated Fat: 2g, Polyunsaturated Fat: 2g, Monounsaturated Fat: 13g, Sodium: 194mg, Potassium: 18mg, Fiber: 1g, Sugar: 1g, Vitamin A: 7IU, Vitamin C: 4mg, Calcium: 8mg, Iron: 1mg
This post may contain affiliate links.
Buy the Cookbook: Simply Scratch : 120 Wholesome Homemade Recipes Made Easy Now available on Amazon »
THANK YOU in advance for your support!