This lemon basil pesto pasta is SO good! A quick lemon basil pesto is tossed with hot pasta for a delicious and quick meatless meal.
Lemon basil pesto pasta.
Isn't that fun to say!? It's almost as fun as going to jury duty during your 9 day vacation. Yeah NOT! Jury duty was today, well today as in yesterday. But something happened at jury duty that I didn't expect, the "criminals" settled their cases or took a plea bargain or whatever it is they do, and I literally spent one hour and a half in that large, sterile, grey room that I swear was being pumped with hot air that was only adding to my anxiety-sweating problem.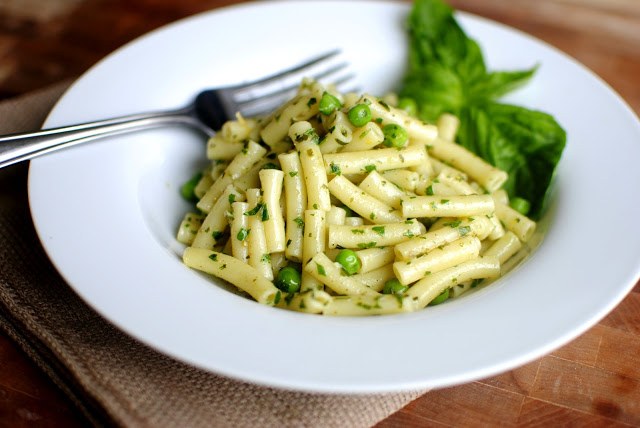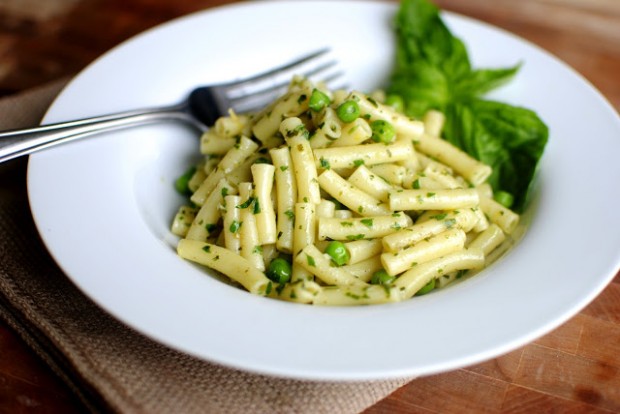 And I can say without a single (or beyond reasonable, ha!) doubt that getting up at 6am just isn't for me. I mean I can do it… but there is just something wrong with getting out of bed when it's still dark outside. But then again… maybe if I went to bed a decent time I'd have a different opinion of the matter. For me I'm all about weekends, room darkening curtains and the fact my girls can pour their own Cheerios. Because I live for sleeping-in and by sleeping in I mean 9am.
Does that mean I'm old?
Speaking of criminal, wanna see a behind the scenes look at my kitchen from the aftermath of this recipe?? You should see the other side… way worse. If you can believe it. That's where the pots, pans and the morning's dishes are. I'm saving your eyes from that mess, that and I'm too ashamed.
To Make This Lemon Basil Pesto Pasta You Will Need:
dry short pasta
parsley
basil
capers
anchovy fillets
lemon zest and juice
brown mustard
garlic
olive oil
frozen petite peas
kosher salt
freshly ground black pepper
Fill up a large pot with water. Glad I snapped a shot of that for ya aren't you? Like you couldn't imagine how to fill a pot of water. Ha!…and sorry.
I like to add a palmful of it to my boiling water to help season the pasta. Do it once and taste your pasta. I promise you, it really flavors the normally bland carbohydrate.
Drop in 1 pound of any short pasta. I'm using mini ziti, but any small pasta should do and follow the package instructions.
Make the pesto:
Then rinse 1 bunch basil and parsley.
And then give it a rough chop.
I then opened up the can of anchovies, measured and drained 2 to 3 tablespoons of capers (I honestly lost count), zested a lemon and smashed 1 clove of garlic.
Then, in a food processor, I'm using a mini, add the parsley, basil and garlic.
Next, add in half of the zest, the capers and 2 anchovy fillets.
Then add in 1 teaspoon of brown mustard.
Blend until it's creamy.
Then, with three minutes left on the pasta, drop in the peas.
Once the pasta is cooked, pour it into a colander to drain it.
Then toss the peas and cooked pasta into a bowl and add in the lemon & basil pesto.
Next, add in the remaining zest and squeeze in the juice of half a lemon.
Then give it all a stir.
Finally, taste the pesto-pasta and season to taste.
Ooops! It happens to the best of us.
Serve this lemon basil pesto pasta immediately.
Enjoy! And if you give this lemon basil pesto pasta recipe a try, let me know! Snap a photo and tag me on twitter or instagram!

Yield: 8 servings
Lemon Basil Pesto Pasta
This lemon basil pesto pasta is SO good! A quick lemon basil pesto is tossed with hot pasta for a delicious and quick meal.
Ingredients
1 pound short pasta
1 bunch basil, about a cup
1 small bunch parsley, roughly chopped
2 to 3 tablespoon capers, drained
2 anchovy fillets
1 lemon, zest
1 teaspoon brown mustard
1 clove garlic, smashed and peeled
1/2 cup olive oil
1½ petite peas
kosher salt, to taste
1/4 teaspoon freshly ground black pepper, or to taste
Instructions
Prepare the pasta according to the directions on the package. In the last three minutes of cooking, add the frozen peas, then drain.

But in the meantime prepare your pesto.

Wash the herbs and roughly chop the parsley. Zest the entire lemon and drain the capers. In a mini processor; add in the herbs, garlic, capers, half of the zest, mustard and anchovy fillets. Return the lid, turn it on and slowly add the oil.

Add the drained pasta and peas to a large bowl. Add the pesto, the remaining lemon zest, then squeeze a half of the lemon over top and toss.

Check for salt and season according to your taste.
Serving: 1g, Calories: 184kcal, Carbohydrates: 12g, Protein: 4g, Fat: 14g, Saturated Fat: 2g, Polyunsaturated Fat: 12g, Cholesterol: 1mg, Sodium: 200mg, Fiber: 3g, Sugar: 3g
This post may contain affiliate links.
Buy the Cookbook: Simply Scratch : 120 Wholesome Homemade Recipes Made Easy Now available on Amazon »
THANK YOU in advance for your support!