Honey lime margaritas are the perfect cocktail for celebrating! Tequila and lime juice sweetened with honey and served over ice.
And what's better than a few cocktails at 4 in the afternoon?
Absolutely nothing. And that's exactly what I did this past Tuesday. Totally random… total fun. It's 5 o'clock somewhere, right?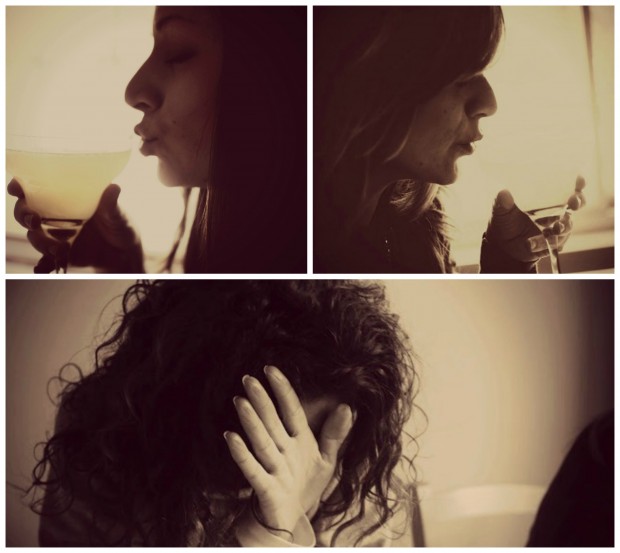 This time last year my mom got two of my sisters and I a little tipsy from a few-too-many of these here honey lime margaritas. That night my oldest sister earned the nickname "Tequila Kelly" and I learned that I can cook and drink at the same time.
After that post went live I was asked by a few of you for the recipe for the delicious margs. Well since Cinco de Mayo is only a few weeks away, I figured now was a good time to share it.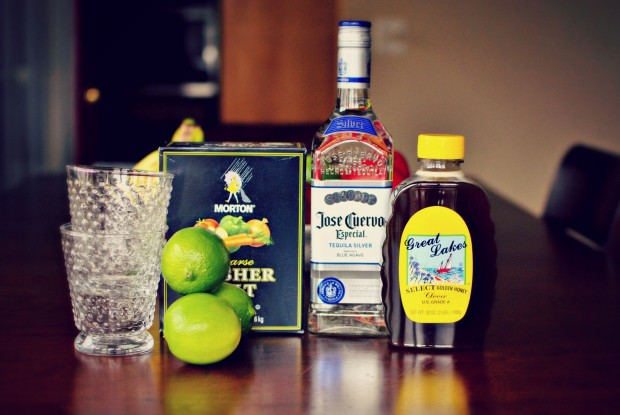 As I ever so slowly build the adult cocktails section of this blog, I present to you the second adult bevvy! It also was the first time I ever bought tequila. How is that possible, I have no idea. I even bought a cocktail shaker. Never in my life did I feel so grown up.
So there I was sippin' on my margarita feeling the glow of the tequila at 4:30 in the afternoon. It was glorious.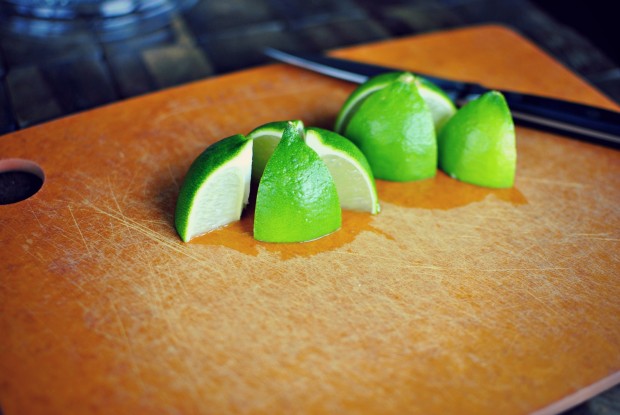 Here's how to make them! Start by cutting a lime into wedges, for the rim and extra limes for garnish.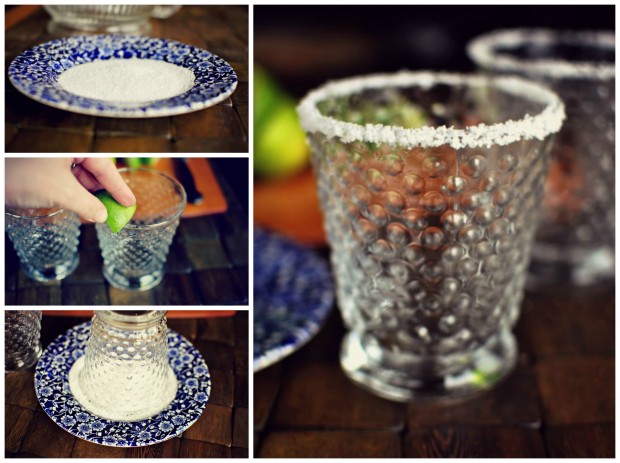 Rub one of those lime wedges along the rim of the glass(es). Then dip the moistened rim of the glass into a plate of kosher salt and set aside.
I have to say, my favorite part about drinking margaritas… is the salty rim. Period. That's why I like to dip the whole rim in salt. If you're not so much of a salt fan then just dip half the glass or in none at all.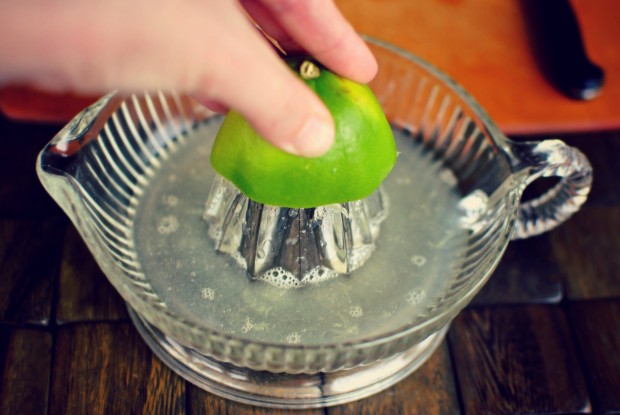 This recipe makes two glasses –or one giant one if-you-know-what-I-mean– but this recipe can easily be doubled… tripled even. So to start you'll need to juice a few large limes to get four tablespoons of lime juice. I used my vintage juicer and then strained the juice through a mesh strainer to catch the pulp. Who likes pulp in their margaritas? NOBODY.
So that's roughly 2 big, fat, juicy limes. If your glasses are larger you'll need more lime juice and honey.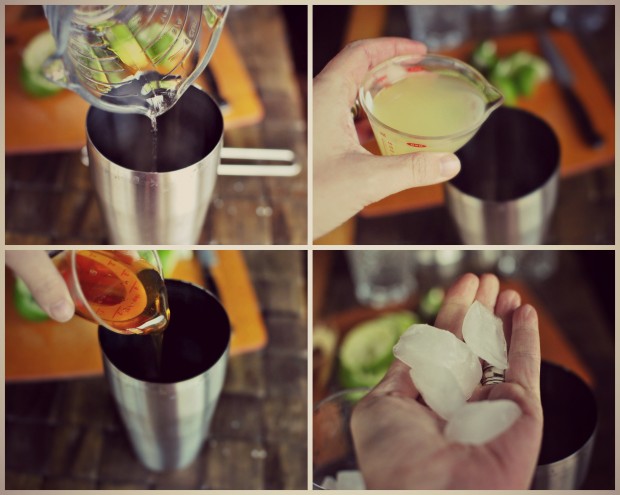 The ratio for two margs is this: 1/2 cup tequila silver (aka blanco) and 4 tablespoons freshly squeezed lime juice, 2-3 tablespoons honey and a couple handfuls of ice. All of those go directly into one of those cocktail shaker thingies.
When my mom made these, she used agave (which you can too!). But I was curious about trying these with honey. I'm a known honey-subber in a lot of my recipes here on SS, so why not make margaritas with it? Could it be done… would they be good? Well yes… yes it can AND they so are!
Divide more ice among some margarita glasses, or any small glass you got. Shake the heck out of the honey lime mixture until the outside of the shaker get's a good layer of condensation on it. Make sure you REALLY shake it good so the honey mixes into the drink.
Pour, sip and repeat.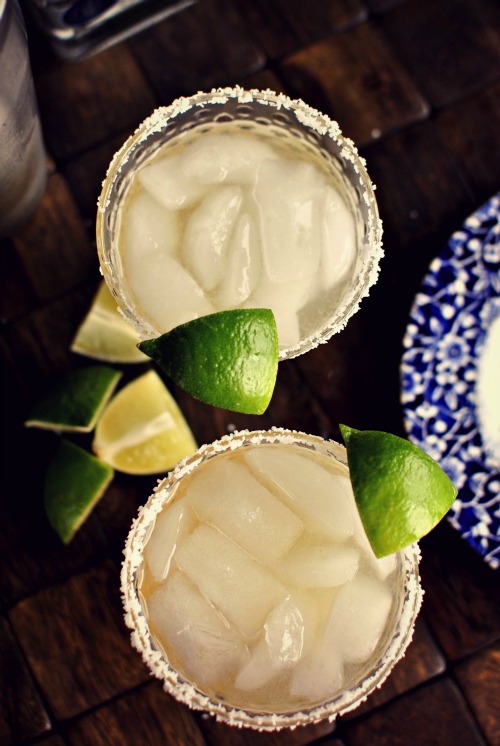 Enjoy! And if you give this recipe a try, let me know! Snap a photo and tag me on twitter or instagram!
Yield: 2 glasses
Honey Lime Margaritas
Five ingredients, five minutes... incredible margaritas!
Ingredients
1/2 cup tequila silver, or blanco
4 tablespoons lime juice, freshly squeezed
2 tablespoons honey, or agave
ice
lime wedges, for rubbing on the rim and for garnish
margarita salt
Instructions
Rub a lime wedge along the rim of two small glasses and then dip them into a small plate with kosher salt. Fill with ice.

In a cocktail shaker combine; tequila, lime juice, honey and ice. Secure the lid and shake until most of the ice is gone. Be sure to shake well enough so the honey mixes itself into the drink.

Pour into prepared glasses.
Serving: 1g, Calories: 210kcal, Carbohydrates: 20g, Protein: 1g, Fat: 1g, Polyunsaturated Fat: 1g, Sodium: 2mg, Potassium: 47mg, Fiber: 1g, Sugar: 18g, Vitamin A: 15IU, Vitamin C: 9mg, Calcium: 5mg, Iron: 1mg
This post may contain affiliate links.
Buy the Cookbook: Simply Scratch : 120 Wholesome Homemade Recipes Made Easy Now available on Amazon »
THANK YOU in advance for your support!