This scrumptious Honey Dijon Chicken Sheet Pan Dinner is everything you want and love, baked on one pan and in your oven. A simple yet flavorful glaze of butter, lemon, dijon mustard, honey and garlic glazes the chicken, crispy potatoes and tender asparagus. Serves 4 in about 45 minutes.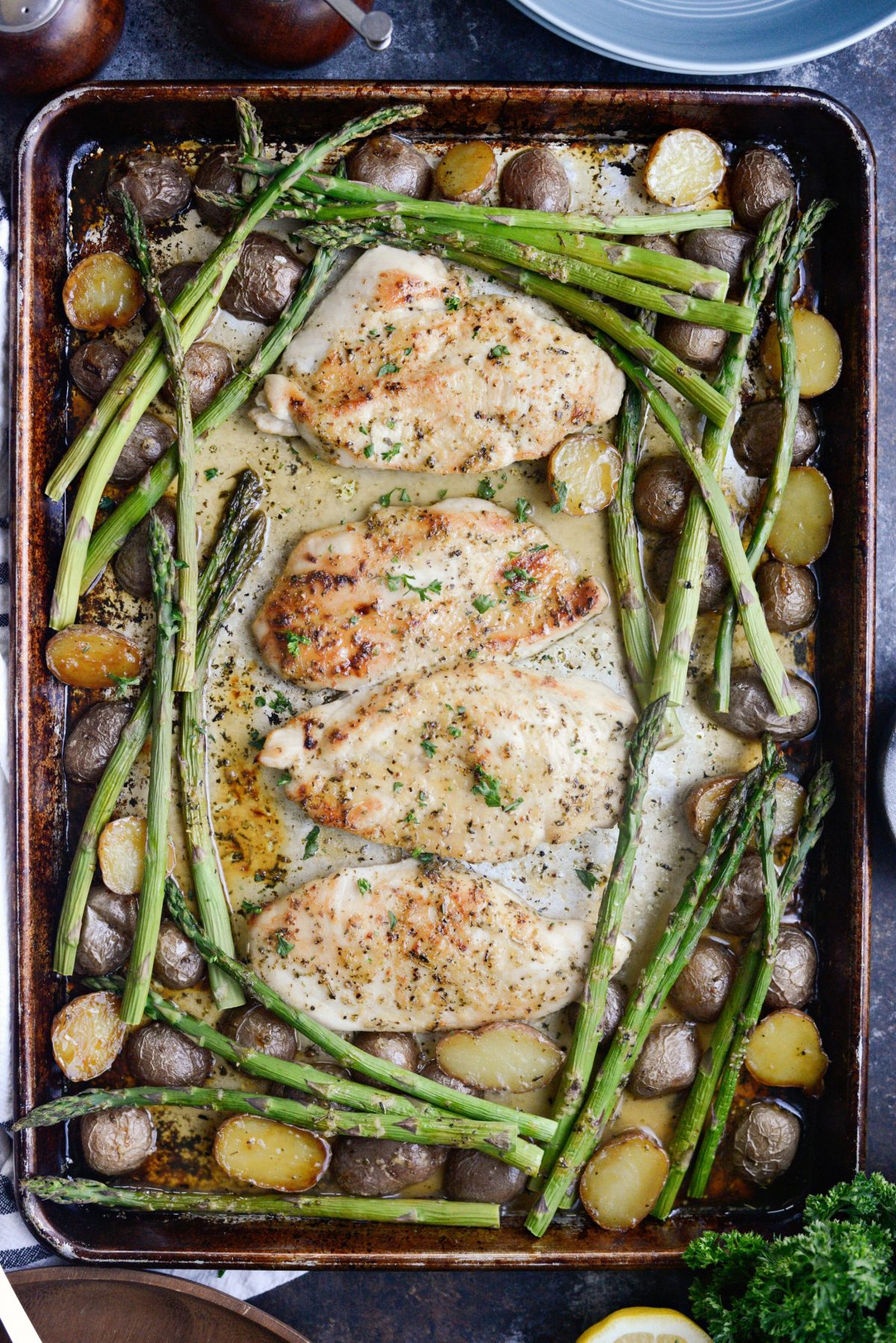 April and May have always been our busiest months because the end of the school year is approaching and we are in full on softball mode. Haileigh decided not to play for her high school team this year so it's only Mal, and right now, her middle school team is playing so well and is 6-2 for the season! With that said, between practices and games, orthodontist appointments and everything in-between, it's safe to say we have something going on 6 out of the 7 days a week. This time of year I'm struggling with finding the balance of work, writing and family obligations. Most days I don't actually get the luxury of sitting down until 8pm and by then I'm wiped completely out.
Because of this, I am officially onboard the sheet pan dinner wagon.
Can I get a hallelujah?! Before the softball season started, I began working on a few recipes calling for simple ingredients and one sheet pan. And thank the lord for that! This honey dijon chicken sheet pan dinner was my first sheet pan dinner and everyone (yes, even Malloree with her dislike of all green vegetables) loved this dinner. She even ate the asparagus!!! I mean, who wouldn't love a stress-free meal of roasted potatoes, glazed chicken breasts and crisp yet tender asparagus??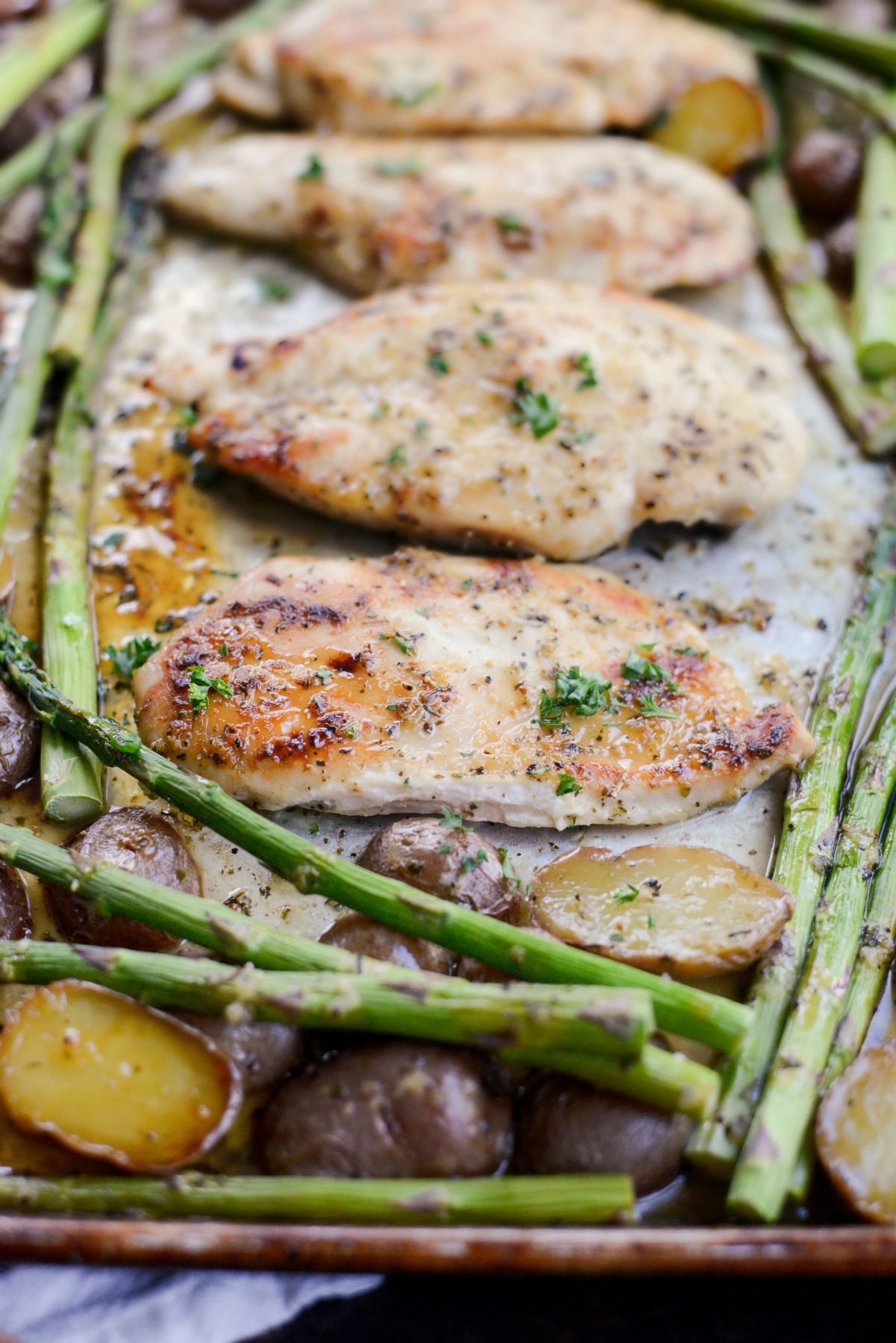 Dinner in 45 minutes, from start to finish, is my kind of recipe.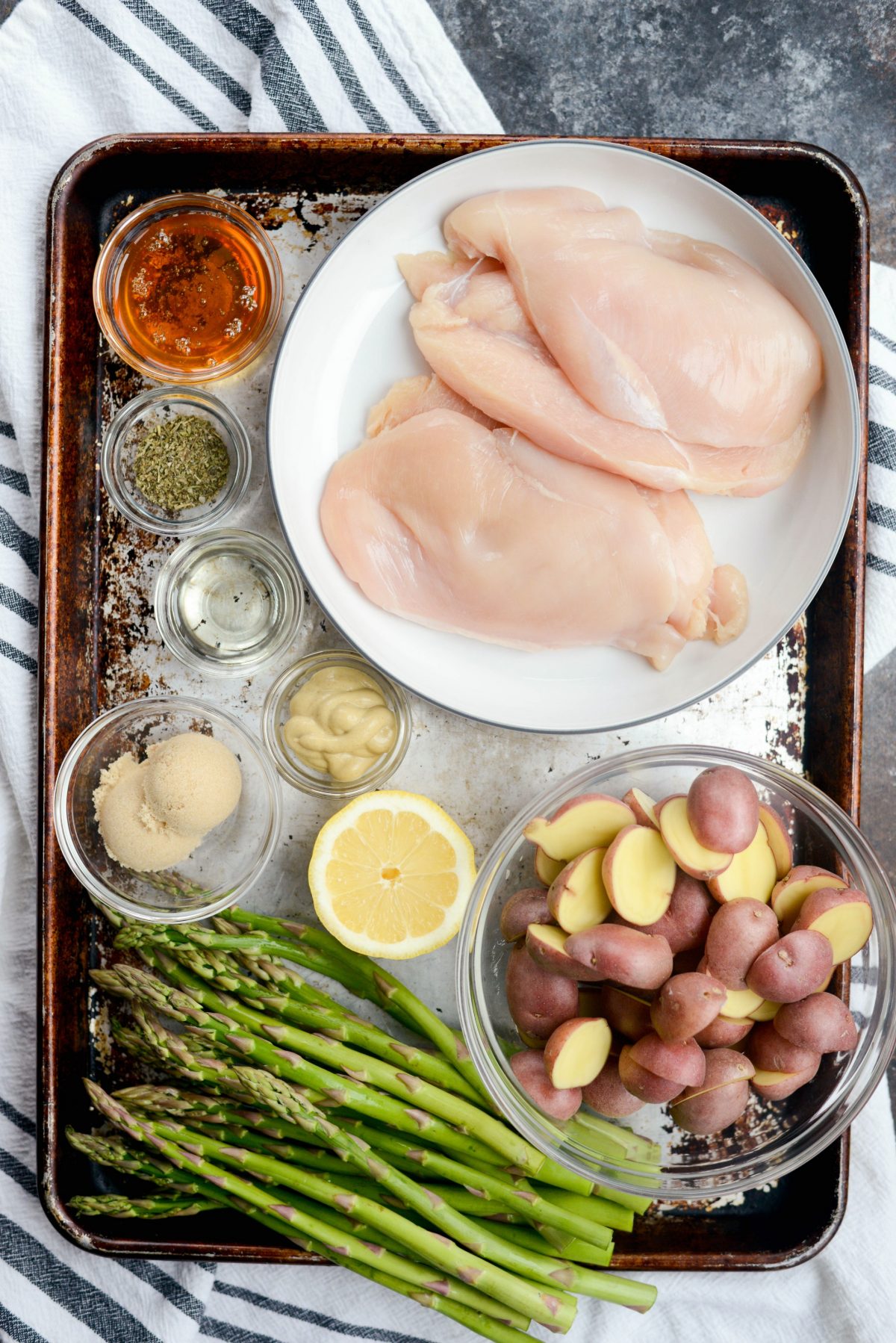 To Make This Honey Dijon Chicken Sheet Pan Dinner You Will Need:
potatoes
olive oil
kosher salt
freshly ground black pepper
chicken breasts
asparagus
butter
lemon juice
brown sugar
honey
garlic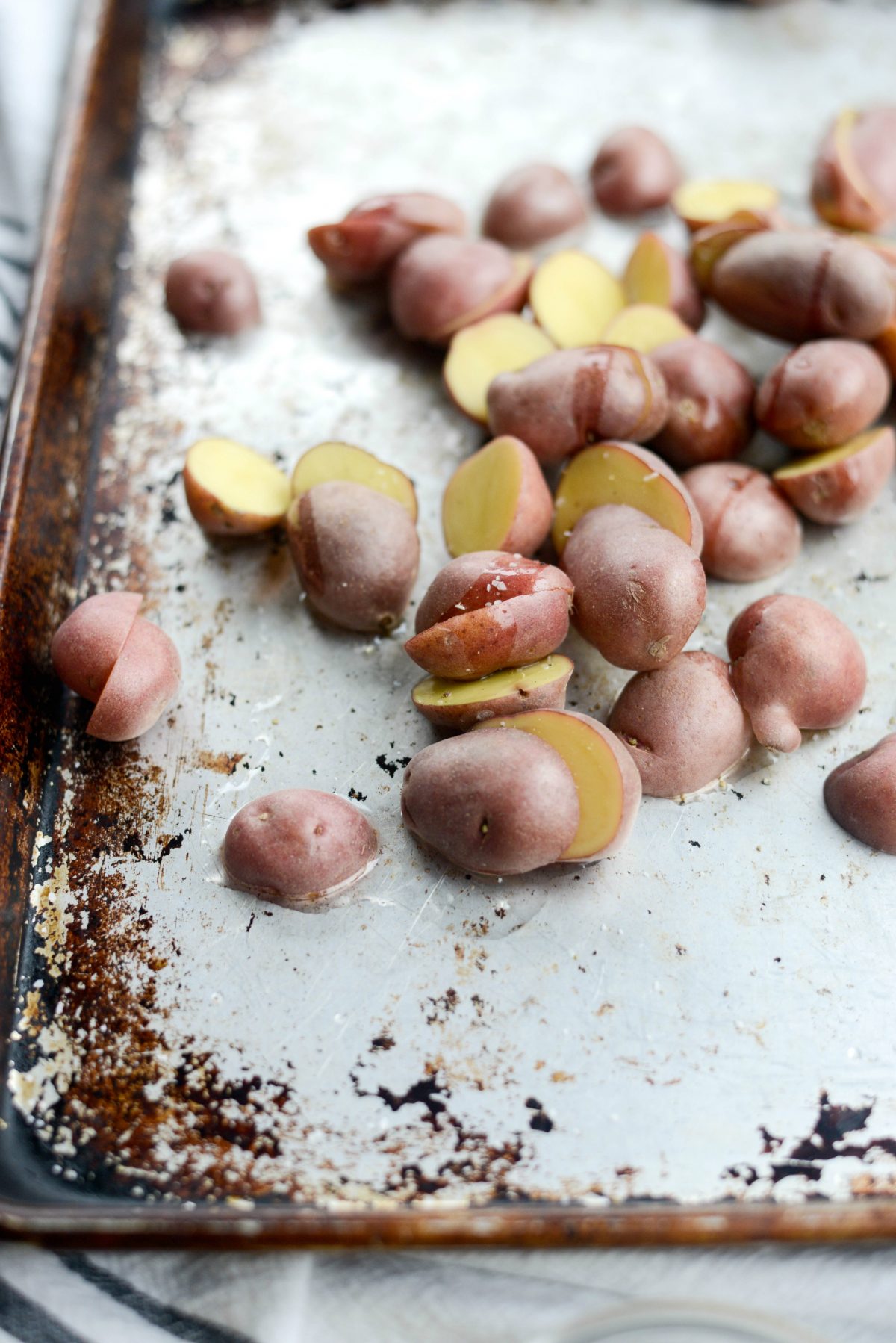 Next toss 1 pound of baby potatoes with 1-1/2 tablespoons light olive oil, a pinch of kosher salt and a few turns of freshly ground black pepper. Make sure the olive oil coats the entire bottom of the pan, so when you eventually add the chicken, they won't have an opportunity to stick. Arrange the potatoes, cut-side down, around the perimeter of a rimmed metal baking sheet. Slide the pan into your preheated 400° oven for 10 minutes.
Meanwhile, in a small bowl, whisk together 2 tablespoons melted butter, the juice of 1/2 a lemon, 2 tablespoons light brown sugar, 2 tablespoons honey, 1 tablespoon dijon mustard, 4 cloves of grated fresh garlic, 1 teaspoon Italian seasoning and a pinch of salt and pepper.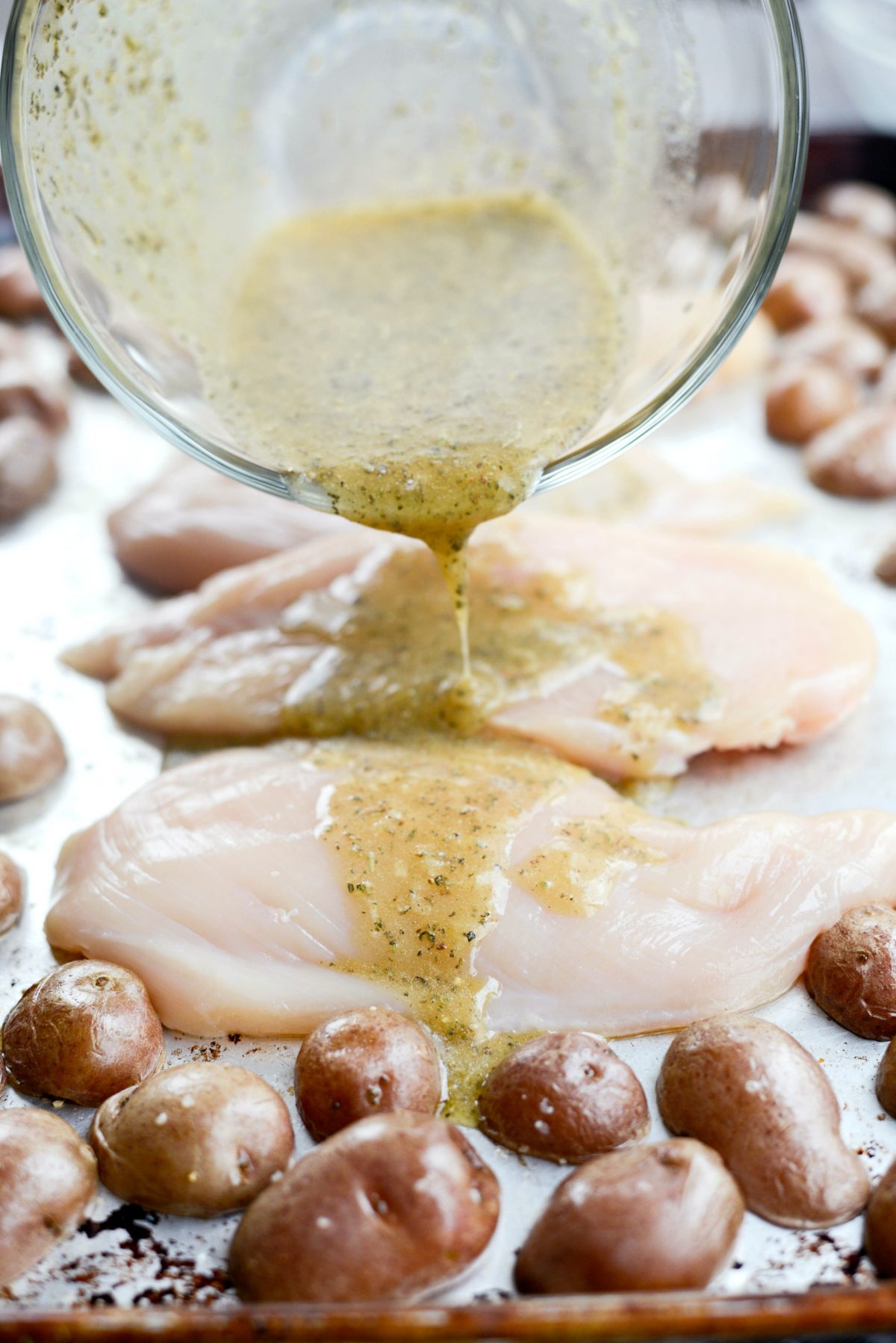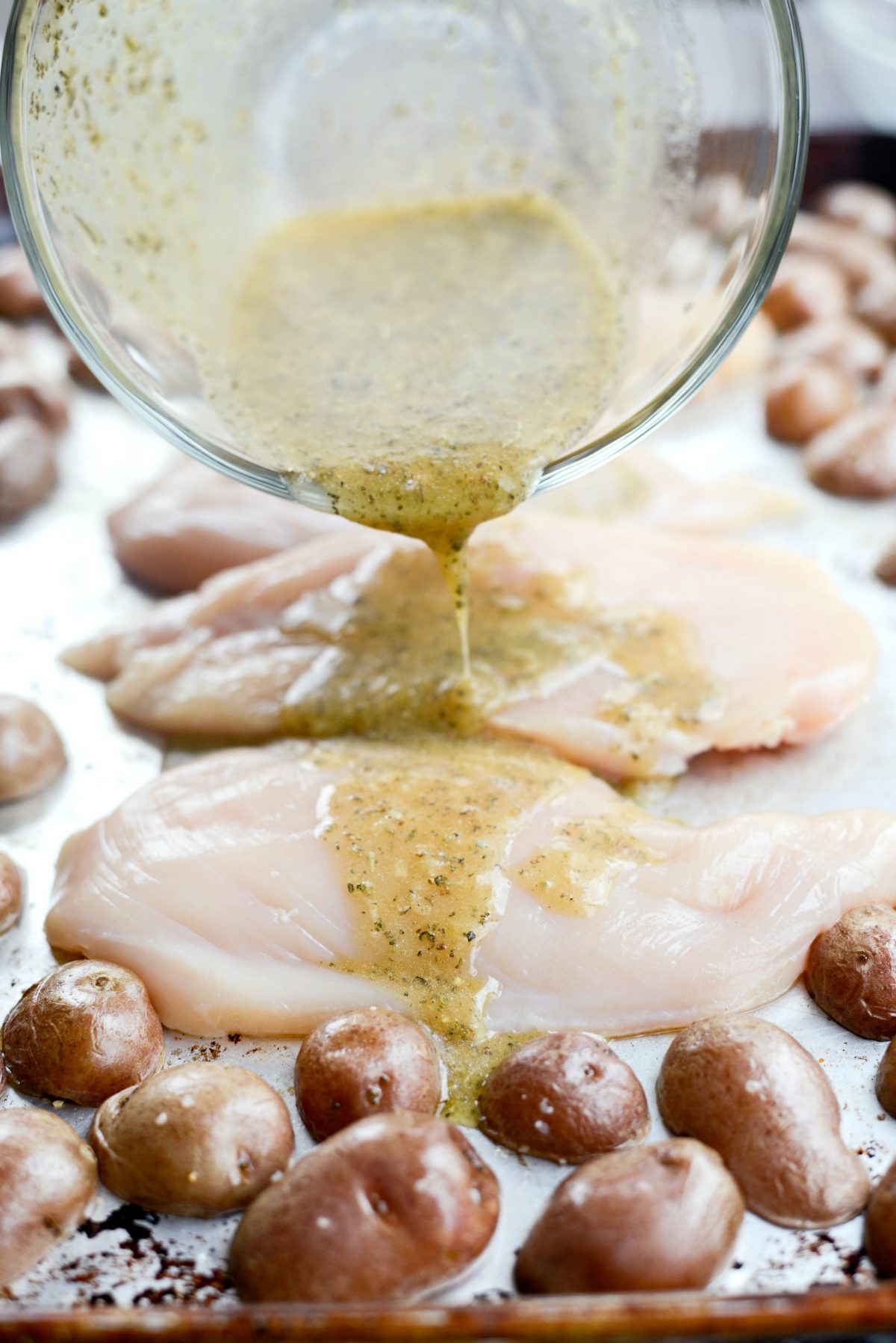 After the 10 minutes are up, place the chicken breasts into the center of the pan . Whisk the sauce once more before coating the chicken with 1/2 of the honey dijon glaze. Then slide the pan on the middle rack of your preheated 400° oven and bake for 10 minutes.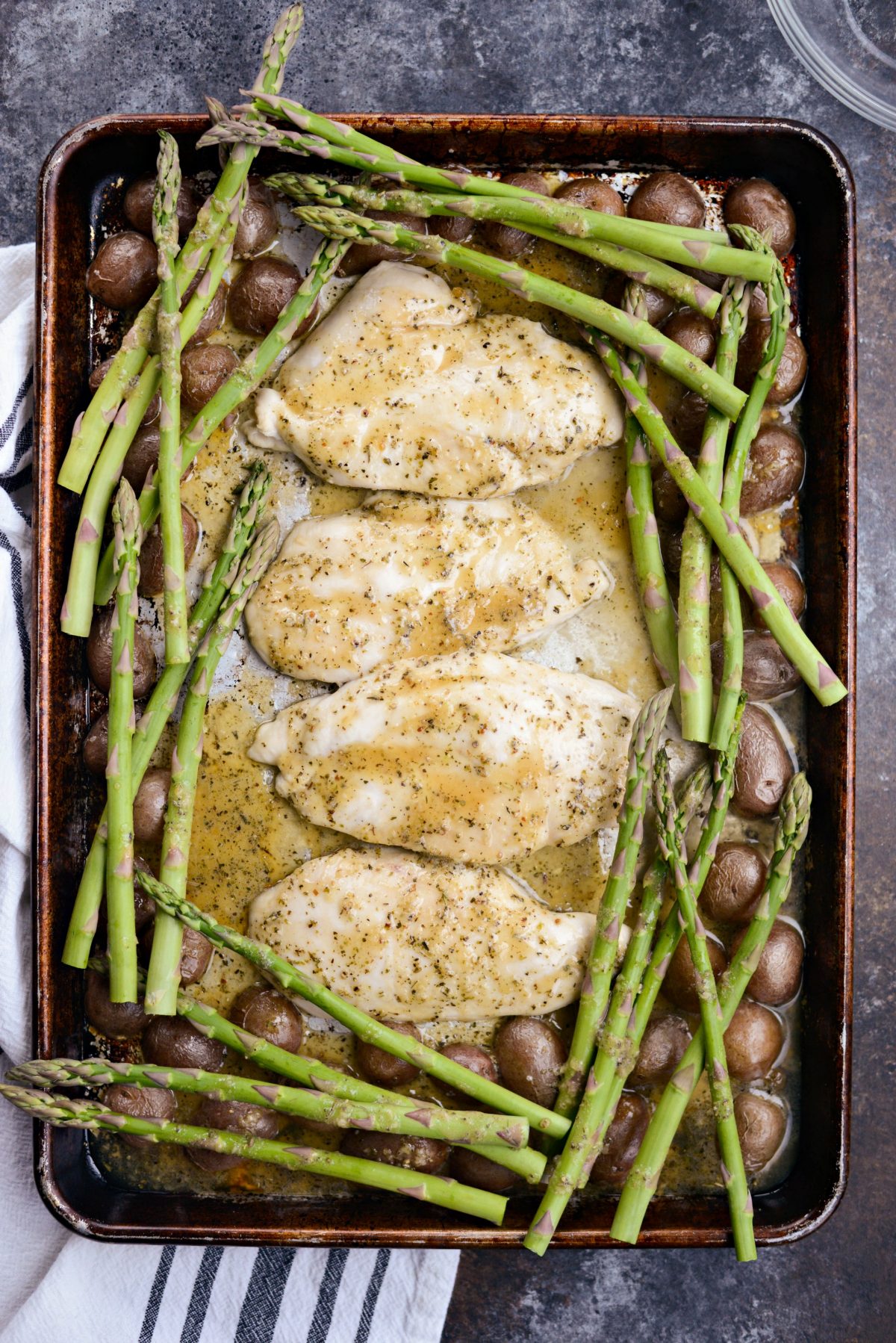 Then remove the pan and arrange the trimmed asparagus around the chicken and on top of the potatoes. Drizzle the remaining glaze over top of the chicken and vegetables. Bake for 8 to 10 minutes or until the chicken is fully cooked.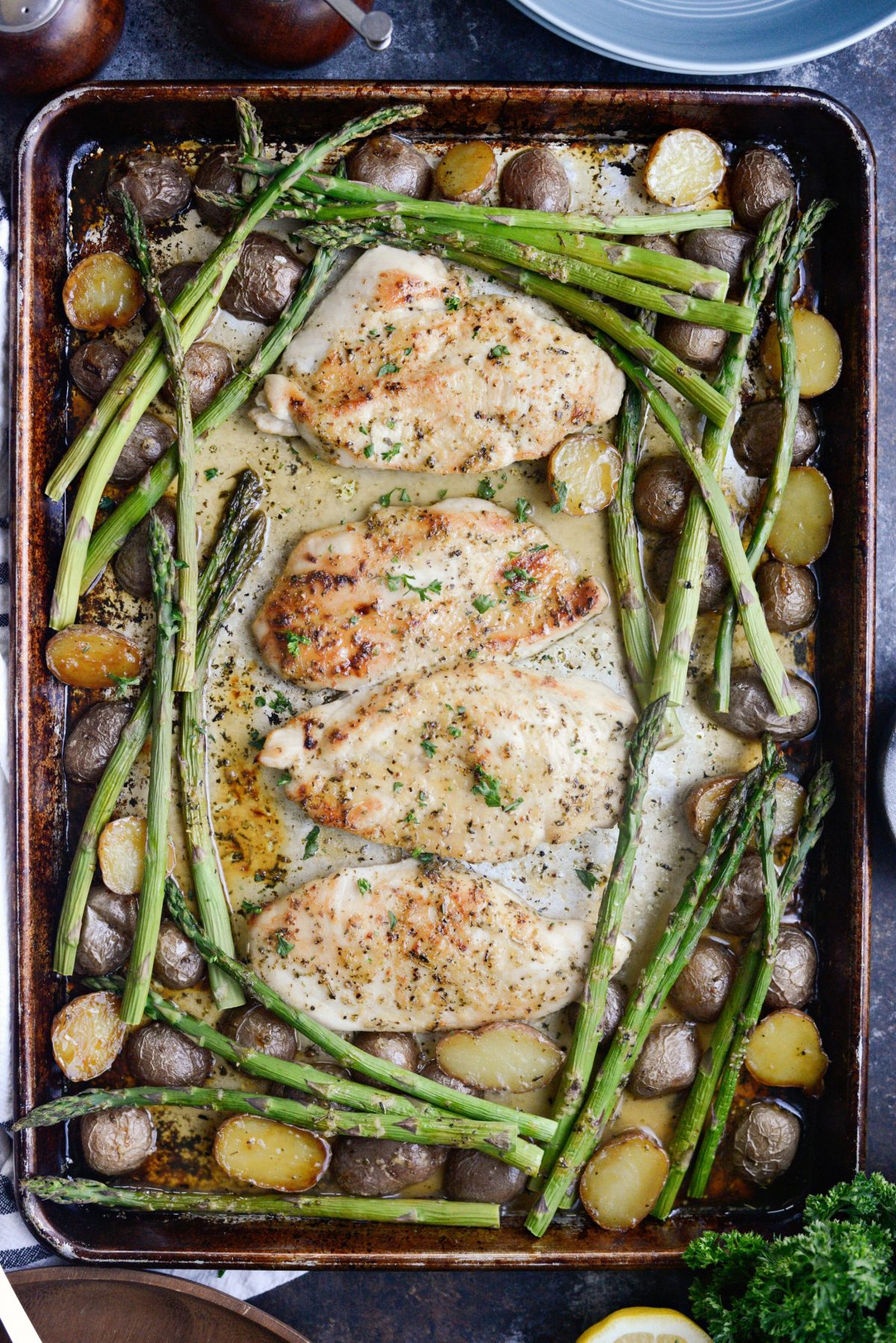 Using oven mitts, remove the sheet pan and move the oven rack to the highest position in your oven. Turn on your broiler and slide the pan underneath the broiler. Broil for 2 minutes or so, until the glaze on the chicken caramelizes and browns.
Watch carefully to avoid burning.
Remove the honey dijon chicken sheet pan dinner and allow it to rest for 5 minutes so the potatoes have a chance to release from the pan and also because the chicken needs time to rest and redistribute its juices, before serving.
Lastly garnish with a little minced fresh parsley for a pop of green color and freshness.
Sweet and savory, easy and nearly effortless, I have a feeling that this honey dijon chicken sheet pan dinner will be a beloved addition into your dinner rotation.
Look for more one-pan dinners HERE.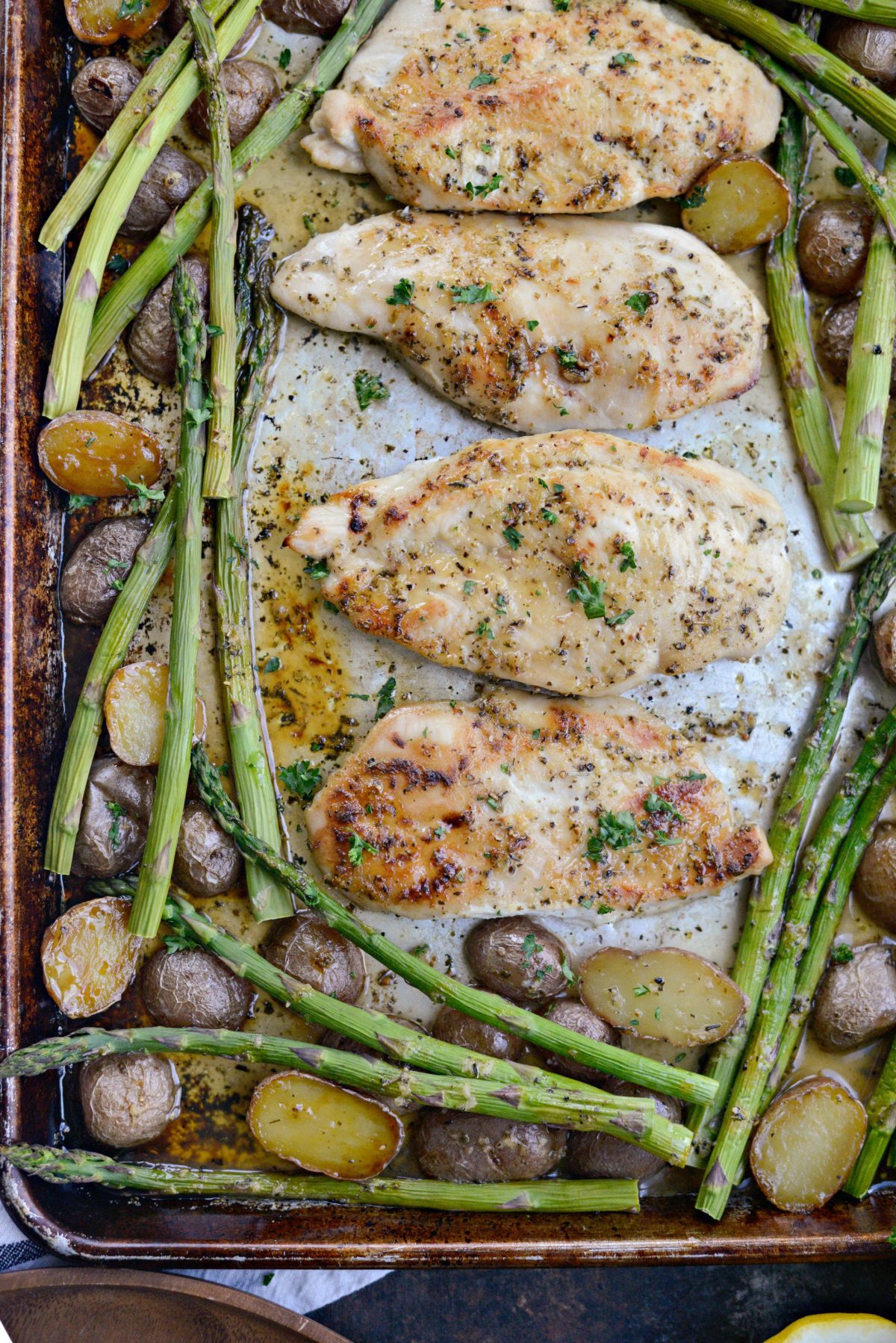 Enjoy! And if you give this Honey Dijon Chicken Sheet Pan Dinner recipe a try, let me know! Snap a photo and tag me on twitter or instagram!
This post may contain affiliate links.
Buy the Cookbook: Simply Scratch : 120 Wholesome Homemade Recipes Made Easy Now available on Amazon »
THANK YOU in advance for your support!