If you're not making your own homemade yellow cake mix, you should be! There are so many scrumptious dessert recipes that calls for "yellow cake mix" in the world. Cake mix makes dessert making so much more simple. But the list of ingredients in cake mix isn't all that great, so I've avoided cake mix and recipes calling for cake mix for years.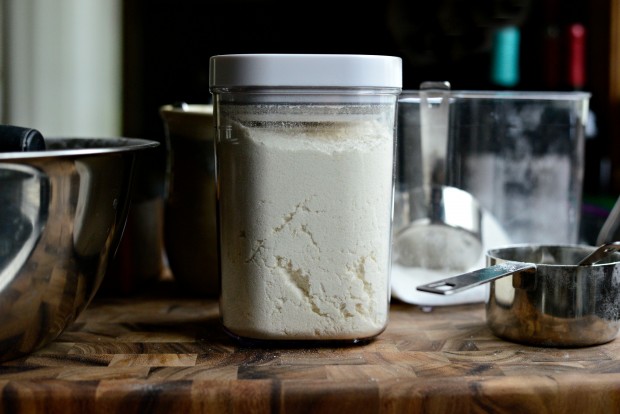 BUT not any more.
I was on the phone with my sister Julie, chatting about a certain beloved cake my mom makes (which calls for a box of cake mix) and how I'd love to make it because it has been forever-and-a-day since I have tasted it. Julie knows I don't like to use pre-made cake mixes because all the artificial ingredients, blah, blah, blah, so she then she tells me "Laur! I have a recipe for homemade yellow cake mix!" and then she instantly emailed me her recipe. She can't remember the source of where she found it, but she has used it for many recipes and truthfully I don't even care because THIS is genius.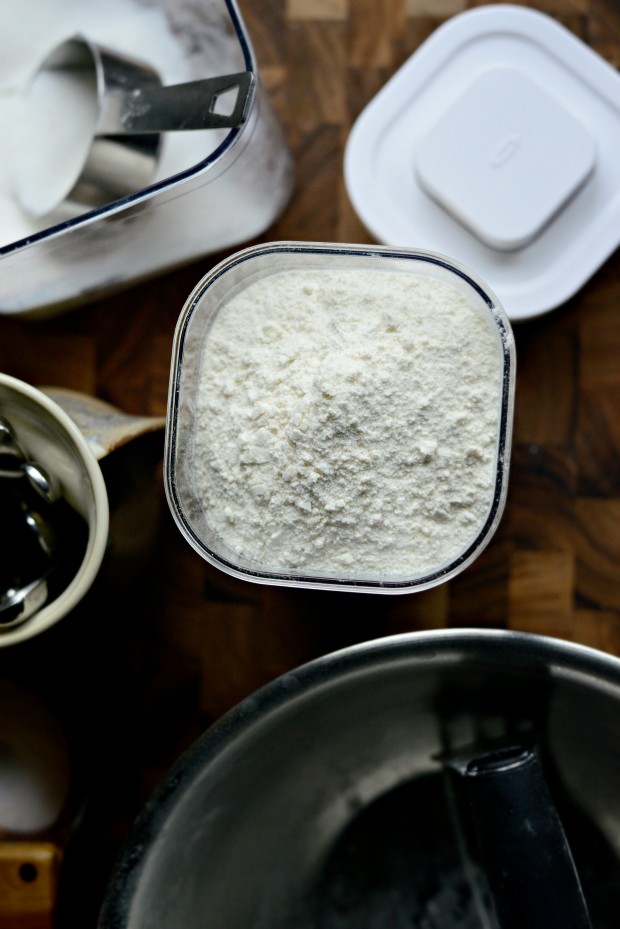 I love that it can be made a week or so in advance, if kept in the fridge, OR it can be frozen for a few months. Which means you can have cake mix at your fingertips.
Which translates to having cake at your fingertips… who doesn't like the sound of that?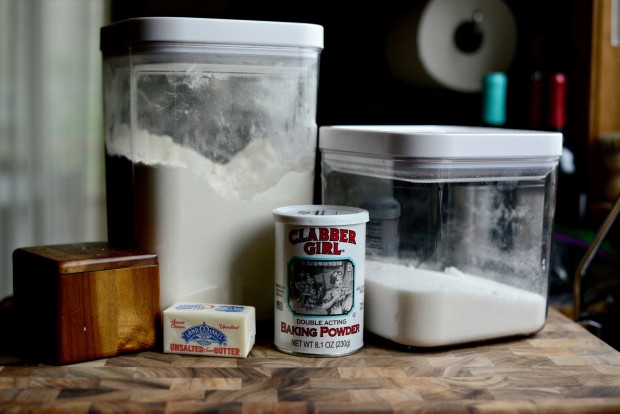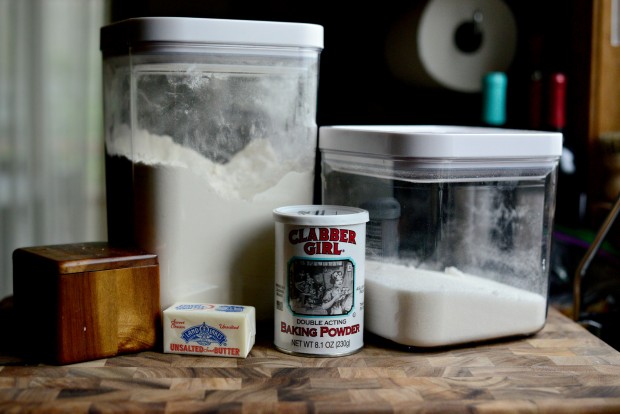 To make this homemade yellow cake mix you will need:
unbleached cake flour (see recipe notes for substituting all-purpose flour)
granulated sugar
baking powder
fine salt (sea salt or Himalayan)
unsalted butter
See there's no reason not to make your own cake mix, you probably have these things in your fridge and pantry already. Plus you can pronounce all of these ingredients.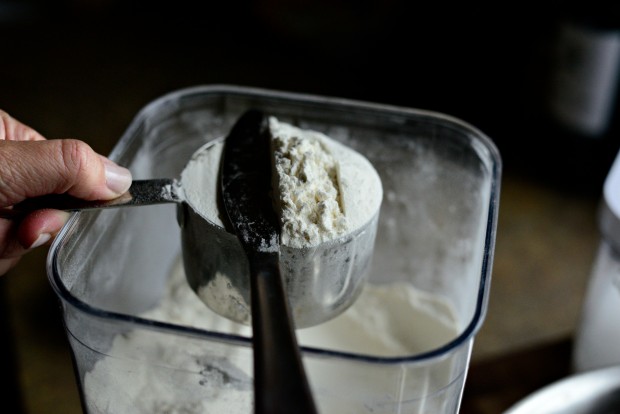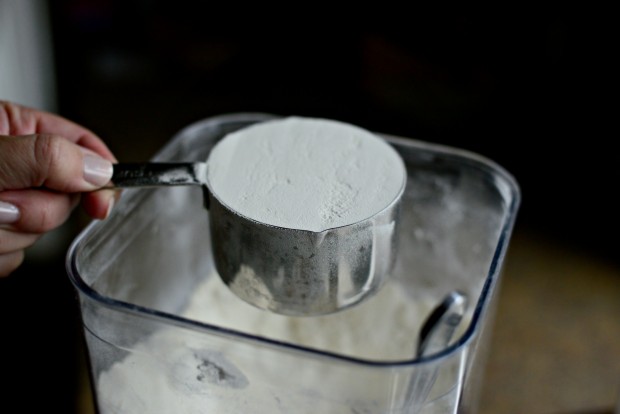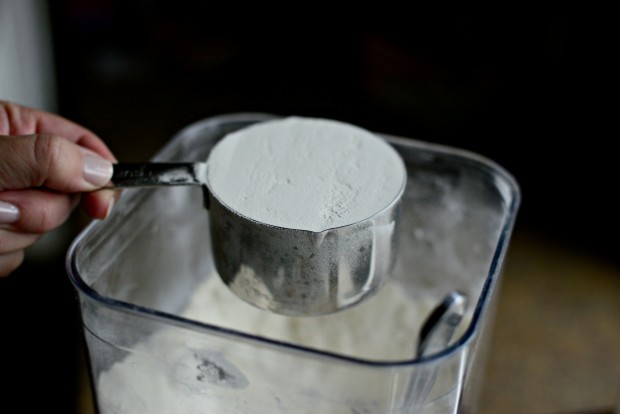 Start by measuring and leveling the cake flour.
What Is the Best Way to Dry Measure Flour?
Give the flour a quick stir to fluff it up a tad. Spoon flour into measuring cup and then level it off with a knife.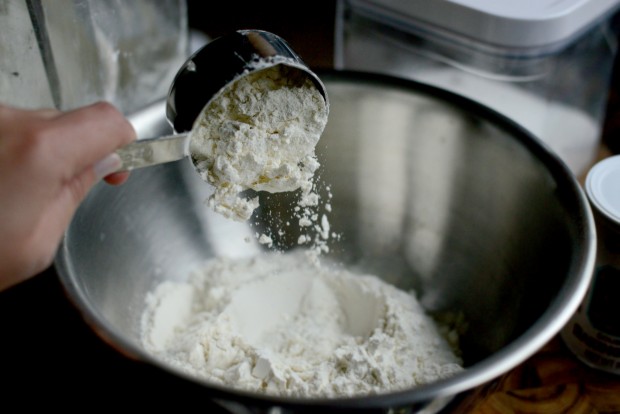 In a mixing bowl add 2¾ cup of cake flour. Please read the recipe card notes for substituting all-purpose flour.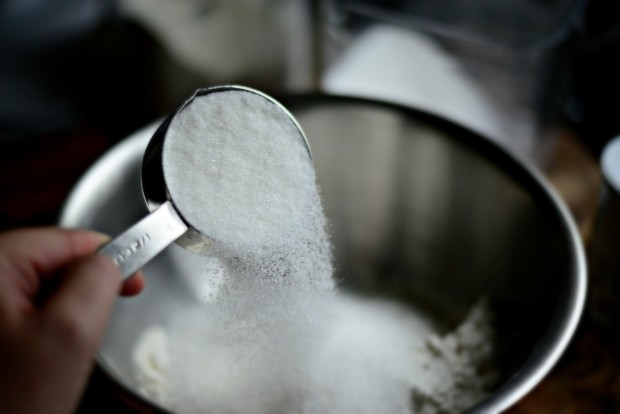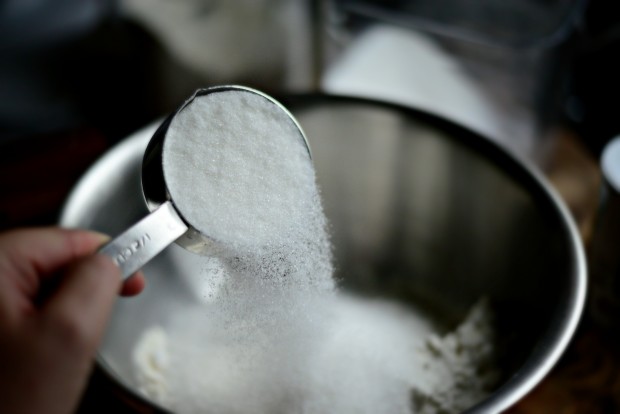 Measure and pour in 1½ cups of sugar.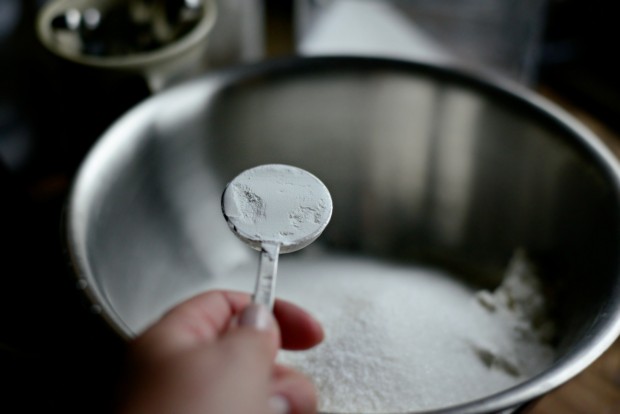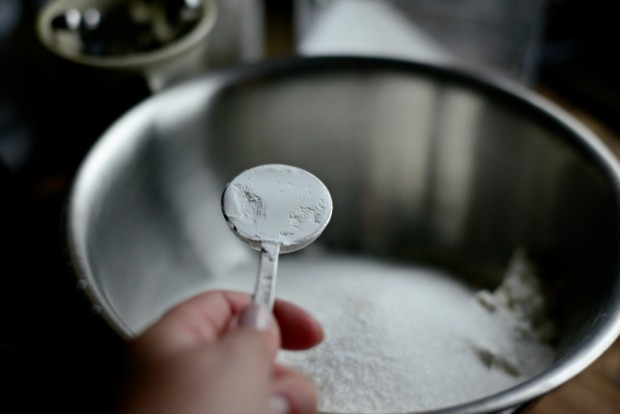 1 tablespoon plus 1 teaspoon baking powder.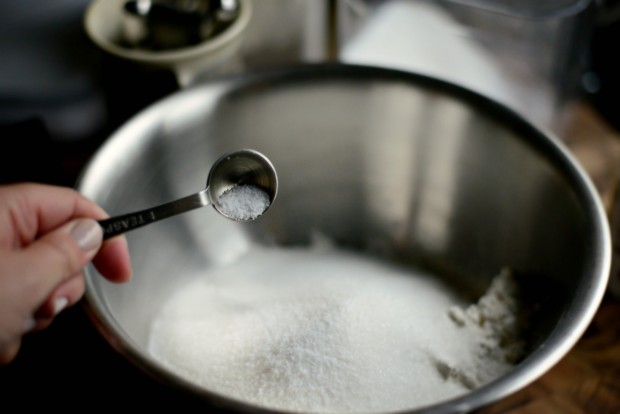 And 1 teaspoon fine salt (sea or himalayan).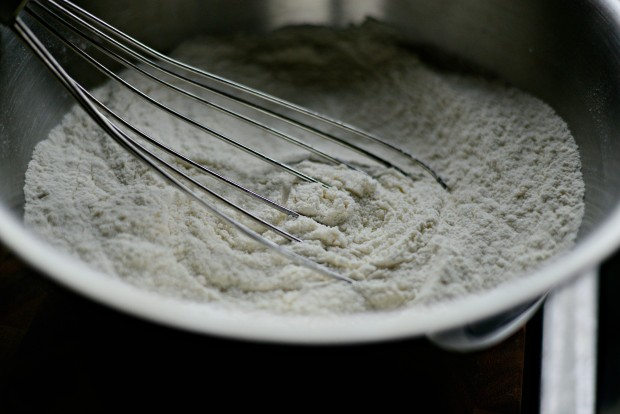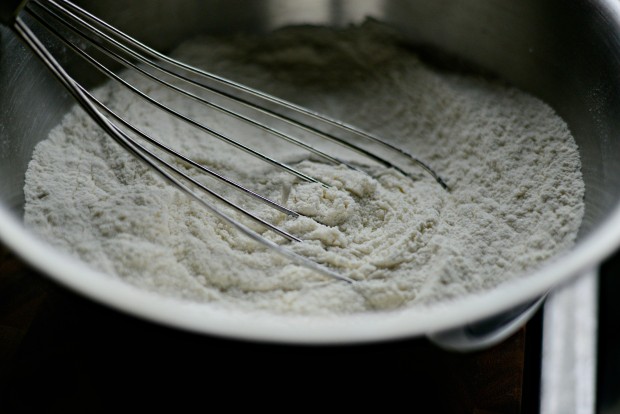 Stir to combine…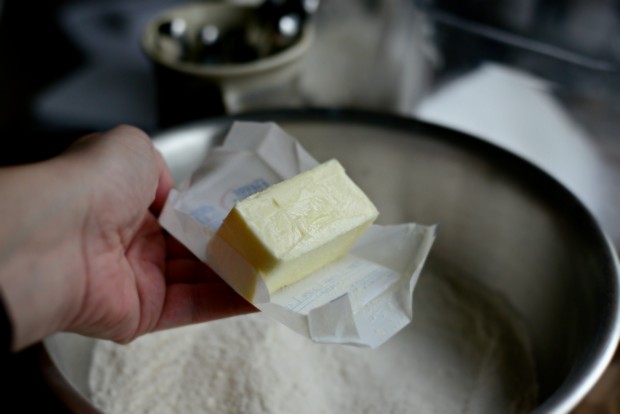 Drop in 4 tablespoons (or a 1/2 stick) of softened unsalted butter.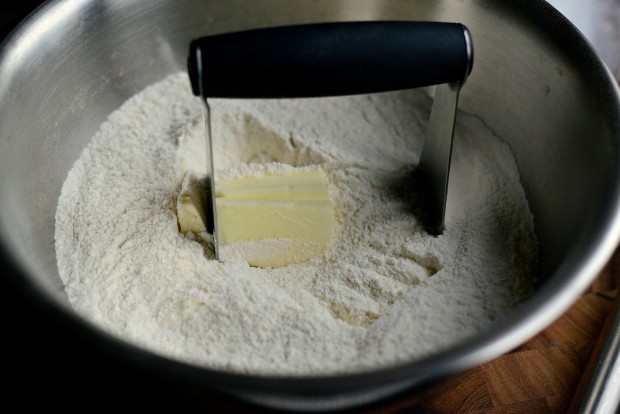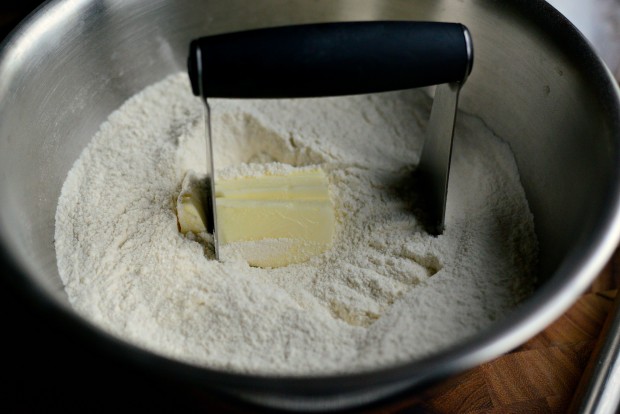 Use a pastry blender to work the butter into the flour and sugar.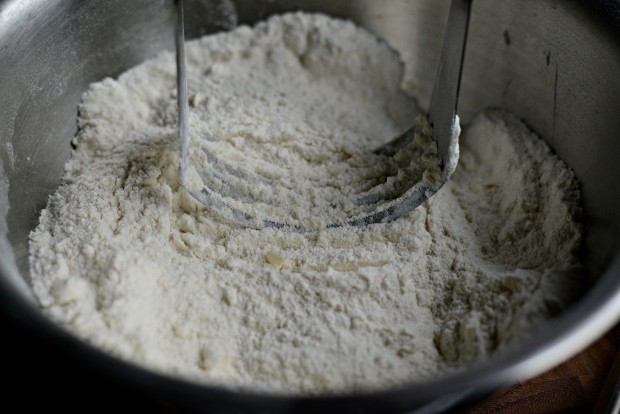 Until the butter basically disappears into the dry ingredients.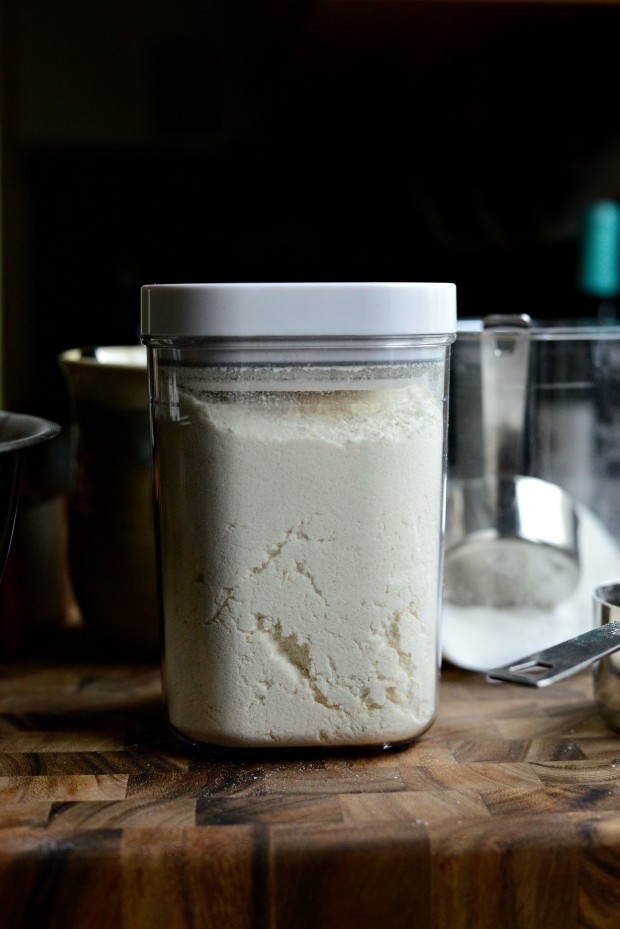 Next, pour the cake mix into a container with a tight-fitting lid. Then store in the refrigerator for 1 to 2 weeks. Or store in the freezer for 2 to 4 months (maybe more!). You'll just want to pull it out 25 to 30 minutes before you use it in a recipe.
Give Homemade Cake Mix As A Gift:
If you want to give homemade chocolate cake mix as a gift, omit the butter and store all the dry ingredients in a glass jar with a tight fitting lid. Write out the remaining ingredients (include the butter!) and then recipe instructions (start by creaming the butter, vanilla, eggs and adding the dry ingredients, water, oil etc.) out onto a note card and tie it around the jar with string.
Make The Cake:
The recipe for making the cake is below, however if you want to see a step-by-step for the cake and frosting, click here!
Other Homemade Cake Mixes:
Enjoy! And if you give this Homemade Yellow Cake Mix recipe a try, let me know! Snap a photo and tag me on twitter or instagram!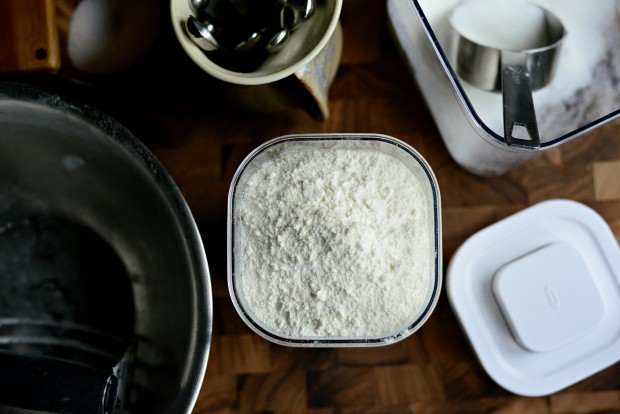 Yield: 1 recipe
Homemade Yellow Cake Mix
No more store bought cake mixes for you! Use this Homemade Yellow Cake Mix in any recipe calling for yellow cake mix! Yields 4½ cups cake mix (weighing 1lb 13 ounces) equivalent to 1 box
Ingredients
2¾ cups cake flour, see notes
1½ cups sugar
4 teaspoons baking powder
1 teaspoon fine salt, sea salt or Himalayan
4 tablespoons softened unsalted butter
Instructions
In a large bowl whisk together the flour, sugar, baking powder and salt. Add in the butter and use a pastry cutter to blend the butter into the dry ingredients.

Store in a container with a tight fitting lid in the fridge for a couple weeks or in the freezer for two to 4 months.

Use in replace of store-bought yellow cake mix.
Notes
Can you Substitute cake flour for all-purpose?
Yes! If using all-purpose flour instead of cake flour, you will only need 2½ cups all-purpose flour. However the cakes crumb/texture will be different.
Nutritional Value Is for the Entire Cake Mix.
Serving: 1recipe, Calories: 2806kcal, Carbohydrates: 553g, Protein: 42g, Fat: 52g, Saturated Fat: 30g, Polyunsaturated Fat: 4g, Monounsaturated Fat: 12g, Trans Fat: 2g, Cholesterol: 120mg, Sodium: 4038mg, Potassium: 367mg, Fiber: 8g, Sugar: 300g, Vitamin A: 1406IU, Calcium: 1010mg, Iron: 5mg
Yield: 14 servings
Homemade Yellow Cake with Whipped Chocolate Frosting
Perfect yellow cake topped with a delicious whipped chocolate frosting. Yields 1 double layer 9-inch cake which will feed 8 to 32 people if sliced accordingly. Frosting recipe yields 2 cups.
Ingredients
FOR THE YELLOW CAKE RECIPE:
FOR THE FROSTING:
1/2 cup softened unsalted butter
2½ cups powdered sugar
1/2 cup unsweetened cocoa powder
3 tablespoons half & half, see notes
2½ tablespoons buttermilk
1 teaspoon pure vanilla extract
Instructions
FOR THE CAKE:
Preheat your oven to 350°. Generously grease two 9-inch cake pans with butter and dust with flour, tapping out any excess flour.

In the bowl of your stand mixer add the homemade cake mix. Withe the mixer on low, pour in the water and oil, mixing until incorporated. Add one egg at a time, mixing after each egg. Scrape down the sides and bottom of the bowl before adding in the vanilla, mix on low until combined.

Divide the batter (2-1/2 cups per cake pan), tap to release any air bubbles and slide into your preheated oven. Bake for 25 to 30 minutes or until a toothpick comes out clean when inserted into the center of each cake.

Allow the cakes to cool in the pan for 10 minutes before running a knife along the edge of the cakes. Place your hand on the tops of the cakes before slowly flipping the pans upside down to remove the cakes. Peel back the parchment paper and carefully flip the cakes right side up, placing them on a wire rack to cool completely before frosting.
FOR THE FROSTING:
In the bowl of your stand mixer fitted with the whisk attachment, add the butter and mix on low until creamy (about 2 minutes).

In the meantime, sift together the powdered sugar and cocoa powder into a large bowl.

Combine the half & half, buttermilk and vanilla.

Add a few large spoonfuls of the cocoa mixture alternating with the liquids. Mix on low speed until just combined. Increase the speed to high and mix for 4 to 5 minutes or until the frosting is light and fluffy.

Place the first cake layer onto a cake stand and top with 1/3 of the frosting. Starting at the center, spread the frosting out to the edge, leaving a little extra frosting overhanging the edge of the cake. Place the second cake layer on top of the frosting and top it with the remaining frosting. Spread the frosting out from the center and down around the sides of the cake.
Notes
If you are unable to find half & half, substitute with 1 cup whole milk combined with 1 cup heavy cream.
Serving: 1piece, Calories: 457kcal, Carbohydrates: 62g, Protein: 5g, Fat: 22g, Saturated Fat: 8g, Polyunsaturated Fat: 8g, Monounsaturated Fat: 5g, Trans Fat: 1g, Cholesterol: 67mg, Sodium: 311mg, Potassium: 97mg, Fiber: 2g, Sugar: 43g, Vitamin A: 377IU, Vitamin C: 1mg, Calcium: 91mg, Iron: 1mg
This post may contain affiliate links.
Buy the Cookbook: Simply Scratch : 120 Wholesome Homemade Recipes Made Easy Now available on Amazon »
THANK YOU in advance for your support!