Homemade White Cake Mix can be thrown together in no time! Use the mix right away or make it in advance and simply store it in your refrigerator until you're ready to bake. Homemade white cake at your fingertips!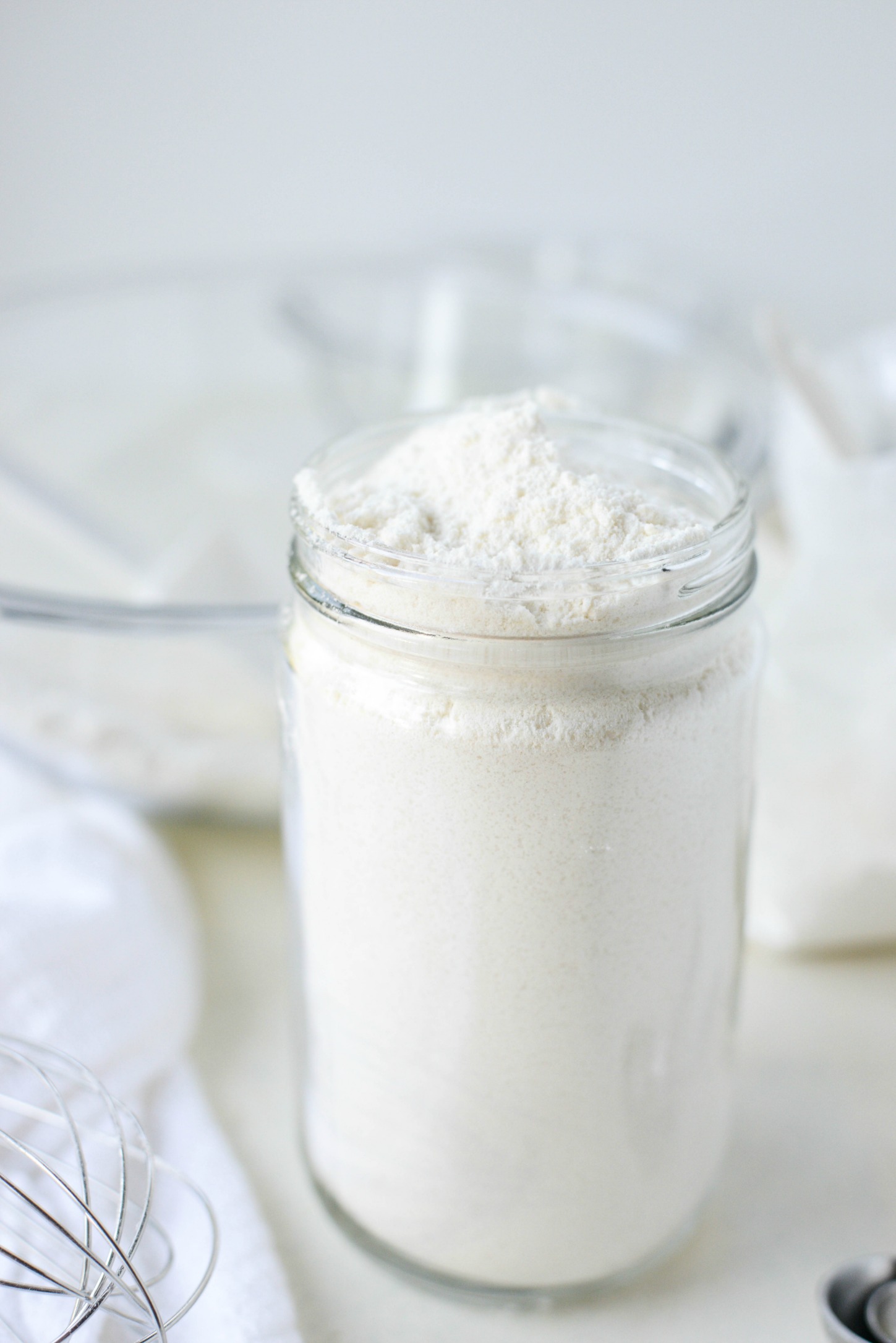 Did you know cake mix can easily be made at home? There was actually a point in my life where I was so brainwashed into thinking boxed cake mix or brownie mix was the only way. It is not. And if you're like me and find comfort in knowing what ingredients are going into your food you're cooking and delicious baked goodies, well my friends — this is your jam.
You may recall that I've already made a homemade yellow cake mix and a chocolate cake mix from scratch. Both are easy and will yield a perfectly moist cake, fit for any celebration. It was only a matter of time before I busted out a homemade white cake version. I'll be sharing that recipe along with a fab frosting tomorrow.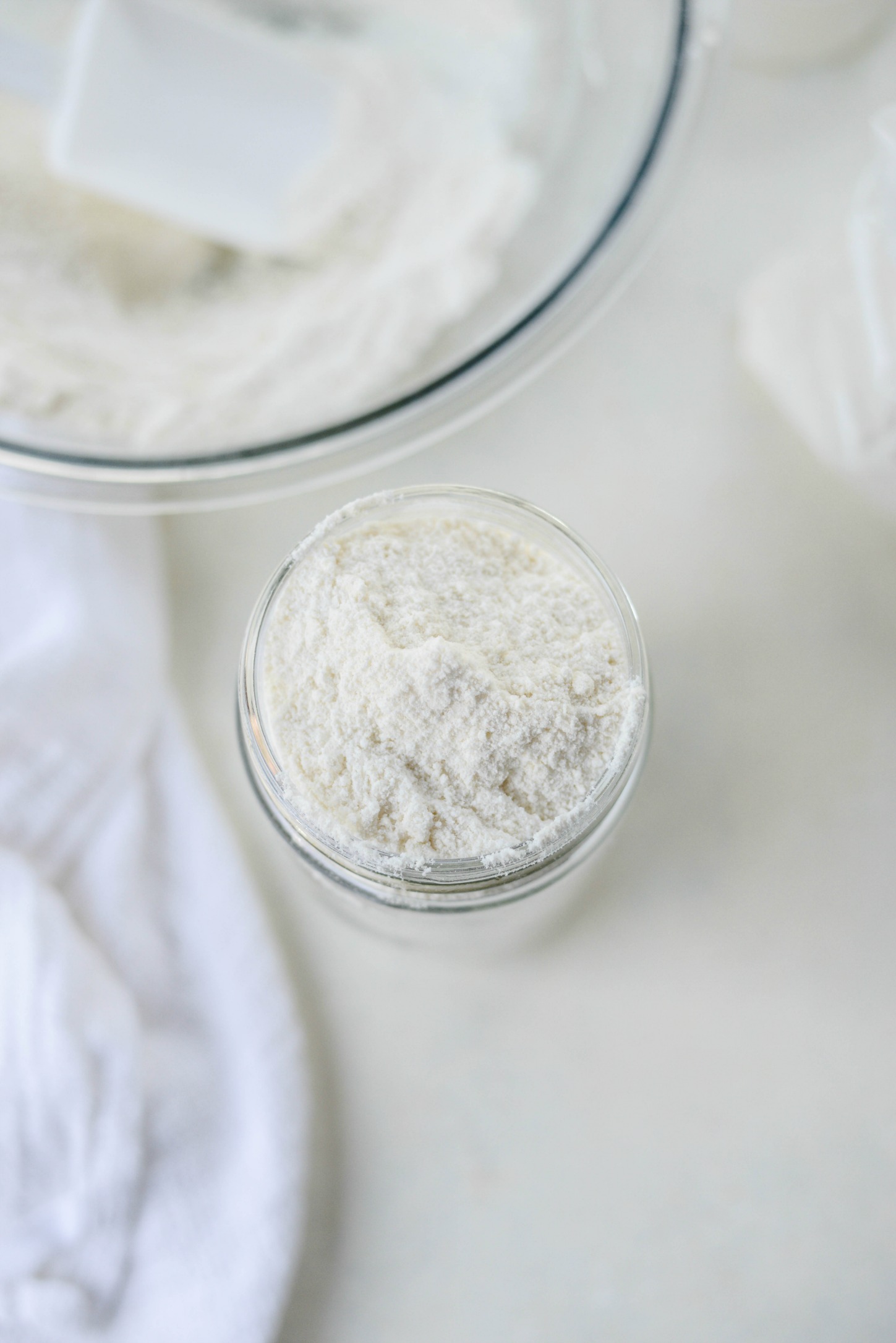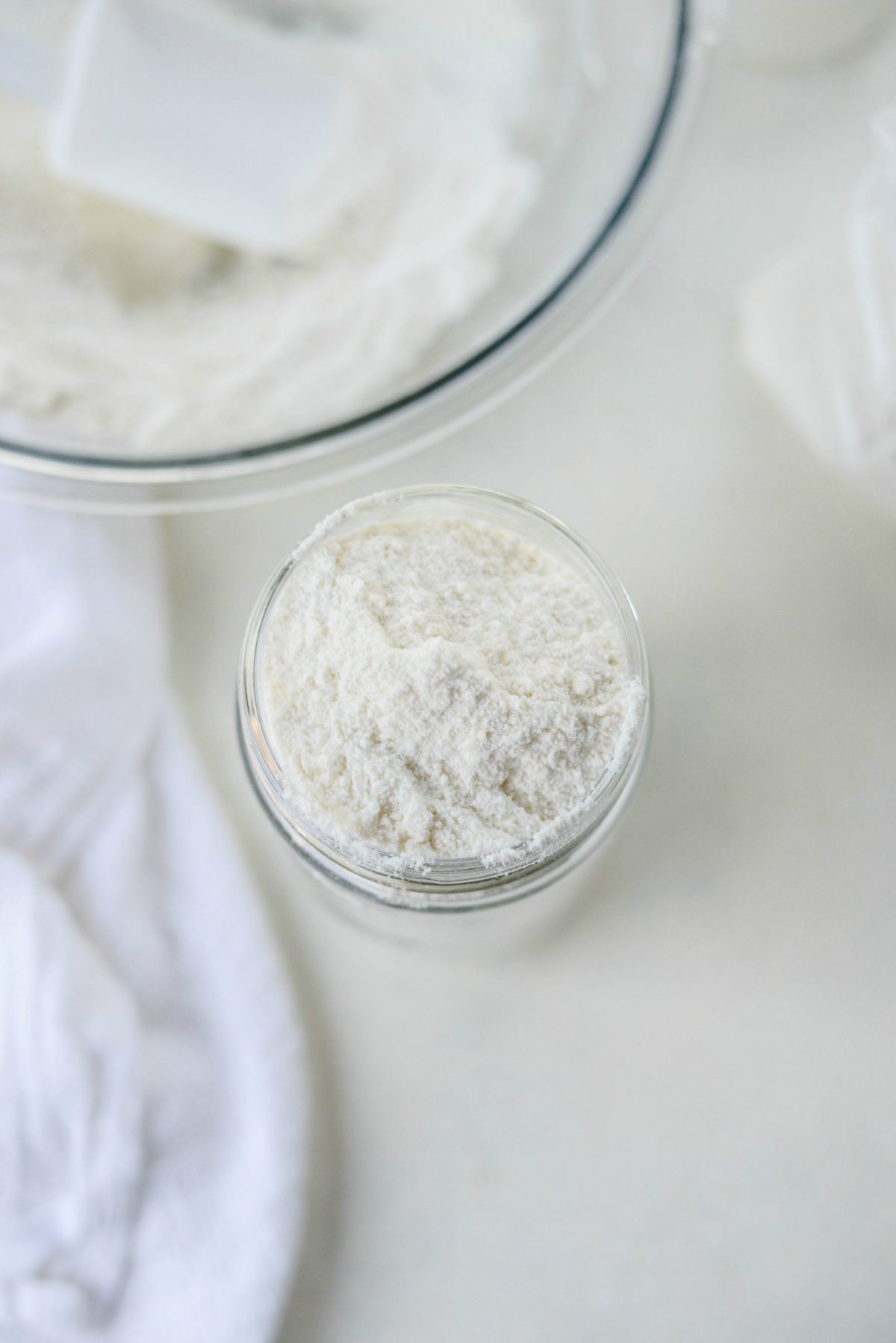 However if for whatever reason you're needing the recipe asap, then just email me through the contact form at the top of this page and I'll send it right on over to you.
To Make This Homemade White Cake Mix You Will Need:
cake flour (or sub with all purpose but texture will be different)
sugar
baking powder
salt
unsalted butter
Of course when you go to make the actual cake you'l need a few more ingredients, but have you ever looked at the back or side of a box of cake mix? There's a lot more than 5 ingredients listed.
In a large mixing bowl, tossing the 2 and 1/2 cups of flour. Today I'm using cake flour, because it's what I had it on hand. If you don't have that, all-purpose flour can be used instead. To the flour, add 1 and 1/2 cups sugar, 1 tablespoon plus 1 teaspoon baking powder and 1 teaspoon kosher salt. Then grab your whisk and stir to combine.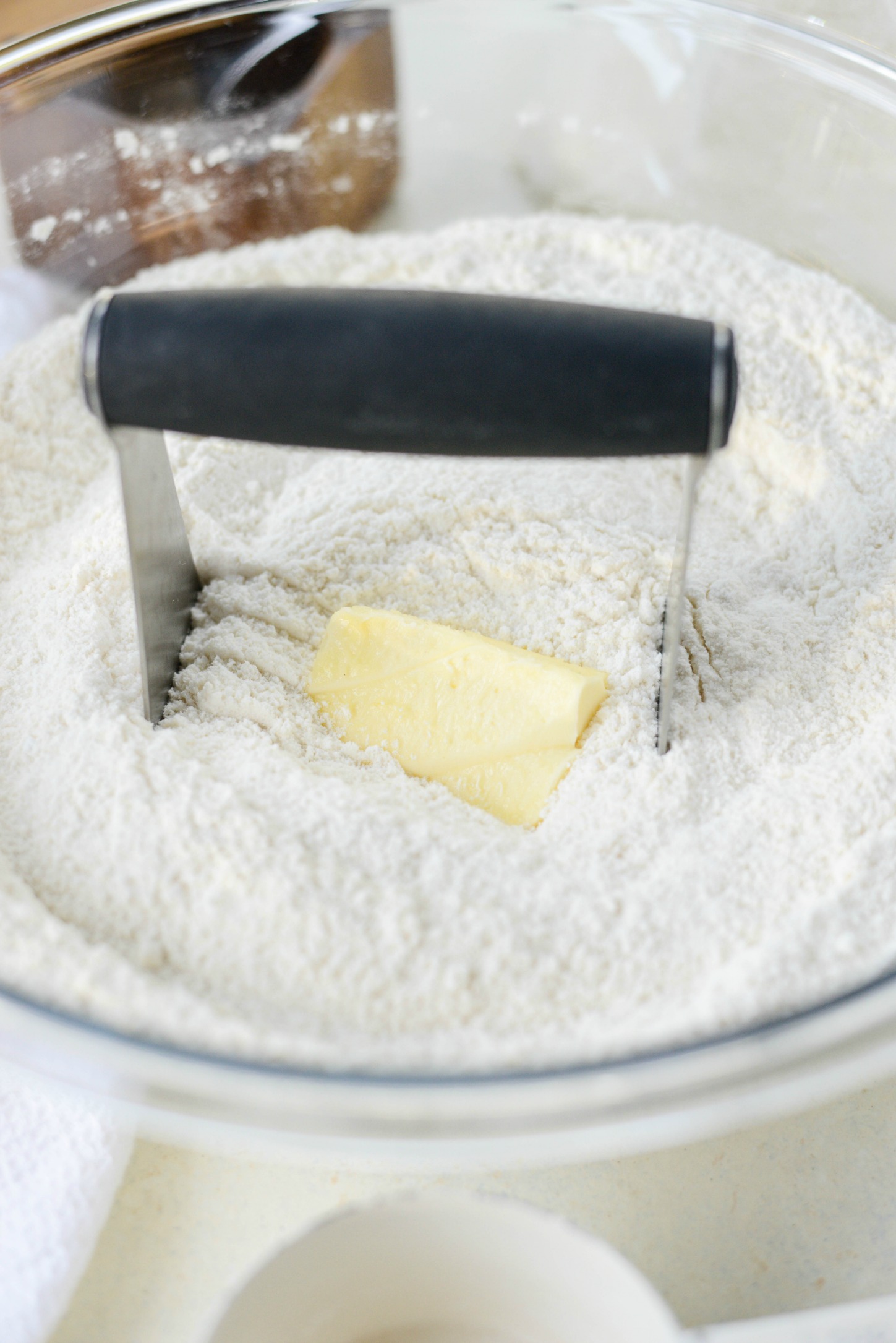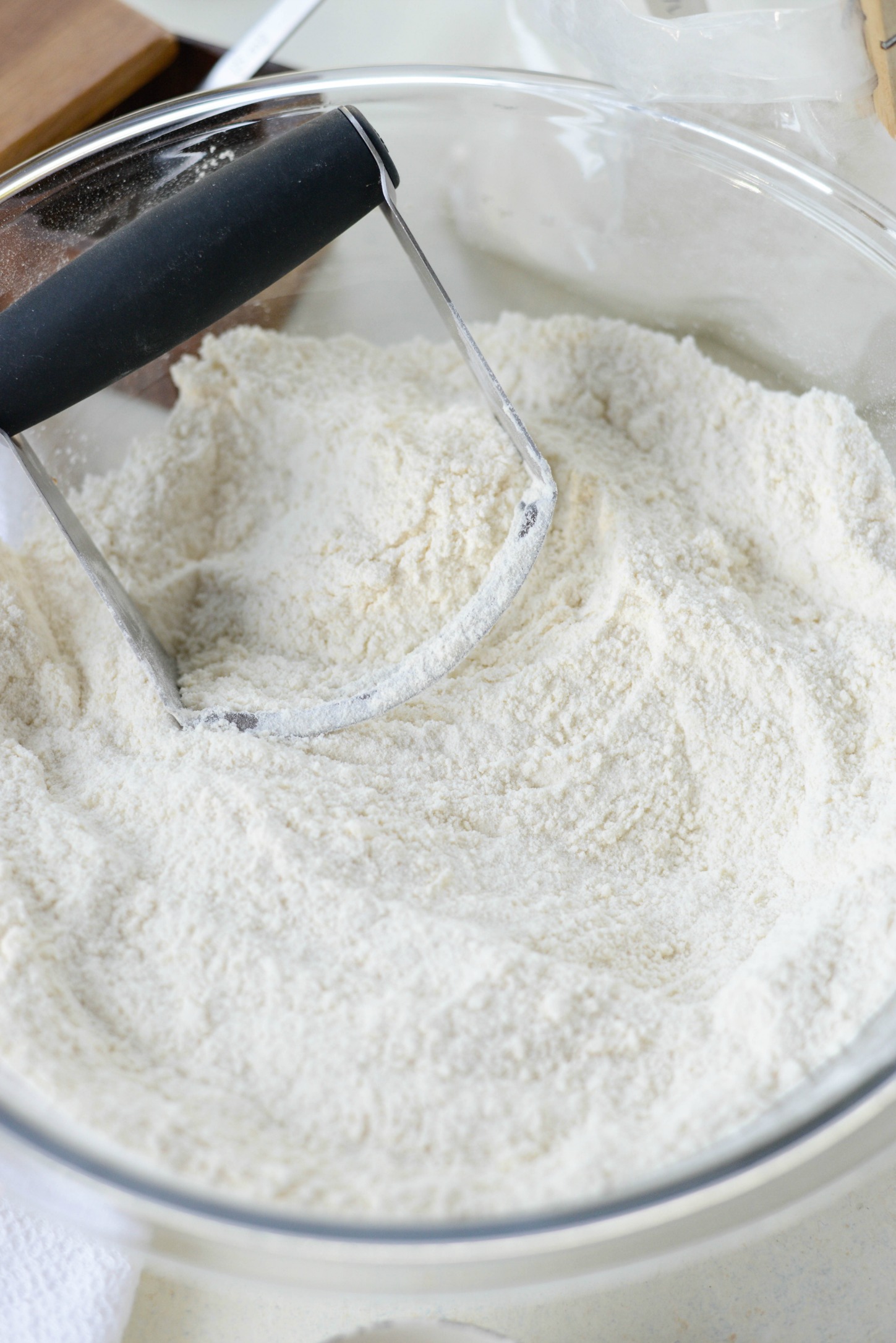 Now is when you can add in the 1/4 cup (or half a stick) of softened unsalted butter. Use a pastry cutter (or a couple of knives or a fork will do) and cut the butter into the flour. Keep going until the butter is no longer detectable in the dry ingredients and it's a super fine crumb.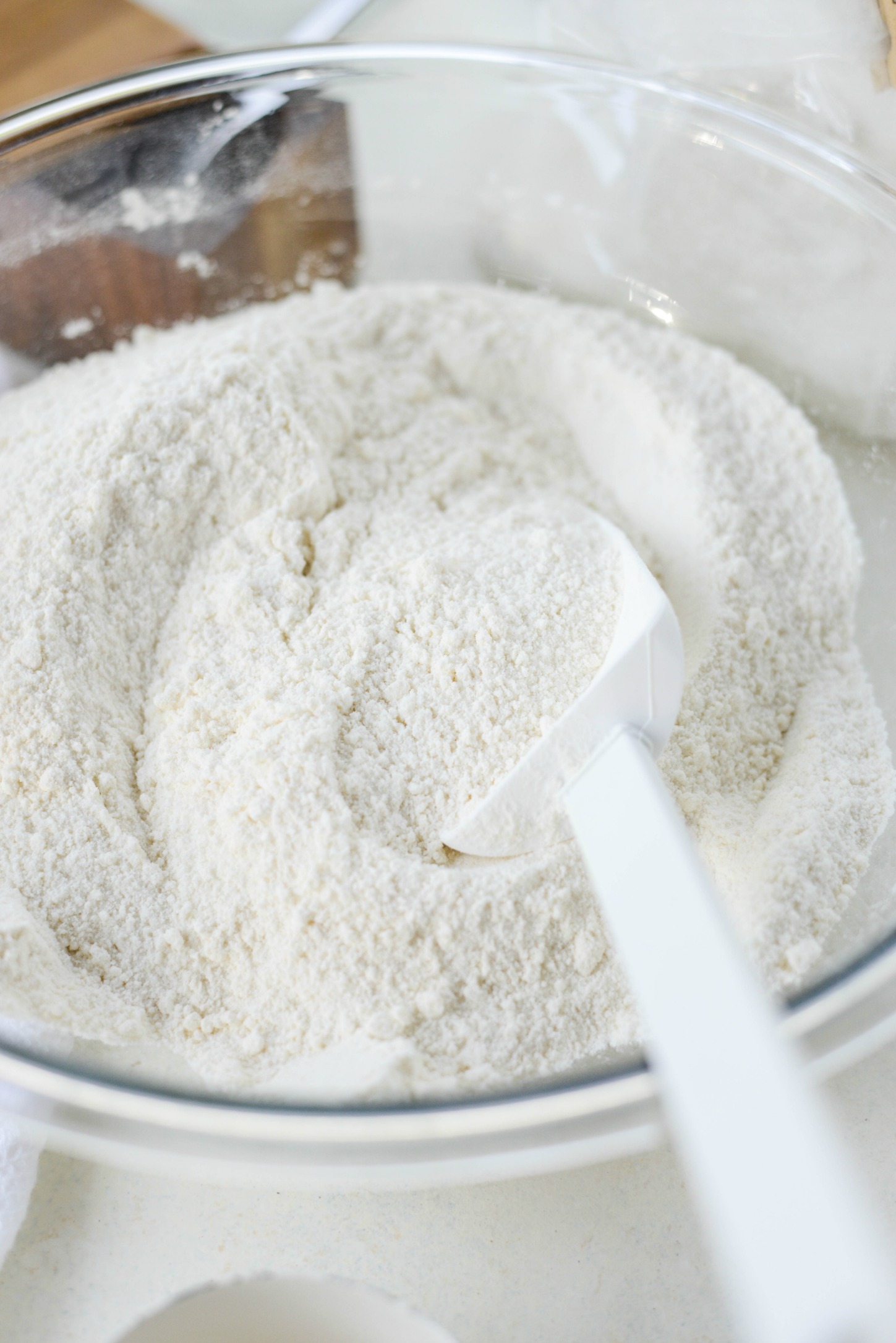 That. Is. It. Seriously, how long did that take? 5 minutes, tops. And I bet you had all the ingredients already in your pantry.
Store the cake mix in an airtight jar if you're storing it for a longer period of time. If you plan to make the cake in a few days, I suggest using a large, gallon-size ziplock baggie. Personally, I just wouldn't store it in a baggie for any long term storage needs. But that's me.
For the full white cake recipe and baking instructions click here!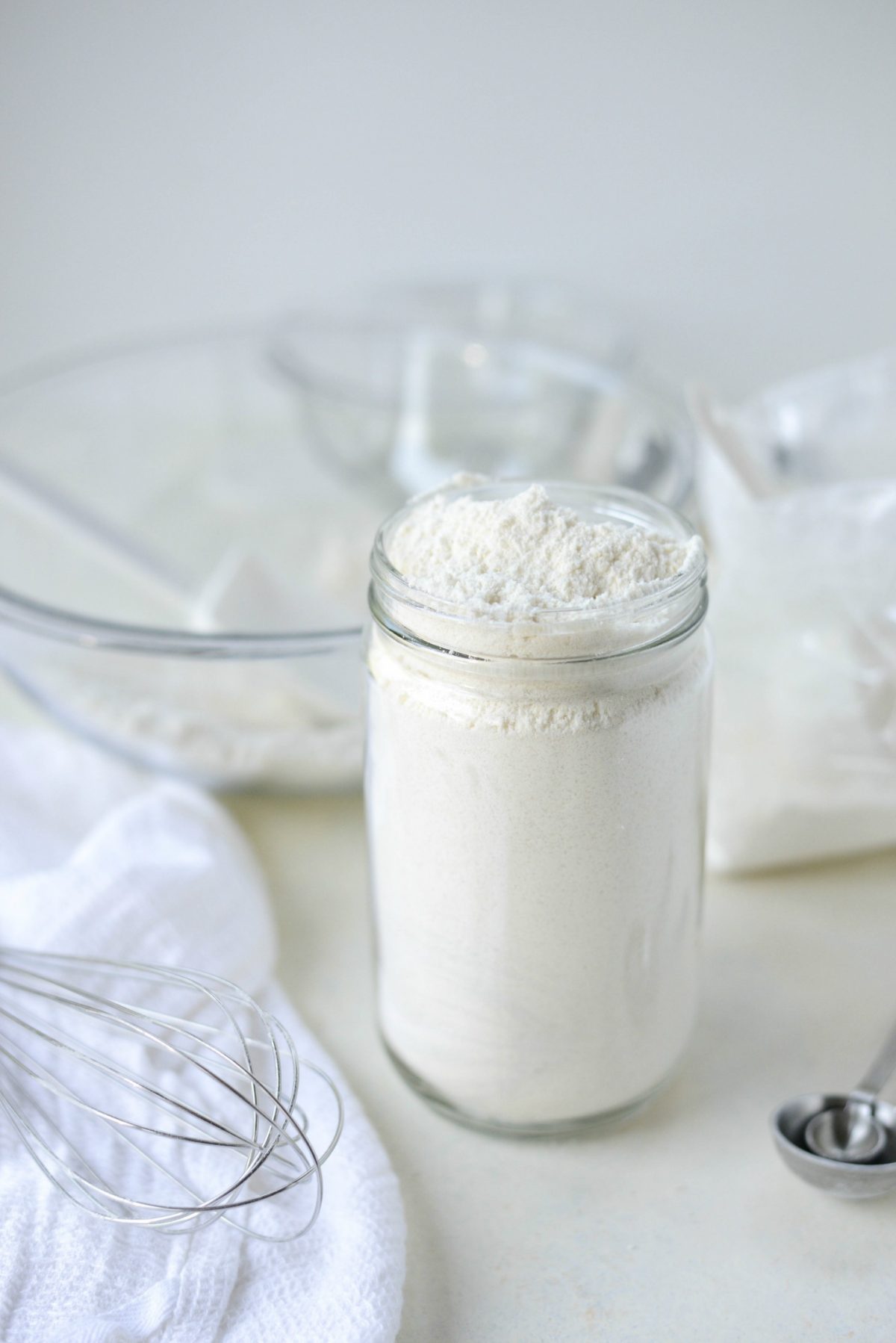 Give Homemade Cake Mix As A Gift:
If you want to give homemade chocolate cake mix as a gift, omit the butter and store all the dry ingredients in a glass jar with a tight fitting lid. Write out the remaining ingredients (include the butter!) and then recipe instructions (start by creaming the butter, vanilla, eggs and adding the dry ingredients, water, oil etc.) out onto a note card and tie it around the jar with string.
Make The Cake:
The recipe for making the cake is below, however if you want to see a step-by-step for the cake and frosting, click here!
Other Homemade Cake Mixes:
Enjoy! And if you give this Homemade White Cake Mix recipe a try, let me know! Snap a photo and tag me on twitter or instagram!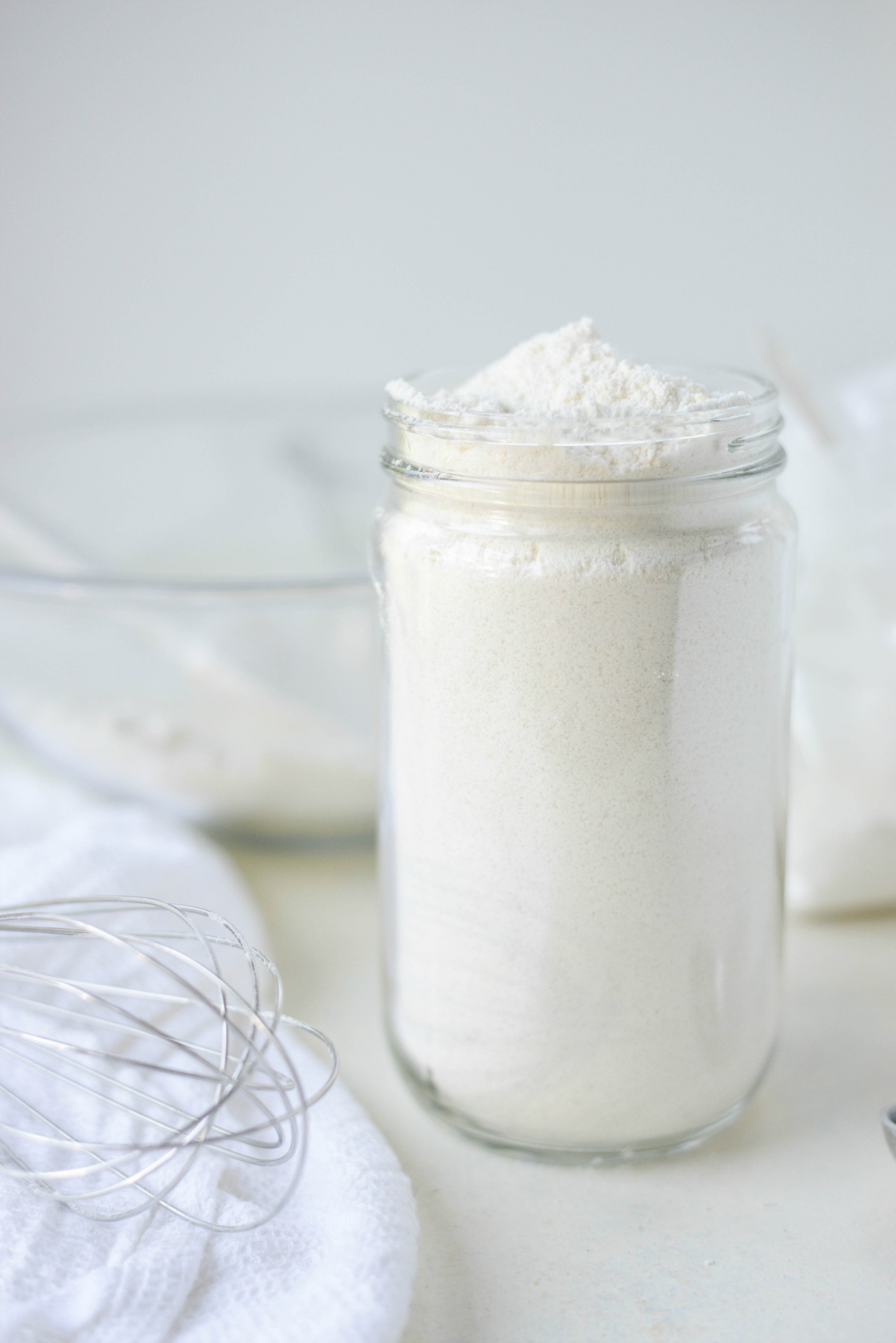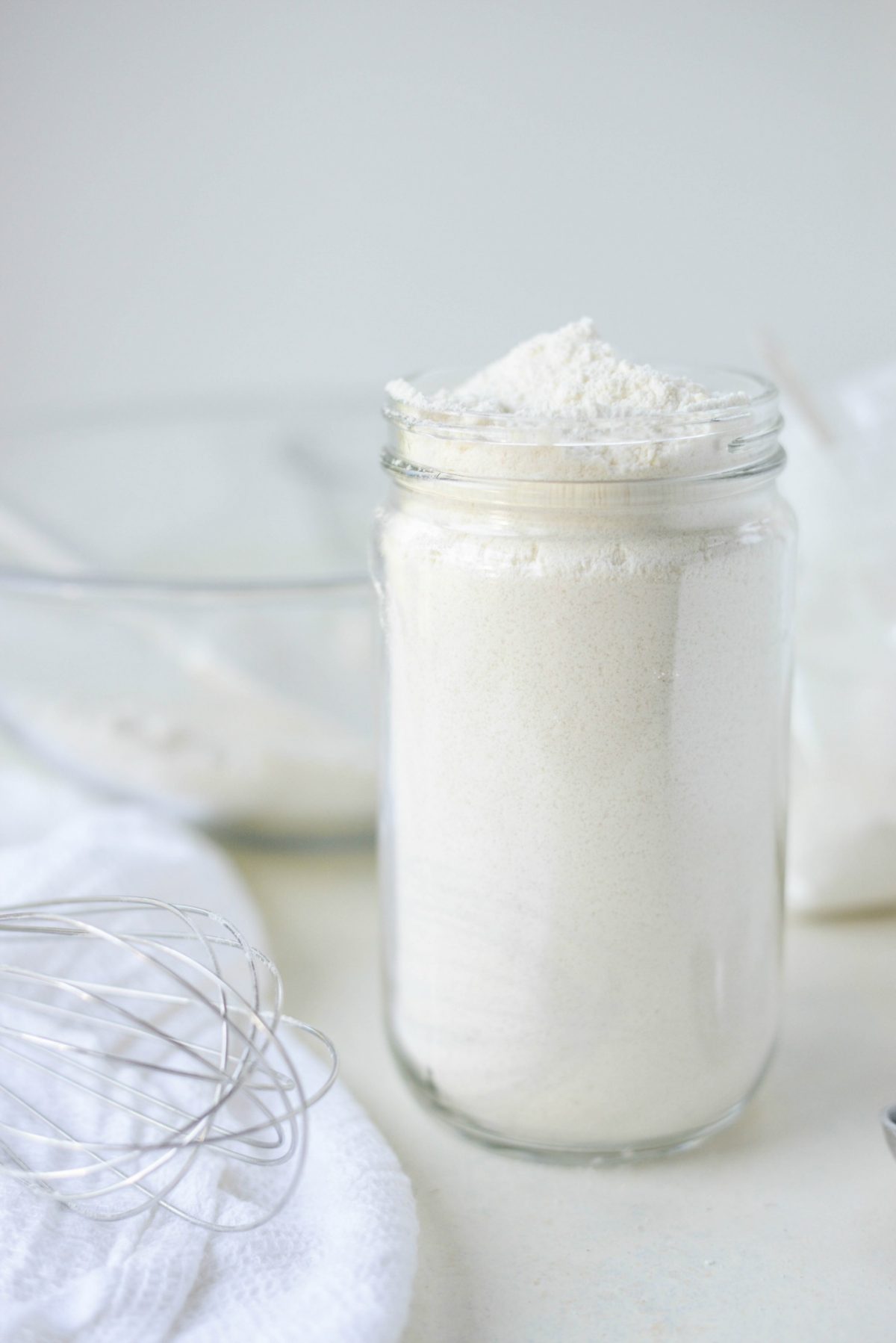 Yield: 1 (2 layer) cake
Homemade White Cake Mix
Store-bought cake mixes are a thing of the past~ this Homemade White Cake Mix can be thrown together in literally no time and can be used right away or made in advance and stored in your refrigerator until your ready to bake. Homemade white cake at your fingertips!
Ingredients
2½ cups cake flour, see notes
1½ cups granulated sugar
4 teaspoons baking powder
1 teaspoon kosher salt
4 tablespoons softened unsalted butter
Instructions
In a large mixing bowl, whisk together the flour, sugar, baking powder and salt.

Then use a pastry blender to cut the butter into the dry ingredients. Blend until the butter is not longer detectable and the mix is a fine crumb.

Store in an airtight container and refrigerate until ready to use.
Notes
I prefer to use cake flour when making cake mixes/cakes as the texture and crumb is perfection. However if you do use all-purpose flour pelase know the texture will be different.
**This is the recipe for the mix only. For the remaining ingredients for making white cake click here.
Serving: 1recipe, Calories: 2699kcal, Carbohydrates: 531g, Protein: 38g, Fat: 51g, Saturated Fat: 30g, Polyunsaturated Fat: 4g, Monounsaturated Fat: 12g, Trans Fat: 2g, Cholesterol: 120mg, Sodium: 4037mg, Potassium: 336mg, Fiber: 8g, Sugar: 300g, Vitamin A: 1406IU, Calcium: 1005mg, Iron: 5mg
Yield: 14 servings
Easy Homemade White Cake with White Buttercream Frosting
This Homemade White Cake is made from scratch using a homemade white cake mix. With ingredients you can pronounce, this homemade cake is deliciously moist and tender and frosted with layers of sweet vanilla buttercream frosting. Just add sprinkles! Yields 1 double layer 9-inch cake which will feed 8 to 32 people if sliced accordingly.
Instructions
In the bowl of your stand mixer, fitted with the paddle attachment; add the cake mix, milk, oil and vanilla extract. Mix on low speed until combined. Then add in the egg whites and mix until incorporated.

Divide the cake batter amongst pans, tap each pan on the counter before sliding into your preheated 350° oven for 25 minutes or until a cake tester comes out with only a few crumbs attached.

Allow the cakes to cool in the pans for 10 minutes. Run a knife around the edges of each cake before removing the cake and transferring to a cooling rack. Cool completely before frosting.

Place one cake onto a cake stand or plate. Top with half of the frosting and spread evenly to the edges of the cake. Place the second layer on top and repeat with the frosting.

Top with sprinkles, candles, a banner or whatever your heart desires.
Serving: 1slice, Calories: 556kcal, Carbohydrates: 73g, Protein: 6g, Fat: 27g, Saturated Fat: 12g, Polyunsaturated Fat: 9g, Monounsaturated Fat: 6g, Trans Fat: 2g, Cholesterol: 46mg, Sodium: 317mg, Potassium: 73mg, Fiber: 1g, Sugar: 57g, Vitamin A: 540IU, Calcium: 101mg, Iron: 2mg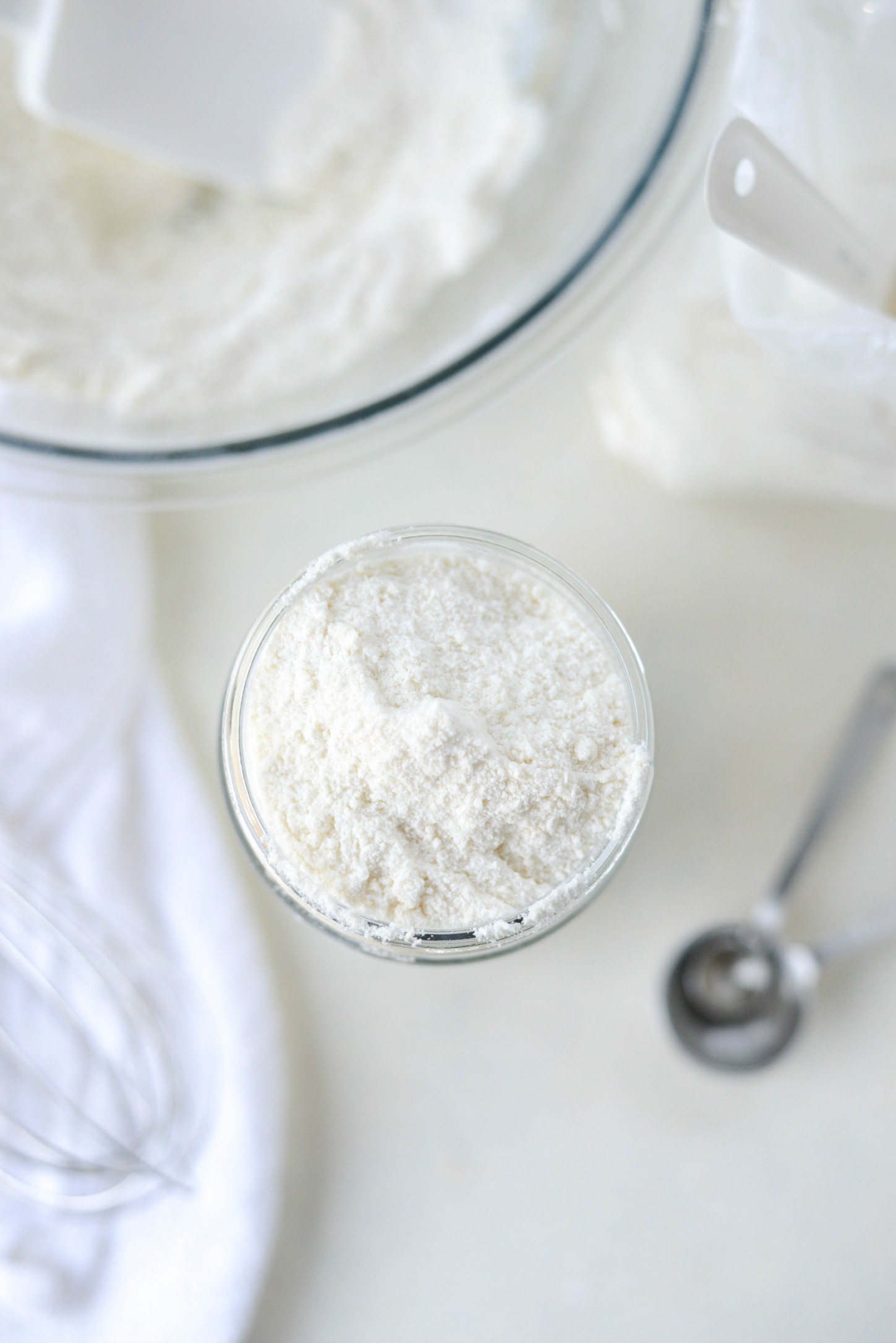 This post may contain affiliate links.
Buy the Cookbook: Simply Scratch : 120 Wholesome Homemade Recipes Made Easy Now available on Amazon »
THANK YOU in advance for your support!