This is our favorite homemade stromboli recipe! From scratch pizza sauce, sandwich pepperoni, genoa salami and ham is rolled up with mozzarella cheese in homemade pizza dough. Baked until golden perfection and then sliced and served with extra pizza sauce.
Stromboli basically is a pizza rolled up into a loaf and baked.
Really, it's as simple as that. I like to fill mine with homemade pizza sauce (although adding the sauce is not considered authentic) then I add layers of three kinds of meat and lots of mozzarella cheese. Truthfully you could stuff this with just about anything and call it good.. or stromboli. I mean, sausage, peppers and onions… you name it. The sky is the limit my friends.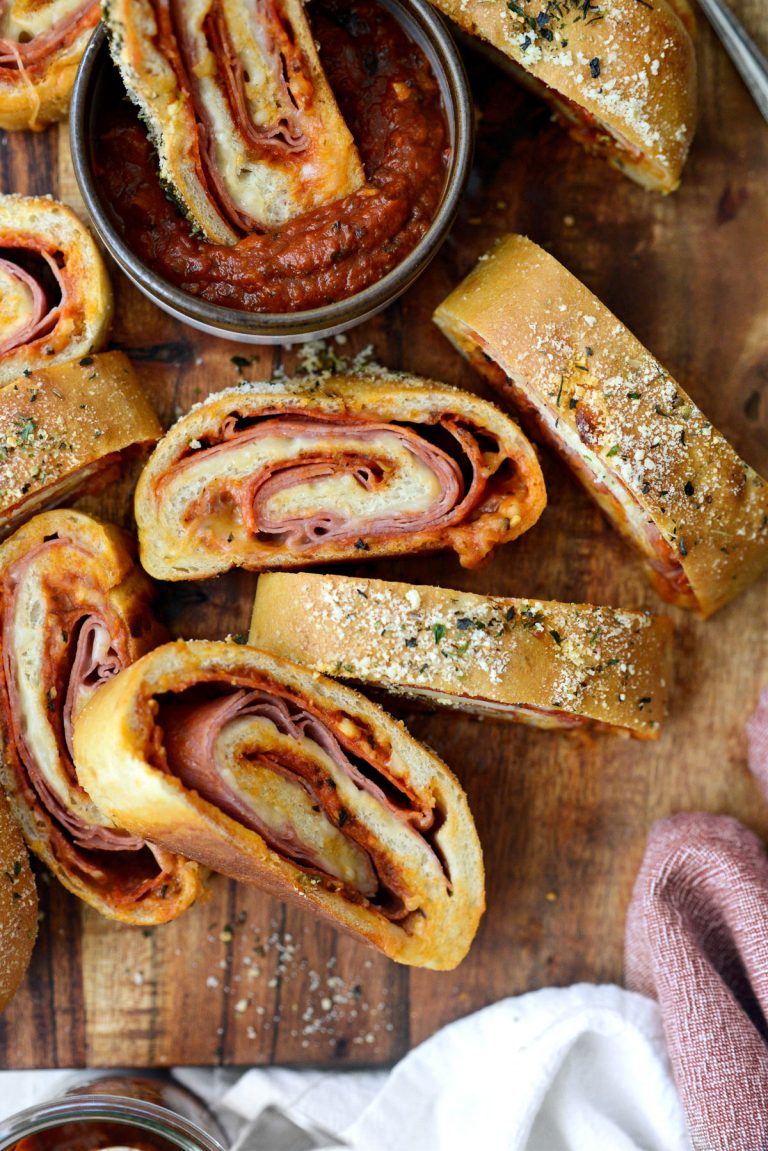 Besides being super versatile, what's great about stromboli is that it can be lunch, dinner or a yummy appetizer at your next party. Just be sure to serve it up with a bowl of the warm homemade pizza sauce for dunking.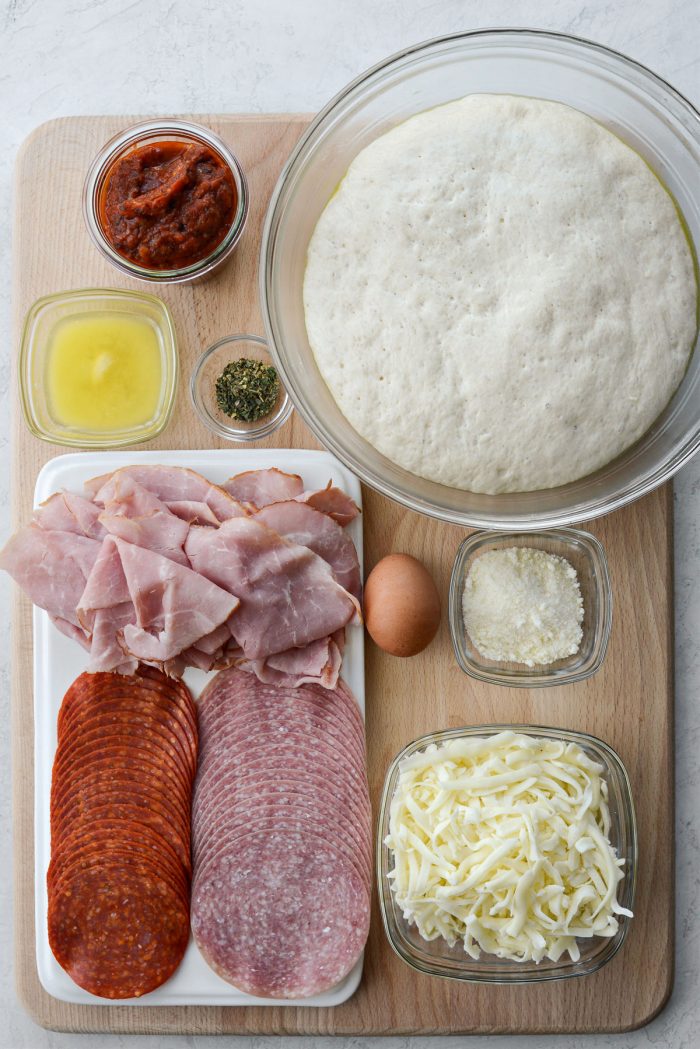 T0 Make this Homemade Stromboli You Will Need:
homemade pizza dough
pizza sauce
mozzarella
sandwich pepperoni
deli ham
Genoa salami
egg (for egg wash)
melted butter
parmesan cheese
italian seasoning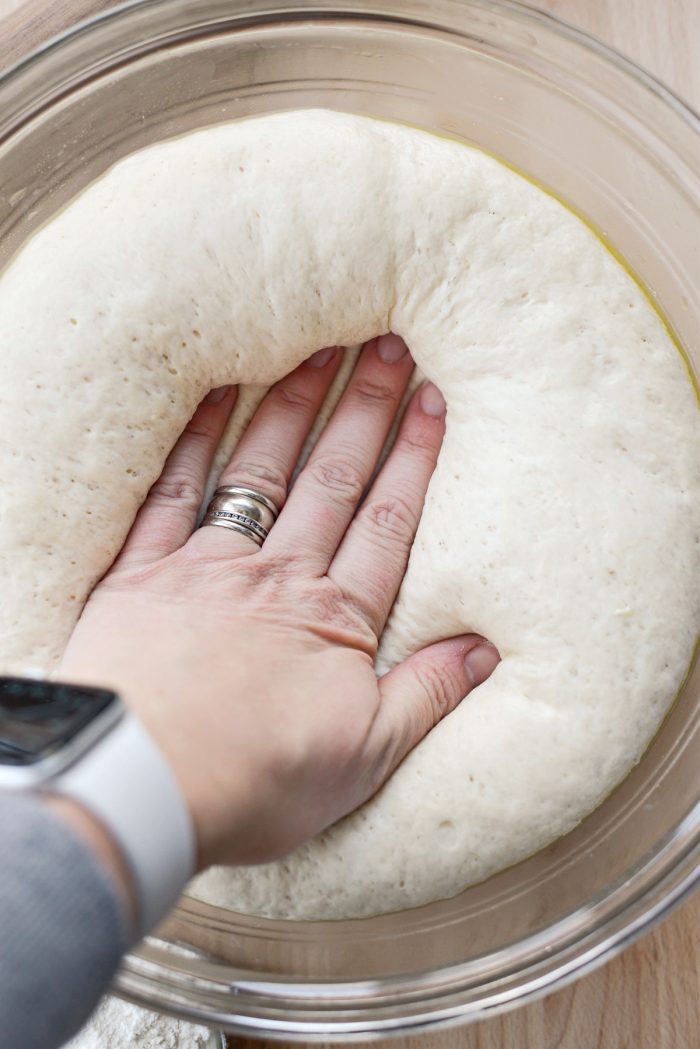 First things first, pizza dough. I use my homemade pizza dough. After it is made, cover and let it rise on the counter for 1 hour. Once doubled in size, uncover and press or punch the dough to deflate.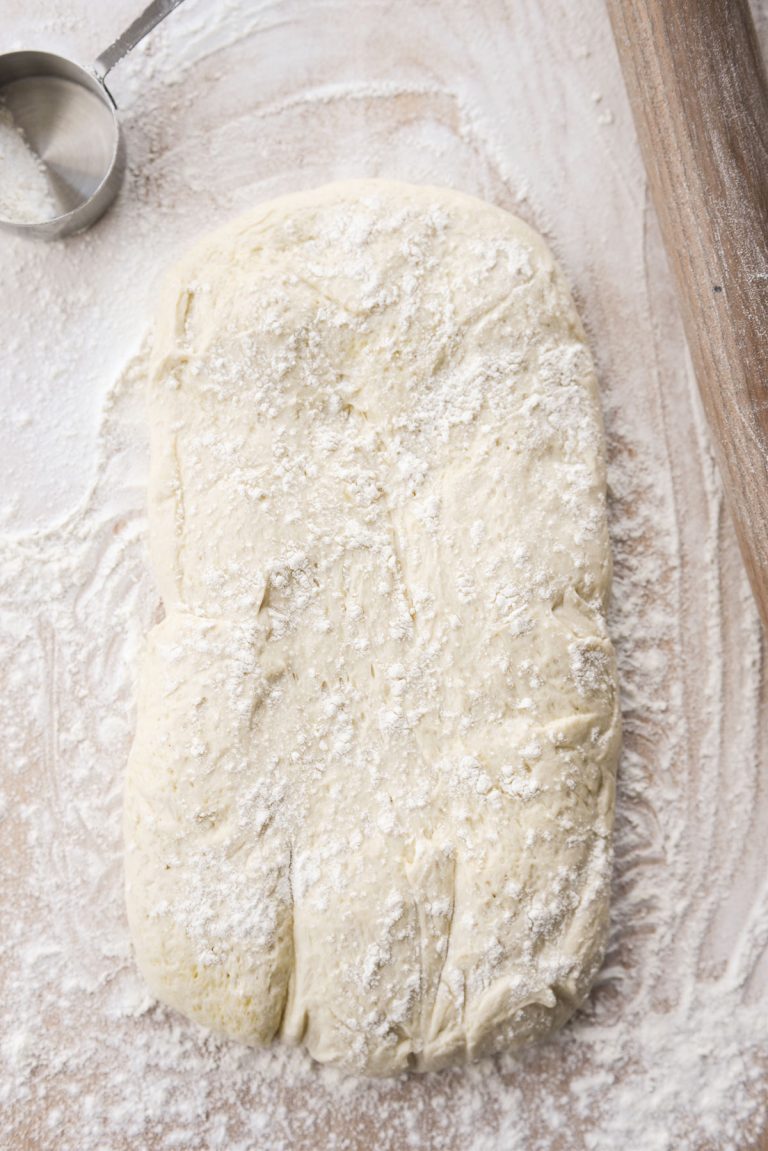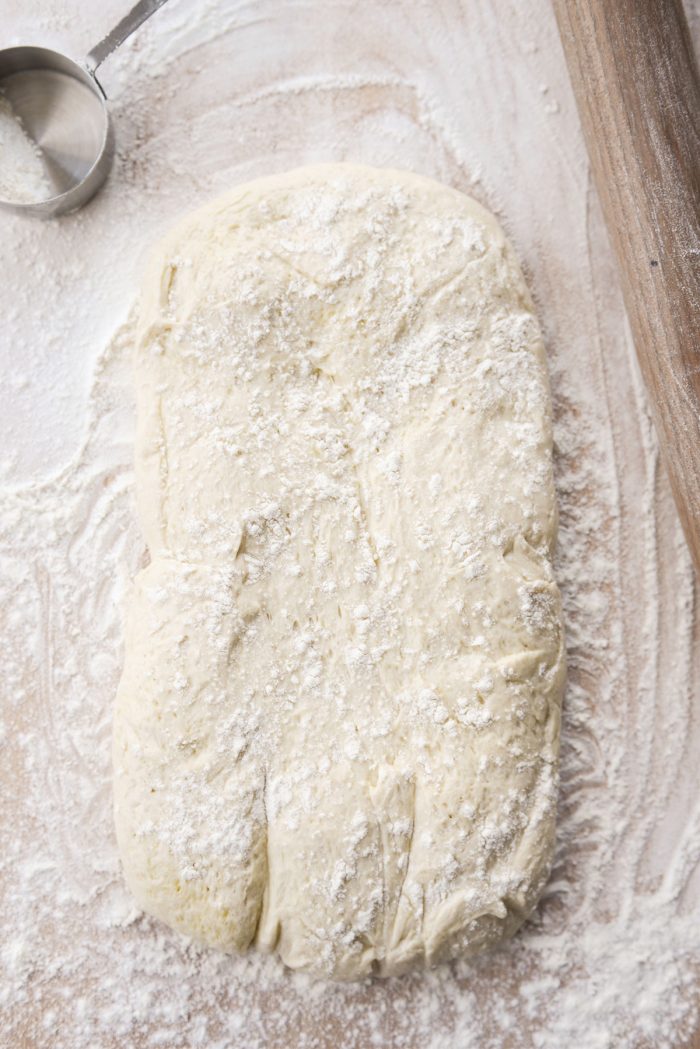 Turn the dough out onto a lightly floured surface. I sprinkle a large work surface with a couple tablespoons of flour and then sprinkle the top of the dough along with the rolling pin with more flour.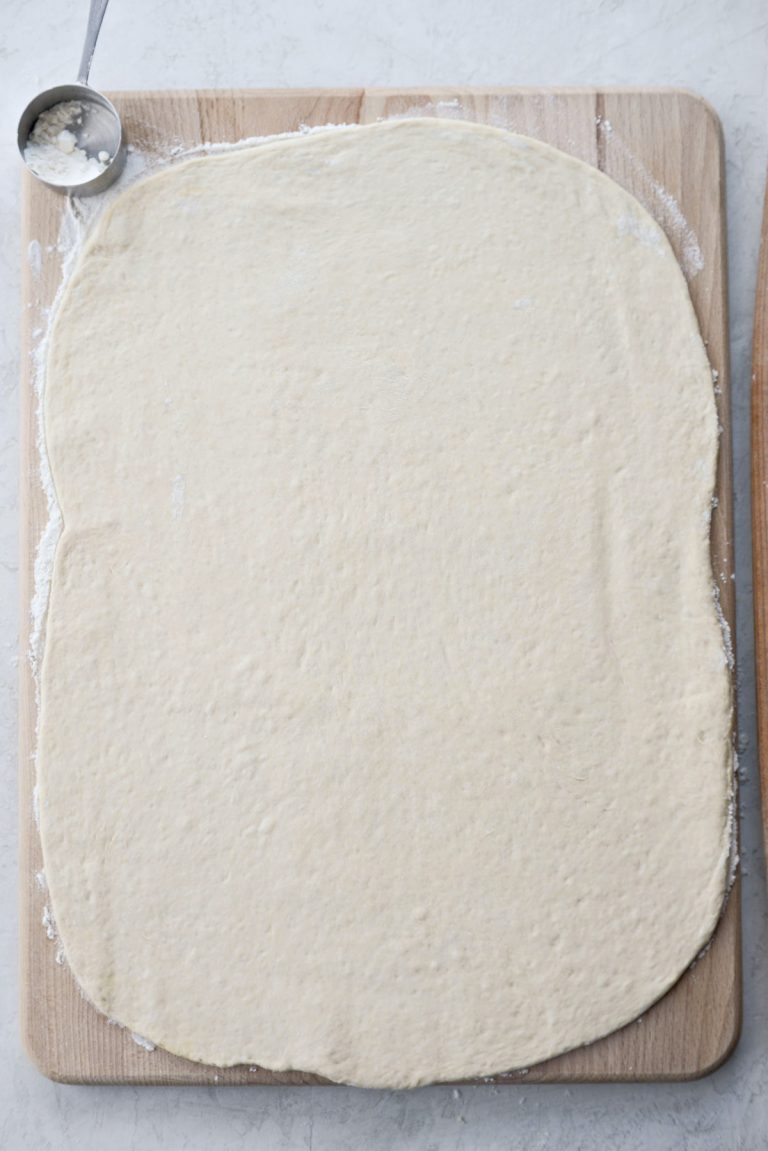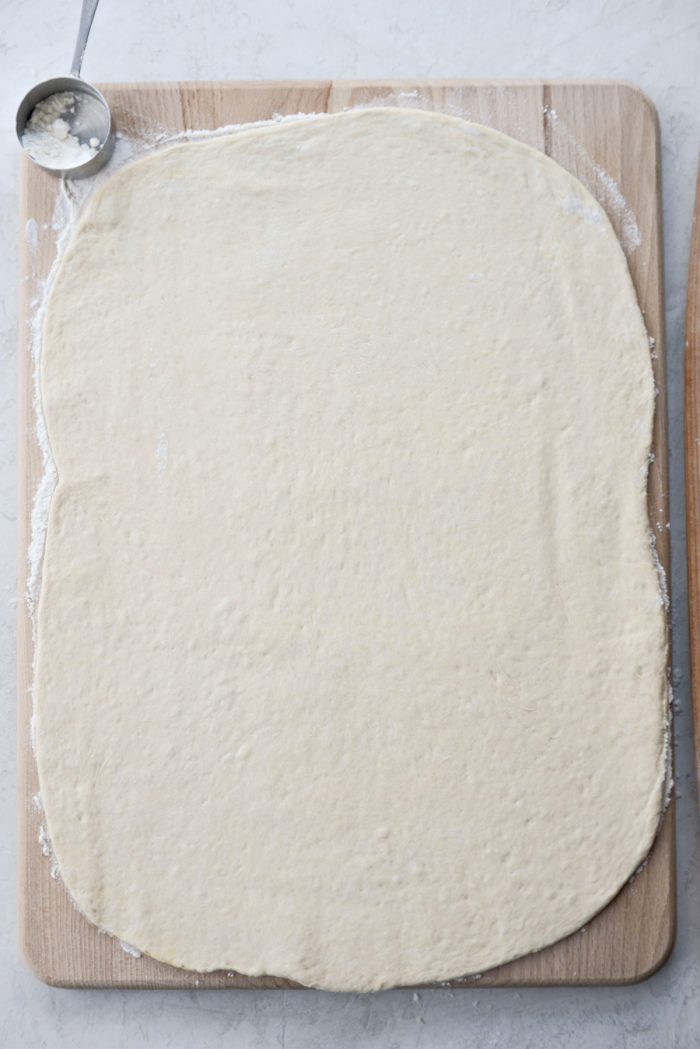 Roll the pizza dough out into a large rectangle. Roughly 20 x 14.. I usually just eyeball it.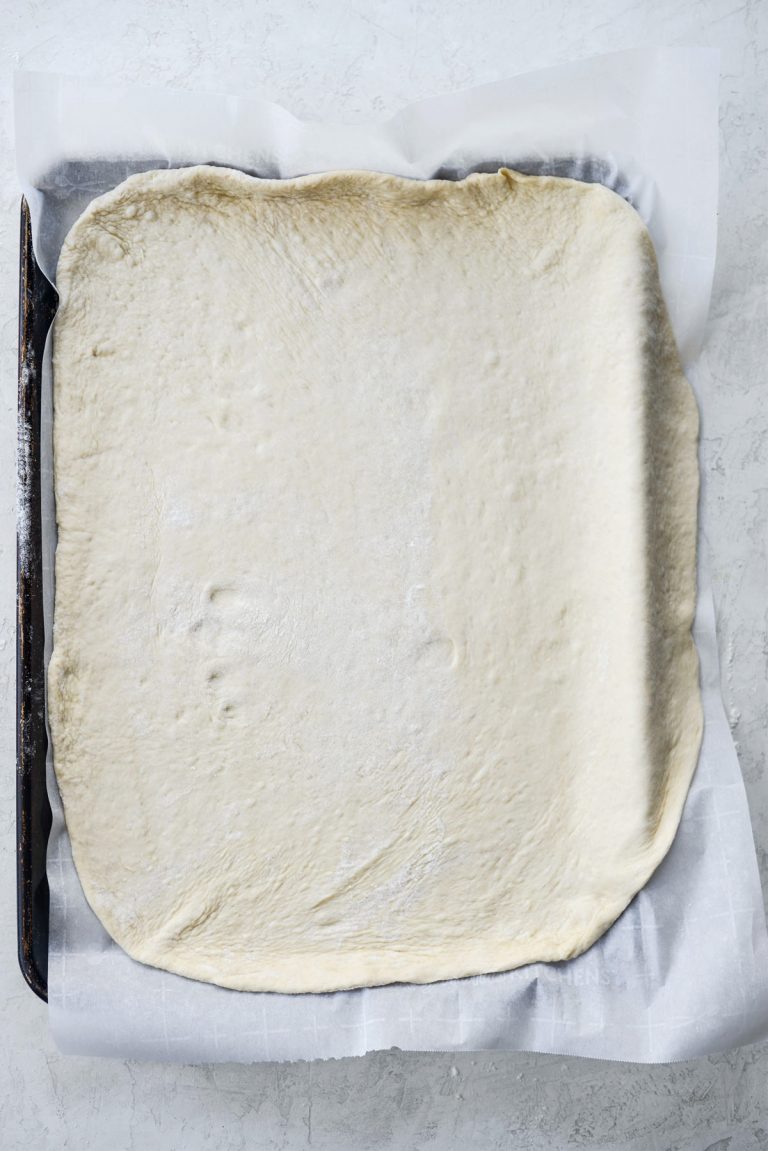 Carefully roll the dough up onto my rolling pin and gently laid it out onto a parchment lined, rimmed baking sheet.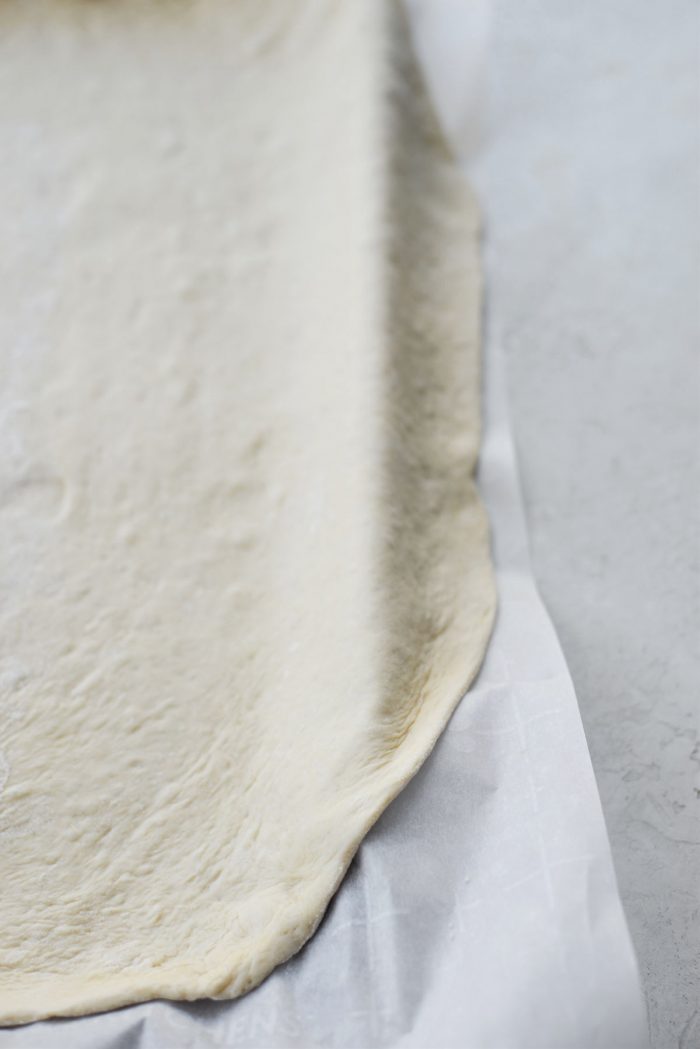 Leaving a 2-inch overhang.
Earlier, while the dough was rising, I went to town making homemade pizza sauce. I make this sauce ALL the time, it takes 20 minutes or so and is the best pizza sauce.
Spoon roughly 1/2 cup of the pizza sauce onto the dough and spread it out leaving a 1/2-inch border on three sides and a 2 inch border on one of the longer sides.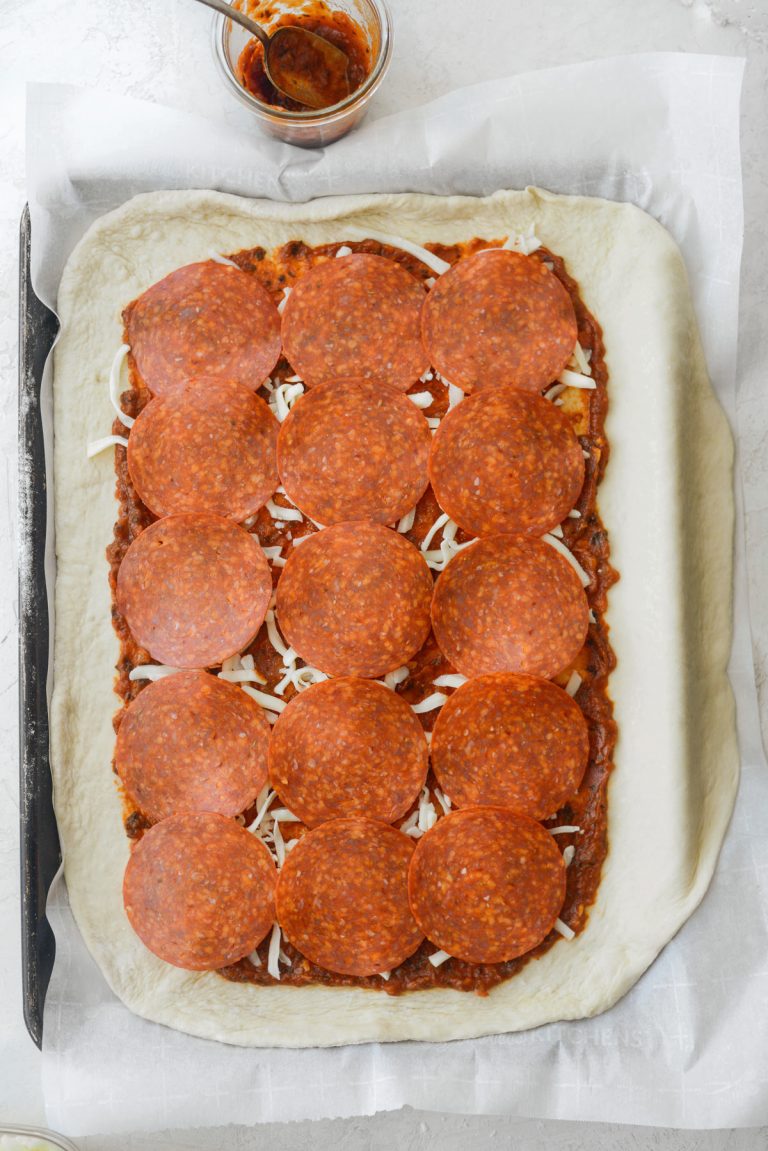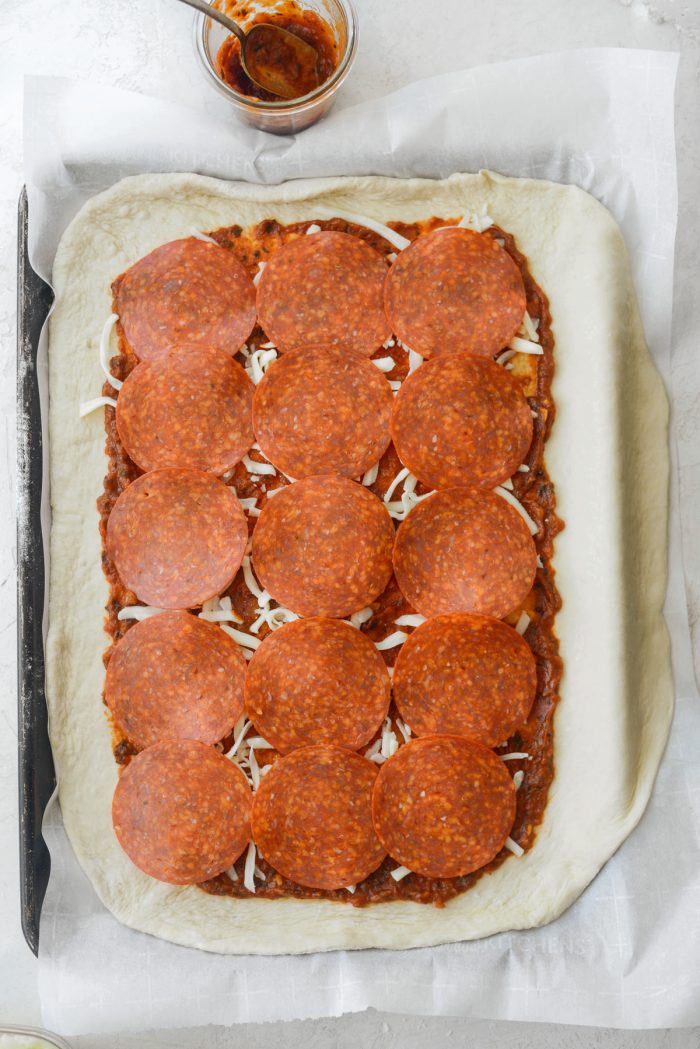 Sprinkle half of the mozzarella over top of the sauce and arrange 15 slices of sandwich pepperoni on top of the sauce and cheese. Sandwich pepperoni is larger than regular pepperoni and you can typically ask for it at the deli counter. It's my favorite pepperoni to use for pizzas.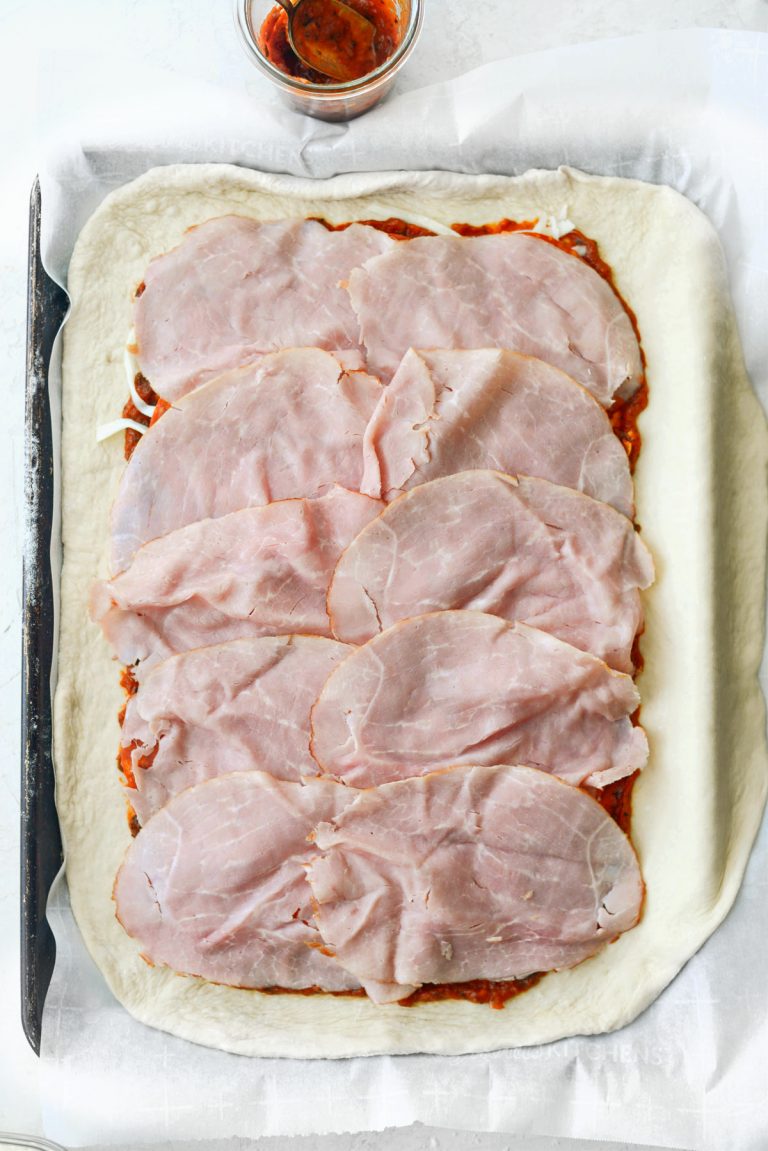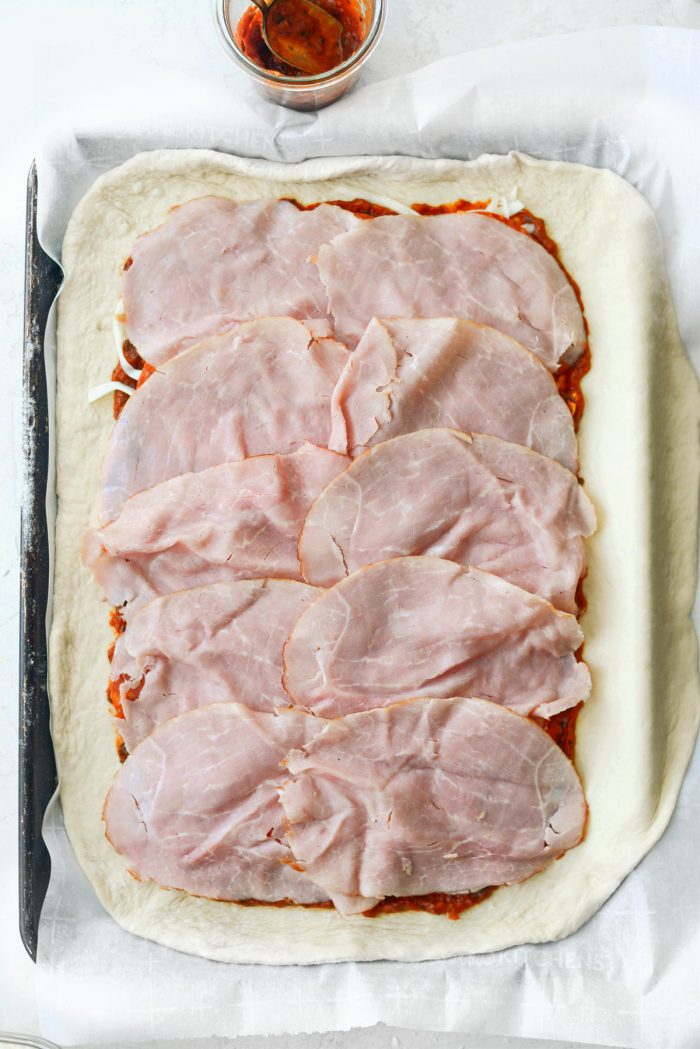 Moving on, top with 10 slices of ham.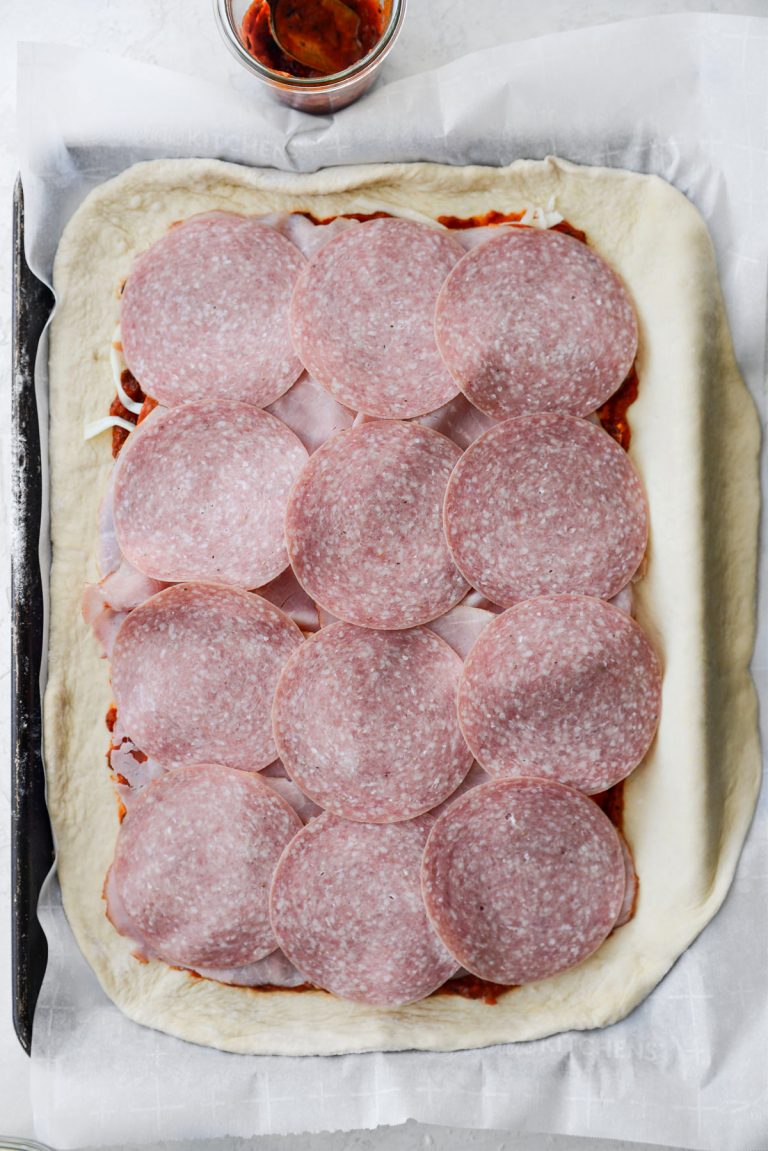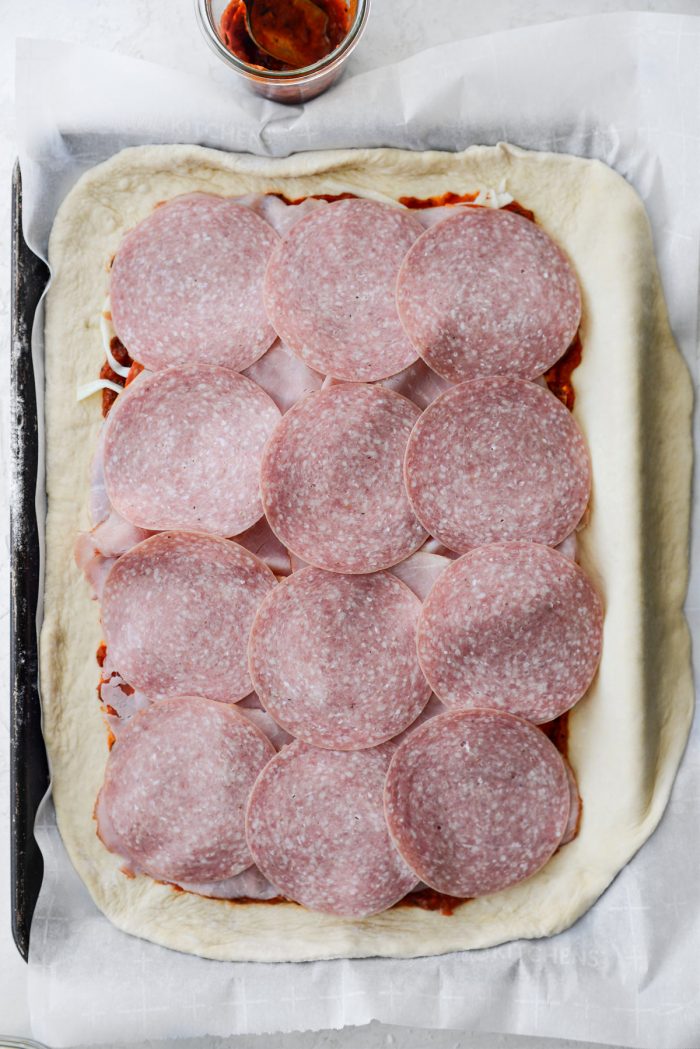 Next arrange 12 slices of Genoa salami.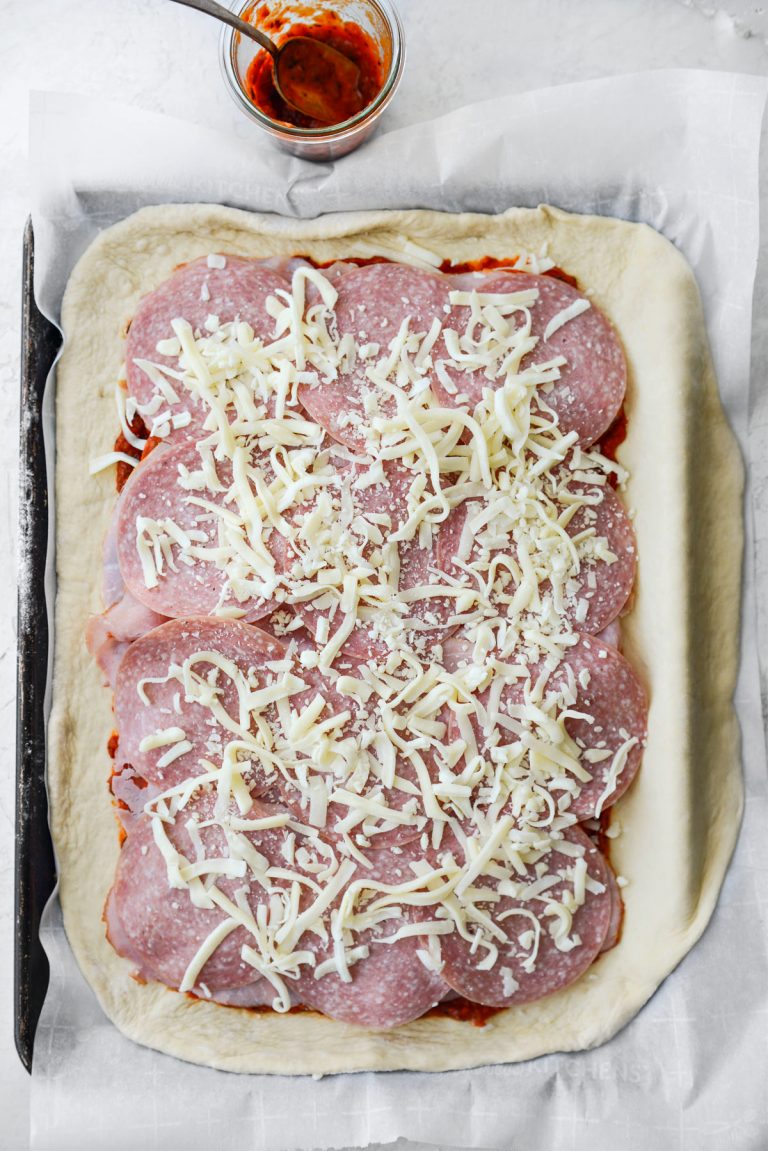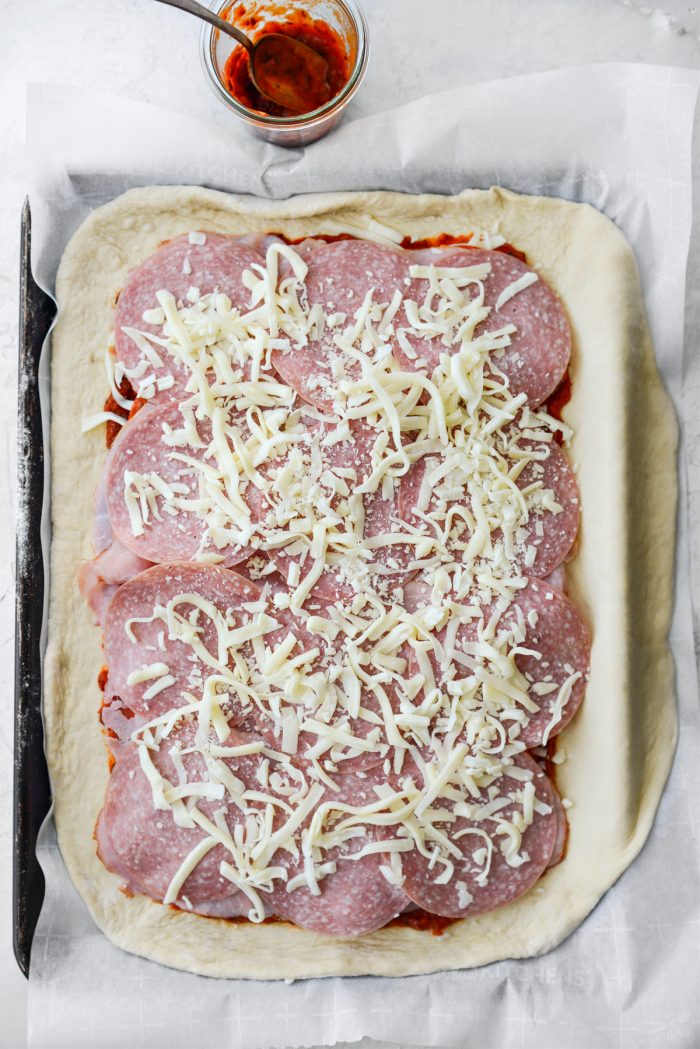 Lastly, sprinkle the remaining shredded mozzarella over top.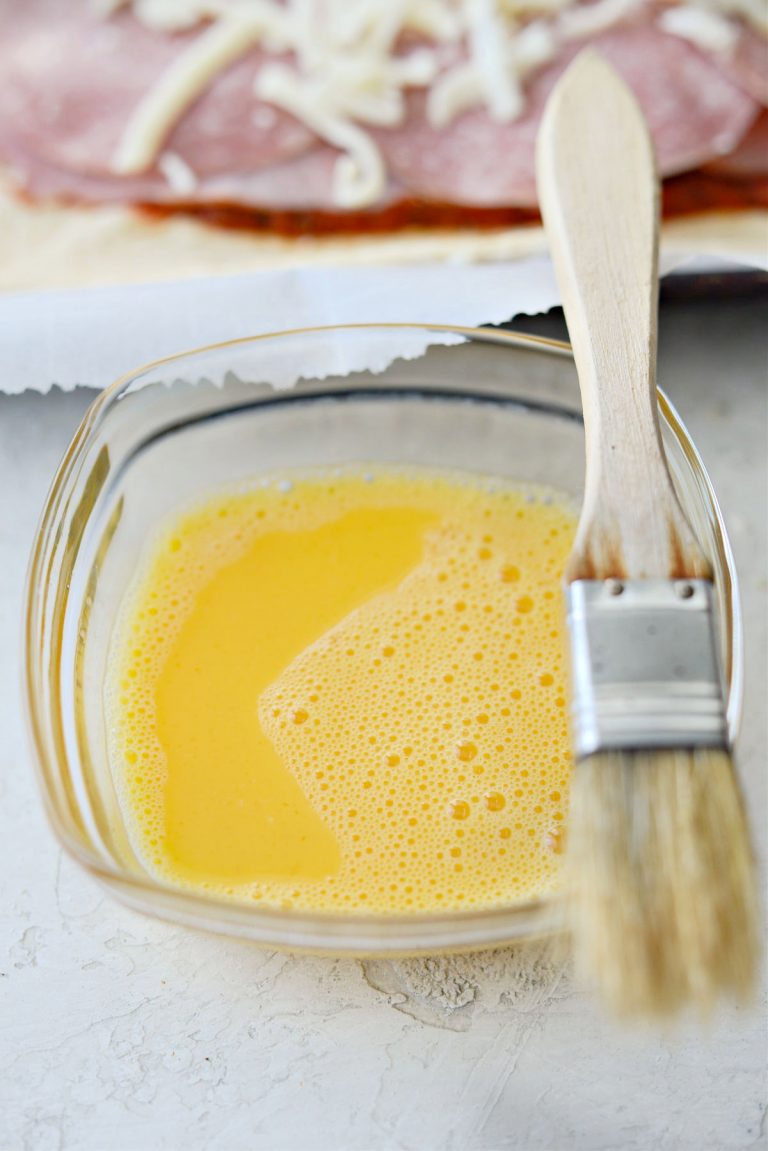 Make the egg wash by beating an egg with 1 tablespoon of water.
Brush a little of the egg wash on all of the exposed edges.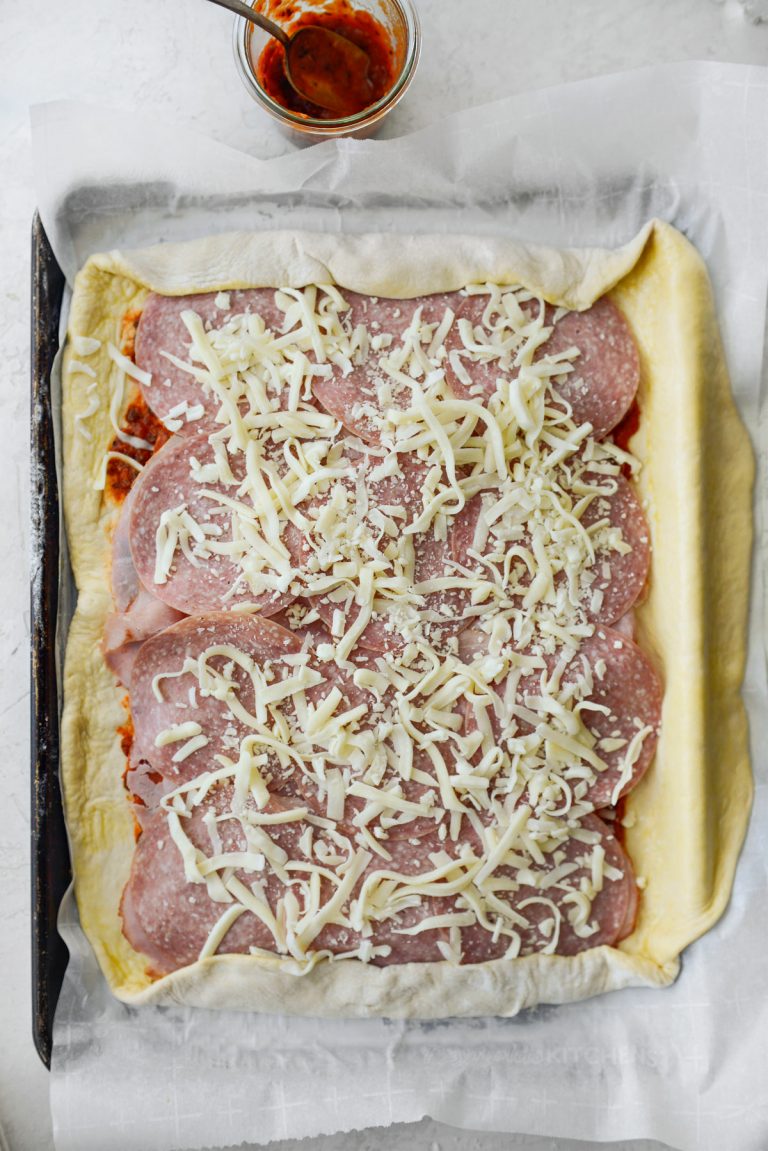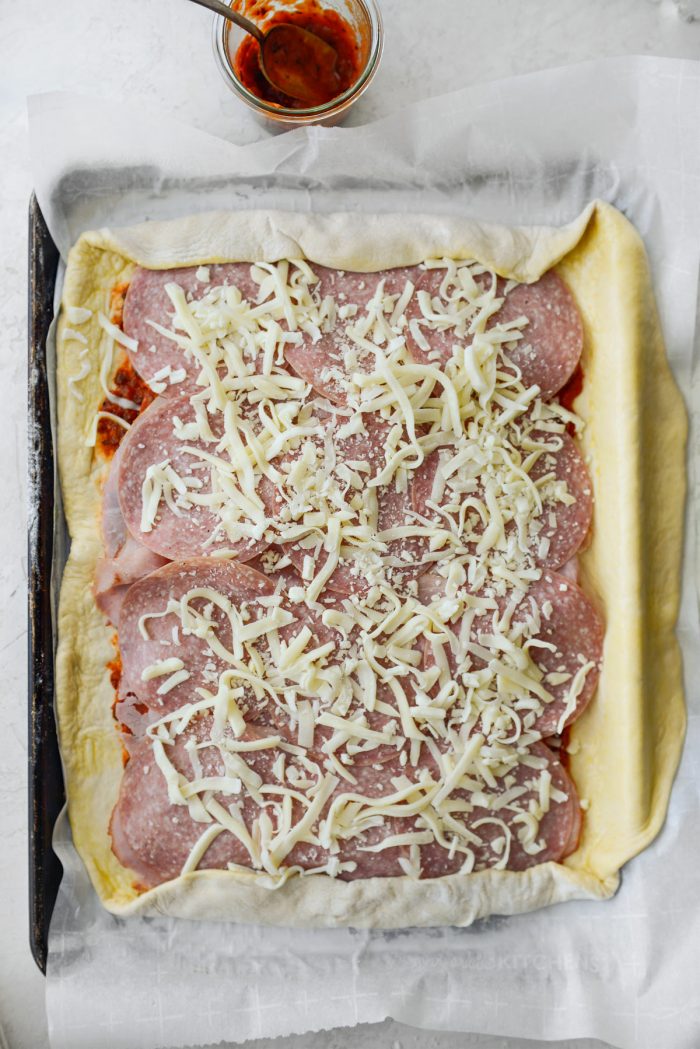 Fold in both of the sort edges.
Fold over the long side opposite of the 2-inch overhang.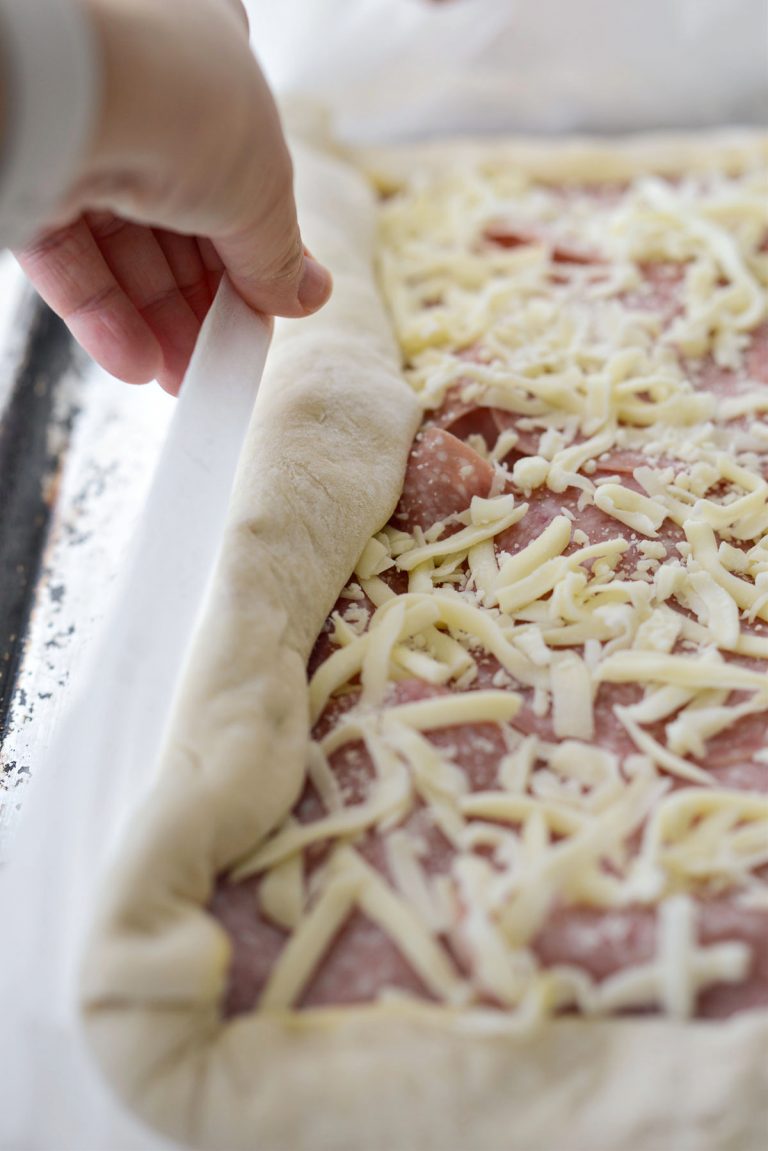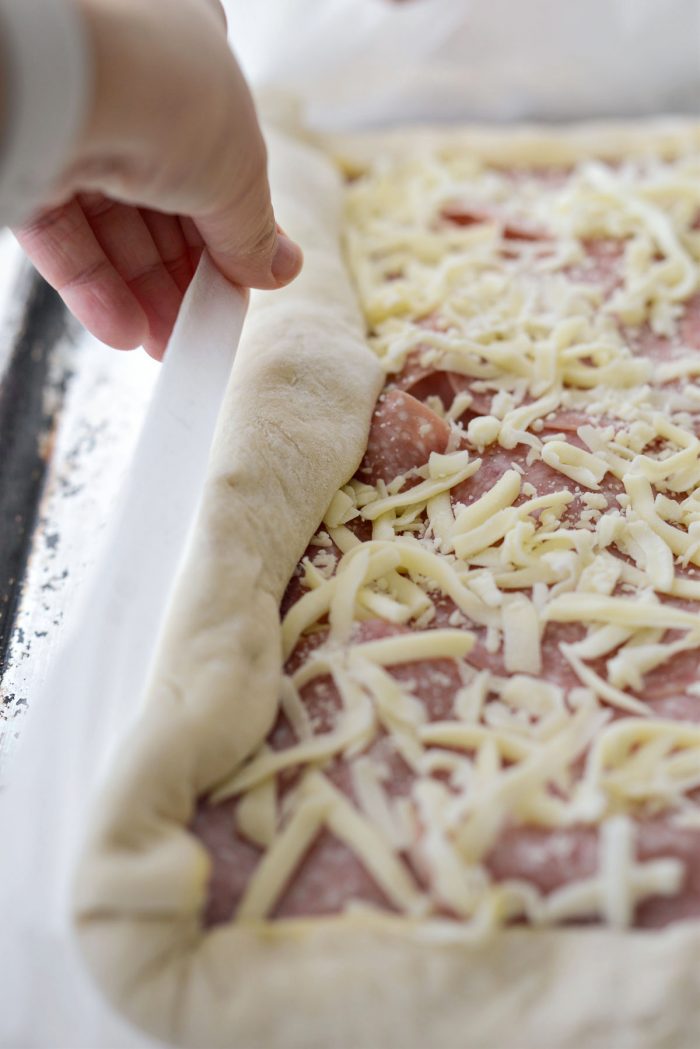 Use the parchment to roll the pizza dough towards the 2-inch over hang.
Then use the parchment under 2-inch overhang to roll the stromboli back so it is seam side down.
Repositioned the stromboli so its roughly in the center of the pan.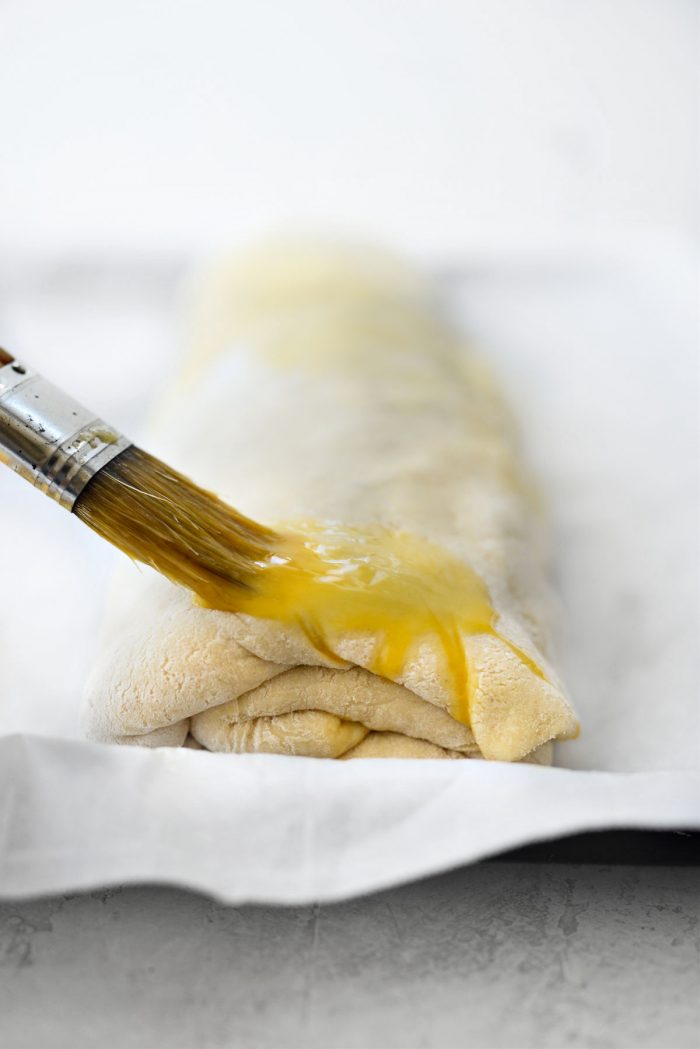 Brush the top and sides of the stromboli with more of the egg wash.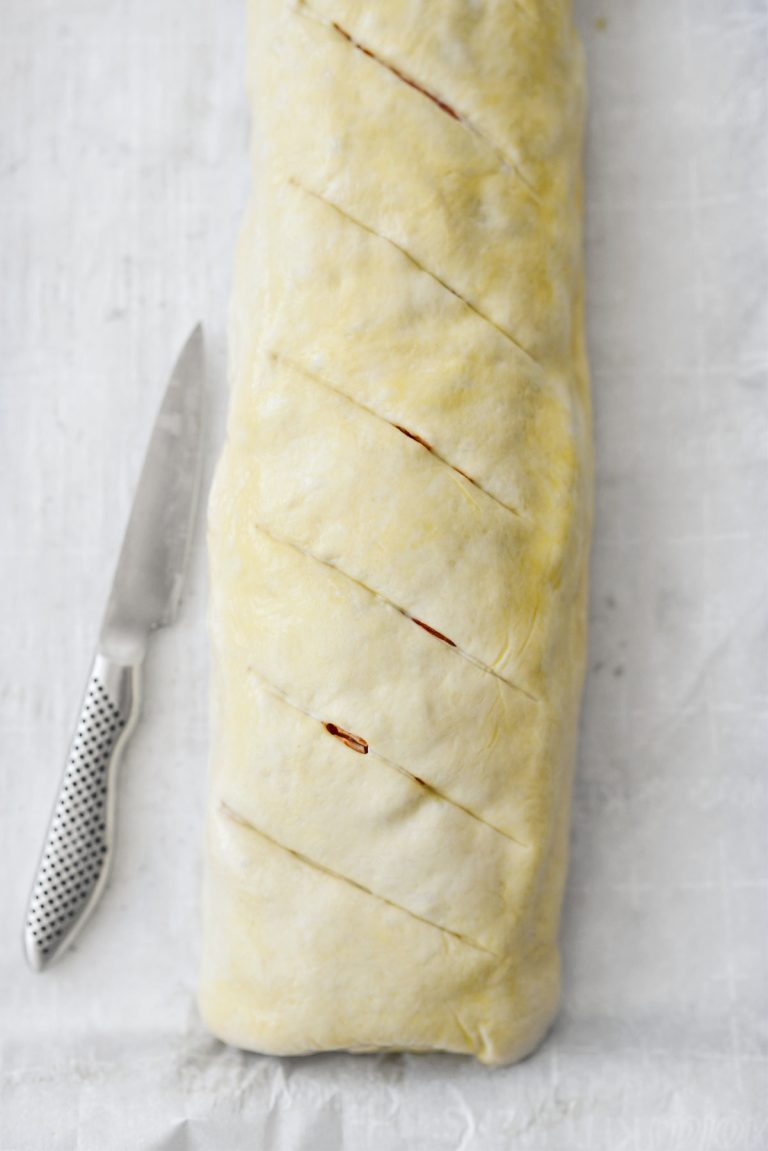 Then use a paring knife to make diagonal slits for venting steam. Bake in your preheated 500° oven for 10 minutes, rotate the pan halfway through. Then reduce the oven temperature to 375° and bake for an additional 10 minutes.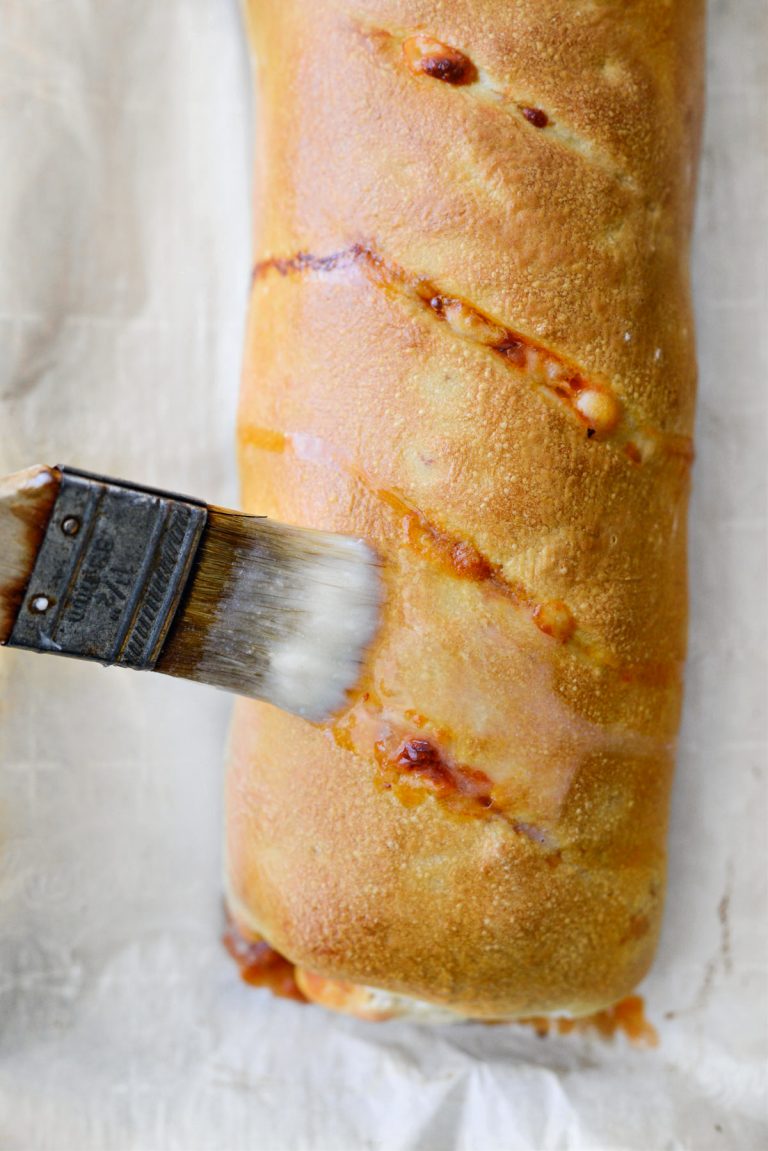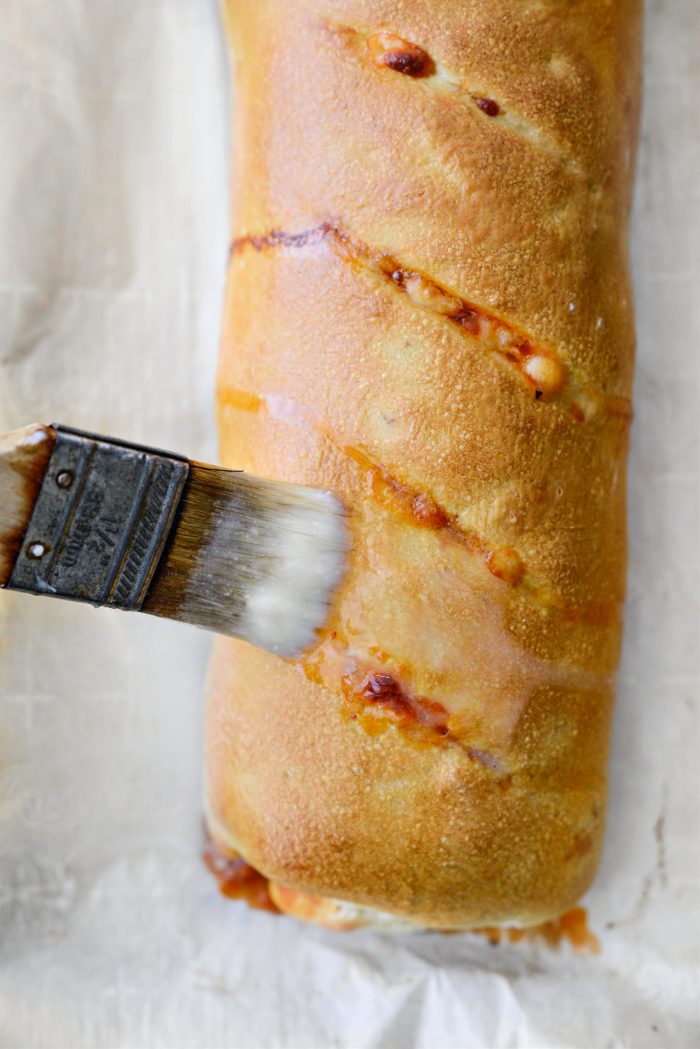 Remove and brush with melted butter.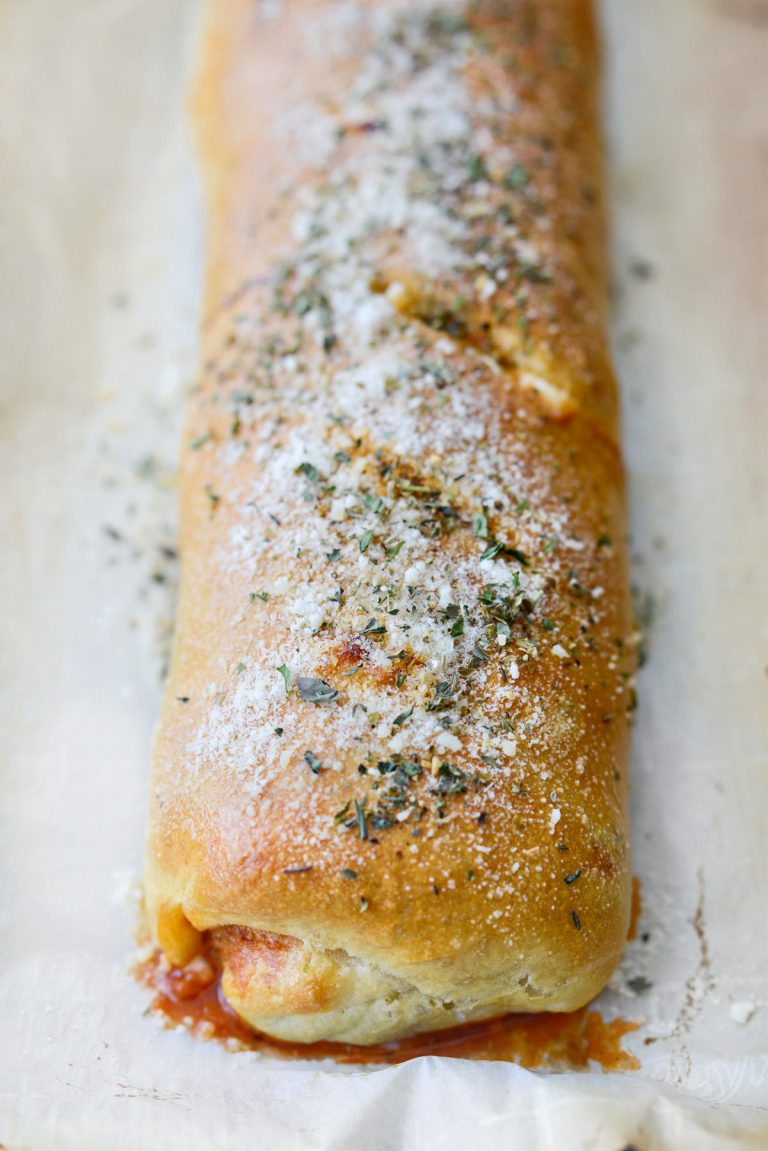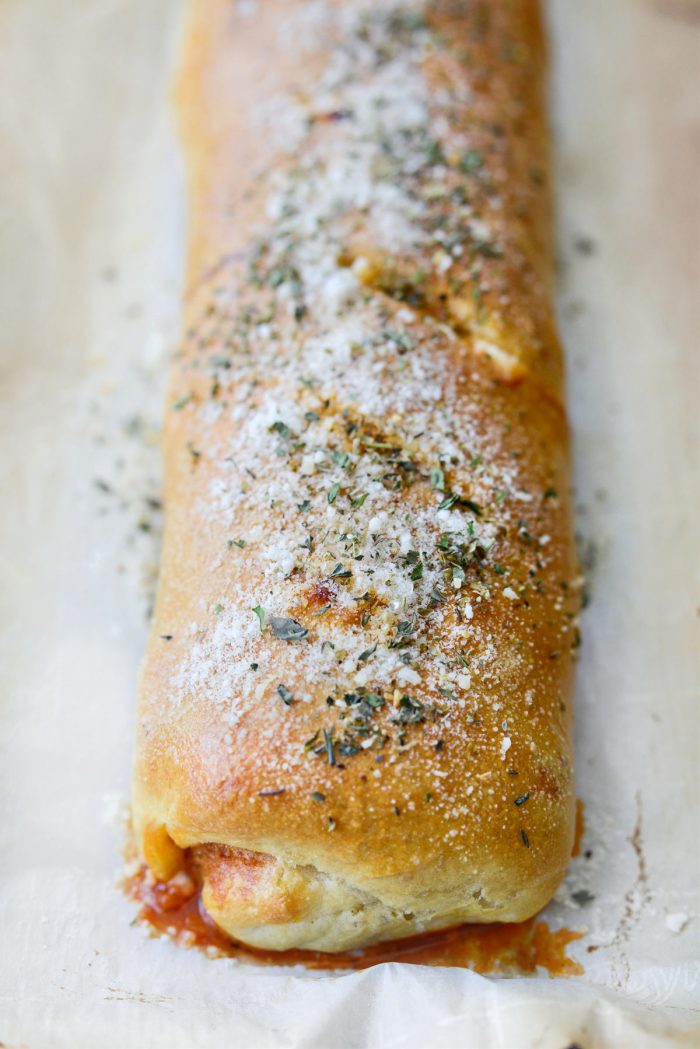 Sprinkle with grated fresh parmesan cheese and italian seasoning. Continue baking for 2 additional minutes.
This step is optional but does add extra flavor.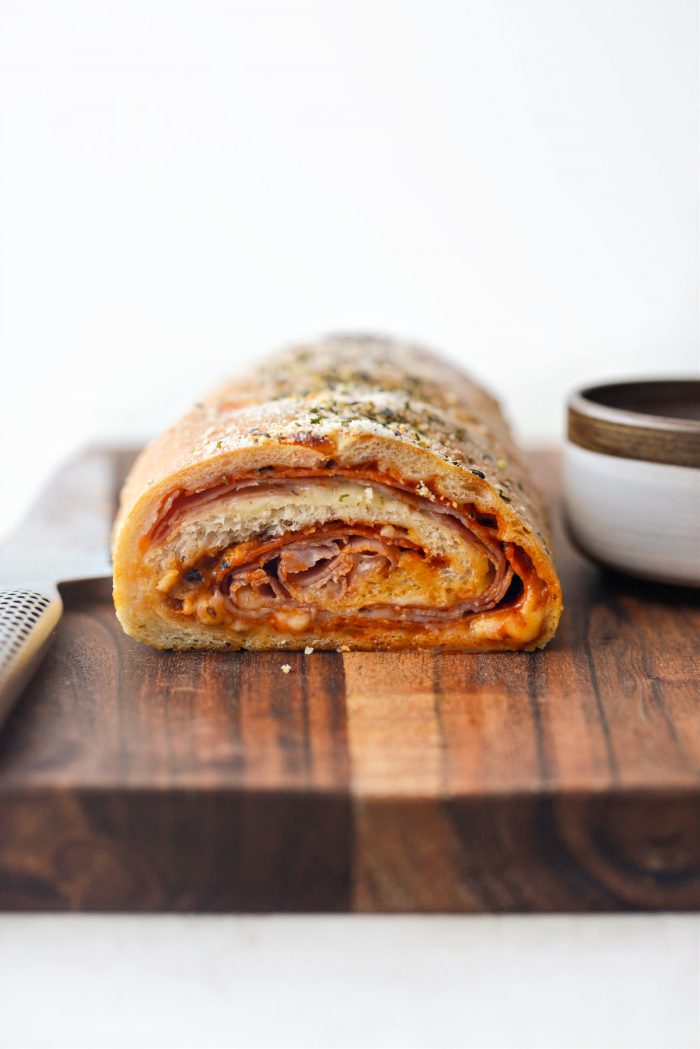 Let the baked homemade stromboli cool for 10 minutes before slicing and serving.
Cheesy, meaty and pizza stromboli goodness.
We had this homemade Stromboli for dinner with a chopped caesar salad . Not much was said during dinner as we devoured our slices. Everyone was too busy enjoying every single pizza-sauce-dunked-bite.
It's makes for a fun meal and is always a crowd pleaser.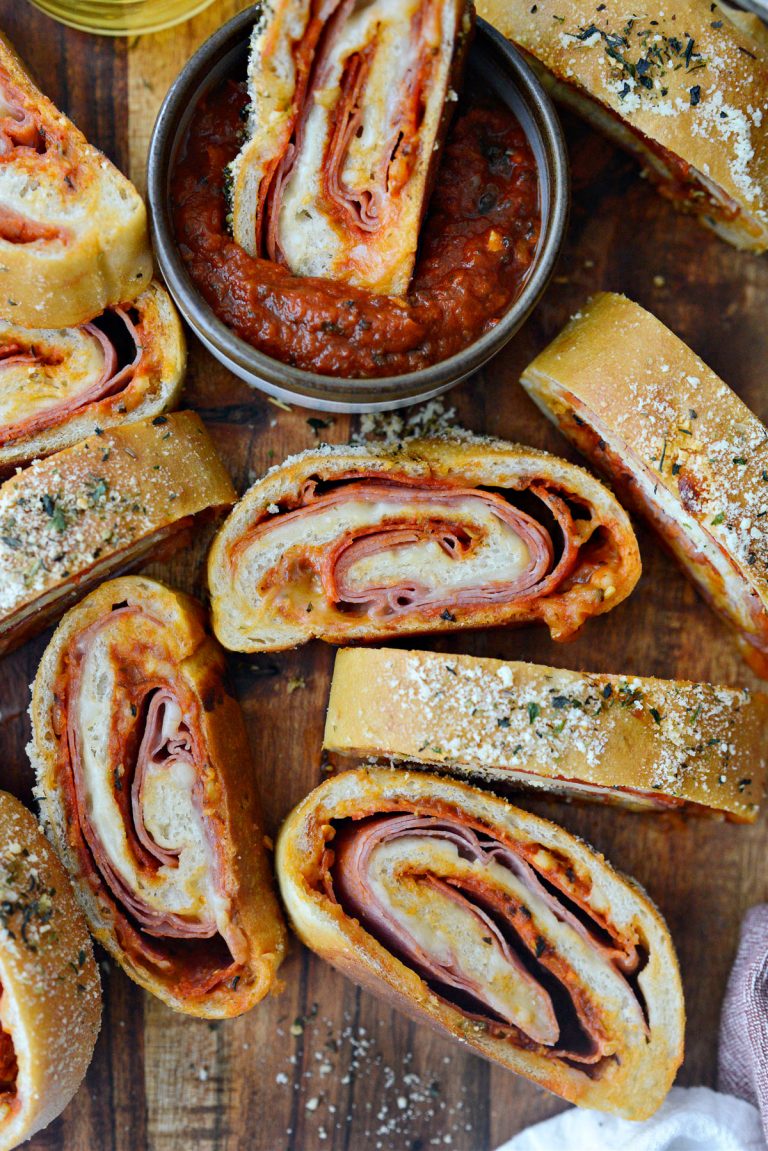 Enjoy! And if you give this Homemade Stromboli recipe a try, let me know! Snap a photo and tag me on twitter or instagram!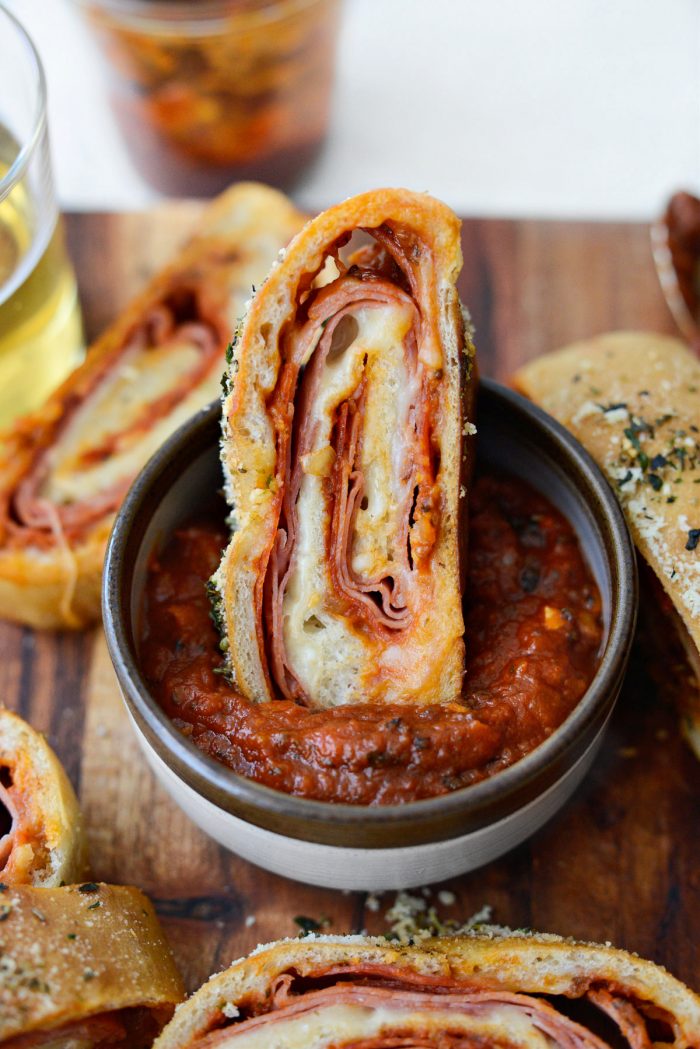 This post may contain affiliate links.
Buy the Cookbook: Simply Scratch : 120 Wholesome Homemade Recipes Made Easy Now available on Amazon »
THANK YOU in advance for your support!