The best Caesar salad salad means: fresh crisp romaine, topped with homemade croutons, Parmesan shavings and a creamy Caesar dressing (minus the anchovies)!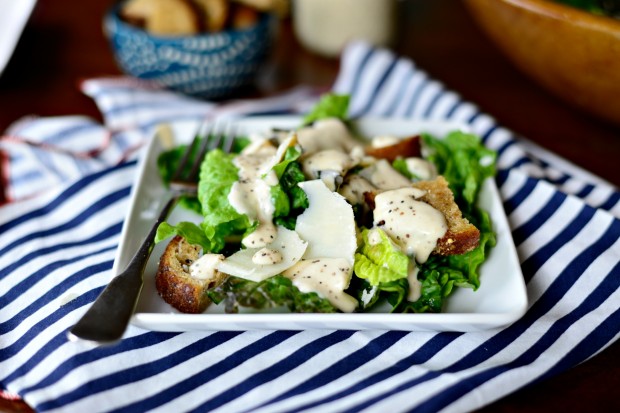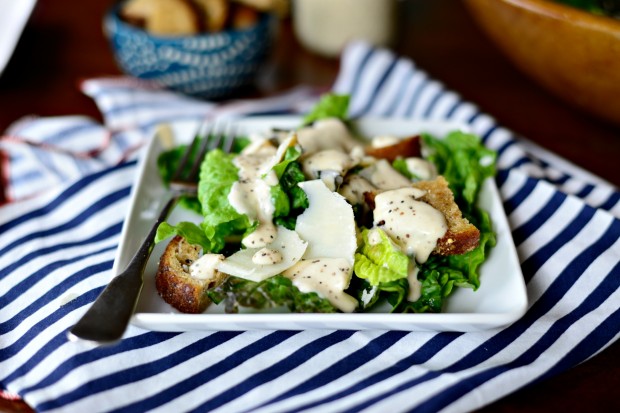 It's no secret that I love garlic.
Luckily I'm not one of those people who eat garlic and then goes on to sweat it out of their pores for the next week. Unless I am and I don't know it? I mean, these days I'm only around my kids and well, they haven't said anything. Uh-um I think I would know, right? Suddenly I'm feeling a little self conscious.
Really though, is there such thing as too much garlic? I'm going to have to say ah-no. Overly-garlic garlic bread doesn't exist. Too much garlic in spaghetti sauce… no.such.thing. So of course when I found a giant clove of garlic attached to the bulb I was riddled with excitement and an "oh-heck-yes" tore from my mouth. I swear it you guys this thing was as big as my palm, but you'll see in a few scrolls of the mouse.
The only thing I like more than garlic… is bread. So you're probably not shocked that I love a salad that consists of lettuce, toasted bread cubes topped shavings of Parmesan and smothered in a garlicky Caesar dressing. I mean FOR REAL!
This isn't called the best Caesar salad for nothing.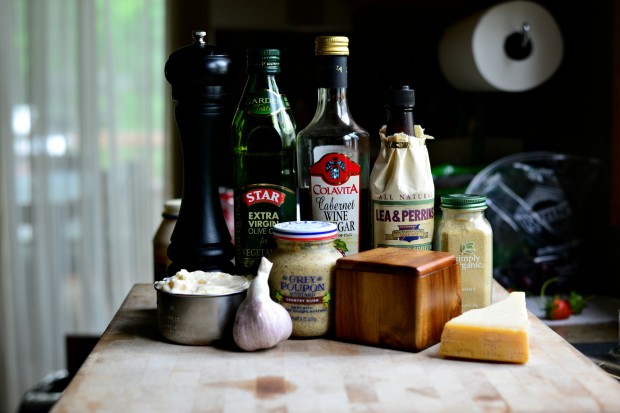 I've made a creamy Caesar dressing a few years ago (and put it on a BLT club sandwich – whaaat?!). It was a classic version that calls for anchovies. Wouldn't you know my family would NOT eat it once they found out I made it with anchovies. So since I was making spaghetti to go along with my Caesar salad, I wanted to make a Caesar dressing without anchovies. Worcestershire sauce is a great way to substitute that anchovieness… probably because it's made from anchovies, but whatever… just don't tell my family.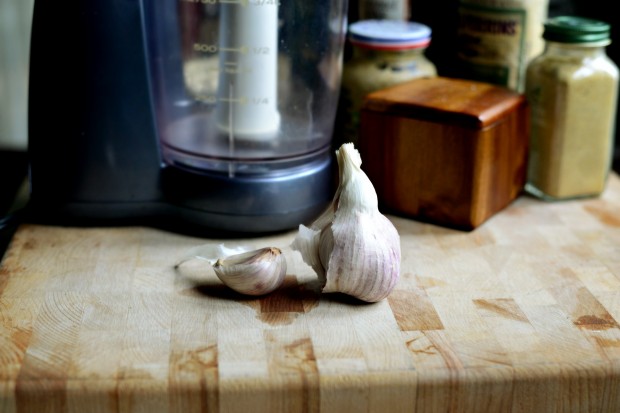 I stopped into Kroger just to pick up some strawberries and there was this bin FILLED with purple-veined garlic. Even though I just bought a sleeve of garlic bulbs the other day, I couldn't ignore PURPLE VEINED GARLIC? I had to have it. I'm ridiculous.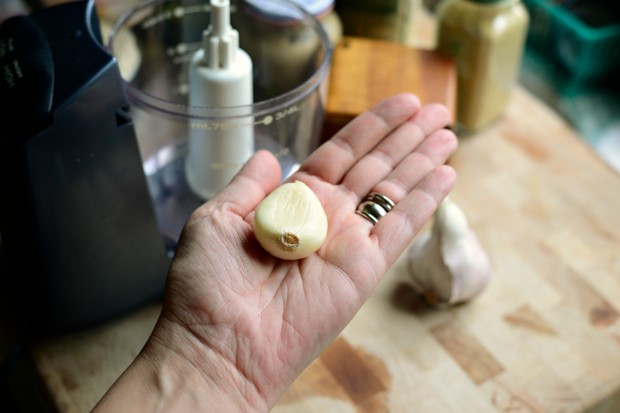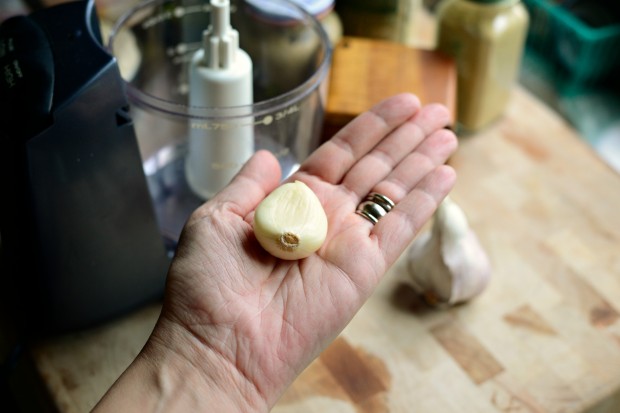 I mean look at this sucker. It's probably equivalent to two maybe three garlic cloves.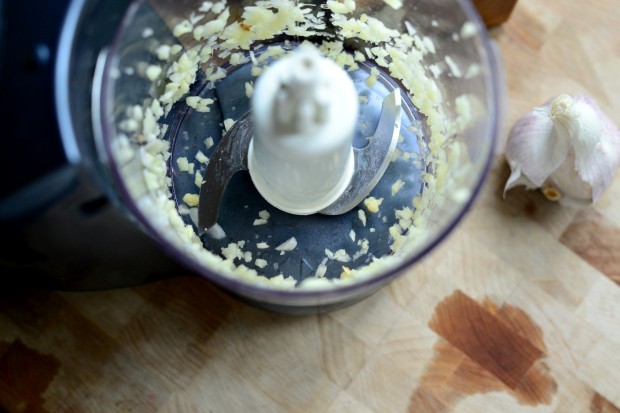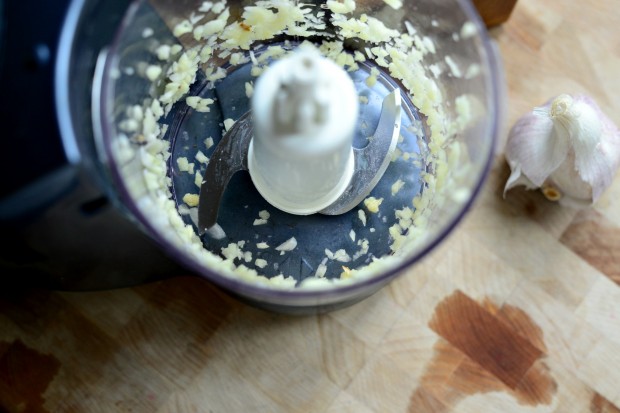 Throw 1 to 2 garlic cloves (or more for a super garlicky dressing) into a small food processor and pulse until minced.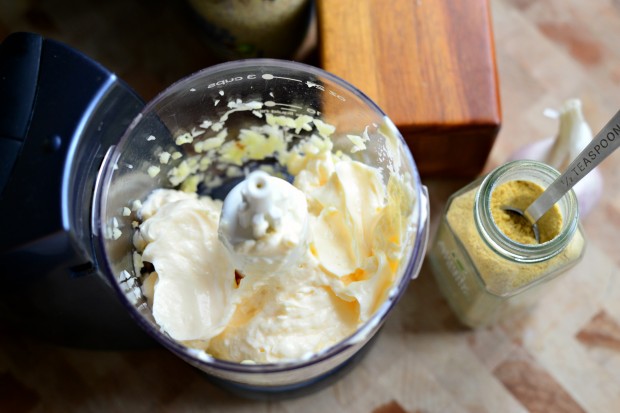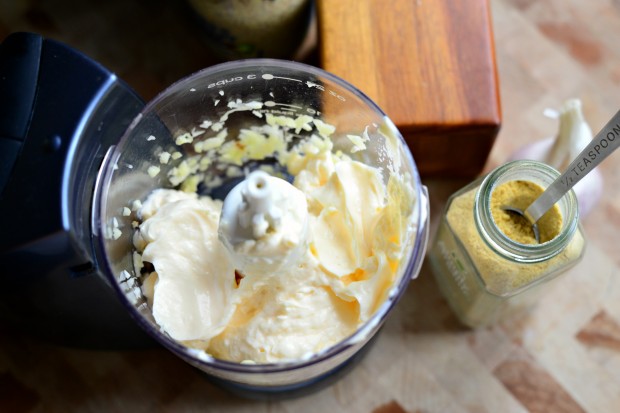 Add in a cup of mayo. Homemade or store bought, it's all up to you.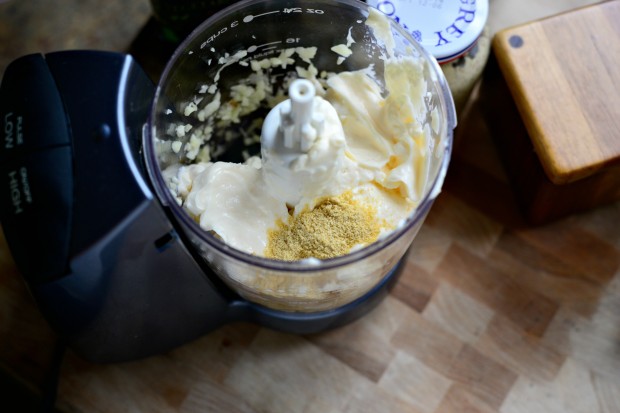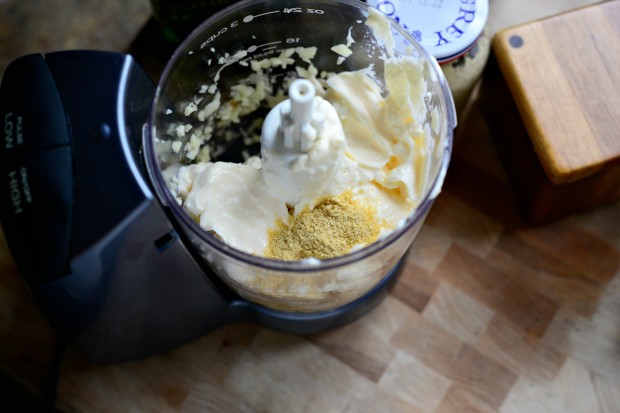 Throw in a half teaspoon of ground mustard…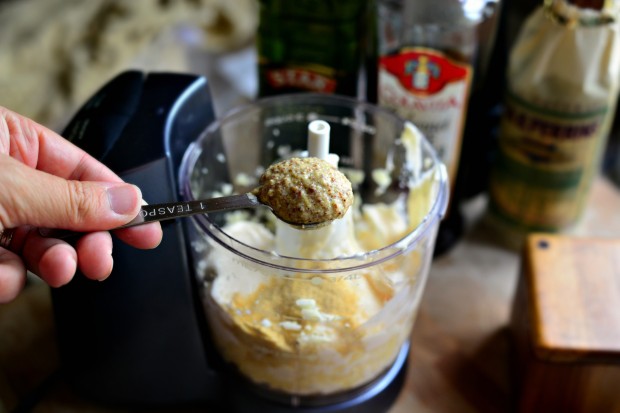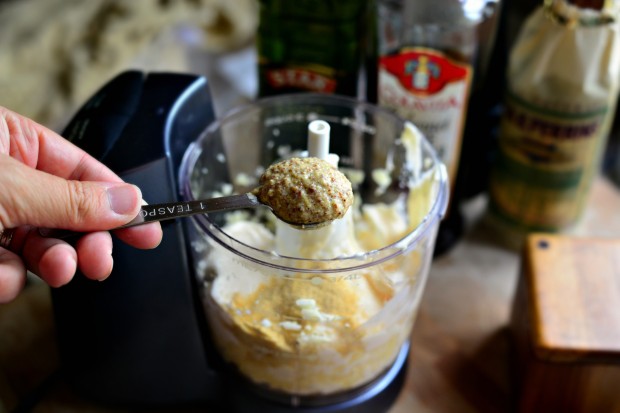 1 HEAPING teaspoon of grainy Dijon.
Two tablespoons of red wine vinegar…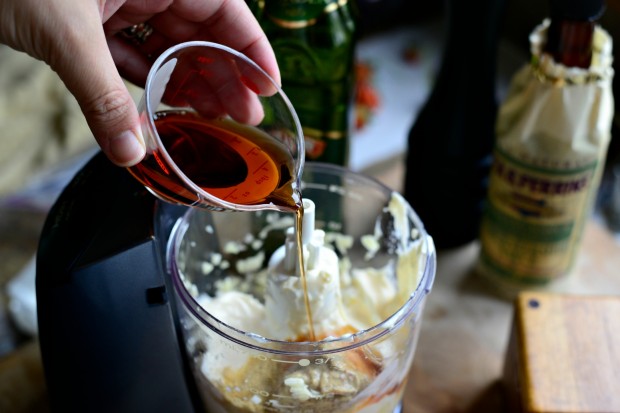 Right on into the processor…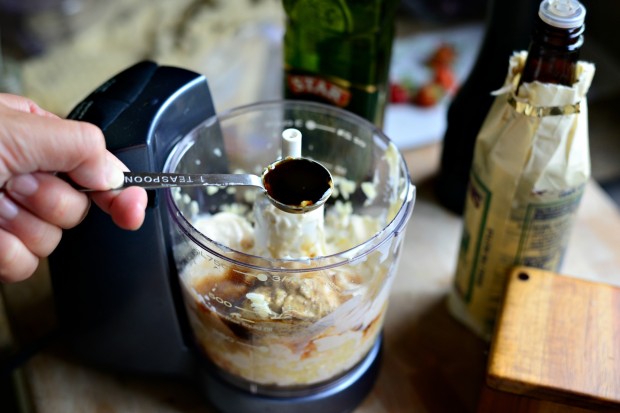 Two teaspoons of Worcestershire sauce.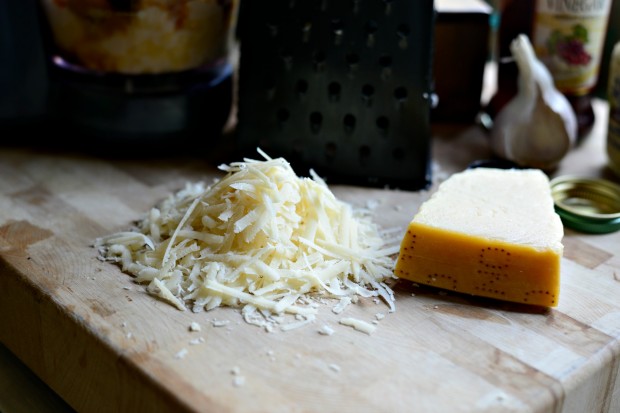 And about a half cup of freshly grated Parmesan. You know it's legit parm with it has that rind.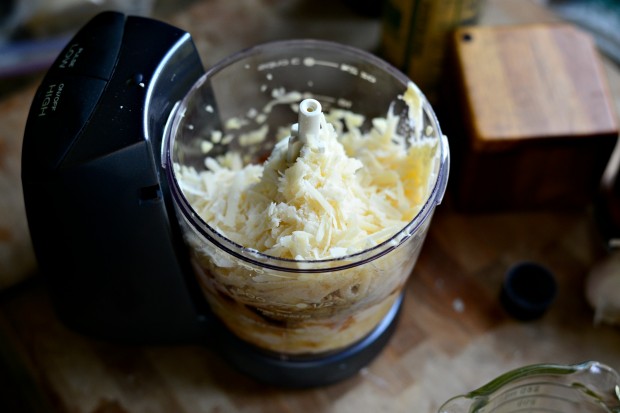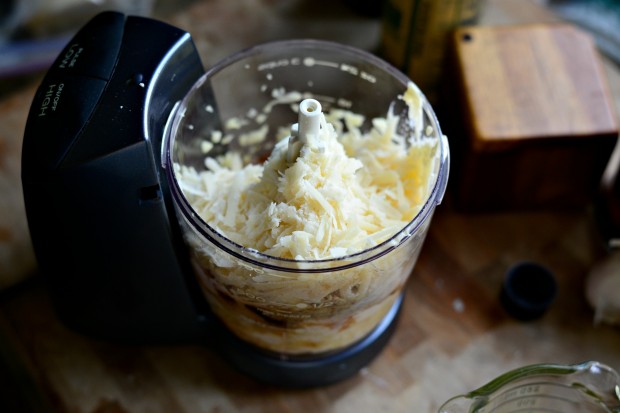 Throw that right on in with everything else.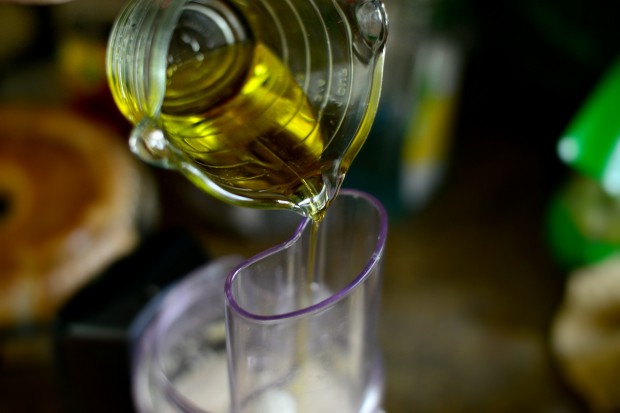 Secure the lid, turn that baby on and slowly drizzle in the 1/4 cup of extra virgin olive oil.
Season with a 1/4 teaspoon of coarse black pepper and process again until smooth, scrape down the sides so you don't miss out on any extra garlic. 😉
The Parmesan, in my opinion, adds the perfect amount of saltiness… but feel free to add salt if you think it needs it.
I may or may not dip my french fries in Caesar dressing.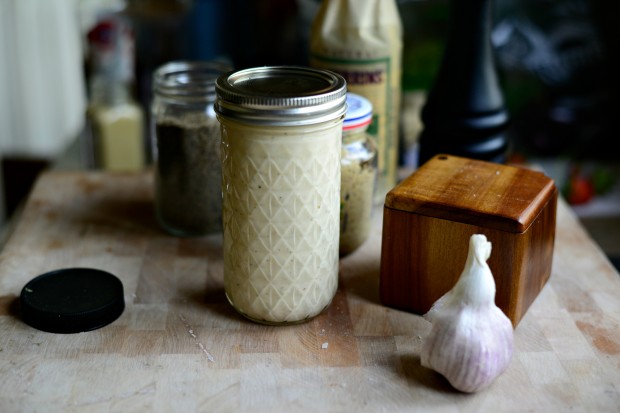 Secure a tight fitting lid and refrigerate until ready to serve.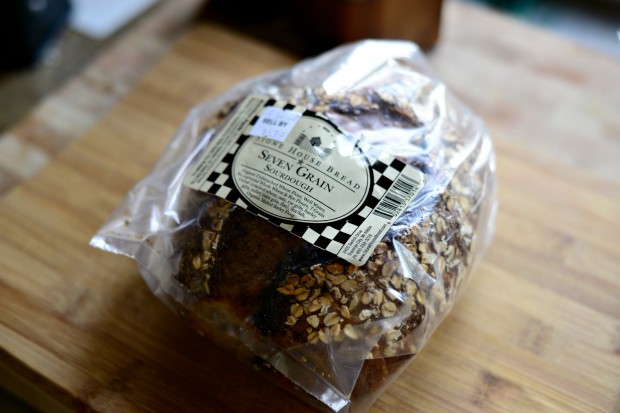 So I'm obsessed with the bread. It's made in Traverse City, Michigan so unless you're from the mitten… you are out of luck! It's worth the six dollars a loaf because there's no doubt I won't find a good way to use up every single slice and crumb. Like croutons.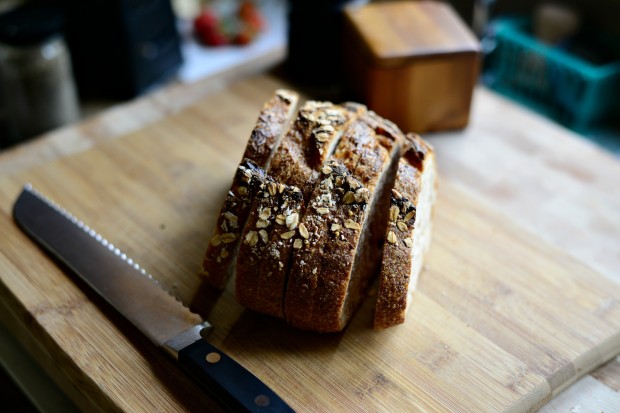 This is a seven grain loaf, so it adds good chewy texture and well 7 grains means its super healthy, right? Grab about five or six slices of your favorite bread.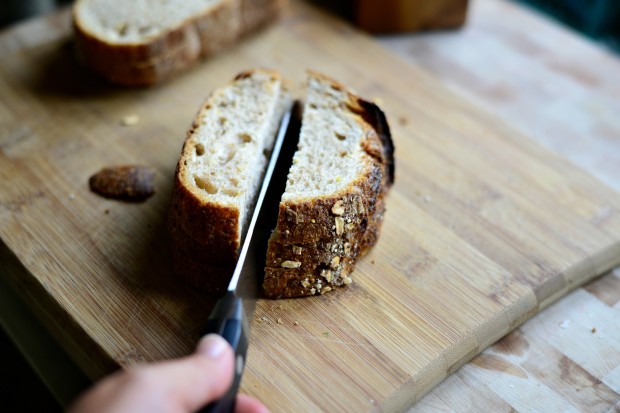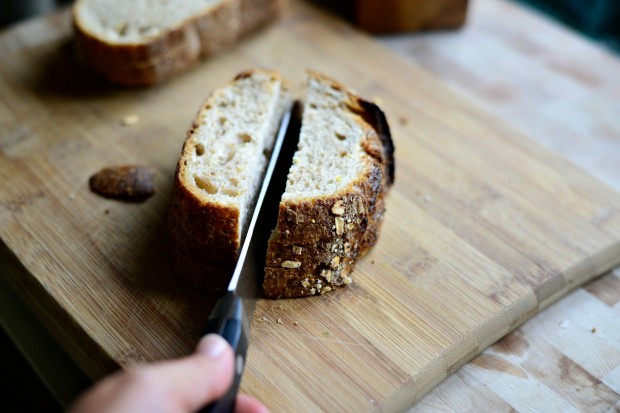 Cut in half…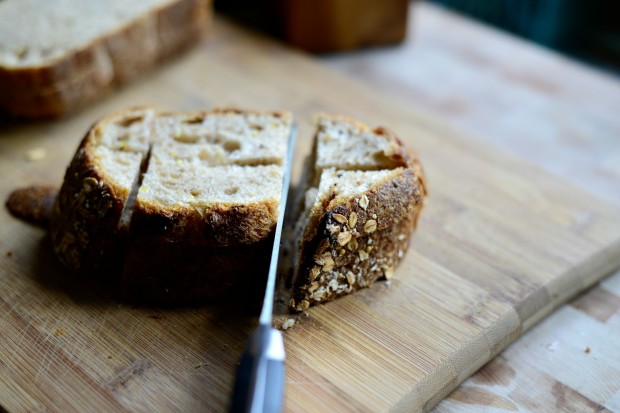 Then cube into bread, um, cubes.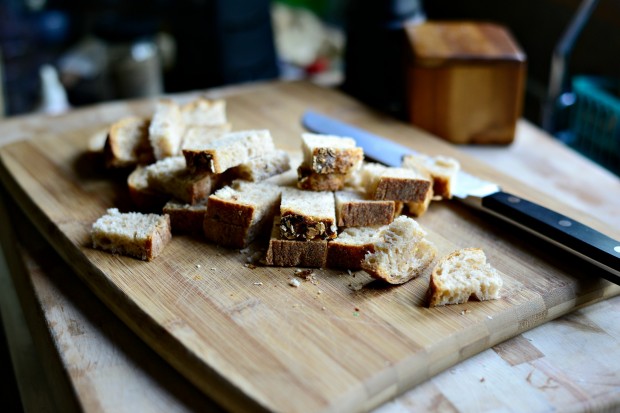 Pre cubes of toasty goodness.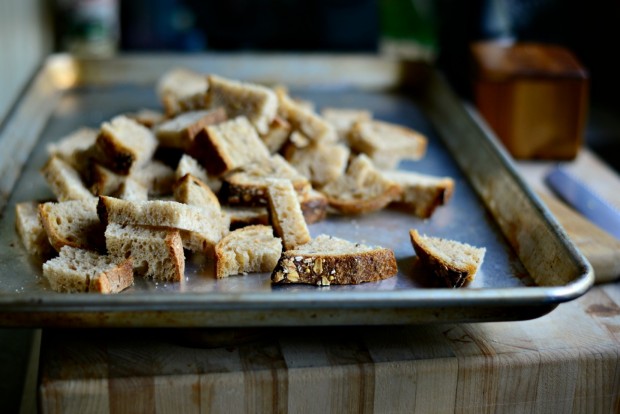 Throw them onto a rimmed sheet pan.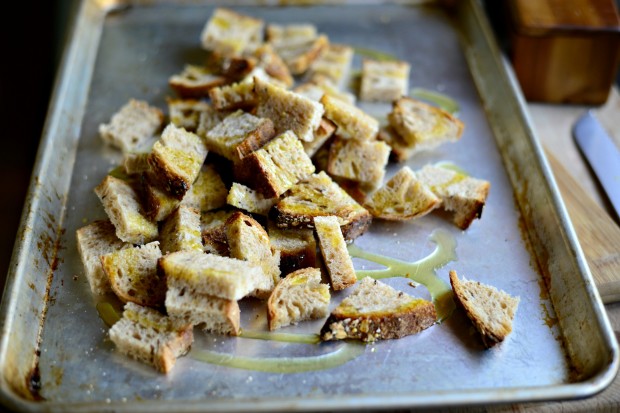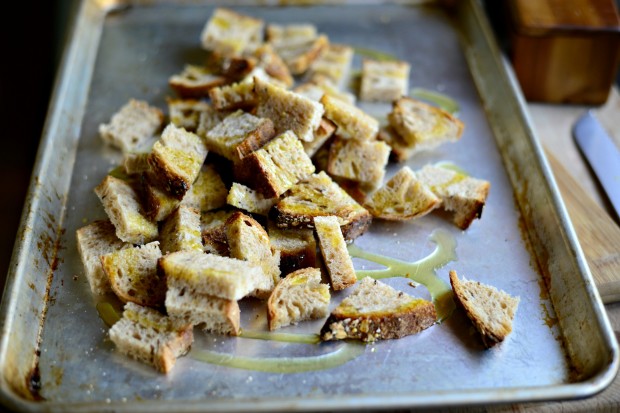 Drizzle them with a good amount of olive oil. Don't be shy, load'em up.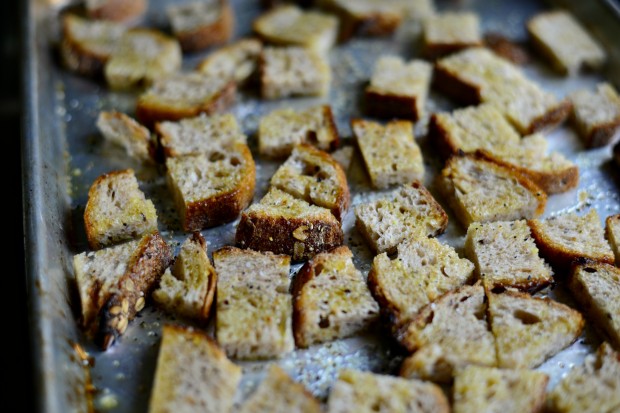 Toss and season with pinches of kosher salt and black pepper. Bake in a preheated 400 degree oven for 10-12 minutes until golden, crispy and perfect.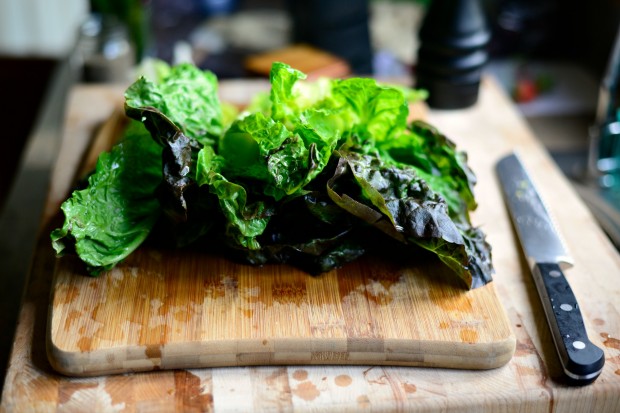 Rinse a head of romaine under the faucet.
Pat dry with paper towel. Give it a good, rough chop and throw it into your largest, most favorite bowl in the whole universe.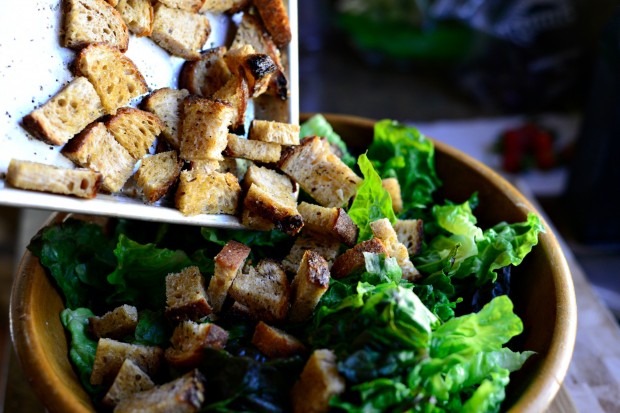 Top it with all those yummy toasty croutons.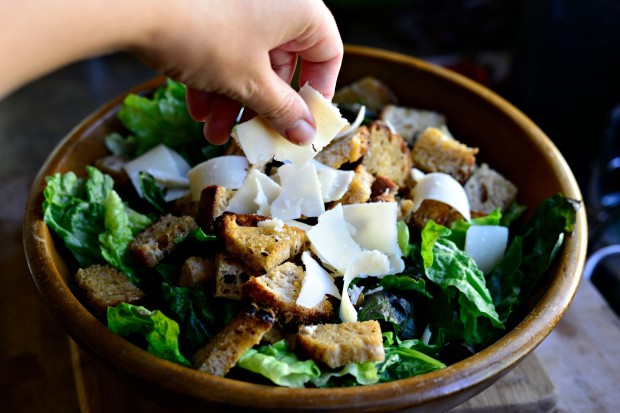 And then top it with copious amounts of Parmesan cheese shavings.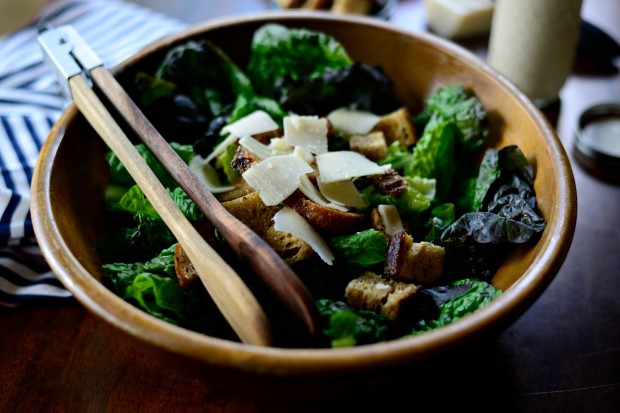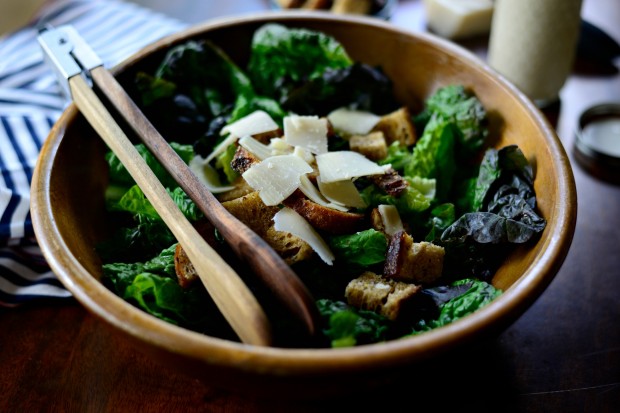 So totally unassuming.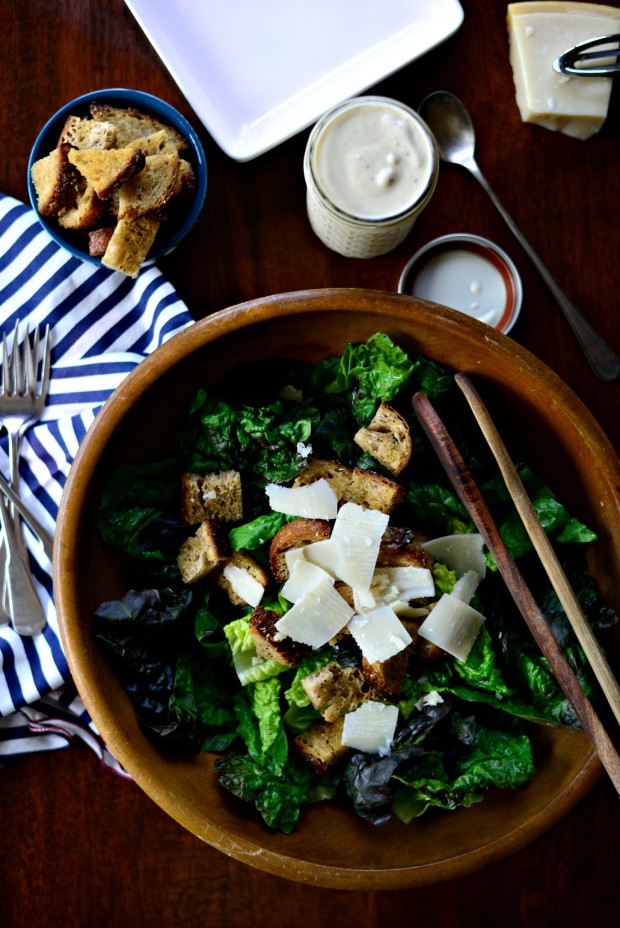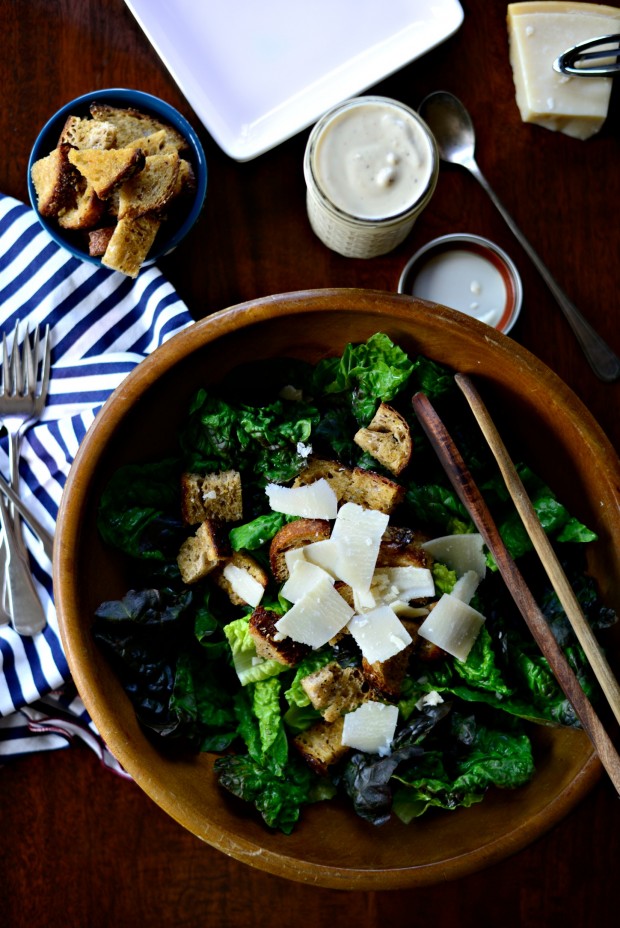 But the best Caesar salad is so totally awesome.
Truthfully this salad is all about the dressing.
And the healthy croutons.
Duh.
#theperfectbite
Enjoy! And if you give this recipe a try, let me know! Snap a photo and tag me on twitter or instagram!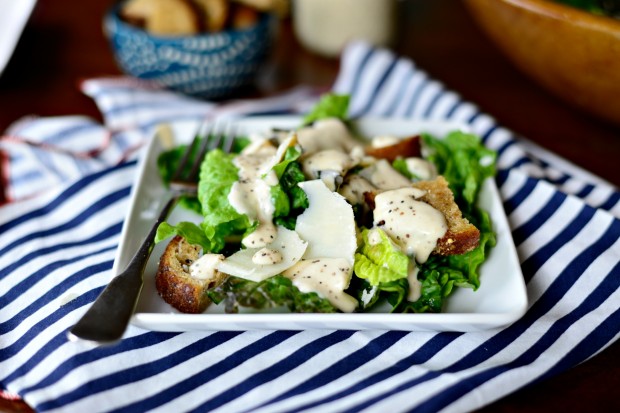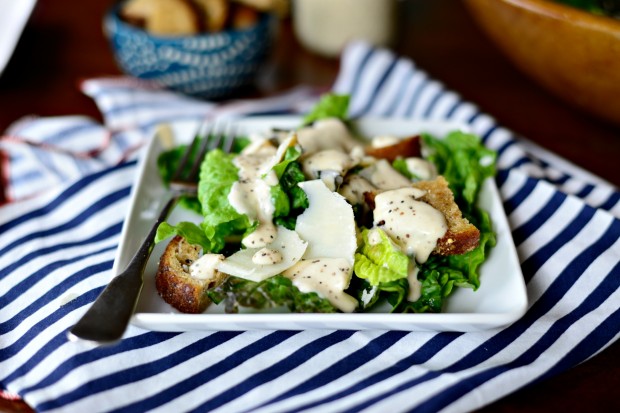 Yield: 6 servings
Caesar Salad with Homemade Caesar Dressing
The best caesar salad salad means: fresh crisp romaine, topped with homemade croutons, Parmesan shavings and a creamy Caesar dressing (minus the anchovies)!
Ingredients
1 to 2 cloves garlic
1 cup mayonnaise, homemade or store bought
1/2 teaspoon ground mustard
1 heaping teaspoon grainy Dijon mustard
2 tablespoons red wine vinegar
2 teaspoons Worcestershire sauce
1/2 cup freshly grated parmesan cheese
1/4 cup extra virgin olive oil, plus two tablespoons, divided
1/4 teaspoon coarse ground black pepper, plus two pinches, divided
6 slices crusty bread, cut into cubes
kosher salt
1 large head romaine lettuce
1/4 cup parmesan cheese shavings, more or less
Instructions
In a small food processor, pulse the garlic until minced.

Add in the mayo, ground mustard, Dijon, vinegar, Worcestershire and Parmesan. Secure the lid and slowly pour in the olive oil. Season with a 1/4 teaspoon of black pepper and pulse until combined. Pour in a container with a tight-fitting lid and refrigerate until ready to serve.

Preheat oven to 400 degrees.

Cut the bread into cubes, place on a rimmed sheet pan and toss with olive oil, two pinches of kosher salt and black pepper. Bake for 10 to 12 minutes until golden and crispy. Remove and let cool.

Wash, dry and chop the romaine. Place the lettuce into a large bowl and top with the cooled croutons and Parmesan shavings.

Plate and serve with the homemade Caesar dressing and more black pepper if desired.
Serving: 1serving, Calories: 593kcal, Carbohydrates: 41g, Protein: 14g, Fat: 42g, Saturated Fat: 8g, Polyunsaturated Fat: 18g, Monounsaturated Fat: 14g, Trans Fat: 1g, Cholesterol: 26mg, Sodium: 790mg, Potassium: 384mg, Fiber: 4g, Sugar: 4g, Vitamin A: 9219IU, Vitamin C: 5mg, Calcium: 212mg, Iron: 4mg
This post may contain affiliate links.
Buy the Cookbook: Simply Scratch : 120 Wholesome Homemade Recipes Made Easy Now available on Amazon »
THANK YOU in advance for your support!