uashA bright and sunny squash soup for your soul. Inspired by Panera Bread, this homemade version of their squash soup has a blend of both pumpkin and butternut squash. Slightly sweetened with honey and brown sugar and spiced to perfection with mild curry, cinnamon, rosemary and cardamom.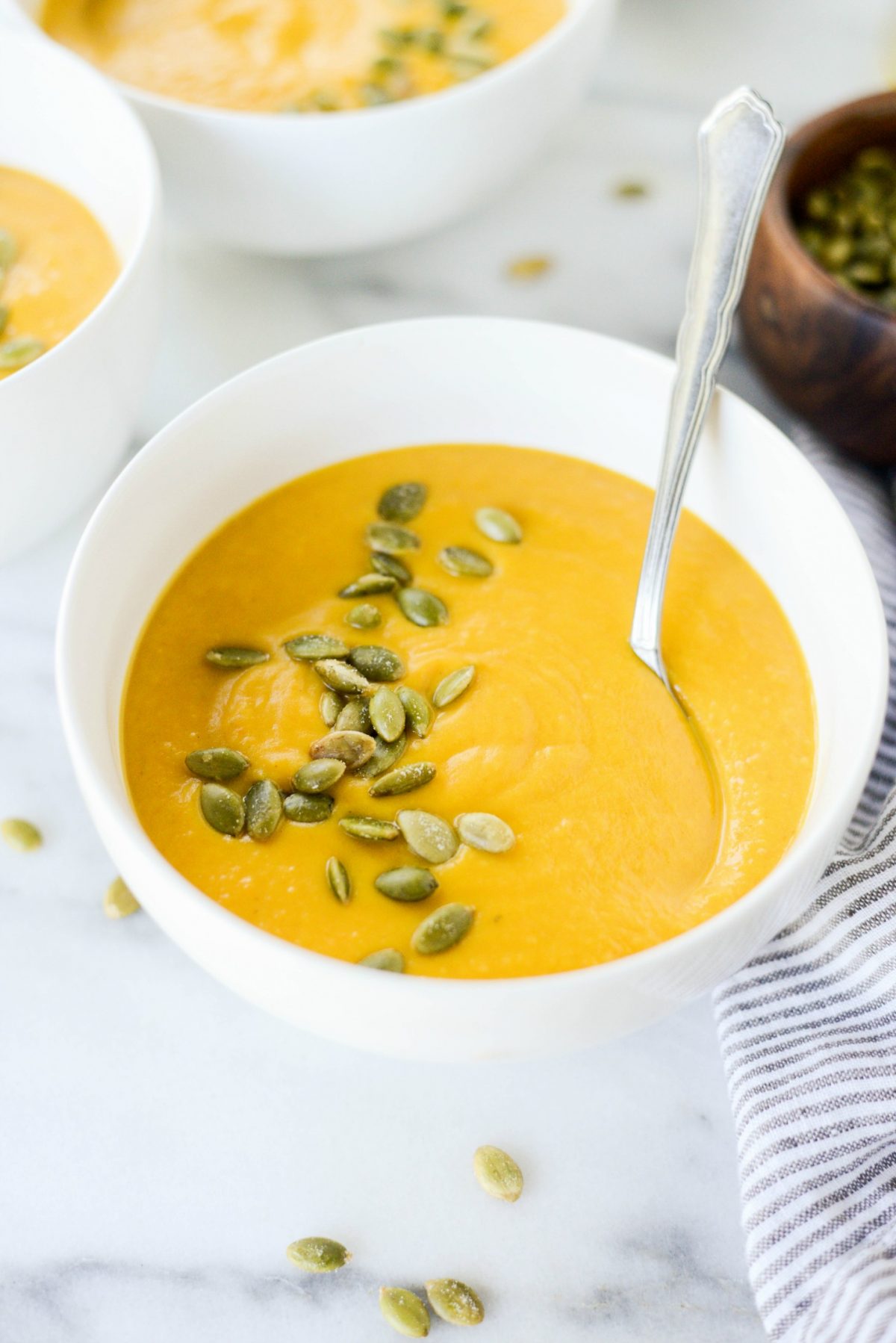 Last week, Malloree had a half-day of school and Haileigh was in Chicago for 24 hours celebrating her BFF's birthday, with shopping and seeing Harry Styles in concert. So I picked up Mal up from school, took her out to lunch and to do a little shopping. I told her she could pick the place for us to eat at and without hesitating, she picked Panera Bread. I haven't been there in a few years, but if my girl was in the mood for a soup and sandwich then so was I.
Mal ordered the classic broccoli and cheddar soup in a bread bowl and a regular grilled cheese. I got the you pick 2 and ordered their ancient grain & arugula salad with the squash soup. I never had either but it sounded healthy and delicious and I was SO hungry.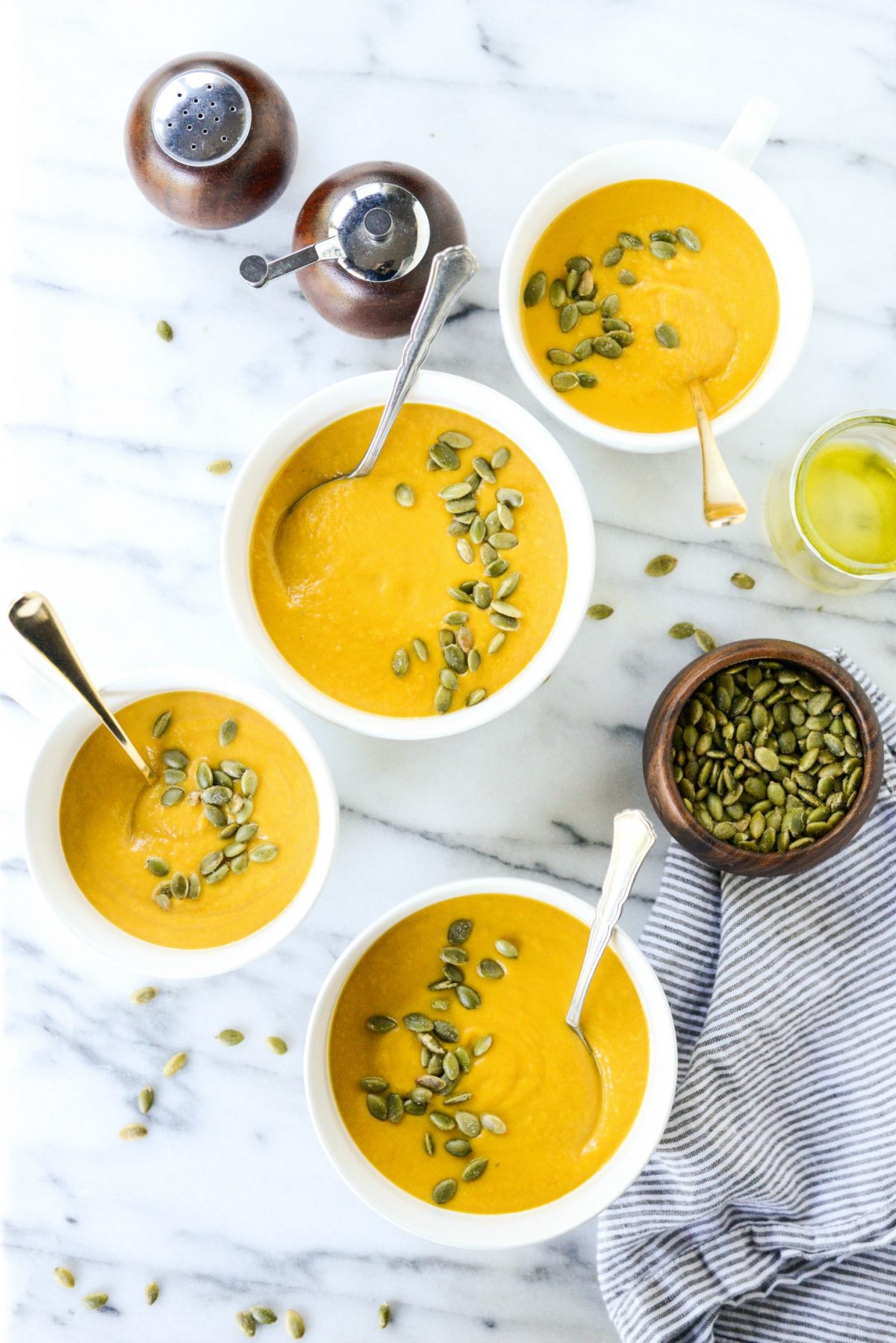 The salad was delicious, but I really loved the soup. It was a beautiful shade of gold with a scatter of salty green pepitas on top. Creamy but not too creamy, and not runny either. Just how I like it. I burned my tongue on my soup because I was shoveling it in without giving it a chance to cool.
After our lunch date, I thought about squash soup for the rest of the day and I craved it over the following weekend. I had to make a homemade version of squash soup as soon as humanly possible because I was obsessed.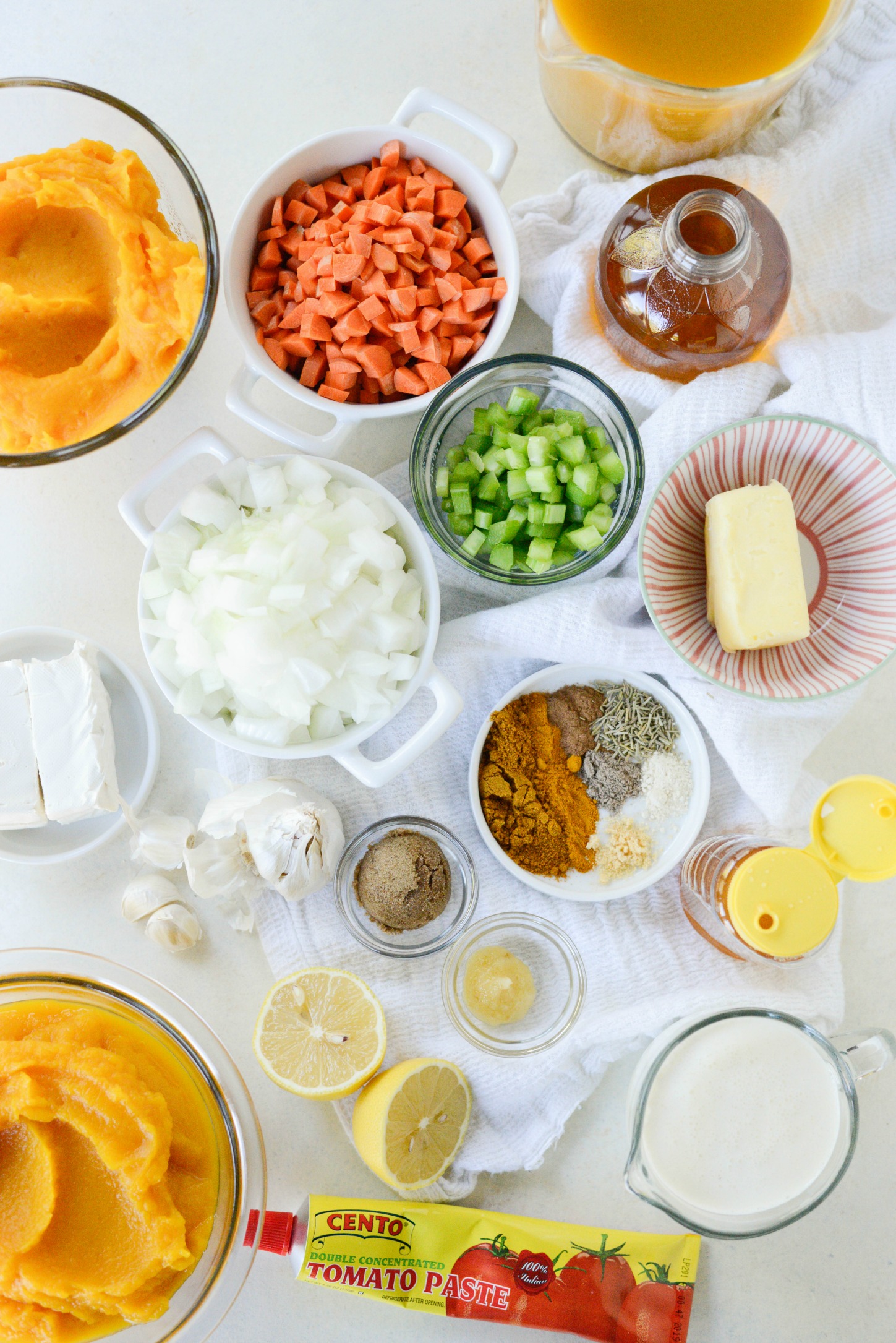 TO Make This Autumn Squash Soup You Will Need:
unsalted butter
yellow onion
carrot
celery
kosher salt
fresh garlic
tomato paste
grated ginger (or ginger paste)
curry powderground turmeric
dried rosemary
cinnamon
onion powder
garlic powder
ground cardamom
dark brown sugar
honey
apple juice (good quality)
neufchâtel cream cheese
low-sodium vegetable broth (homemade or good quality store-bought)
heavy cream
lemon
white pepper
roasted and salted pepitas (shelled pumpkin seeds), for garnish
This soup has quite the ingredient list, but don't let that deter you! I went to the Panera website and looked over the ingredients they have listed and devised a plan. I prepped everything ahead in advance, and that includes roasting the pumpkin and butternut squash and pureeing them. Once the prep is done it's smooth sailing with this squash soup.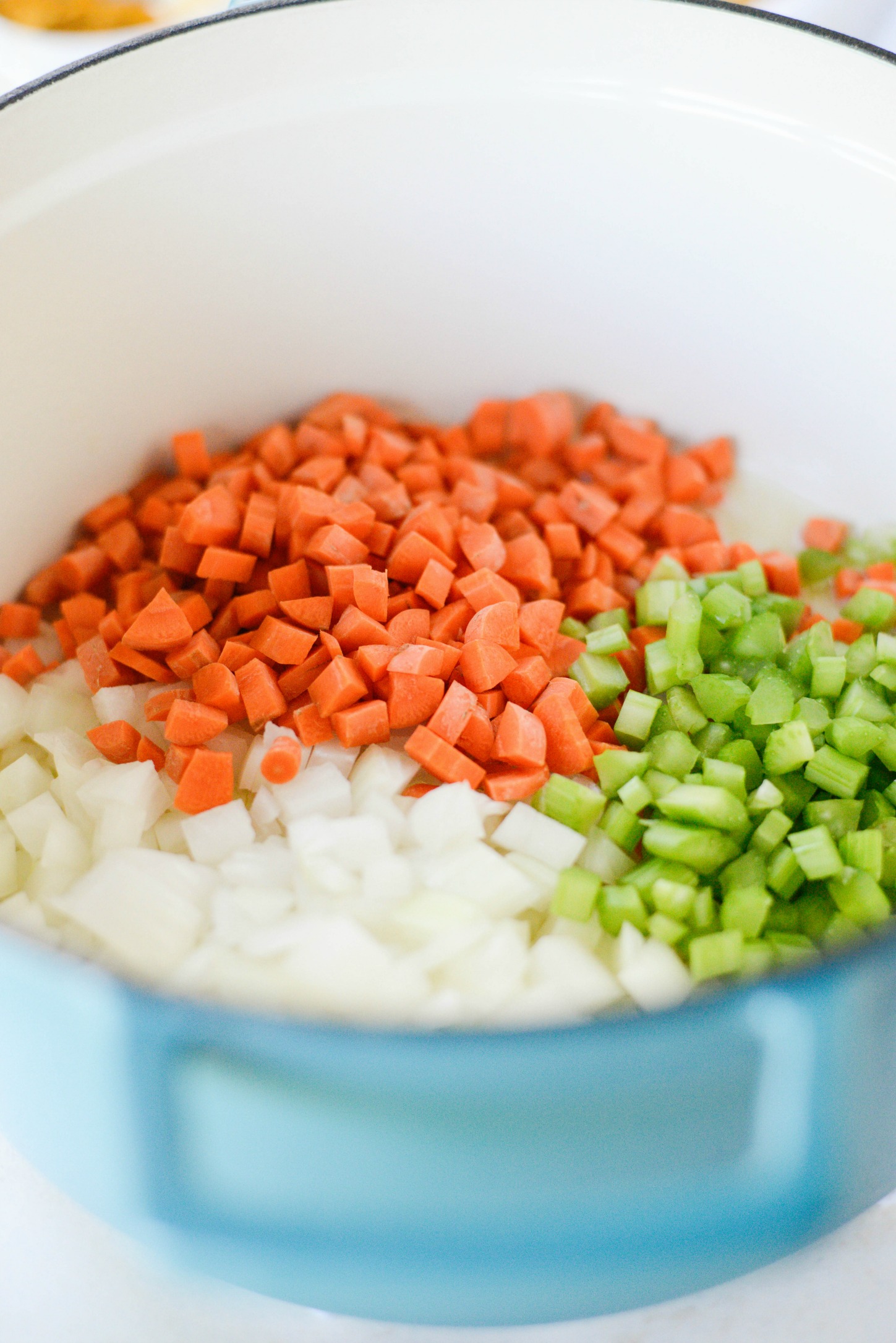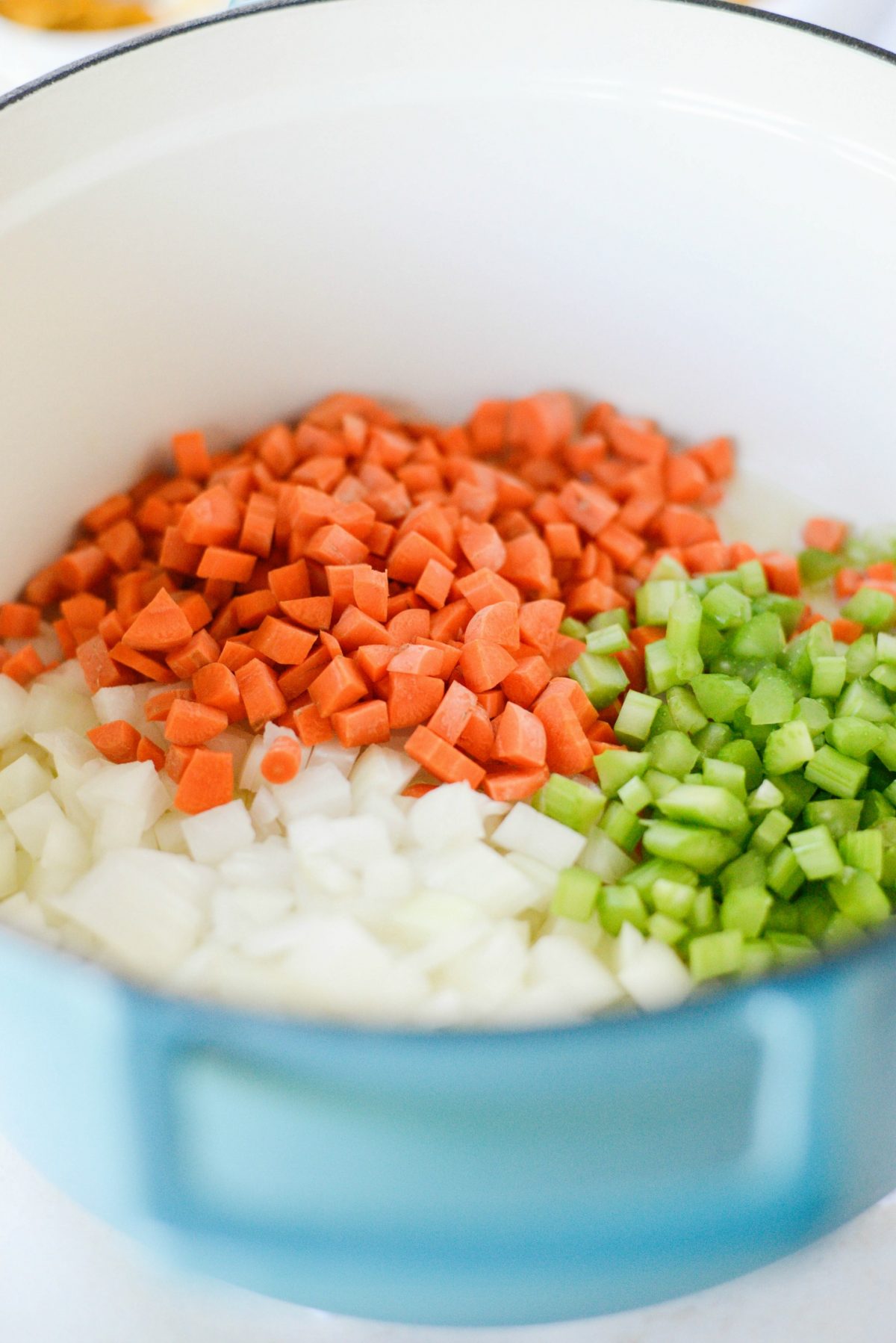 In your dutch oven, melt 4 tablespoons of butter and add in the 1 cup diced carrot, 1-1/2 cup diced onion, 1/2 cup diced celery and a pinch of kosher salt.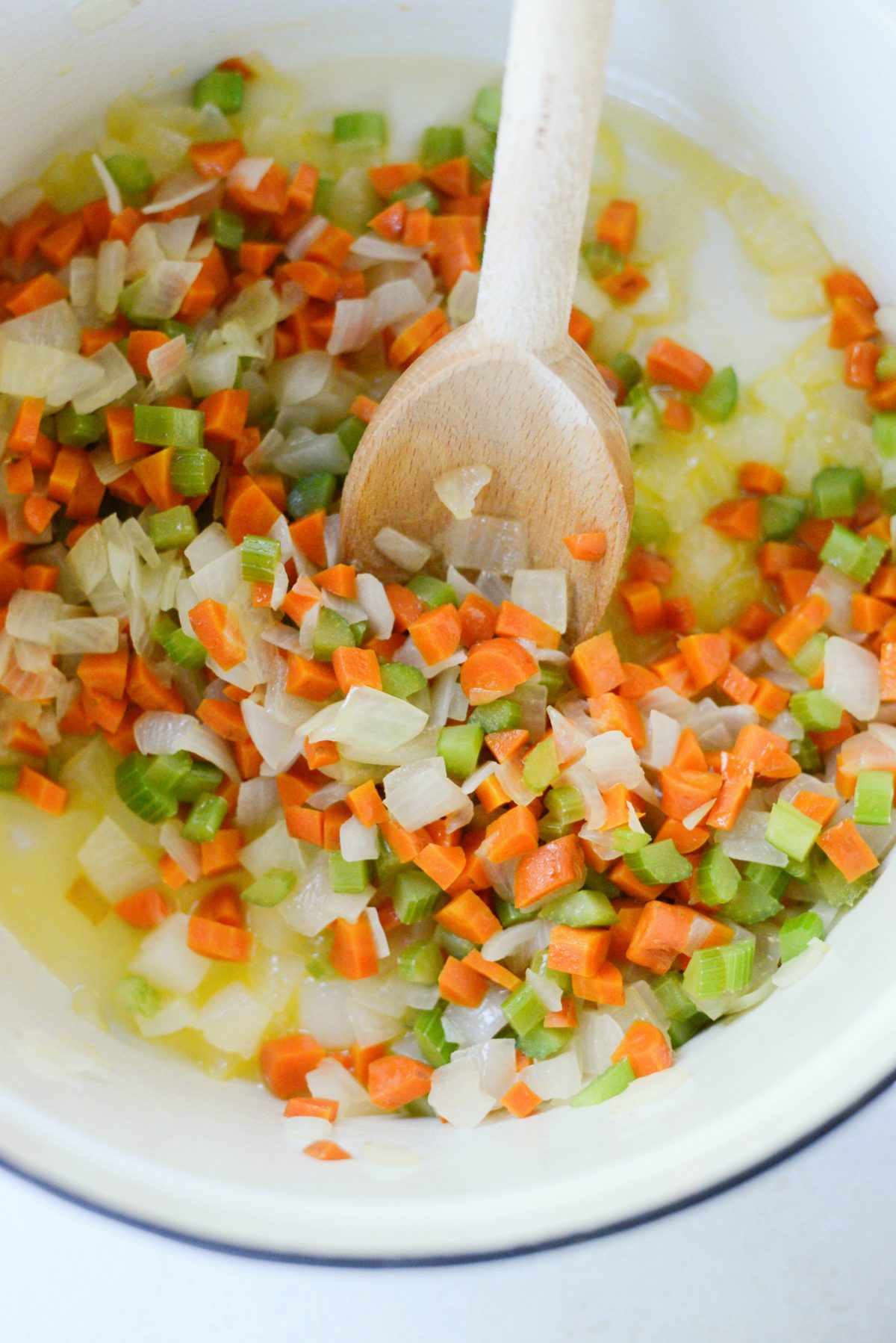 Cover and cook on medium heat for 5 to 8 minutes or until the vegetables are soft and tender.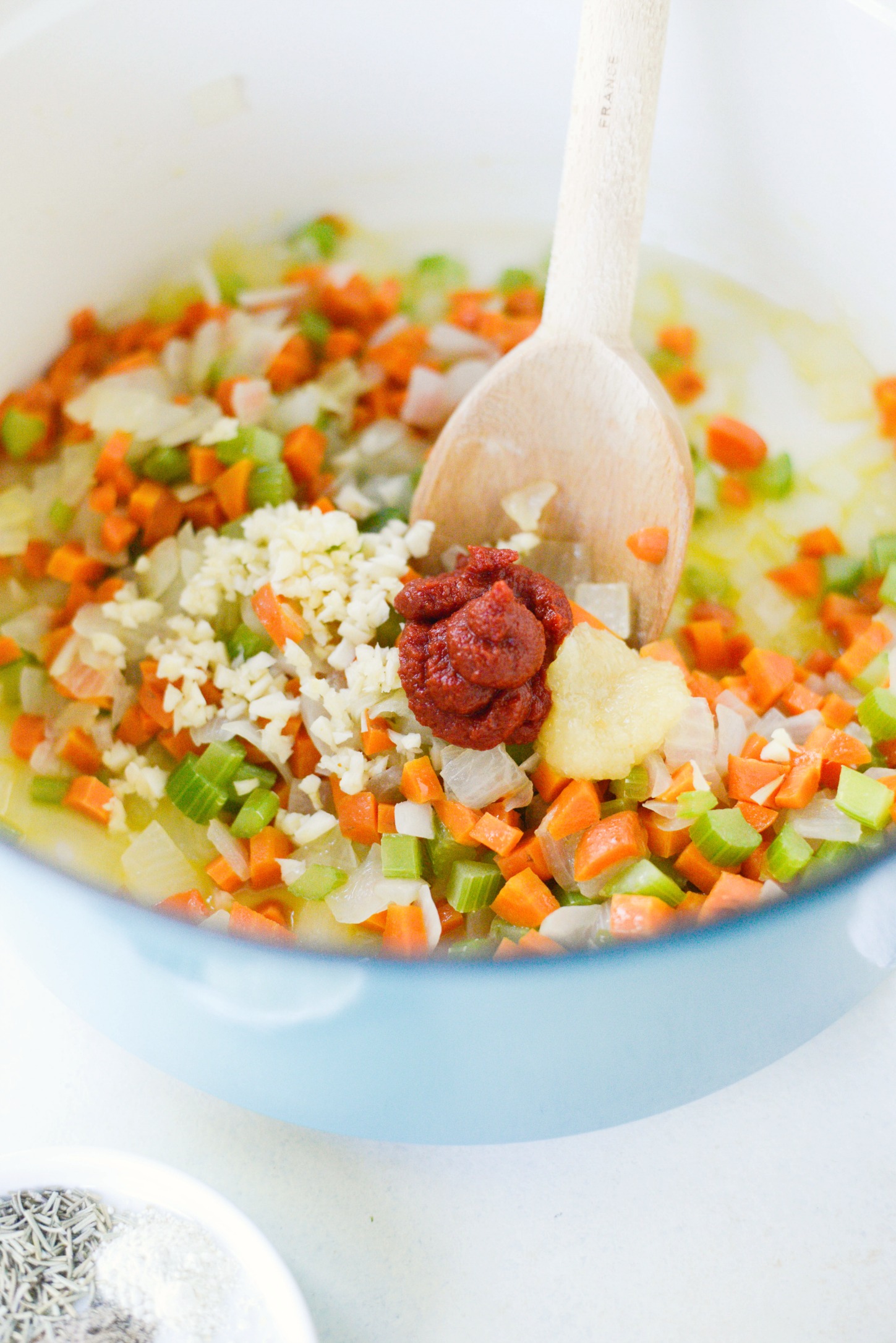 Next add in the 3 cloves minced garlic, 1 tablespoon tomato paste and 2 teaspoons grated ginger (or ginger paste).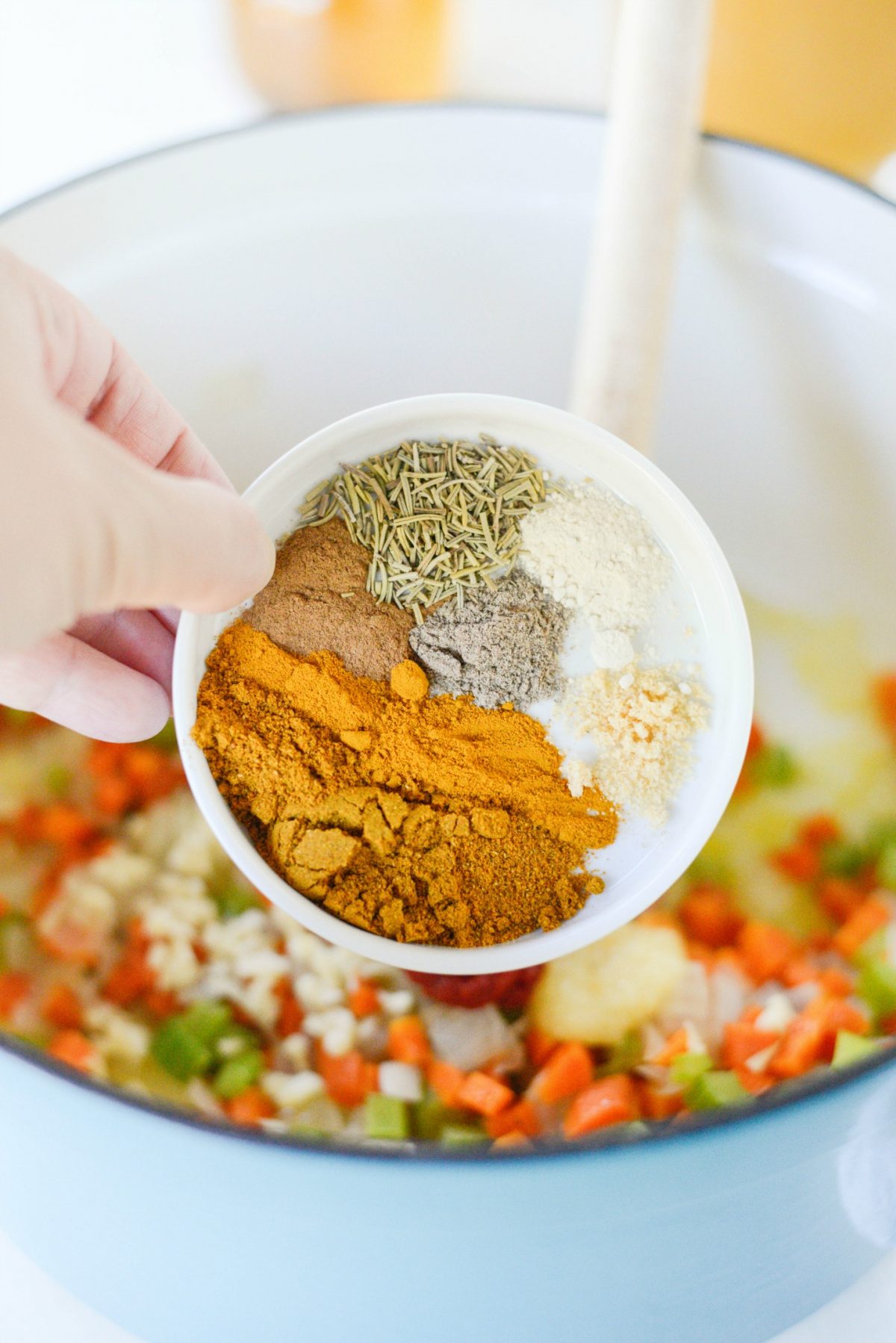 Then toss in all those spices; 1 teaspoon curry (a mild one, not spicy), 1/2 teaspoon turmeric, 1/2 teaspoon dried rosemary, 1/4 teaspoon each cinnamon, onion powder, garlic powder and cardamom. Stir and cook for 1 minute.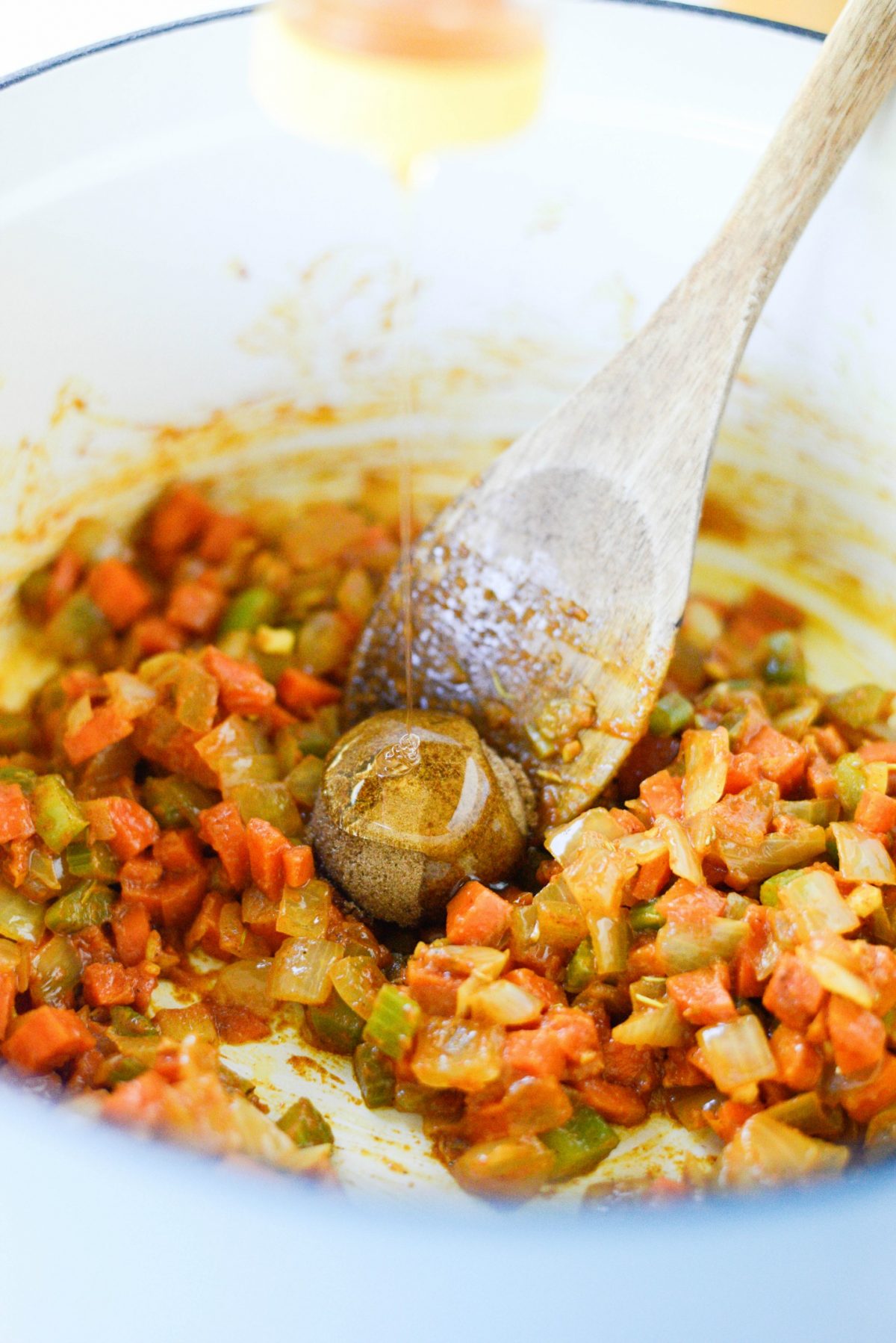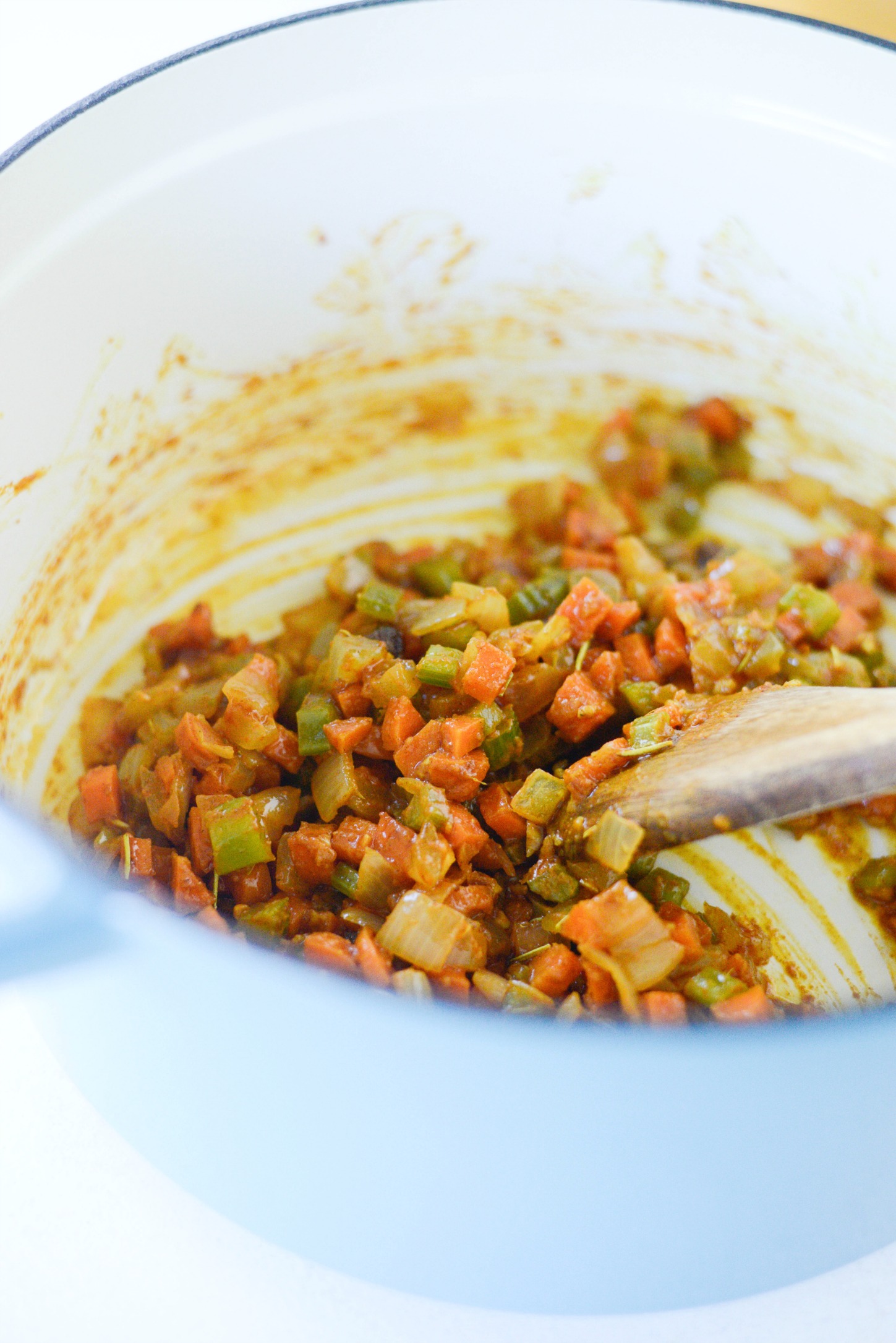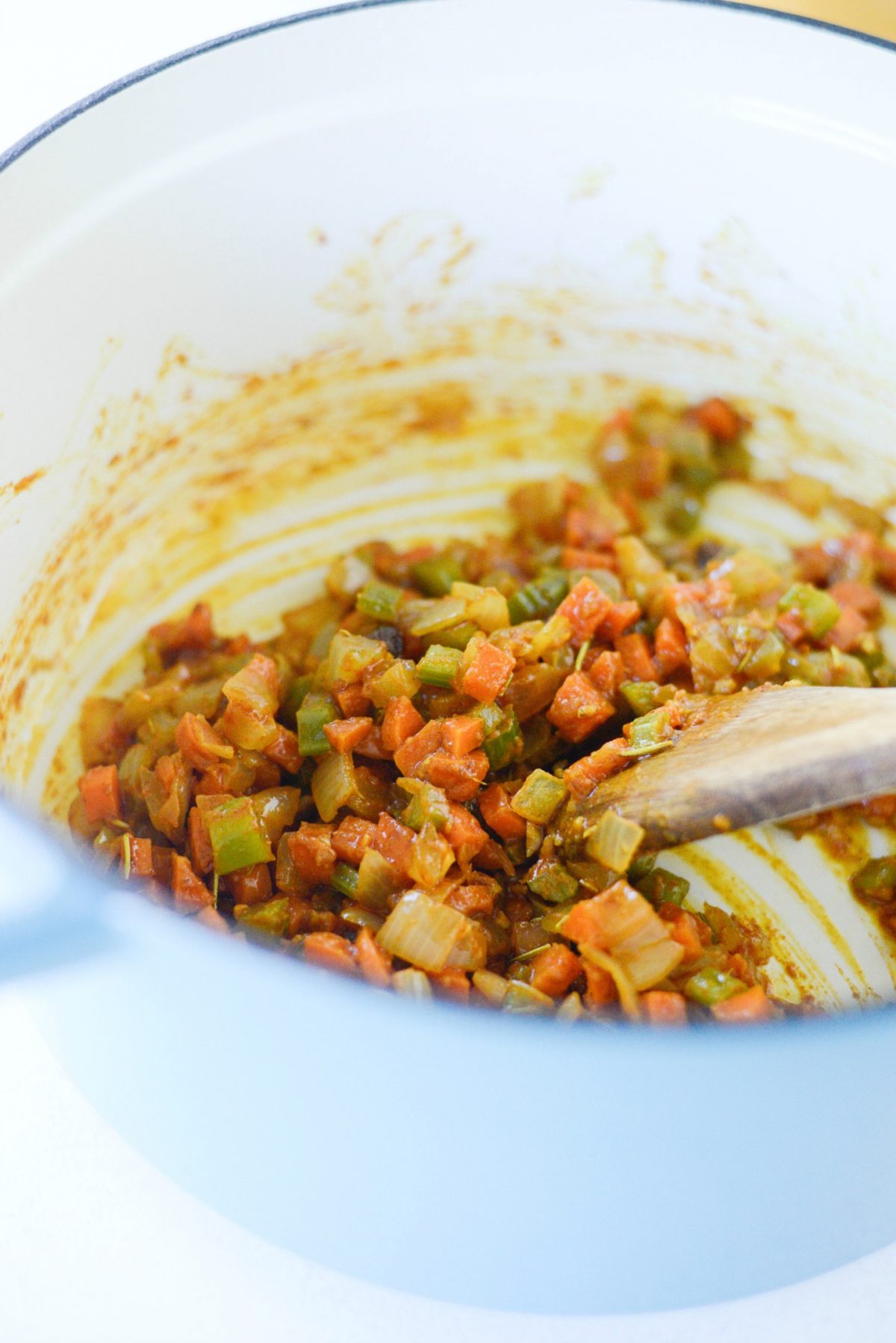 Then stir in a tablespoon both of dark brown sugar and honey.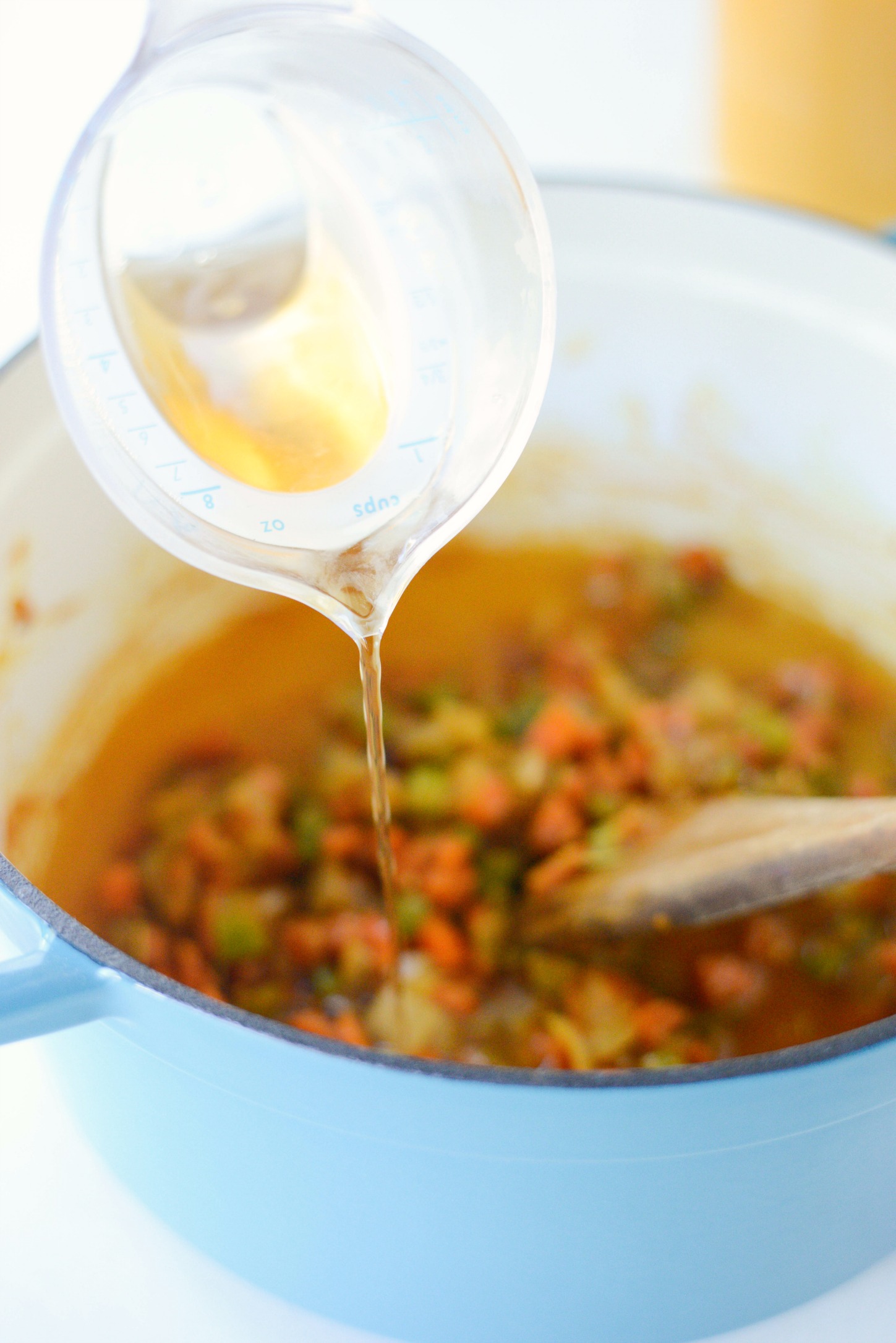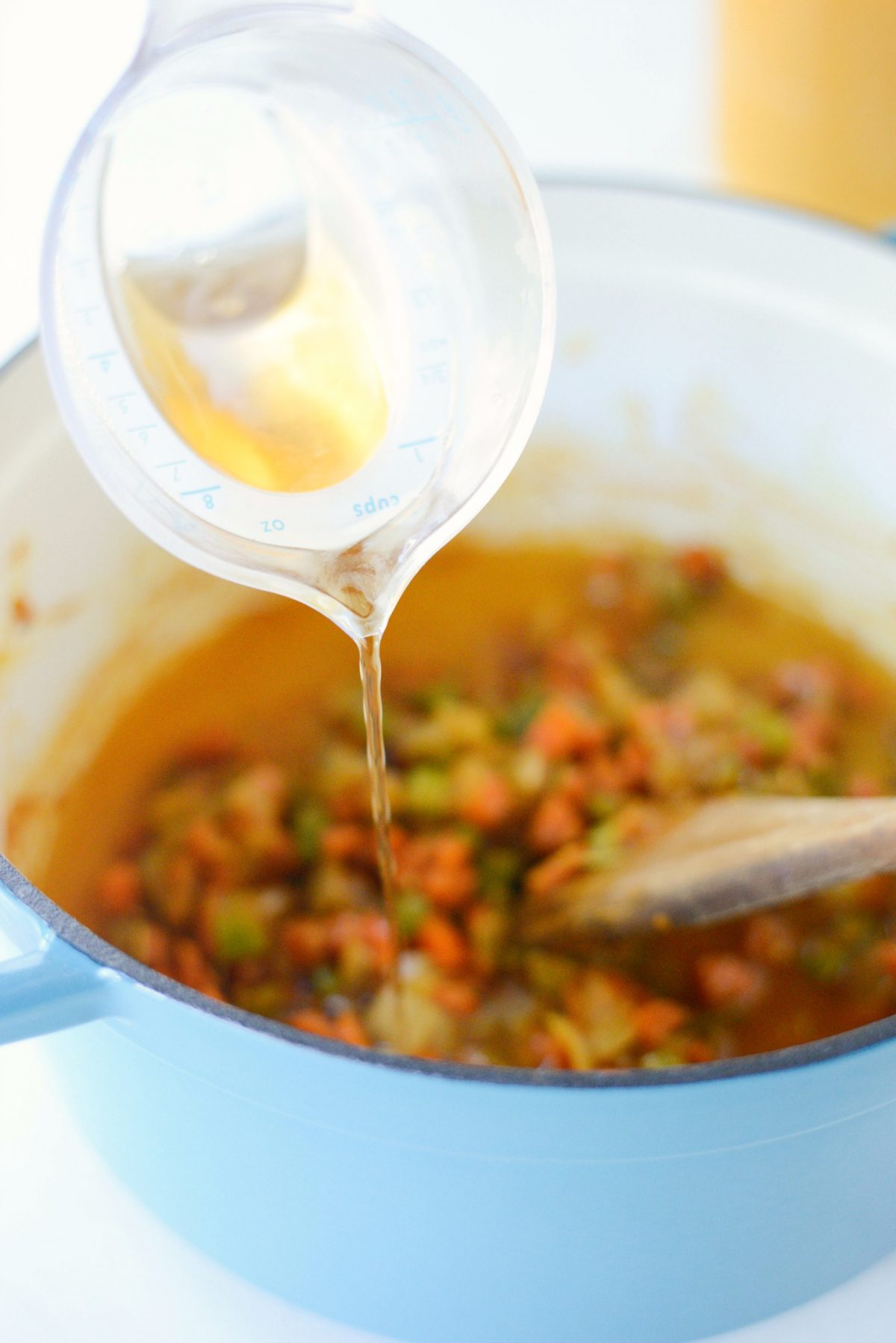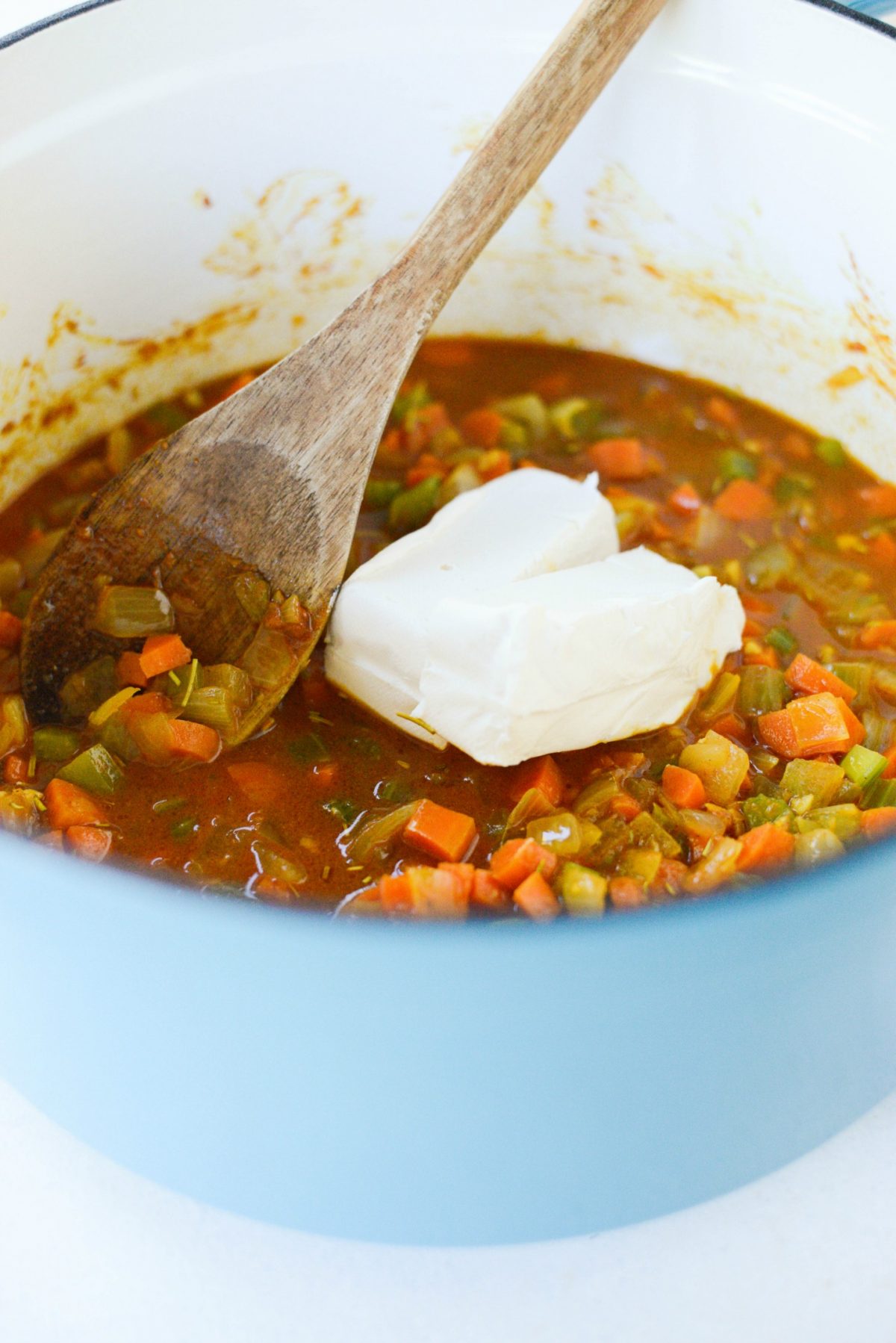 Pour in 2/3 cup of good quality apple juice. Then stir and melt in the neufchâtel cream cheese which will give this soup a little tang.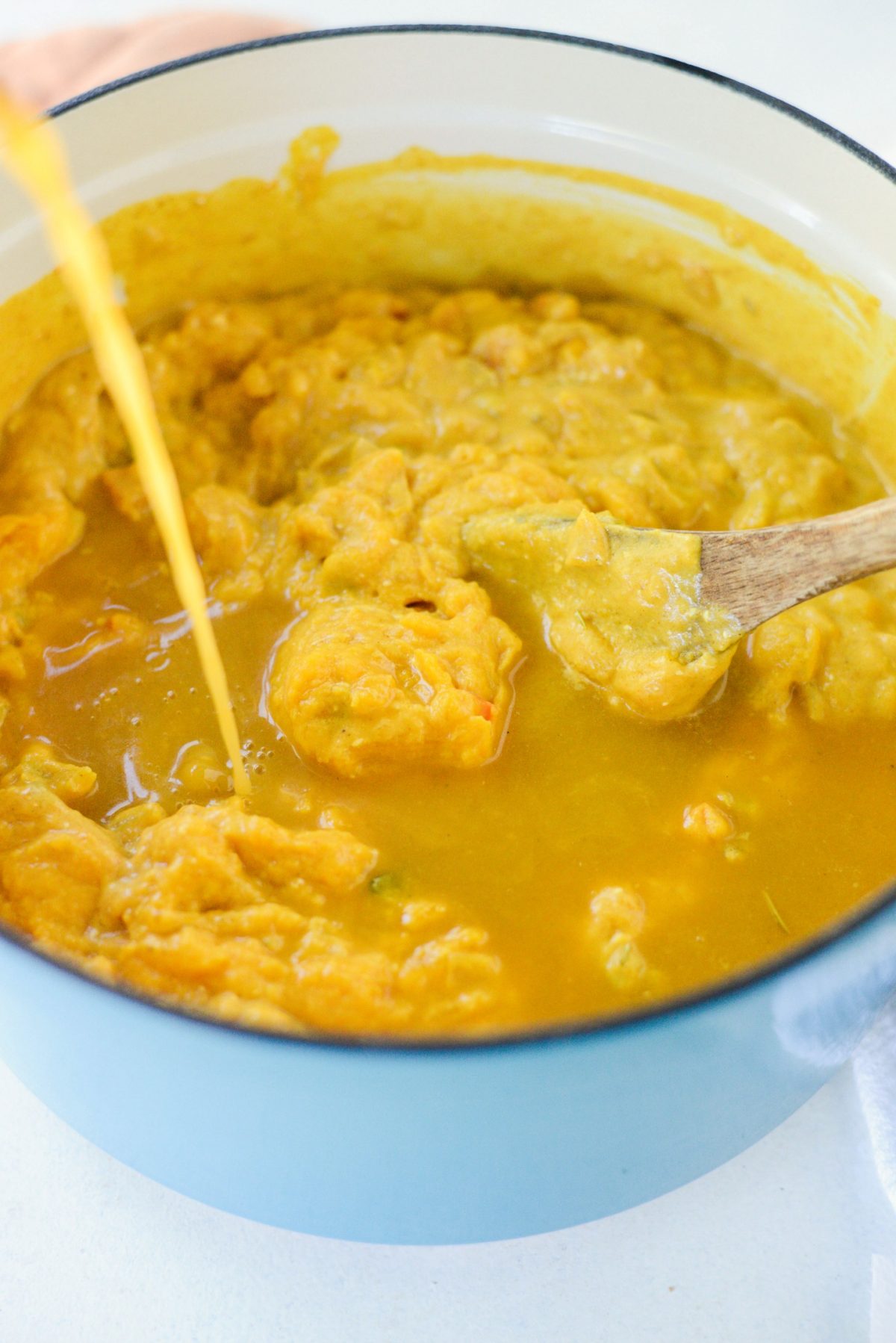 Lastly add in the puréed pumpkin and butternut squash and stir in 6 cups of vegetable broth or more if needed.
To make both of the purées I use the same method seen in this post.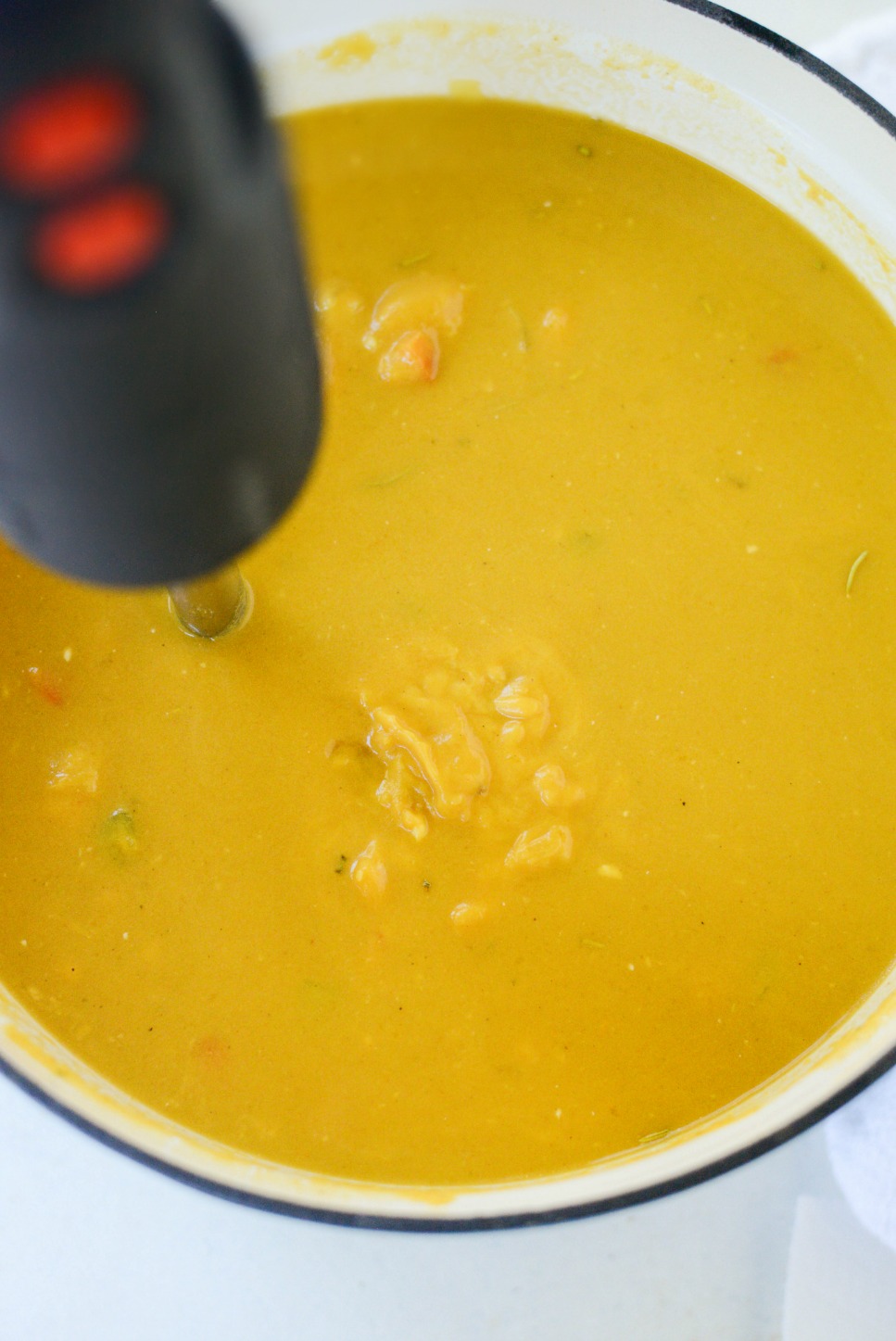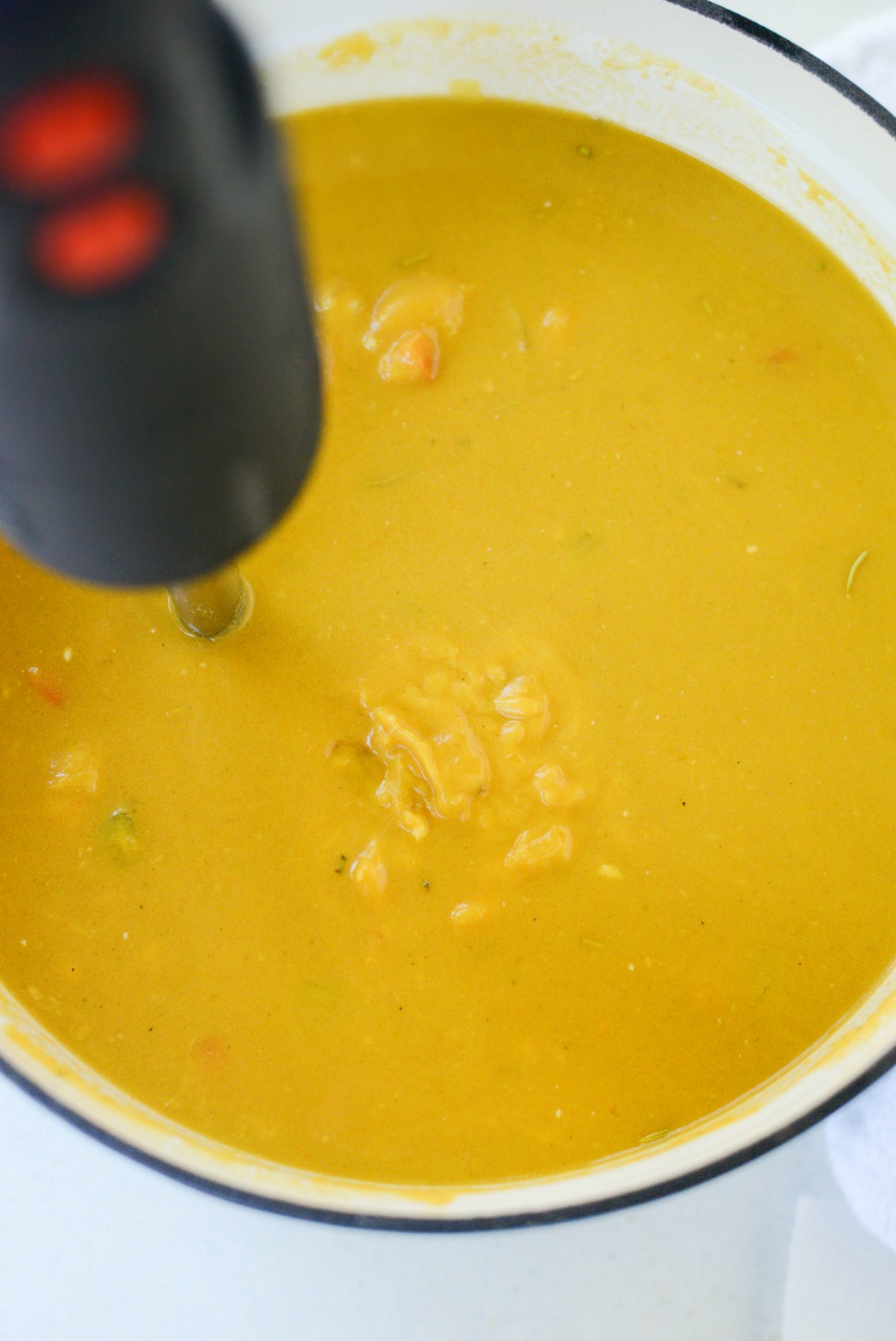 Now you can either pour everything into a high-speed blender and puree until smooth or use a stick blender. If pureeing this soup in your blender, you may have to work in batches and be sure to remove the center plug and cover with a towel so the heat can escape.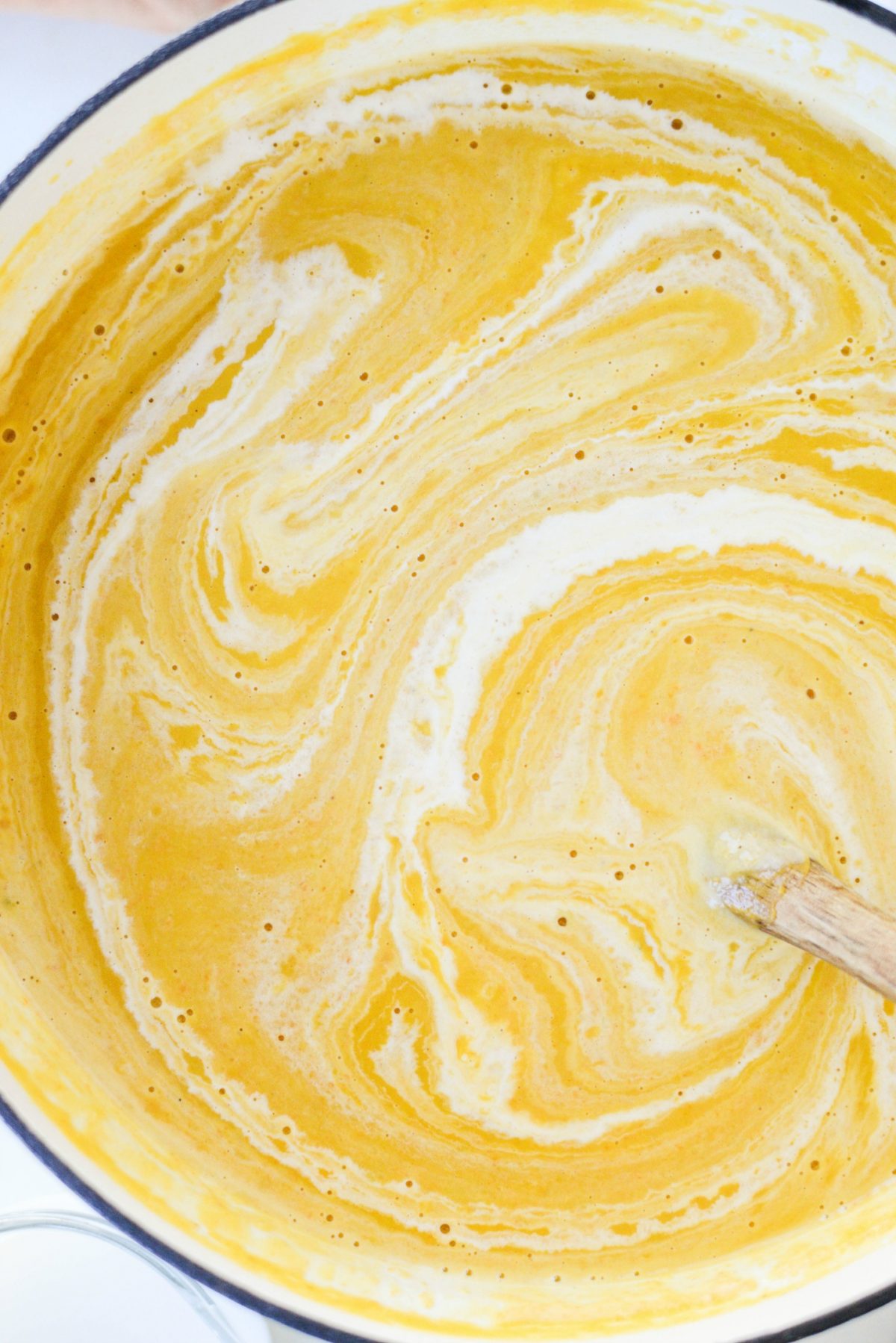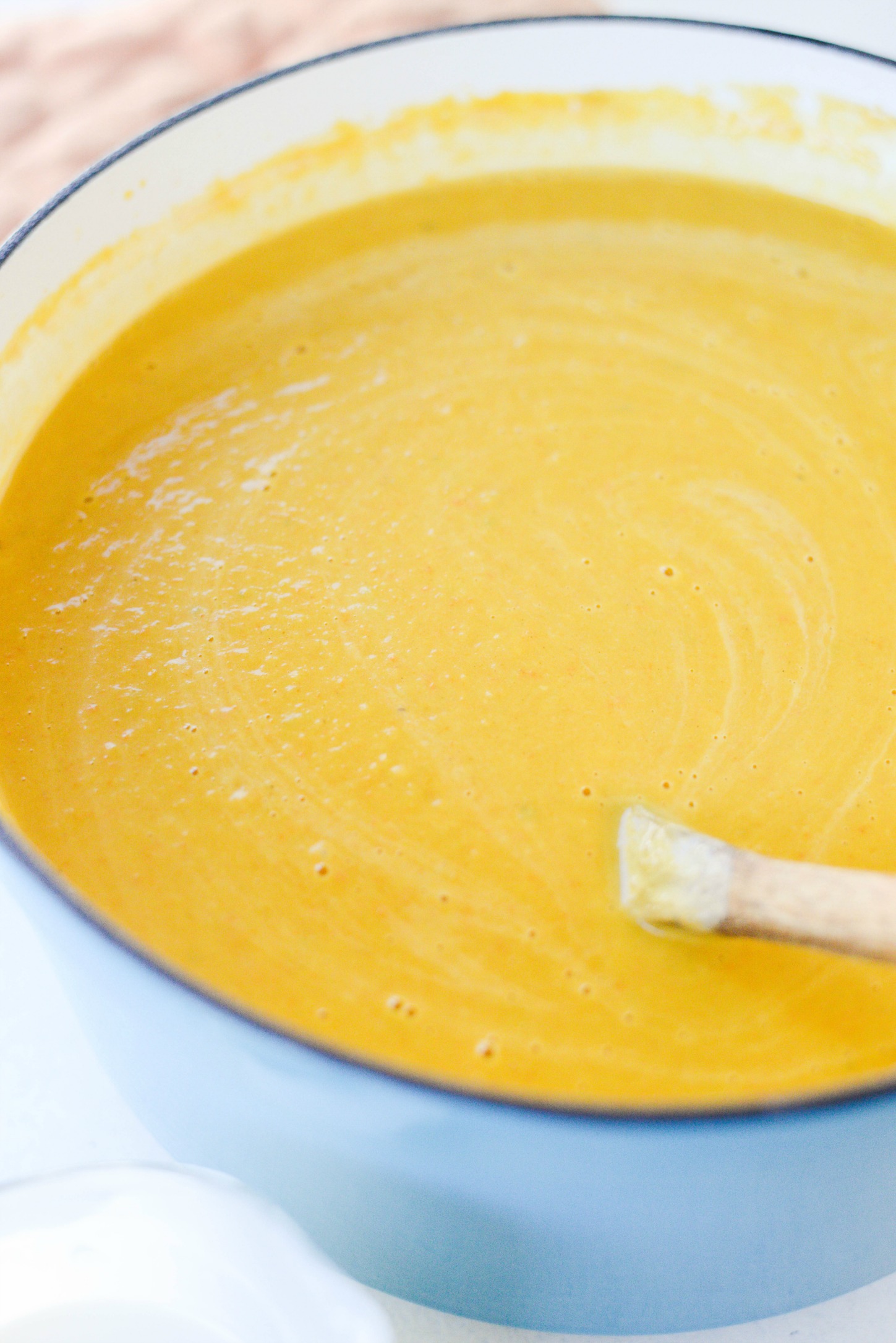 Pour the soup back into the pot, add in the heavy cream, juice from half a lemon and season with kosher salt and black pepper. This makes a lot of soup (16 cups!) and I found that it took 3 teaspoons of kosher salt and 1/2 teaspoon of white pepper to season it properly. But as always, season to your personal taste.
Then simply heat until piping hot.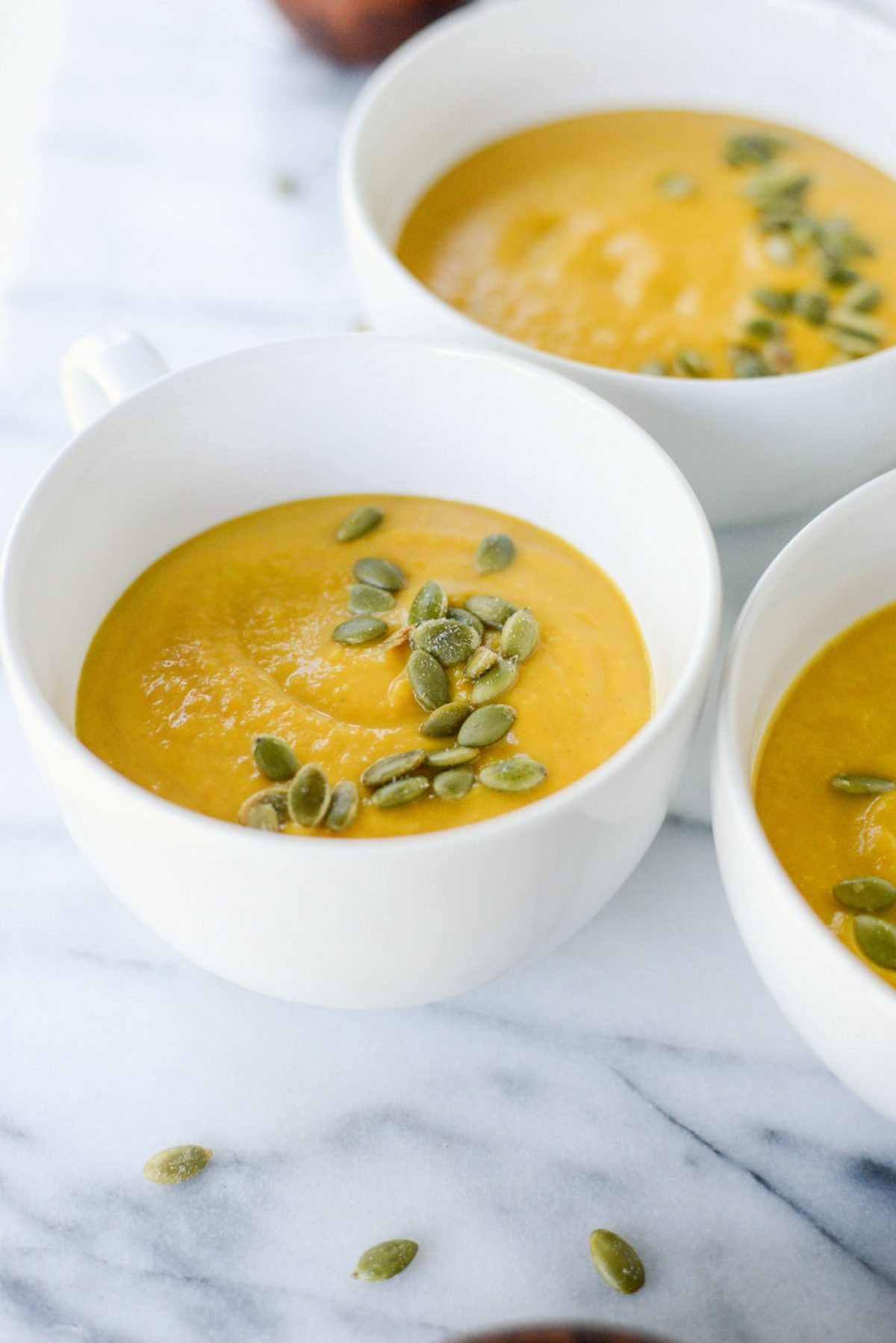 Ladle this sunshiny soup into bowls and top with roasted and salted pepitas.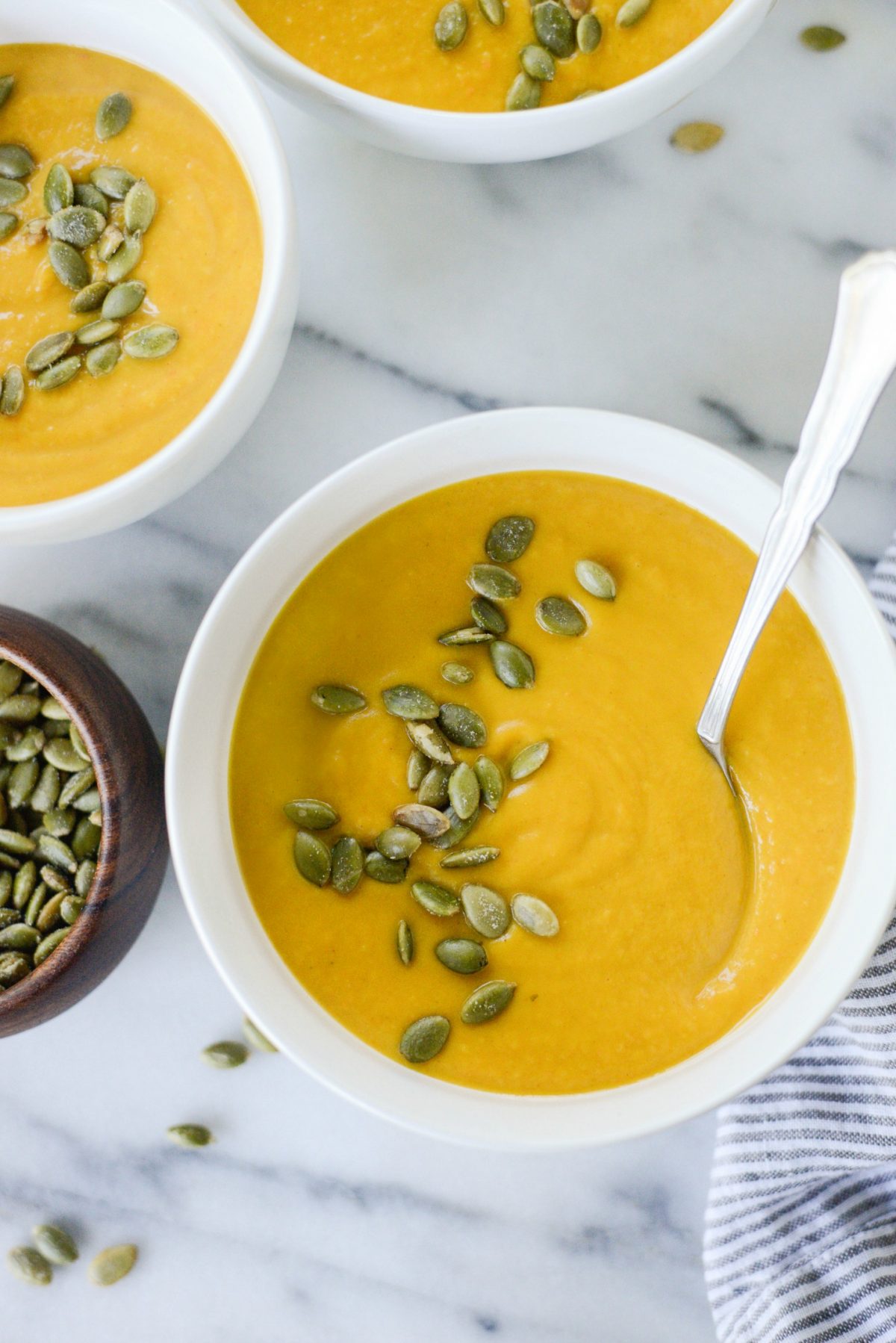 I made this over the weekend while Pat was up north hunting and it was just us girls. Haileigh my typically non-picky eater was not interested in try it. Something about being traumatized when she was little when I made her eat squash. Whatever. So I bribed her with a dollar to try a taste of this soup and guess what?! She loved it.
Like I knew she would. Because it's slightly sweet, deliciously spiced and soul warming. I am at a loss for words. To know that I can make a close copy-cat recipe version of Panera's squash soup, makes me so, so happy! And I think you'll be happy too.
Click Here For More Panera Copycat recipes!
Enjoy! And if you give this Autumn Squash Soup recipe a try, let me know! Snap a photo and tag me on twitter or instagram!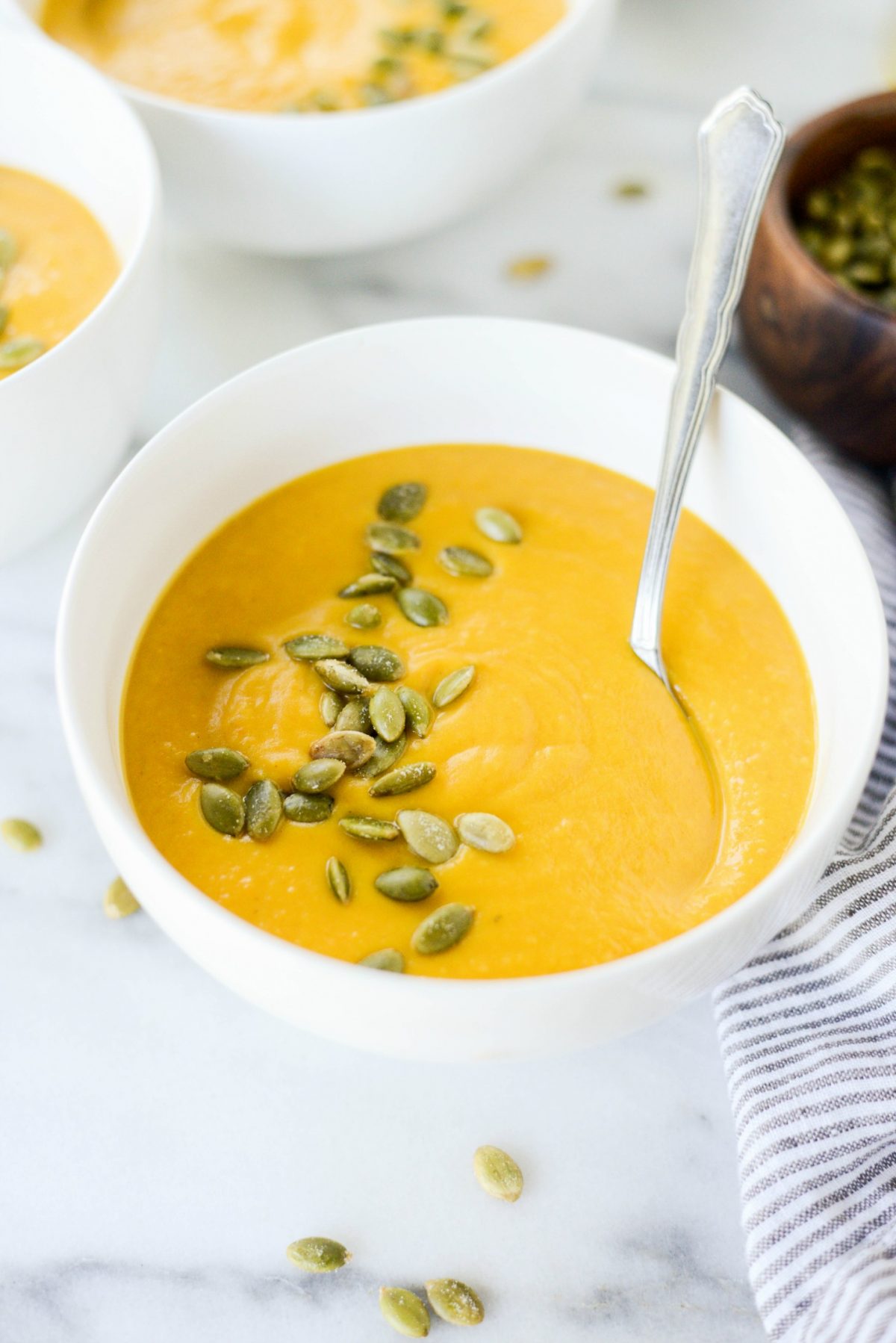 This post may contain affiliate links.
Buy the Cookbook: Simply Scratch : 120 Wholesome Homemade Recipes Made Easy Now available on Amazon »
THANK YOU in advance for your support!