Pistachio butter is a versatile, quick and easy homemade nut butter made from roasted pistachios! It takes only minutes to make and you can use it in lots of different recipes (list included in post). Yields 1/2 cup or 8 (1 tablespoon) servings but can easily be doubled for more.
Got a Costco-size bag of pistachios and not sure what to do with them?
Make Pistachio butter! Pistachio butter is a creamy nut butter made by blending shelled roasted pistachios.
I first fell in love with this golden green nut butter when I was developing a recipe for no-churn pistachio ice cream. It was surprising delicious, not to mention easy! Just add pistachios to a food processor and blend until smooth and creamy.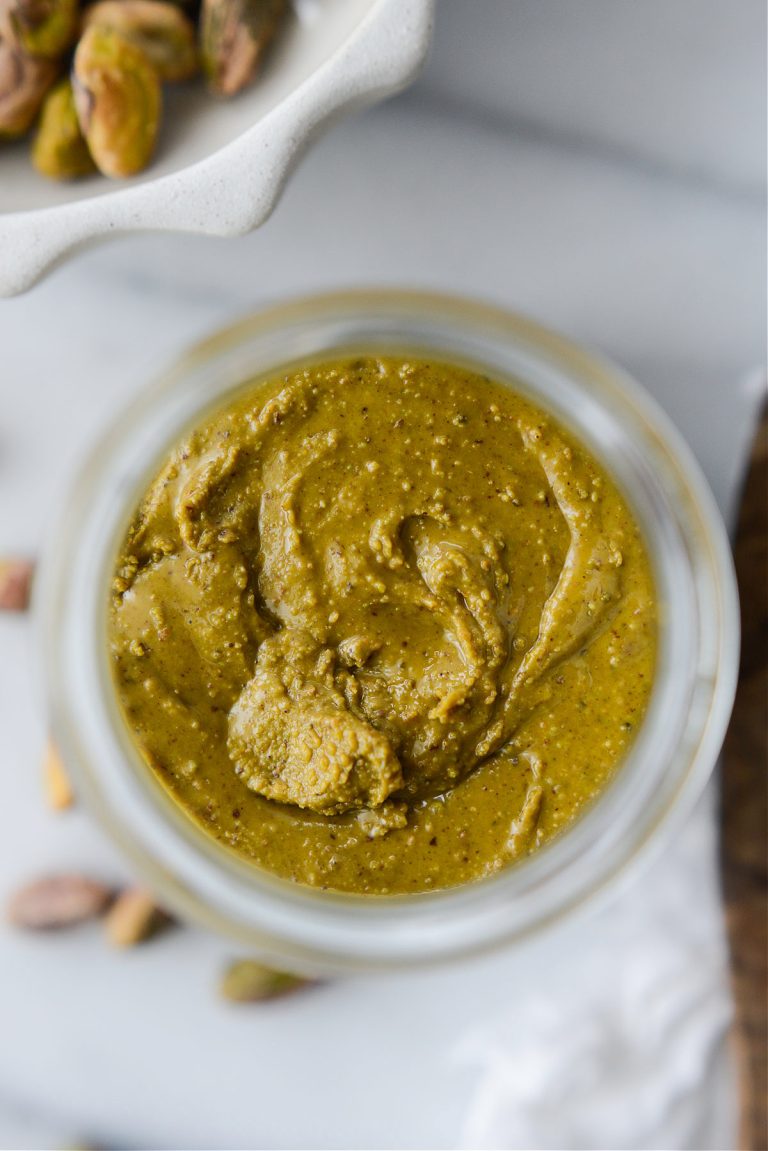 What Does Pistachio Butter Taste Like
Pistachio butter has a creamy smooth texture with a rich, nutty, earthy and slightly sweet flavor.
How To Sweeten Pistachio Butter
Personally I don't usually like added sugars in my nut butters, but if you're looking to sweeten it up a tad, that's always an option. Just steer clear of liquid sweeteners (honey, maple syrup etc) as I've read that they may seize up the nut butter. Although I have used it to sweeten peanut butter along with the addition of a little oil as well. Start with 1/2 teaspoon of granulated and taste and adjust as you need.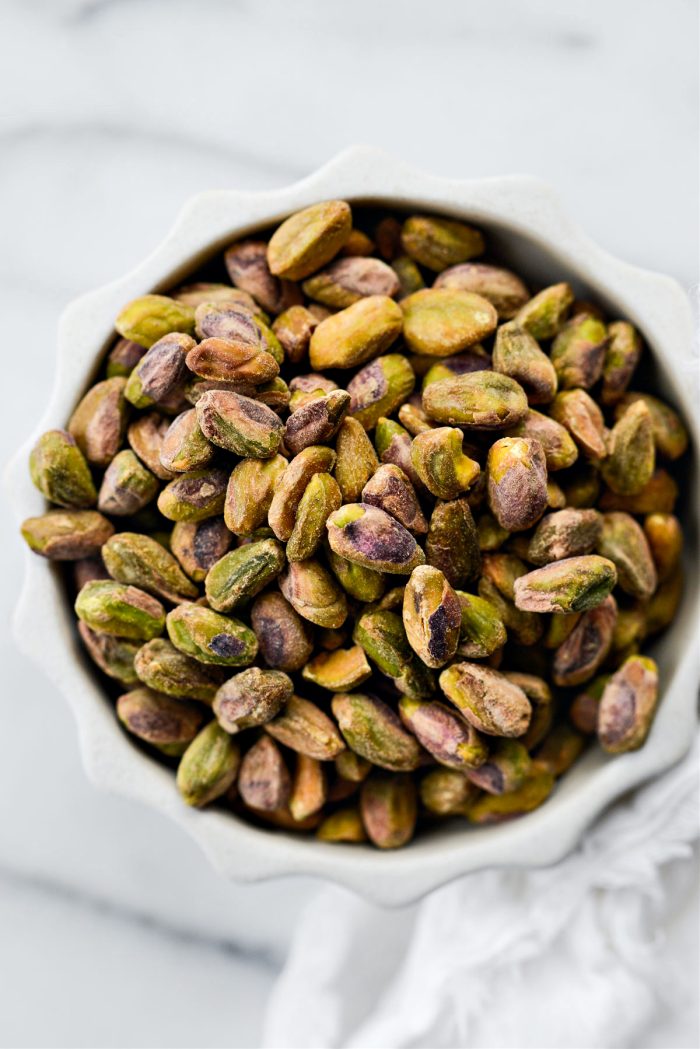 To Make Homemade Pistachio Butter You Will Need:
pistachios – I use roasted and salted. However some brands tend to be overly salty. With that said, if you want to have more control over the salt, use roasted and unsalted and add salt to taste.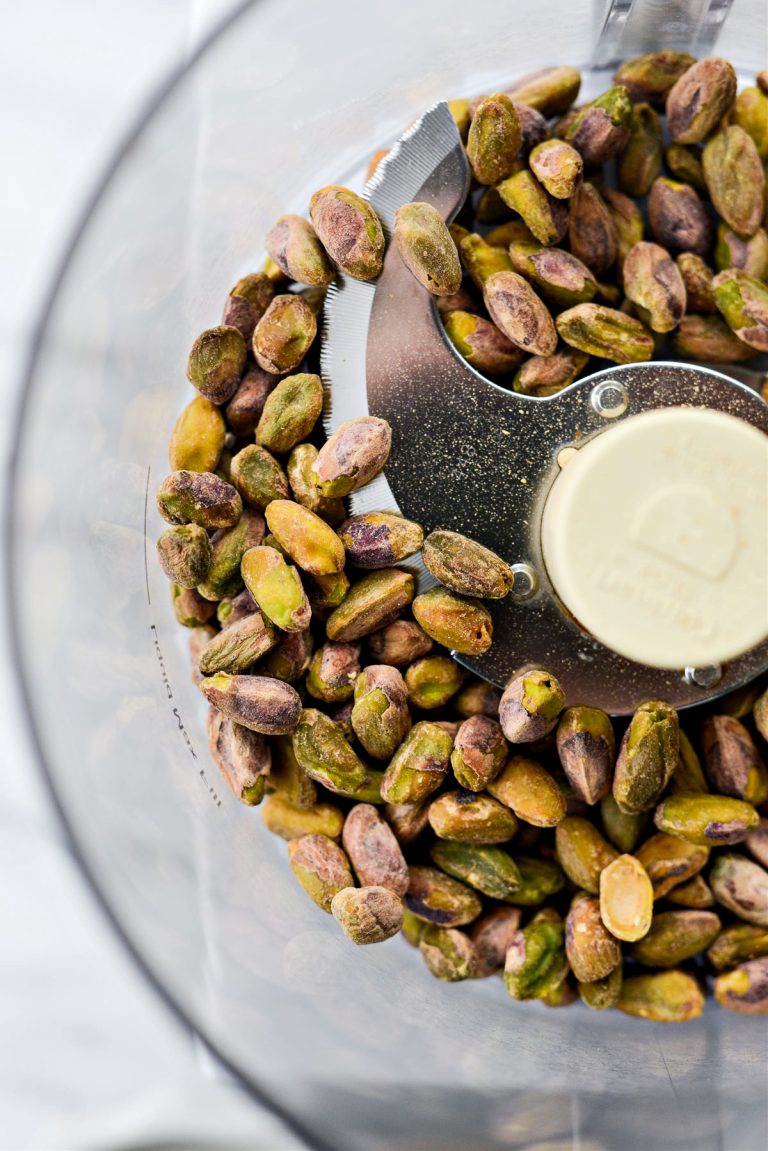 In the bowl of your food processor, fitted with the blade attachment, add 1 cup roasted and salted, shelled pistachios. Secure the lid and turn on the food processor.
At first you may notice at first the pistachios look dry and crumbly.
Keep processing, eventually the natural oil will become noticable.
The natural occurring oil helps break down the nuts even more as you go.
Thick and slightly smooth but not quite there yet. Continue processing, scraping down the sides of the food processor every so often.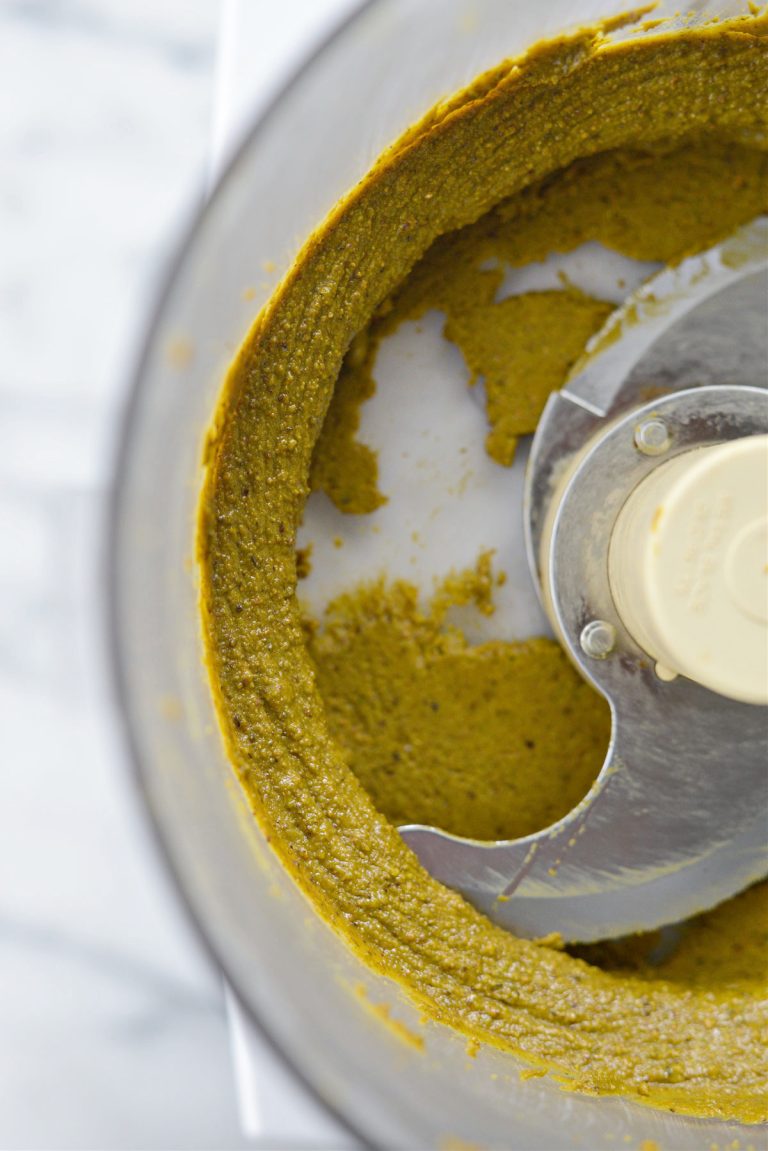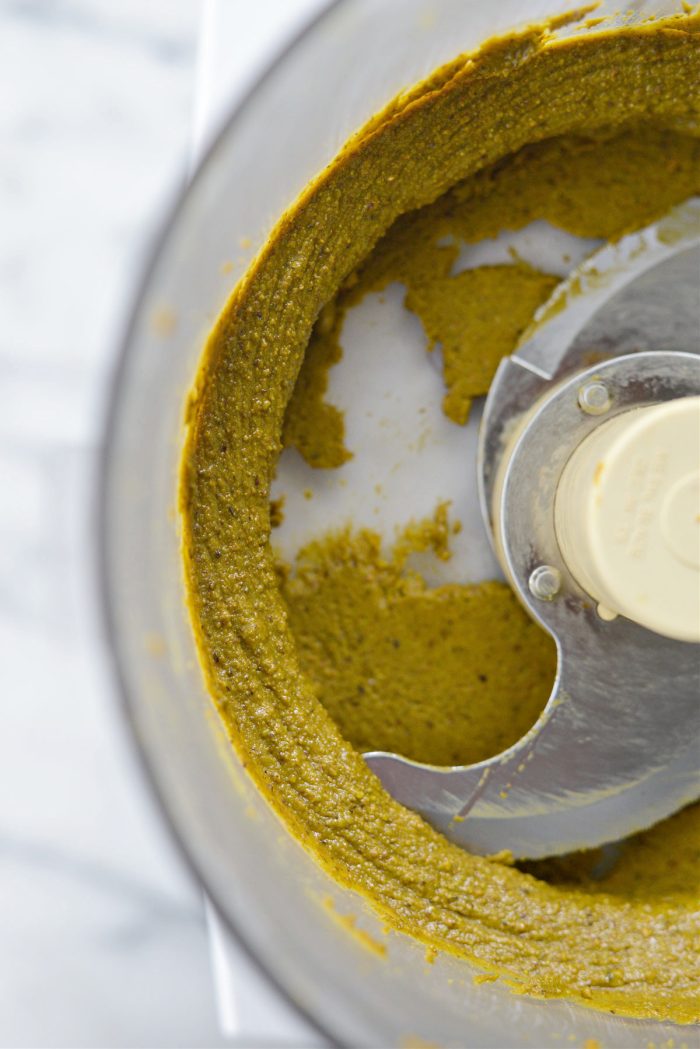 Keep blending until it reaches your desired consistency.
Want a smoother and more runny consistency?
You could add a little pistachio oil or grapeseed oil and keep blending. However, please note it will affect the nutritional value.
That's it!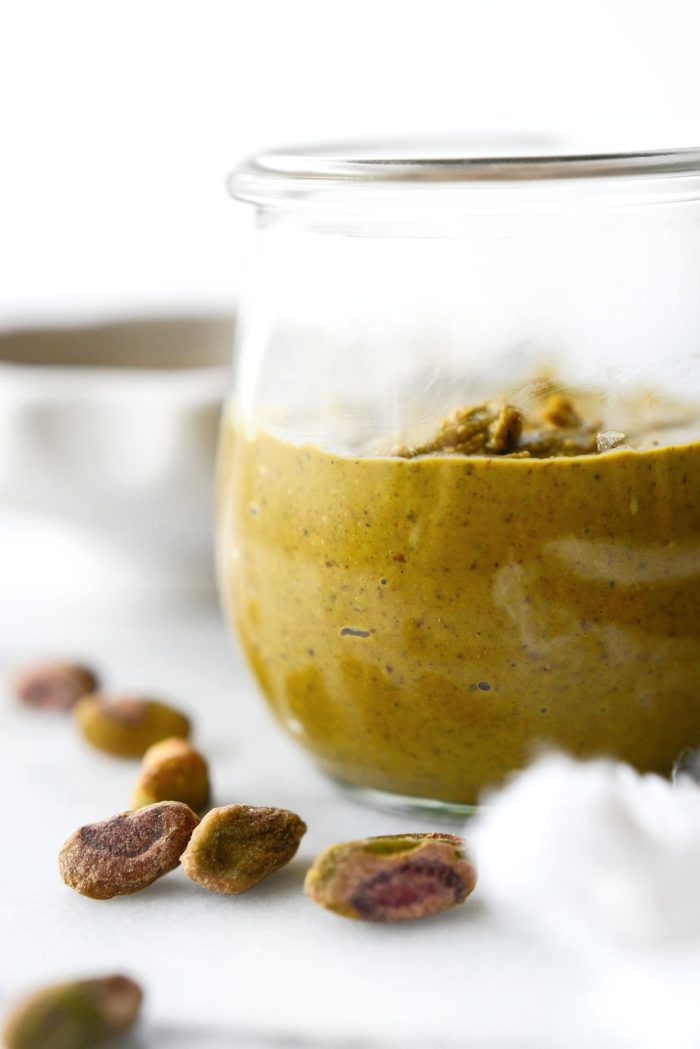 Ways To Use Pistachio Butter:
Use as a flavoring for ice cream or buttercream.
As a filling for cakes, crepes, croissants or danishes.
Fold it in with ricotta and fill cannolis.
Use in salad dressings.
Add it to smoothies.
Drizzle on waffles, pancakes or French toast,
Spread it on English muffins or your favorite toasted bread and top with strawberries, raspberries or fruit of choice.
Add spoonful to oatmeal or yogurt along with your favorite fruit and granola.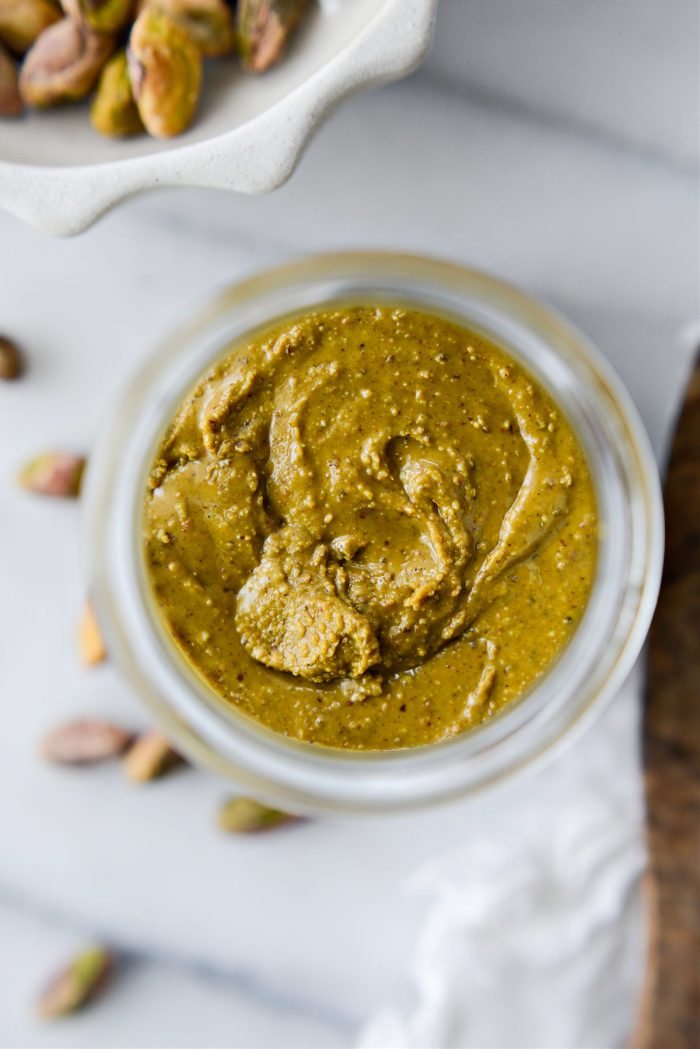 How To Store Pistachio Butter?
Store in a glass jar or container with a tight-fitting lid and keep in the refrigerator.
How Long Will Pistachio Butter Last?
If stored properly, it could last up to 1 month (or longer) or freeze for up to 3 months.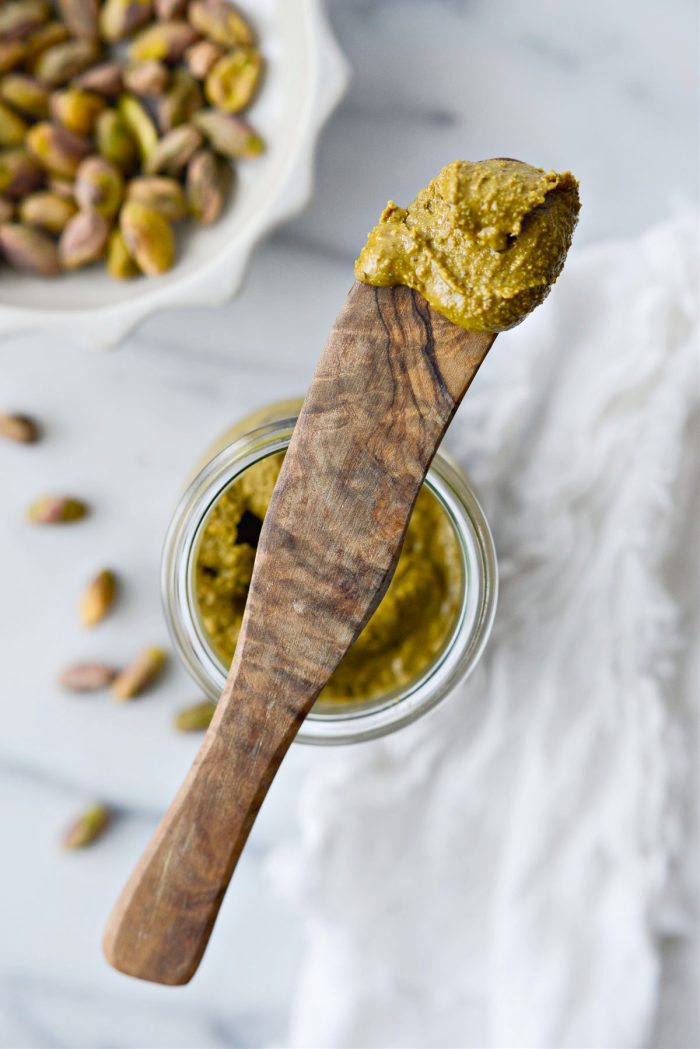 CLICK HERE FOR MORE NUT BUTTER RECIPES!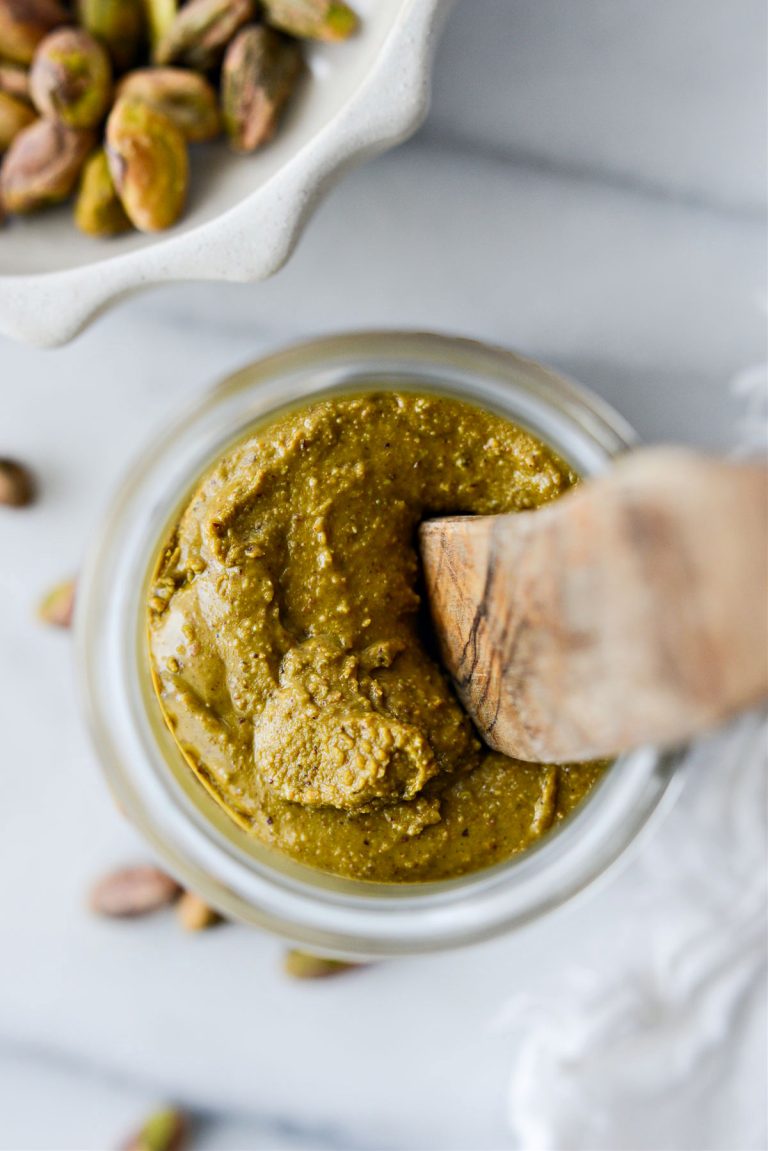 Enjoy! And if you give this Homemade Pistachio Butter recipe a try, let me know! Snap a photo and tag me on twitter or instagram!
Yield: 8 servings
Homemade Pistachio Butter
Pistachio butter is a versatile, quick and easy homemade nut butter made from pistachios! Yields 1/2 cup or 8 (1 tablespoon) servings.
Ingredients
1 cup pistachios, shelled (see notes)
Instructions
In the bowl of your food processor, fitted with the blade attachment, add the pistachios.

Secure the lid, and process until smooth or desired consistency. This can take about 4 to 5 minutes. Scrape down the sides of the bowl as you go.

If using unsalted pistachios, season with salt and process until incorporated.

Transfer pistachio butter to a jar (or container with a tight-fitting lid) and refrigerate for up to 1 month or freeze up to 3 months.
Serving: 1tablespoons, Calories: 86kcal, Carbohydrates: 4g, Protein: 3g, Fat: 7g, Saturated Fat: 1g, Polyunsaturated Fat: 2g, Monounsaturated Fat: 4g, Sodium: 0.2mg, Potassium: 158mg, Fiber: 2g, Sugar: 1g, Vitamin A: 64IU, Vitamin C: 1mg, Calcium: 16mg, Iron: 1mg
This post may contain affiliate links.
Buy the Cookbook: Simply Scratch : 120 Wholesome Homemade Recipes Made Easy Now available on Amazon »
THANK YOU in advance for your support!