What is more classic than a Homemade Cherry Pie? Tart pie cherries in a glossy thick sauce, baked in a flakey homemade pie crust… what could be better? Serve with a scoop of vanilla ice cream and a steaming cup of coffee!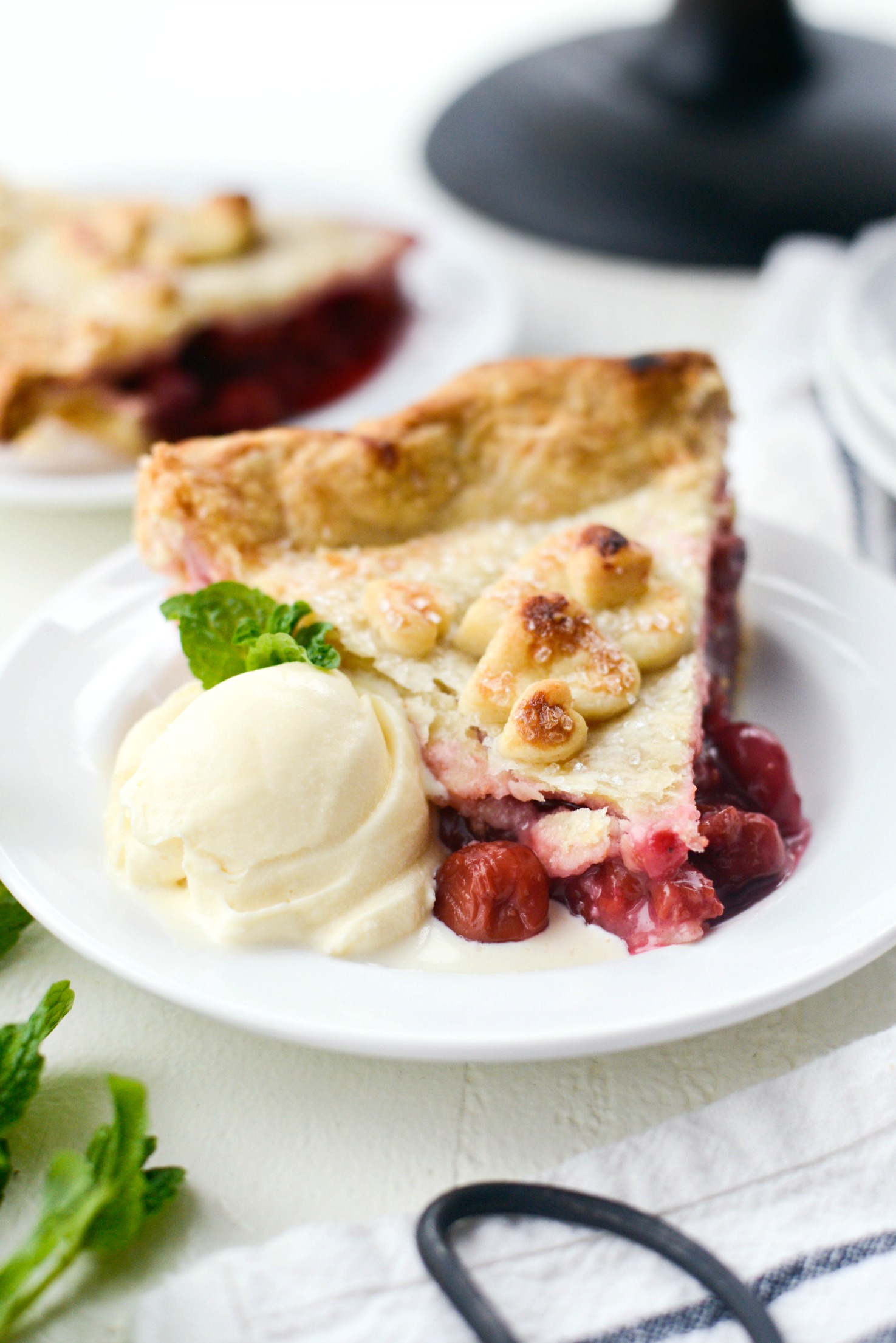 Did you know February is National Cherry Month?
It is! A whole month dedicated to those sweet and tart gems. I'm not sure why it's January because fresh cherries aren't in the produce section until late spring or early summer, but regardless I am for it. Knowing this, I bought a 40-ounce bag of frozen Michigan "red" pie cherries with a mission to bake a pie and homemade maraschino cherries. I've had this cherry pie on my "to-blog" list for a while now. Since it's national cherry month and also because Valentine's Day is just a day away, now is the perfect time.
What I love about this pie recipe, is that like my apple pie, you make the filling ahead of baking the pie. So that there's no sinking of the top pie crust and everything thickens up perfectly.
One perfect homemade cherry pie coming right up!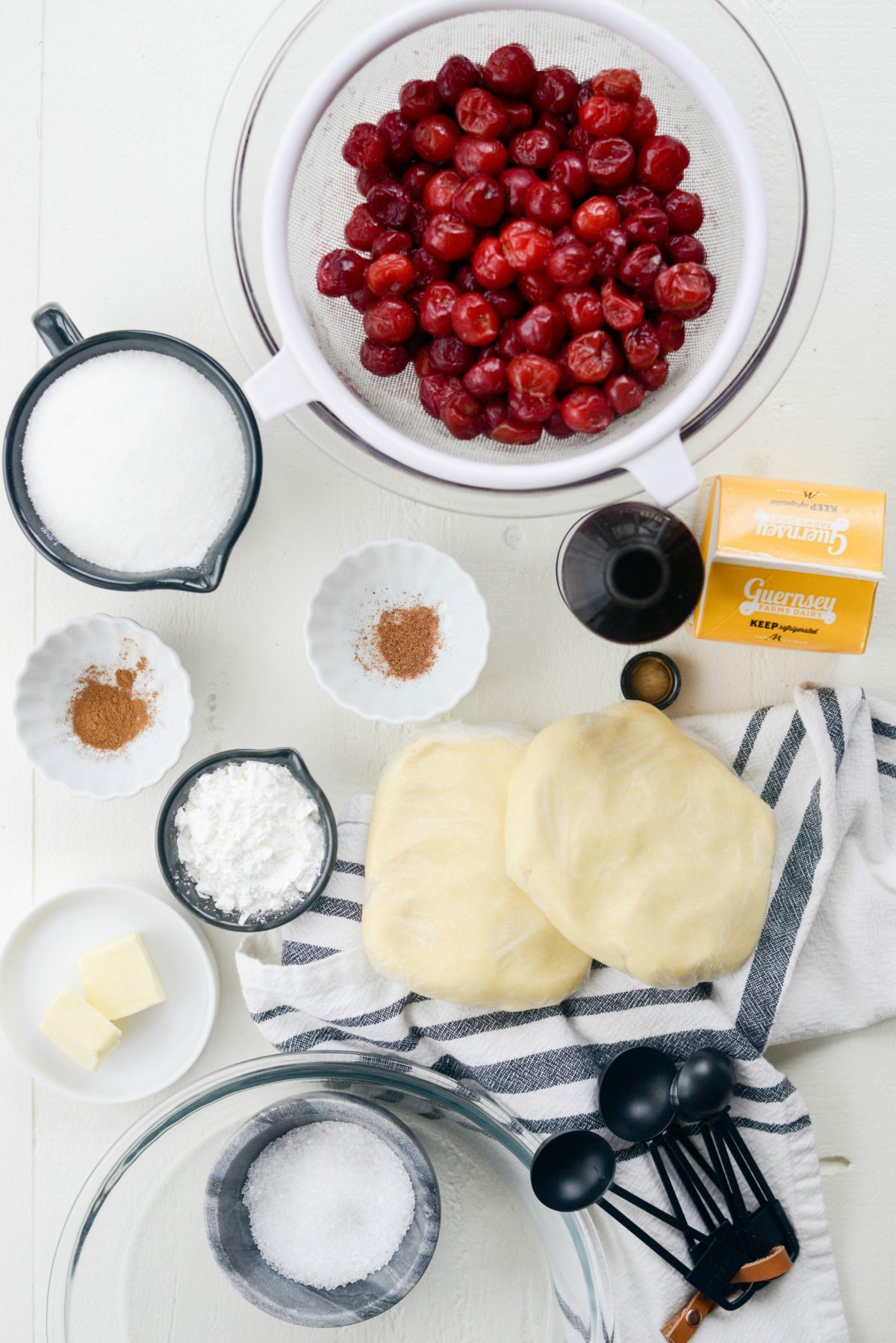 To Make This Homemade Cherry Pie you will need:
5 cups thawed red pie cherries plus any juices from thawing
recipe for homemade pie crust
1 cup granulated sugar
1/4 cup cornstarch
3/4 teaspoon vanilla extract
2 tablespoons unsalted butter
heavy cream
coarse sugar
First things first, the night before, place the cherries into a mesh strainer and set over a bowl. As the cherries thaw, juices will drip into the bowl below. This takes about 6+ hours or so and is best to do overnight.
Pour the juices into a measuring cup and, if needed, add in enough water to make 3/4 cup.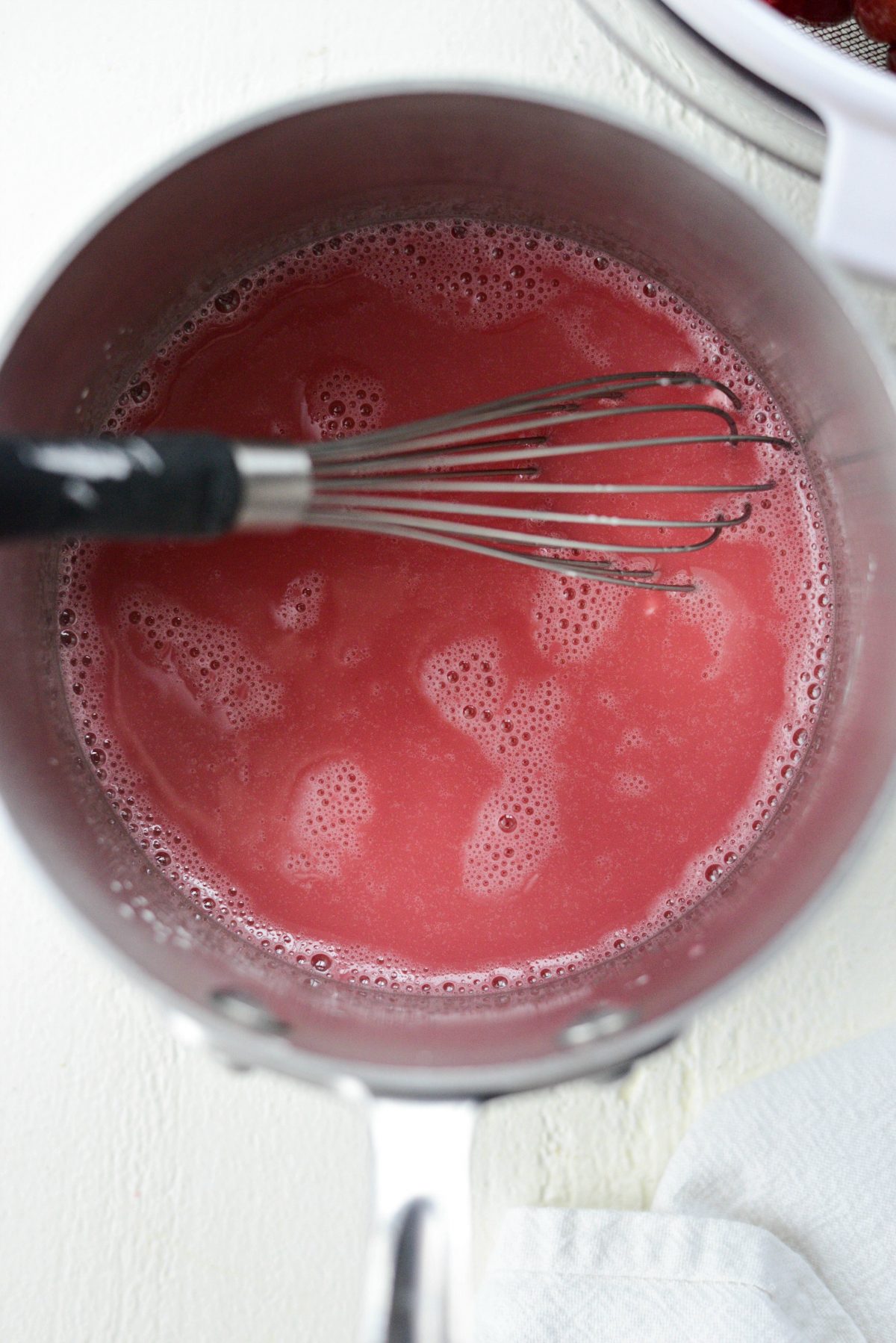 Next, into a heavy bottom saucepan, add sugar, cornstarch and the 3/4 cup cherry juices, whisking to combine. Then bring to a boil, while whisking until thickened or about 5 minutes or so. Remove the pan off of the heat and whisk in the vanilla, cinnamon and nutmeg.
Set it off to the side until the mixture has cooled completely. It will thicken even more as it cools
Finally it's time to assemble the pie!
First, position an oven rack in the lower third of your oven and then preheat to 425°.
Then into your chilled bottom crust add the thawed pitted cherries.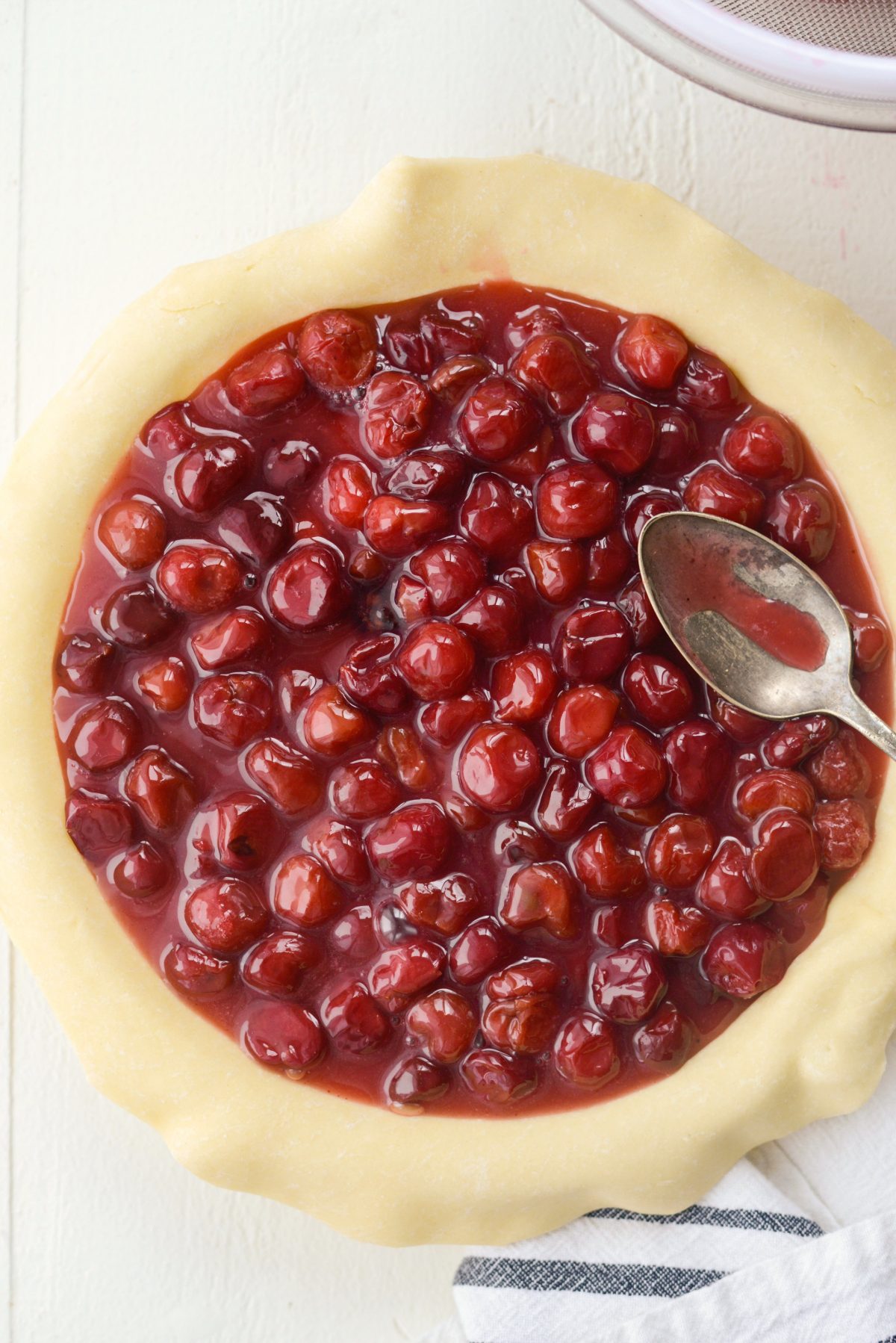 Next, pour the cooled filling over top of the cherries and then spread evenly with a spoon.
So pretty, right!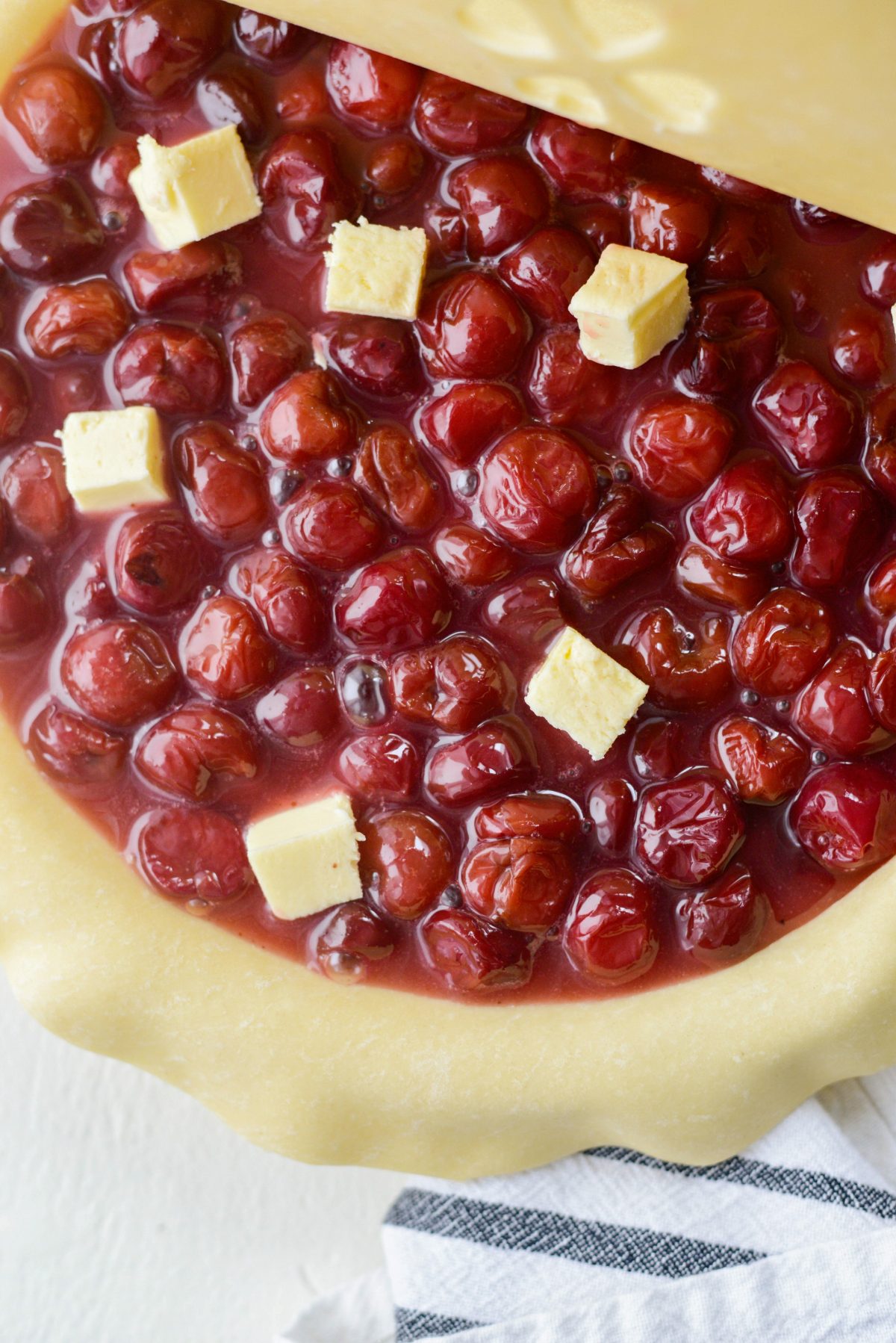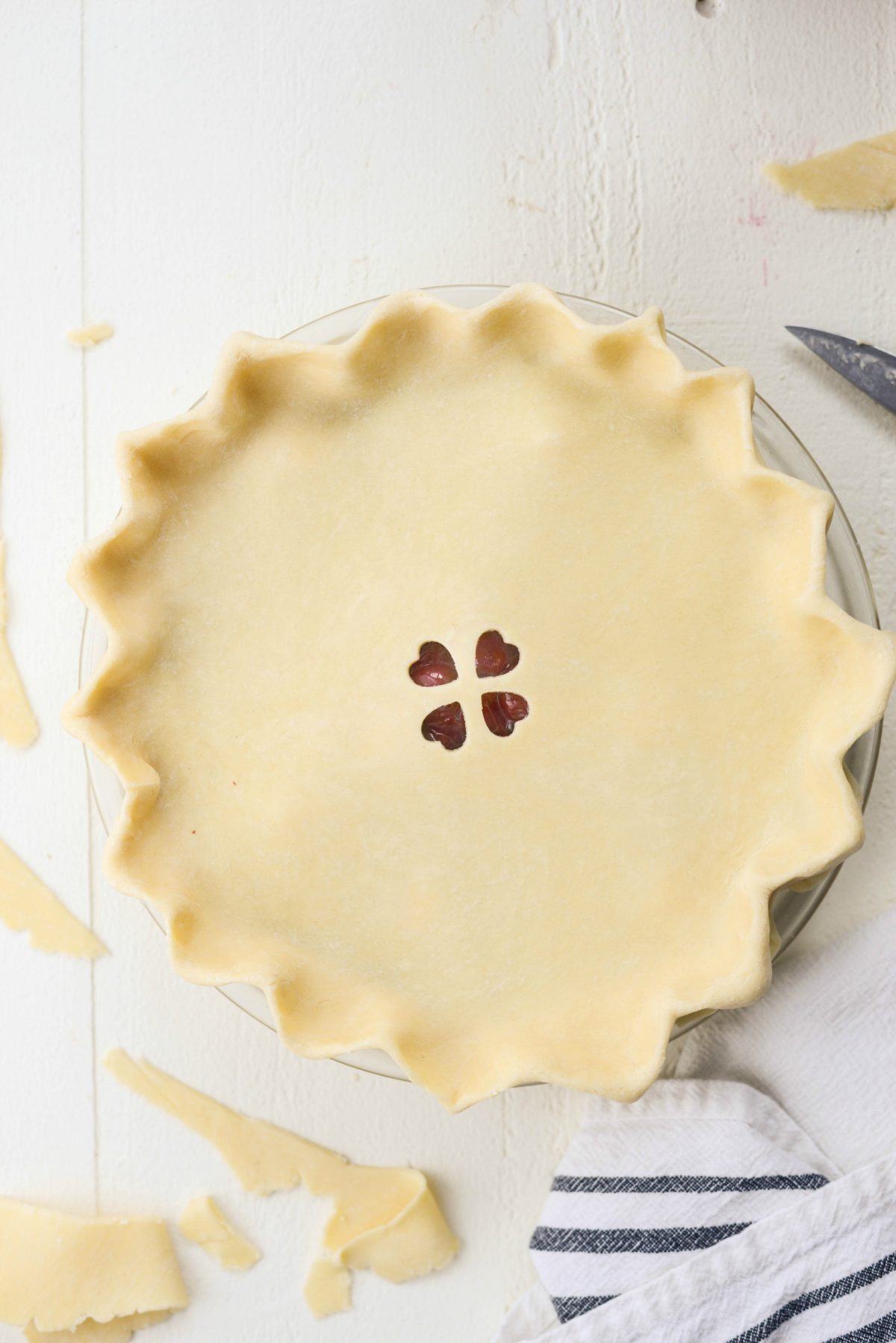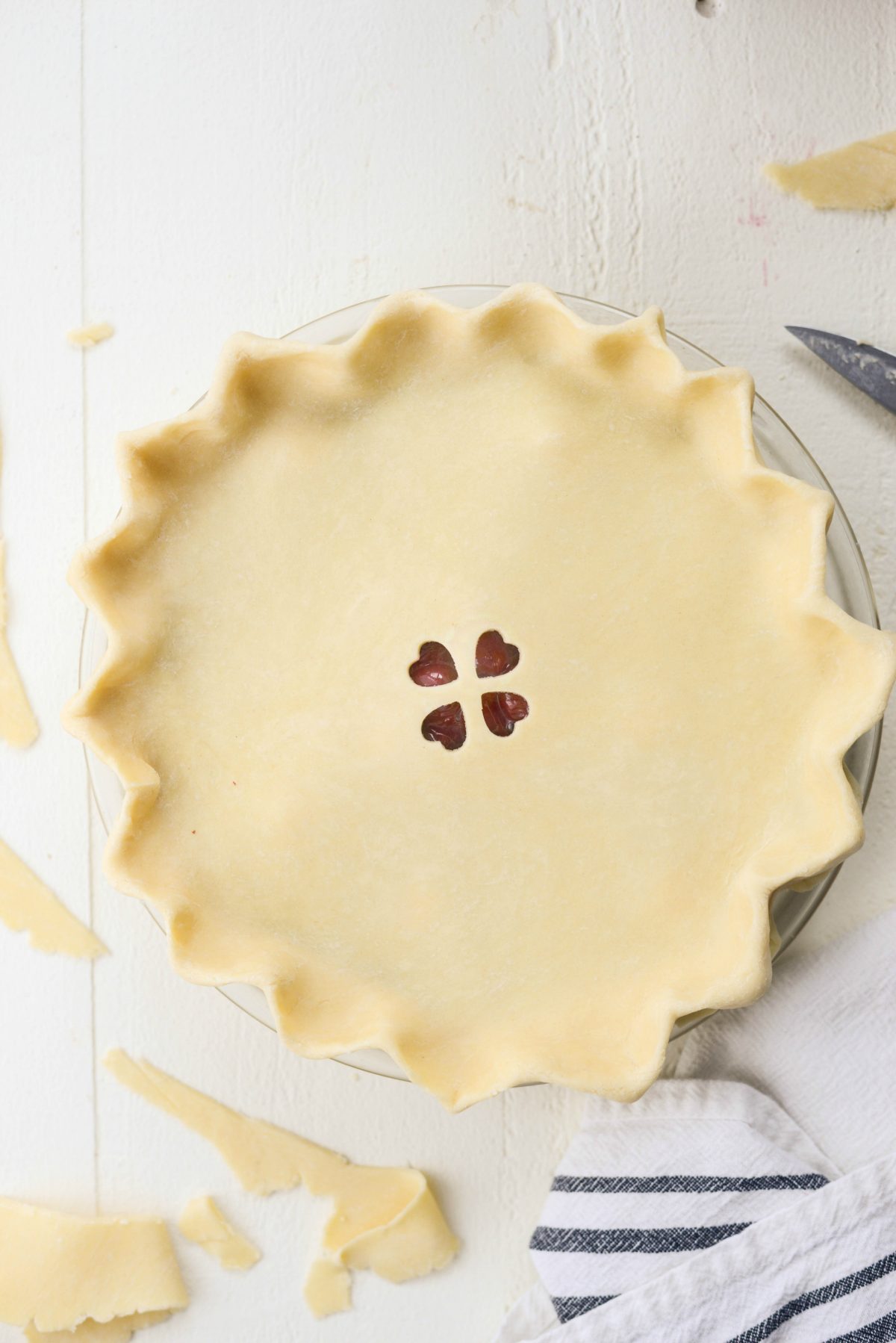 Lastly, dot with butter and drape the top crust over top. Make sure you cut air vents before you place the top crust onto the pe.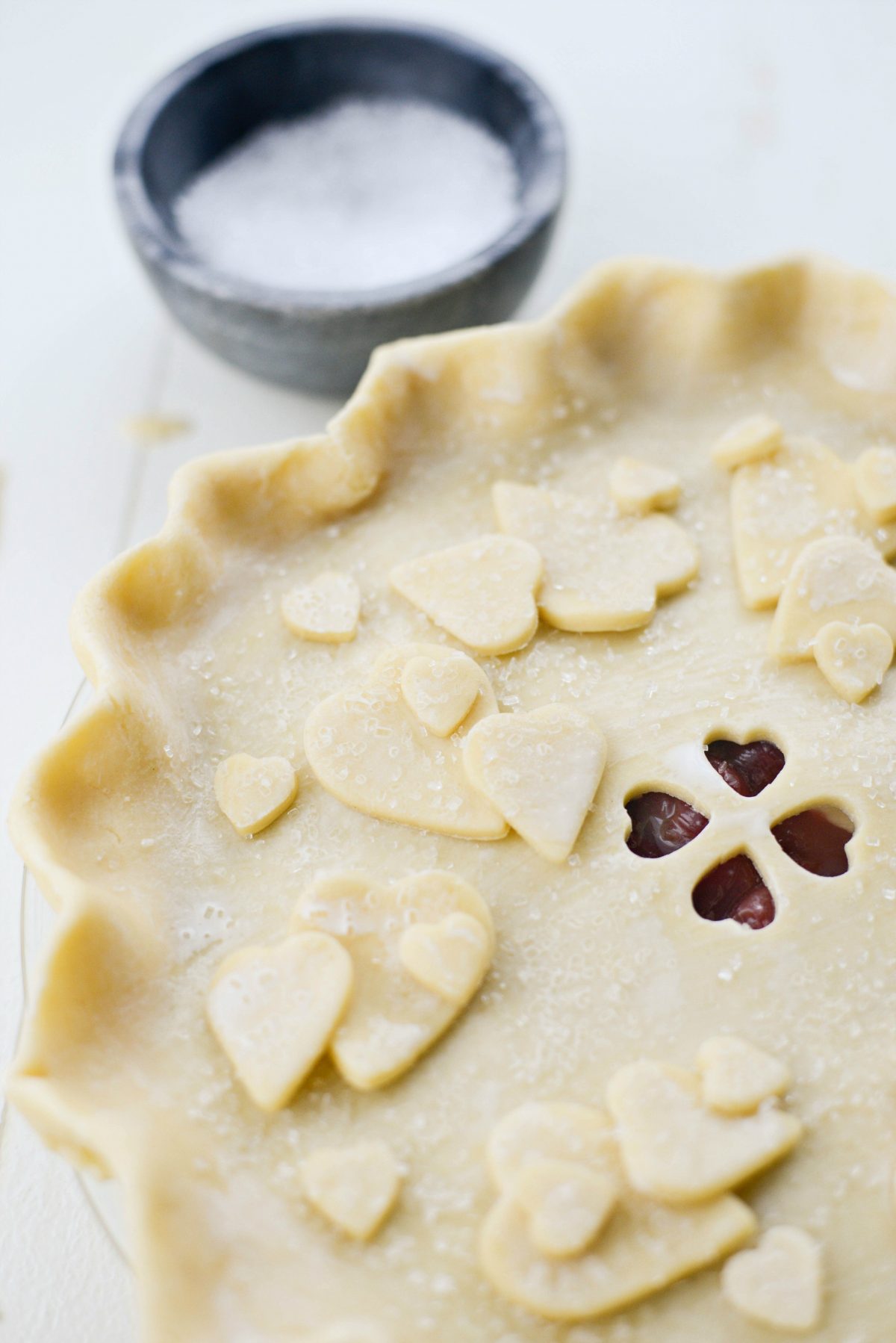 Brush the top of the pie crust with milk or heavy cream and then scatter any cut out pieces of dough (if using), brush with more heavy cream and sprinkle with coarse sugar.
Bake on the the lower third rack with a sheet pan below it to catch any spills. Bake for 30 minutes before reducing the heat to 350° and continue baking for 25 to 30 more or until the filling is bubbling through the vent cutouts.
Next allow the pie to cool for a few hours before slicing and serving with a scoop of vanilla ice cream. As you know, I love nothing more than a warm fruit pie and its flaky crust with cold ice cream.
This sweet and tart cherry pie was so easy to prepare, tastes better than any store-bought or diner pie.
Homemade is where it's at.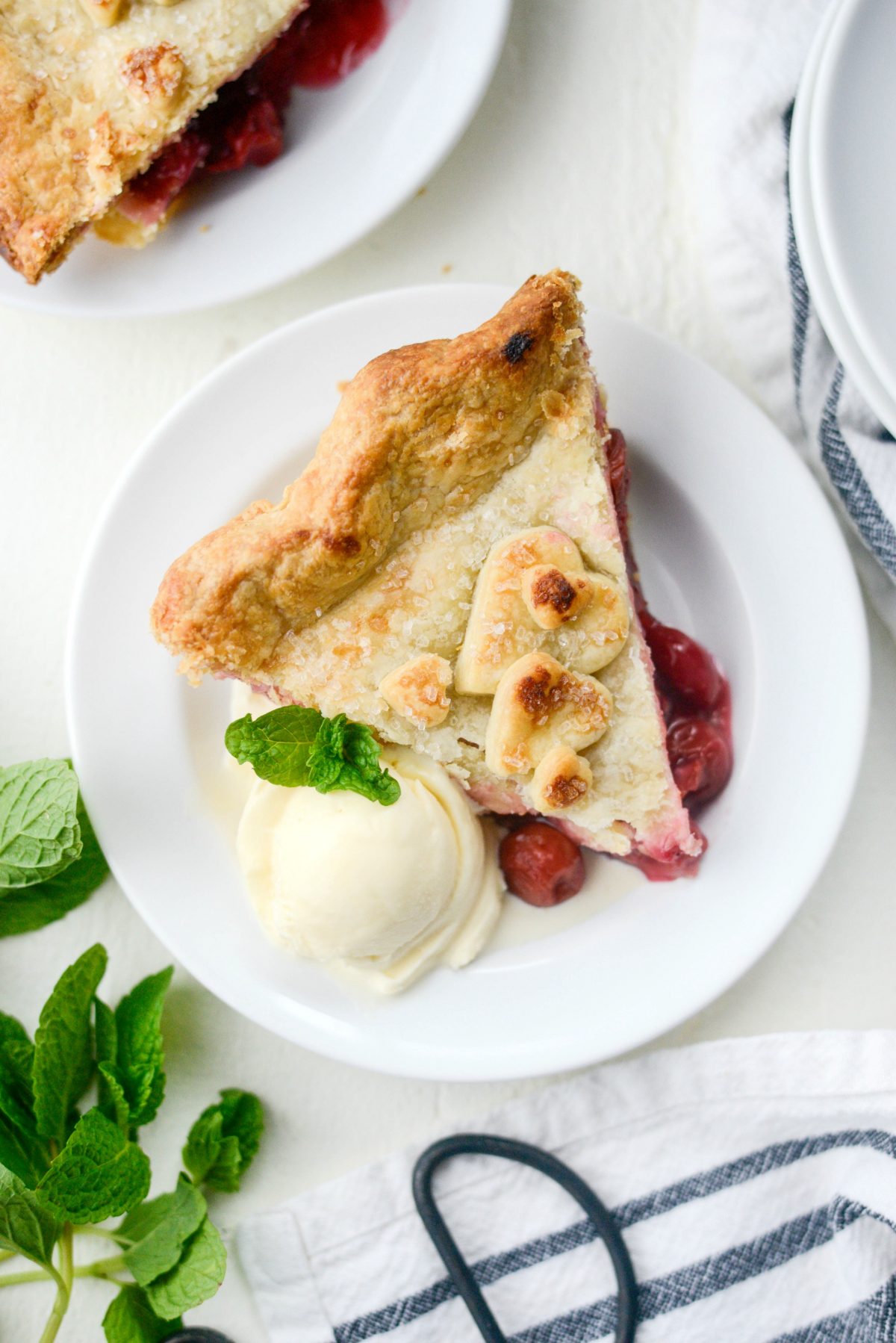 Enjoy! And if you give this Homemade Cherry Pie recipe a try, let me know! Snap a photo and tag me on twitter or instagram!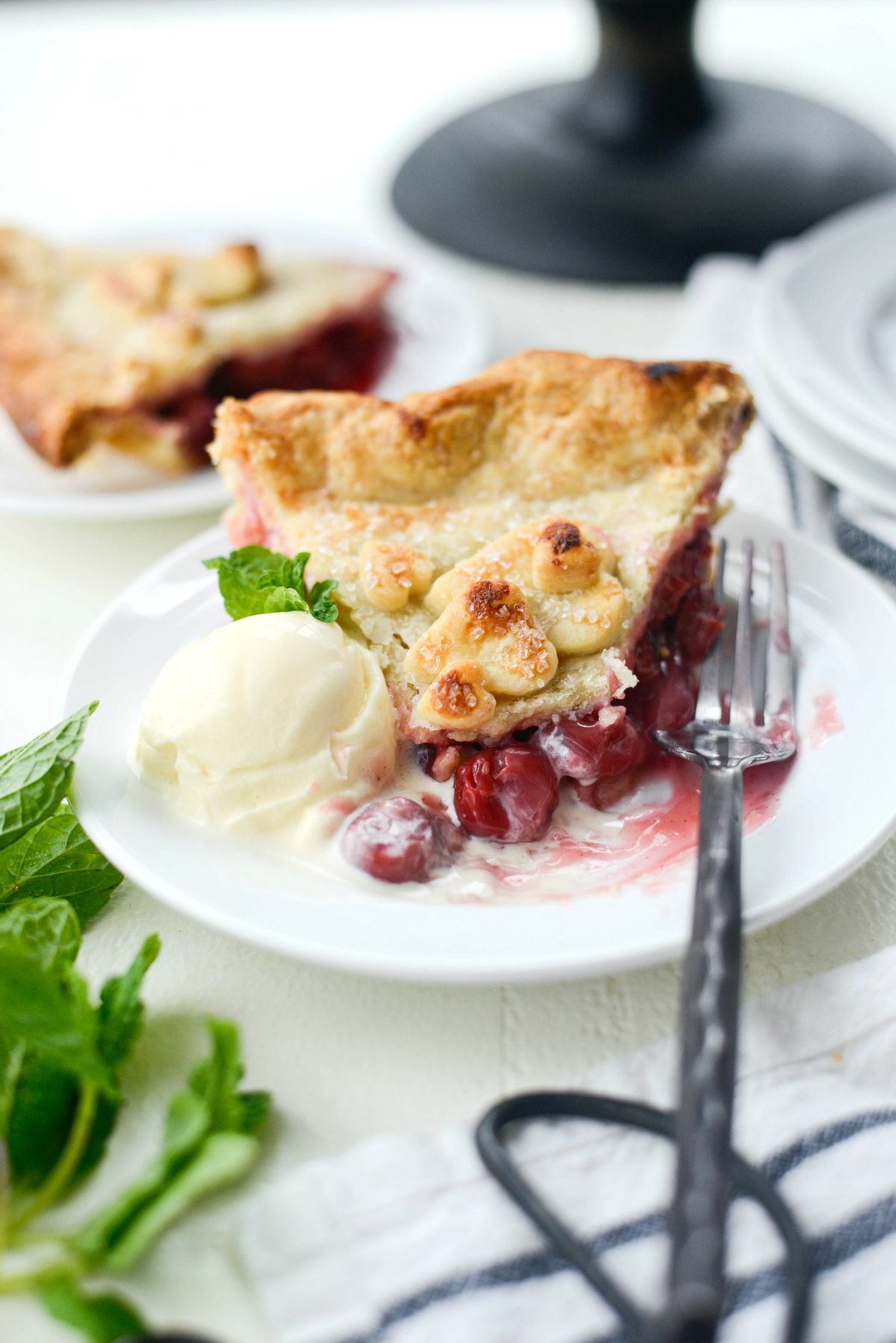 This post may contain affiliate links.
Buy the Cookbook: Simply Scratch : 120 Wholesome Homemade Recipes Made Easy Now available on Amazon »
THANK YOU in advance for your support!