Looking for Homemade Cheesy Potatoes? Want recipe that doesn't call for a can of condensed soup? This is it! No frozen bags of hash browns, zero cans of condensed soup… just a delicious from-scratch cheesy potato recipe.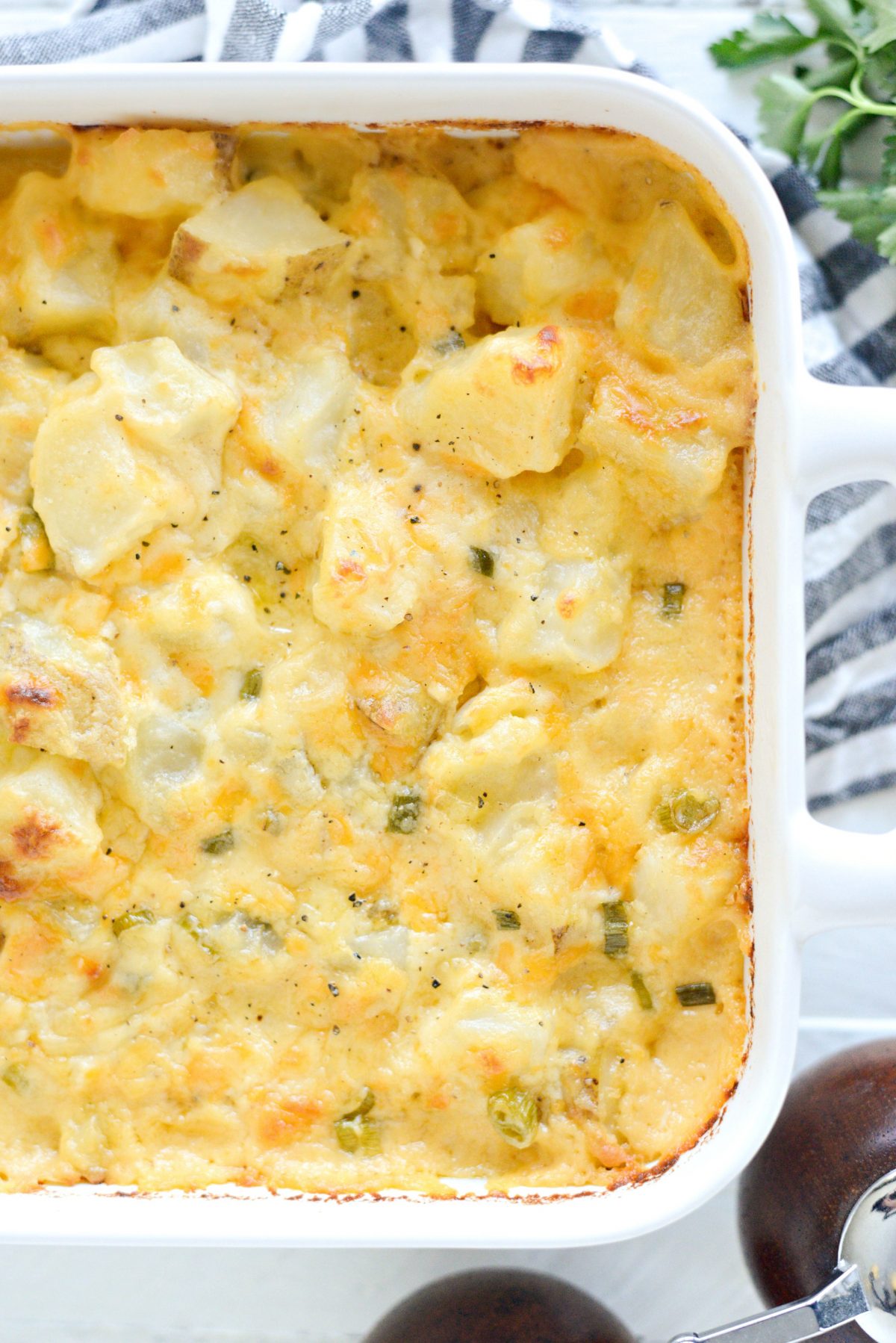 It's funny how things change. As a kid I couldn't wait to book-it down the stairs in my thin, purple house coat to find my Easter basket and hunt for hidden dyed eggs with my sisters.
Now I look forward to the cheesy potatoes.
Okay so that's half true. I still enjoy dying eggs with my daughters and seeing them try to find them and their baskets (we hide those too). But the adult in me is always excited about the food. Didn't see that coming, did you?
On my mom's side of the family cheesy potatoes were strictly for consumption on Easter. I never understood why that was. Obviously they're deliciously perfect with ham and baked beans… but why not have them on a random day of the week or something? They are too good to tie down to just one day a year. Anyhoo, whoever was in charge of making and bringing the cheesy potatoes, it was a known requirement to make a double batch. A triple batch if my firefighter brother-in-law Jeff was off call because these are his favorite.
You'd think with that much cheesy casserole goodness there were sure to be leftovers right? Never.
So one year I decided to venture out and make homemade cheesy potatoes from scratch. Crazy? Yes. Delicious? Oh yes! It isn't as easy as opening a few bags of hash brown potatoes and mixing them with cream of chicken or mushroom soup. But in my opinion, it's a million times better and truly not all that time consuming.
Unless you decide to double or triple it. Peeling 6 to 9 pounds of potatoes… oy. It can be done though, believe me.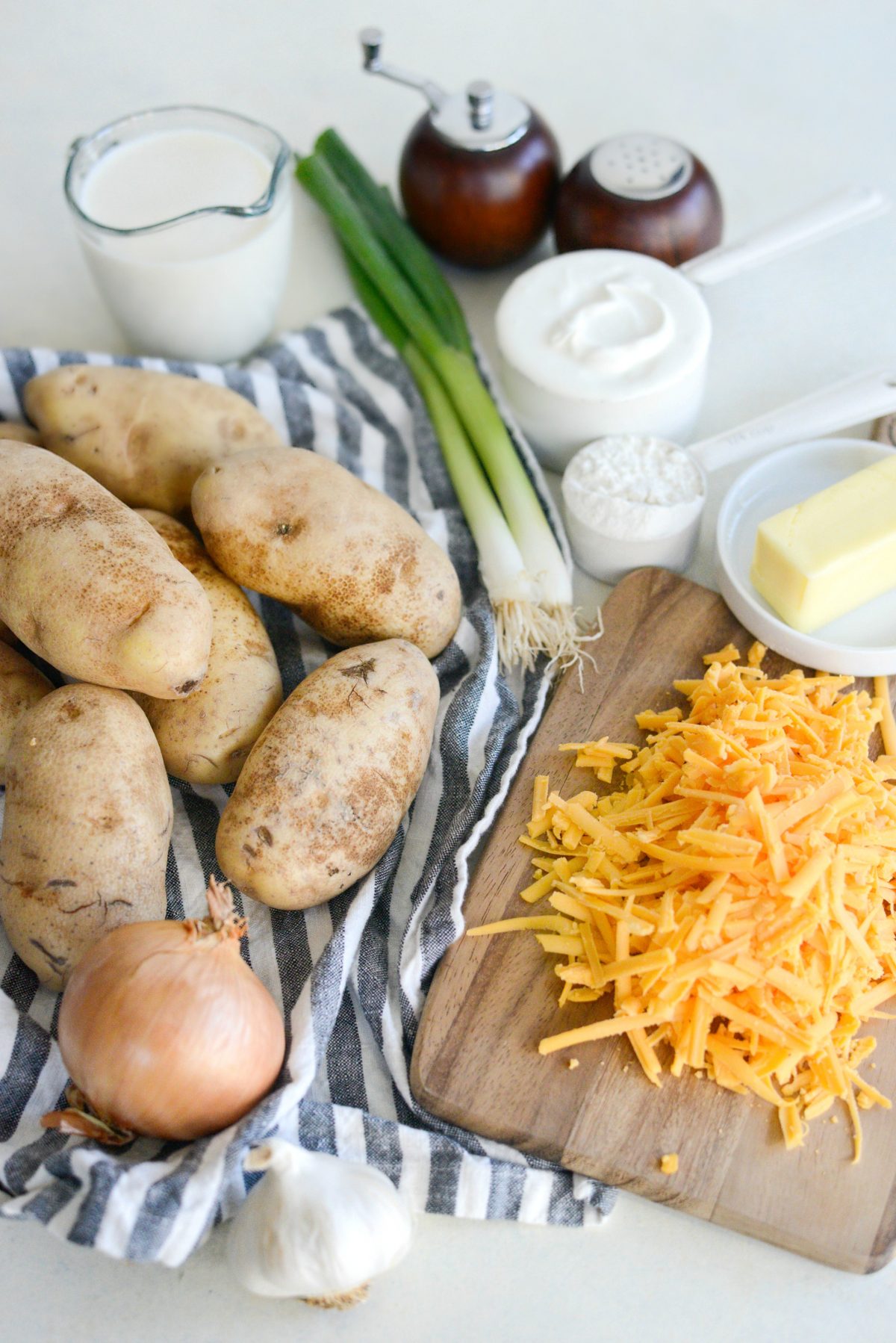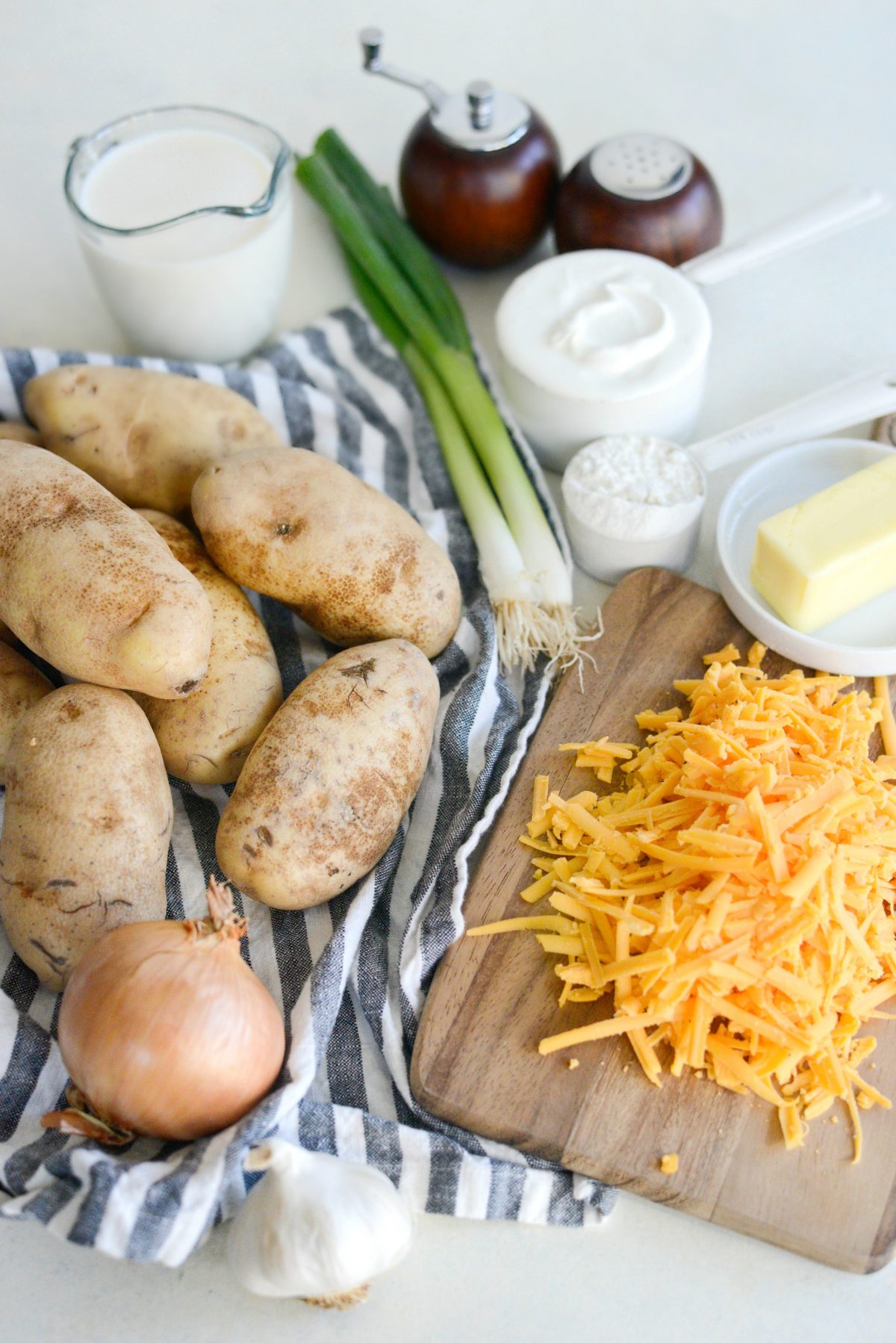 To Make Homemade Cheesy Potatoes You Will Need:
russet potatoes
[unsalted] butter, plus more for greasing pan or use
yellow onion
garlic
flour
low-sodium broth
whole milk
sour cream
green onion
kosher salt and black pepper
I swear I'm so hyped that I'm having cheesy potatoes on a Monday!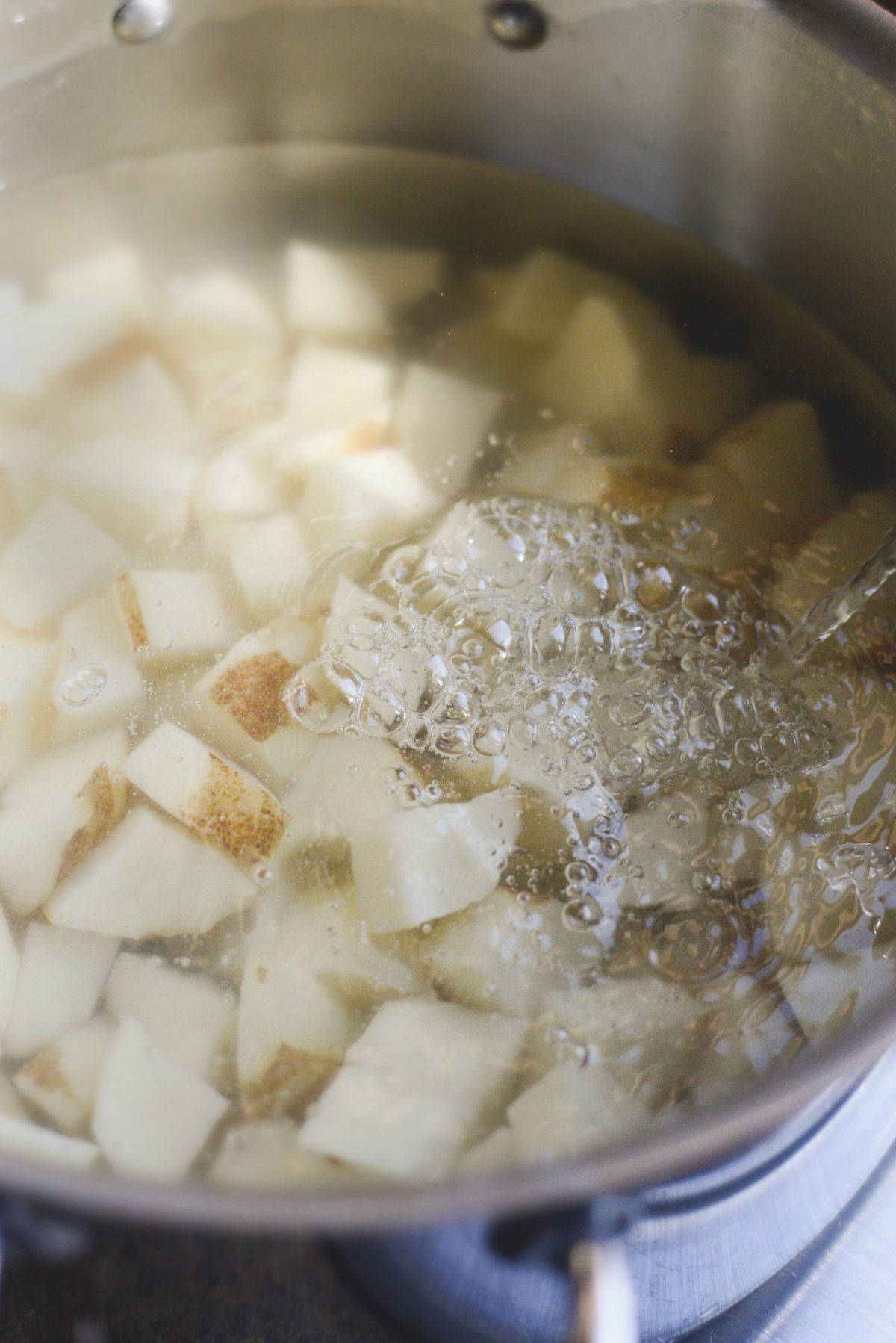 Start by filling a large pot 2/3 of the way full with cold water. Roughly peel 3 pounds of russet potatoes. I like to leave some of the skin on to really drive the "hey guys, these homemade cheesy potatoes are made from scratch" appearance.
Bring to a boil and cook until the potatoes are just tender. The potatoes should still have a little resistance when you try to pierce them with a fork and will finish cooking in the oven. When the timer *dings* remove the pot off of the burner and pour the potatoes into colander that is set into a sink and let them cool a little.
Not pictured is the huge mess from the over boil. Ugh! Every. Single. Time.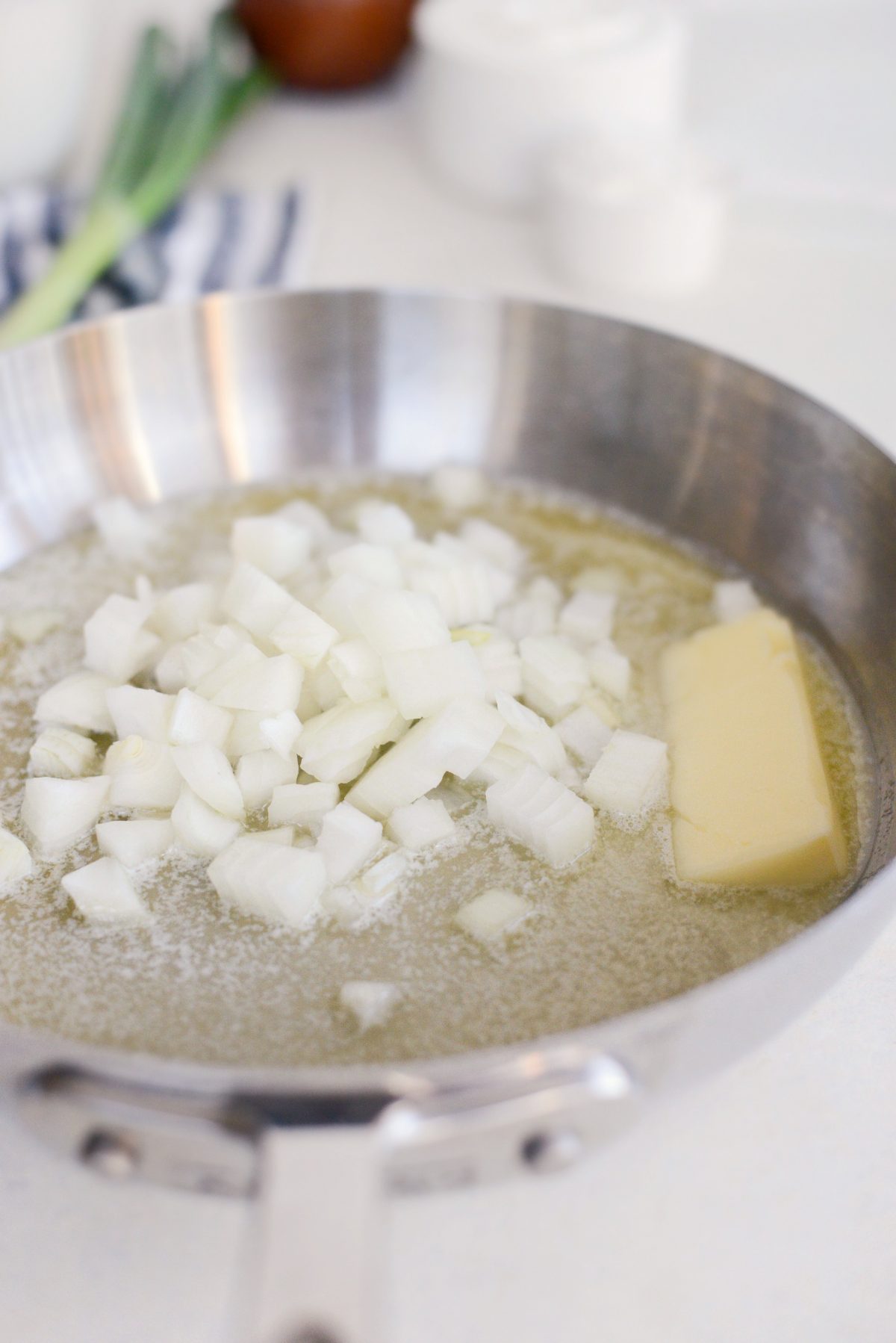 In a 10-inch skillet melt 4 tablespoons of unsalted butter and a pinch of kosher salt. Once melted, add in a 1/2 cup (I eyeball it) diced yellow onion and cook until softened. Once soft add in the minced clove of garlic and cook for a minute or two.
Next sprinkle the 4 tablespoons of all purpose flour over top, stir it into the butter and cook for 2 to 3 minutes.
While stirring, pour in a 1/2 cup of both low-sodium chicken broth and whole milk. Stir, stir, stir.
Once the mixture is creamy and thick, remove it from the burner.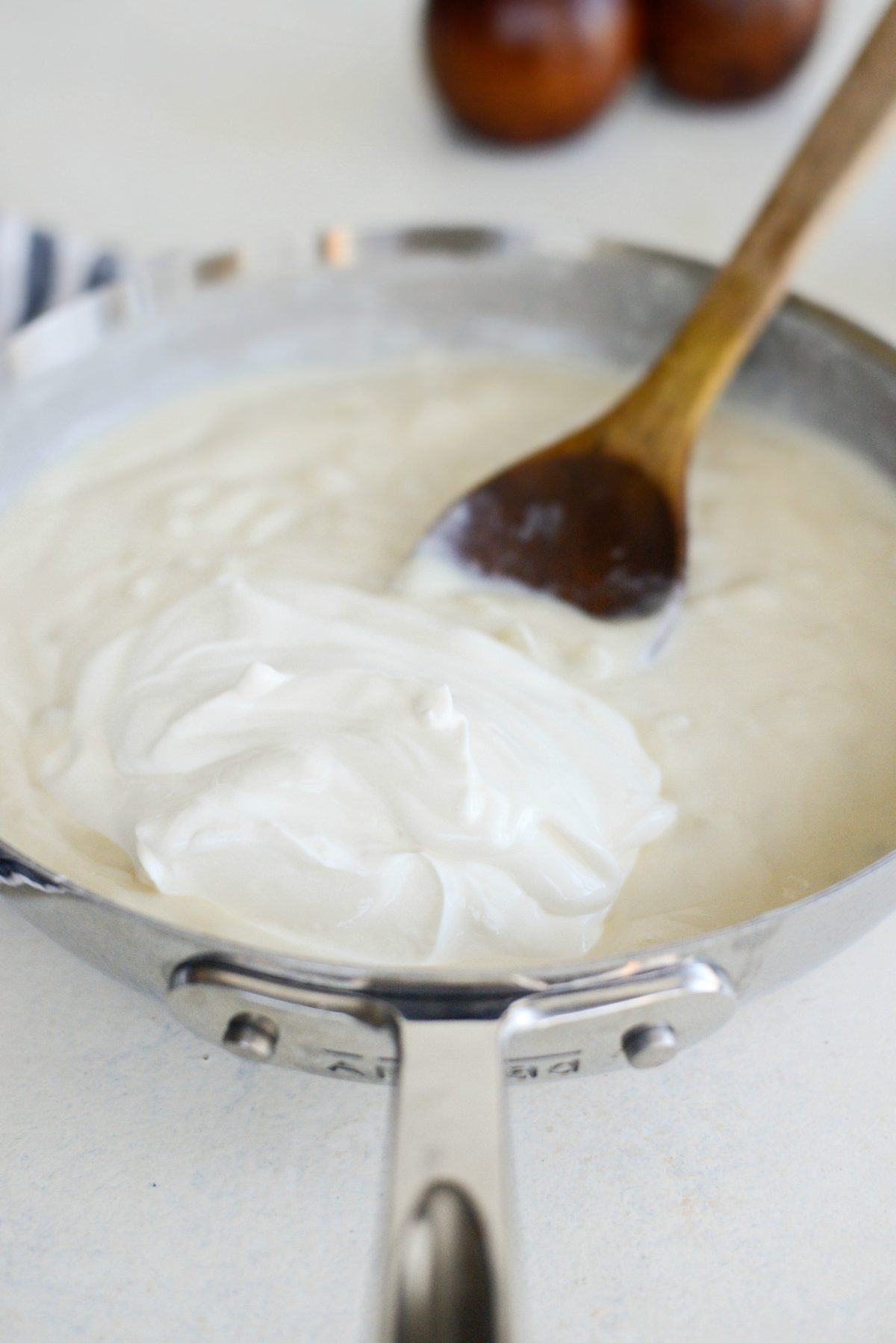 Then add in a cup of cold sour cream and stir until incorporated.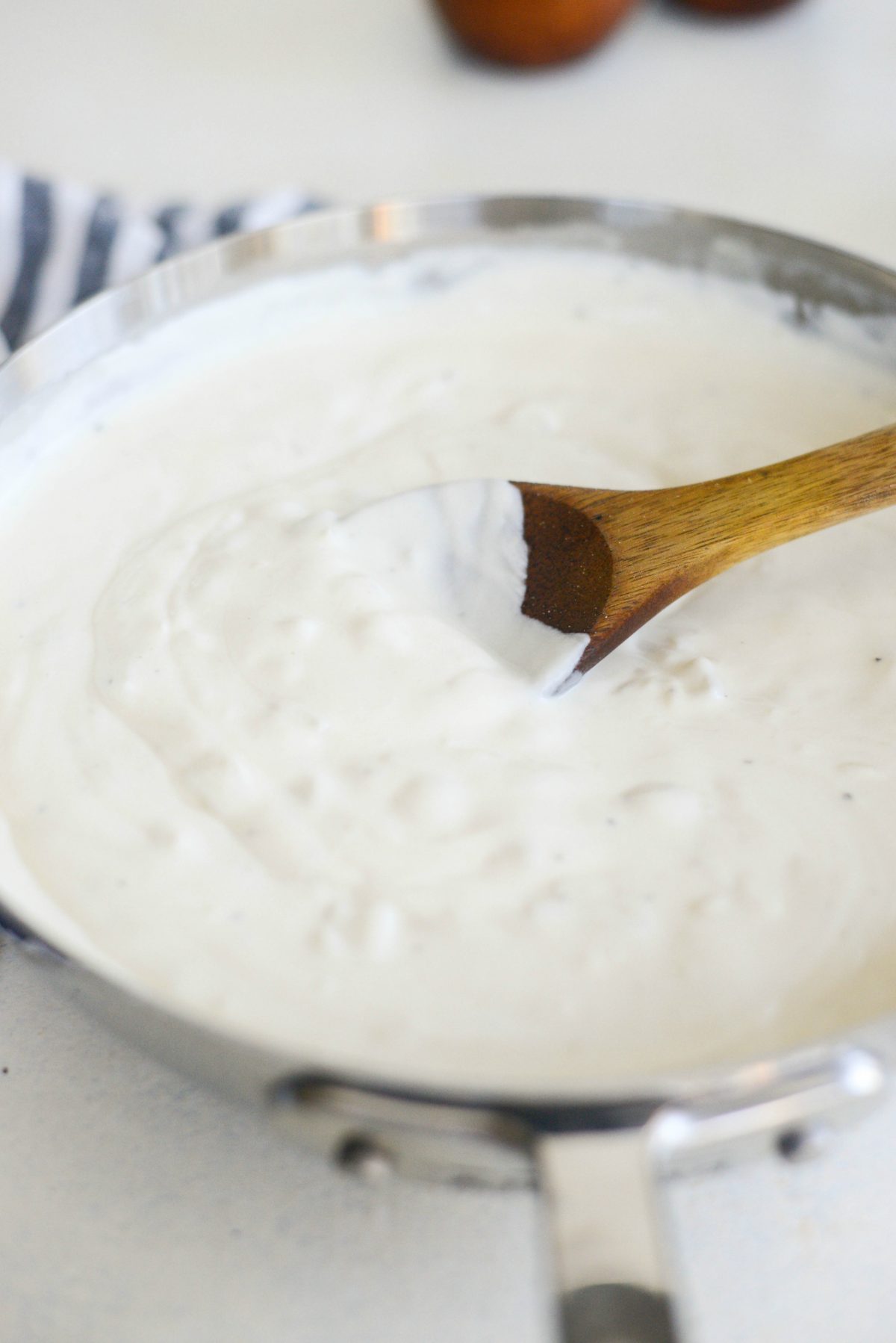 The cold sour cream will bring the broth/onion mixtures temperature down so when you add it to the bowl it won't instantly melt the cheese.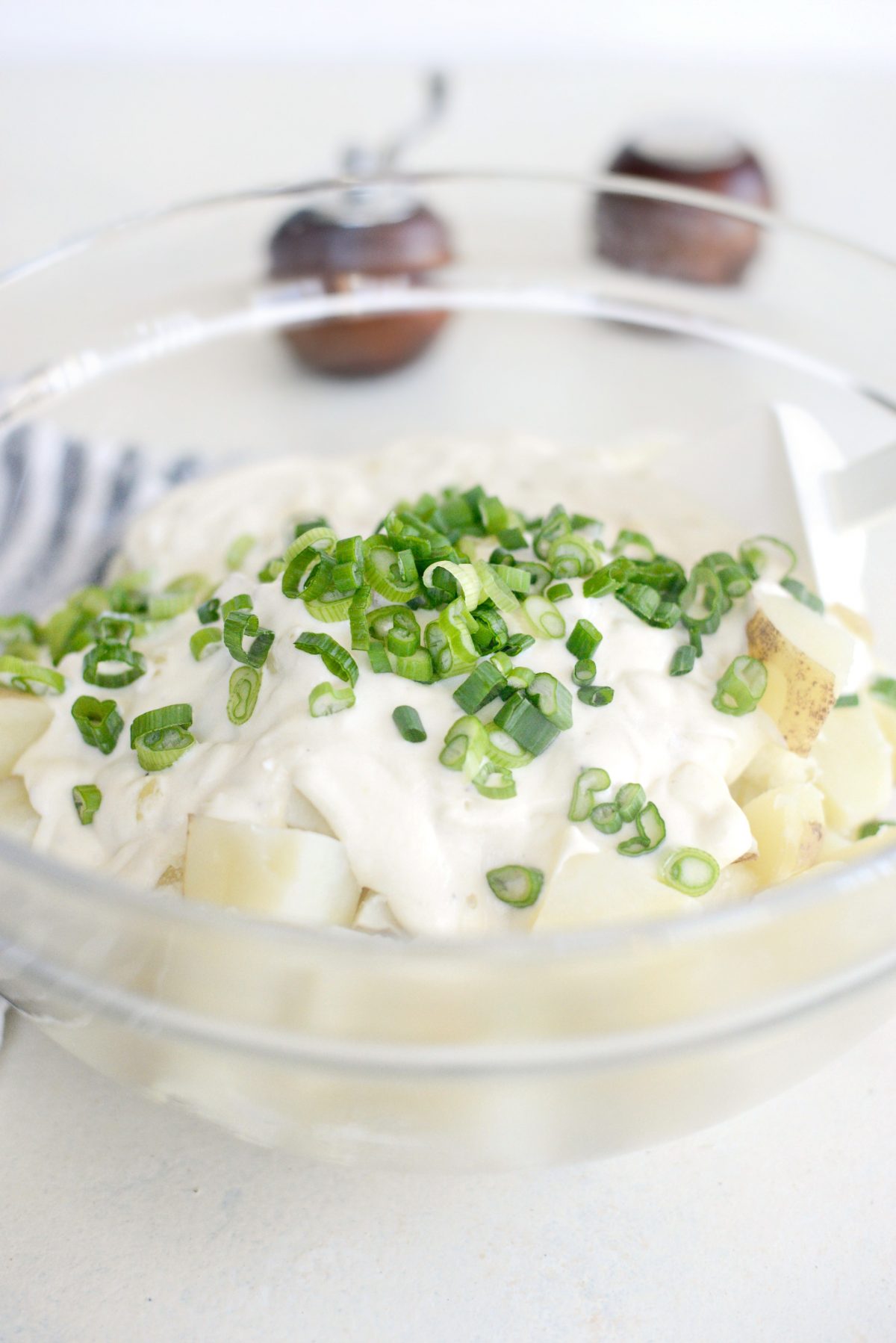 Throw the slightly cooled, drained potatoes into a large bowl. Add in the sour cream mixture and the green onions. Lastly season this delicious mess with 1 teaspoon kosher salt and 1/2 teaspoon coarse ground black pepper.
And toss to combine.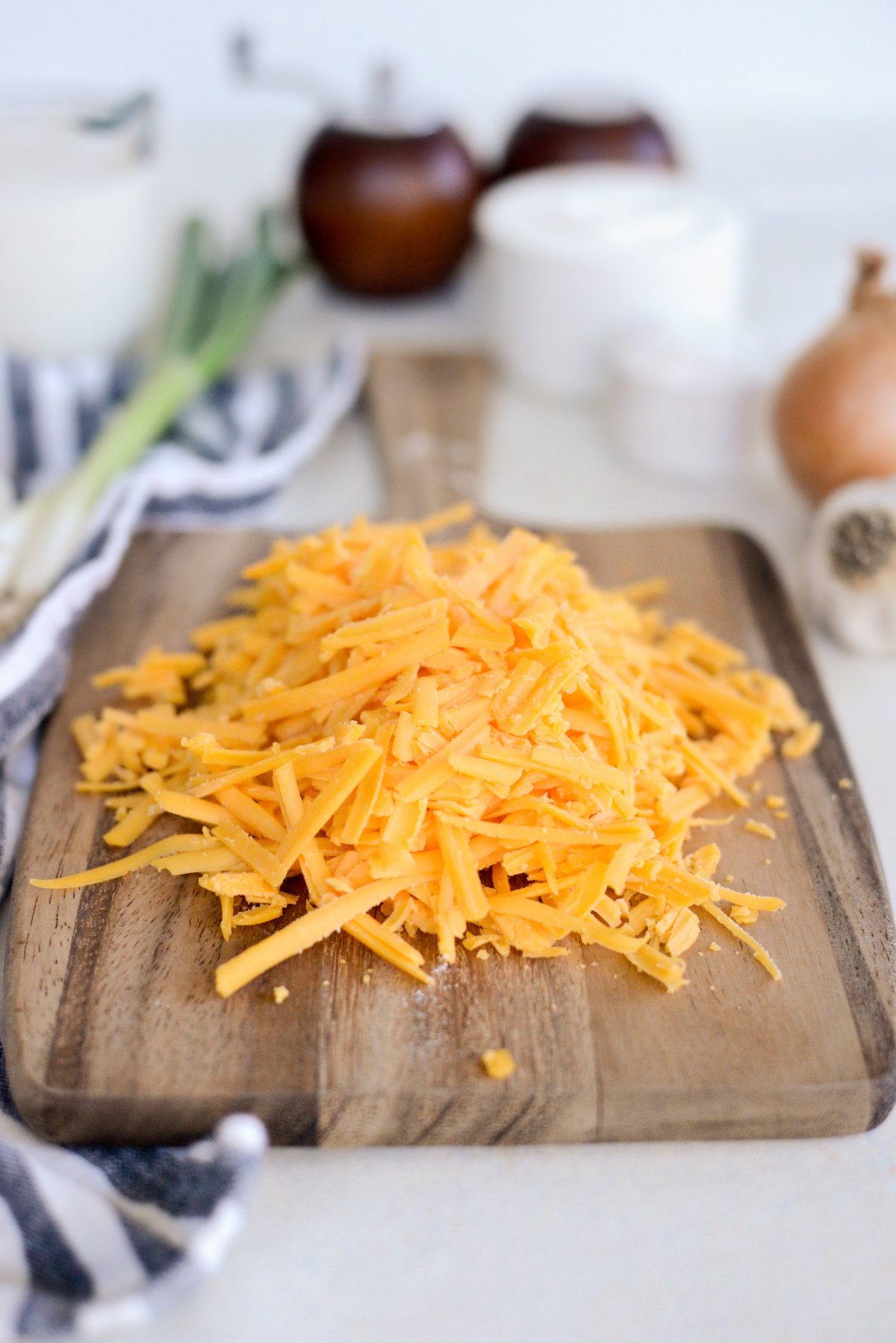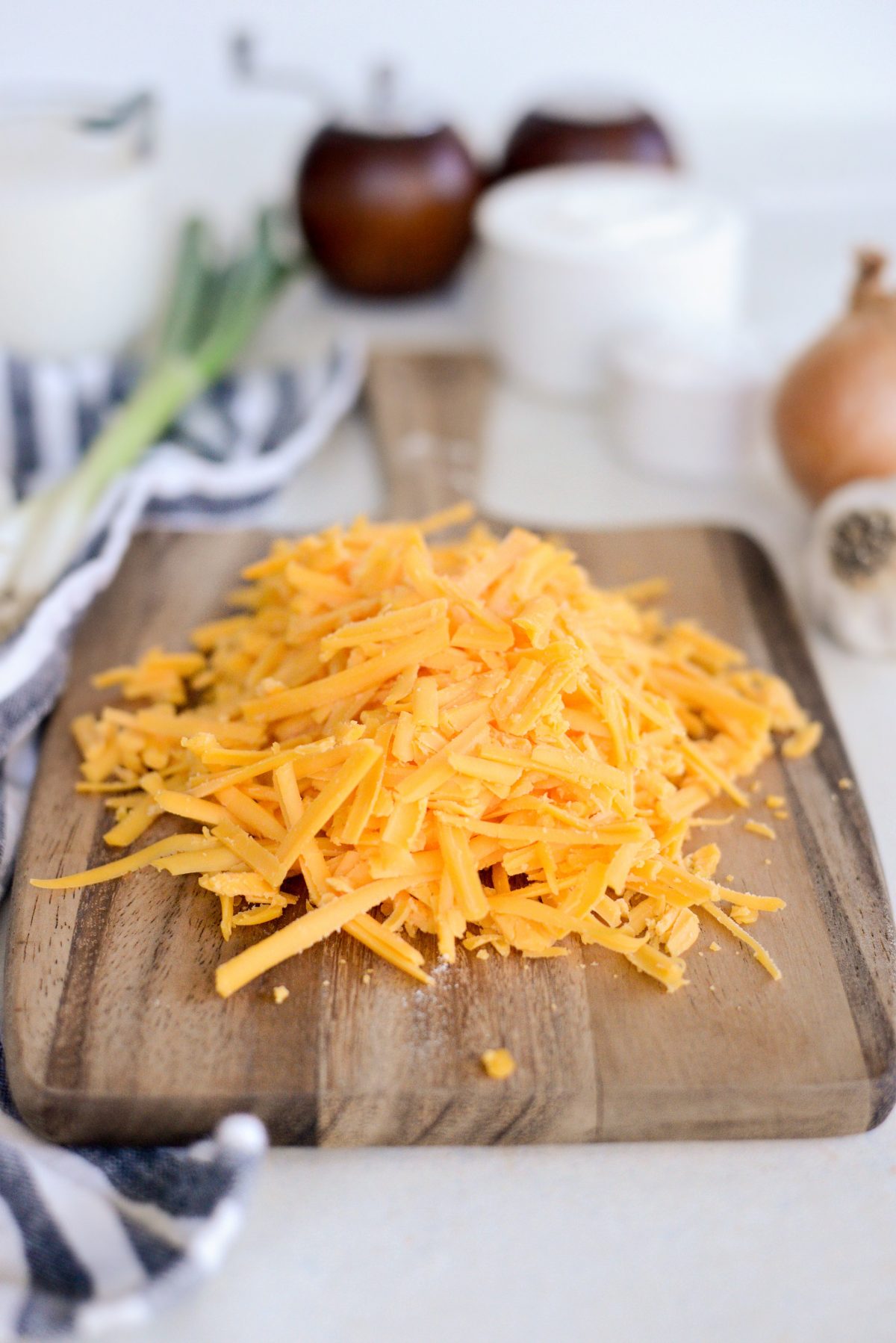 I wait until the end to grate 8 ounces (yielding 2 cups) sharp cheddar cheese. In the past I've done sharp Colby, but cheddar is where it's at. Be sure to use sharp or extra sharp. The flavor of sharp cheddar will cut through the creaminess of these potatoes, giving it that cheddar-y flavor.
Truthfully, I could just sit down on the couch with this bowl and a spoon… and no one would know.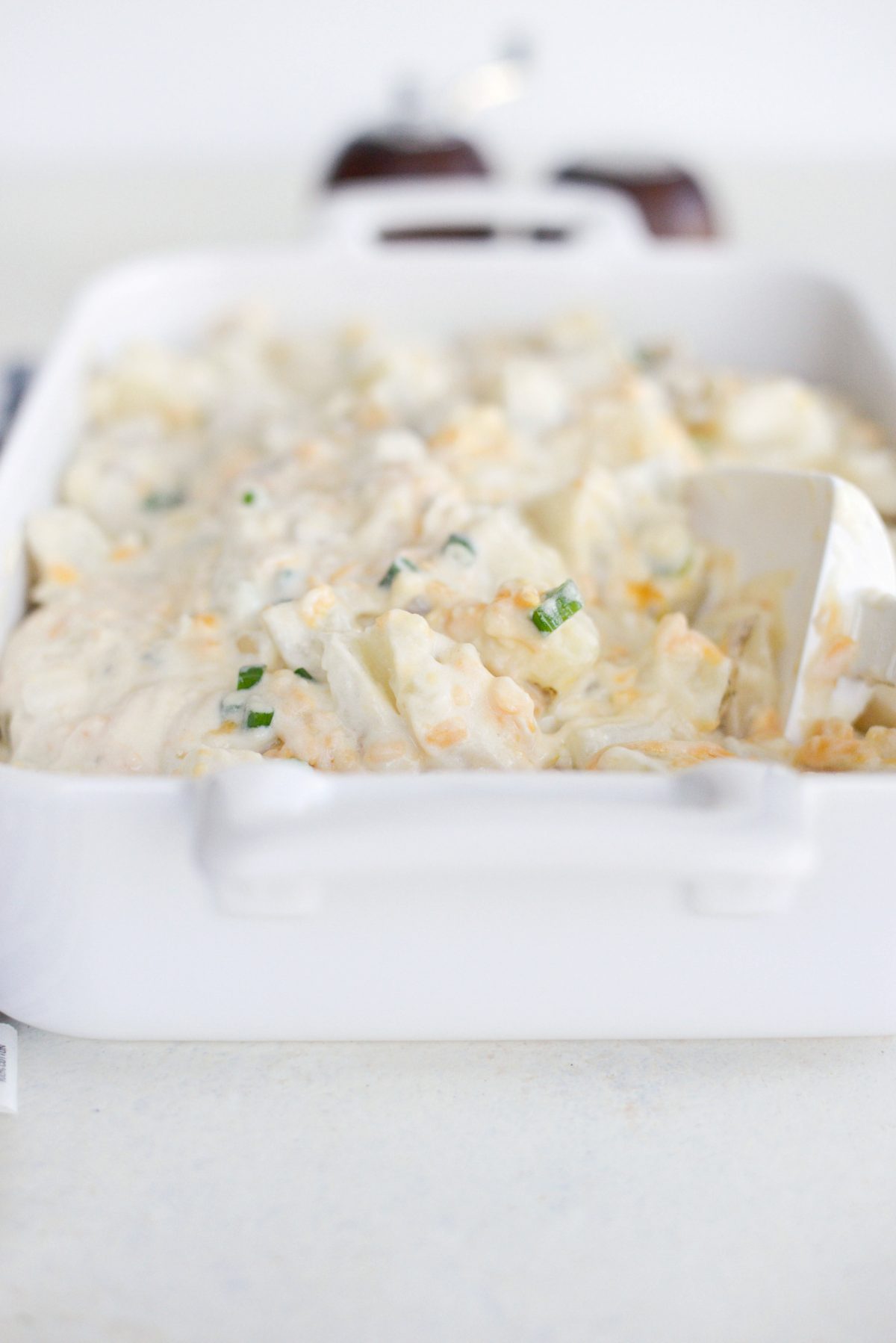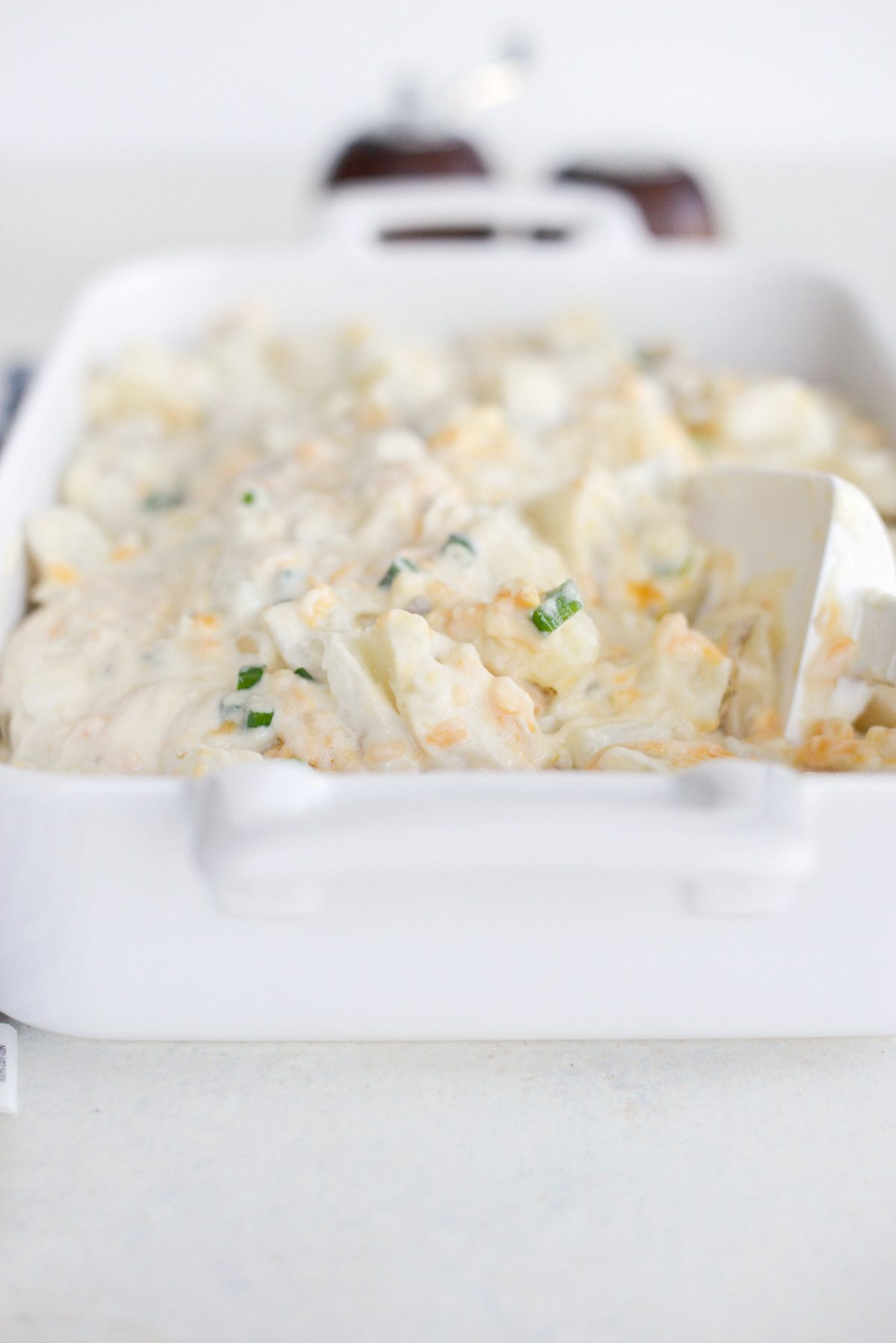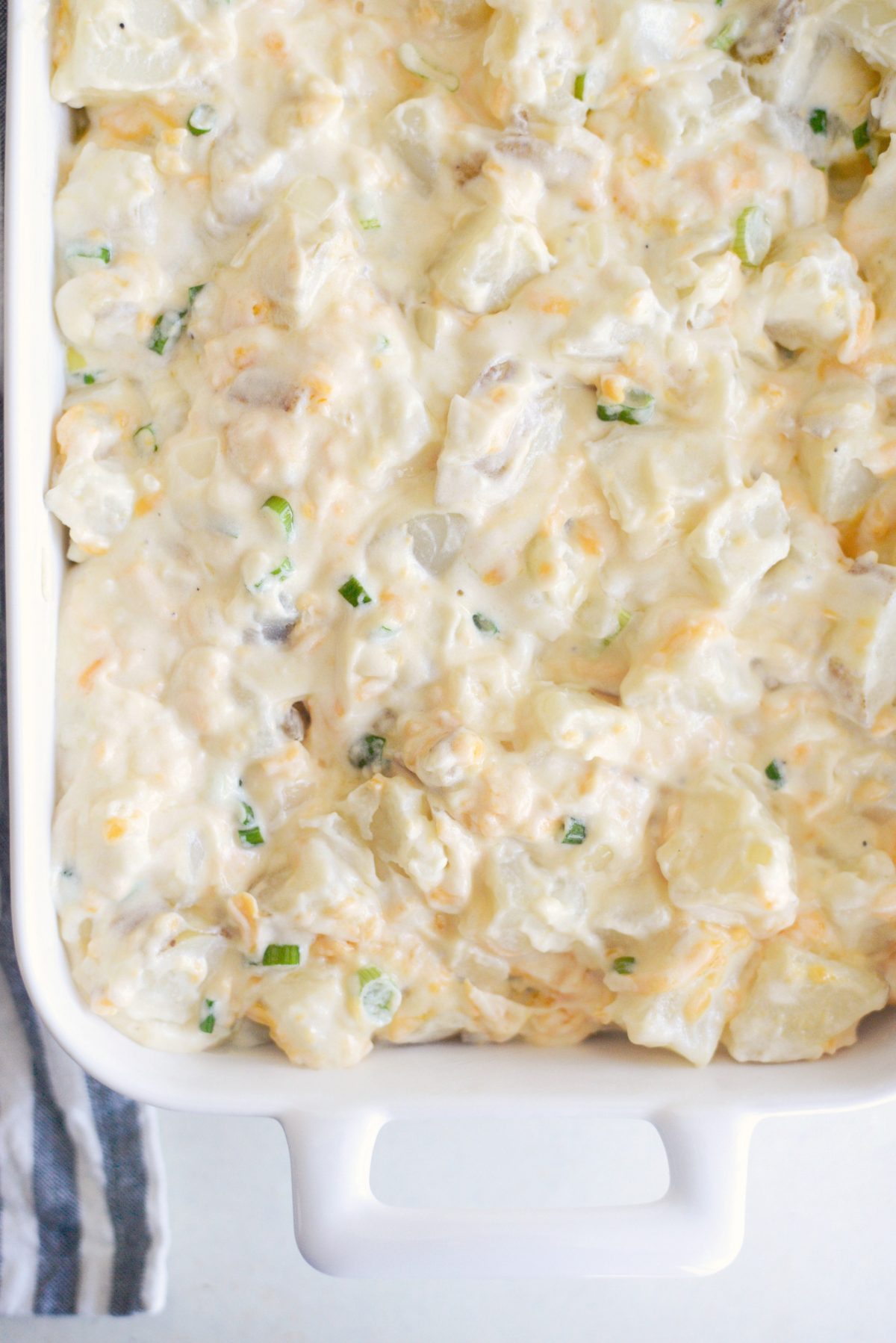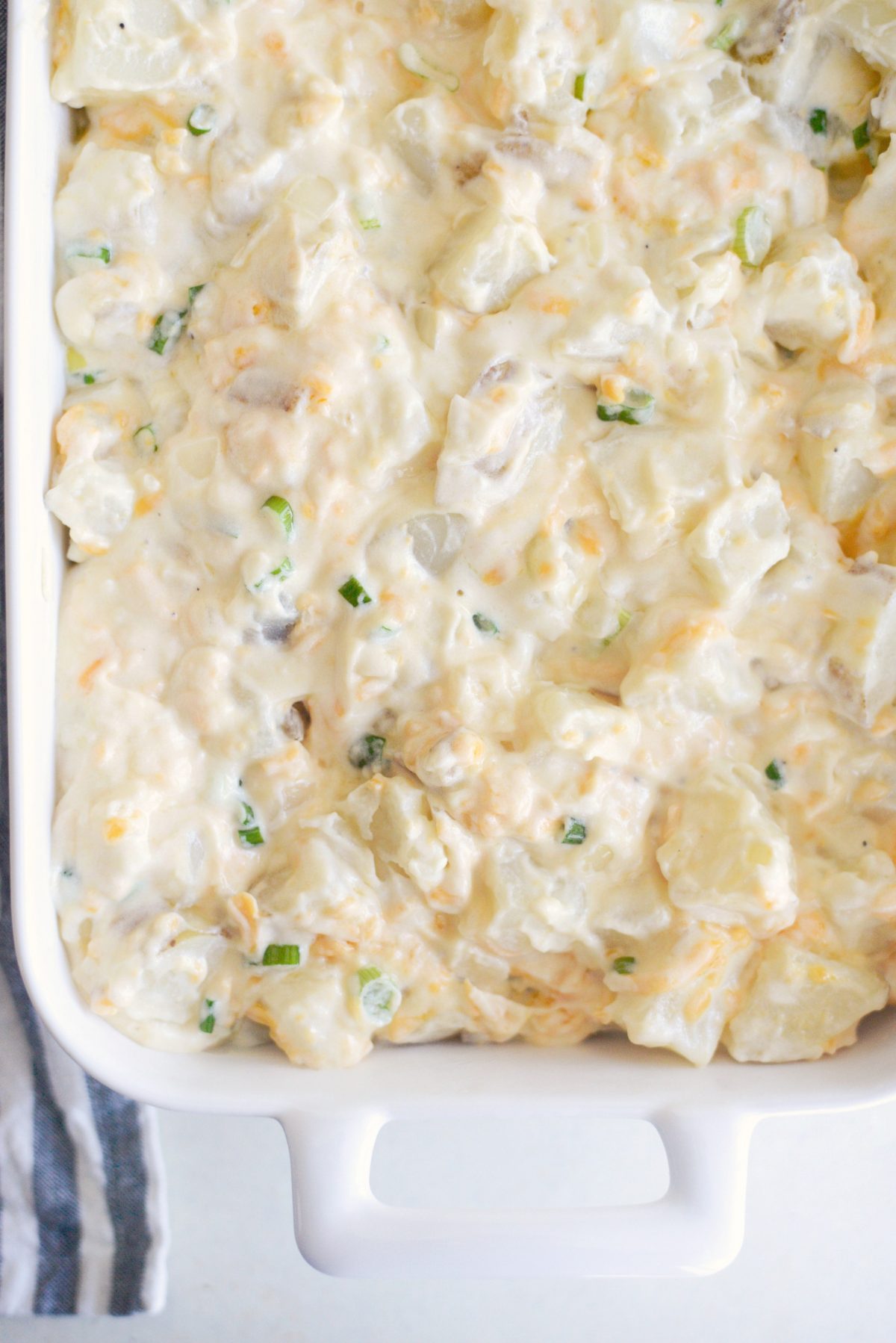 But I didn't and decided to go on ahead and grease an 8×11 baking dish with a little butter. Transfer the creamy, cheesy potato mixture into the baking dish. Spread it evenly and bake in a preheated 350 degree oven for 40 to 5o minutes or until hot and golden brown.
I rotate the baking dish halfway to ensure even cooking and browning. It should be smelling awesome.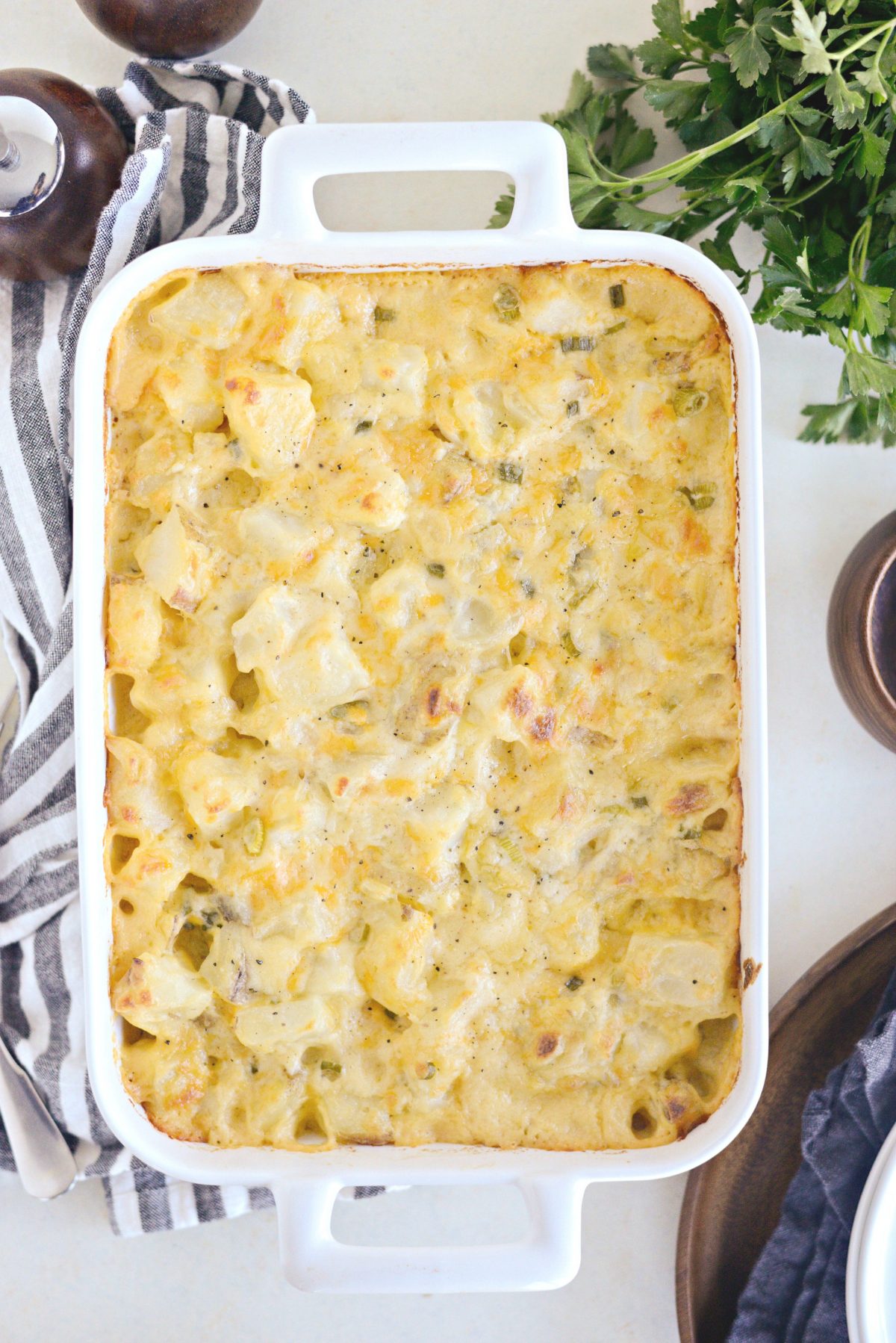 Allow the homemade cheesy potatoes cool for at least 10 minutes before digging in.
So there we were eating dinner and I look around at everyone's plate. The mounds of cheesy potato goodness piled high on all our plates was laughable. My husband looks at me and says "these are the best homemade cheesy potatoes I've ever had." It literally was a verbal dozen roses, or like when he does the dinner dishes or makes me a cup of coffee.
Ps. those crispy edges are all MINE.
I love these homemade cheesy potatoes and I hope you do too!
For More Side Dish Recipes Click Here!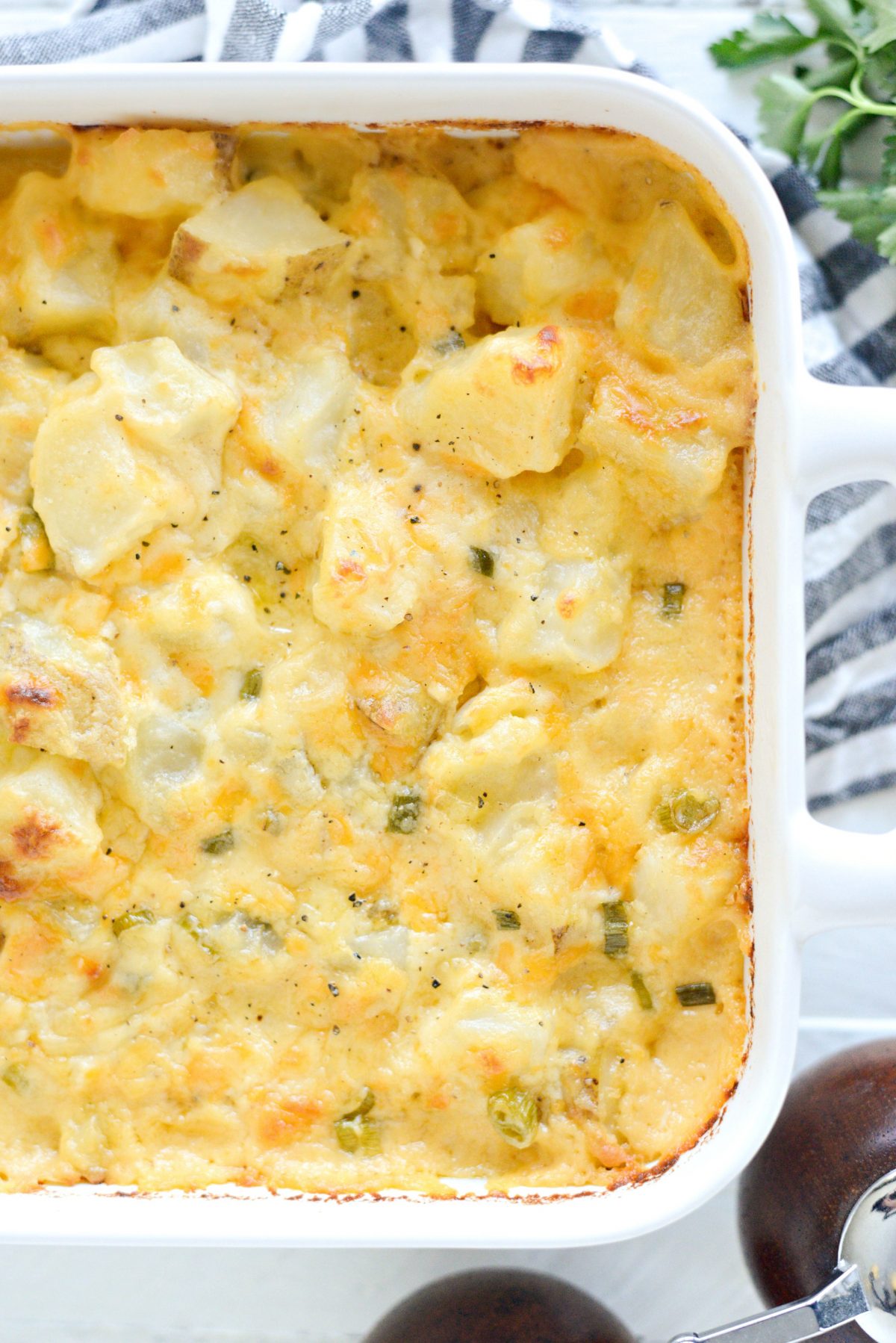 Enjoy! And if you give this Homemade Cheesy Potatoes recipe a try, let me know! Snap a photo and tag me on twitter or instagram!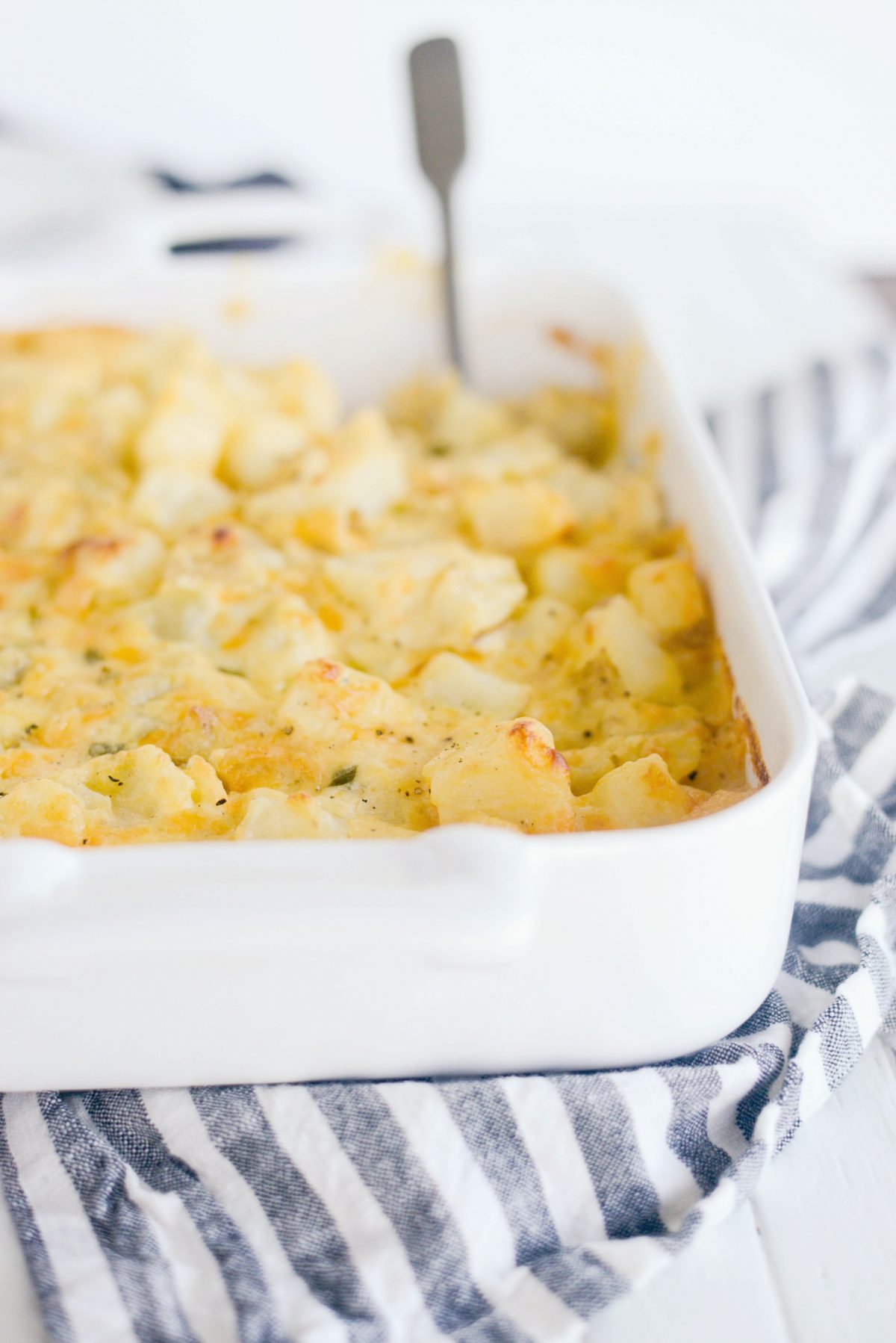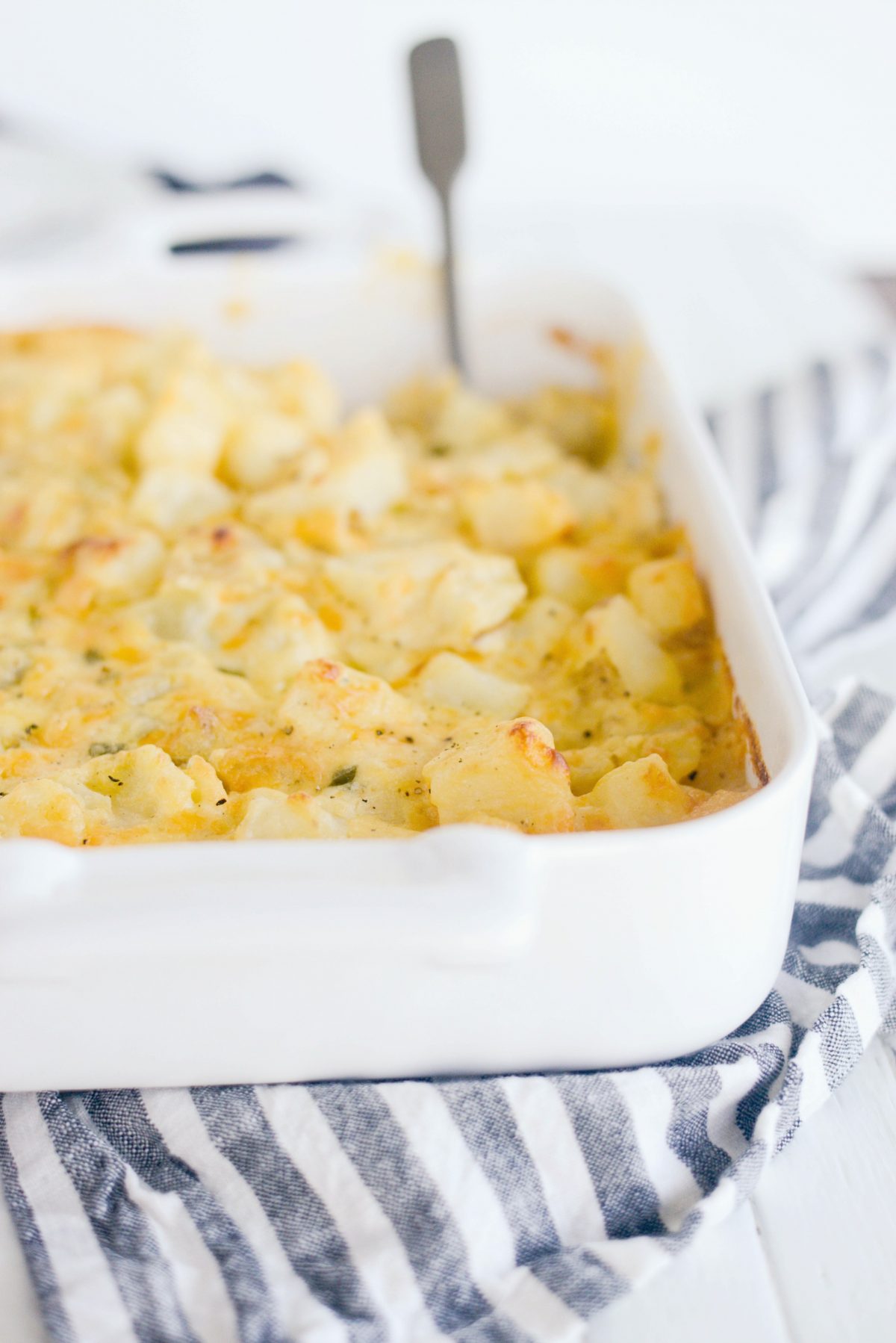 Yield: 8 servings
Homemade Cheesy Potatoes
Looking for homemade cheesy potatoes? Want recipe that doesn't call for a can of condensed soup? This is it! No frozen bags of hash browns, zero cans of condensed soup... just a delicious from-scratch cheesy potato recipe.
Ingredients
3 pounds russet potatoes, roughly peeled and diced into large bite-size pieces
4 tablespoons unsalted butter, divided plus 1 tablespoon for the baking dish
1/2 cup diced yellow onion
1 clove garlic, minced
1/4 cup unbleached all-purpose flour
1/2 cup low-sodium chicken broth
1/2 cup whole milk
1 cup sour cream
3 green onions, sliced
1 teaspoon kosher salt, plus more to taste
1/2 teaspoon freshly ground black pepper
8 ounces sharp cheddar, grated
Instructions
Grease a 8x11 casserole dish with a little butter or olive oil spray.

Add the cubed potatoes into a large pot of cold water, bring to a boil and cook until just tender yet still firm when pierced by a fork. Remove and drain the potatoes into a colander set into a sink. Let the potatoes cool slightly.

In a 10-inch skillet add the remaining 4 tablespoons of butter. Over medium-low melt the butter and then add in the diced onions. Cook until just softened and add in the minced garlic. Cook for one minute.

Sprinkle in the flour and stir, cooking for 1-2 minutes. Continue stirring, while pouring in the 1/2 cup of broth and 1/2 cup of whole milk. Continue to stir until thick, about 5 minutes.

Remove the pan from the heat and stir in the sour cream.

In a large bowl add in the cooled potatoes, sour cream mixture, green onions, 1 teaspoon salt, 1/2 teaspoon pepper and all of the grated cheese. Stir to combine and pour in the prepared pan.

Bake in a 350 degree oven for 40 to 50 minutes or until bubbly and golden. Let cool for 10 minutes before serving.
Notes
Be sure to use sharp or extra sharp. The sharp flavor will cut through the creaminess of these potatoes, giving it that cheesy flavor.
Calories: 386kcal, Carbohydrates: 37g, Protein: 13g, Fat: 22g, Saturated Fat: 13g, Polyunsaturated Fat: 1g, Monounsaturated Fat: 6g, Trans Fat: 1g, Cholesterol: 61mg, Sodium: 511mg, Potassium: 847mg, Fiber: 3g, Sugar: 3g, Vitamin A: 710IU, Vitamin C: 12mg, Calcium: 285mg, Iron: 2mg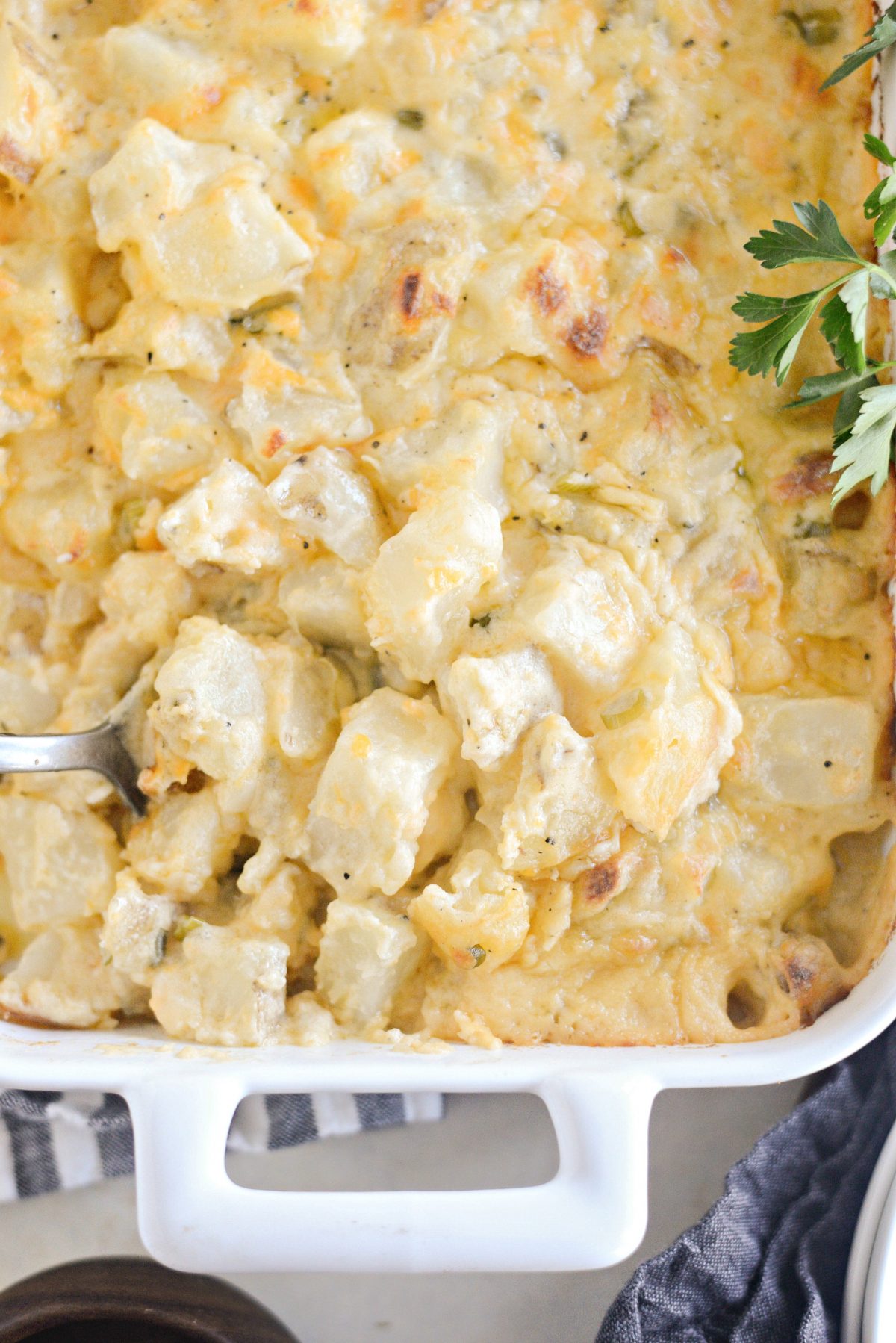 This post may contain affiliate links.
Buy the Cookbook: Simply Scratch : 120 Wholesome Homemade Recipes Made Easy Now available on Amazon »
THANK YOU in advance for your support!