Vegetarian Lentil Soup is a healthy and soul warming soup! Tender vegetables with hearty lentils in a comforting tomato broth. Delicious!
In the past I've had bad luck with soups.
It always comes down to the chopping. I either chop way too big or too small or I simply find some way to screw it up somehow. But I'm on a roll now, try and stop me now! I've had this bagof lentils in the cupboard all year, it was staring at me you guys. I've also had this recipe in a stack of other recipes that are on my to-make-when-Pat-is-hunting-list and I'm crossing those off one by one.
And today's weather was perfect for a hearty soup!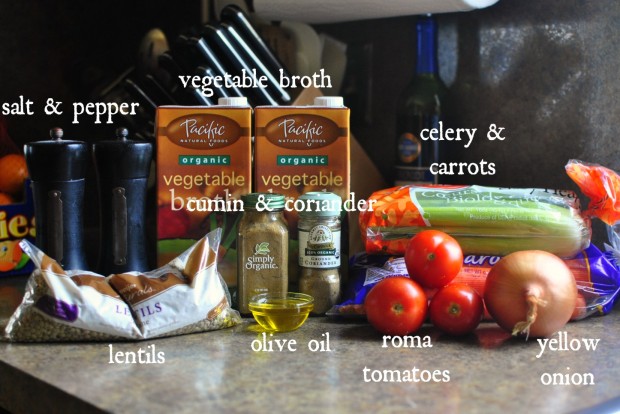 To Make This Vegetarian Lentil Soup You Will Need:
lentils
roma tomatoes
olive oil
yellow onion
carrots
celery
kosher salt
vegetable broth
coriander (ground)
cumin (ground)
freshly ground black pepper
parsley
white cheddar crackers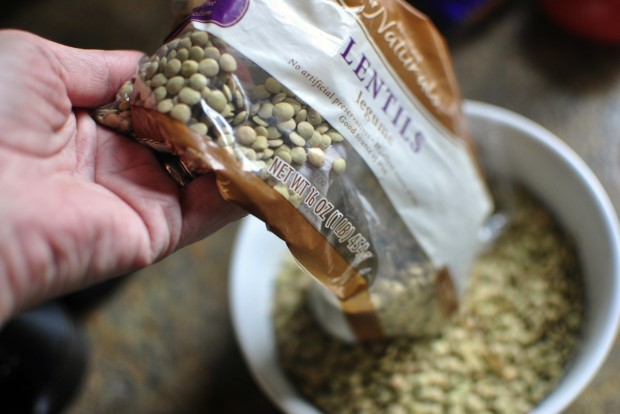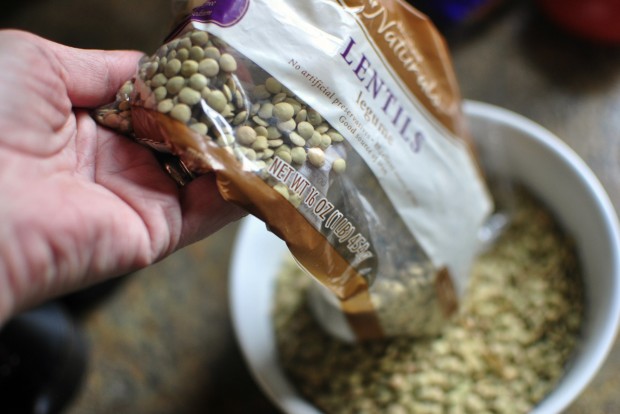 The recipe calls for 1 pound of lentils, which most bags commonly are. I don't believe it really matters what color lentil (maybe not small lentils i.e. red lentils?). My grocery store only carries green.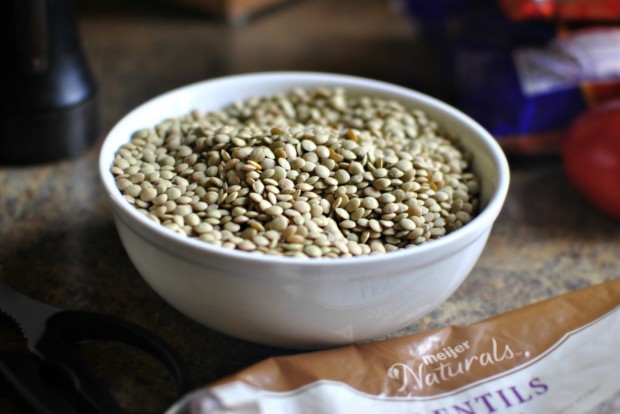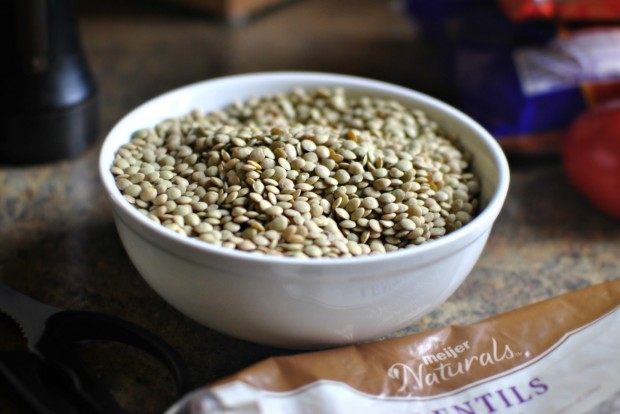 I like to pour them into a two-small-of-bowl naturally and sort through them looking for any broken ones or small pebbles. I do the same thing with beans too. Give the lentils a quick rinse.
Then bring a medium sauce pan to a rapid boil and get a large bowl full of ice water. In this recipe it calls for peeled tomatoes, and since it'd be an utter disaster to use a vegetable peeler… this is the easiest method of all! It also works on ripe peaches too!
Wash 3 Roma tomatoes after removing any produce stickers and then marked an X on the bottom.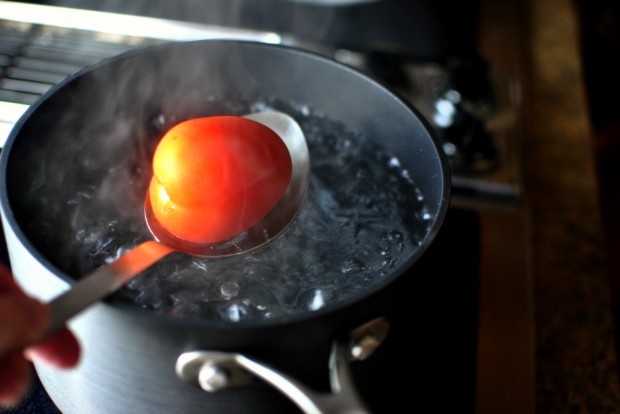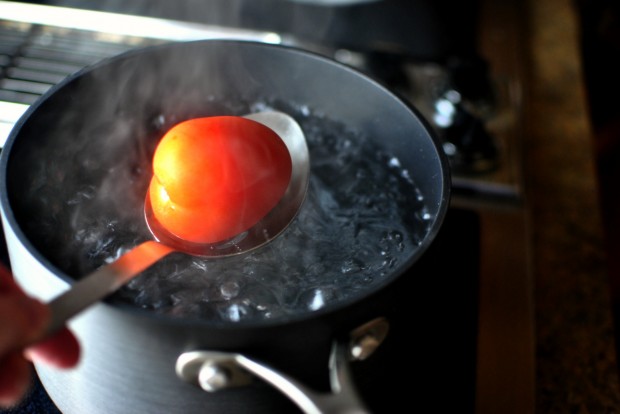 Then, one at a time, submerge the tomato into the boiling water, only for like 30 seconds.
Bam. Splitty-splits goes the skin.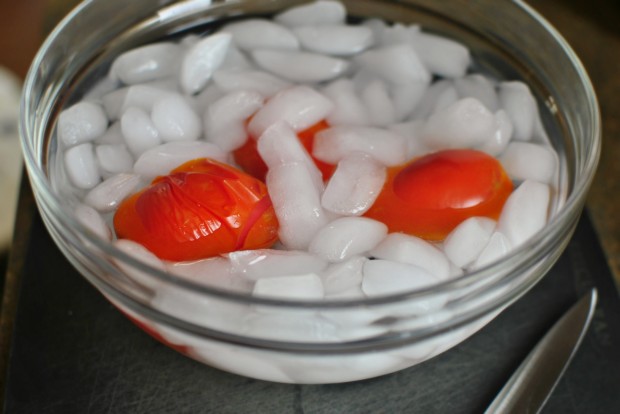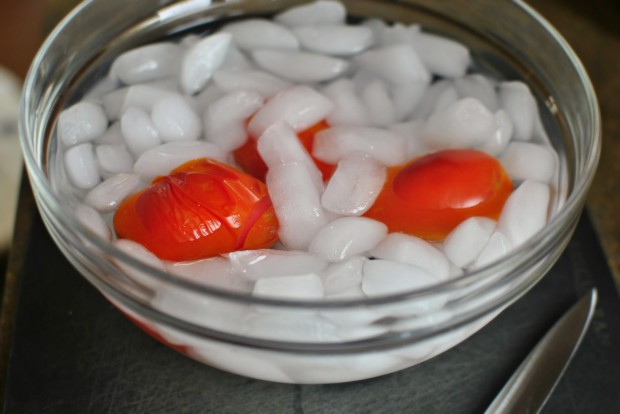 Right after lifting the tomatoes out of the water, dunk them into the awaiting ice bath to stop any cooking and instantly cool them down.
Then peel. Honestly it just melts off… so easy.
Then dice it up! I kinda went a little big. Next time I'd dice smaller but the soup wasn't ruined by any means, it just had some odd large chunks of tomato throughout. But to tell you the truth… I really didn't care.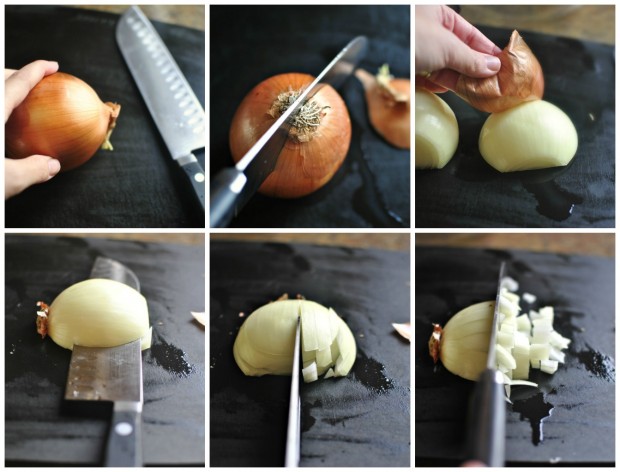 Now moving on to the onion. The above shots are pretty basic steps to chop and onion. You will need 1 cup diced yellow onion.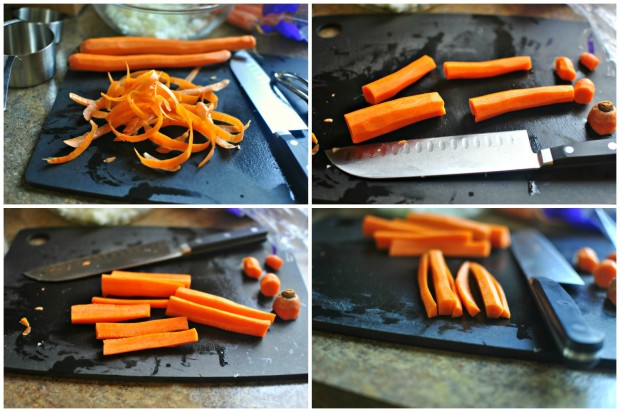 Next just peeled 2 medium carrots, cut them in half. Then cut the halves in half, lengthwise. And then each of those into 3 sticks.
Then just ran my knife across those to make a "fine dice". Totally not uniform… but I'll take it.
Do the same to 2 celery stalks. Thirds… fine dice… should be about a half cup.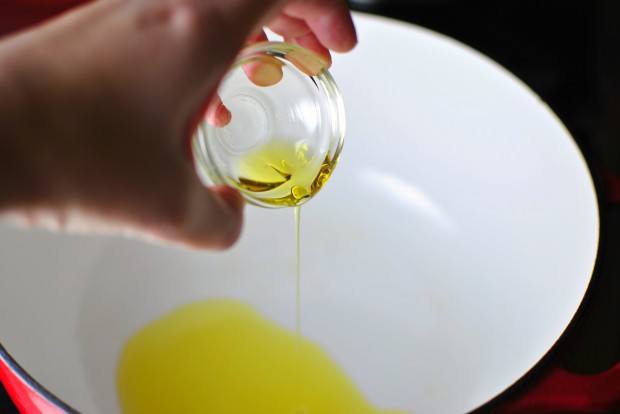 In a large dutch oven, add in 2 tablespoons of olive oil.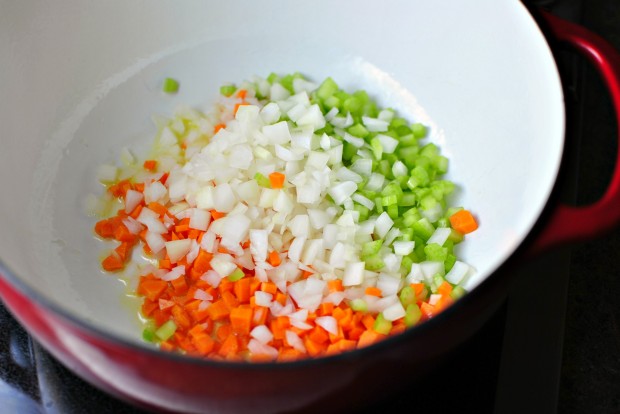 Once the oil is hot add in the finely diced vegetables.
Measure and add 2 teaspoons of kosher salt, stir and let sweat. You don't want these to brown.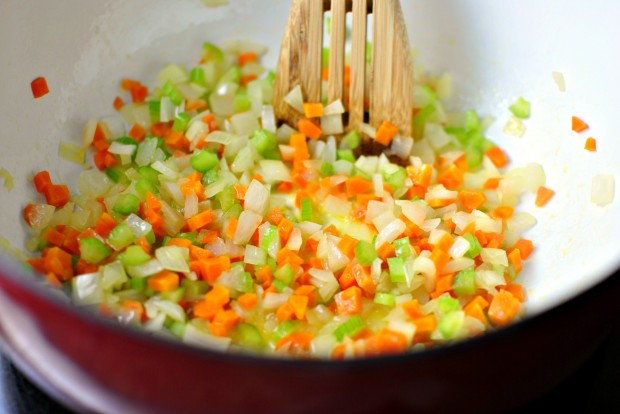 Now these veggies are now nice and sweaty. I was thinking… maybe add some garlic next time?
Dump in the lentils.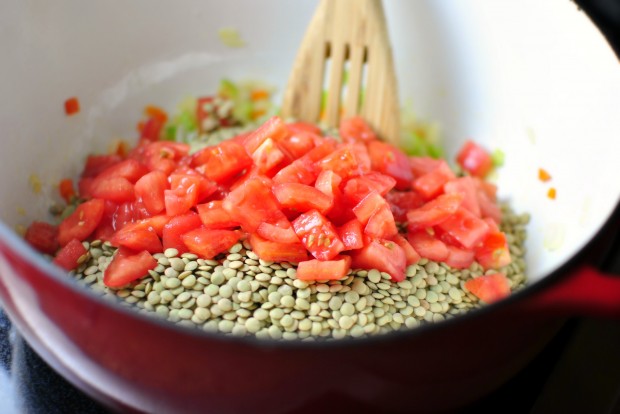 The diced tomatoes.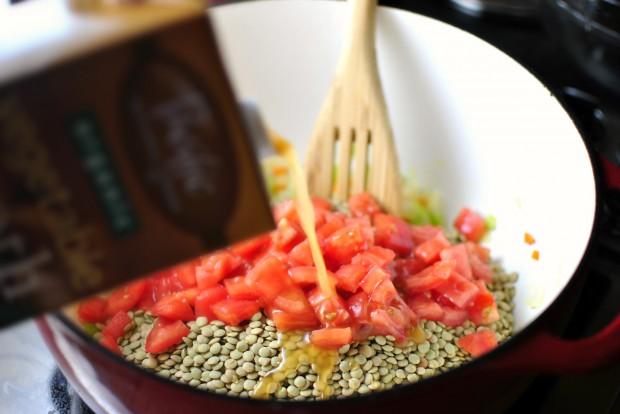 And pour in the 2 quarts of vegetable broth. Chicken broth could be substituted… but I wanted to keep this vegetarian thing going.
Then spice it up with a 1/2 teaspoon of ground coriander, cumin and black pepper. Stir, cover and bring to a boil. Once bubbling I reduced the heat to low and cooked at a low simmer for 40 minutes.
I tasted the lentils to make sure they were tender… and they were.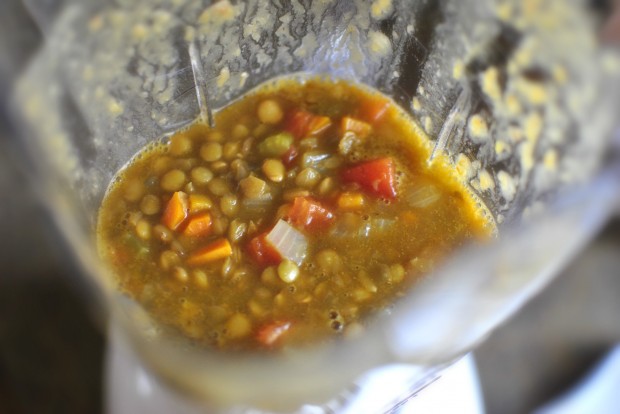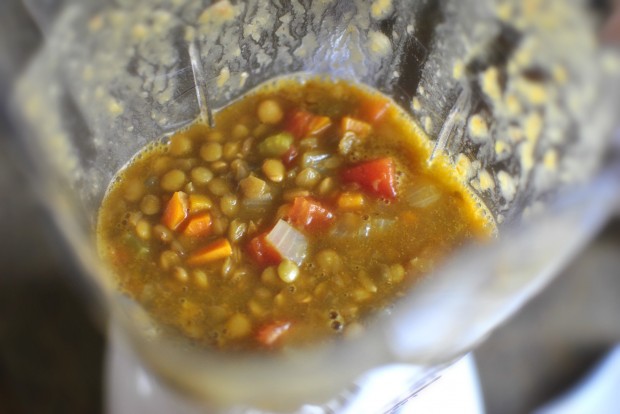 Then I scooped out about a third of the soup and put it into my blender.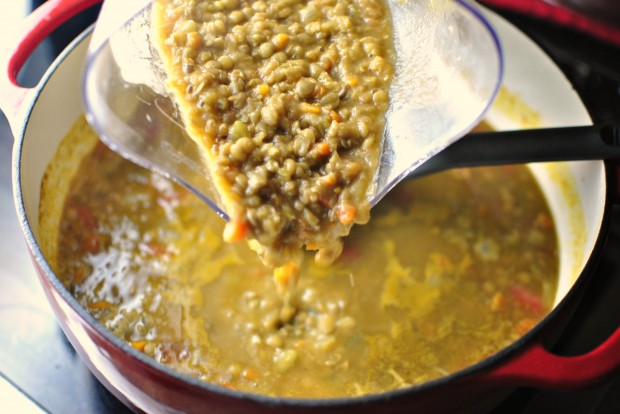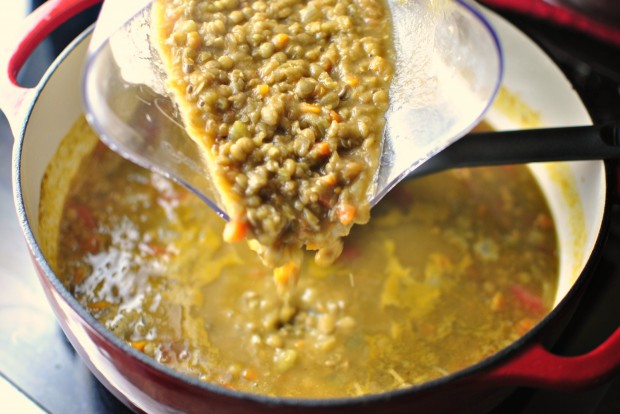 And pulsed it a few times to thicken it a little. Doing this will give you a creamier consistency to the Vegetarian Lentil Soup, but by any means is not necessary.
Glorious!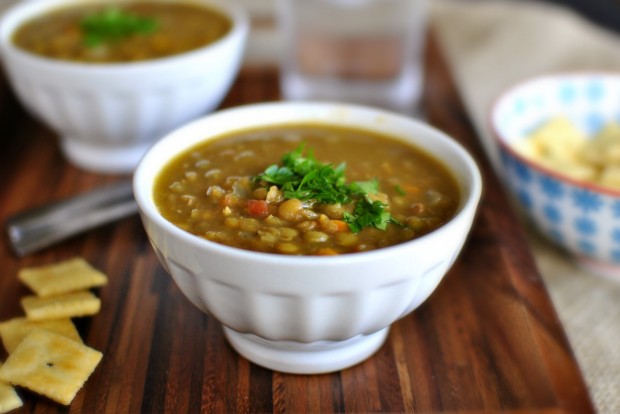 Gar little chopped flat leaf parsley.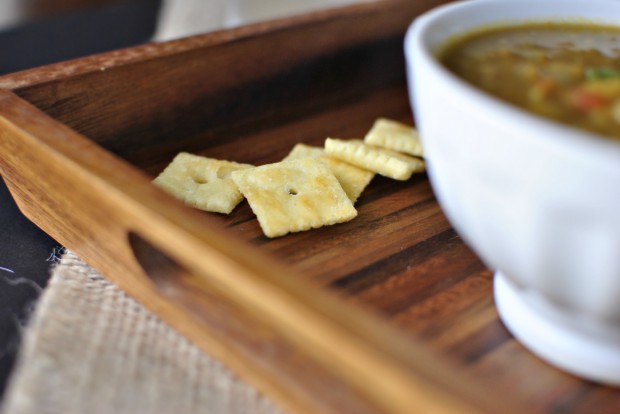 And a lot of white cheddar Cheezits, because in a way I'm still a kid in a grownups body.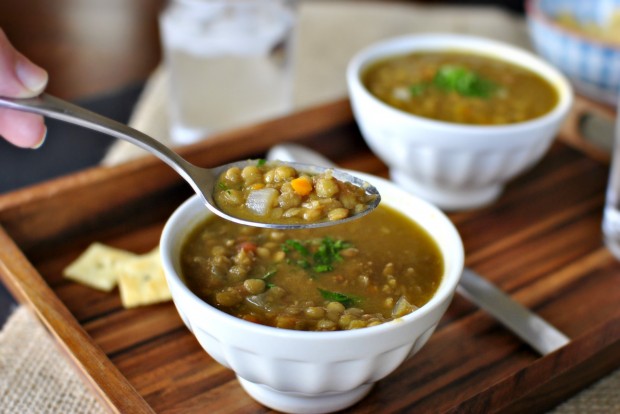 This vegetarian lentil soup is so warm and comforting and delicious. The lentils sure pack a lot of nutrients and protein that kept me full, which I like… and it is a healthy meal that I'm sure your family will love! Maybe not your 8 year old, but heck, it's worth a shot.
Enjoy! And if you give this Vegetarian Lentil Soup recipe a try, let me know! Snap a photo and tag me on twitter or instagram!
Yield: 8 servings
Hearty Vegetarian Lentil Soup
A healthy and soul warming soup! Tender vegetables with hearty lentils in a comforting tomato broth. Delicious!
Ingredients
3 roma tomatoes
2 tablespoons olive oil
1 cup yellow onion, finely diced
2 medium carrots, finely diced (about a 1/2 cup)
2 ribs celery (short stalks), finely diced (about a 1/2 cup)
2 teaspoons kosher salt
16 ounces lentils, sorted and rinsed
2 quarts vegetable broth
1/2 teaspoon ground coriander
1/2 teaspoon ground cumin
1/2 teaspoon ground black pepper
minced fresh parsley, for garnish
Instructions
Bring a medium sauce pan of water to a rapid boil. And get ready a large bowl of ice water.

Score an X on the bottom of each tomato. One at a time, with a slotted spoon, drop a tomato into the water for about 30 seconds. Remove immediately to the ice water and repeat with the remaining tomatoes.

Once the tomatoes are cool enough to handle, peel off the skin and dice the tomatoes. Discard the skin and any goopy seeds.

In a large Dutch oven over medium heat, add in the two tablespoons of olive oil.

Once hot, add in the onions, celery, carrots and two teaspoons kosher salt. Stir and let the vegetables sweat for 6-8 minutes.

Add in the rinsed lentils, the tomatoes, vegetable broth, coriander, cumin and black pepper. Stir, cover and bring to a boil before reducing to low and simmering for 40 minutes.

Remove 1/3 of the soup into a blender and pulse two to three times. Transfer back to the pot, stir and serve.
Serving: 1g, Calories: 264kcal, Carbohydrates: 42g, Protein: 15g, Fat: 4g, Saturated Fat: 1g, Polyunsaturated Fat: 1g, Monounsaturated Fat: 3g, Sodium: 1552mg, Potassium: 706mg, Fiber: 19g, Sugar: 6g, Vitamin A: 3315IU, Vitamin C: 8mg, Calcium: 51mg, Iron: 5mg
This post may contain affiliate links.
Buy the Cookbook: Simply Scratch : 120 Wholesome Homemade Recipes Made Easy Now available on Amazon »
THANK YOU in advance for your support!