This Cheesy Roasted Garlic Chip Dip is so ridiculously delicious! Grab a bag of your favorite chips – mines any form of kettle chips- and start dipping!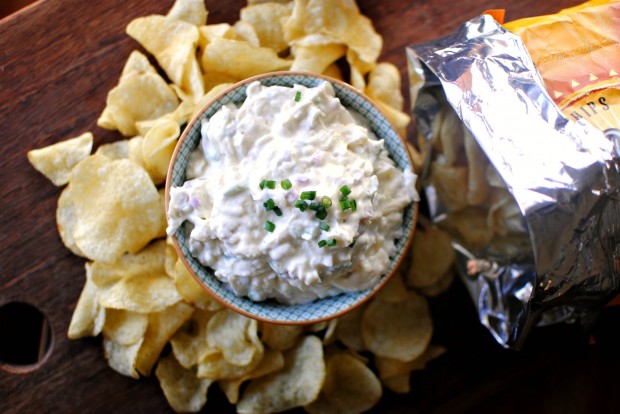 Cards, chips, dips and dorks! (name the movie)
Whether it's a football game, poker night or a movie and wine night with the girls, the chip and dip combo is the best and easiest form of entertainment snacking food.
And this dip has it ALL. And by "all" I of course mean cheese. Jarlsberg. Because it reminds me a lot of Gruyere and melts like a dream if you decided to, oh let's just say… sandwich it on some bread and maybe throw some sliced apples or pears and grill it. Oh yes. Jarlsberg is new cheese-love of my life and is permanently on my list of favorite cheeses. Yes I have a list.
And no I'm not ashamed.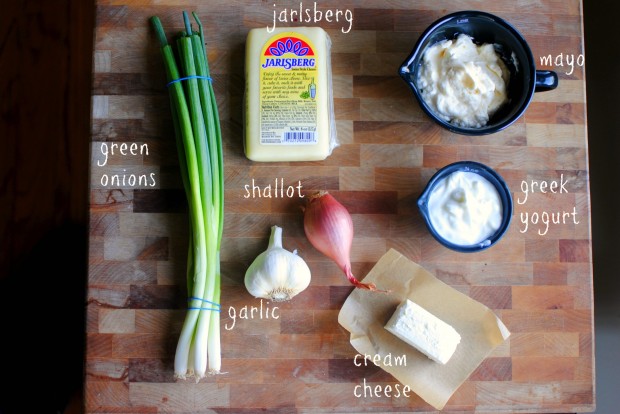 To Make This Cheesy Roasted Garlic Dip You Will Need:
garlic
olive oil
kosher salt
freshly ground black pepper
Jarlsberg cheese
mayo
plain nonfat Greek yogurt
cream cheese
shallot
green onions
kettle cooked potato chips (or your favorite), for dipping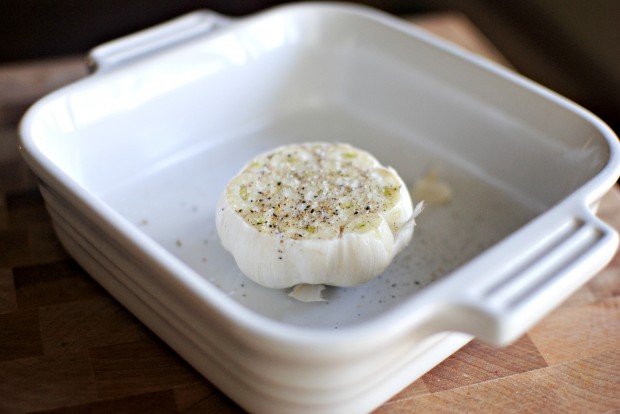 Next start by cutting off the top third of 1 head of garlic, exposing the garlic. Then sprinkle the top of the garlic with salt, pepper and a drizzle of olive oil. Lastly cover the baking dish with foil and popped it into a hot 400° oven to roast for about 40 minutes.
AHHHHHH. I wish you could smell this!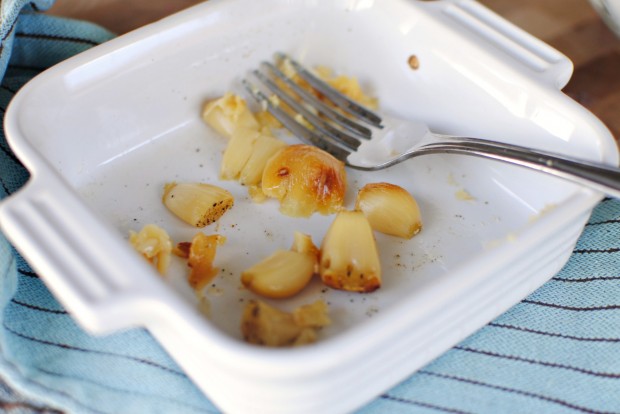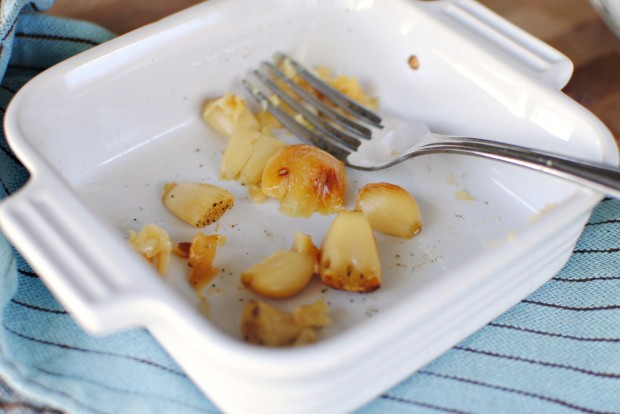 Then squeeze head of garlic (once it had cooled down a bit) and removed any hard-to-get cloves with a fork.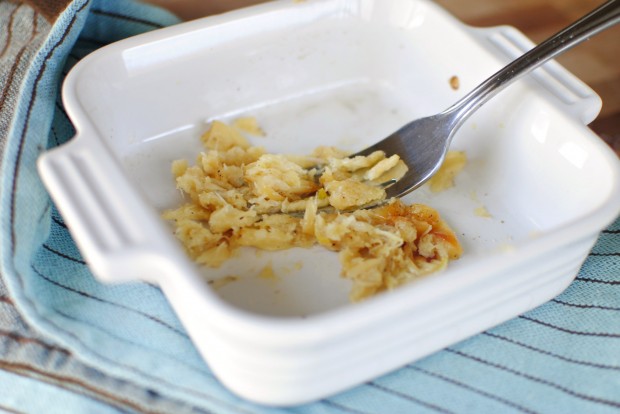 Next, take a fork and mashed the bejesus out of 'em. Fun. Times.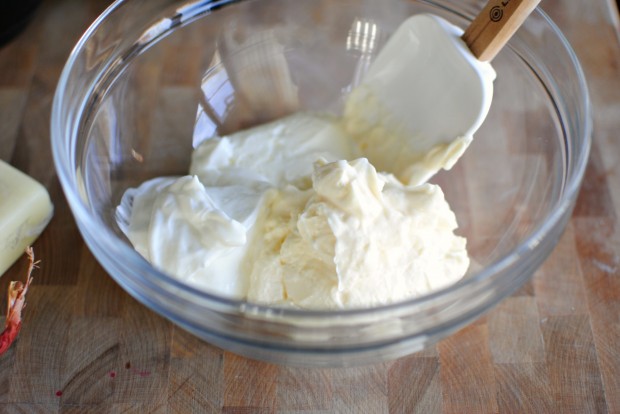 Then, in a medium bowl I combined; 1/2 cup mayo, 1/4 cup of Greek yogurt and 4 ounces of cream cheese (softened at room temperature) and mixed those until smooth and silky.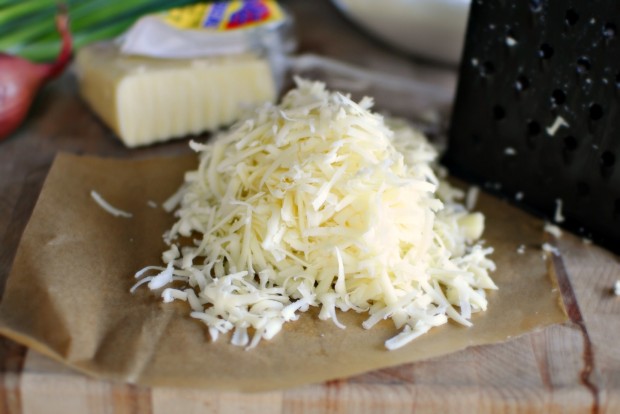 Next, on your box grater, I grated a glorious heaping 1 cup of Jarlsberg.
Thenadd it all to the bowl. Keep goin' it gets better.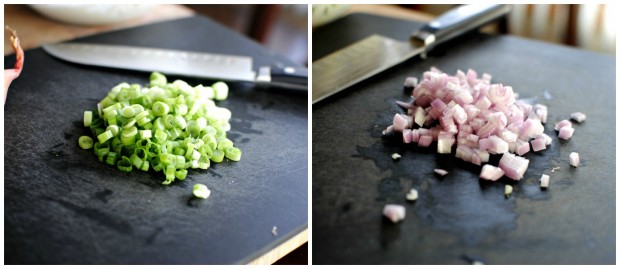 Next, slice up 1/4 cup of green onions and finely diced up 1 large shallot.
Then I added those into the bowl along with the smashed roasted garlic.
And then prayed.
"Lord help me from devouring this bowl of wonderful cheesy-shalloty-garlicky-goodness. Please forgive me for consuming an entire bag of kettle chips (as you know those are the best chips for dipping) and if you would be so kind as to grant me just one wish, I wish that this Cheesy Roasted Garlic Chip Dip does not find its way straight to my hips. Amen."
But this was after I seasoned it with salt and pepper annnd just before I ate almost the entire bag of chips.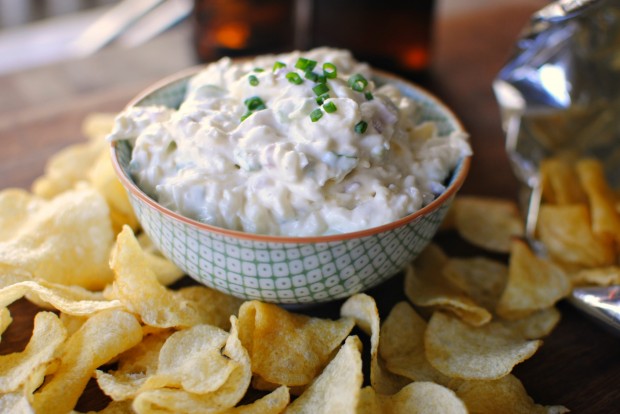 Ohhhhh this dip is GOOOD! Creamy, garlicky and totally addicting. It reminds me of the classic French onion dip but with a cheesy nutty twist. This dip will definitely make for an excellent appetizer for any festivity!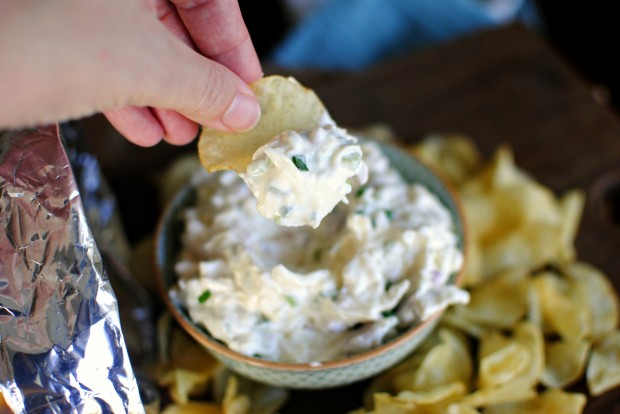 Enjoy! And if you give this Cheesy Roasted Garlic Chip Dip recipe a try, let me know! Snap a photo and tag me on twitter or instagram!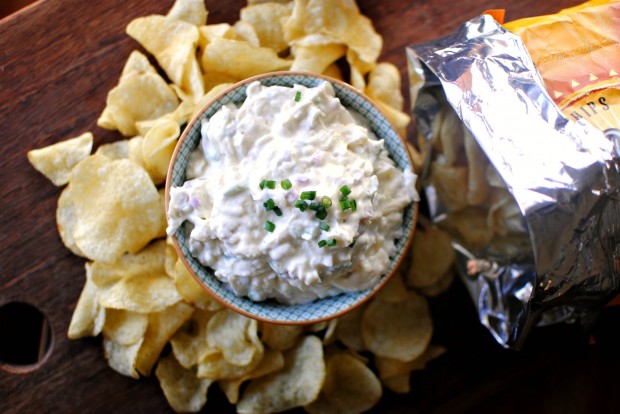 Yield: 6 servings
Cheesy Roasted Garlic Chip Dip
Cheesy, shallot-y, garlicky goodness. Recipe yields about 1½ cups or about 6 (1/4 cup) servings.
Ingredients
1 head garlic
1 teaspoon olive oil
kosher salt
freshly ground black pepper
1 cup Jarlsberg cheese, freshly grated
1/2 cup mayo
1/4 cup plain nonfat Greek yogurt, or sour cream
4 ounces cream cheese
1 large shallot, diced small
1/4 cup green onions, roughly chopped
kettle cooked potato chips, or your favorite, for dipping
Instructions
Preheat your oven to 400°.

Cut off the top third of a head of garlic and place it in a small oven-safe dish. Season with salt, pepper and a drizzle of olive oil, cover the dish with foil and roast fro 40-45 minutes.

Let head of garlic cool before removing all of the roasted garlic cloves and smashing them with a fork.

In a large bowl combine; mayo, Greek yogurt and cream cheese until silky smooth. Add in the cup of grated Jarlsberg, sliced green onions, finely diced shallots, smashed garlic, salt and pepper. Stir to combine.

This dip can be devoured right away or let chill in the fridge until ready to serve.

Serve alongside extra crispy kettle chips.
Calories: 281kcal, Carbohydrates: 4g, Protein: 7g, Fat: 27g, Saturated Fat: 9g, Polyunsaturated Fat: 9g, Monounsaturated Fat: 5g, Trans Fat: 1g, Cholesterol: 43mg, Sodium: 305mg, Potassium: 86mg, Fiber: 1g, Sugar: 2g, Vitamin A: 443IU, Vitamin C: 3mg, Calcium: 177mg, Iron: 1mg
This post may contain affiliate links.
Buy the Cookbook: Simply Scratch : 120 Wholesome Homemade Recipes Made Easy Now available on Amazon »
THANK YOU in advance for your support!