This hot and bubbly Guinness Dubliner dip is cheesy and addictive. In this warm appetizer, caramelized onions are mixed with Dubliner cheese, softened cream cheese and Guiness beer, baked in the oven until golden and bubbly. I like to serve this Guinness Dubliner Dip with toasted slices of rye bread.
St. Patrick's Day is one of my favorite holidays. It's a holiday that isn't about presents or candy and dressing up is optional. St. Patrick's Day is more about the food, wearing some green and drinking beer.
With a maiden last name of Rafferty, I obviously have Irish in my family ancestry (my paternal grandfather) and when I got married, I traded one Irish name for another. At 20 years old I went from being a Rafferty to a McNamara and I'm honored and so proud to be both.
When the girls were little they would wish my husband Happy Father's Day on St. Patrick's Day because his name is Patrick. They were young and it was super adorable.
In our house it would be a crime if St. Patrick's Day went uncelebrated. Wearing green is a MUST and if you get busted not wearing even a smidgen of green, you'll get pinched and it will hurt. I of course am in charge of the food. I like to go all out and make a traditional Irish recipe like Dublin coddle or Irish-inspired recipes, like Irish nachos or this Guiness Dubliner dip, maybe not for dinner per say…although it could be.
Caramelized onions, robust Dubliner cheese and some good ol' Guinness beer.
No regrets.
In order to dip into the top cheesy layer, you'll need something sturdy. The other day, I bought a really good loaf of rye bread, brush both sides with olive oil and then sprinkled a pinch or two of kosher over the top and toasted them in a 400° oven for about 10 to 12 minutes, flipping the bread halfway through. After baking, just set the pan off to the side.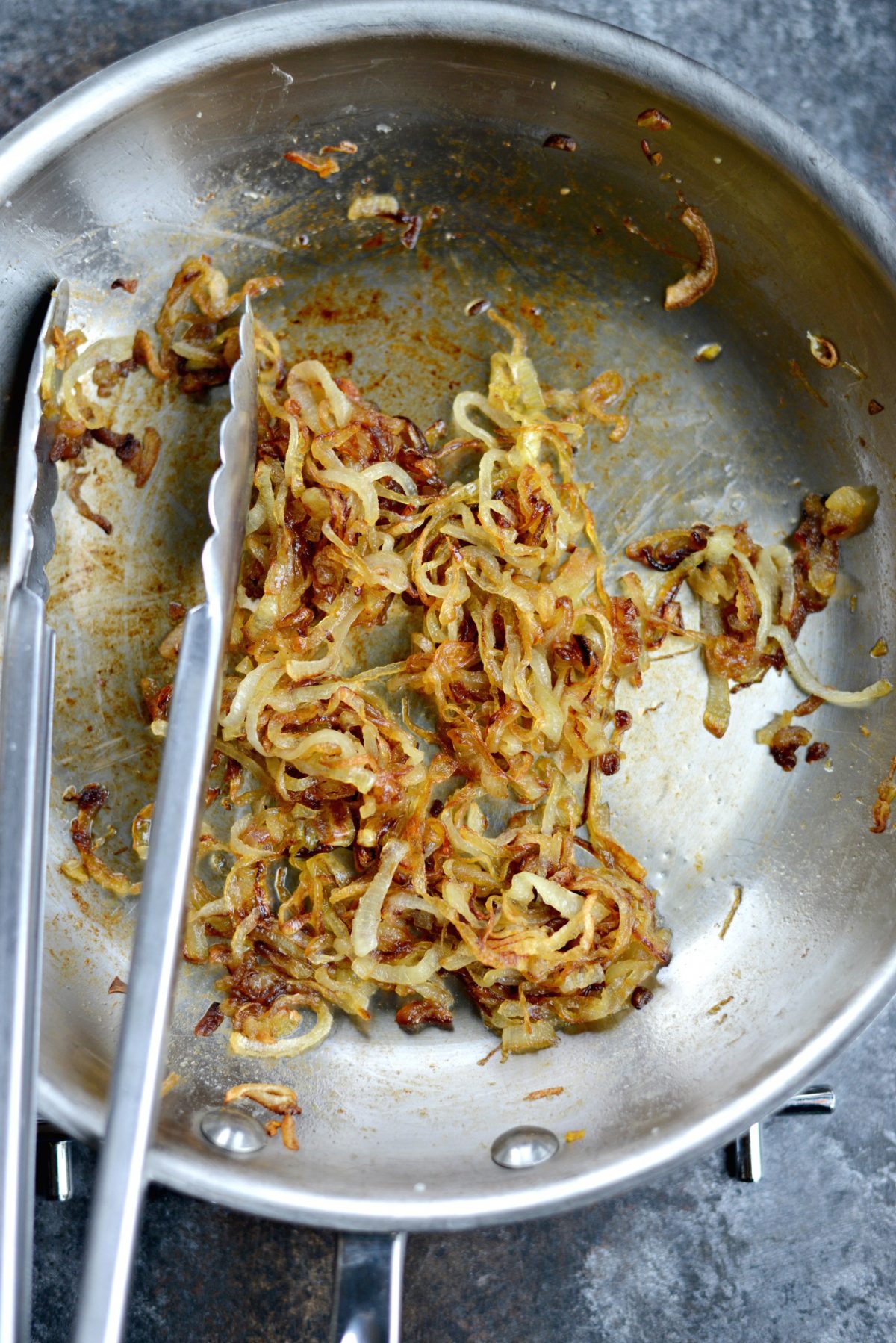 Meanwhile, cut a large yellow onion in half and then slice into 1/4-inch thin half moons. Heat a 10-inch skillet on medium heat, melt 2 tablespoons of unsalted butter and add in the onions. Toss to coat and cook slowly until golden and caramelized.
Then, toss the onions into a bowl with the 8 ounces cream cheese, 1/4 cup mayonnaise, 4 ounces of the Dubliner cheese and salt, pepper.
Pour in 1/4 cup of Guinness beer — YUM!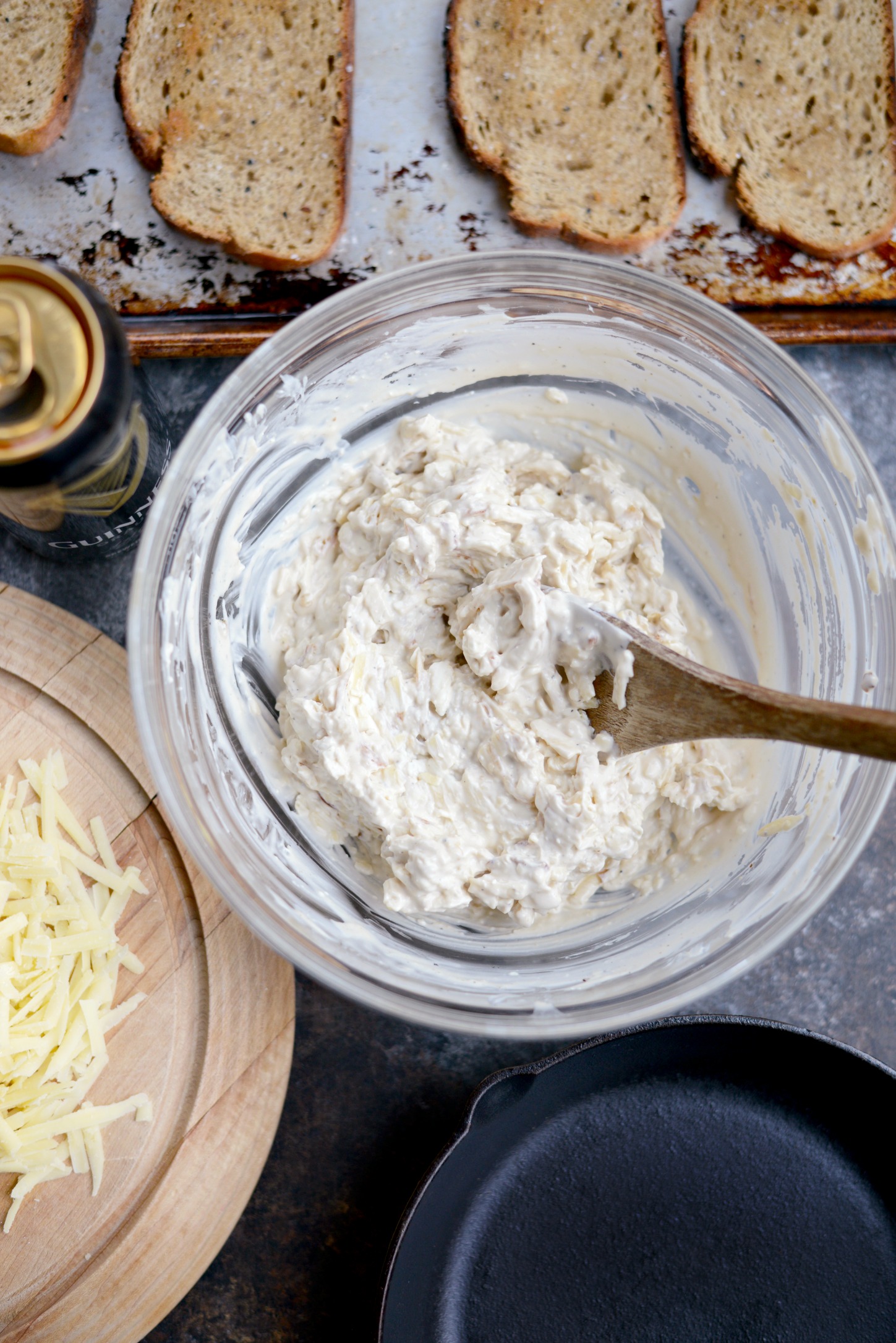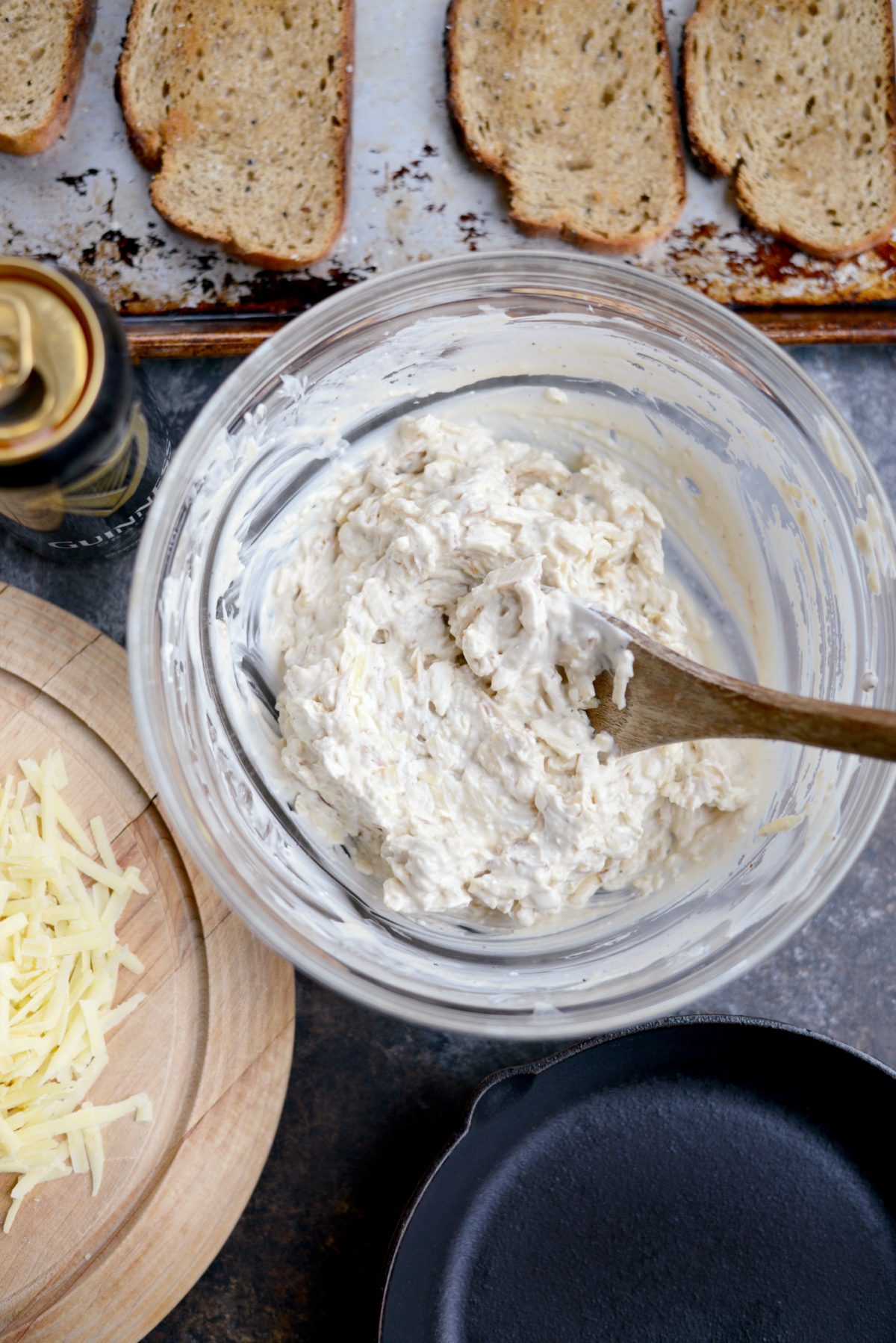 Next, stir until thoroughly combined.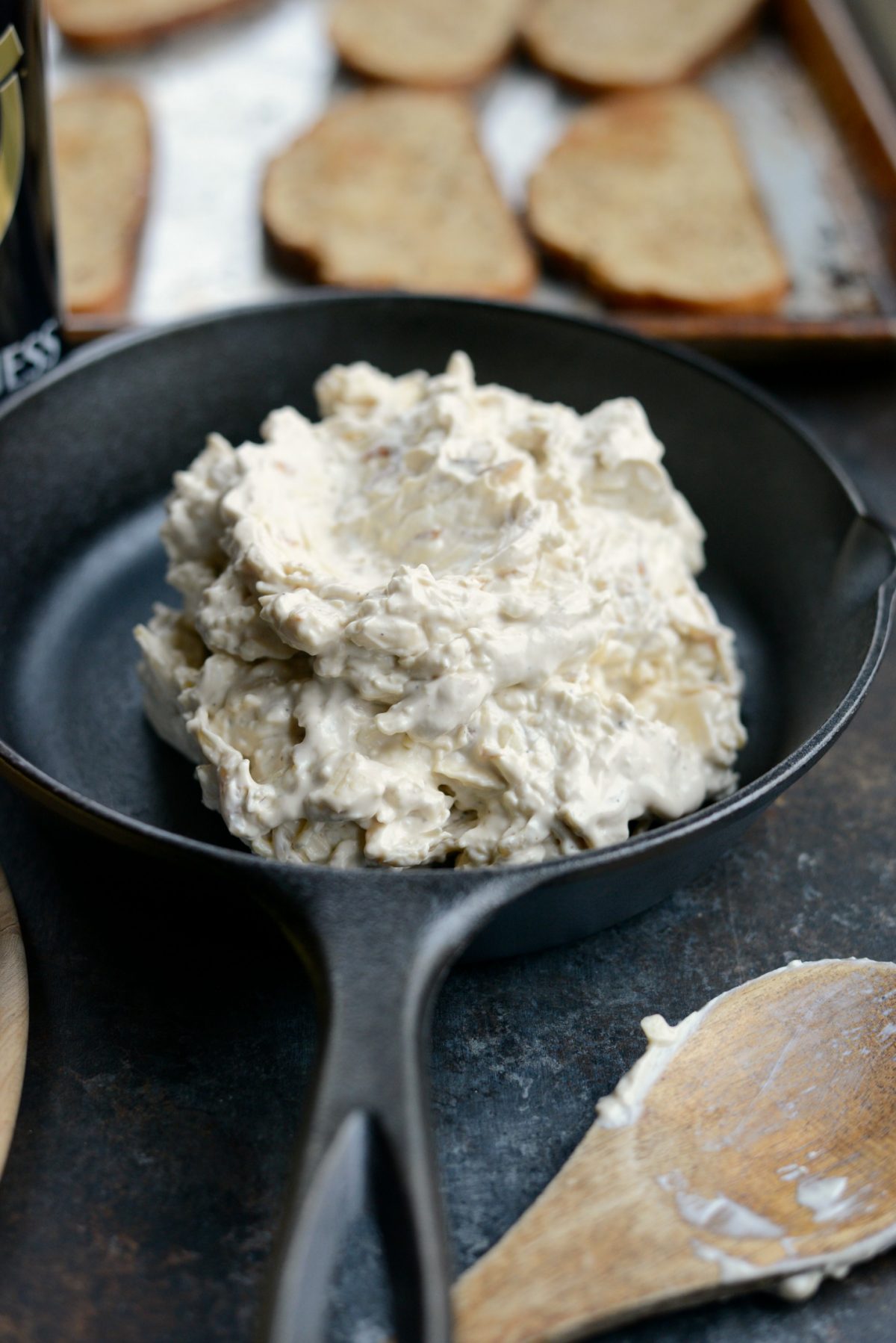 Spoon the mixture into a small-ish oven safe dish. I'm using a 8-inch cast iron skillet but any baking vessel will work.
Spread the dip evenly and sprinkle with the remaining Dubliner cheese. Slip the pan-o-cheese into your preheated 400° oven for 25 to 28 minutes or until the dip is golden and bubbly. Allow the dip to cool for at least 10 to 15 minutes before you start dipping.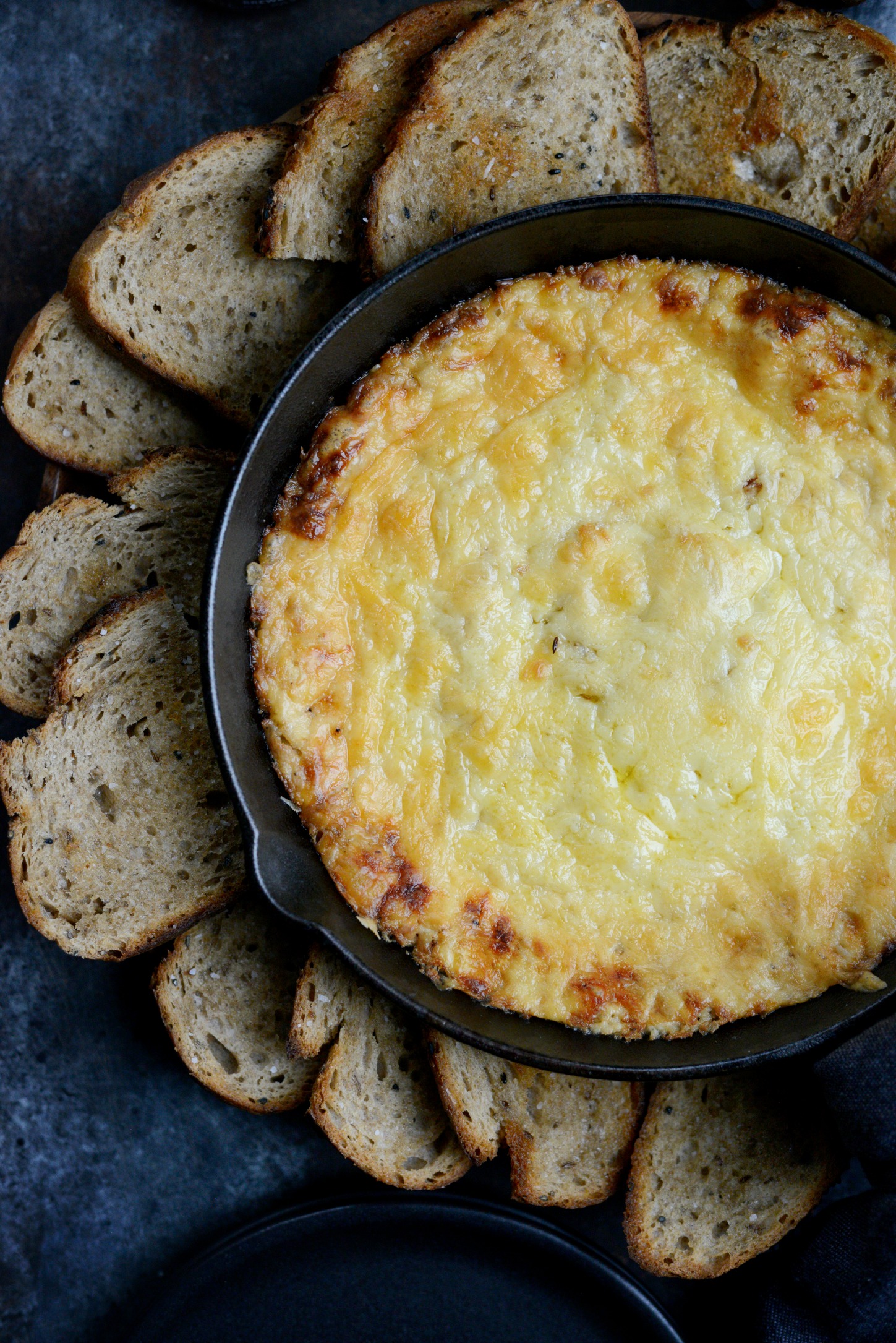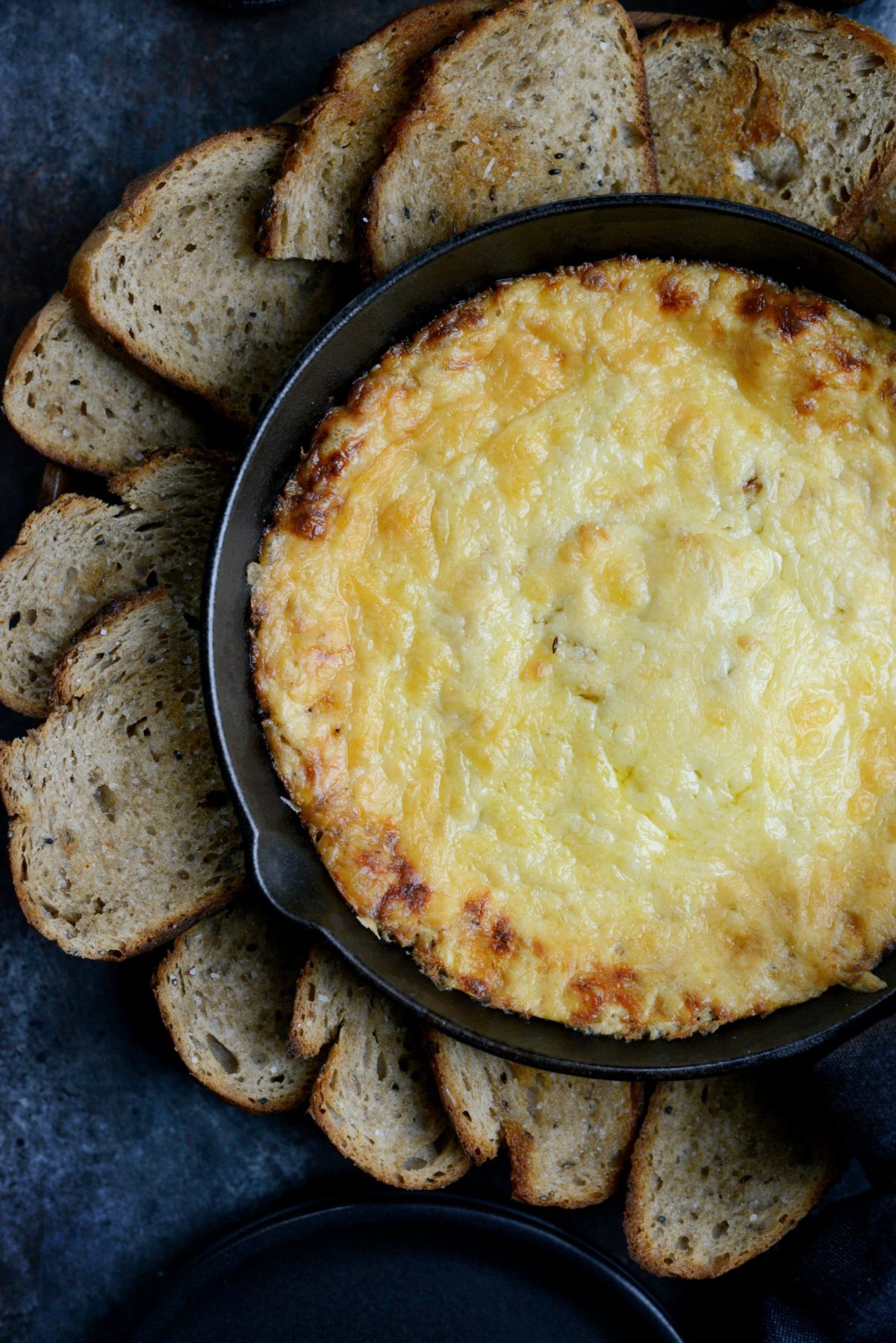 Cut your toasts in half and serve alongside with the Guinness Dubliner dip.
Dip. Eat. And repeat.
Enjoy! And if you give this Guinness Dubliner Dip recipe a try, let me know! Snap a photo and tag me on twitter or instagram!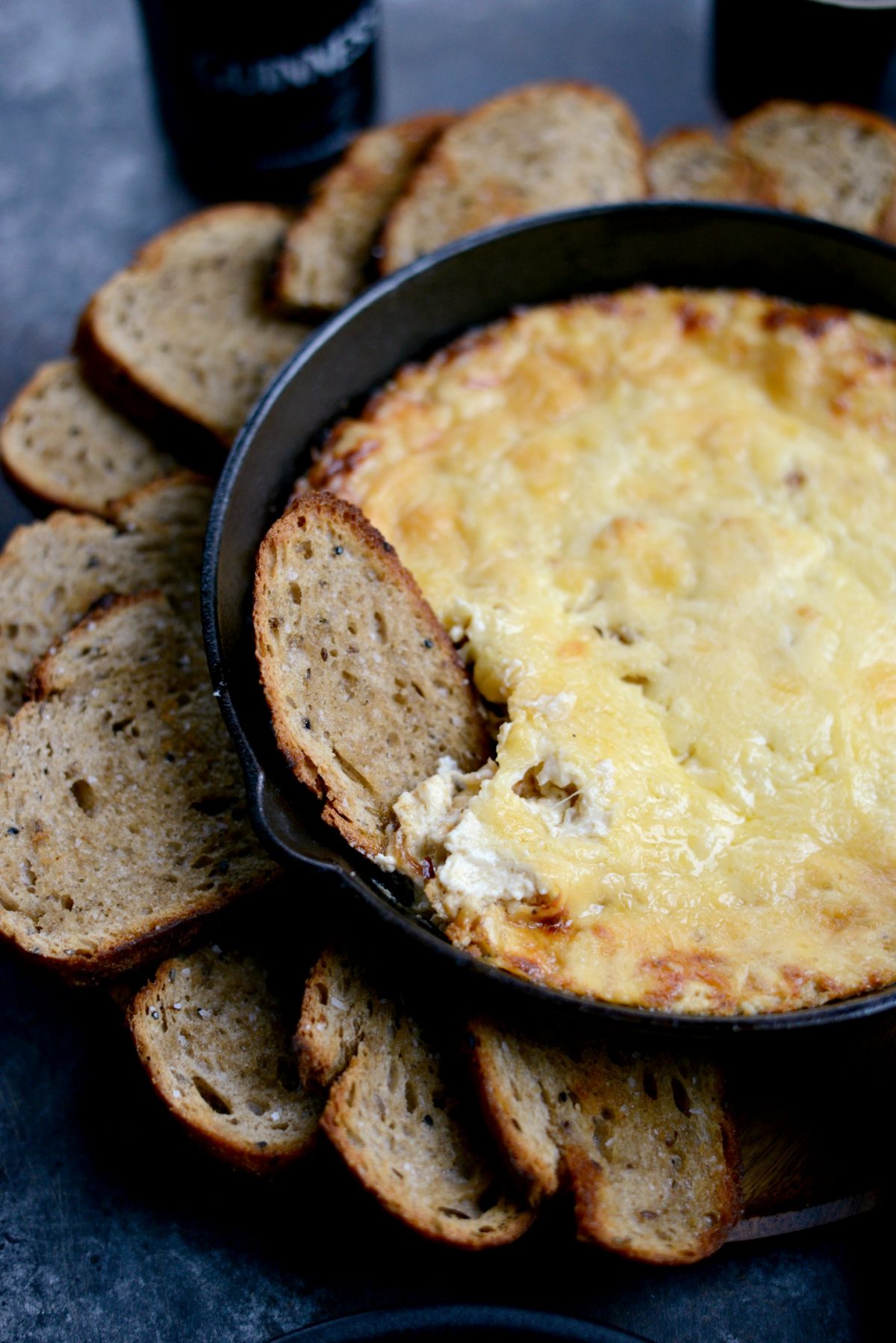 This post may contain affiliate links.
Buy the Cookbook: Simply Scratch : 120 Wholesome Homemade Recipes Made Easy Now available on Amazon »
THANK YOU in advance for your support!