This Grilled Greek Chicken Recipe is my go to for deliciously moist and flavorful chicken. Enjoy as is, on top of your favorite salad or tucked into a pita.
Hello, grill marks.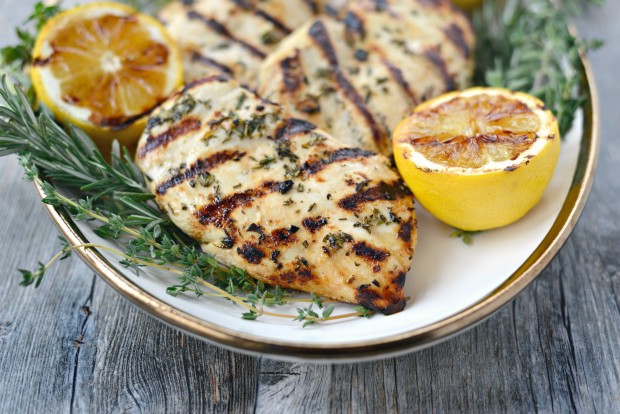 This is the first official grilling recipe of the season and it's a delicious one.
We are those people who grill all year round, especially this past winter when temps were in the mid 50's around Christmastime (that probably will never happen ever again). There's just something about grilled food when made on a warm spring/summer day that just tastes so much better and is the main reason I look forward to this time of year.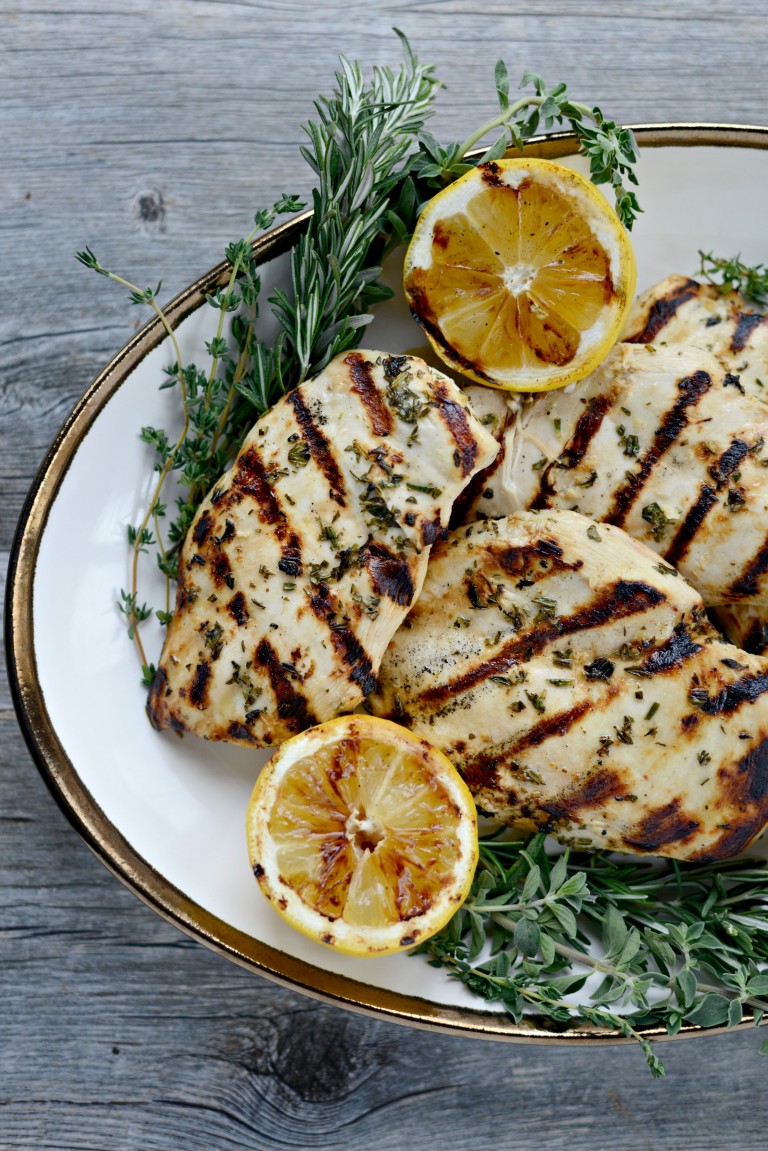 Since spring has arrived and the chives started to peek out of the soil in my garden, I've been itching to start planting. Over the last few years we've became quite the gardeners and every spring I look forward to weeding out my raised flower garden and planting my herbs. Pat handles the tomatoes, peppers and anything else we decide to grow this year.
Obviously it's still a tad early to plant because in Michigan we should expect snow up until May. But that doesn't mean the itch goes away, so in the meantime I just count on my good ol' trusty grocery store to deliver the goods, i.e. fresh herbs.
To Make This Grilled Greek Chicken Recipe You Will Need:
4 medium chicken breasts
rosemary leaves (fresh)
oregano leaves (fresh)
thyme leaves (fresh)
garlic
olive oil
juice from 2 large lemons
kosher salt
freshly ground black pepper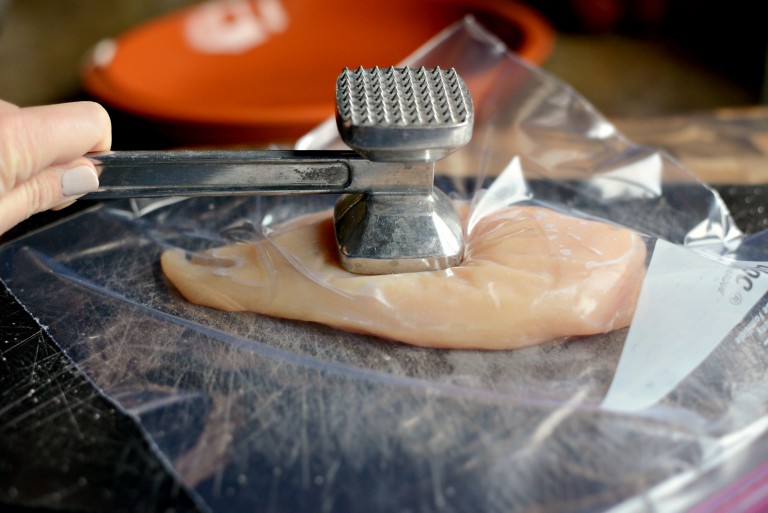 Start off by pounding 4 chicken breasts to about a 1/2 inch thickness. I slip one breast at a time into a gallon size resealable bag, sealing only half of it so air can escape. Using the flat side of a meat tenderizer, hammer out all your frustrations.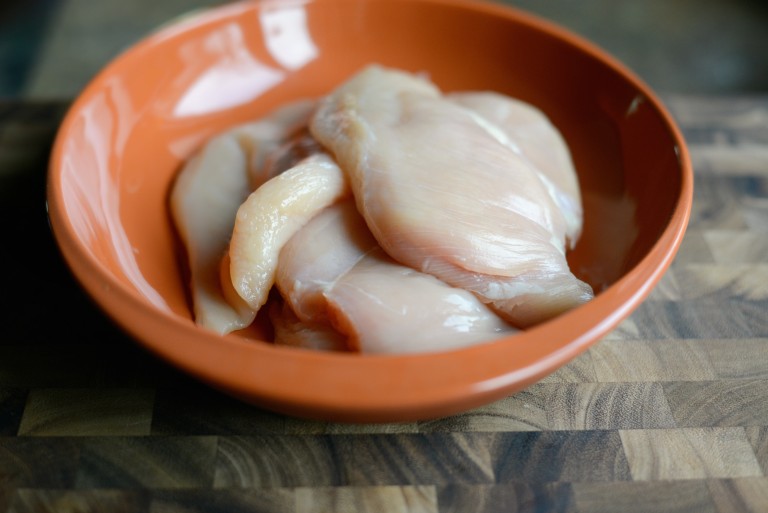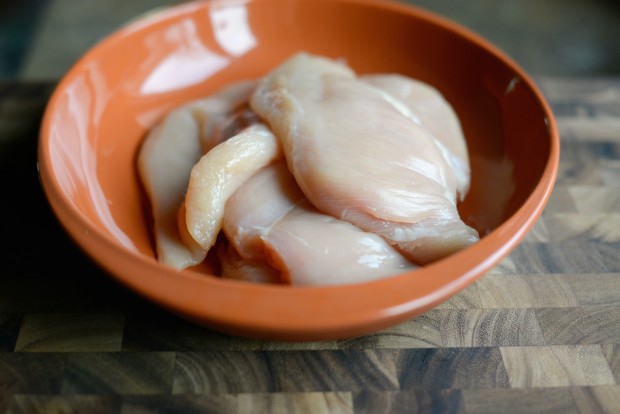 Place the flattened chicken breasts into a large, shallow dish and set off to the side.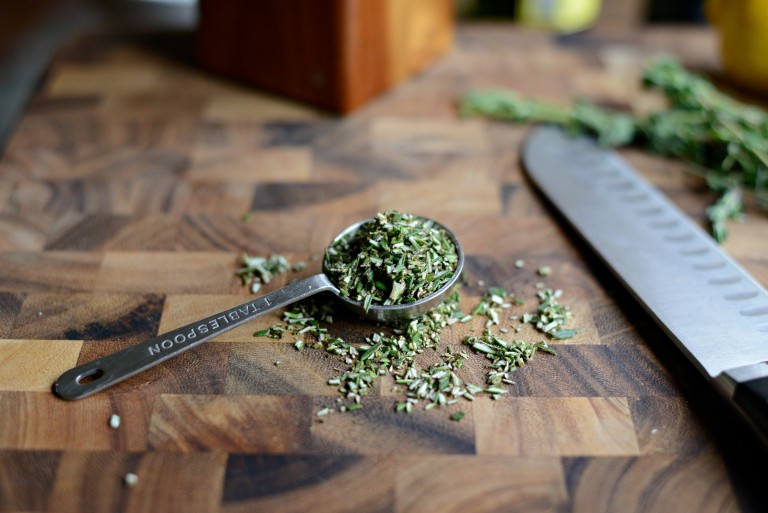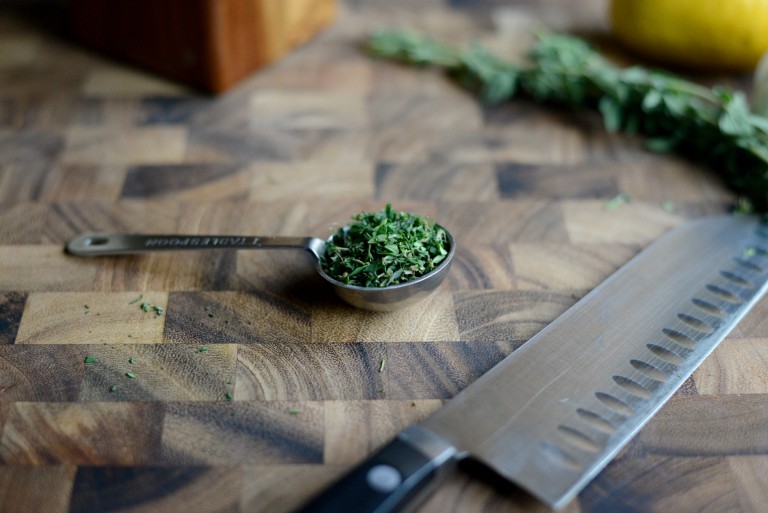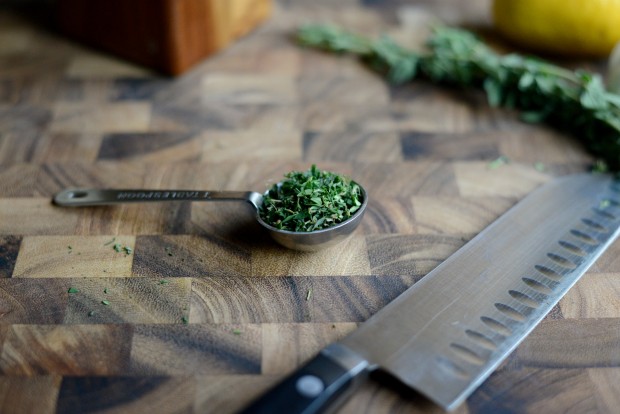 Mince up 1-1/2 tablespoons fresh rosemary and 1 tablespoon minced fresh thyme leaves.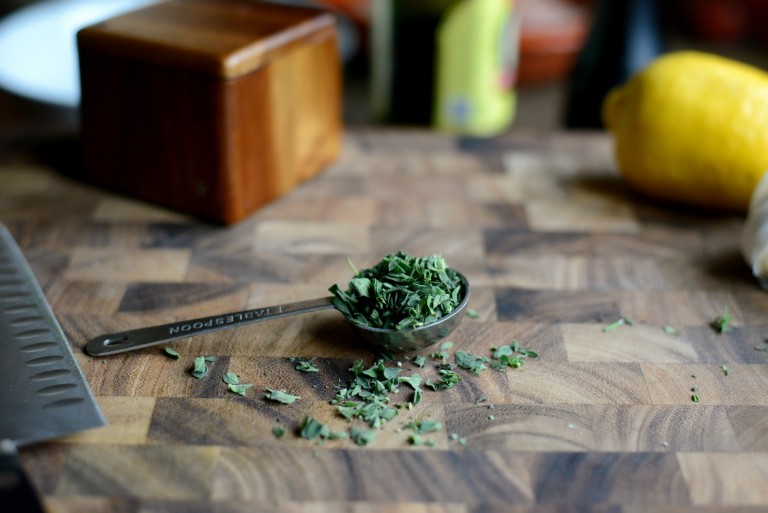 Also, finely mince 1-1/2 tablespoons minced fresh oregano.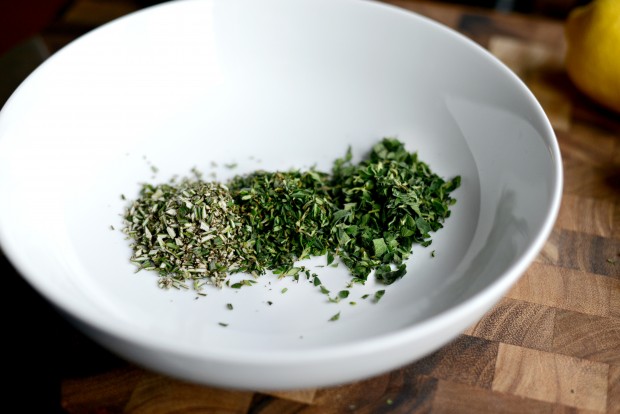 Add those to a medium bowl.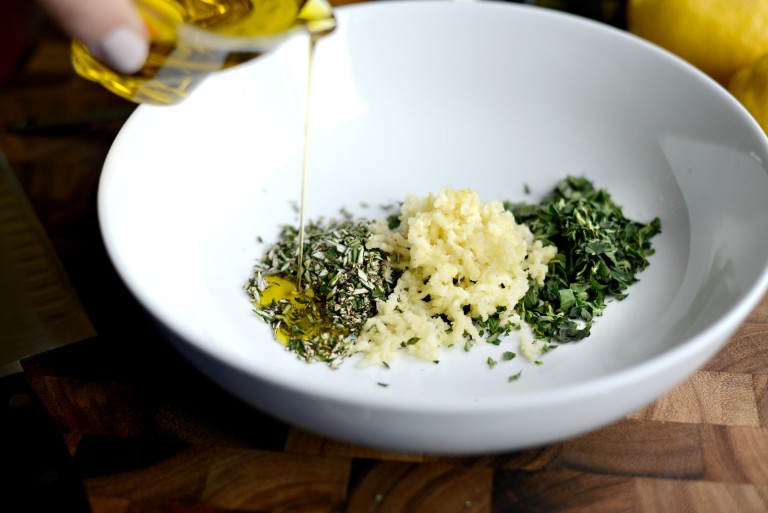 Next, use a garlic press to squeeze in the 3 cloves of garlic and then pour in 1/4 cup of olive oil.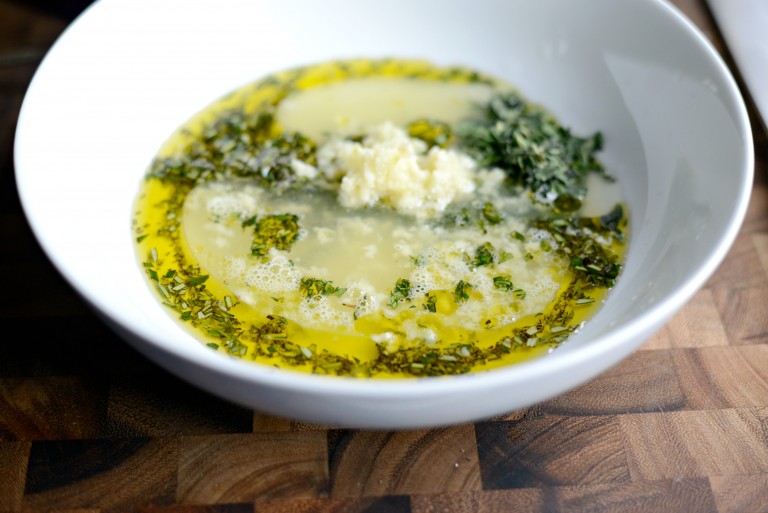 Grab a handheld juicer and squeeze in the juice from two large and juicy lemons.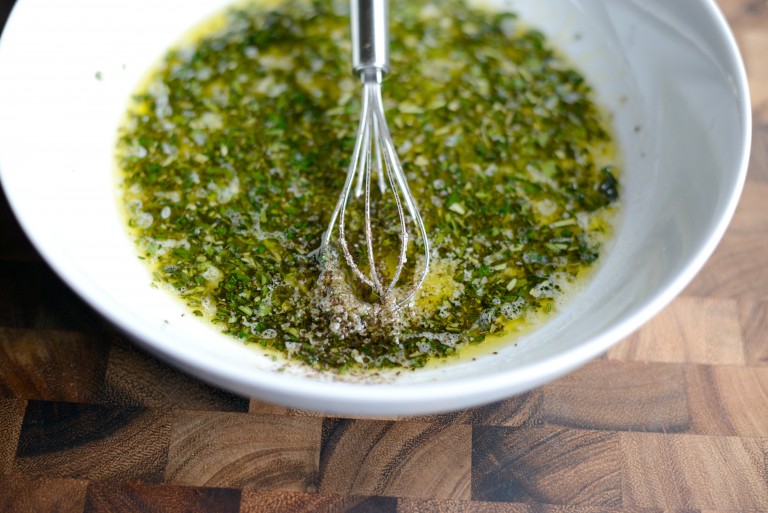 Season with a generous pinch of both kosher salt and black pepper and then whisk together.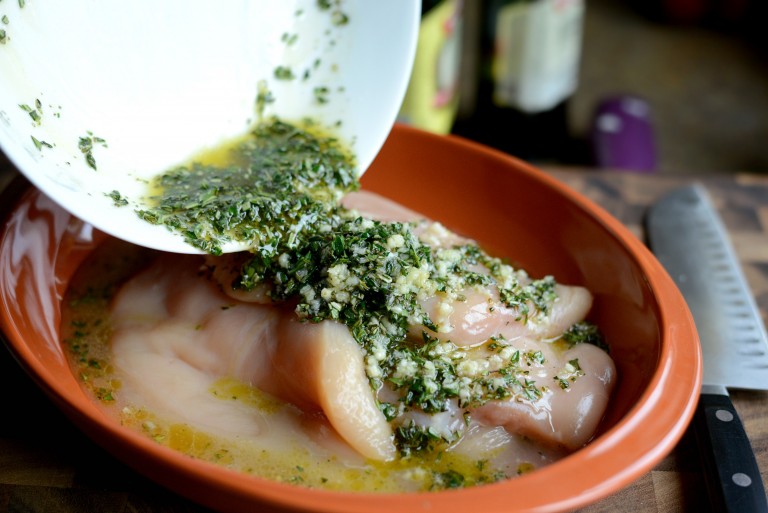 Pour the marinade over top of the chicken.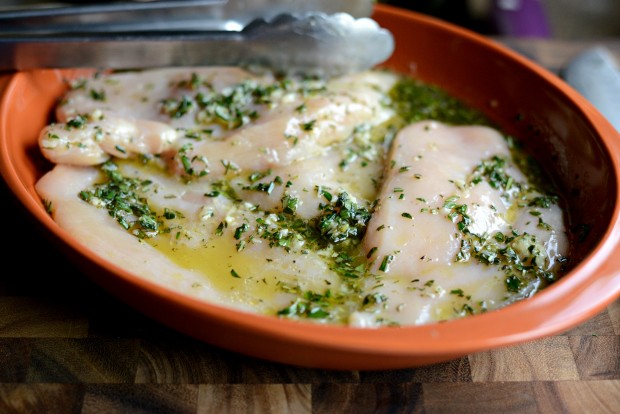 Use tongs to toss and coat the chicken breasts. Cover with plastic wrap and let them sit out on the counter top for 30 minutes to 1 hour, toss them around every now and again in the meantime.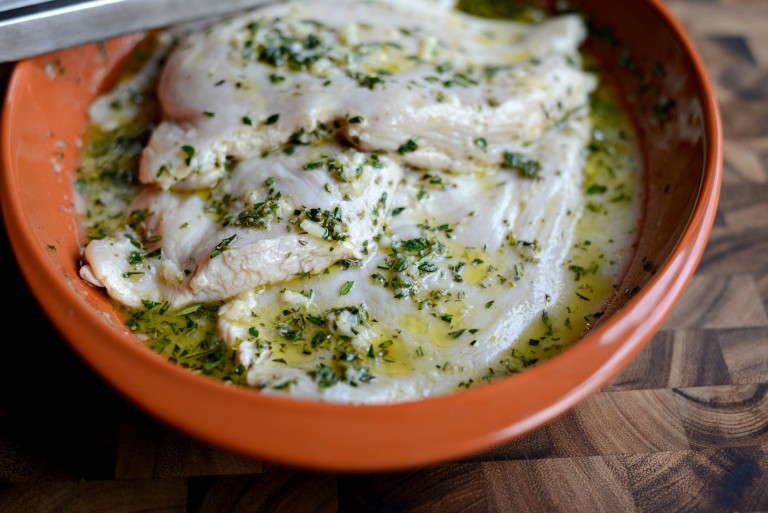 Once the chicken has marinated, preheat your grill to medium/medium high.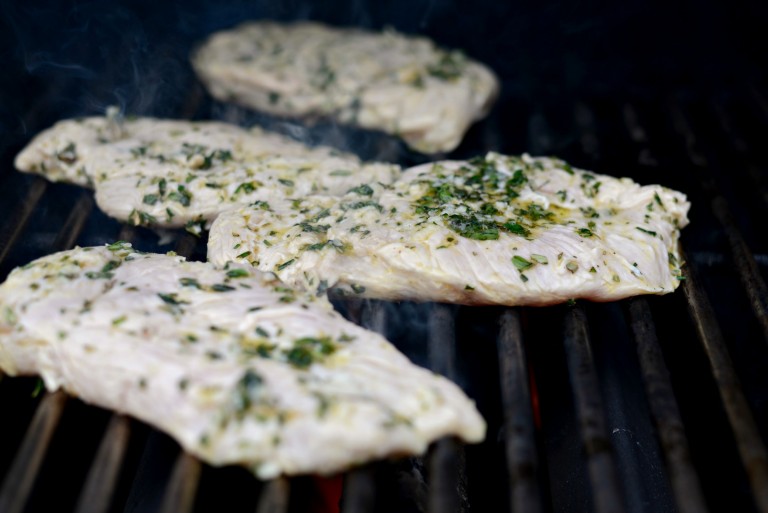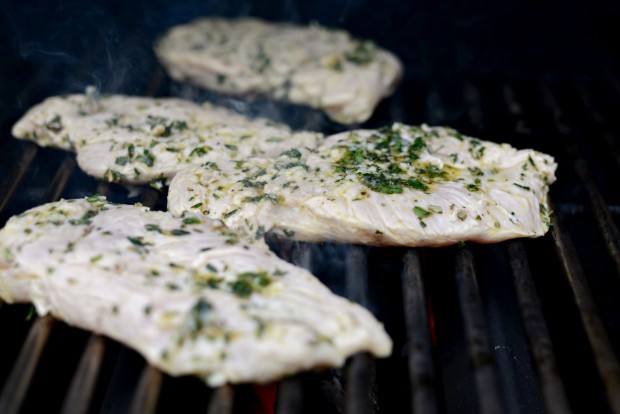 Place the chicken on the hot grill grate and cook for about 4 to 6 minutes depending on their size. Adjust the heat to avoid burning.
Flip and continue to grill for 4 to 5 more minutes or until the chicken is fully cooked.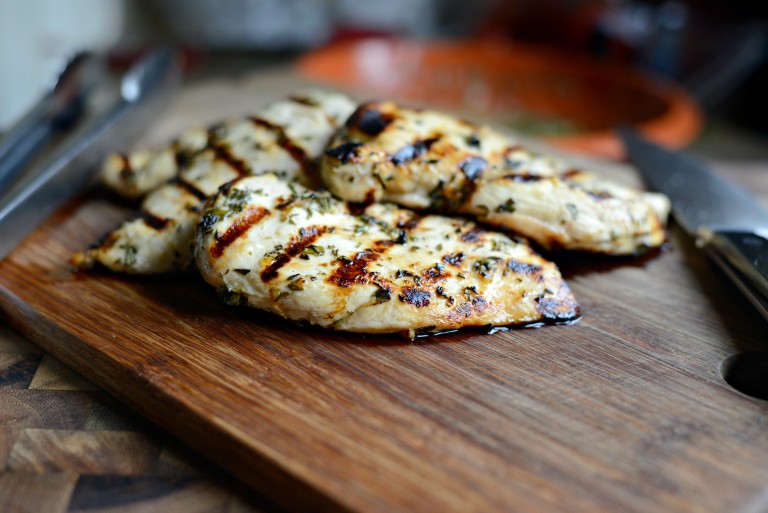 So Juicy!
Let these rest for a few minutes before serving.
The flavor is out of this world and the chicken is so extremely moist. I serve this with roasted vegetable couscous, salad, grilled veggies… you name it. It's a hit no matter how I serve it. Love, love, love.
Enjoy! And if you give this Grilled Greek Chicken recipe a try, let me know! Snap a photo and tag me on twitter or instagram!
Yield: 4 servings
Grilled Greek Chicken
Thinly pounded chicken breasts are marinated in a trio of fresh herbs (rosemary, oregano and thyme), fresh garlic, lemon juice and olive oil and grilled to perfection. This chicken is moist and extremely flavorful! You can enjoy this with any side you wish or slice and serve on top of a salad.
Ingredients
1½ tablespoons minced fresh rosemary leaves
1½ tablespoons minced fresh oregano leaves
1 tablespoon minced fresh thyme leaves
3 cloves garlic, grated or squeezed through a garlic press
1/4 cup olive oil
2 large lemons, juiced
kosher salt , to taste
freshly ground black pepper, to taste
4 chicken breasts, pounded to 1/2 inch thickness with flat side of meat tenderizer
Instructions
Add the fresh herbs, garlic, olive oil, lemon juice, salt and pepper in to a large shallow dish and whisk to combine.
Use tongs to toss the chicken breasts into the marinade. Cover with plastic wrap and let sit on the counter for 1 hour. *note:
if marinating for 2 hours, refrigerate for 1-1/2 hours and remove from the fridge a half hour before grilling.

Preheat grill to medium-high. Grill chicken about 4 to 6 minutes per side. Every grill is different, so watch and flip when good grill marks form and remove when the chicken is fully cooked.

Serve as is or thinly slice for topping a salad.
Serving: 1g, Calories: 405kcal, Carbohydrates: 8g, Protein: 49g, Fat: 20g, Saturated Fat: 3g, Polyunsaturated Fat: 2g, Monounsaturated Fat: 12g, Trans Fat: 1g, Cholesterol: 145mg, Sodium: 265mg, Potassium: 961mg, Fiber: 3g, Sugar: 1g, Vitamin A: 218IU, Vitamin C: 35mg, Calcium: 76mg, Iron: 2mg
This post may contain affiliate links.
Buy the Cookbook: Simply Scratch : 120 Wholesome Homemade Recipes Made Easy Now available on Amazon »
THANK YOU in advance for your support!