This chia seed granola is both chewy and crunchy and is naturally sweetened in a bath of maple, honey, vanilla, coconut oil love.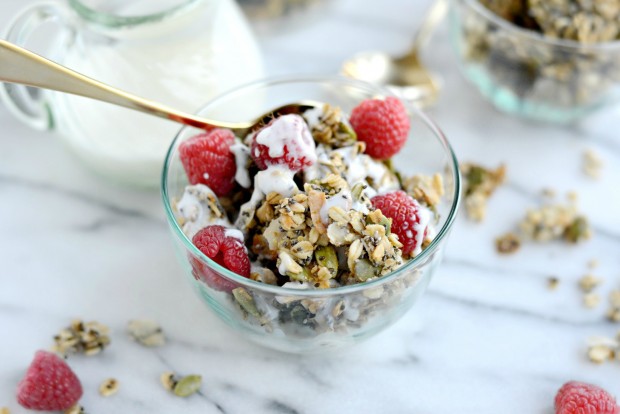 Chia seeds. I love them.
It took me many trips to the grocery store before I would even buy them. I'd pick up a bag, look at the price, set it back down and tell myself next time. Until it was the next time (which in my world is literally the following day) and then the cycle repeats. One day I bit the bullet and took out a loan to buy a bag (kidding, sort of) and I haven't looked back since. So if you're on the fence on whether to purchase chia seeds, just go for it! Nowadays there is a plethora of recipes out there on the internet to choose from.
However you should start with this one!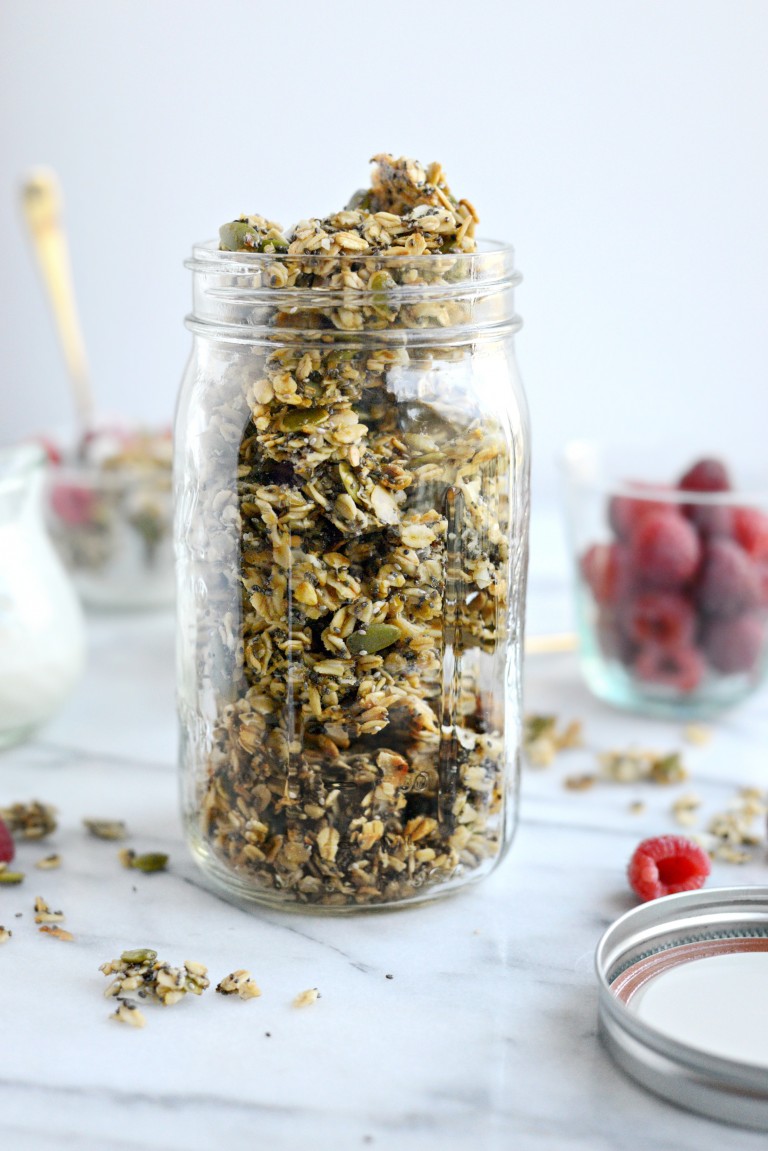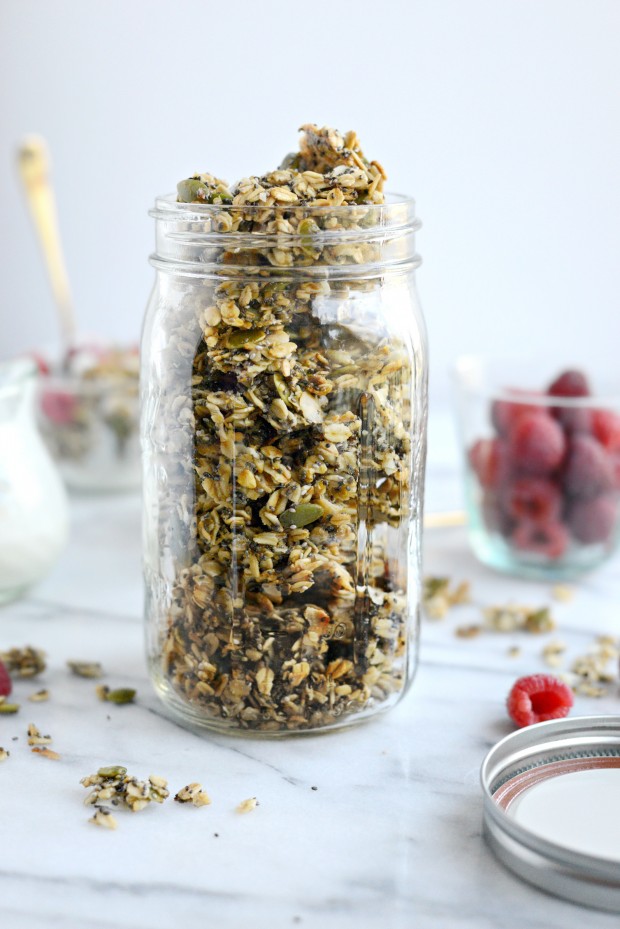 For those of you who are familiar, what's your favorite thing to make with chia seeds? I'm still playing it safe by sprinkling it on my oatmeal and making a quick jam out of them, and my most recent conquest was adding them into granola. They add a pop of color, texture and are loaded with vitamins, minerals and antioxidants. See?!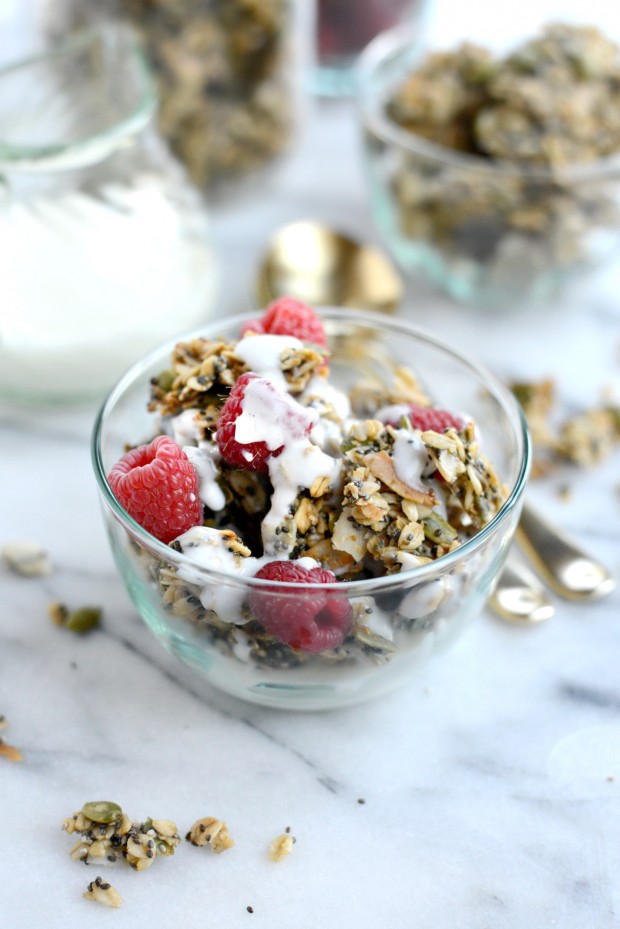 Chia seeds are totally worth the price tag they carry.
To Make This Coconut Chia Seed Granola You Will Need:
oatmeal (I like Bob's Red Mill thick-cut rolled oats)
chia seeds (Bob's Red Mill)
unsweetened coconut flakes ( I use, you guessed it! Bob's Red Mill)
ground golden flax seed (do I even need to say it?)
pure maple syrup
honey
unrefined coconut oil
kosher salt.
two egg whites (for a chunky granola)
And no, this is not a sponsored post for Bob's Red Mill. Although, this recipe made me realize that I purchase a lot of it! 😉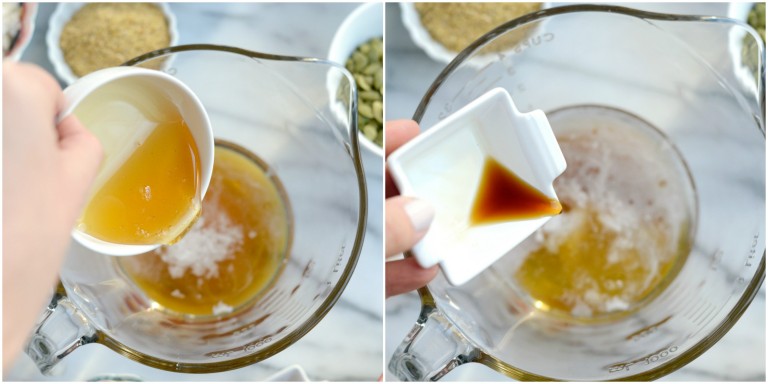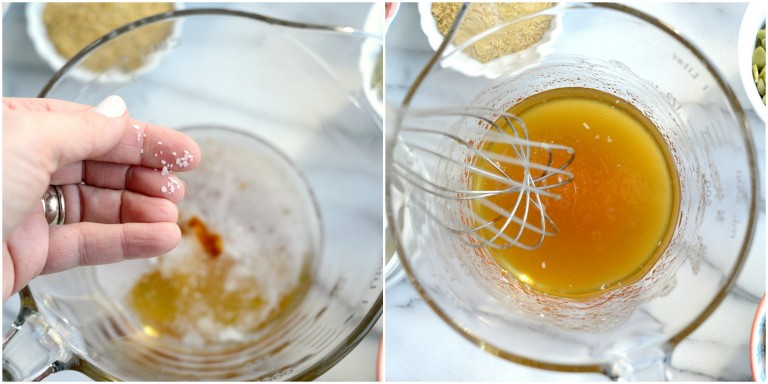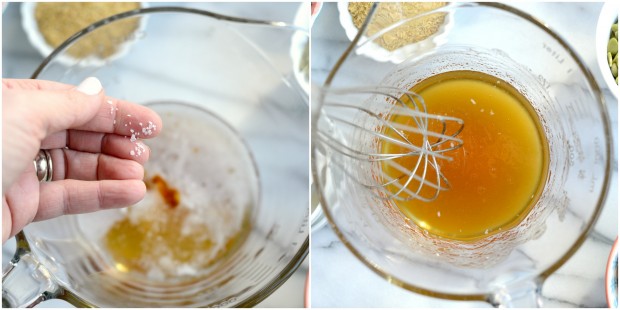 In a medium bowl combine 1/3 cup pure maple syrup, 1/4 cup warmed coconut oil, 2 tablespoons of honey and 3/4 teaspoon vanilla. Lastly, season with a pinch of kosher salt and then whisk it until combined.
If the coconut has cooled too much, simply pop the bowl into the microwave for 10 to 20 seconds or pour it into a small saucepan and heat until the coconut oil has melted.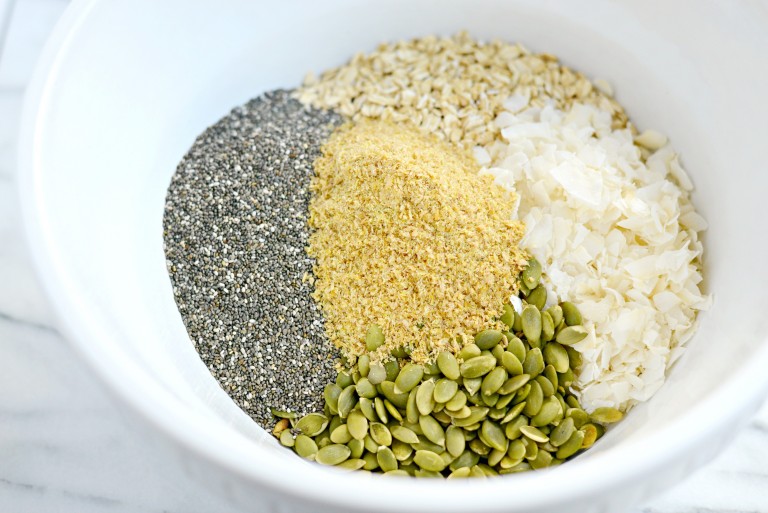 Into a large bowl, combine the 2-1/2 cups old fashioned oats, 2/3 cup flaked unsweetened coconut, 1/2 cup of pepitas and chia seeds and 1/4 cup ground golden flax seed.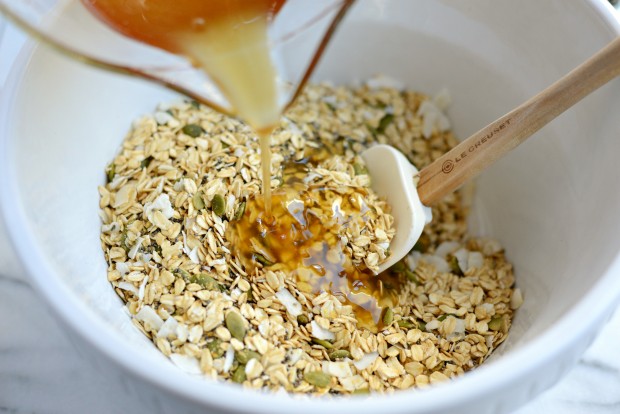 Stir together and then pour in the maple-honey-vanilla goodness…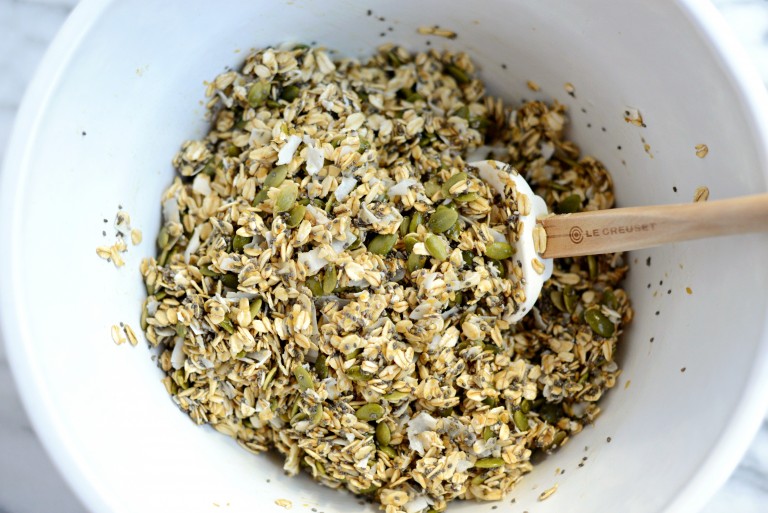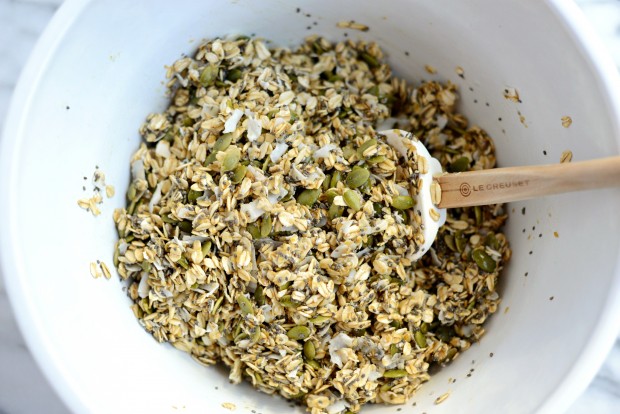 And stir to combine.
Lastly, separate the egg whites from 2 large eggs and whip until frothy.
Why Add An Egg White To Granola?
I add egg whites to my granola because I'm a big fan of chunky granola. Feel free to omit it if you're avoiding eggs or for a loose granola.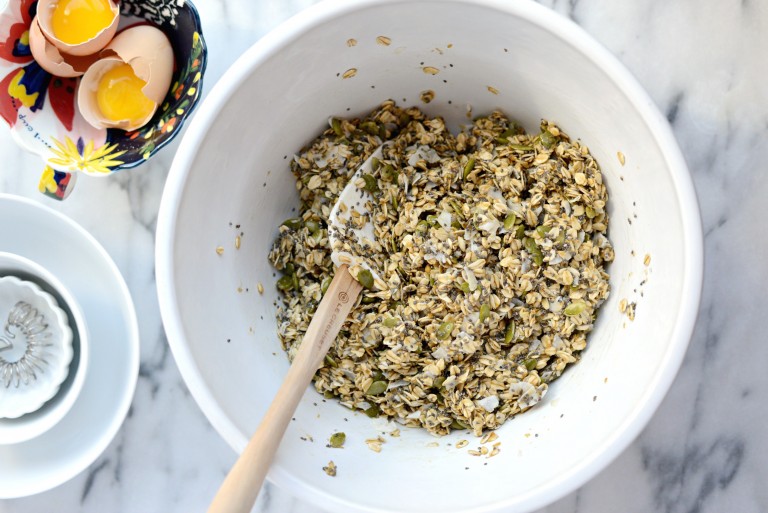 Give everything one last toss to get the egg whites mixed through out.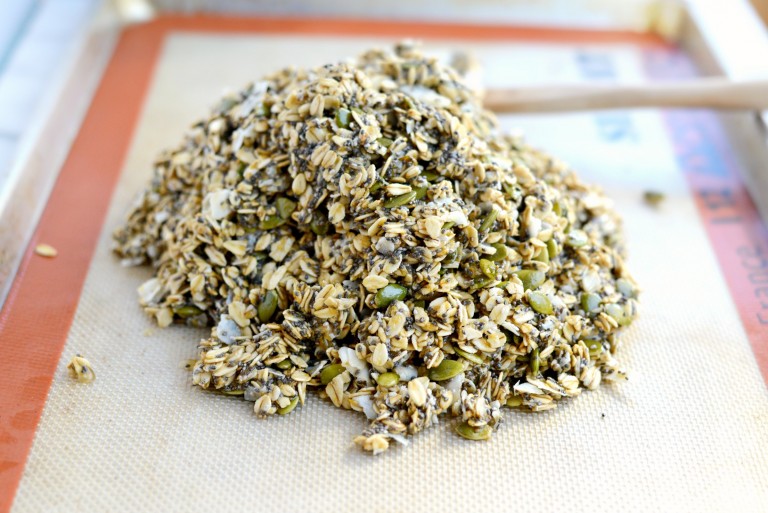 Pour the granola mixture onto a pan that has been lined with a silicone mat or parchment paper.
Use the spatula to spread it out evenly.
Slide the pan into a preheated 325 degree oven and bake for 10 minutes. Rotate the pan and continue to bake for 10 to 15 minutes longer or once the granola is golden brown.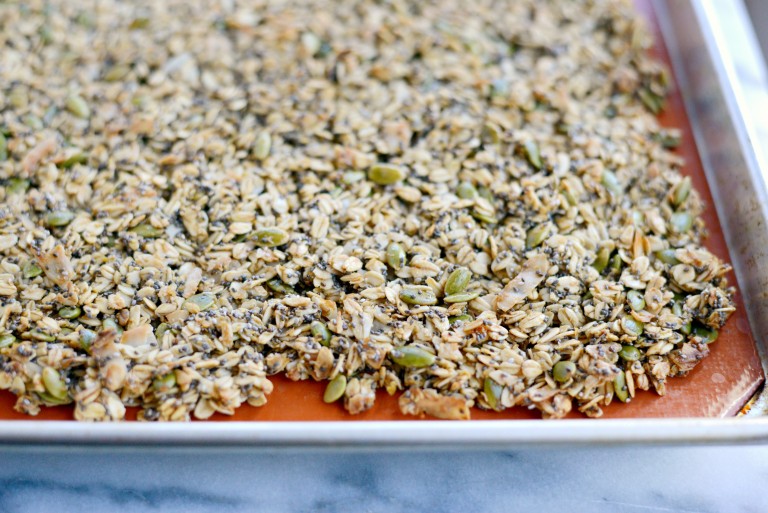 Allow the chia seed granola to cool for at least 30 minutes. During this time the granola will crisp up a smidgen more.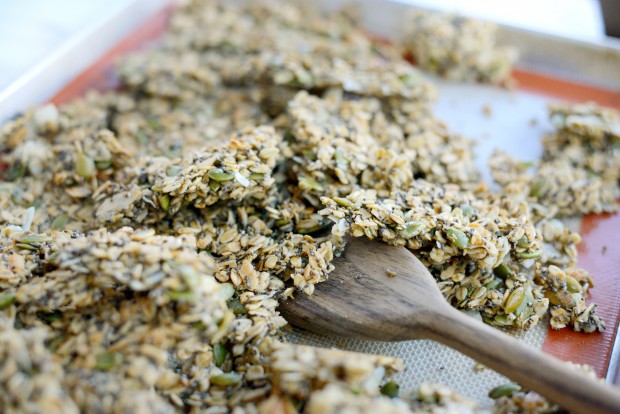 Once the chia seed granola has cooled use a wooden spatula to break it up into pieces.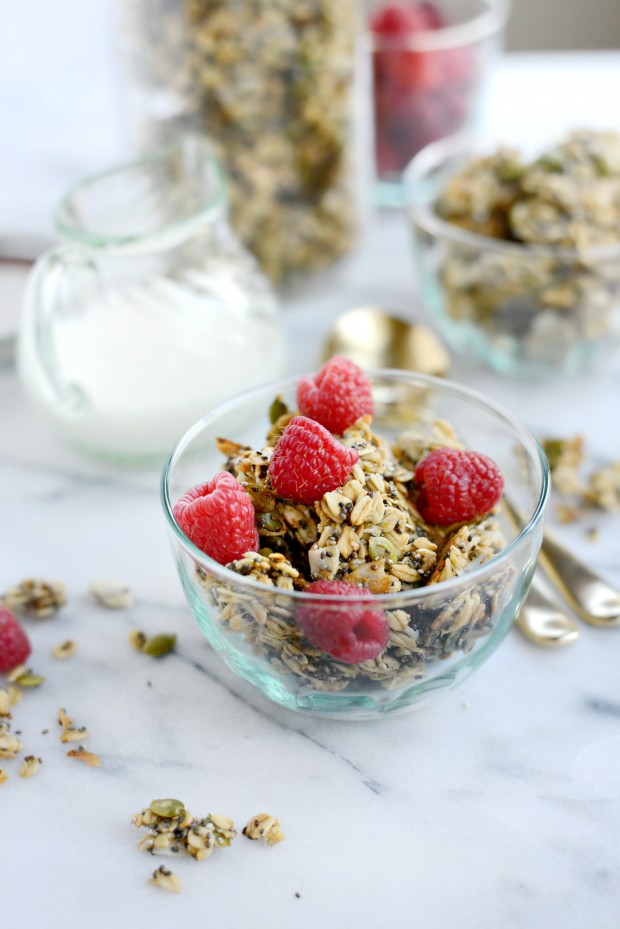 For breakfast or for a snack, I drop in fresh fruit. Today it's fresh raspberries, tomorrow could be bananas and blueberries or any fresh seasonal fruit I have on hand at the time. Dried fruits work too!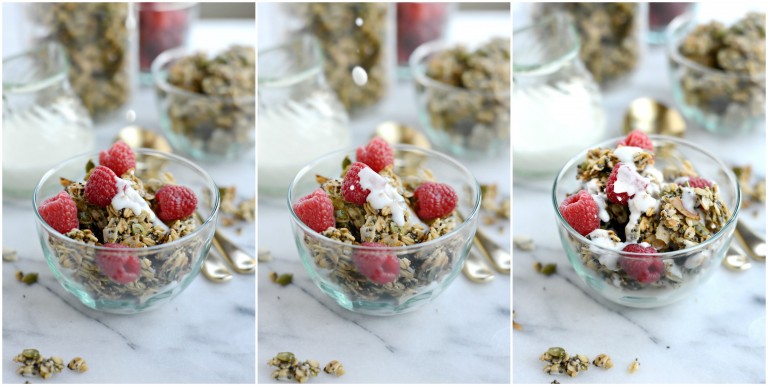 Then I drizzle with about 1/4 cup or so of vanilla kefir. Myyyy favorite.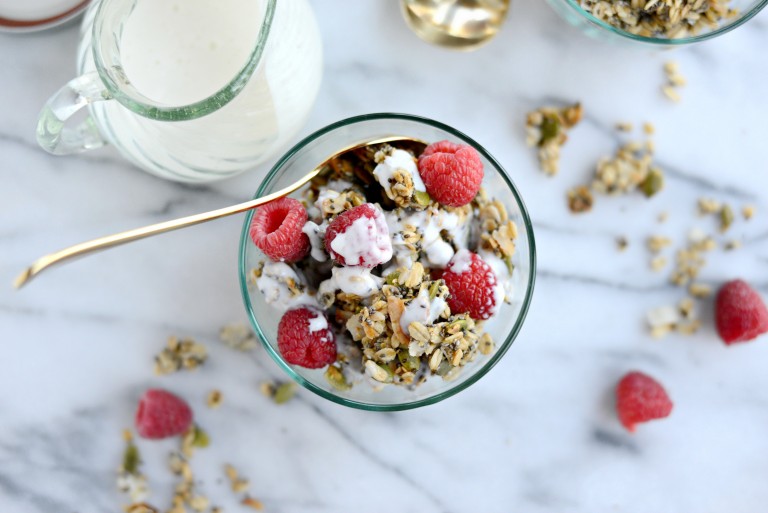 This chila seed granola will last a few weeks in an airtight container.
Confession: I like a bowl of it still a little warm from the oven. Warm granola, cold berries and kefir = YUM!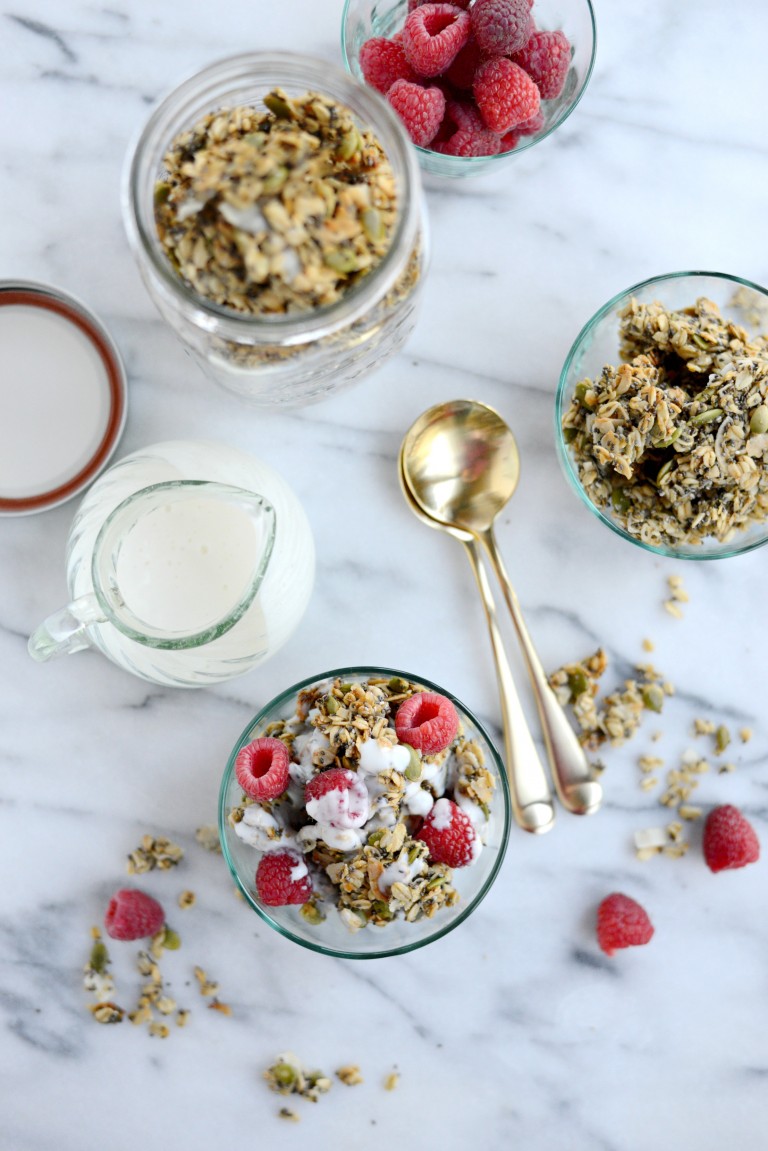 For More Granola Recipes:
Spiced Pistachio and Toasted Coconut
Soft and Chewy, Fruit and Nut Granola.
Enjoy! And if you give this Coconut Chia Seed Granola recipe a try, let me know! Snap a photo and tag me on twitter or instagram!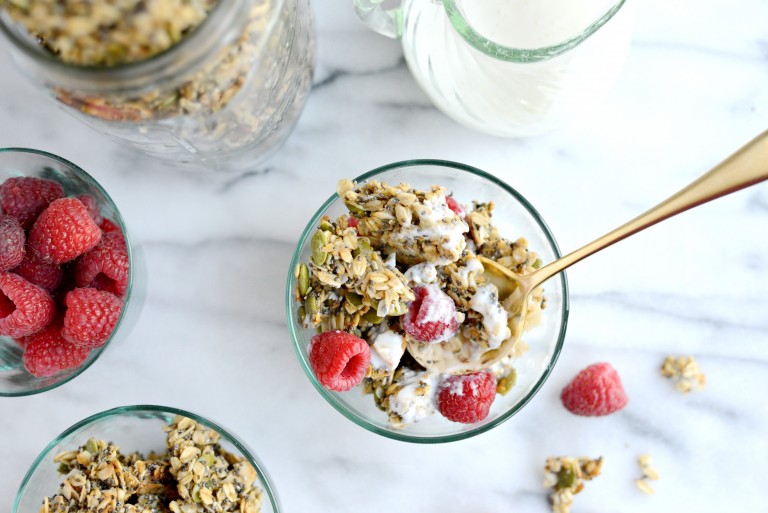 Yield: 24 servings
Coconut Chia Seed Granola
This granola is both chewy and crunchy, with an ingredient list of coconut, chia seeds, golden flax meal (for an extra omega-3 boost!), pepitas (fancy talk for pumpkin seeds) and is naturally sweetened in a bath of maple, honey, vanilla, coconut oil love.
Ingredients
1/3 cup pure maple syrup
1/4 cup unrefined coconut oil, warmed
2 tablespoons honey
3/4 teaspoon pure vanilla extract
1 pinch kosher salt
2½ cups rolled oats, I love Bob's Red Mill thick-cut oats
2/3 cup unsweetened flaked coconut, I use Bob's Red Mill
1/2 cup unsalted pepitas
1/2 cup chia seeds
1/4 cup golden flax meal, I used Bob's Red Mill
2 egg whites, beaten until frothy
Instructions
Preheat your oven to 325 degrees and line a rimmed baking sheet with a silicone liner or parchment paper.

In a medium bowl, combine the maple syrup, coconut oil, honey, vanilla and salt. Set aside.

In a large bowl, combine the oats, coconut, pepitas, chia seeds and flax meal. Pour the maple/coconut mixture into the bowl with the oats and stir to combine.

Once combined add the frothy egg whites and stir to combine. Pour the granola mixture out onto your prepared pan. Slide it onto the middle rack of your oven and bake for 10 minutes. Rotate the pan and bake for 10 more minutes or until golden.

Allow the granola to cool in the pan for 30 minutes before serving. Cool completely before storing in an airtight container for up to two months.

Serve with fresh or dried fruit, nuts, milk, yogurt or kefir.
Calories: 126kcal, Carbohydrates: 13g, Protein: 3g, Fat: 7g, Saturated Fat: 4g, Polyunsaturated Fat: 2g, Monounsaturated Fat: 1g, Trans Fat: 1g, Sodium: 9mg, Potassium: 106mg, Fiber: 3g, Sugar: 4g, Vitamin A: 2IU, Vitamin C: 1mg, Calcium: 38mg, Iron: 1mg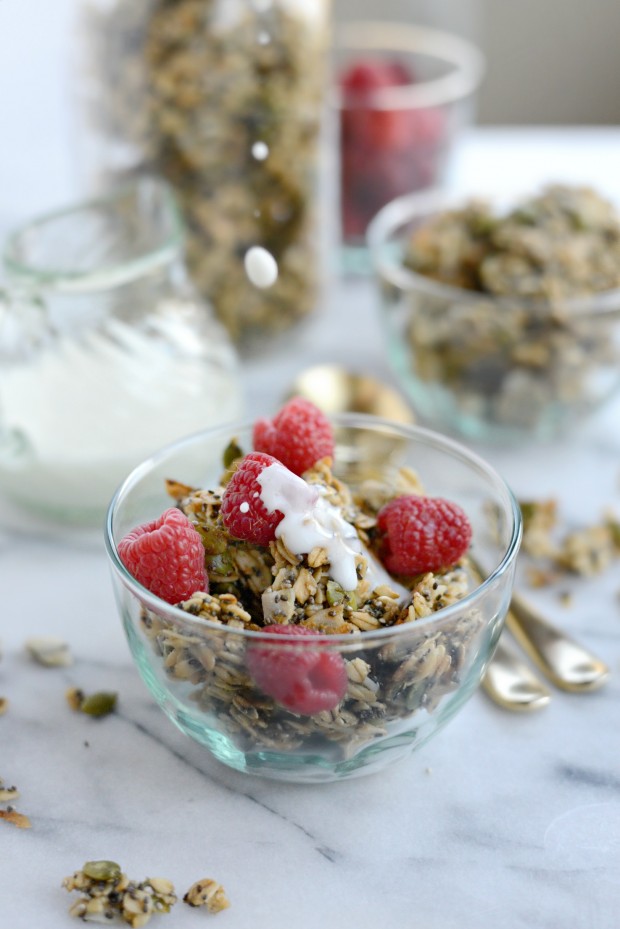 This post may contain affiliate links.
Buy the Cookbook: Simply Scratch : 120 Wholesome Homemade Recipes Made Easy Now available on Amazon »
THANK YOU in advance for your support!