I absolutely love these grilled chicken shawarma kebabs. Chicken is marinated in spices, garlic and lemon juice, then threaded and grilled! Great in wraps or in salads!
Is it ever too early for a grilling recipe? I think not.
The sun here in Michigan is shining, snow is melting and the temperature is in the high 40's and will be up in the 5o's by the end of the week! People of the Mid-West are rejoicing! So due to this "heat wave"  I've been in the mood for some grilled food. Okay-so-yeah, actually I had this meal planned and it just so happened to land on a beautiful Michigan day. Yet I still cheated and used my grill pan. #sorrynotsorry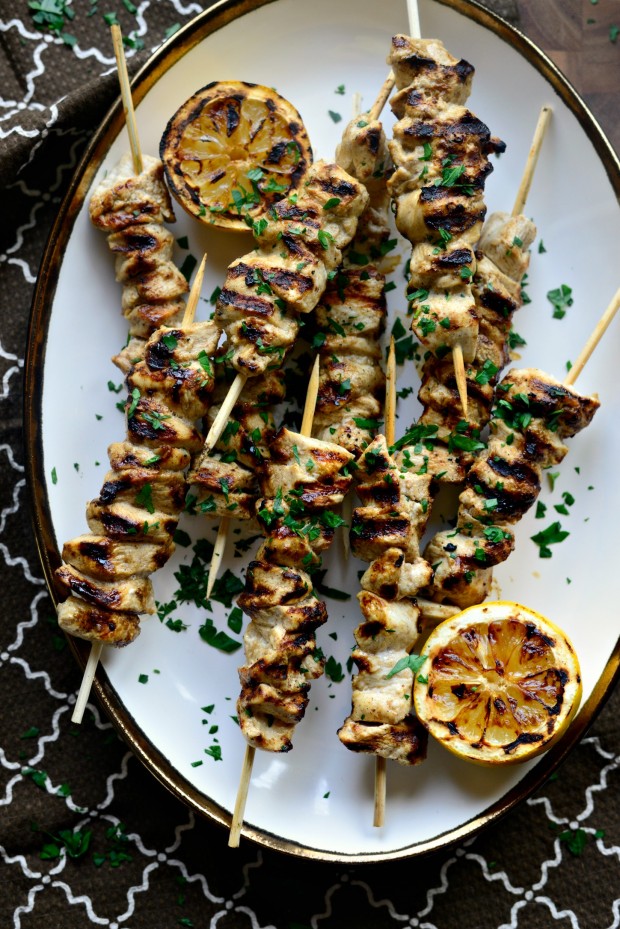 Confession: I do love love LOVE me some shawarma because the spice combination the chicken marinates in is absolutely amazing. FIVE years ago I made my Mom's recipe and even wrote a post about it. But because it called for bone-in chicken pieces to bathe in a 24 to 48 hour marination situation… I never made it again. BUT with a few alterations and using chicken breasts that have been cut into chunks- marinating now only takes 2 hours. Slide the marinated chicken onto soaked wood skewers, grill and… BOOM. Shawarma.
Now, are these not the prettiest kebabs on the planet??
Having a well developed spice drawer comes in handy in situations like this. You'll need ground white pepper, cinnamon, ground cloves and cardamom. You'll also need whole spices like nutmeg, a cinnamon stick and star anise.
First, smash and peel 6 cloves of fresh garlic.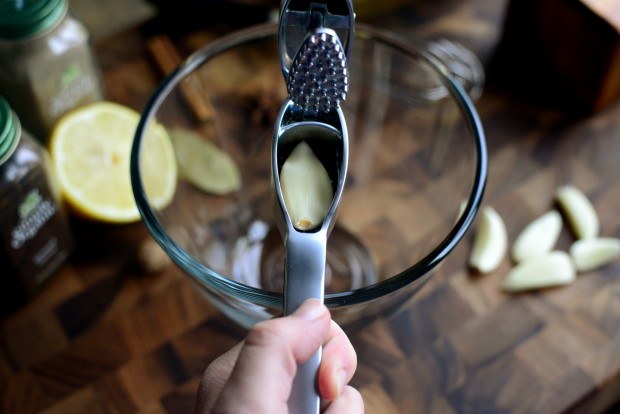 Use a garlic press and squeeze each clove through right on into a small bowl or use a microblade to finely grate.
Then add 1 teaspoon kosher salt, 1/2 teaspoon cardamom, 1/4 teaspoon cinnamon, nutmeg and ground clove.
Next pour in 3 tablespoons olive oil and 1 tablespoon white wine vinegar.
Lastly freshly squeezed lemon juice from half a lemon before whisking to combine. Set this off to the side for a moment.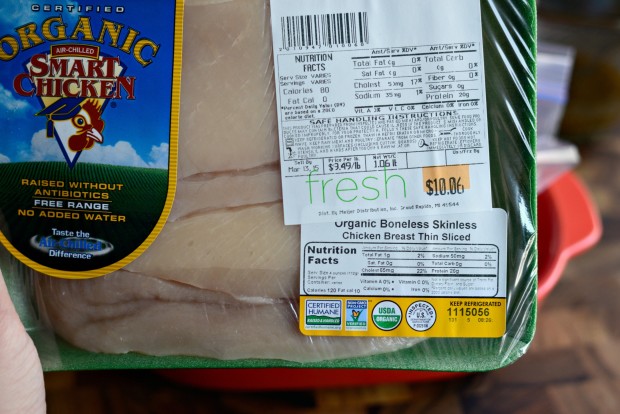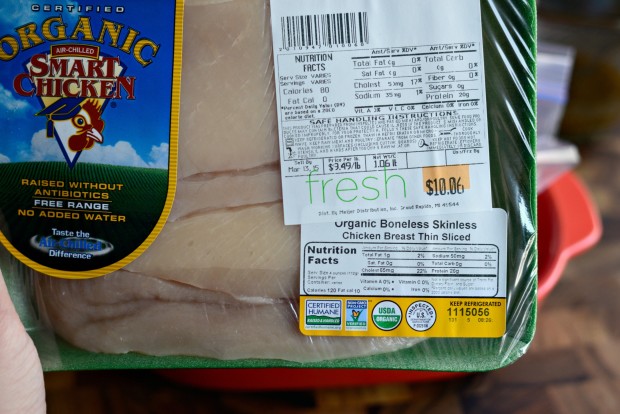 Next grab 2 pound boneless, skinless, thin-sliced chicken breasts. If you can't find thin cup or halved chicken breasts, you may want to butterfly regular chicken breasts to get thinner pieces.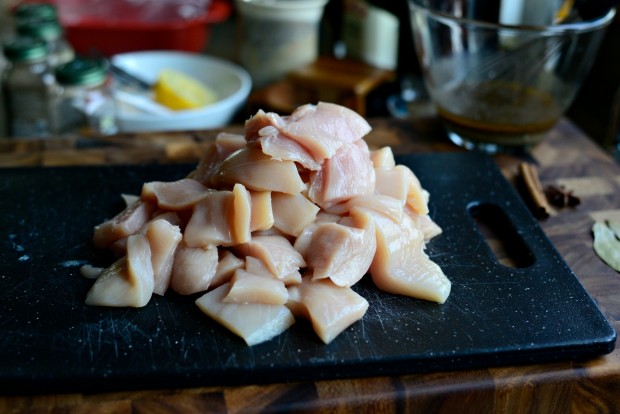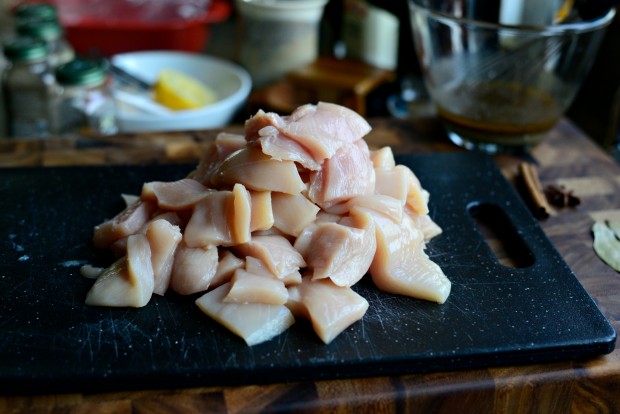 Then cube it all up into 1-1/2 inch pieces.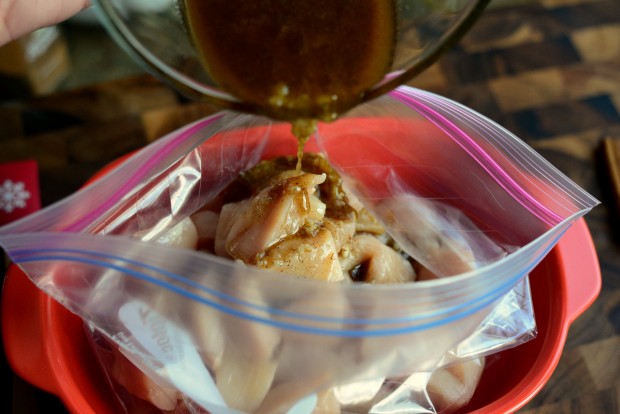 Then add the chicken into a large re-sealable bag and pour in the marinade.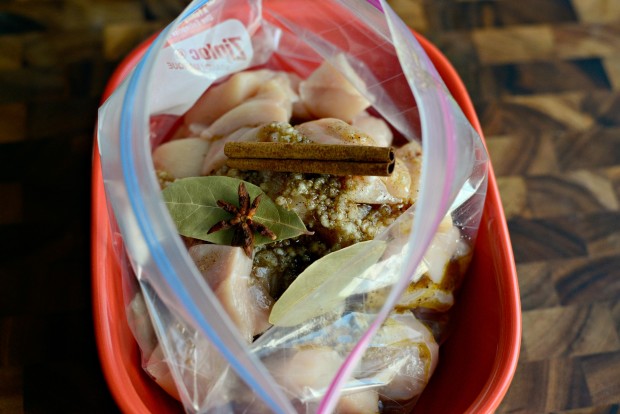 Next, add the bay leafs, star anise and cinnamon stick.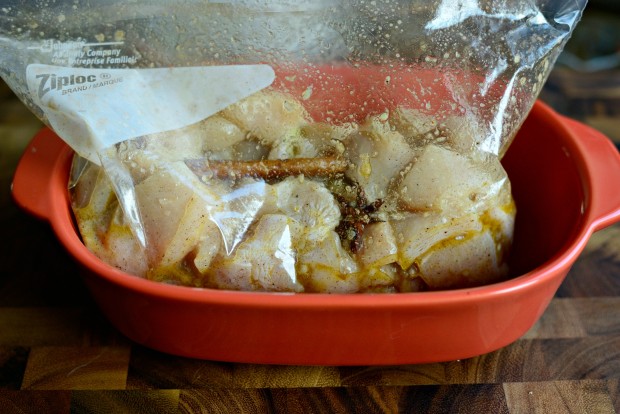 Now seal, shake, and massage it into the chicken. Pop it into the fridge and allow it to marinate for 2 hours.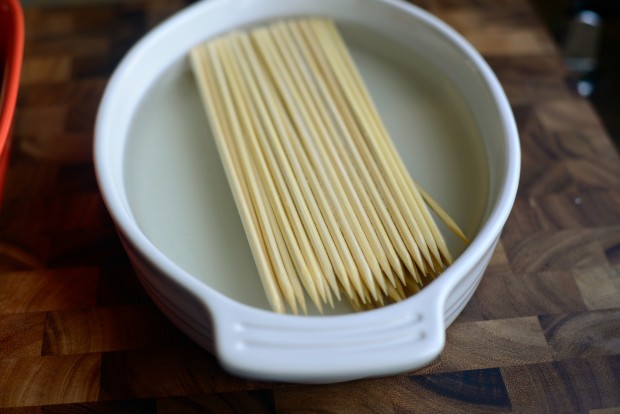 Then throw some wooden skewers into some water to soak for the time being.
Once the time is up, thread the chicken onto the skewers.
Next grill the skewers onto a hot grill pan and cook for 3 to 4 minutes a side until fully cooked.
I made and grilled these kebabs a day in advance because I knew that I had to take my daughter to dance and won't have time to "make dinner that day. so technically leftovers were for dinner and they were delicious.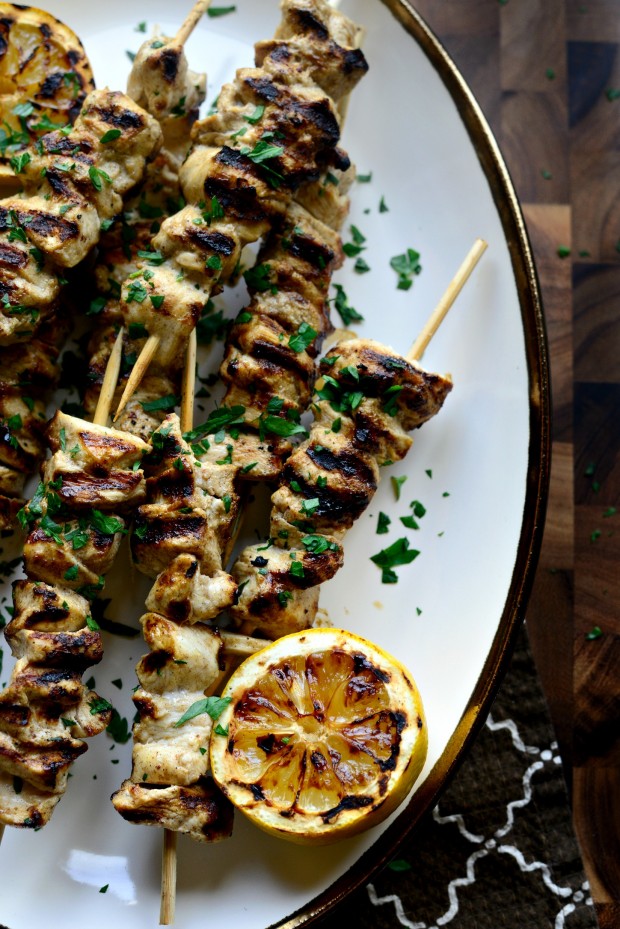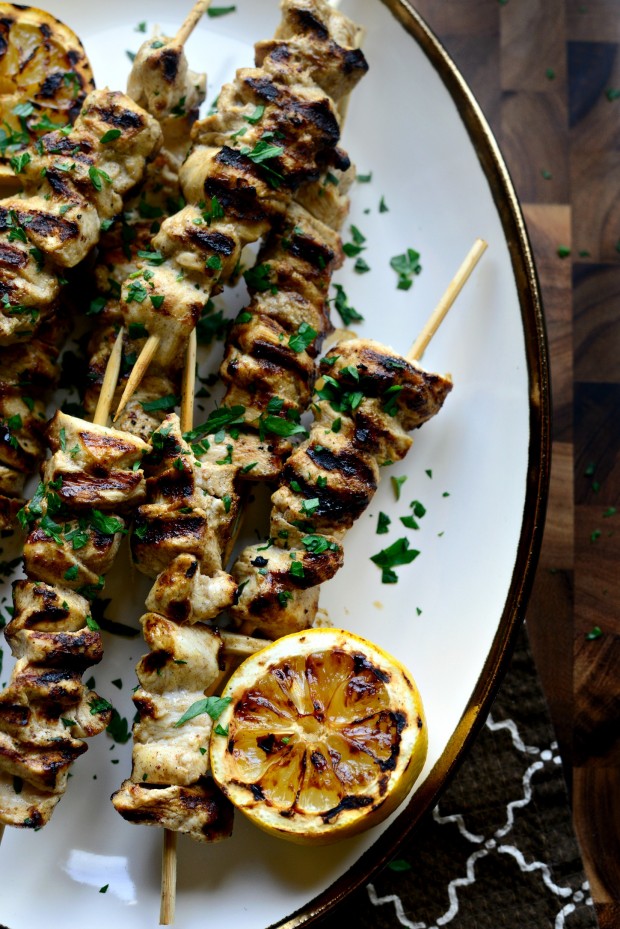 Finally serve them up with a sprinkle of fresh parsley and maybe, a few grilled lemons. However, another delicious way to eat these (besides straight off the stick) is to swipe some hummus on a pita or naan bread, top with the chicken shawarma, a little roasted veggie fareekh salad and serve next to some roasted broccoli.
It's a light, healthful grilled chicken recipe that will knock your socks off.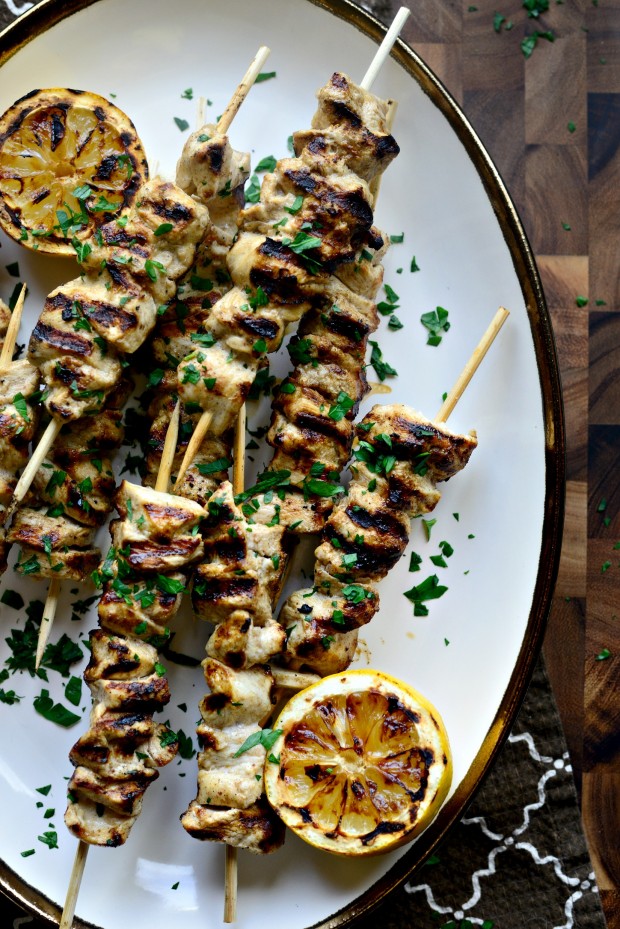 Enjoy! And if you give this Grilled Chicken Shawarma recipe a try, let me know! Snap a photo and tag me on twitter or instagram!
My cookbook Simply Scratch : 120 Wholesome Homemade Recipes Made Easy is now available! CLICK HERE for details and THANK YOU in advance!
Yield: 5 servings
Grilled Chicken Shawarma Kebabs
It's a light, healthful grilled chicken recipe that will knock your socks off. Yields 10 kebabs.
Ingredients
2 pounds boneless skinless chicken breast halves, cut into 1½ inch pieces
6 cloves garlic, grated or squeezed through a garlic press
1 teaspoon kosher salt
1 teaspoon ground cardamom
1/4 teaspoon white pepper
1/4 teaspoon ground cinnamon
1/8 teaspoon ground clove
1/8 teaspoon freshly ground nutmeg
2 bay leaves
1 cinnamon stick
1 star anise
2 tablespoons lemon juice
3 tablespoons extra light olive oil
1 tablespoon white wine vinegar
10 wooden skewers, soaked in water for at least 1 hour
Instructions
In a small bowl combine the garlic, salt, cardamom, white pepper, cinnamon, nutmeg and clove. Add the lemon juice, olive oil and vinegar. Whisk to combine and set off to the side.

Place the cube chicken into a large re-sealable bag. Pour the marinade over top and drop in the bay leaf, cinnamon stick, star anise. Seal the bag and shake the bag, massaging the marinade into the chicken. Place the bag into a shallow bowl and refrigerate for 2 hours.

Preheat your grill or grill pan to medium-high. Slide the marinated chicken onto the soaked skewers. Working in batches, grill the chicken on all sides until the chicken is opaque and fully cooked.

Serve immediately.
Serving: 2kebabs, Calories: 293kcal, Carbohydrates: 3g, Protein: 39g, Fat: 13g, Saturated Fat: 2g, Polyunsaturated Fat: 2g, Monounsaturated Fat: 8g, Trans Fat: 1g, Cholesterol: 116mg, Sodium: 677mg, Potassium: 705mg, Fiber: 1g, Sugar: 1g, Vitamin A: 61IU, Vitamin C: 6mg, Calcium: 28mg, Iron: 1mg
[this post contains affiliate links.]
This post may contain affiliate links.
Buy the Cookbook: Simply Scratch : 120 Wholesome Homemade Recipes Made Easy Now available on Amazon »
THANK YOU in advance for your support!