In these stuffed mushrooms, garlic, herbs, cheese and bread crumbs stuffed into mushrooms, topped with more cheese and baked. A deliciously light appetizer.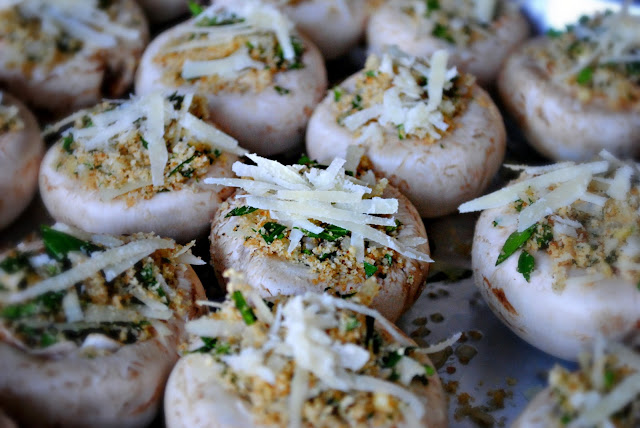 It was December 29th and my Mom's side of the family was getting together to celebrate the holidays, catch up, eat some good food and play the ever-so-fun "white elephant" game!
What's the "white elephant" game you ask?
Well it's this game where you get a decent gift, like lotto tickets, whiskey or a gift card worth 20 bucks, but sometimes it's in the same bag as some horrific gift. In this game; there's stealing, strategy, locking gifts. And if the gift you picked is something you wear, well you have to put it on in front of everyone. I think someone had to wear a gypsy costume once… not sure, but It can get downright cruel… I LOVE IT!
For many years it was an overly festive Christmas sweatshirt with built in turtleneck, which would come back in another gift the next year, and then the next. I am now the lucky owner of that swea-turtle-shirt and it is tucked away in my closet where it will stay… forever! There was also this "scary doll" made out of cotton batting, nylons and had a wig. She wore out dated children's clothing and shoes, she was meant to stand with her face freakishly in the corner of whichever room you put her in. As if anyone would actually put her in a room at all! It was like she was in the naughty corner.
My sister's dog tore her up, so she is no longer with us. RIP scary doll, a shame, truly.

So every year this get together happens and everyone brings a dish to pass… and this year I planned on bringing these stuffed mushrooms, a Giada De Laurentiis recipe. It was really easy to put together and you should be able to find all the ingredients in your local grocery store. I only adjusted the recipe to fill these ginormous gourmet stuffing mushrooms… and that was pretty easy peasy too.
To Make These Italian Stuffed Mushrooms You Will Need:
gourmet stuffing mushrooms, stemmed
Italian dried bread crumbs
Pecorino Romano cheese
garlic cloves, peeled and minced
chopped fresh Italian parsley leaves
chopped fresh mint leaves
kosher salt
freshly ground black pepper
olive oil
Here are the simple ingredients. These are what drew me to this recipe in the first place. I can't stand a recipe that calls for fancy hard to find ingredients. Well, except for that flaked sea salt I traveled all over town for just to sprinkle on those salted fudge brownies, but that was worth it!!
Lightly oil a sheet pan or spray with olive oil.
Remove the stems by pressing gently on the stem until it gives.
Line up all the mushroom caps on the oiled sheet pan.
Grate the pecorino romano cheese on the large holes box grater. Snag a piece or two for a snack. 😉
And measure out a cup, plus some more for sprinkling. Snag a few more pieces.
Grab the fresh parsley, and tear off about a handful.
Now just give it a good chop. You don't want any huge pieces.
Repeat with fresh mint.
Chop it up as well.
Move on to the garlic. You only need two large or three small, but make sure they aren't puny ones.
I love mincing garlic, it make me feel like Giada. That and when I say Pecorino Romano, I say it with my Italian accent… is that creepy? Sorry.
So you should have beautiful mound of herbs and garlic.
Measure out 3 tablespoons of the fresh parsley.
And two tablespoons of the chopped mint.

Now add the bread crumbs, garlic and cheese into a bowl.
Add some fresh cracked black pepper, eye ball it.
And a good pinch of kosher salt.
Looking back I probably should have painted my nails.
Add in a tablespoon of the light olive oil.
Mix until everything is incorporated and slightly moist.
Begin filling the mushrooms with a tablespoon of the mixture until all the mushroom caps are filled equally.
Top with a little extra Pecorino.
I was tempted to just try them raw, I mean seriously… look at them!
Bake in a preheated 400 degree oven for 20-25 minutes, or until cheese is melted and slightly golden.
Serve warm!
Since I was bringing these to an evening party and it is winter, I knew the natural light would be, well nil. So I baked one mushroom off in the oven to snap a photo before the sun was gone. Okay, so that and I wanted a taste test. 🙂
Enjoy! And if you give this Stuffed Mushroom recipe a try, let me know! Snap a photo and tag me on twitter or instagram!
Yield: 12 serving
Gourmet Stuffed Mushrooms
In these stuffed mushrooms, garlic, herbs, cheese and bread crumbs stuffed into mushrooms, topped with more cheese and baked. A deliciously light appetizer.
Ingredients
28 ounces gourmet stuffing mushrooms, stems removed
3/4 cup Italian seasoned breadcrumbs
1 cup Pecorino Romano cheese, grated
2 cloves garlic, peeled and minced
3 tablespoons Italian parsley leaves, chopped
2 tablespoons mint leaves, chopped
kosher salt, to taste
freshly ground black pepper, to taste
1/3 cup extra light olive oil
Instructions
Preheat the oven to 400° and spray a heavy sheet pan with olive oil or line with parchment.

Stir the breadcrumbs, 3/4 cup of the Pecorino Romano, garlic, parsley, mint, salt and pepper (to taste), and add 3-4 tablespoons of olive oil to the mixture and stir.

Spoon filling evenly in each mushroom and top with the remaining 1/4 cup Pecorino Romano.

Drizzle with remaining Olive oil and bake until the mushrooms are tender and the filling is heated through and golden on top, about 25 minutes. Serve warm.
Serving: 1g, Calories: 130kcal, Carbohydrates: 8g, Protein: 6g, Fat: 9g, Saturated Fat: 2g, Polyunsaturated Fat: 1g, Monounsaturated Fat: 5g, Cholesterol: 9mg, Sodium: 205mg, Potassium: 247mg, Fiber: 1g, Sugar: 2g, Vitamin A: 169IU, Vitamin C: 3mg, Calcium: 109mg, Iron: 1mg
This post may contain affiliate links.
Buy the Cookbook: Simply Scratch : 120 Wholesome Homemade Recipes Made Easy Now available on Amazon »
THANK YOU in advance for your support!