Homemade Banana Bread starts with roasted bananas and ends with delicious streusel crumble topping. Slice warm and spread with butter.
One year, a ton of recipes and several thousand dirty dishes ago, my first post was *brace yourself* Bananarama Bread.
I think I was trying to be clever or funny or something with that title, but let's be real, it really is kind of dorky. The one thing I've learned over the past year is try to avoid those kinds of titles. Sure I have My Big Fat Greek Salad Dressing, but that's cool. right?
Needless to say I took down that banana bread post… well for several reasons; the horrific title… the equally horrific spelling, grammar and punctuation errors… and mostly because of the photos. I am still learning about photography and lighting etc, but even I know that every shot in that post was bluish. A bunch were a bit blurry and there was one to many step-by-step pictures! To look back and actually think that was my idea of quality work is astounding… it almost makes me cringe with embarrassment! …almost.
Of course I'm gonna share some of those beauties later in this post!
So since I am approaching my anniversary date of Simply Scratch… what better than to remake and re-post the very first blog recipe I posted!! But just a bit improved. The original banana bread post took me something like 4 hours to photograph (hence the to many step-by-step pics) and even more hours of figuring out what I was going to say and who exactly was I saying it to? If it wasn't for my sister Christine's helpful lighting instructions and the encouragement of my best friend Nichole and my husband Pat, I would have given up on blogging entirely.
My point is that all us bloggers start somewhere, some are blessed from the get go with a D-SLR and "the know how" of how to use it… others learn as they go. For me it was the latter… but it all started with this recipe and a Canon point-and-shoot. Except in this version I decided to bake my bananas instead of waiting for them to ripen and add some nutmeg to the batter.
Other than that this is my first, my baby… my *gulp* Bananarama Bread.
To Make This Homemade Banana Brad You Will Need:
unripe bananas
1 teaspoon ground cinnamon
1/4 teaspoon fresh grated nutmeg
1 tablespoons whole milk
2 cups all-purpose flour
1 teaspoon baking powder
1 teaspoon baking soda
1 teaspoon kosher salt
8 tablespoons (1 stick) unsalted butter, room temperature save the wrapper
1 cup granulated sugar
2 large eggs
Start off by preheating your oven to 350° and placing 3 bananas on a baking sheet.
Bake for 15 minutes in the oven and then remove. The bananas should be soft and the peels a dark brown. Reduce the temp of the oven to 325°.
Once the bananas have cooled a bit and are safe to handle, remove the peels and place the baked bananas in a bowl. Add in 1 teaspoon of cinnamon and 1/4 teaspoon freshly grated nutmeg.
Give a good mash and mix.
Pour in the milk. I always use whole milk in all my recipes.
And mash some more. Now set aside.
In a large bowl, add 2 cups all-purpose flour, 1 teaspoon baking powder, 1 teaspoon baking soda and 1 teaspoon kosher salt.
Whisk well until all ingredients are combined, set aside and get cracking on the batter.
Add 1 stick (8 tablespoons) softened butter and 1 cup granulated sugar into the bowl of your stand mixer.
Mix until it is light and fluffy.
Next, add in two eggs, one at a time.
Mixing well after each egg until incorporated.
Next add in the banana mixture.
Mix until combined.
Add a spoonful at a time of the flour mixture until all it is combined and absorbed. Don't over mix.
Look at those banana chunks!!
Butter and line a loaf pan with parchment paper.
Pour in the batter and smooth it out with a spatula… go ahead and give it a tap to settle. Bake on the middle rack in your preheated 325 degree oven for 40 minutes.
When there is roughly 10 minutes left on the timer you will want to make the streusel topping. Start off with 4 tablespoons of cold butter, 1/3 cup dark brown sugar, 1/3 cup flour and 1/4 teaspoon of cinnamon.
Next with a pastry cutter or a fork cut the butter in to the brown sugar, flour and cinnamon.
If you're using unsalted butter add a small pinch of salt, if you are using salted butter then you can skip this step entirely. Obviously. 😉
Next, measure out a heaping 1/3 cup of chopped walnuts or more if you want. You can buy whole walnuts and give them a chop but I found some pre-chopped ones in my fridge…bonus!
Also a good tip to know is to keep your nuts in the fridge, they have natural oils that can go rancid as they sit in your pantry or cupboard shelf… so always keep them in the fridge or freezer.
And then add those into the bowl.
It was at this point I thought pecans would be yummy too!
Hmmm I'll have to try that next time!
Then give it a stir. Place back into the fridge but only if there is still some time left on the clock. Otherwise…
Pull out the banana bread. It should be slightly golden and still jiggly.
Next, evenly coat the bread with the walnut mixture. I use it all and so should you!!! 🙂
The walnuts will try to fall down to the side of the pan but the parchment paper keeps them from falling off so try to evenly distribute the nuts.
Then bake for an additional 20-25 minutes or until a tester comes back clean.
Let cool before removing and slicing!
Then, using the parchment paper as "handles" to get it out of the pan helps… if the handles don't rip off like they did for me! HA!
Now get your bread knife and slice it up. I like slicing mine thick… it is banana bread after all… so it's healthy… right??
You could stop here, or you could…
Lastly, spread some butter on it!
I have to confess, the streusel is my favorite part!!
Before I say "Enjoy" I have to tell you that this post wouldn't be complete without a little reminder of why this recipe redo was so important to me. Brace yourself.
Ready, set, go.
See what I mean??!! 🙂
So here is to a new year of yummy recipes with normal recipe titles!! But something tells me there still may be one to many step-by-step pics! 😉
Enjoy! And if you give this Homemade Banana Bread recipe a try, let me know! Snap a photo and tag me on twitter or instagram!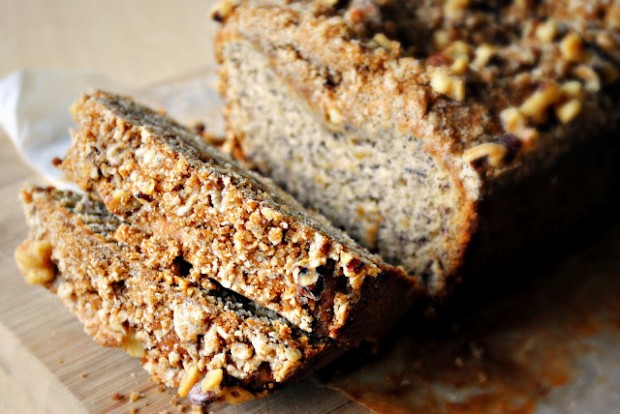 Yield: 1 loaf
Banana Bread with Streusel Topping
Roasted bananas, crumbly streusel topping... my favorite banana bread EVER!
Ingredients
3 bananas, unripe
8 tablespoons unsalted butter, room temperature save the wrapper
1 cup granulated sugar
2 large eggs
1 tablespoons whole milk
1 teaspoon ground cinnamon
1/4 teaspoon grated nutmeg
2 cups all-purpose flour
1 teaspoon baking powder
1 teaspoon baking soda
1 teaspoon kosher salt
FOR THE STREUSEL TOPPING:
1/3 cup all-purpose flour
1/3 cup dark brown sugar
1/4 teaspoon ground cinnamon
4 tablespoons cold unsalted butter
1 pinch kosher salt
1/3 cup walnuts, chopped
Instructions
Preheat oven to 350°.

Place bananas (peel left on) onto a baking sheet.

Slide the bananas into your preheated oven and bake for 15 minutes. Bananas should be soft and the peels should be dark black.

Once roasted, remove the bananas and reduce the temperature of the oven to 325°F and butter and line a 9 x 5 x 3-inch loaf pan. Once the bananas are cool, mash with a fork.

In the bowl of your stand mixer, cream the sugar and butter in a large mixing bowl on medium speed until light and fluffy. Add the eggs one at a time, beating well after each addition.

Add in the mashed the bananas, cinnamon, nutmeg and milk.

In separate bowl, whisk together the flour, baking powder, baking soda and salt. And add to the bowl with the bananas.

Pour batter into prepared pan and bake 40-45 minutes.

Meanwhile, in a mixing bowl, combine the butter, flour, dark brown sugar in a medium bowl. Using a pastry cutter, blend the ingredients. Add a small pinch of salt, and the chopped walnuts and toss.

After 40 minutes remove and sprinkle on topping evenly and bake for 20-25 more minutes or until a toothpick inserted in the center comes out clean. Set aside to cool on a rack for at least 15 minutes.

Slice and spread with honey or serve with ice cream, but I like mine still warm with butter!
Serving: 1slice, Calories: 4052kcal, Carbohydrates: 586g, Protein: 55g, Fat: 176g, Saturated Fat: 93g, Polyunsaturated Fat: 27g, Monounsaturated Fat: 43g, Trans Fat: 6g, Cholesterol: 735mg, Sodium: 4044mg, Potassium: 2065mg, Fiber: 21g, Sugar: 317g, Vitamin A: 5005IU, Vitamin C: 31mg, Calcium: 538mg, Iron: 19mg
This post may contain affiliate links.
Buy the Cookbook: Simply Scratch : 120 Wholesome Homemade Recipes Made Easy Now available on Amazon »
THANK YOU in advance for your support!