Creamy Wheat Cereal with Fruit and Nuts, a childhood favorite reimagined.
This isn't a gourmet sort of breakfast, there aren't a whole lot of ingredients and you may even say at the end of the post "Jeez Laurie, I could have thought of that!" And then I would have to come back with the ever so witty "Well this is my blog, so there!"
My excuse is that I was about to make my lunch, sometimes I have breakfast for lunch, so what? And I thought this would make a fun post! It was a sunny, winter morning afternoon and when you live in a place like Michigan you need to jump on the sunshine. So instead of doing the grocery shopping I made lunch.
I have to admit; sometimes I need more breakfast options, and especially in the winter. I can only have oatmeal or peanut butter and jelly toast so often, and cold fruit doesn't really appeal to me in the cold weather months, know-what-I-mean? So here is another warm and toasty breakfast option that takes less than five minutes to throw together. And who doesn't like to hear "less than 5?"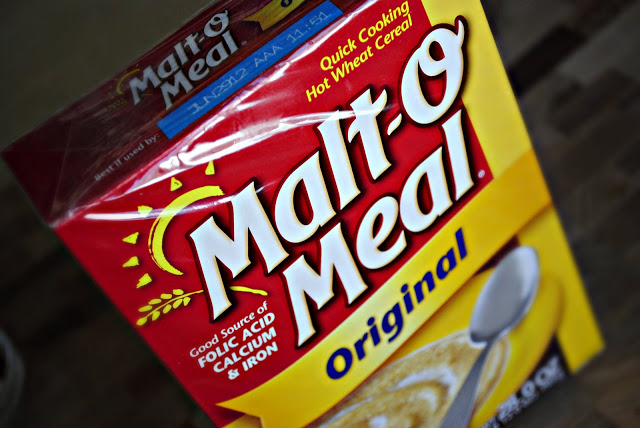 What is Malt-o-Meal?
Similar to cream of wheat, Malt-o-Meal is a ground wheat farina and malted barley that's served hot with sweet toppings.
As a kid I loved this cereal with warm milk and topped with lots of honey. I don't think my Mom knows how much I would use per serving!! Now, as a slightly older kid, I still like it with a lot of honey but with a few other toppings as well.
Now, did you know Malt-o-Meal is good for you?
In one serving there are loads of vitamins and minerals! Hey all you ladies out there, check out the folic acid! Especially all of you in your childbearing years *ahem my preggo bff Nichole… this means you*!
So today I say move over oatmeal, there's a not-so-new hot cereal in town. Malt-o-Meal is just so versatile and with all the different toppings in the world… the sky's the limit! Why not try this instead of oatmeal for a change?
To Make this Creamy Wheat Cereal You Will Need:
milk, plus more for finishing
kosher salt
Malt-o-Meal cereal
1 teaspoon sliced almonds
1 teaspoon dried cherries
1 teaspoon honey, for drizzling
Maybe you don't have dried cherries, that's okay! Dried blueberries or cranberries would be fab too! And if you don't have almonds, try walnuts or pecans… you really can't go wrong here! Unless you forget the honey, that would be a tragedy!
For one serving just pour 1 cup of whole milk into a small sauce pan.
Stir in 1/8 teaspoon of kosher salt.
Heat until it starts to form little bubbles, like foam.
Don't walk away here or your milk will over flow and dirty your stove top.
Make sure you measure your 3 tablespoons malt-o-meal before hand and have it ready to add into the simmering milk.
Warm up your whisking arm, and slow and steadily pour in the malt o meal while you whisk fast.
Reduce heat and whisk for about a minute to a minute and a half. Then kill the heat. It should be thick… unless I've been making it wrong all these years?! Oh no?! 😉
Pour into your favorite bowl and add a few splashes of whole milk around the edge.
Sprinkle with almond slices, or whatever other sort of nuts you have on hand. 🙂
I love the texture of the crunchy almonds with the creamy wheat cereal, so I added a lot. I can be excessive, so what!?
Living in Michigan you have to learn to take the good with the bad. For example; our cold winters, icy and snowy roads and below zero wind chills. The good are definitely: awesome sunsets, beautiful lakes, Kid Rock and Michigan cherries – just to name a few.
Sprinkle with as many dried cherries as you would like. I like a lot of these too!
Drizzle with honey.
Enjoy! And if you give this recipe a try, let me know! Snap a photo and tag me on twitter or instagram!
Yield: 1 serving
Creamy Wheat Cereal with Fruit & Nuts
Creamy Wheat Cereal with Frut and Nuts, a childhood favorite reimagined.
Ingredients
1 cup milk, plus more for finishing
1/8 teaspoon kosher salt
3 tablespoons Malt-o-Meal cereal
1 teaspoon sliced almonds
1 teaspoon dried cherries
1 teaspoon honey, for drizzling
Instructions
Bring milk and salt up to a boil on high heat.

Reduce the heat to medium-low and pour in the cereal while whisking for 1 1/2 to 2 minutes.

Remove from heat and pour into a bowl.

Sprinkle with almonds and cherries, then drizzle with desired amount of Honey.
Serving: 1g, Calories: 322kcal, Carbohydrates: 44g, Protein: 13g, Fat: 11g, Saturated Fat: 5g, Polyunsaturated Fat: 1g, Monounsaturated Fat: 4g, Cholesterol: 24mg, Sodium: 434mg, Potassium: 406mg, Fiber: 2g, Sugar: 21g, Vitamin A: 570IU, Vitamin C: 1mg, Calcium: 507mg, Iron: 10mg
This post may contain affiliate links.
Buy the Cookbook: Simply Scratch : 120 Wholesome Homemade Recipes Made Easy Now available on Amazon »
THANK YOU in advance for your support!