This rustic Tomato Tart is a great way to use up your garden tomatoes! Homemade pie crust spread with Dijon mustard, chopped olives, sliced fresh tomatoes, herbs and topped with lots of cheese.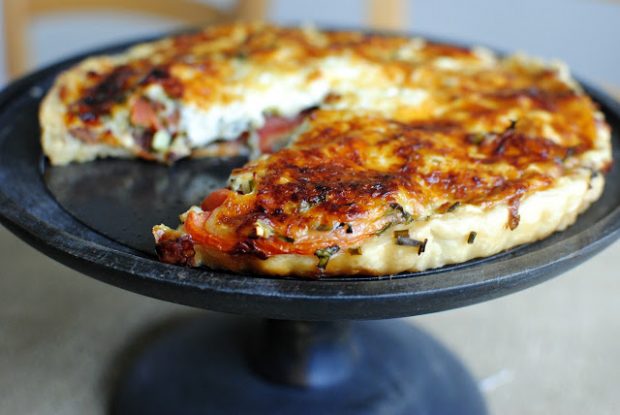 Today I made you a tomato tart.
This is the tomato tart that ruined my dinner appetite. It's delicious! This is another one of my Mom's glorious recipes. And since most of her recipes don't give exact measurements, I had to improvise.
The moment I slide this tart out of my oven and the aroma of tomato-basil-mozzarella-baked-pie-crust I swooned. To reward myself I had not one, but two slices. Then I packaged the rest up and gave it to my friend, before I lost all self control. Let those calories be her problem, right? Is that mean?
Whether you use my recipe or your own… that's up to you! My recipe makes two 9 in pies, luckily because the first crust bit the dirt, hard.
After the dough rests, roll it out to fit a 9 in tart pan (I just picked my pan up today while shopping for the ingredients)! Then roll it up onto the rolling pin and gently lay it over the pan. Fit it into the corners and up against the sides.
I use my rolling pin and roll it over the top to sever the dough away from the pan.
Prick with a fork.
And weigh it down with a little foil and some dried beans.
I did have some pie weights somewhere around this place but couldn't find them. Just pop the tart onto a rimmed baking sheet (because of the whole false-bottom-pan thing) and slide it into a preheated 450° oven for 8-10 minutes.
Remove the foil and beans, and let cool completely for 1 to 2 hours.
TO Make This Tomato Tart You Will Need:
Roma tomatoes
Dijon mustard
kalamata olives
garlic
mozzarella cheese
parmesan cheese
greek yogurt or mayonnaise
chives
basil
black pepper
kosher salt
Here is all the goodies that will be jammed packed into the tart. The two most surprising ingredients to me are the Dijon mustard and the olives. So surprising, so delicious you won't want to leave them out! Even if you don't like olives… TRY IT!
While the tart is baking and cooling, slice a lot of Roma tomatoes. I sliced 5, which may have been a bit over kill however I picked out my favorite juicy slices and saving the unused ones for pico! In other words, you really only need 3 to 4.
Lay them all out on a couple layers of paper towel, and if you have the time try to separate the gooey stuff from the tomato… you don't want that in your tart.
Prepping the rest is a breeze. Roughly chop a handful of Kalamata olives. You need 1/4 cup.
Smash, peel and mince 4 cloves of garlic.
Roll the basil tight and slice it into thin ribbons. You need 2 tablespoons.
Slice 2 tablespoons of chives.
Lastly, grate 1 and 1/2 cups of Mozzarella and 1/2 cup of Parmesan.
Now. Let us build this tomato tart.
Once the shell has cooled, thinly spread some Dijon mustard all over the bottom. An offset spatula or back of a spoon will work here.
Scatter the chopped olives over the dijon.
Top with just a little of the mozzarella.
Layer the cheese and olives with the sliced tomato, I could've/should've/would've sliced those thinner, right?
Dust with a 1/8 teaspoon white pepper, a sprinkle of kosher salt, remember there are salty-brine-y olives in there so don't overdo it with the salt. Sprinkle the minced garlic on top of the maters.
Scatter two tablespoons of the fresh chives and two tablespoons of the fresh basil evenly over top.
Sprinkle just a little more cheese.
Then quickly mix 1/2 cup Greek yogurt with the remaining cup of mozzarella and 1/2 cup of Parmesan and stir and.
Using your IMPECCABLY clean hands, smear it on top! Pop this tomato tart back on to the rimmed sheet pan and into a 375° oven for 40-50 minutes. Watch it closely, and when it's all golden you know it's good to come out!
Can you smell it??
Let cool for about 15 minutes before slicing.
This tomato tart makes an excellent brunch or dinner in my case since it cancelled any and all dinner plans I was thinking of having. But so, so worth it.
Enjoy! And if you give this Tomato Tart recipe a try, let me know! Snap a photo and tag me on twitter or instagram!
Yield: 6 servings
Elegant Tomato Tart
This rustic Tomato Tart is a great way to use up your garden tomatoes! Homemade pie crust spread with Dijon mustard, chopped olives, sliced fresh tomatoes , herbs and topped with lots of cheese.
Ingredients
1 half recipe homemade pie crust
2 to 3 Roma tomatoes, more or less depending on size
2 tablespoons dijon mustard
1/4 cup chopped kalamata olives
1½ cups mozzarella cheese, freshly grated, divided
4 cloves garlic, minced
2 tablespoons fresh basil, sliced into thin ribbons
2 tablespoons fresh chives, chopped
1/2 cup Greek yogurt, or mayonnaise
1/2 cups parmesan cheese, freshly grated
1/8 teaspoon black pepper
1 pinch kosher salt
Instructions
Make your favorite pie crust recipe. Roll it out and fit it into a 9 inch tart pan with removable bottom (a 9 inch shallow pie dish would work as well). With a fork, prick holes in the bottom of the crust, place some foil down and weigh it down with dried beans or pie weights. Partially bake the crust for 8-10 minutes in a 450° oven. Let cool completely before assembling. About 40 minutes to 1 hours.

Meanwhile, remove the stem part of the tomato and slice thin. Lay slices on a couple pieces of paper towel to drain. Remove any gooey/seedy parts and discard. Let drain while the crust cools.

When crust is cool, preheat oven to 375°.

Spread the mustard in the bottom of the crust. Top with chopped olives and 1/4 cup of mozzarella. Layer the tomatoes and season with pepper. Sprinkle the garlic, chives and basil over the tomatoes. Top with a little more mozzarella.

In a small bowl combine the 1/2 cup Greek yogurt with the remaining cup of mozzarella and Parmesan. Spread the yogurt/cheese mixture over top.

Place the tart carefully back on to the rimmed sheet pan and place back into the oven for 40-50 minutes or until the top is a deep golden brown. Let the tart cool for 10-15 minutes before slicing and serving.
Serving: 1slice, Calories: 308kcal, Carbohydrates: 9g, Protein: 12g, Fat: 25g, Saturated Fat: 15g, Polyunsaturated Fat: 1g, Monounsaturated Fat: 7g, Trans Fat: 1g, Cholesterol: 71mg, Sodium: 664mg, Potassium: 135mg, Fiber: 1g, Sugar: 3g, Vitamin A: 1023IU, Vitamin C: 4mg, Calcium: 279mg, Iron: 1mg
This post may contain affiliate links.
Buy the Cookbook: Simply Scratch : 120 Wholesome Homemade Recipes Made Easy Now available on Amazon »
THANK YOU in advance for your support!