Easy roast chicken is my one of my favorite Sunday family dinners. This roast chicken recipe only calls for butter, salt and pepper and is SO GOOD! I always serve it with mashed potatoes and buttered corn.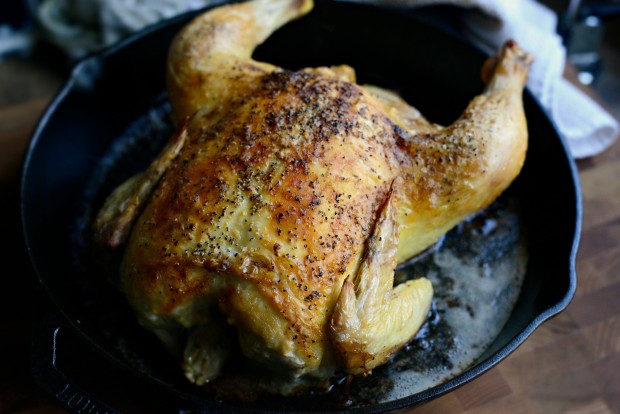 How has it been 5 years and I'm just now writing a post on how to roast a chicken?
C'mon now?! I mean what kind of blog is this? I have not one excuse but here we are; one bird, one pan and lots of butter. Which is my kind of recipe.
Roasting chicken has got to be the easiest of things to make. It's elegant enough for semi-formal gatherings yet rustic enough for a stick to your ribs family dinner. It takes minutes to prep and about an hour in the oven. Plus, no trussing is required. I like it.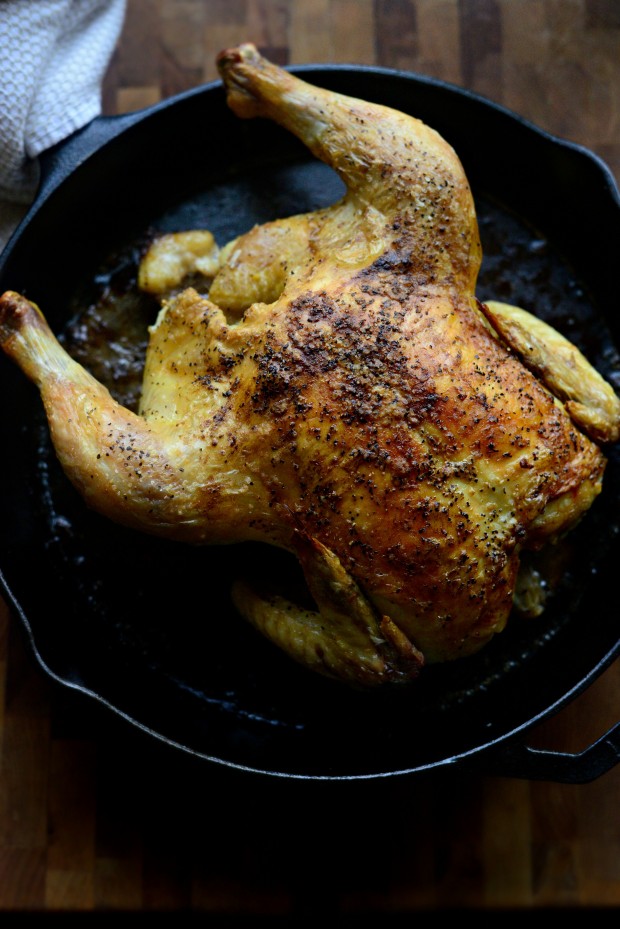 This is a no frills, no fuss roasted chicken. You can however feel free to get all fancy and stuff the cavity with different citrus, garlic and herbs for a subtle flavor enhancement. But I just needed to roast this chicken for another recipe so I kept is simple and easy and then decided to blog about it.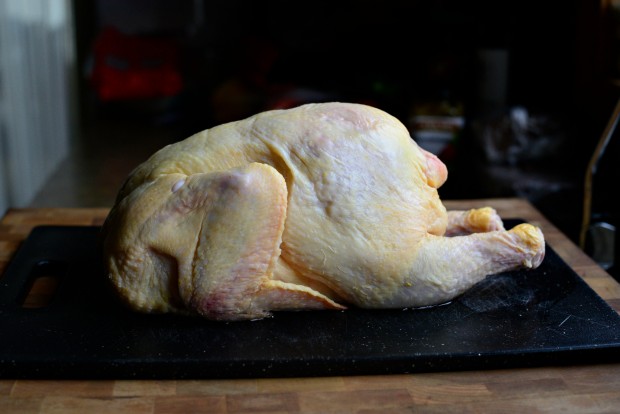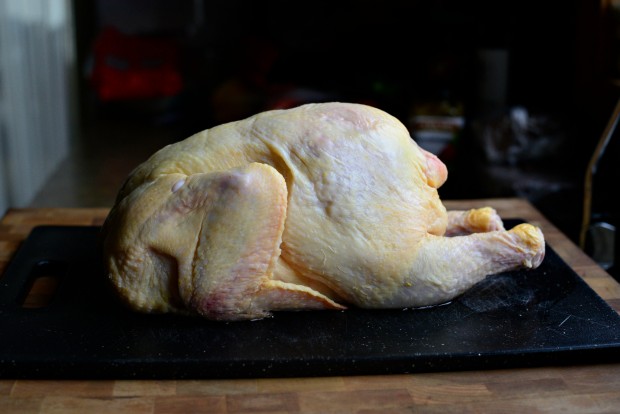 So you'll need a chicken. Obviously. About 4 to 5 pounds will do.
Then you'll also need a kosher salt, black pepper (mine is a medium grind), super soft butter and 12-inch cast iron skillet. I like roasting chicken in a cast iron skillet, but a 9×13 baking dish or small roasting pan will work just fine. Also, because sanitation is important, I place the salt and pepper into small bowls so I don't contaminate my salt box or my pepper jar with my grody chicken fingers.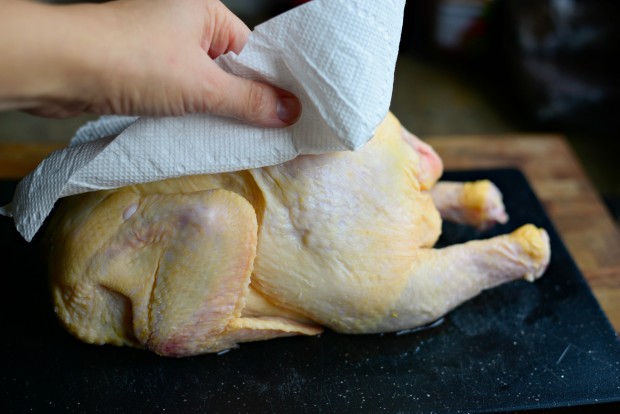 First things first, do NOT forget to pull the package of giblets out of the chicken cavity. You can pitch those or add them into the gravy or stuffing, it's up to you. Then pat the whole thing dry with paper towel.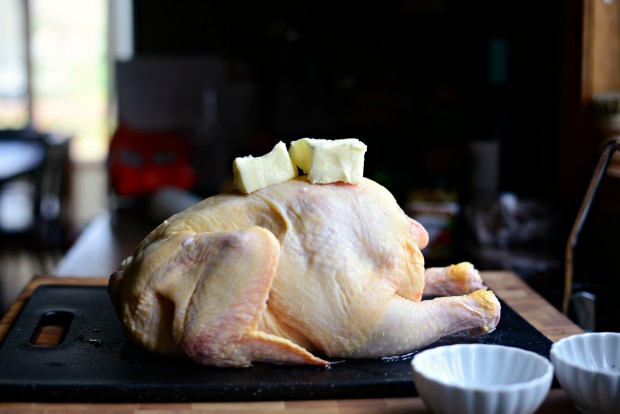 First, drop four tablespoons of super-soft butter onto your chicken and spreading it all over the entire thing, massaging it into the skin and in those nooks and crannies. And equally important is soft butter! Using super soft butter makes it easier to spread. If the chicken is really cold still, it will harden the butter a bit. So remember: warm hands + warm butter = good! Cold hands + cold butter = no good.
side note: This picture makes me laugh.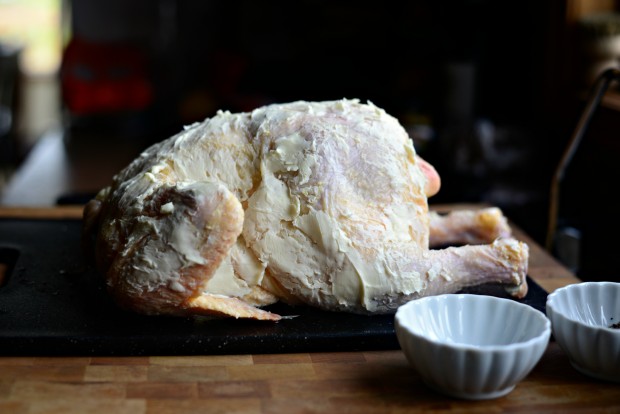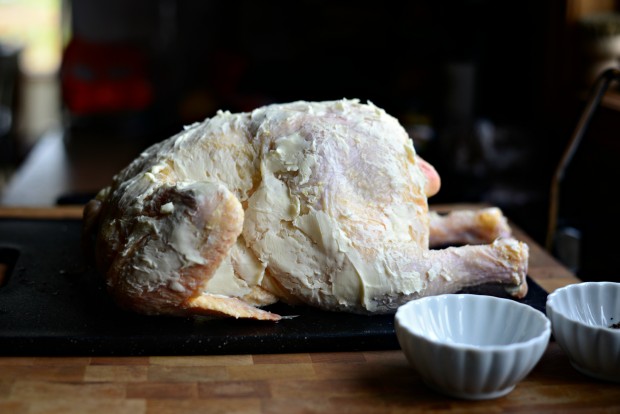 So does this one. Ha!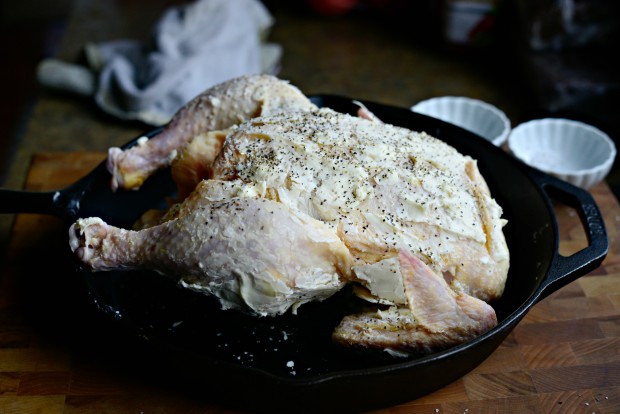 Season the inside and the outside of the chicken with lots of kosher salt and black pepper. I don't even measure it. Just let it rain! Then place the chicken, breast side up into the 12-inch cast iron pan.
Next, slide the chicken on the lowest possible rack in a preheated 400 degree oven and roast.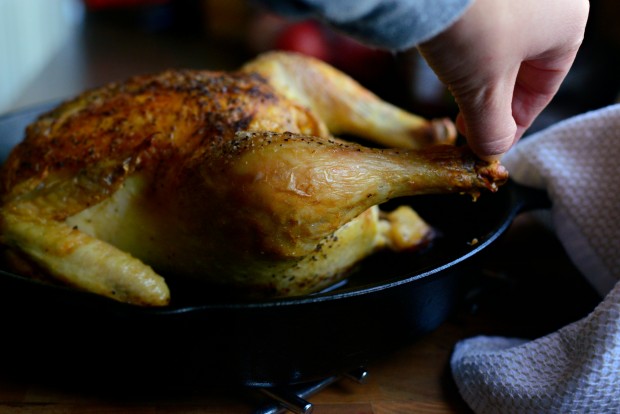 A chicken 3 to 5 pounds typically takes 50-60 minutes. But a digital thermometer inserted in the thickest part should read 165 degrees, the legs should be loose and wiggly and the juices clear.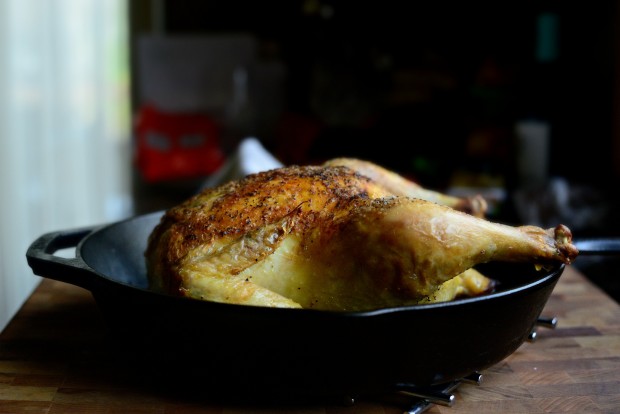 Isn't she pretty?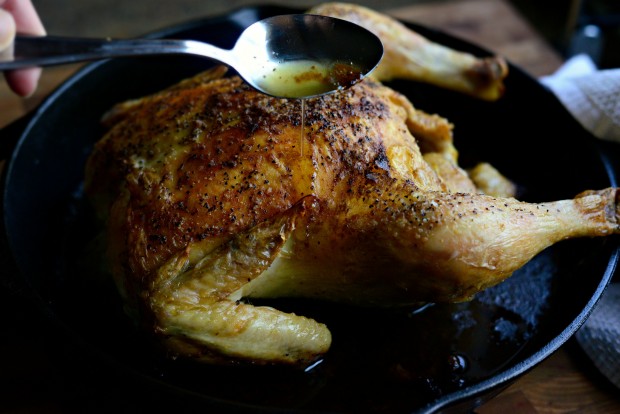 If you're feeling extra naughty you could drizzle a little of the buttery drippings all over top. uhhh-YUM.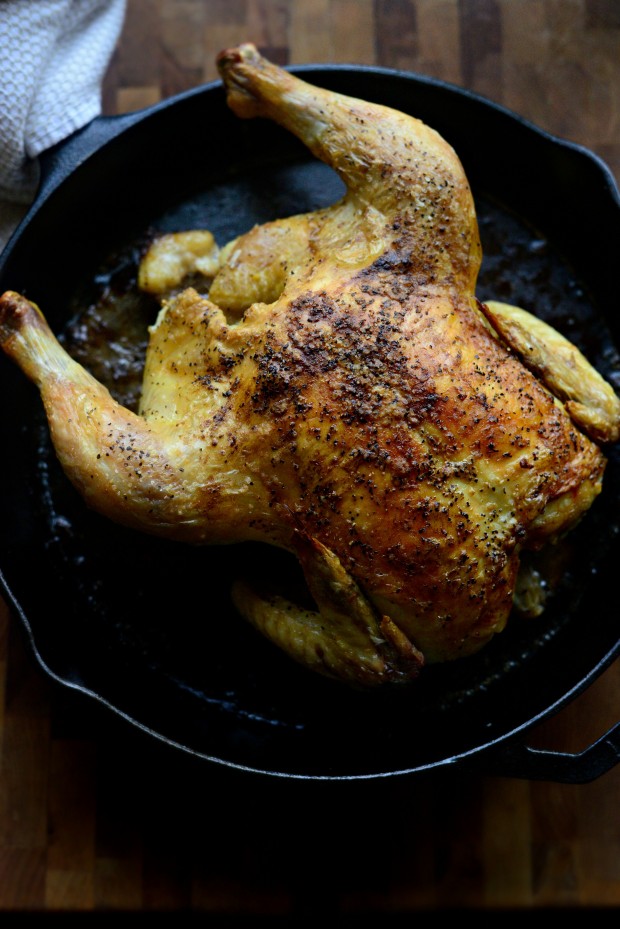 You can now transfer the easy roast chicken to a cutting board to rest under tented foil for about 10-15 minutes. If you're up to it, you can make a gravy by separating the fat from the liquids, taking a few tablespoons of both fat and flour and adding them to a pan, whisking together to make a roux. Cook the roux for 3 to 4 minutes, then pour in any accumulated juices, a cup or so of broth, salt, pepper and some herbs; simmer for a few until thick and POOF! Gravy, baby.
Or don't. Whatevs.
That crispy skin is the BEST. Gimme all the chicken skin please and thank you.
Slice and serve this easy roast chicken or shred, save for later. Did you know you can freeze it for up to 2 to 3 months? Having roasted chicken on hand for soup, salads or things like enchiladas really will save you time in the kitchen. And it literally only takes a little over an hour out of your day. You could go take a nap, read a chapter or two of your book or paint your nails. Once it's in the oven your work is done.
Enjoy! And if you give this Easy Roast Chicken recipe a try, let me know! Snap a photo and tag me on twitter or instagram!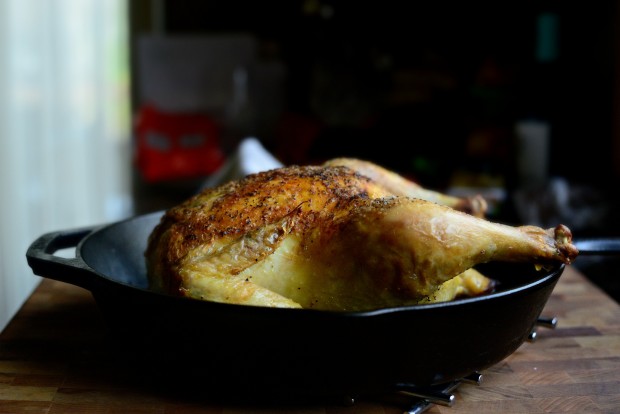 Yield: 4 servings
Easy Roast Chicken
One bird, one pan and lots of butter. Easy Roast chicken is a simple as 4 ingredients and your oven. Yields 4 to 6 servings.
Ingredients
1 (3 to 5 pound) whole chicken
4 tablespoons super soft unsalted butter
kosher salt
coarsely ground black pepper
Instructions
Preheat your oven to 400°.

Remove the giblets from the cavity of the chicken. Pat the chicken dry with paper towel.

With your hands, rub the entire chicken with the softened butter. Season the inside of the chicken cavity with a few pinches of kosher salt and black pepper before seasoning the outside of the chicken as well.

Place the chicken, breast side facing up, on the lowest rack of your oven and bake for 50 to 60 minutes or until fully cooked.

Carefully remove the chicken and transfer to a carving board and let rest under tented aluminum foil for 10 to 15 minutes before carving and serving.

Alternatively, shred the chicken while it's still warm. If preparing for a later date, allow to cool before storing in an airtight container and refrigerate for 5 to days, or freeze for 2 to 3 months.
Serving: 1g, Calories: 101kcal, Carbohydrates: 1g, Protein: 1g, Fat: 11g, Saturated Fat: 7g, Polyunsaturated Fat: 1g, Monounsaturated Fat: 3g, Trans Fat: 1g, Cholesterol: 30mg, Sodium: 2mg, Potassium: 4mg, Sugar: 1g, Vitamin A: 350IU, Vitamin C: 1mg, Calcium: 3mg, Iron: 1mg
This post may contain affiliate links.
Buy the Cookbook: Simply Scratch : 120 Wholesome Homemade Recipes Made Easy Now available on Amazon »
THANK YOU in advance for your support!