Easy Mushroom Stroganoff is a hearty and cozy vegetarian dinner. Sautéed cremini mushrooms, shallots, garlic and fresh thyme in a simple yet lusciously creamy sauce is tossed with egg noodles. Top with freshly grated parmesan cheese and minced parsley for a pop of color and freshness. Serves 6 in about 40 minutes.
It's November which means Pat has been spending most weekends up north hunting. This is not new and something he's been doing since we met in high school. Not many people understand how I could care less that he's gone most of October and November. First, let me say that we both love to miss each other, so there's that. But it's also one of his passions and I refuse to squash that. Also, he's always has supported mine, it's just what we do.
Although, on the real, when our girls were little it was way harder and he didn't go for as long of stretches as he does now. But honestly, over the 23 year we've been together, I've become to look forward to things and start traditions that I, or the girls and I like to do when he's gone. Haileigh, Malloree and I always spend quality girl-time together. We go shopping, see a movie or go out to dinner (sometimes all three) or we stay in and make cookies or brownies and binge watch Friends or This Is Us. But besides that, I also selfishly look forward to making food that I love but know that he wouldn't. Example: this mushroom stroganoff.
I love mushrooms. Like love, love, LOVE mushrooms.
Yet I'm the only one in my household that eats them. So this past Saturday afternoon, Haileigh was working and Malloree was at a dance thing all day, I made a big skillet of mushroom heaven.
It was amazing. If you're a fellow mushroom lover, and/or looking for a substantial and filling #MeatlessMonday meal, this easy mushroom stroganoff will fit the bill.
To Make This Mushroom Stroganoff You Will Need:
olive oil
shallots
garlic
fresh thyme leaves
cremini (aka baby bella) mushrooms
kosher salt and black pepper
butter
all-purpose flour
white wine
vegetable broth
Worcestershire sauce
sour cream
Garnish This mushroom stroganoff with:
fresh parmesan cheese
minced parsley
extra black pepper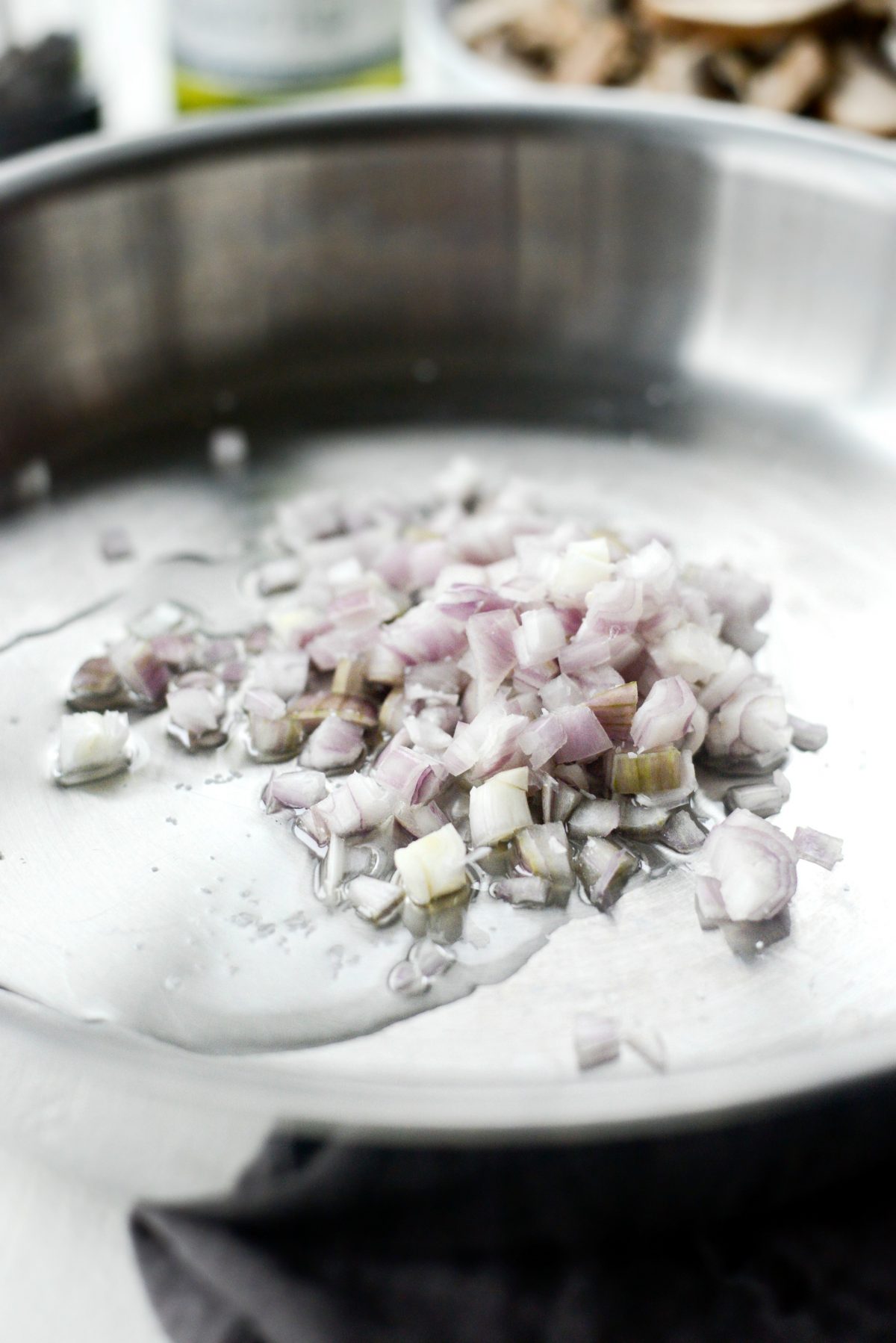 Bring a large pot of salted water to a boil. I suggest doing this before you start prepping. This way you can drop in the pasta right around the same time you're done sautéing the mushrooms. Egg noodles typically take 8 to 9 minutes to cook, so try to plan on having the sauce ready and waiting for the noodles and not the other way around.
Start by adding a tablespoon of oil to a 12-inch deep-sided skillet and heating over medium-low. Toss in 2/3 cup of shallots along with a pinch of kosher salt, stir and sauté until the shallots are soft, translucent and the edges are lightly golden brown, about 8 minutes or so.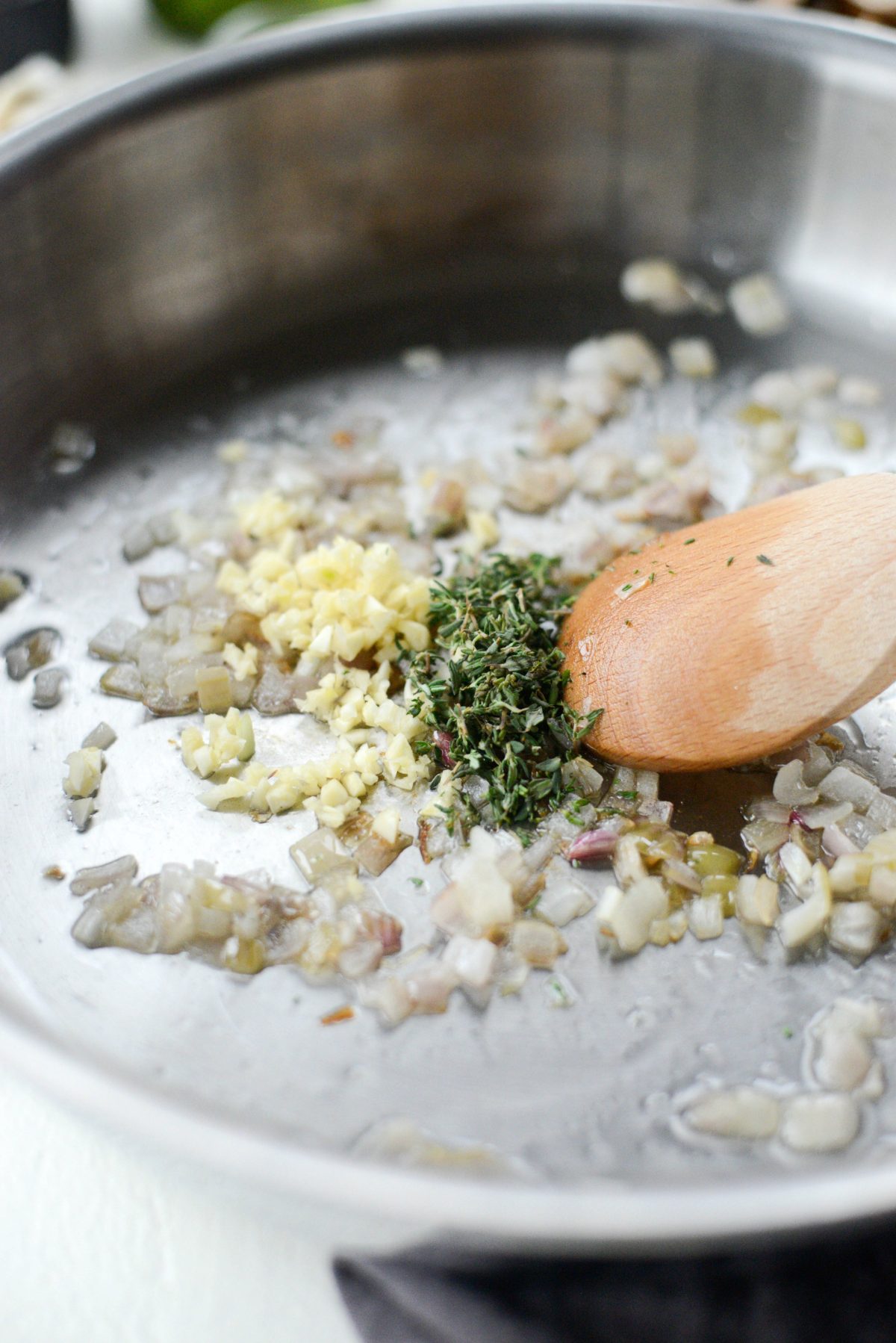 Next add in the 3 cloves of minced fresh garlic and 1 teaspoon chopped fresh thyme leaves. Then stir and cook for 1 to 2 minutes. These are the aromatics for this recipe and add a ton of flavor.
Once the garlic is fragrant, add in the pound of sliced mushrooms. I prefer to use baby portobello (also known as cremini) because they have a more meaty texture and hold up pretty well in a recipe like this. With that said, you can use whatever mushrooms you prefer. I highly recommend buying pre-washed and pre-sliced mushrooms because this will save you so much time and is worth the bump in price. If you're lucky, you will find them on sale.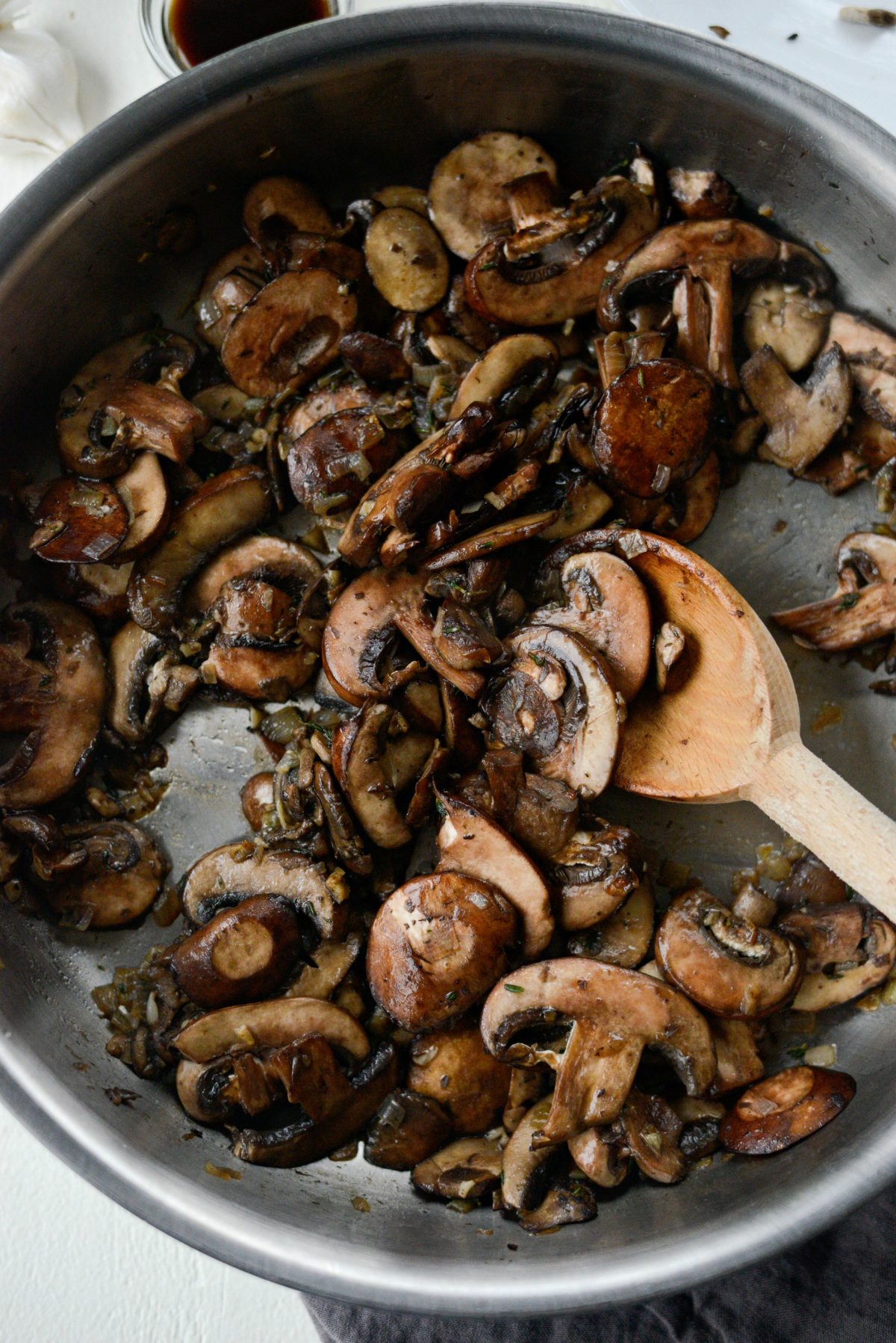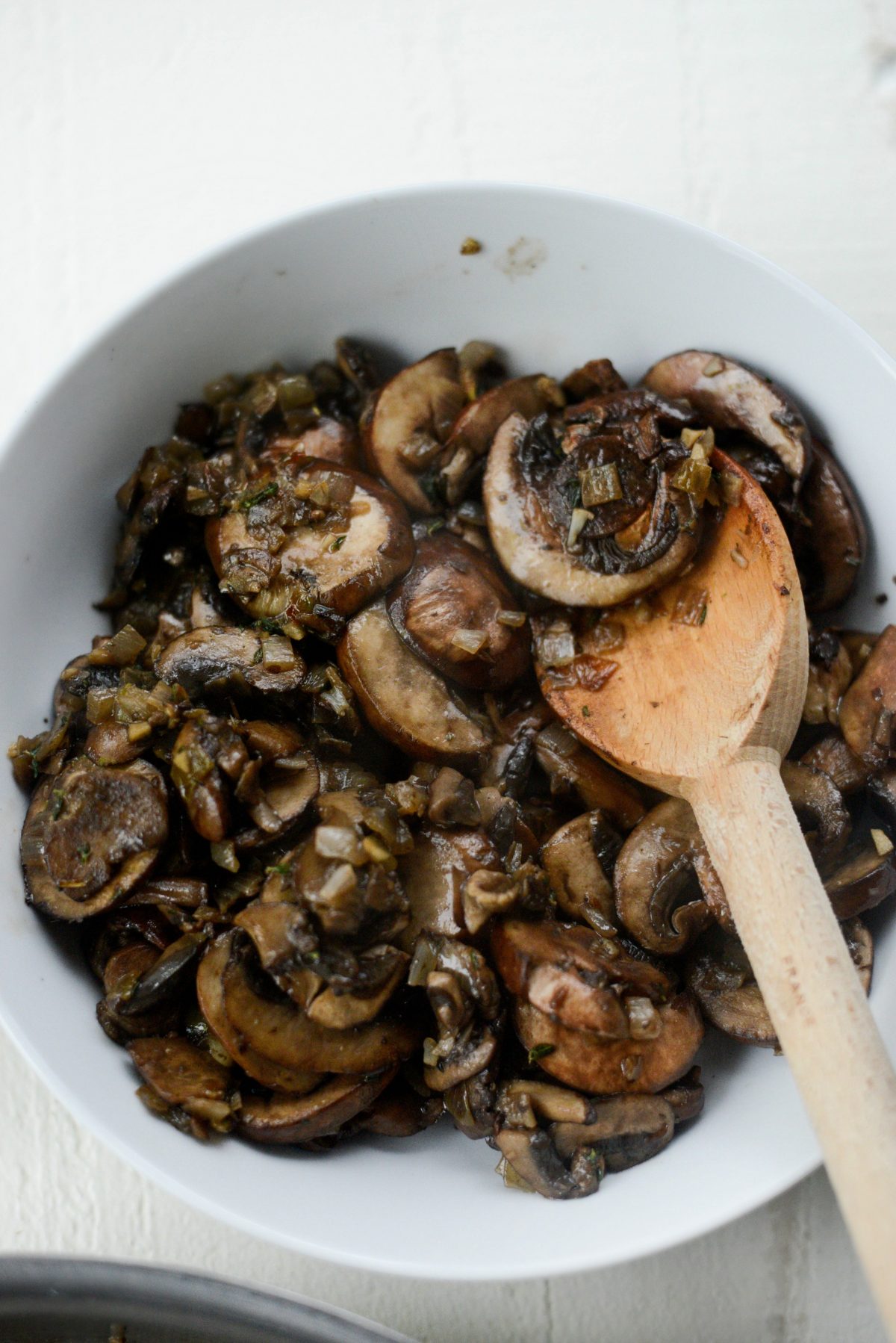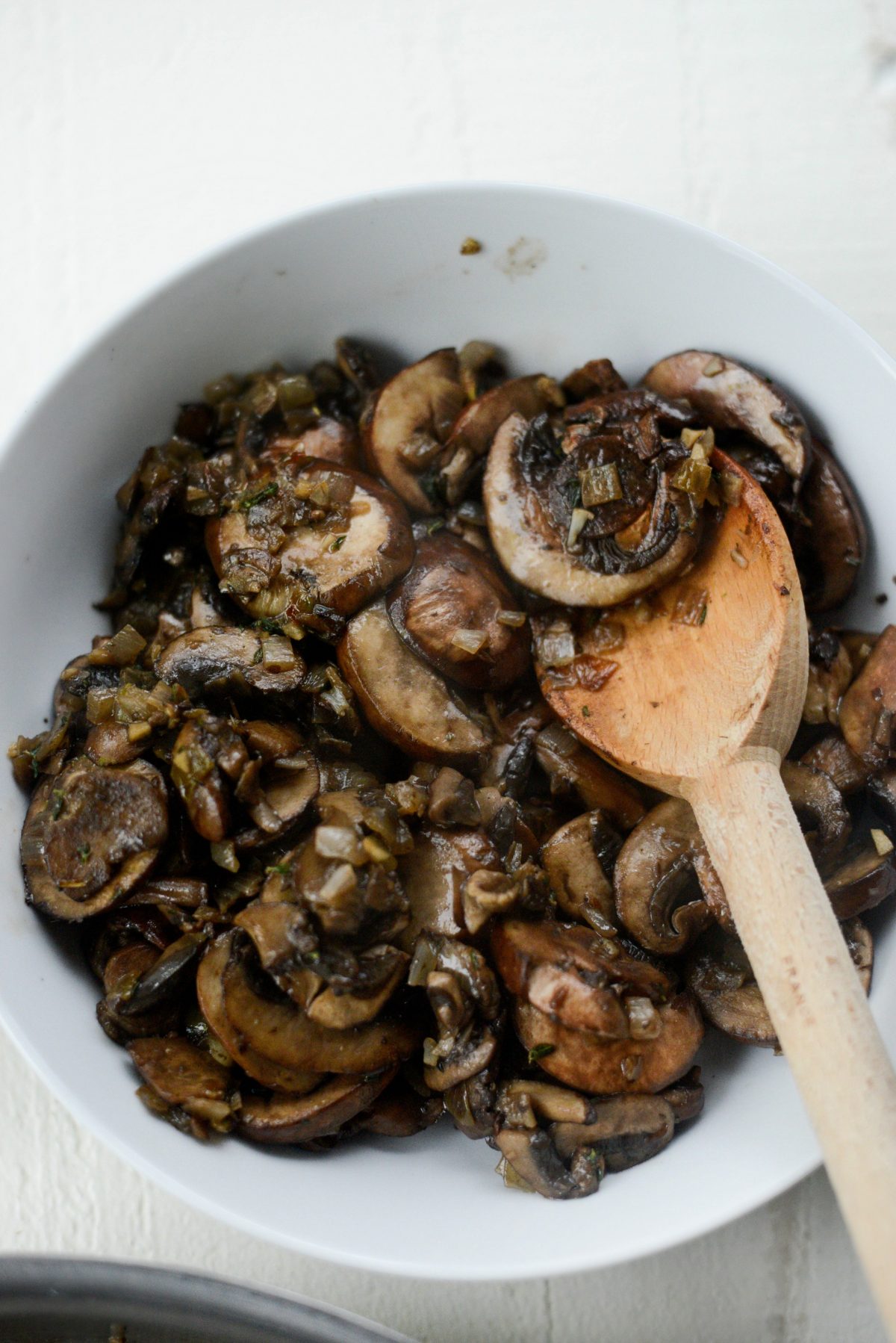 Gently toss the mushrooms with the shallots, garlic and thyme. Cook, stirring occasionally, until the mushrooms start to become tender and deeper in brown. How tender you like your mushrooms is up to you. I like mine with a little bite still to them, so I stop it when they are just about tender and then transfer them into a bowl.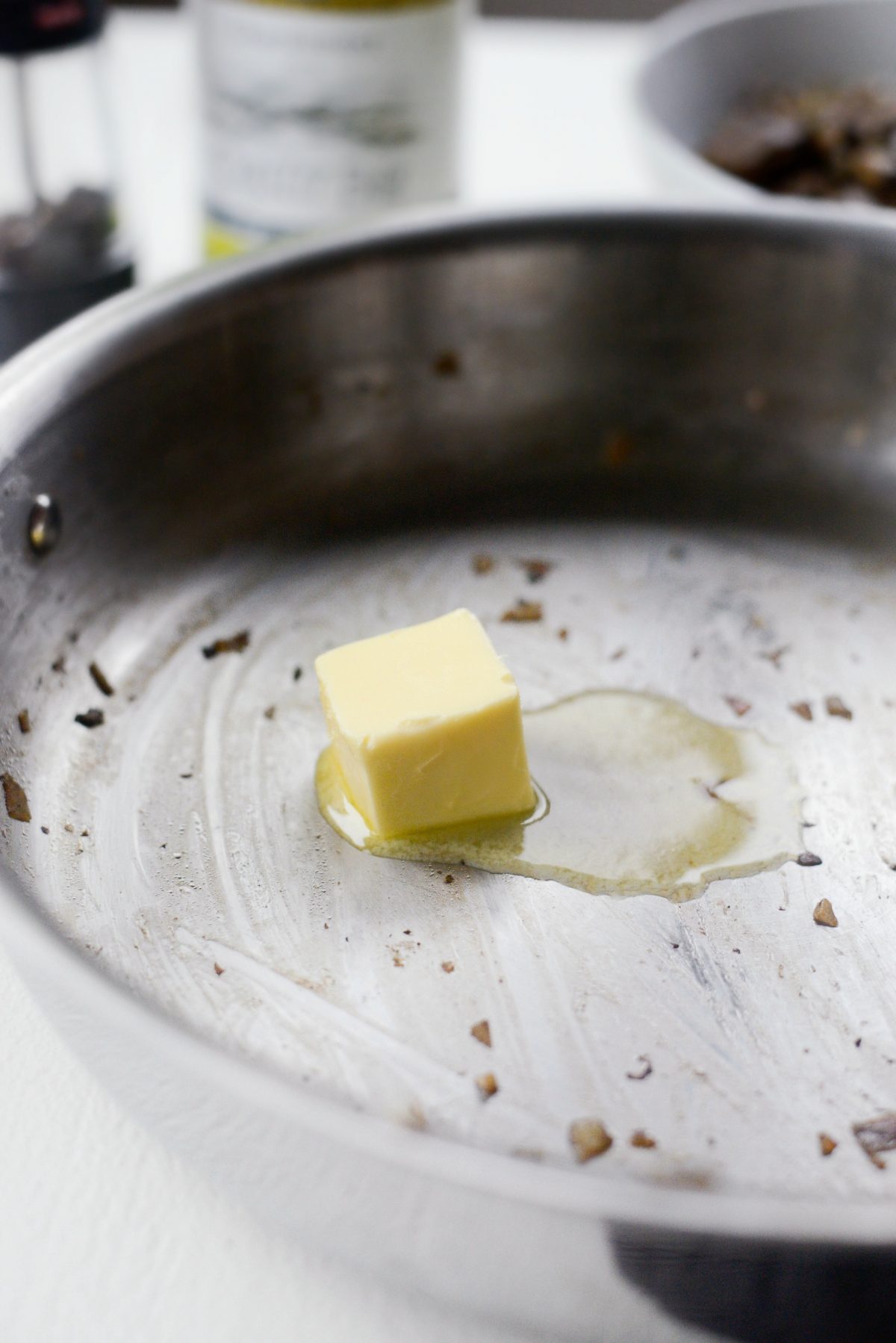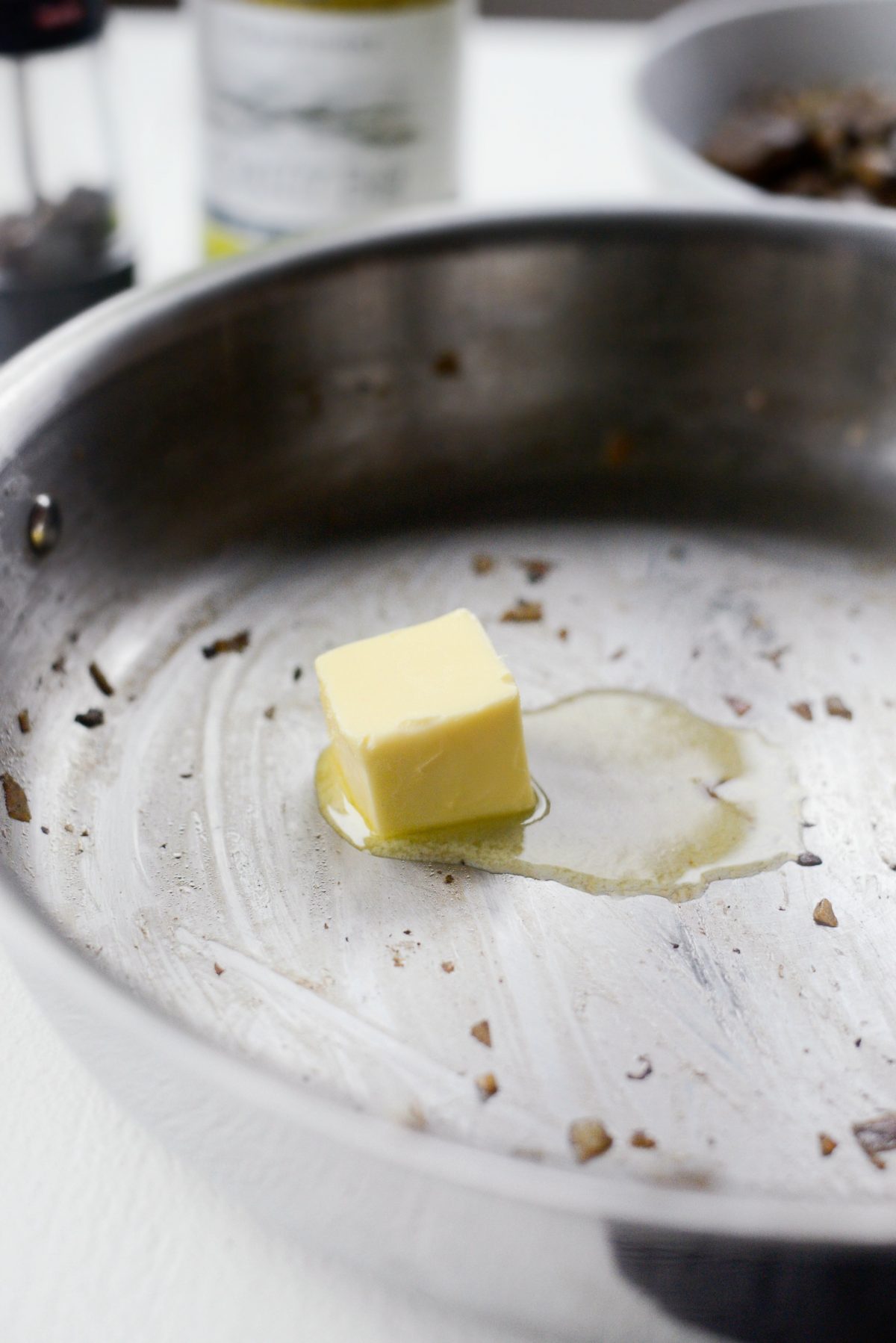 To the same skillet, add in 3 tablespoon of butter. Once melted, sprinkle in 3 tablespoons of all-purpose flour and cook for 2 to 3 minutes, stirring it often.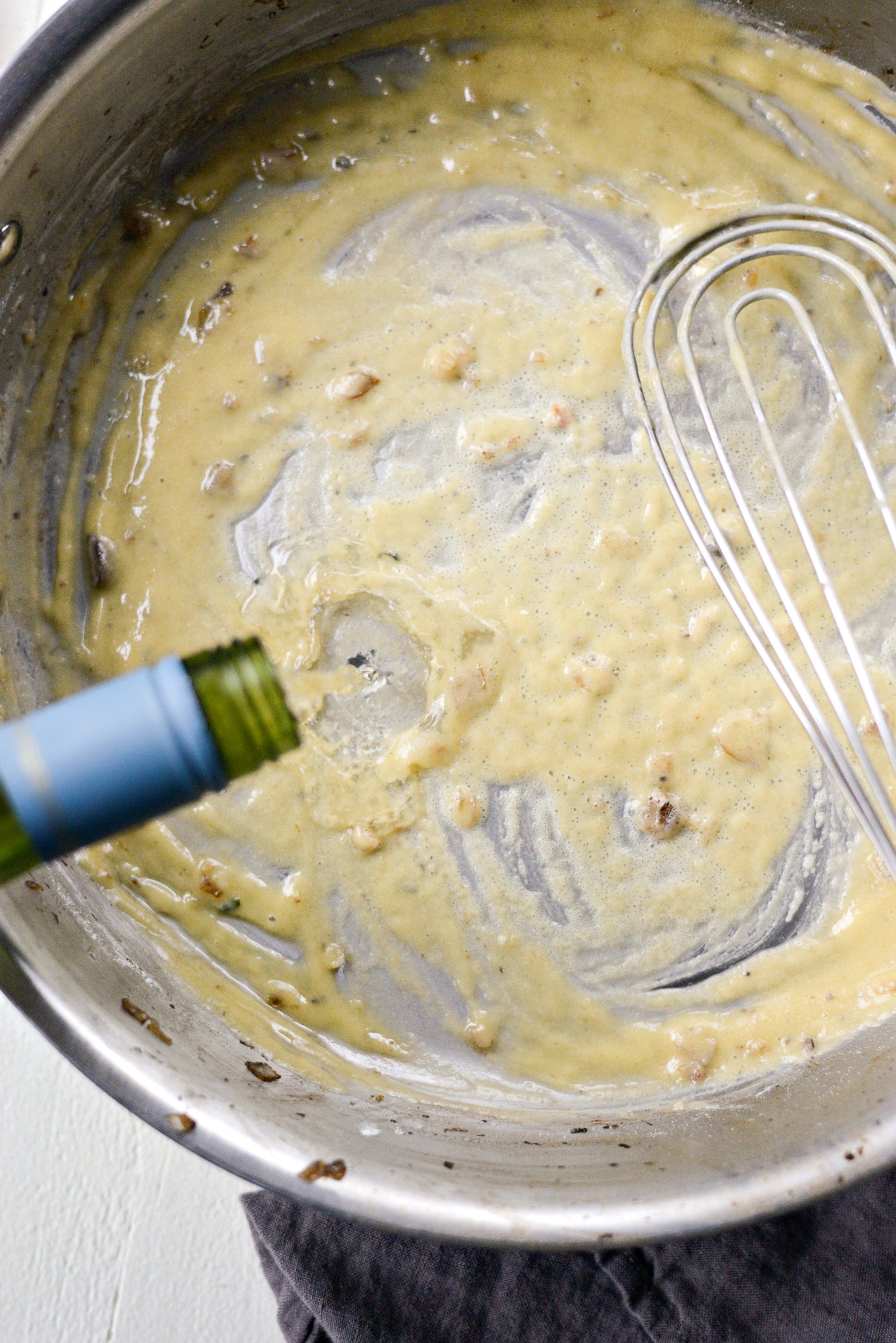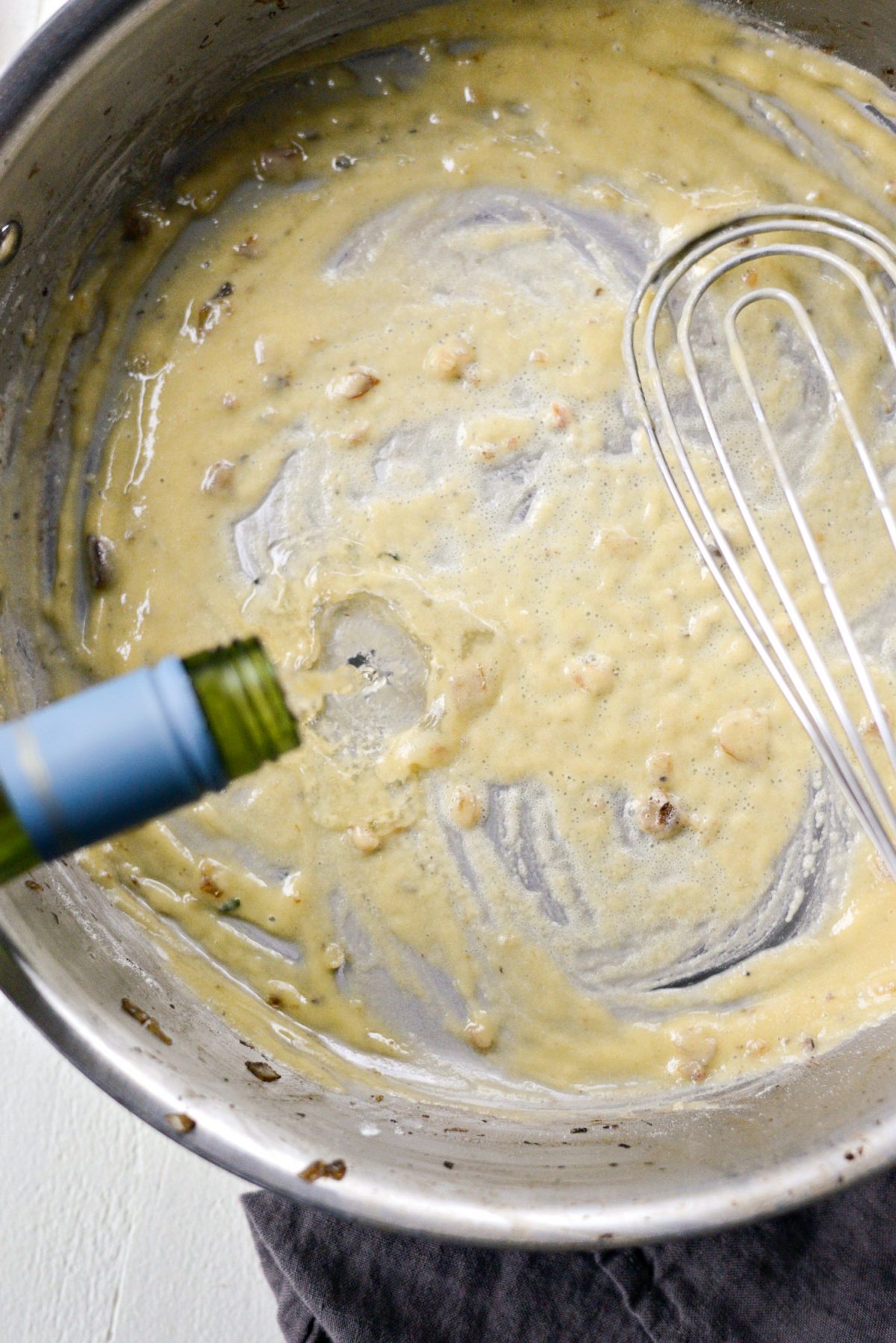 Continue to stir while pouring in the wine and vegetable broth.
The roux acts as a thickener for this gravy-like sauce.
Once the sauce has thickened slightly, add in 1 tablespoon of Worcestershire sauce and whisk in 1/2 cup of sour cream. A fuller fat Greek yogurt would be an excellent substitution here.
Then give it a taste test, and season with salt and pepper.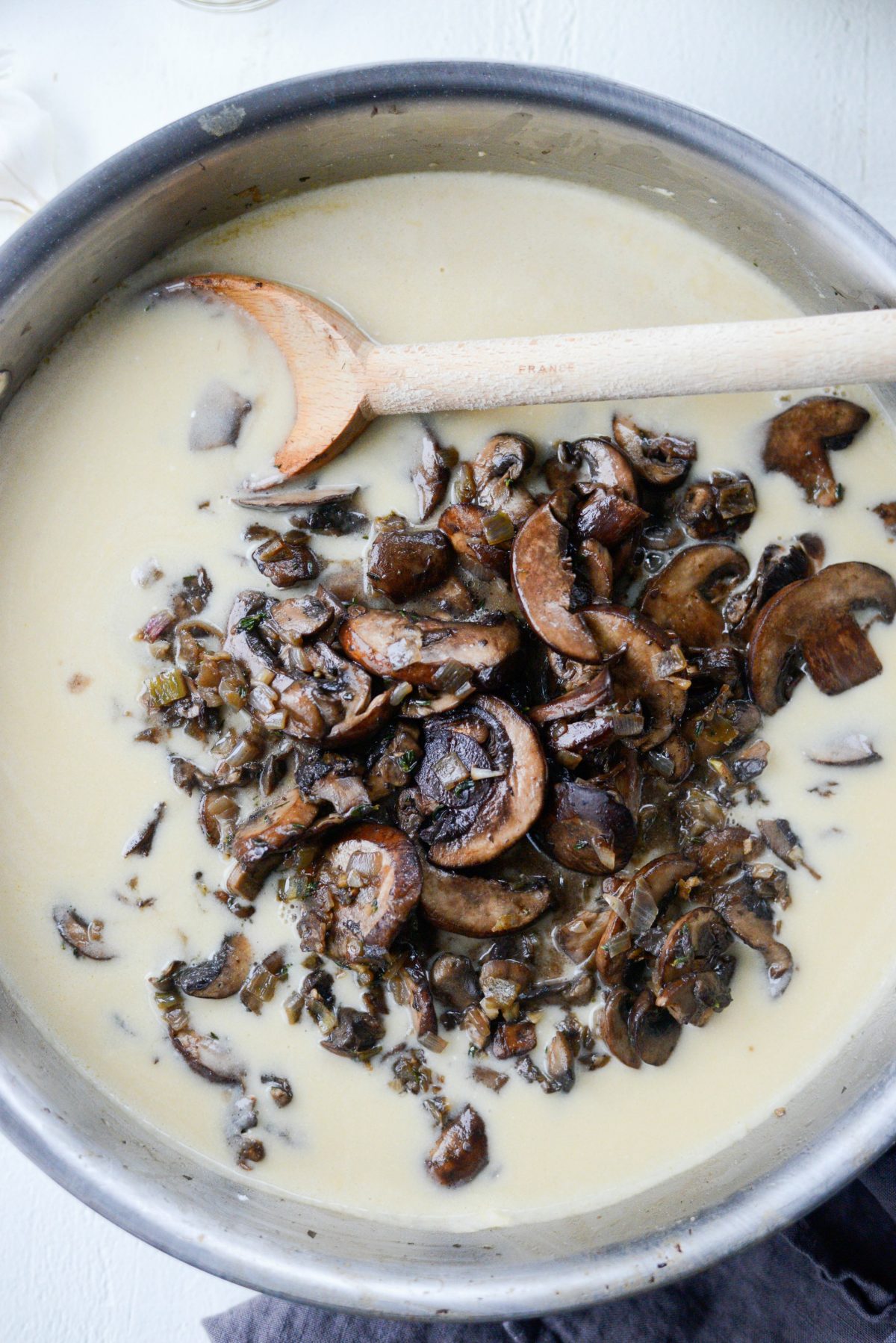 Next add the mushrooms and any of the juices they've released, into the the sauce.
Stir and taste test, seasoning more if needed.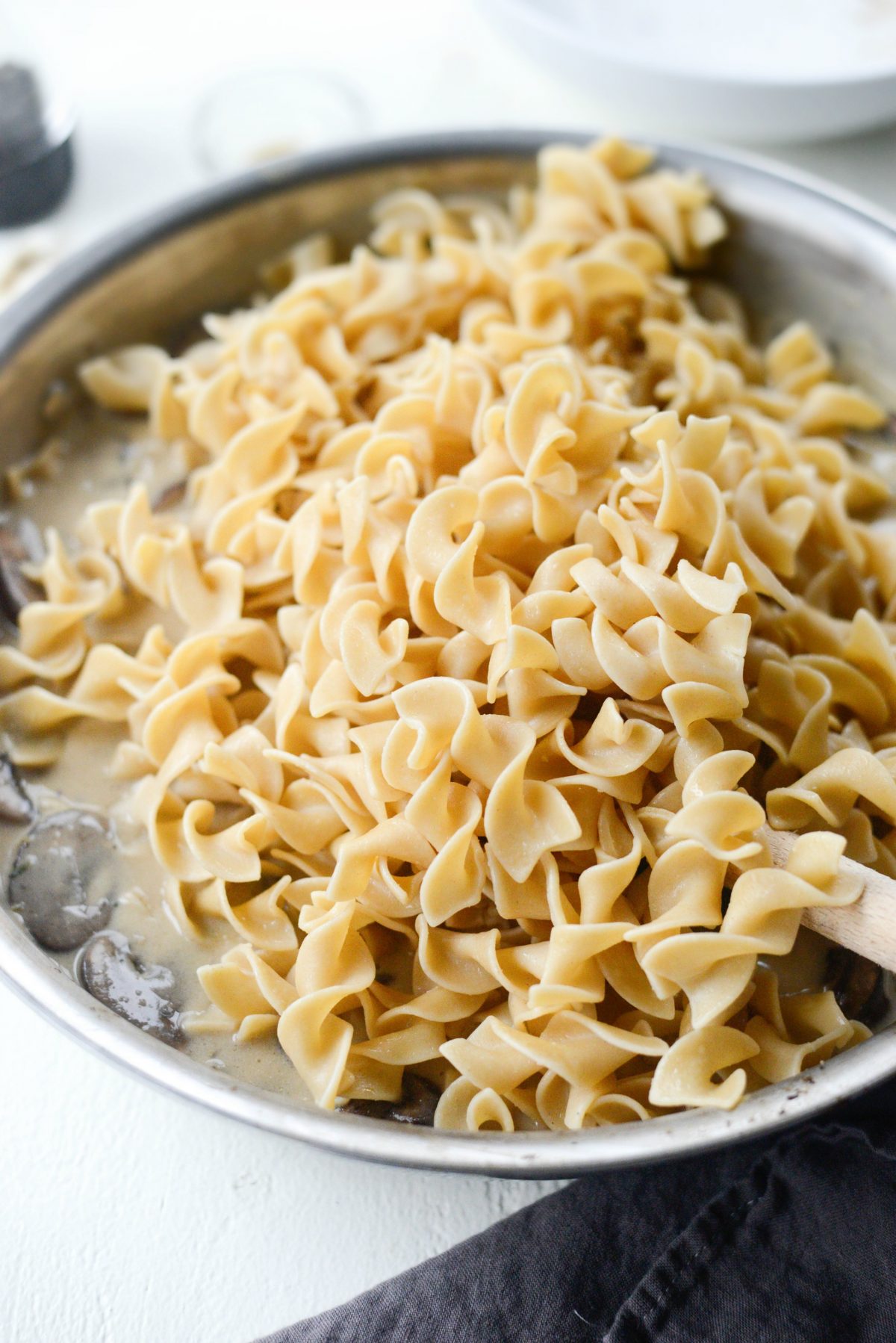 Drain the egg noodles and immediately add them to the skillet.
Gently stir or toss to combine.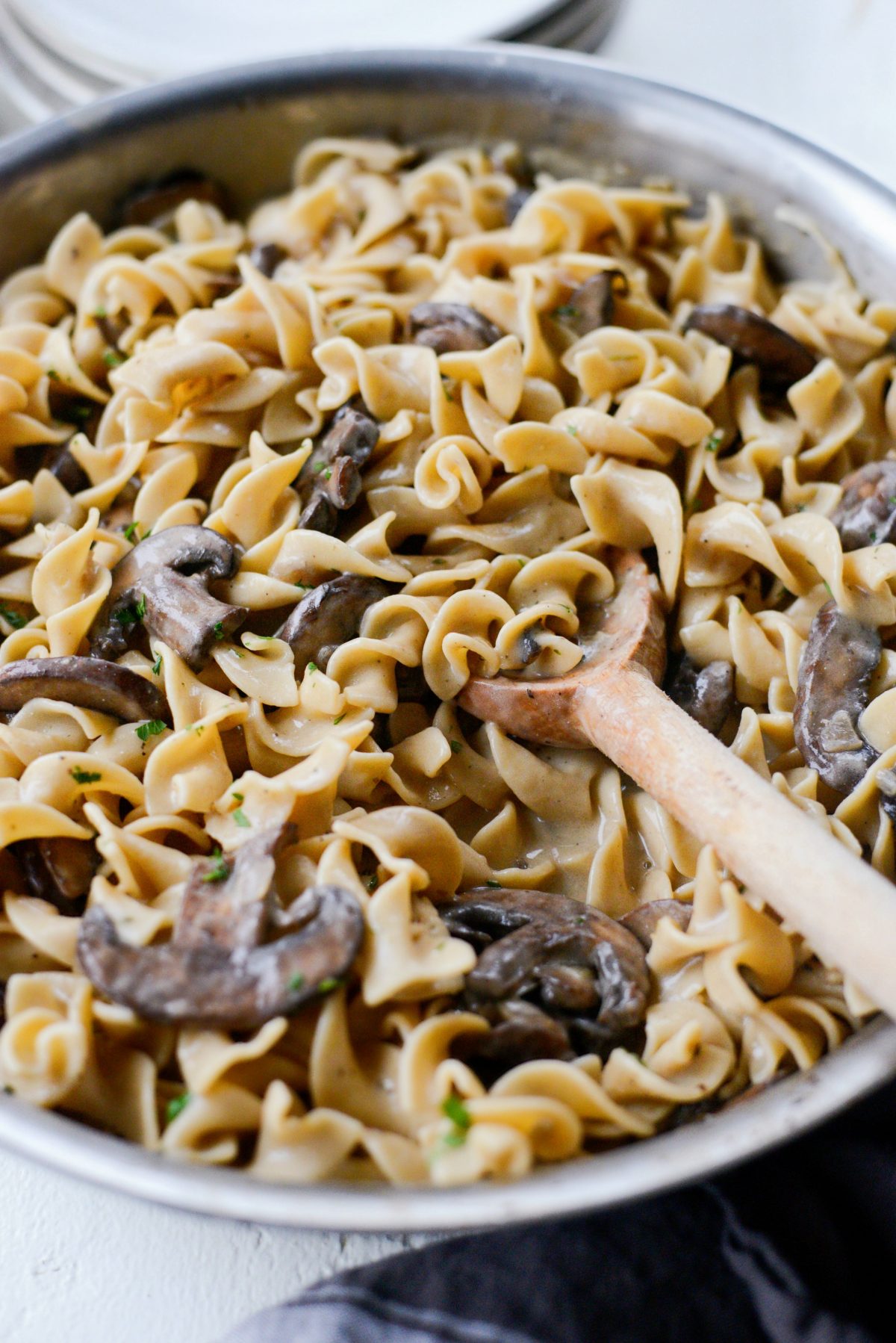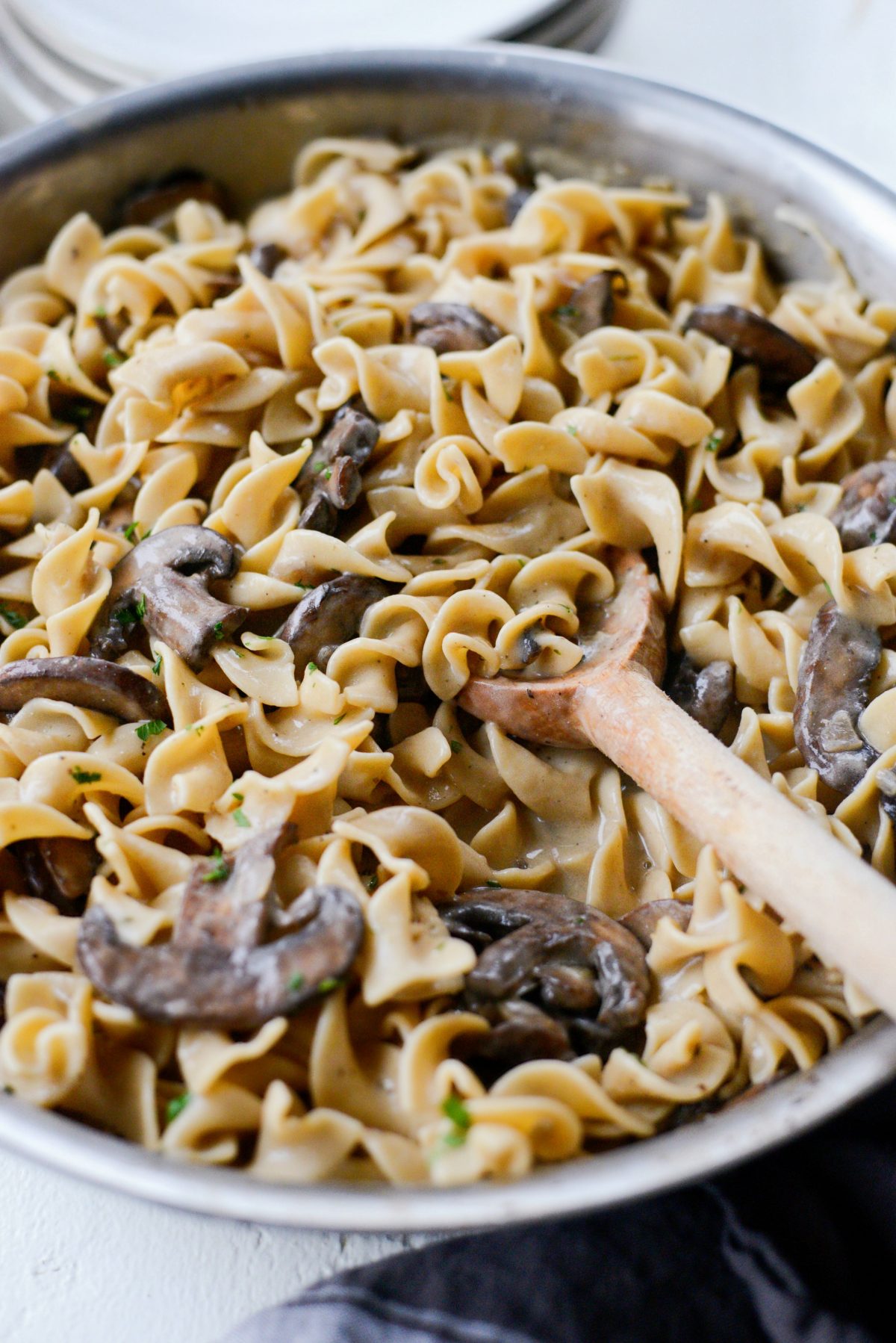 This is one of those dishes, that if my family liked mushrooms, I would serve family style with buttered peas and a loaf of crust, seedy bread.
It would be a serve yourself kind of dinner.
And then a kids do the dishes kind of dinner clean up.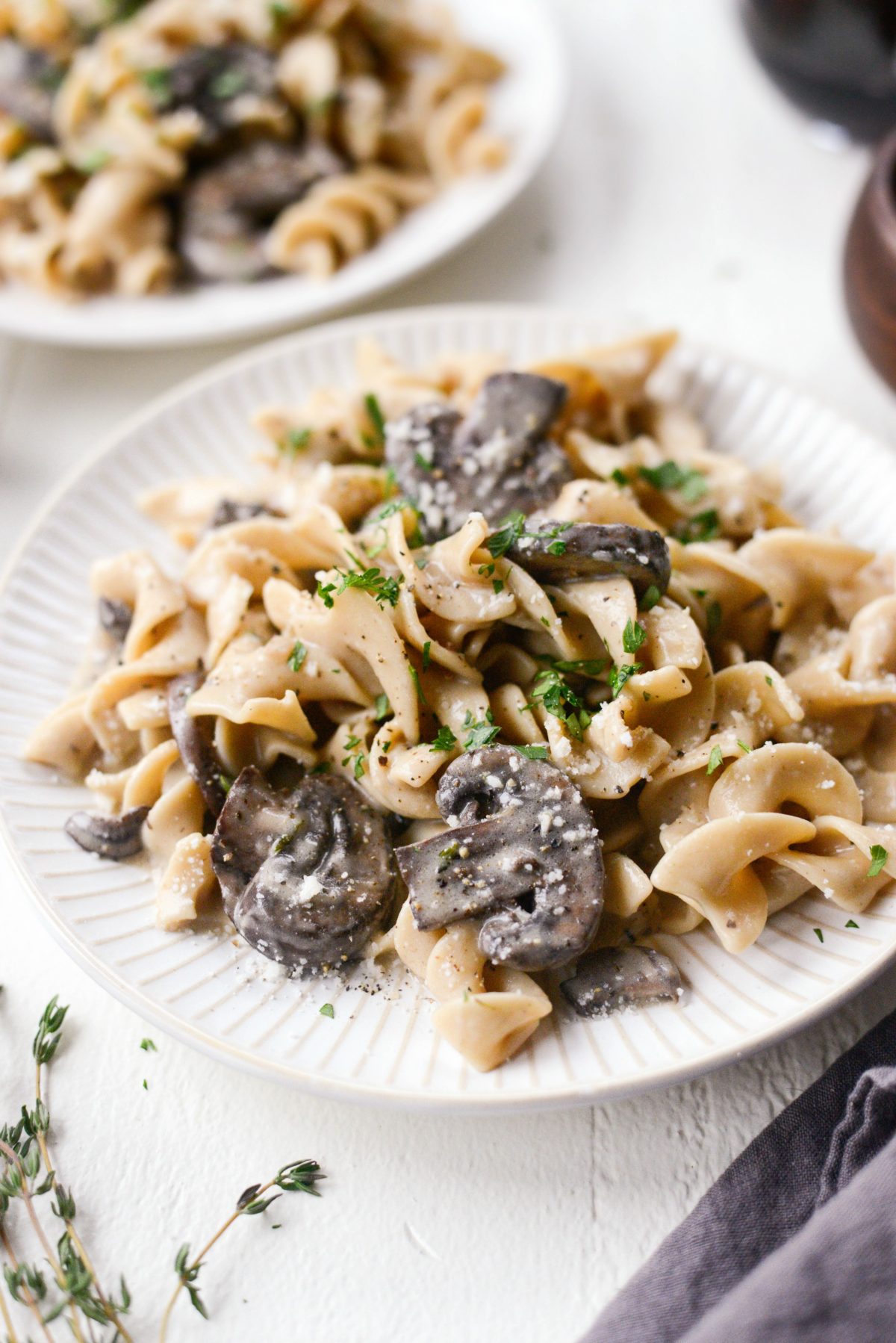 Spoon this super easy mushroom stroganoff on to plates with sprinkle of parmesan cheese and extra black pepper. A sprinkle of parsley for a pop of herbaceous freshness and color, because stroganoff tends to be a little drab in color, but definitely not drab in flavor.
Favorite meatless meal right here!
I like a super saucy stroganoff. I'm not sure if you can tell in these photos but it's exactly that. And the flavors of the mushroom, garlic and wine is phenomenal and oh so comforting.
Perfect for a quick mid-week meal or cozy Sunday dinner.
Enjoy! And if you give this Mushroom Stroganoff recipe a try, let me know! Snap a photo and tag me on twitter or instagram!

This post may contain affiliate links.
Buy the Cookbook: Simply Scratch : 120 Wholesome Homemade Recipes Made Easy Now available on Amazon »
THANK YOU in advance for your support!