These Easy Homemade Dinner rolls are soft, tender and are casual enough for a weeknight dinner yet special enough for a holiday meal. This recipe makes 24 pull apart dinner rolls.
Ya know what I love?
Rolls.
Especially the elementary school rolls they'd serve with the beef strips or turkey slop and mashed potatoes… yeah thoooose.
I sort of have this ummm reputation when it comes to dinner rolls. It stems from, well, my whole entire life I guess… because I would literally put down a good 6-8 rolls in one sitting, and when I say 6-8 rolls I really mean 8-10. I'm not proud …well maybe a little.
I would gather rolls around my dinner plate – think Christmas wreath. I made sure I had plenty just in case the bread basket ran out and it made me feel safe (can you say security blanket?) with my half dozen rolls surrounding my plate.
Flash-forward to now-a-days and you'd see I really don't collect rolls around my plate anymore, okay maybe three… four tops! But not matter what, without fail, every single holiday and family get-together… a dinner doesn't go by without someone in my family mentioning how I use to stockpile the rolls or they'll say " Remember when Laurie would EAT ALL THOSE ROLLS?!"
And I laugh, ha-ha-ho-ho-he-he-ehhh-yeah. It's not like the teasing ever gets old or anything. I mean really.
To Make These Homemade Dinner Rolls You will Need:
water
active dry yeast
unsalted butter
granulated sugar
eggs
kosher salt
bread flour
So with the holidays coming in the near future (yikes!), I'd thought I'd share for one of my favorite recipes for soft, slightly sweet, yeasty, easy homemade dinner rolls. Did I mention they are easy? A little time consuming… but super easy!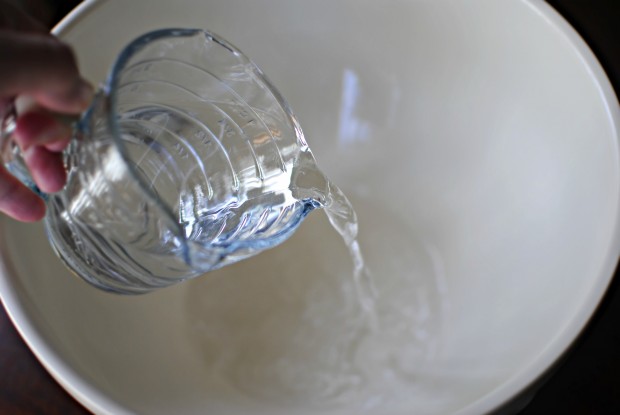 Then pour 1 cup warm (about 110°) water into a large bowl.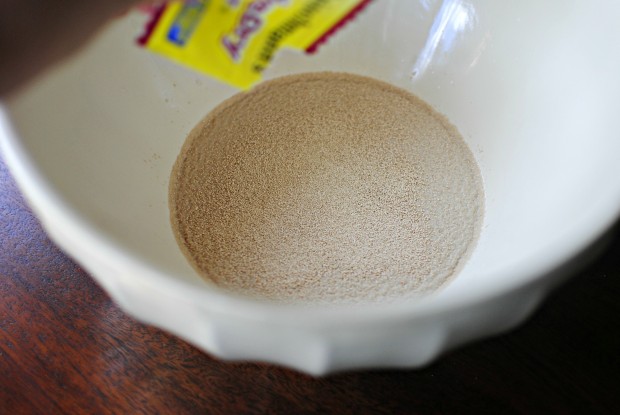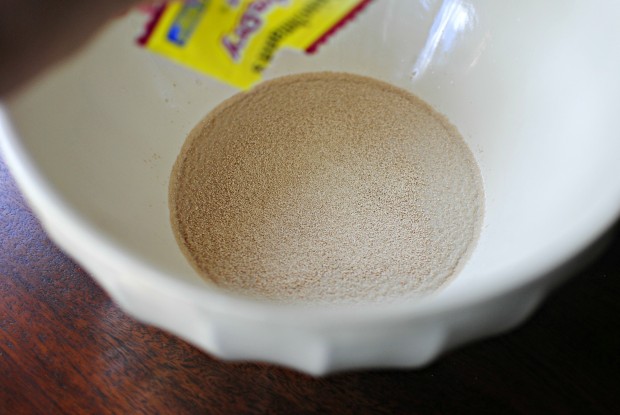 Immediately sprinkle 2 (1/4 ounce) packets (or 4-1/2 teaspoons) of active dry yeast over top and let sit for 5 minutes or so.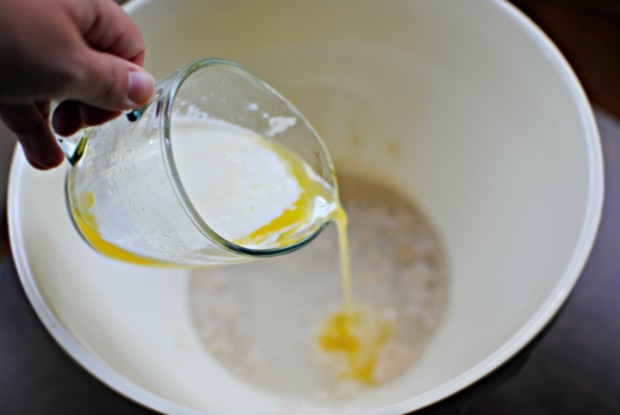 After the yeast has proofed add in 1/2 cup (1 stick or 8 tablespoons) melted butter.
Measure and add in 1/2 cup sugar.
Then add in 3 large eggs.
Give it a good stir too break up the eggs and mix everything together.
Combine 4 cups unbleached all-purpose flour with 1 teaspoon kosher salt. Then gradually add in the flour mixture.
Stir, stir, stir!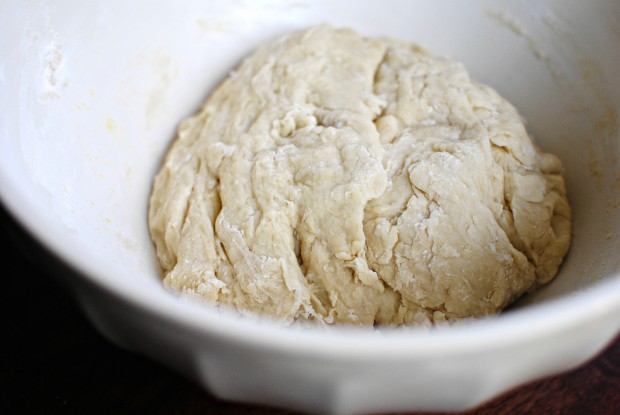 When the dough comes together, form it into a large ball.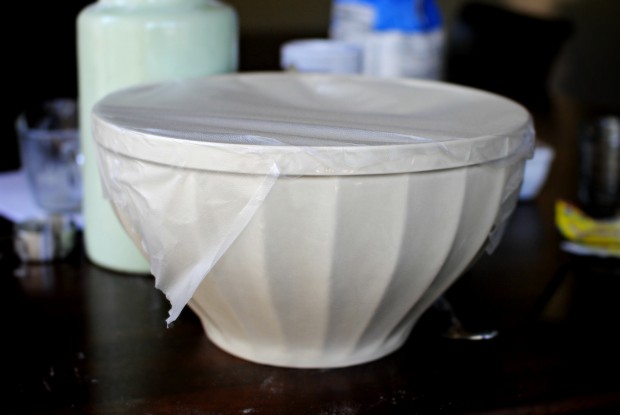 Cover the bowl with a little plastic or tea towel and pop it in the refrigerator to rise for 2-3 hours.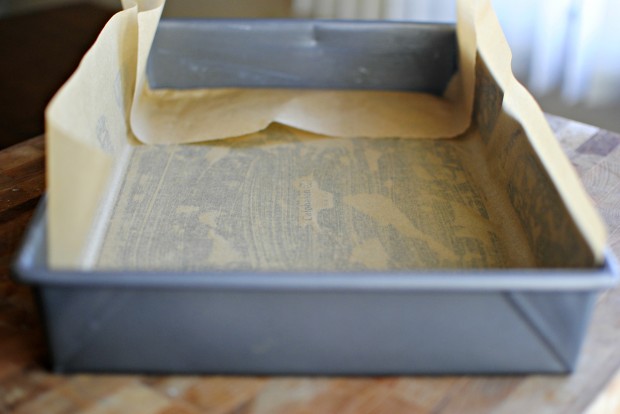 Now go ahead and grease and line a 9×13 baking pan.
After the 2 hours are up; dust your work surface with a couple tablespoons of flour. Knead the dough and then roll into a somewhat symmetrical log and then divide it in half lengthwise.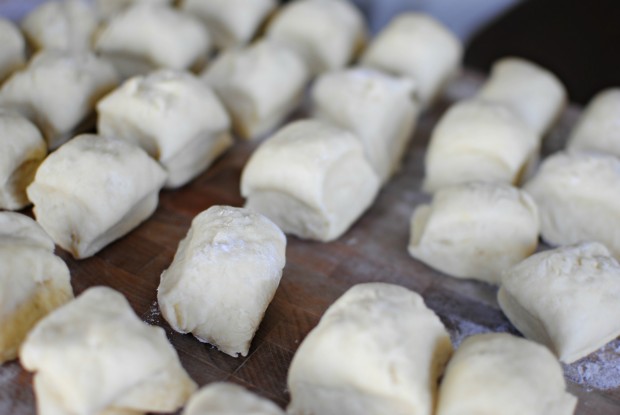 And then cut each half into twelve pieces, so you have 24 balls of dough.
Roll the dough in your hands to form a ball.
Then just line them up in the pan. Four doughballs down the short side of the pan and six rolls across. I had one of my girls help me and somehow we ended up with thirty-two rolls, hey it happens… and plus who's ever complained about having too many rolls? NOT THIS GIRL!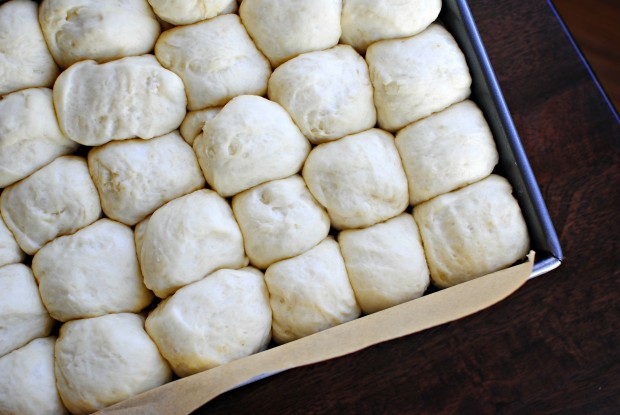 Cover them again and let them rise for an hour then just a few minutes before the hour is up you'll want to preheat your oven to 375°.
Bake the easy homemade dinner rolls for 15-20 minutes, rotate the pan-o-rolls half way during the baking time and they should come out of the oven a deep golden color.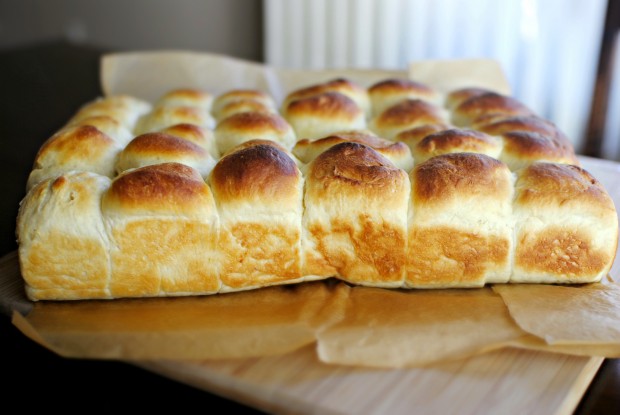 Let them cool a little before removing, using the parchment paper for handles.
These easy homemade dinner rolls should pull apart so easily! Softy, buttery and really really easy! One pan, twenty-four rolls… this recipe will feed a crowd.
Because you know what's coming in a couple months right? Thanksgiving annnnnnd Christmas. Just in case you forgot.
Enjoy! And if you give this Easy Homemade Dinner Rolls recipe a try, let me know! Snap a photo and tag me on twitter or instagram!
Yield: 24 rolls
Easy Homemade Dinner Rolls
These Easy Homemade Dinner rolls are soft, tender and are casual enough for a weeknight dinner yet special enough for a holiday meal.
Ingredients
1 cup warm water, at 110°
4½ teaspoons active dry yeast, (NOT quick rising) or 2 envelopes
1/2 cup butter, melted and cooled slightly
1/2 cup granulated sugar
3 large eggs
1 teaspoon kosher salt
4¼ cup unbleached bread flour, plus more for dusting
Instructions
In a large bowl add the water and sprinkle the yeast over the top. Let it stand for a few minutes so the yeast can proof.

Combine bread flour with the teaspoon of kosher salt, and set aside.

Add in the butter, sugar and eggs Into the yeast mixture and stir.

Gradually add in the flour mixture. Stir to combine and then form into a large ball. Cover with tea towel or plastic and stick in the fridge for 2 hours.

Grease and line (with parchment paper) a 13x9 baking pan.

Once the dough has risen, turn it out onto a lightly floured surface.

Form the dough into a uniform log. Divide the log, lengthwise, in half. Cut each half into 12 equal pieces.

Roll each piece of dough into a ball and place into the prepared pan. You should get six dough-balls going across the long side of the pan and 4 along the short side of the pan. Cover the pan and let the rolls rise for one more hour.

Preheat your oven to 375° F. Bake the rolls in the oven for 15-20 minutes, rotating halfway through the baking time, until a deep golden brown.
Serving: 1rolls, Calories: 146kcal, Carbohydrates: 21g, Protein: 4g, Fat: 5g, Saturated Fat: 3g, Polyunsaturated Fat: 1g, Monounsaturated Fat: 1g, Trans Fat: 1g, Cholesterol: 33mg, Sodium: 142mg, Potassium: 53mg, Fiber: 1g, Sugar: 4g, Vitamin A: 152IU, Vitamin C: 1mg, Calcium: 9mg, Iron: 1mg
This post may contain affiliate links.
Buy the Cookbook: Simply Scratch : 120 Wholesome Homemade Recipes Made Easy Now available on Amazon »
THANK YOU in advance for your support!