Easy Butter Chicken recipe is better than take out. Tender chicken in a creamy, warmly spiced coconut tomato sauce. Serve with basmati rice and toasty warm naan.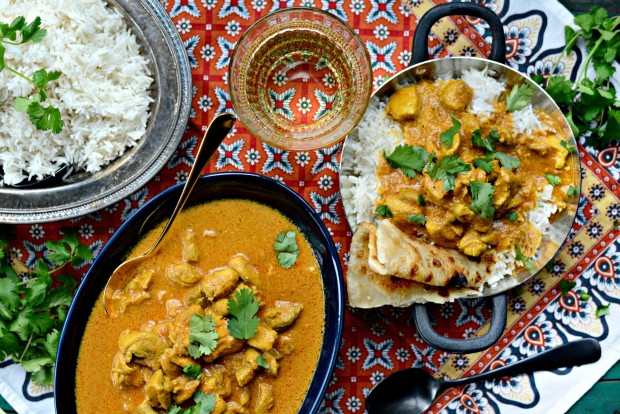 The first time I had butter chicken was not the best experience.
To be honest, at that part of my life I was still somewhat a picky eater and wasn't so sure where I stood on Indian cuisine front. Maybe my palate wasn't ready for all the powerful flavors coming at it or the fact that the recipe I tried out was made in a slow cooker (and you know my feelings about those) and it could also be that the recipe called for a cup of sour cream… I can't remember exactly what it's downfall was but all I DO know is that someone claimed it was the "BEST Butter Chicken Recipe EVER!" and it definitely was not.
I kind of forgot about my butter chicken experience and must have pushed it into the far corners of my memory until a SS reader (Hi Mitch!) emailed me about decoding an easy Butter Chicken recipe. Being the virgo that I am, I couldn't not accept his request (challenge?). Plus if someone specifically asks for a recipe, I'm going to do my best to make it happen. Unless it's liver and onions… that's so not happening, just so you know.
The day before…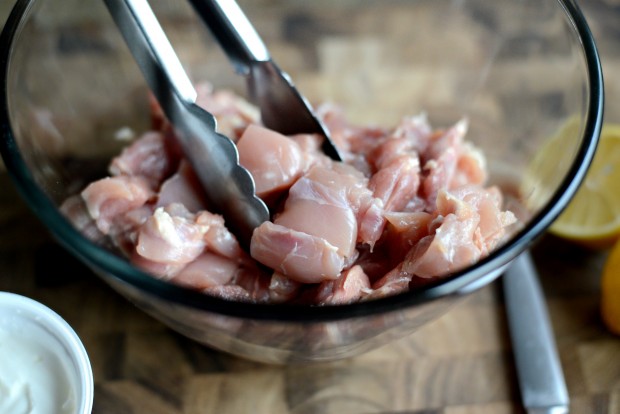 While this recipe is truly easy, you do need to do some minimal prep the day or night before. The chicken marinates in yogurt and lemon juice (**please see note in recipe instructions at the end of the post.) and when it's cooked it is so tender it basically melts like buttah in your mouth. There's really no fast way to do that, so marinating the chicken 12 to 24 hours (I suggest 24) does the trick.
Cut the chicken thighs into 1-inch pieces and throw it into a large bowl.
Add in 6 ounces of full fat Greek yogurt (like Fage). I've made it with low-fat and the yogurt curdled on me a little but still tasted excellent.
Squeeze in the juice of half a lemon.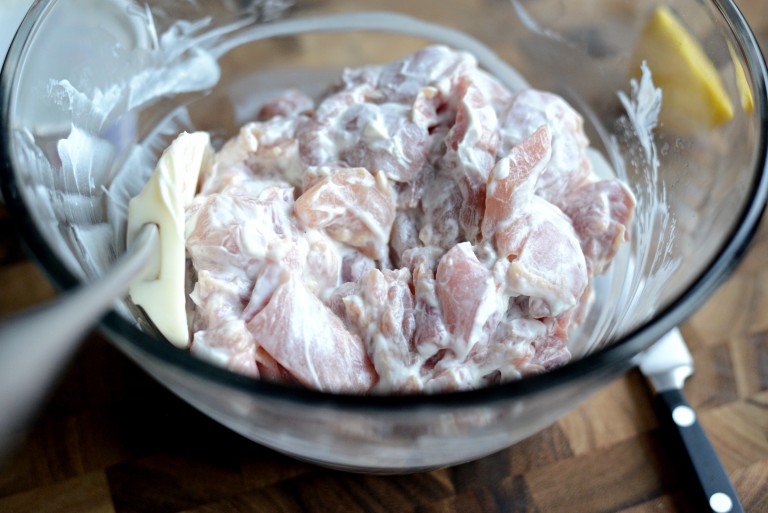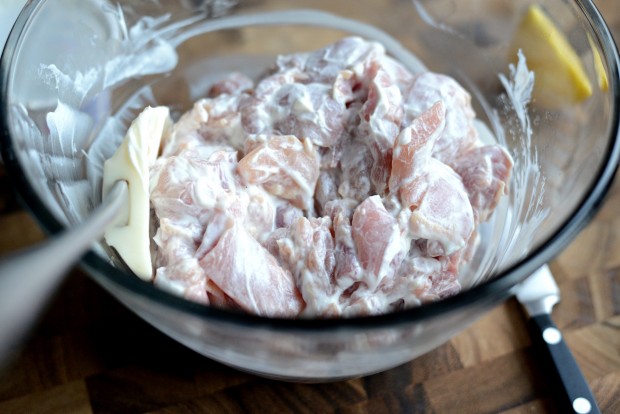 Toss well to coat the chicken.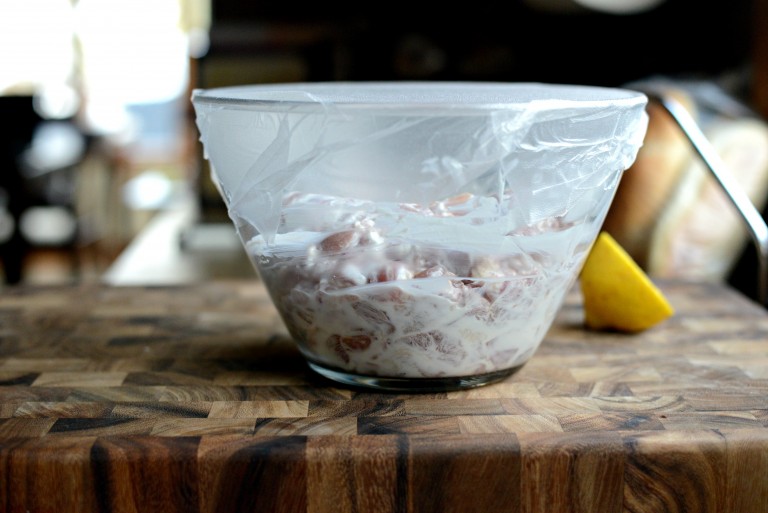 Cover with plastic wrap and refrigerate for 12 to 24 hours. I always do the 24.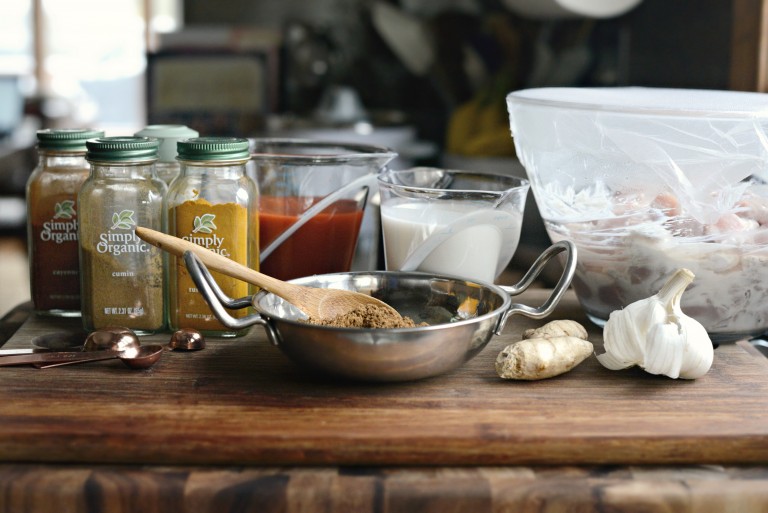 So the next day, grab the marinated chicken out of the fridge, the spices, fresh ginger and garlic, tomato puree and coconut milk.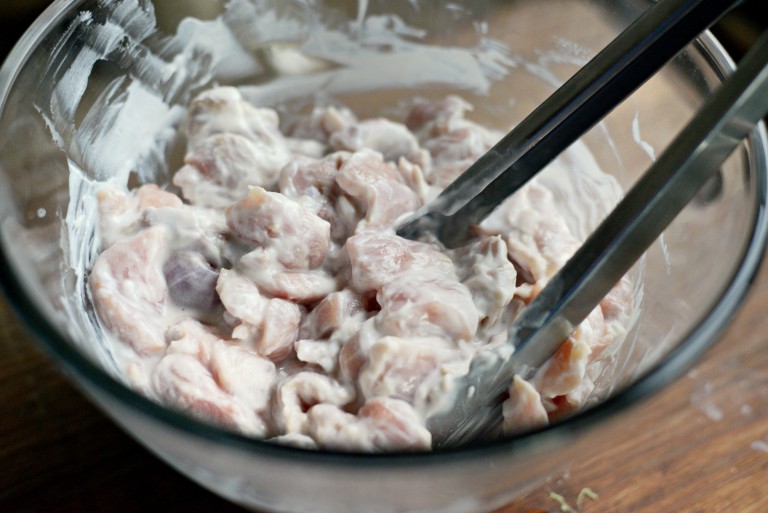 Give the chicken a quick toss to mix it back up.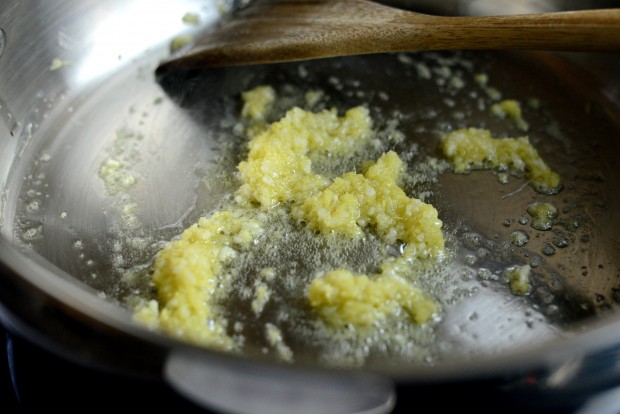 Heat a couple of teaspoons of butter or olive oil in a large 12-inch skillet over medium-high heat. Add in a tablespoon of grated fresh ginger and 4 cloves of garlic that have been squeezed through a garlic press and then cook for 1 to 2 minutes. (Again, see the note in the recipe instructions.)
Add in the chicken and all the marinade. Let the chicken cook for a couple of minutes before stirring it. The chicken really wont brown because of the yogurt marinade, so when the chicken looks white and fully cooked you can add in the spices.
Measure and stir in the garam masala, turmeric, cumin, coriander and cayenne. I only added a couple shakes of cayenne and it was the perfect level of heat for the sauce.
(**Please see note in recipe instructions at the end of the post.)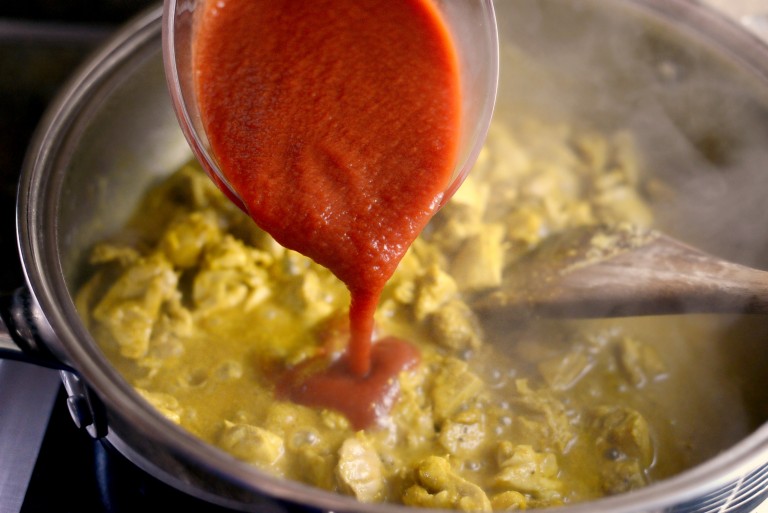 Pour in the tomato puree.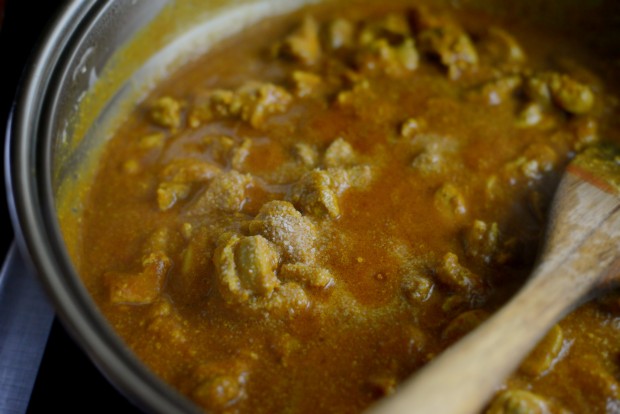 And season with 1-1/4 to 1-1/2 teaspoons of kosher salt. Reduce the heat to low and simmer for 20 minutes.
Pour in a cup of full fat coconut milk or heavy cream (but I love using coconut milk).
Stir and heat through.
That's it! It really is so simple, but the flavors are extraordinary! The sauce is creamy and luscious and yet light at the same time. There's no doubt why butter chicken (murgh makhani) is so wildly popular- chicken swimming in a smooth, thick and wonderfully warm and flavorful sauce?? What's not to love?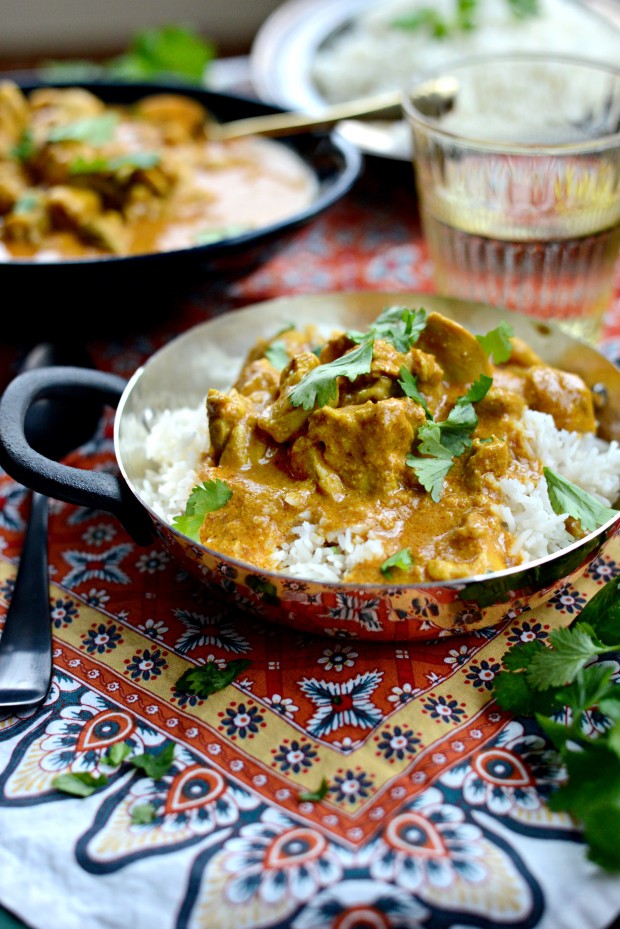 I serve this easy butter chicken over bowls of white or brown basmati rice and with a sprinkle of chopped cilantro over top.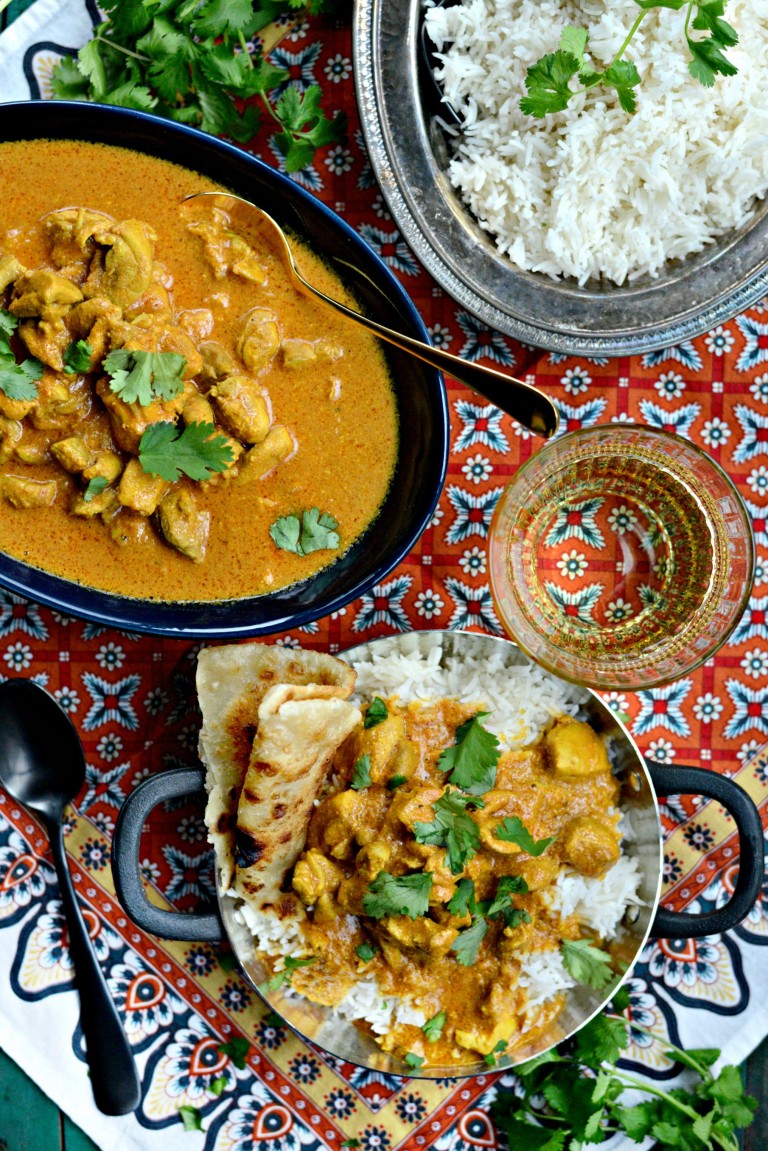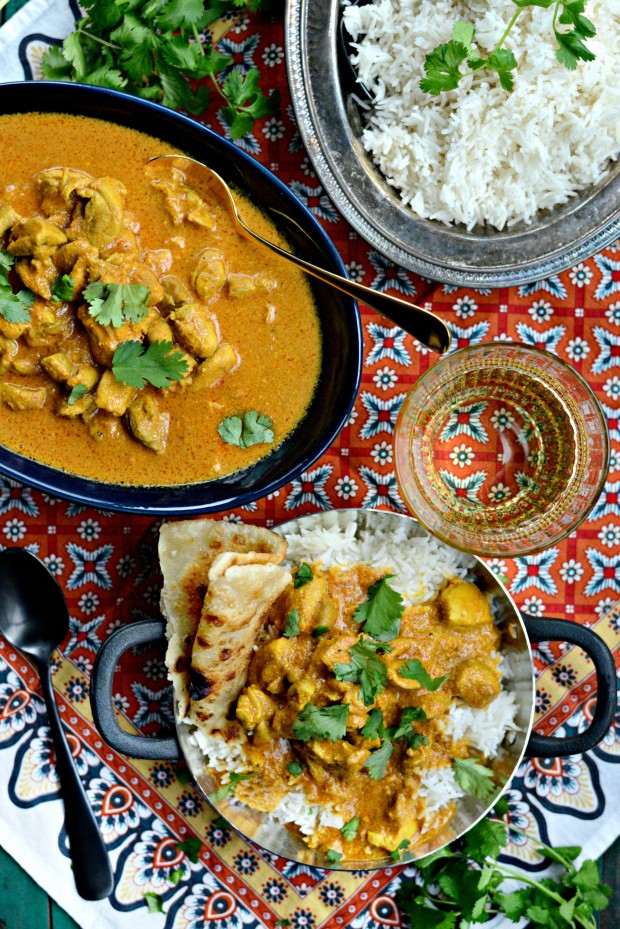 And alongside homemade naan. I like to scoop spoonfuls of rice, chicken and sauce onto the flat bread and eat it that way and I also use torn pieces of bread to mop my bowl clean.
This is a feast for sure!
Enjoy! And if you give this Easy Butter Chicken recipe a try, let me know! Snap a photo and tag me on twitter or instagram!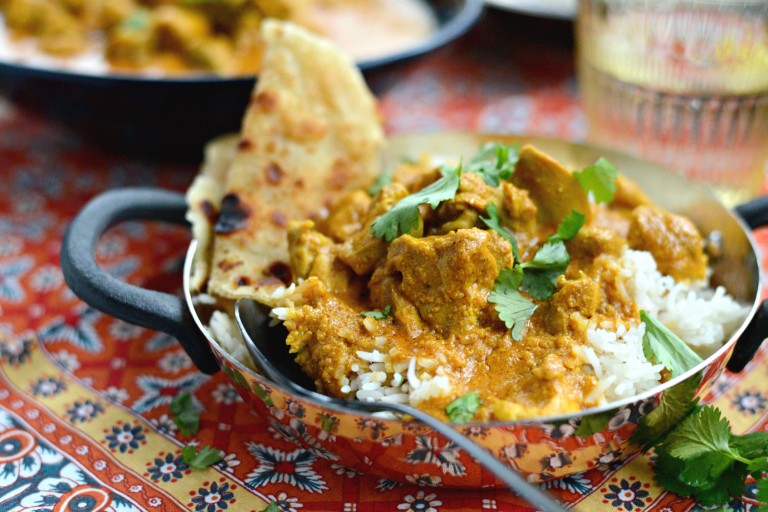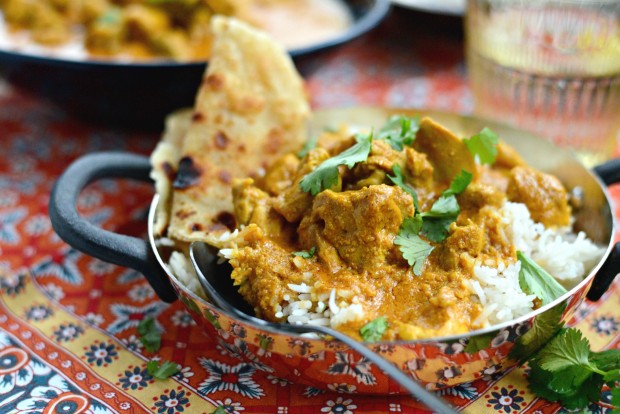 This post may contain affiliate links.
Buy the Cookbook: Simply Scratch : 120 Wholesome Homemade Recipes Made Easy Now available on Amazon »
THANK YOU in advance for your support!