DIn these baked fish nuggets, fresh cod is cut into bite-size pieces and dipped in an egg batter, rolled in panko and baked until crispy!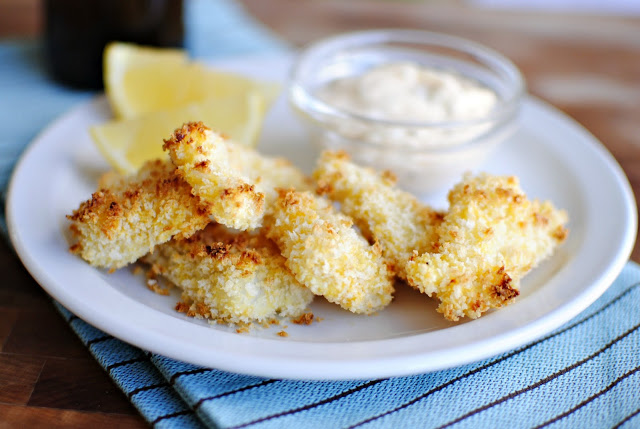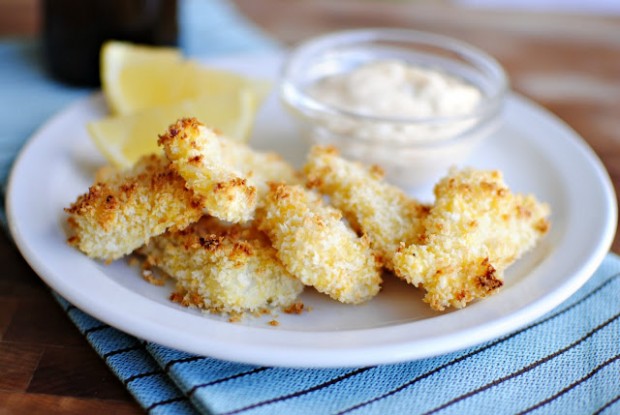 Now… *ahem* Three reasons why you will love these fish nuggets (besides the fact that they are amazing).
1. Because they have a crispy outside and a tender inside. Who doesn't love that in regards to EVERYTHING?
2. Annnnnd you get to dunk them in a most delicious tartar sauce. duh.
3. But mostly because they beat Gordon's and Van de Kamp's to a PULP in flavor, texture and real fish-ness. Can I get an AMEN?!
Let me break it down for you…
To make These Fish Nuggets You Will Need:
for the fish nuggets:
fresh, wild caught cod
eggs
lemon juice
kosher salt
freshly ground black pepper
whole milk
plain nonfat greek yogurt
Dijon mustard
Frank's Red Hot sauce
Panko breadcrumbs
for the tatar sauce:
mayonnaise
sweet pickle relish
hot sauce
kosher salt and black pepper (optional)
Let's get started, shall we? Crack 2 eggs into a dish.
Measure out 2 tablespoons of Dijon mustard and add it to the eggs.
Add 1 tablespoon hot sauce, it doesn't make these "hot" just good flavor. Promise.
Next add in 1/4 cup plain nonfat greek yogurt.
Pour in 1/4 cup whole milk.
Whisk it until everything is smooth and creamy.
Measure and add 2 cups of Panko bread crumbs into a separate dish and then set the egg mixture and the crumbs aside.
Cod is a white fish obviously and it's the best fish for nuggeting (in my opinion). And you need 1 pound.
If you can't find cod, then try tilapia.
Squeeze some fresh lemon juice over top of the fish.
Season it with salt and 1/4 teaspoon pepper.
Slice it lengthwise into long strips.
Cut the strips into nugget-looking pieces. Try to keep it uniform so they cook at the same rate.
Dunk a few of the fish pieces into the egg mixture.
Roll them around in the Panko. Pressing the crumbs into the fish if needed.
Place them onto a parchment lined sheet pan. Pretend that's not a silpat, k? After I baked these for 10 minutes I remember that I really shouldn't broil using a silpat. So I did a little switch-a-roo and put them on some parchment. Do it the right way the first time. Don't be like me.
Turn the broiler on, and with the door ajar, watch carefully so they don't burn. Once they are a deep golden remove and let cool for a smidge.
Baked fish nuggets!
Serve with this tartar sauce and I promise you'll be so glad you did.
Dip. Eat. Repeat.
Seriously tho, MAKE the tartar sauce!
Bite, re-dunk and repeat. You could also stuff a few of these little nuggets-o-love into some toasty corn tortillas with some shredded cabbage and a squeeze of lime, maybe even some avocado and jalapeños for a little fish taco goodness.
Enjoy! And if you give this Fish Nugget recipe a try, let me know! Snap a photo and tag me on twitter or instagram!
Yield: 4 servings
Crispy Baked Fish Nuggets + Tartar Sauce
In these baked fish nuggets, fresh cod is cut into bite-size pieces and dipped in an egg batter, rolled in panko and baked until crispy!
Ingredients
1 pound fresh, wild caught cod
2 large eggs
1/2 lemon, juiced
1/4 teaspoon kosher salt
1/4 teaspoon freshly ground black pepper
1/4 cup whole milk
4 tablespoons plain Greek yogurt
2 tablespoons dijon mustard
1 tablespoon Frank's Red Hot sauce
2 cups panko breadcrumbs
FOR THE TARTAR SAUCE:
1/2 cup mayo
2½ tablespoons sweet pickle relish
1/2 tablespoon of Frank's Red Hot, more or less to taste
kosher salt, optional
black pepper
Instructions
MAKE THE NUGGETS:
Preheat your oven to 400° and line a rimmed baking pan with parchment.

In a shallow dish combine the eggs, mustard, hot sauce, milk and Greek yogurt. Whisk until combined and set aside. Place two cups of Panko in another dish and set aside as well.

Squeeze fresh lemon over the cod and season it with salt and pepper.

Slice the fresh cod lengthwise and then cut into nugget like pieces. Dunk the cod into the egg mixture and using a fork remove, draining off any excess.

Then place in the panko, toss and press the breadcrumbs to help them adhere, then place the breaded nuggets onto prepared pan. Working in batches if needed, bake for 10 minutes.

Turn on broiler, crack the door and watch carefully until golden. Serve with my homemade tartar sauce.
MAKE the tartar sauce:
Combine all ingredients, stir and refrigerate until ready to use.
Serving: 1g, Calories: 463kcal, Carbohydrates: 44g, Protein: 14g, Fat: 27g, Saturated Fat: 5g, Polyunsaturated Fat: 14g, Monounsaturated Fat: 6g, Trans Fat: 1g, Cholesterol: 107mg, Sodium: 960mg, Potassium: 783mg, Fiber: 11g, Sugar: 7g, Vitamin A: 5124IU, Vitamin C: 38mg, Calcium: 387mg, Iron: 8mg
This post may contain affiliate links.
Buy the Cookbook: Simply Scratch : 120 Wholesome Homemade Recipes Made Easy Now available on Amazon »
THANK YOU in advance for your support!