In this Crispy Air Fryer Tofu with Peanut Sauce recipe, tofu and shiitake mushrooms are air fried until crisp, drizzled with a simple sesame peanut sauce and served with squash noodles for a quick and easy lunch or dinner.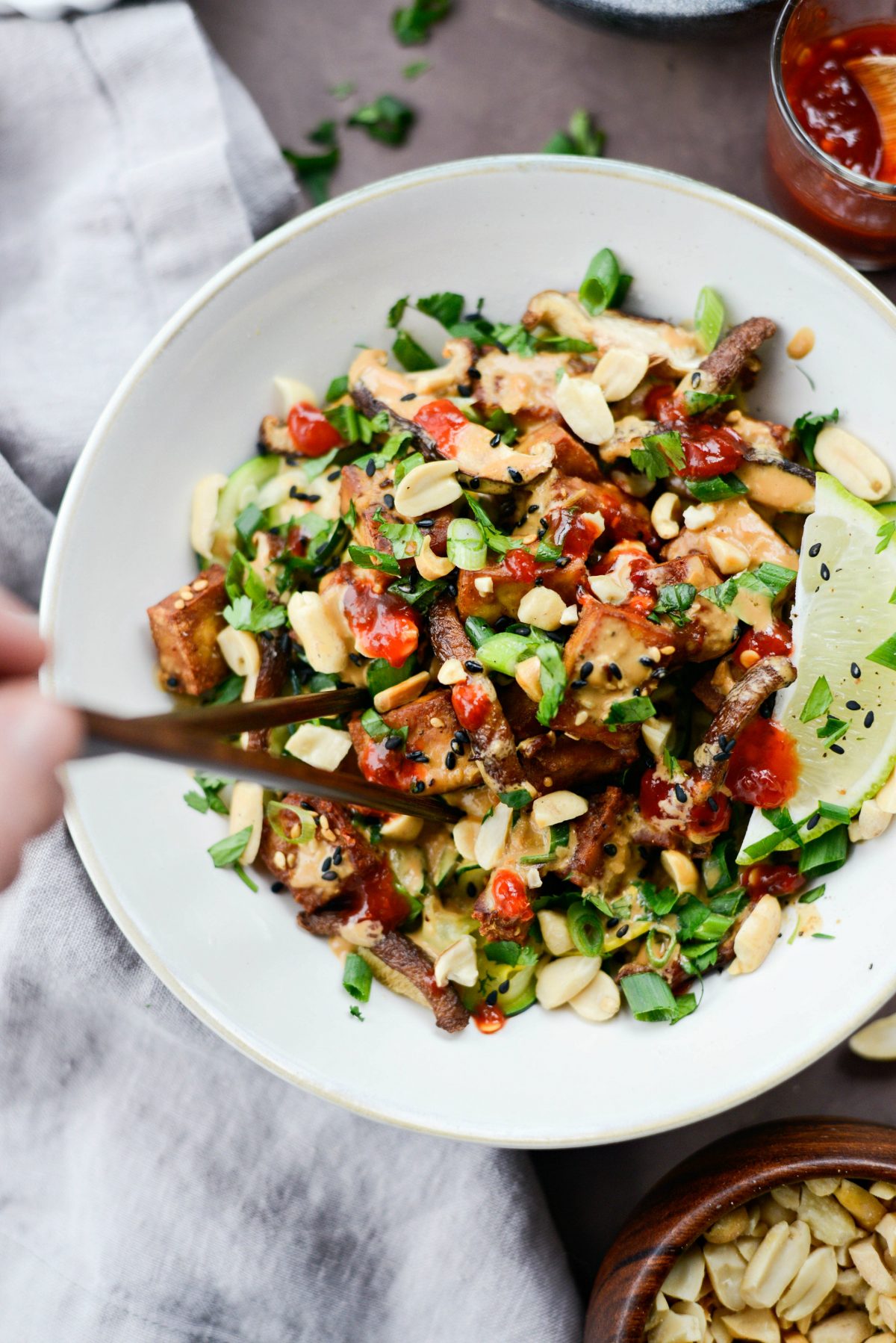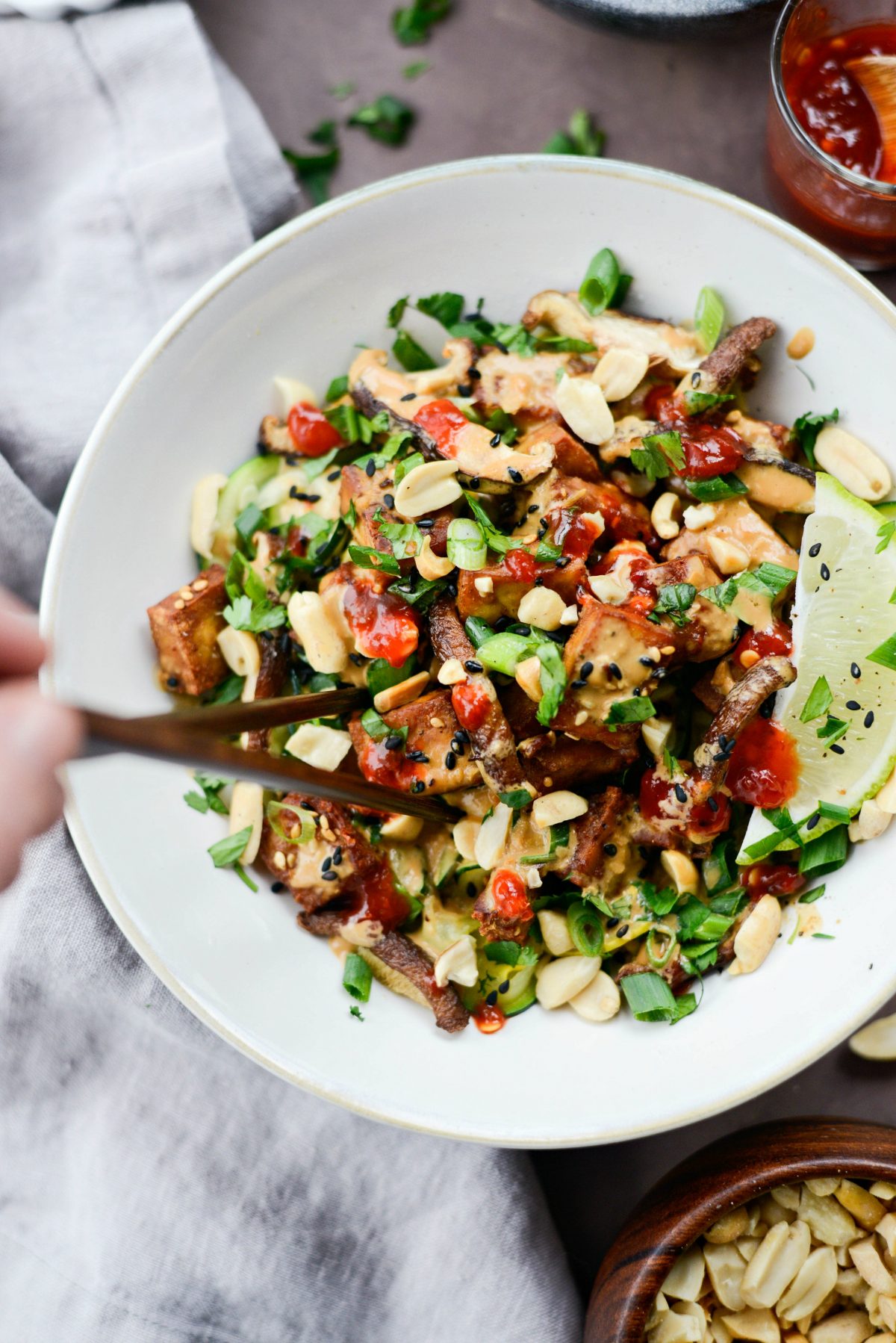 Say hello to the very first tofu recipe on this blog. Yes, ladies and gentlemen I have blogged nine years and am just now posting a tofu recipe. Now I've had tofu in soups before, but pressing and cooking my own? Never. Since tofu is made from soy, and normally I tend to stay away from soy products, I've always been hesitant. But, like chocolate cake, eating it every so often won't kill me.
I so want to call this recipe a stir-fry, but really, it's an air fryer recipe. Well, most of it is. I quickly toss cubed (pressed) tofu in a simple marinade and air fry until golden and the edges are crisp. Then I quickly cooked ribbons zucchini and yellow squash. I toss everything together with air fried shiitake mushrooms, green onions, cilantro and a simple and a low fat peanut butter sauce.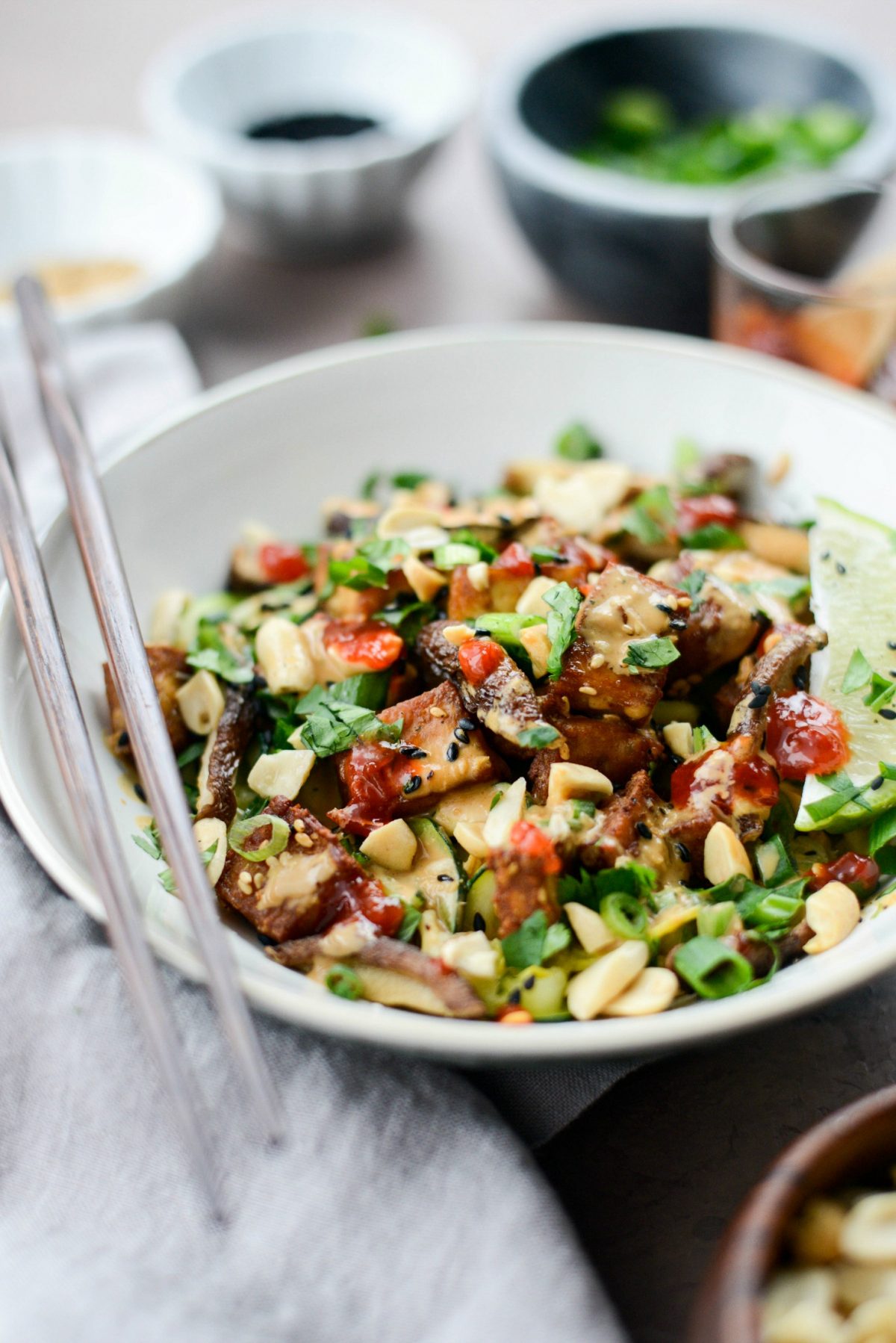 The end result being a light and flavor-packed meal!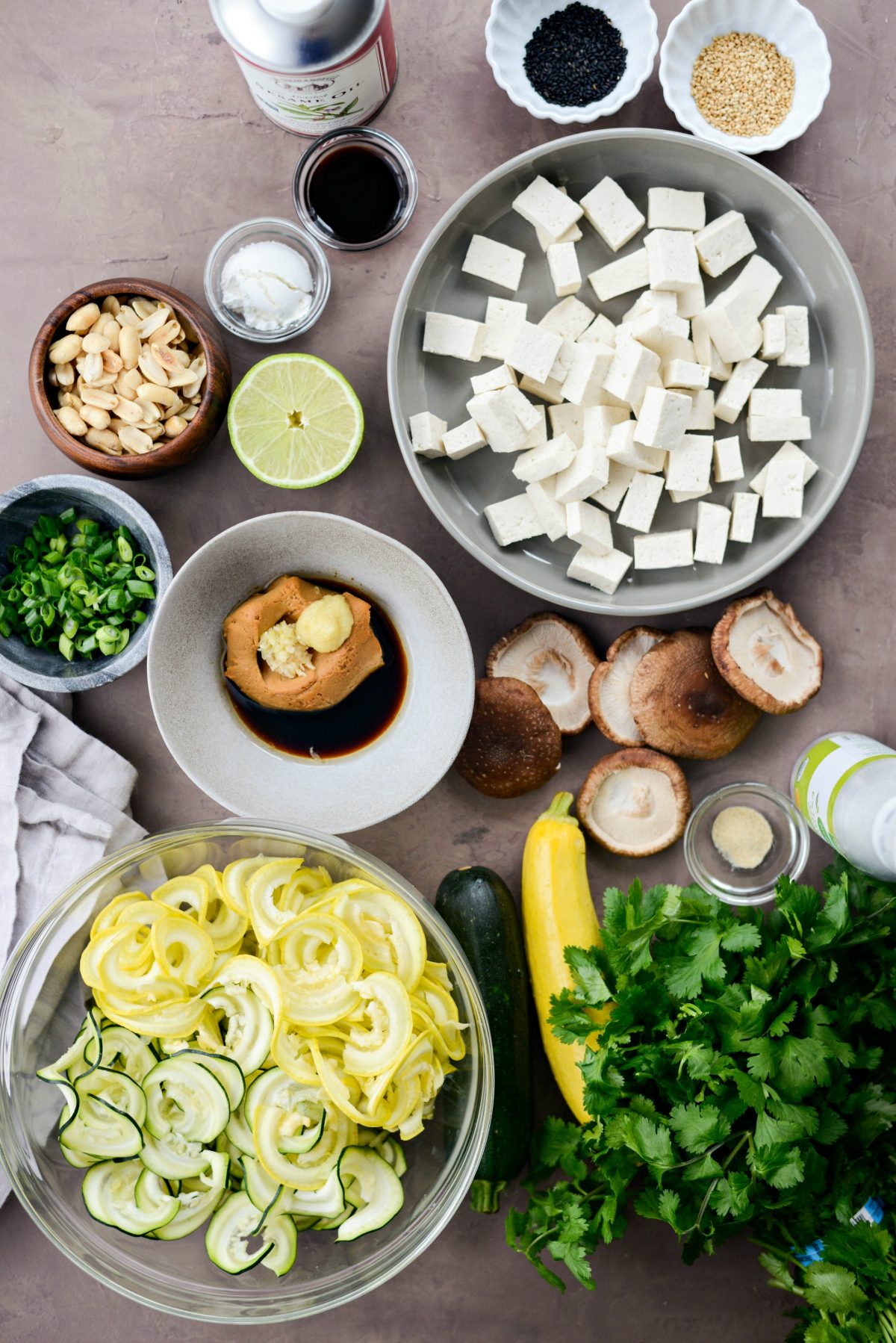 To Make This Crispy Peanut Tofu you will need:
powdered peanut butter
garlic
ginger
tamari
toasted sesame oil
Chinese cooking wine
a lime
1 (14 to 15 ounce) block extra firm tofu (you'll want to press it first)
cornstarch
toasted sesame seeds
shiitake mushrooms
olive oil spray
zucchini
yellow squash
garlic powder
You will also need, chopped peanuts, slice green onions, cilantro and more sesame seeds for serving.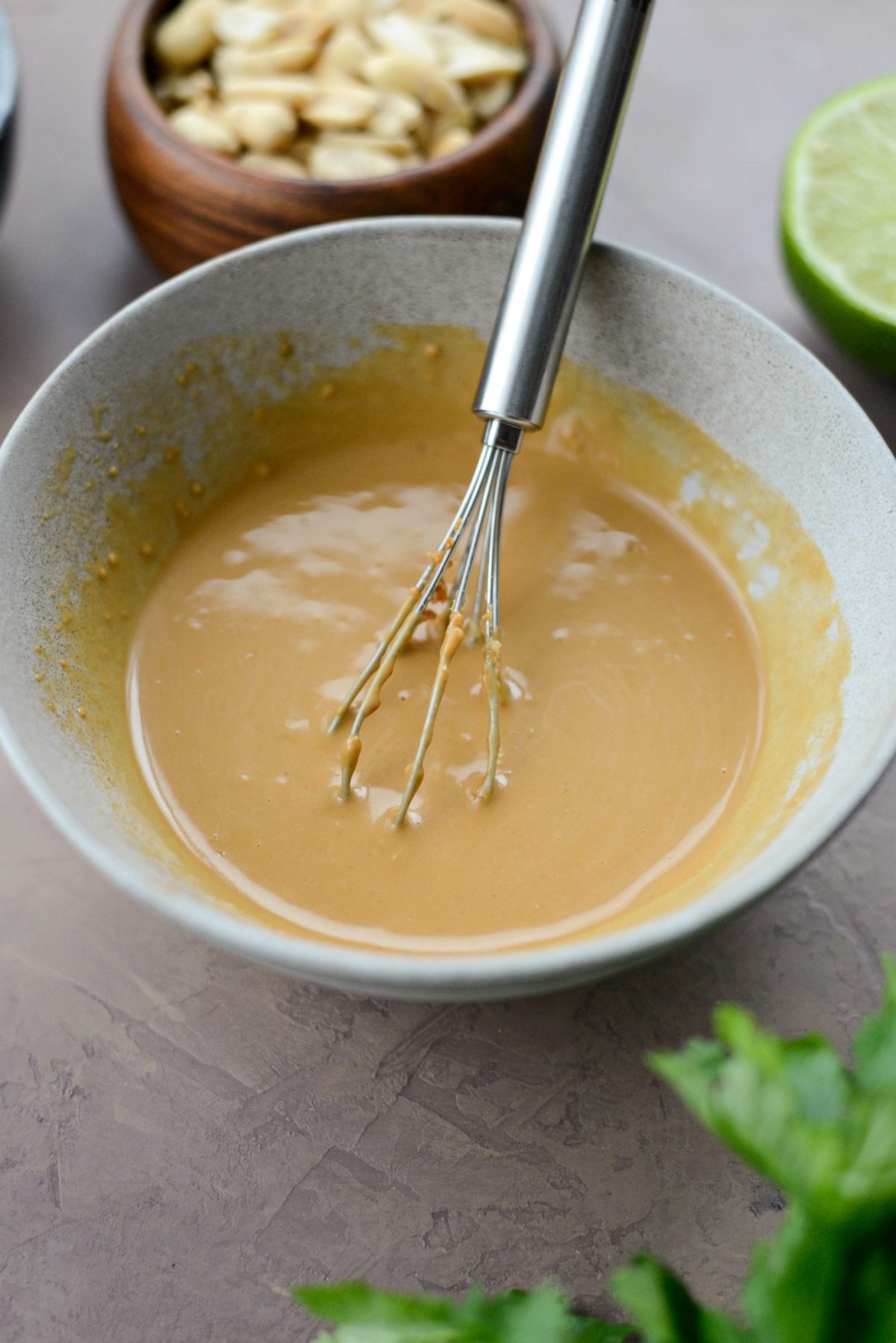 The secret to this low fat peanut butter sauce is that I use powdered peanut butter. What that is, is peanuts that have been pressed so majority of the oil is released and then ground into a powder. Add water to reconstitute and poof! you have a low fat peanut butter.
For The Peanut Sauce:
Combine 6 tablespoons of powdered peanut butter (I use PB2) with 3 tablespoons of water. Then add in 1 tablespoon low sodium tamari, 1 teaspoon sesame oil, 1/2 teaspoon Chinese cooking wine, grate in 1 small clove of garlic and 1/2 teaspoon fresh ginger. Lastly squeeze in the juice of 1/2 a lime and enough water to thin it out to a desired consistency. Set off to the side.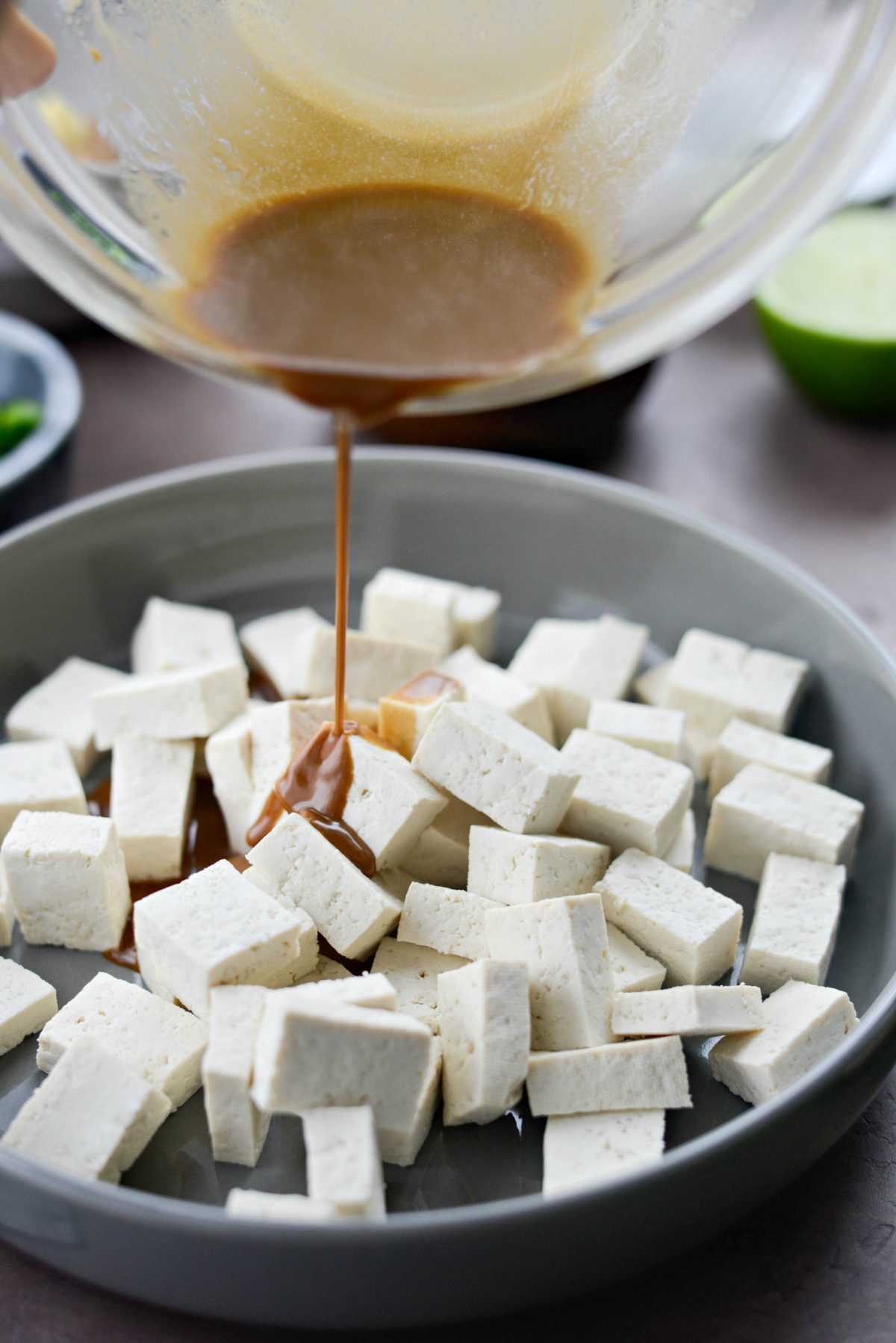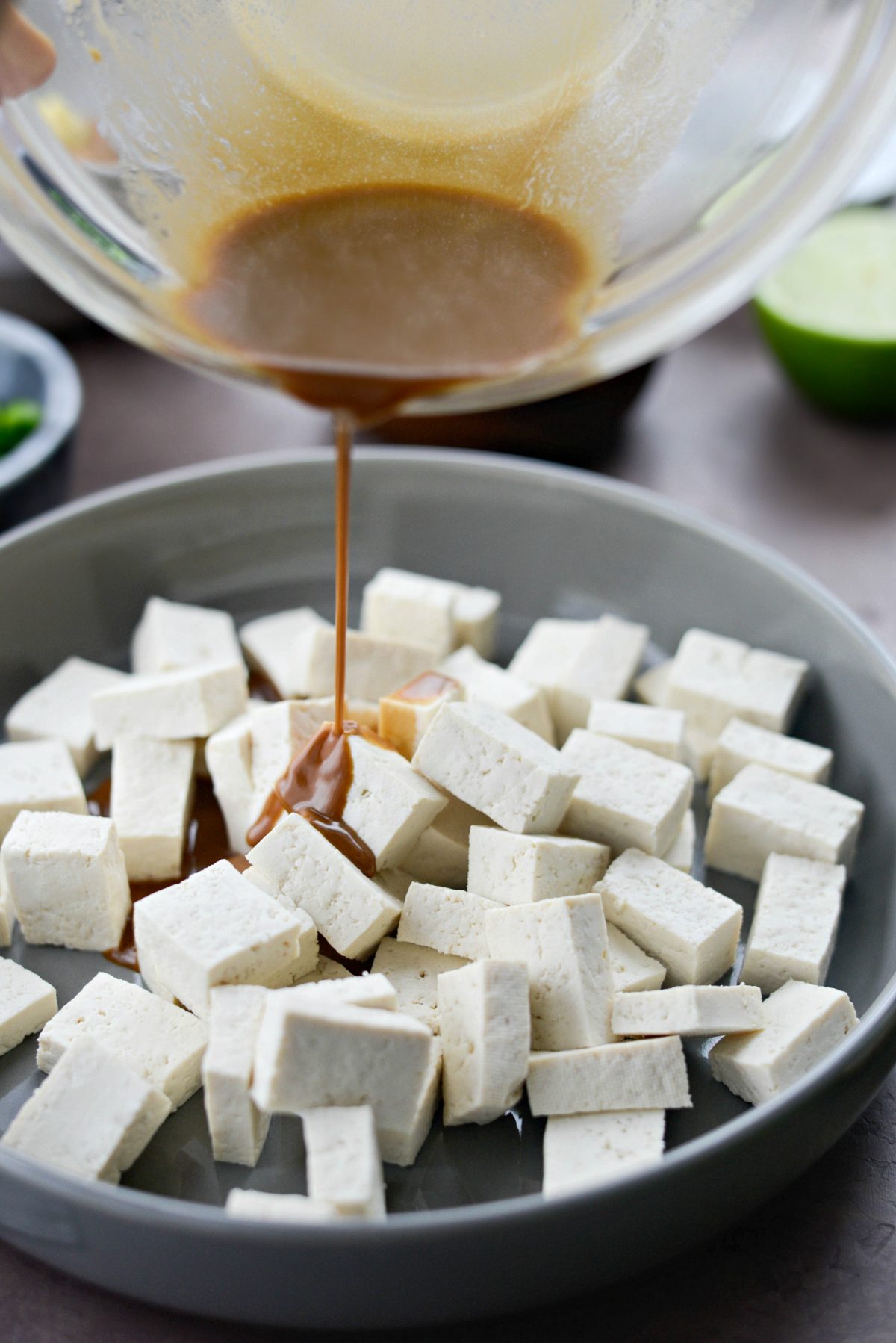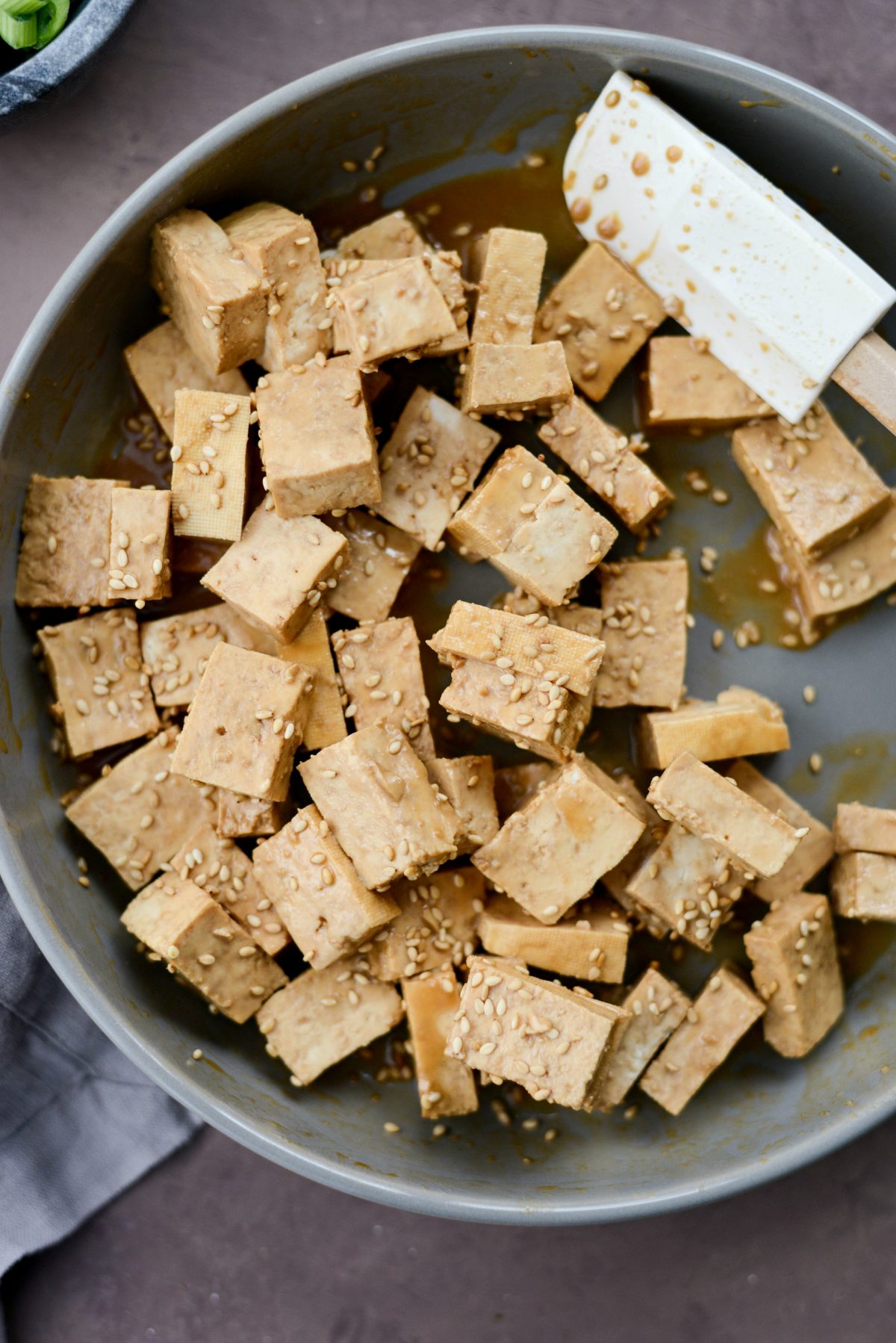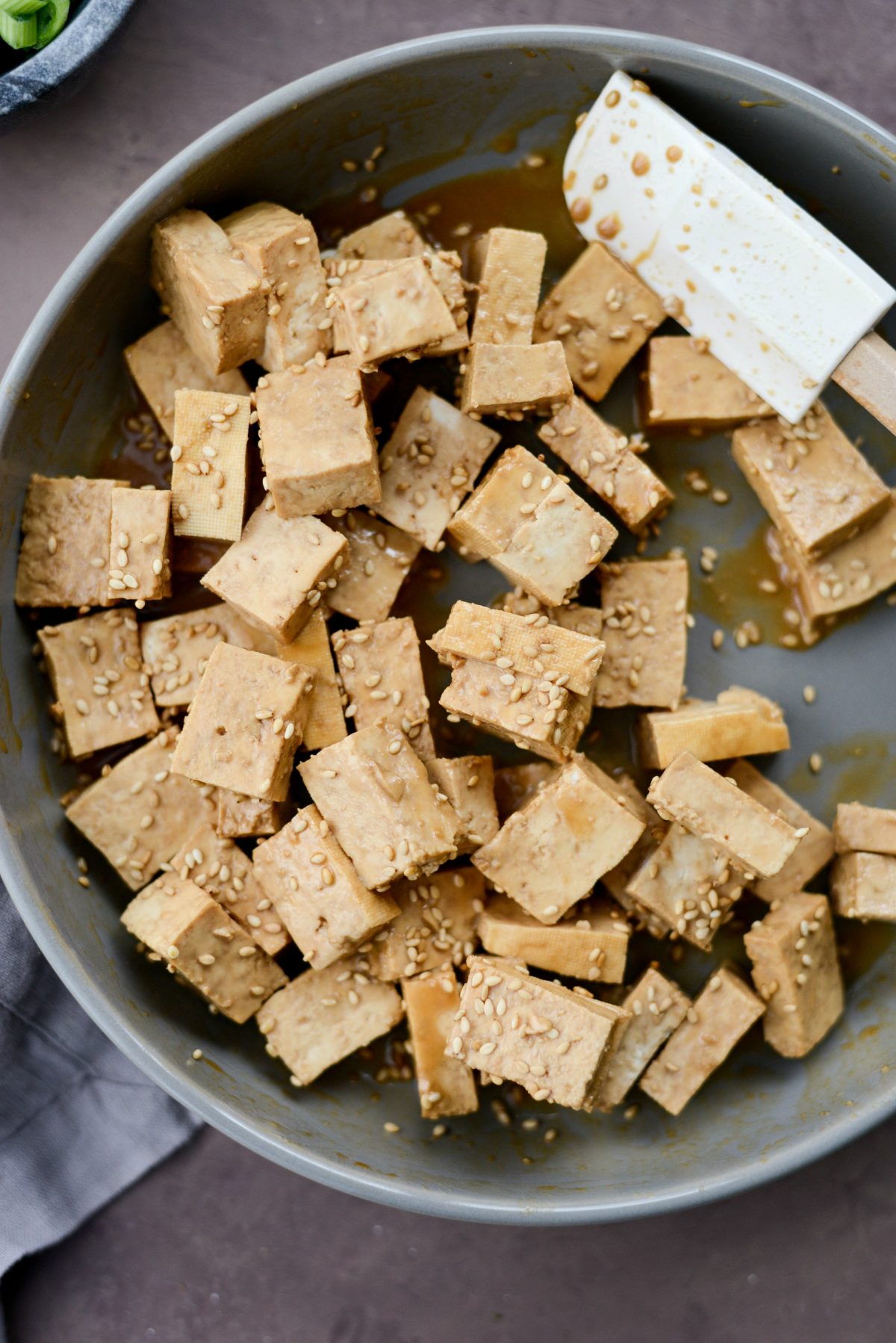 Next, in a separate bowl, whisk together 2 tablespoon low-sodium tamari with 1 teaspoon toasted sesame oil, and 1 tablespoon cornstarch. Pour the marinade over the pressed and cubed tofu, toss to coat and then sprinkle with 2 teaspoons toasted sesame seeds.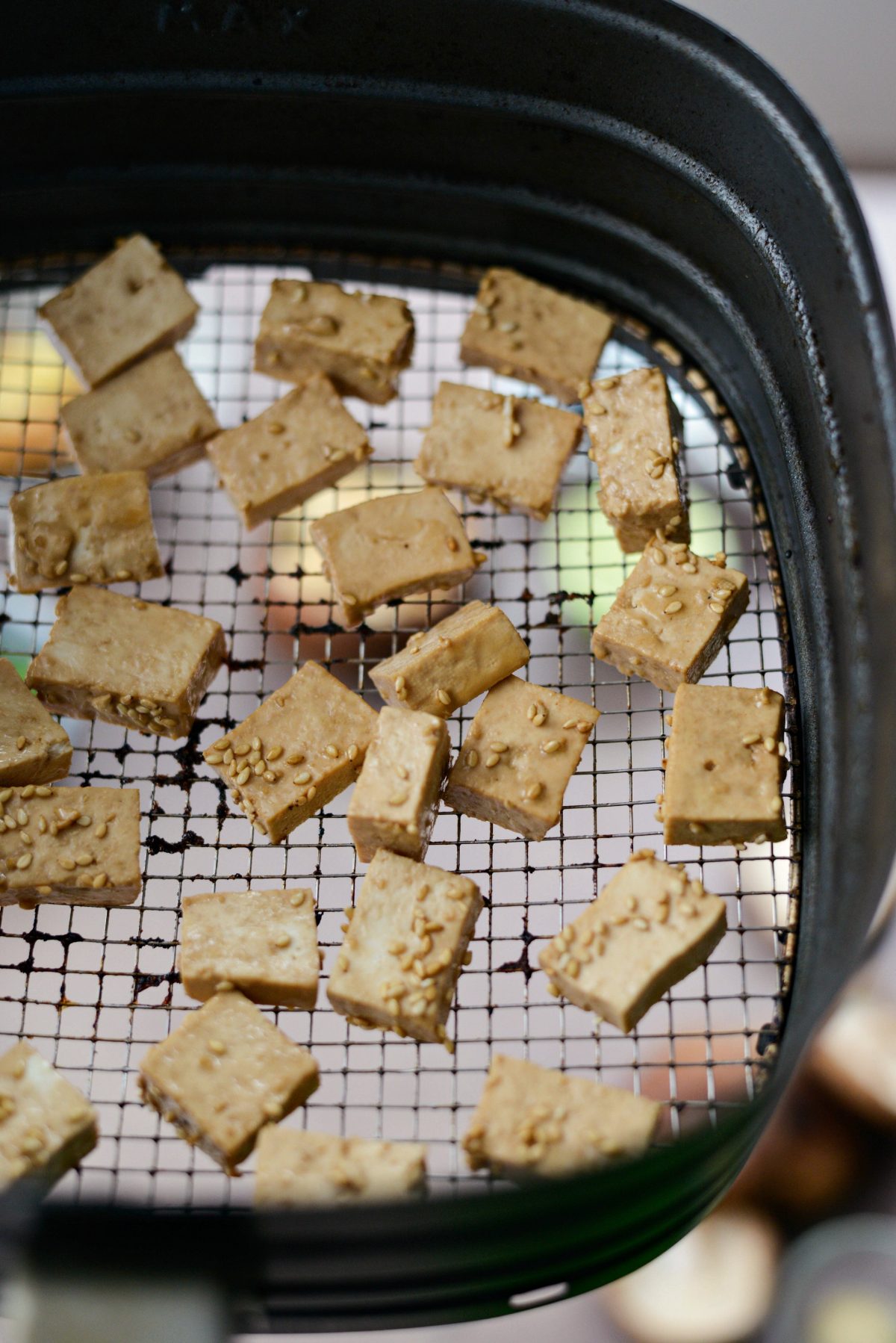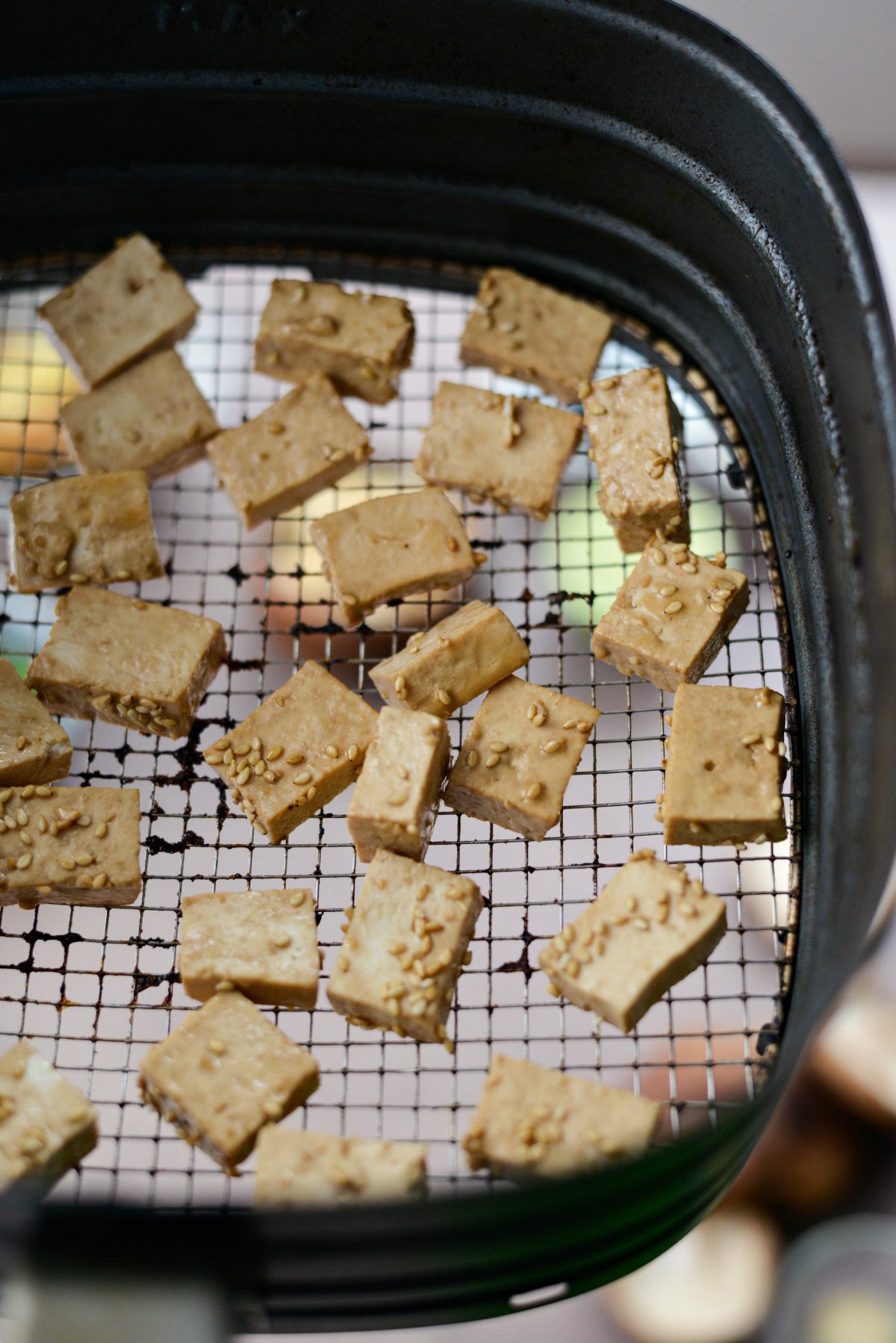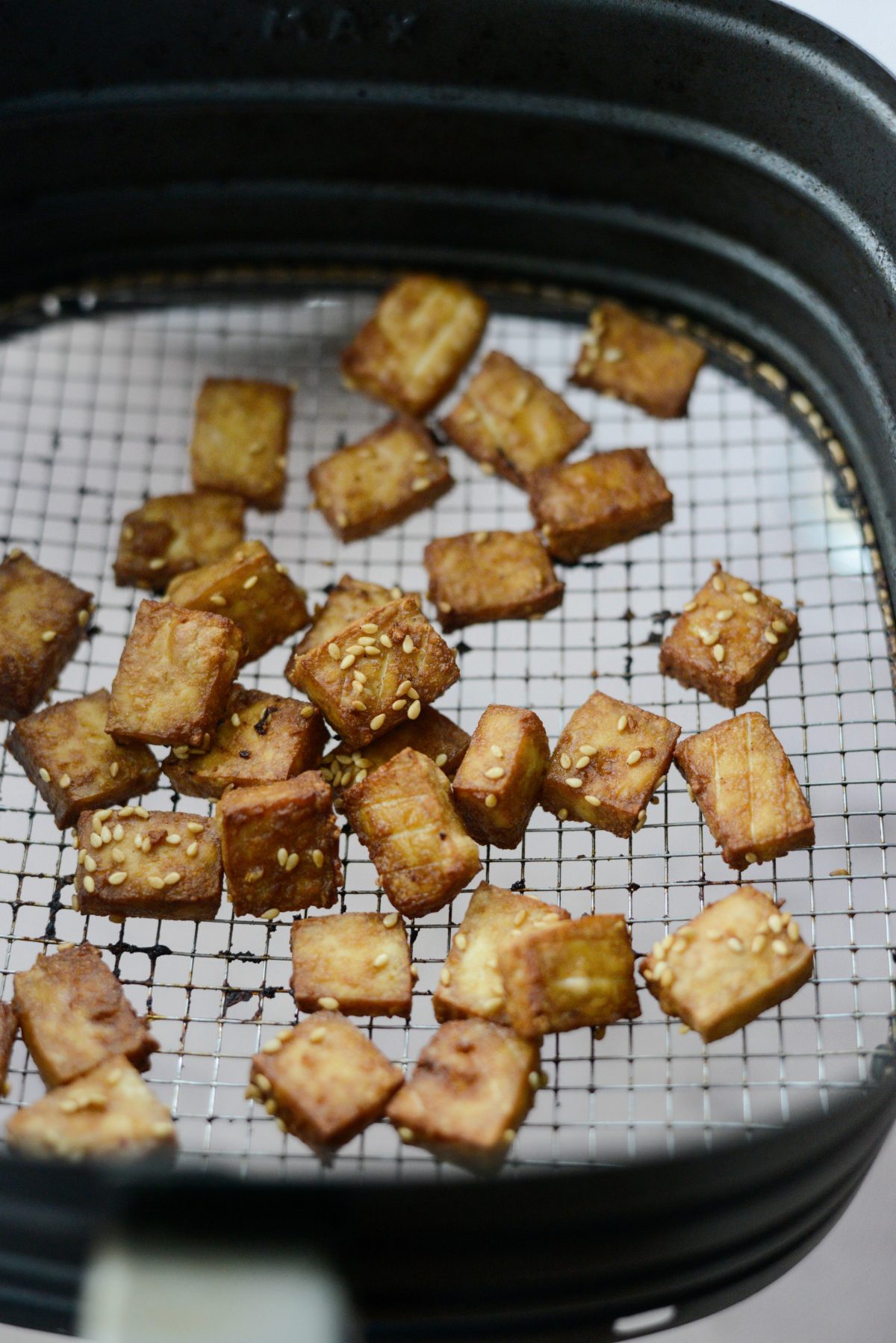 Then, preheat your air fryer to 390° or 400° depending on your model. Working in batches, add the tofu in a single layer and air fry for 8 to 10 minutes or until crispy. Transfer to a paper towel lined plate and repeat with the remaining tofu.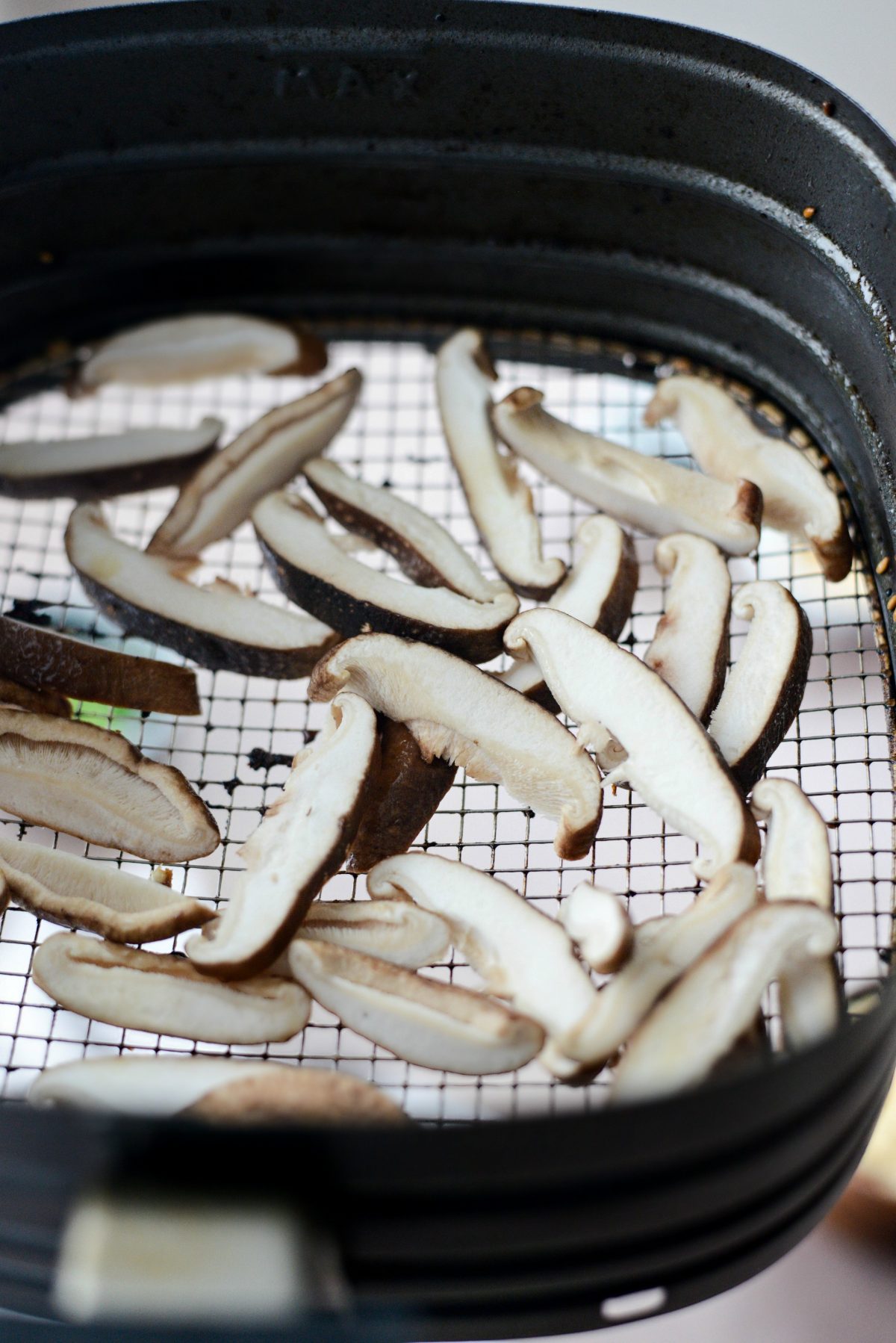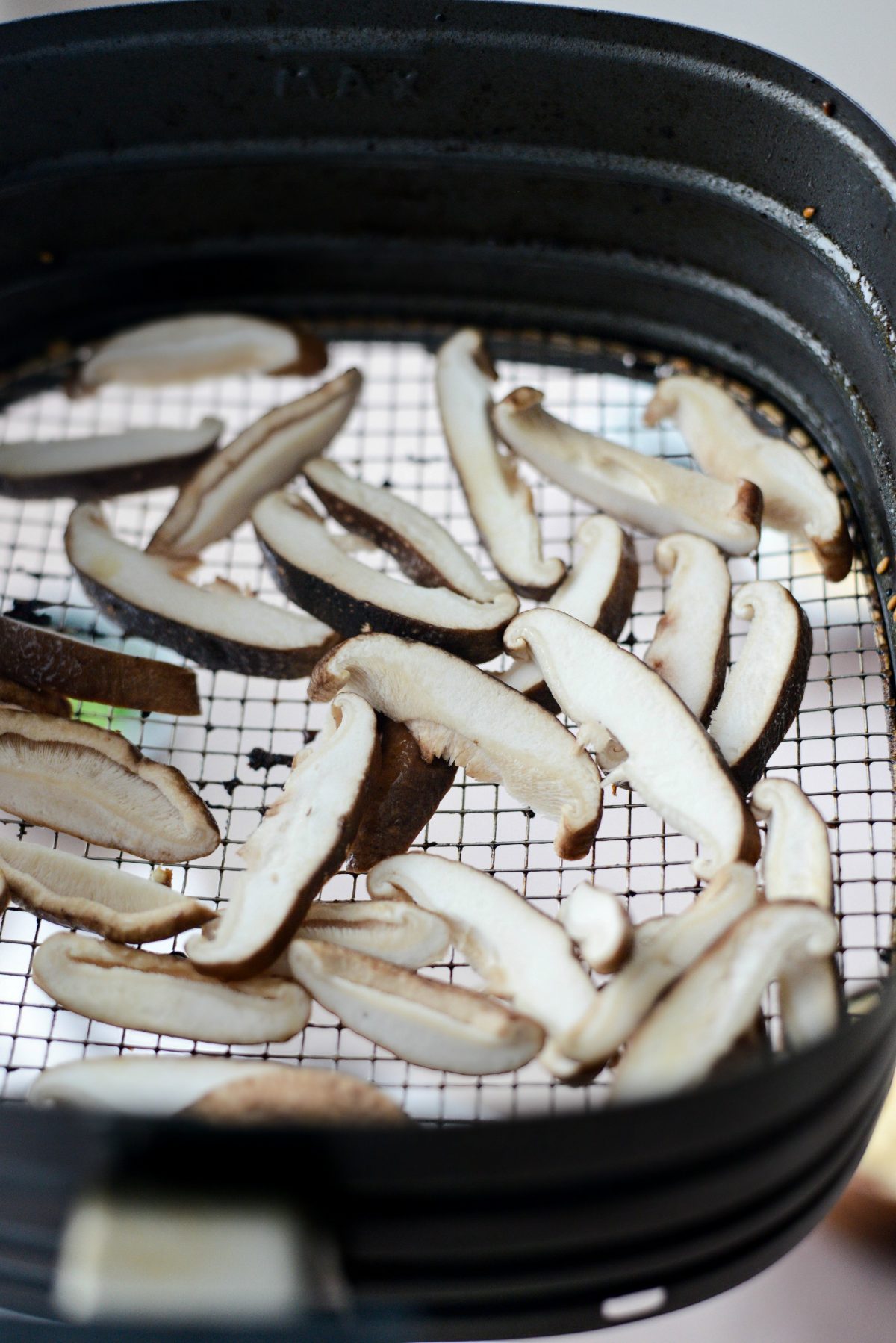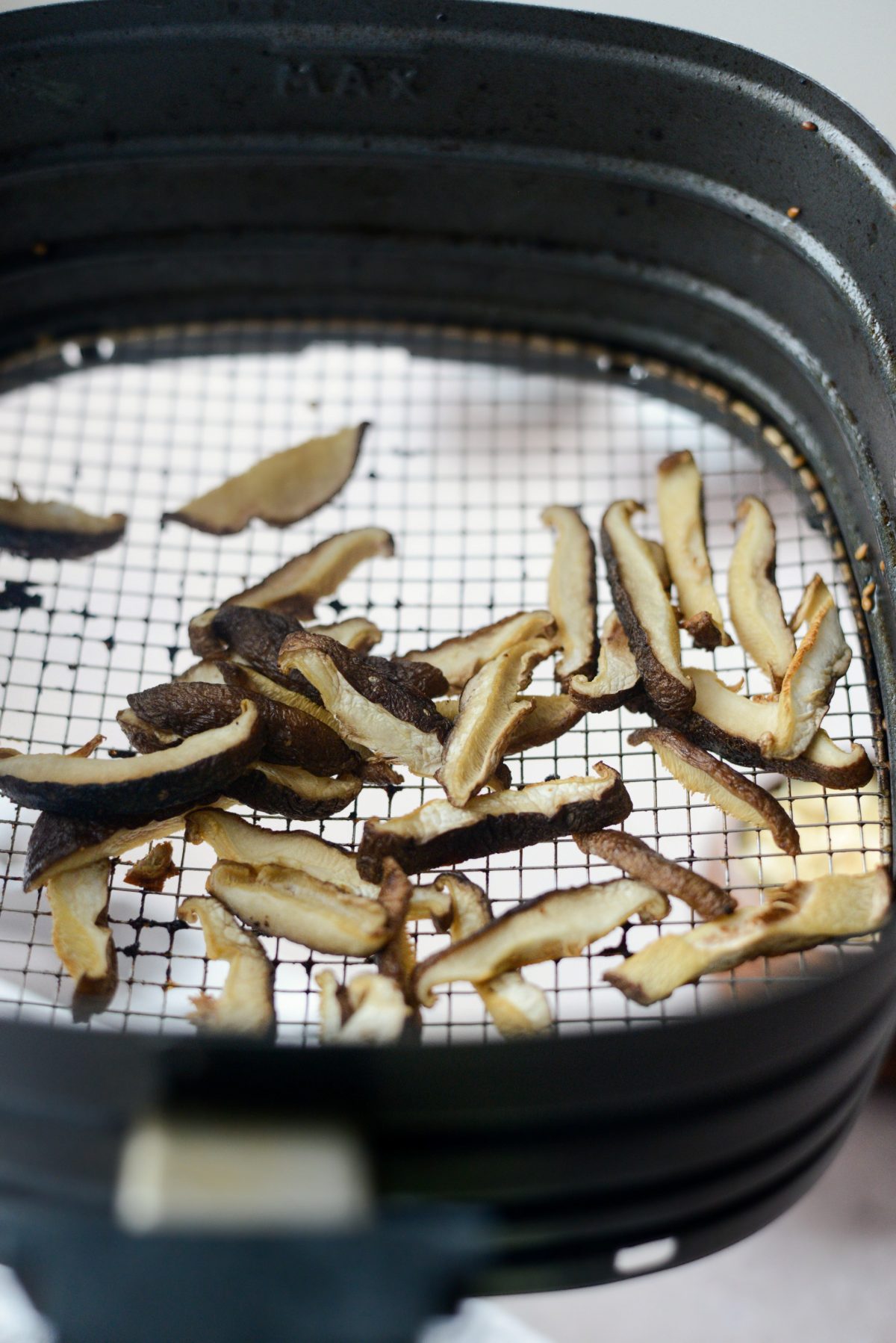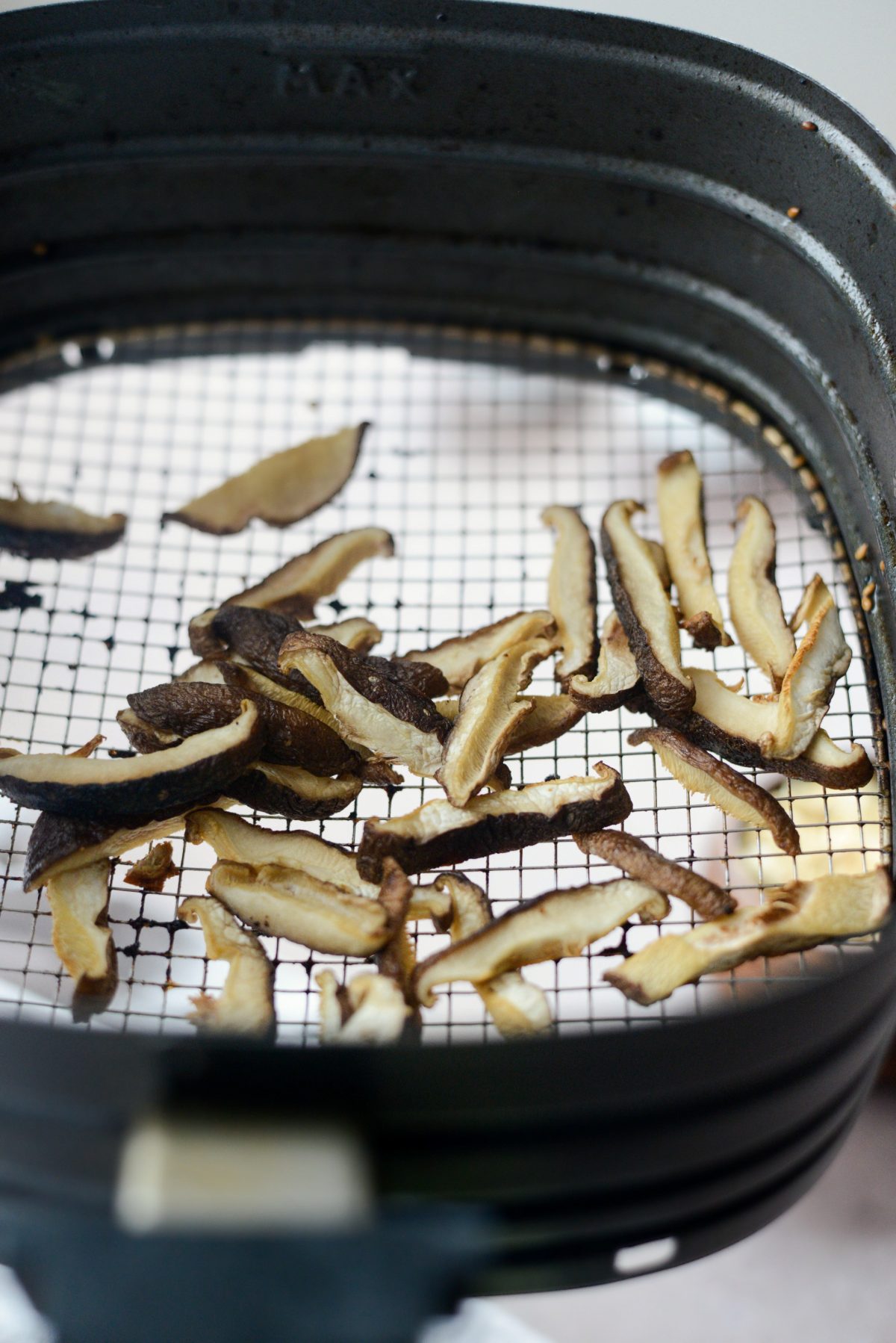 Then add the sliced shiitake into the air fryer and cook for 4 minutes. You can reheat the tofu by adding it back into your air fryer and heating for a minute or two.
What Is Air Frying?
An air fryer is a counter top appliance that requires less oil (anything from a few spritz to 1 tablespoon) yet produces crispy food that rivals most deep fried foods. By using circulating hot air, it moves at a high speed so the food tends to cook in a fraction of the time.
There are a bunch of different makes and models of air fryers. My husband did the research (as he's known to do) and found this air fryer [affiliate] to be one of the best. But do your research and purchase one that fits your lifestyle.
How is Air Frying Healthier?
Air frying is healthier because only a thin layer of oil coats the food and when the hot air comes in contact it will crisp. Saving you a ton of fat and calories (without sacrificing any flavor!) because food is not being submerged in a vat of hot oil.
For more Air Fryer recipes, click here for my growing collection.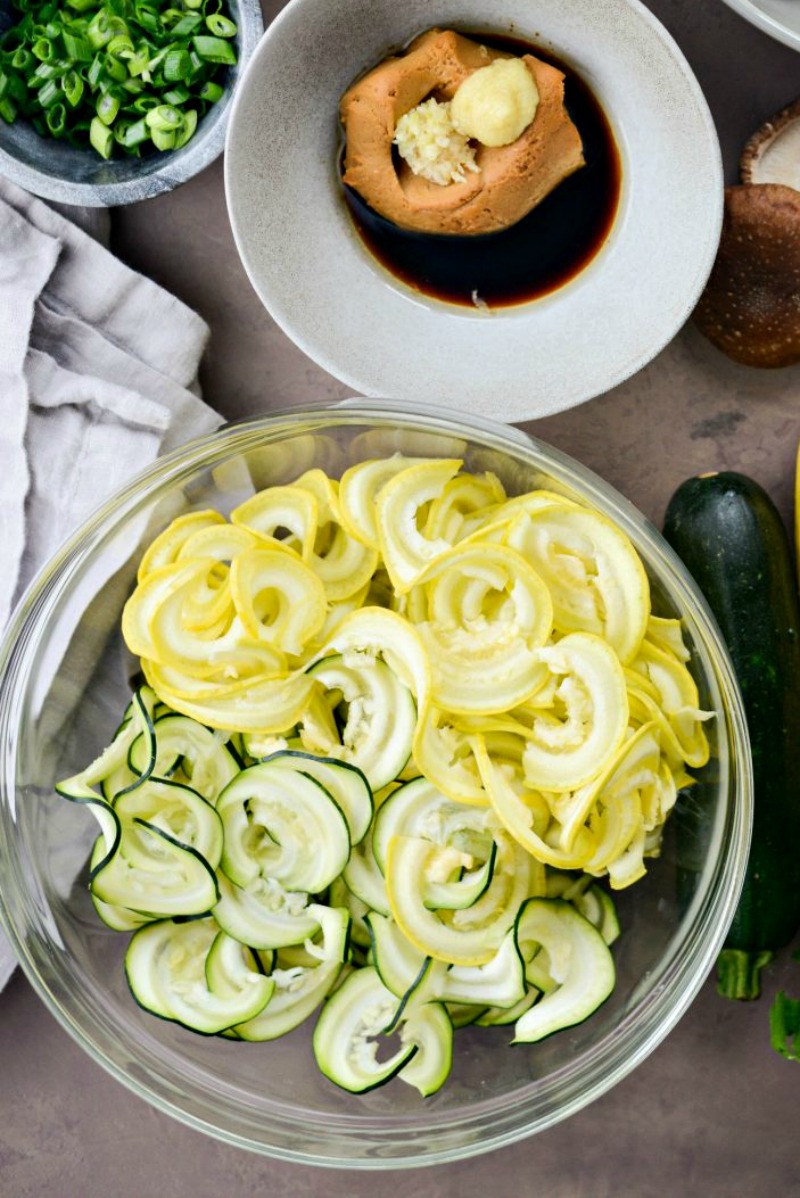 I followed the same method as in this recipe. Instead of fresh garlic, I just sprinkle in garlic powder and omit the parmesan cheese as well.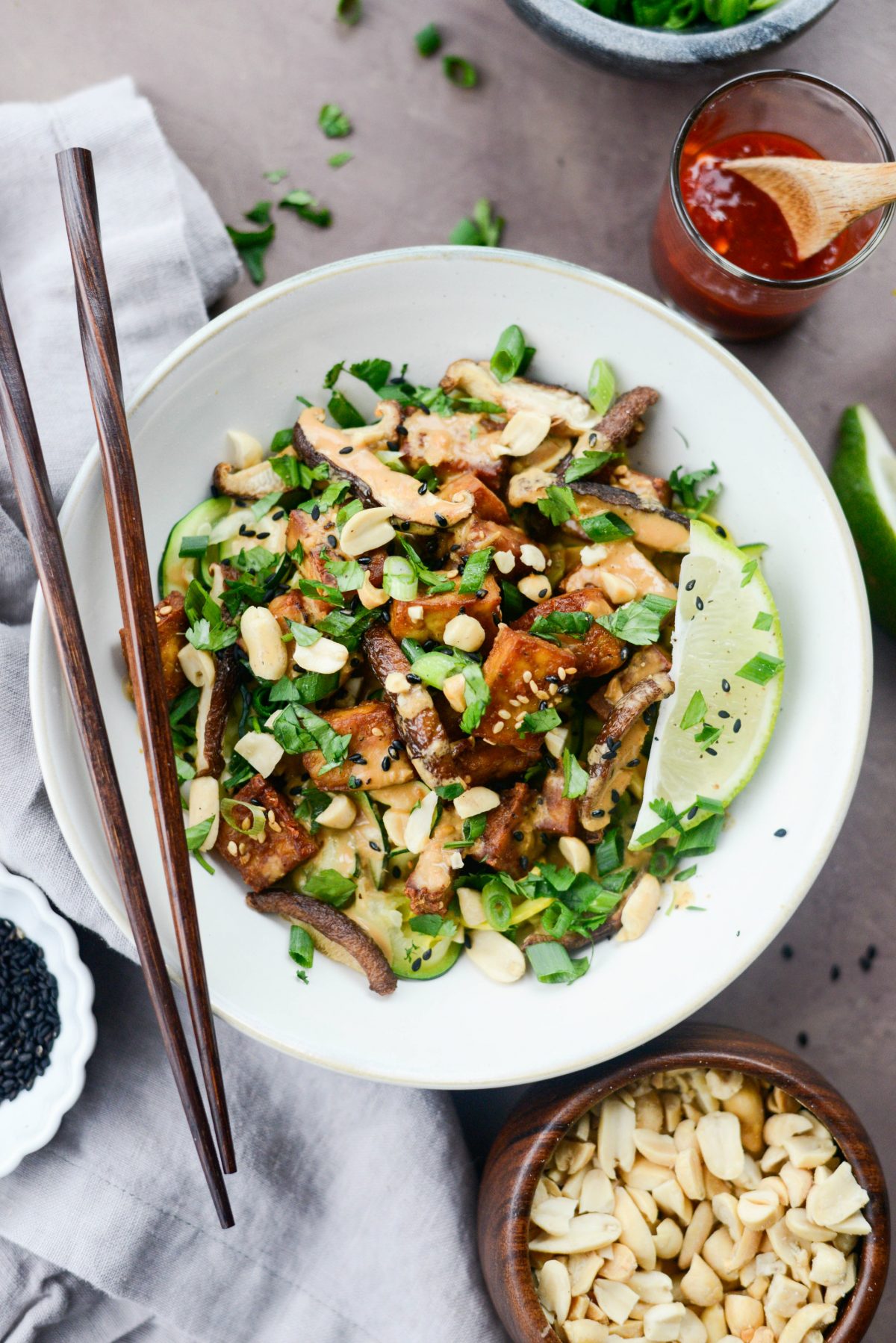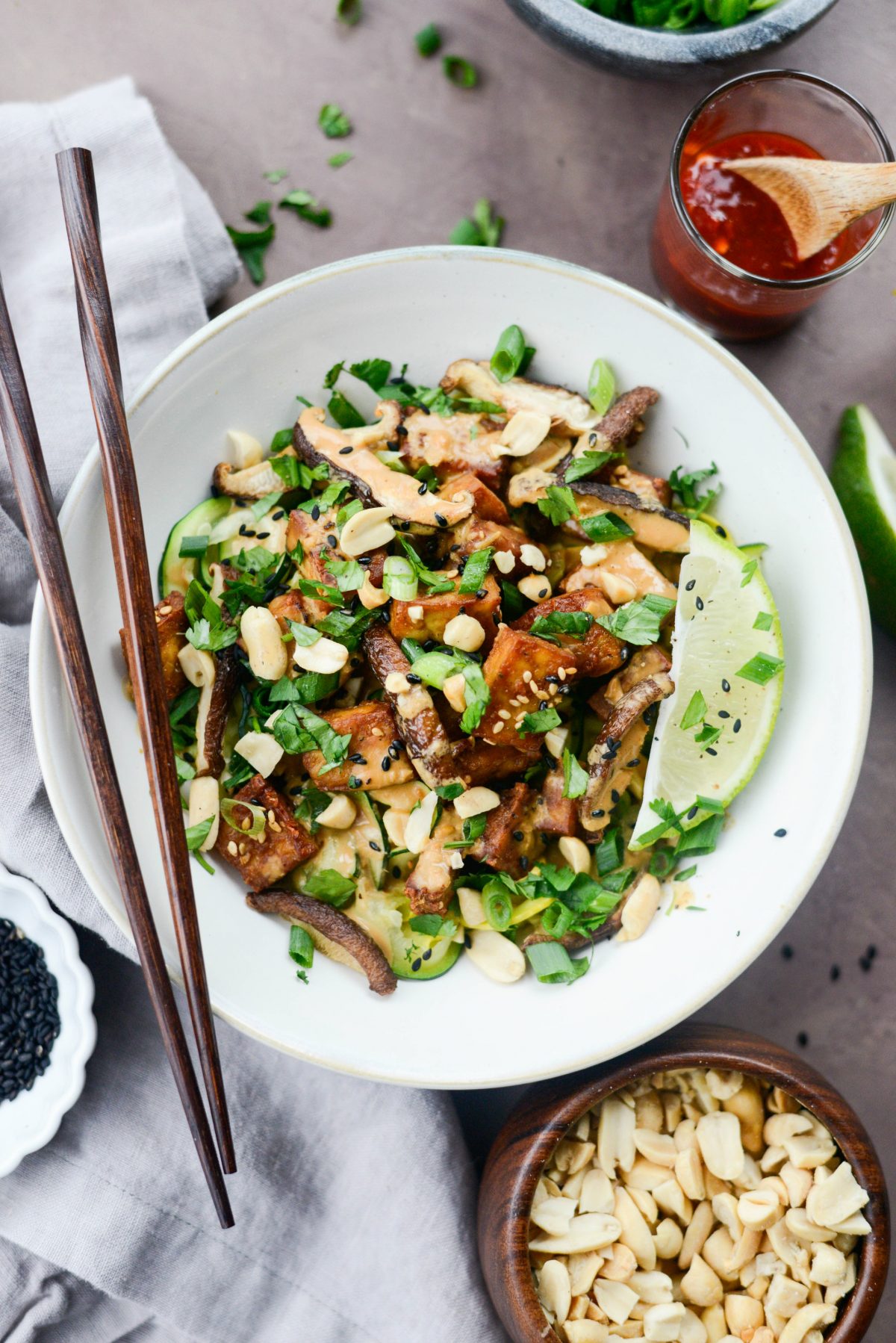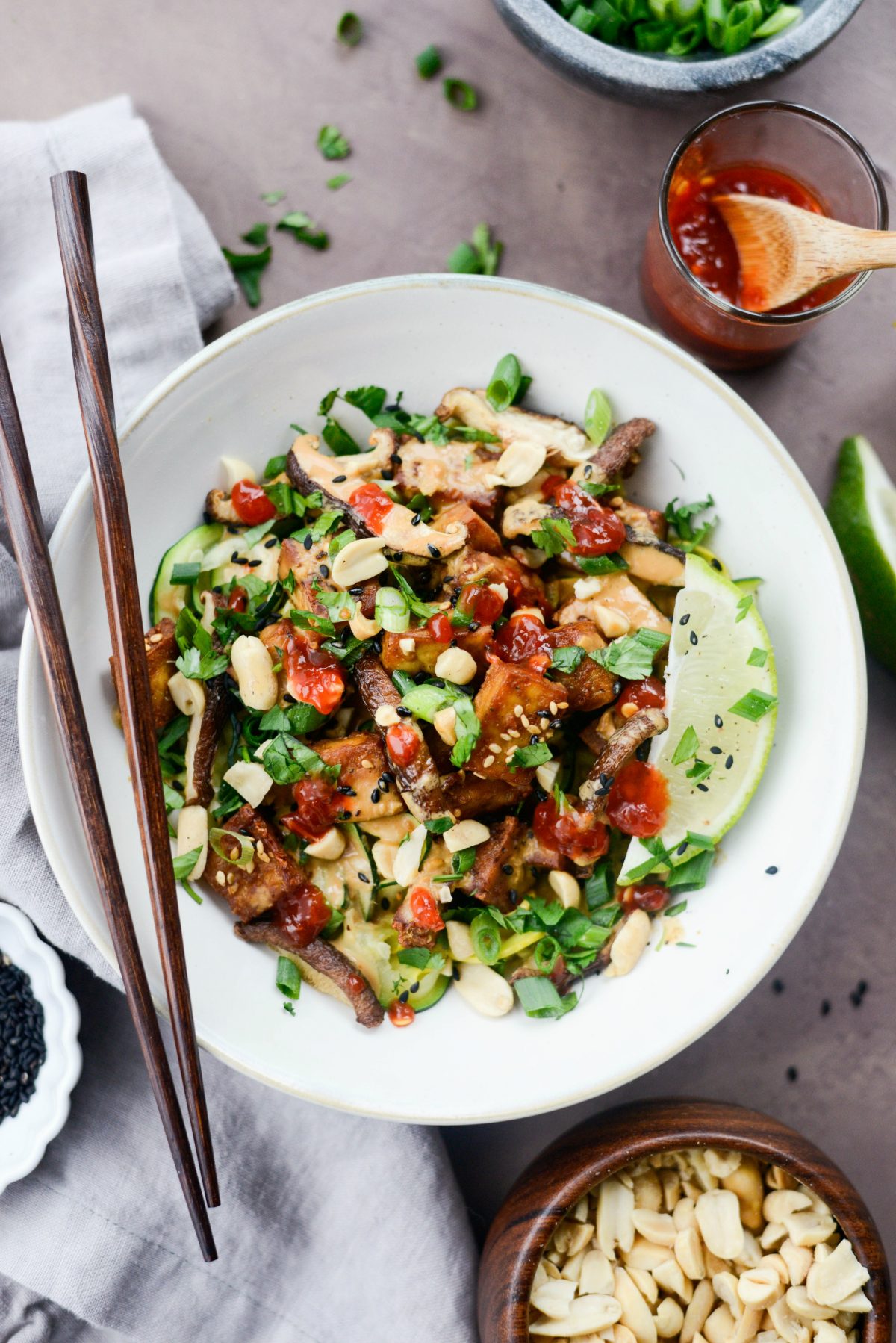 Finally serve the zoodles into bowls and add the crispy tofu, shiitake mushrooms and peanut sauce. Then top with crushed peanuts, sliced green onions, sesame seeds and minced cilantro. Don't forget about the wedge of lime on the side.
This dish is super delicious as is, but with a drizzle of sambal oelek or Sriracha definitely kicks this bowl of goodness up a notch with some heat.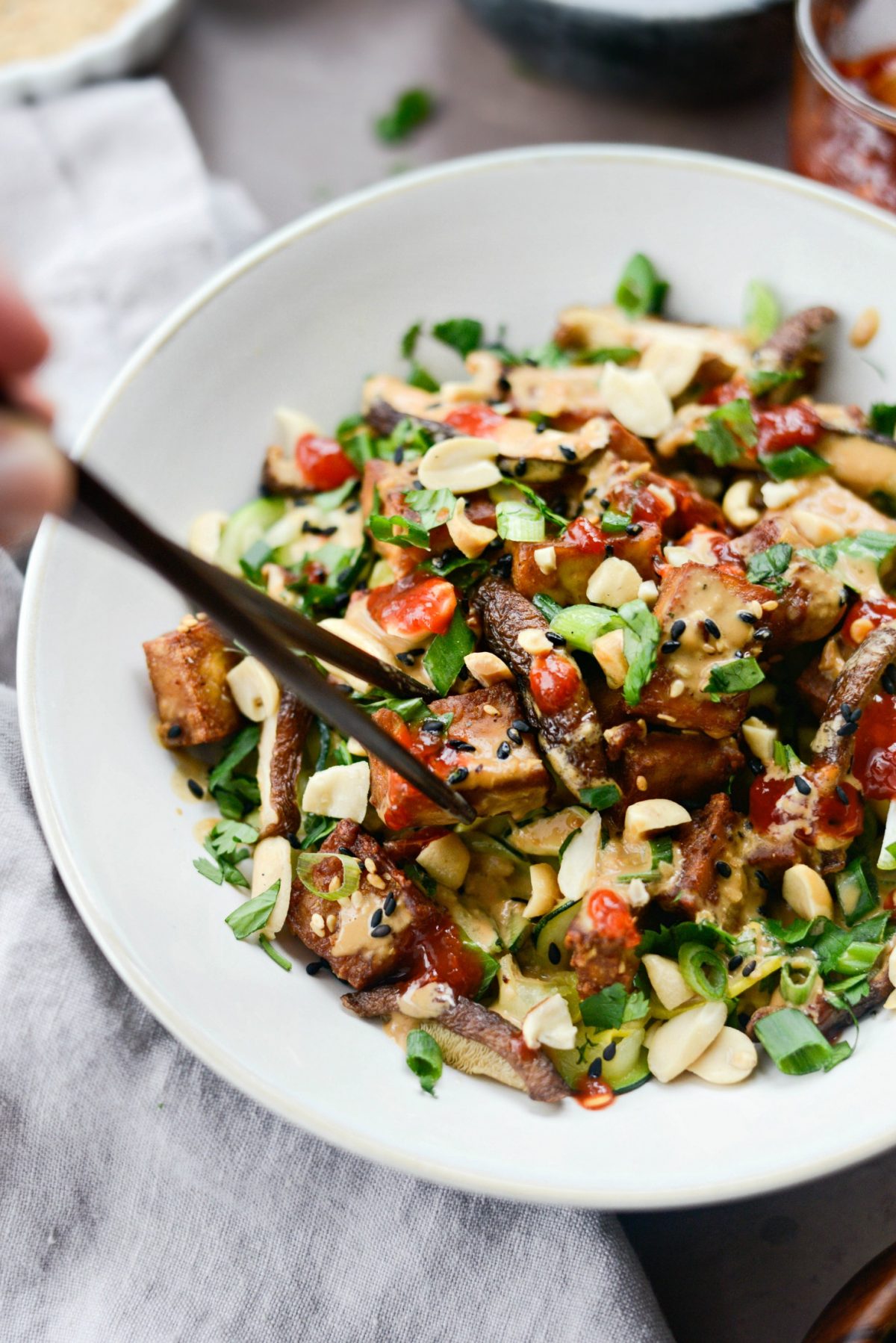 However, chopsticks are totally optional.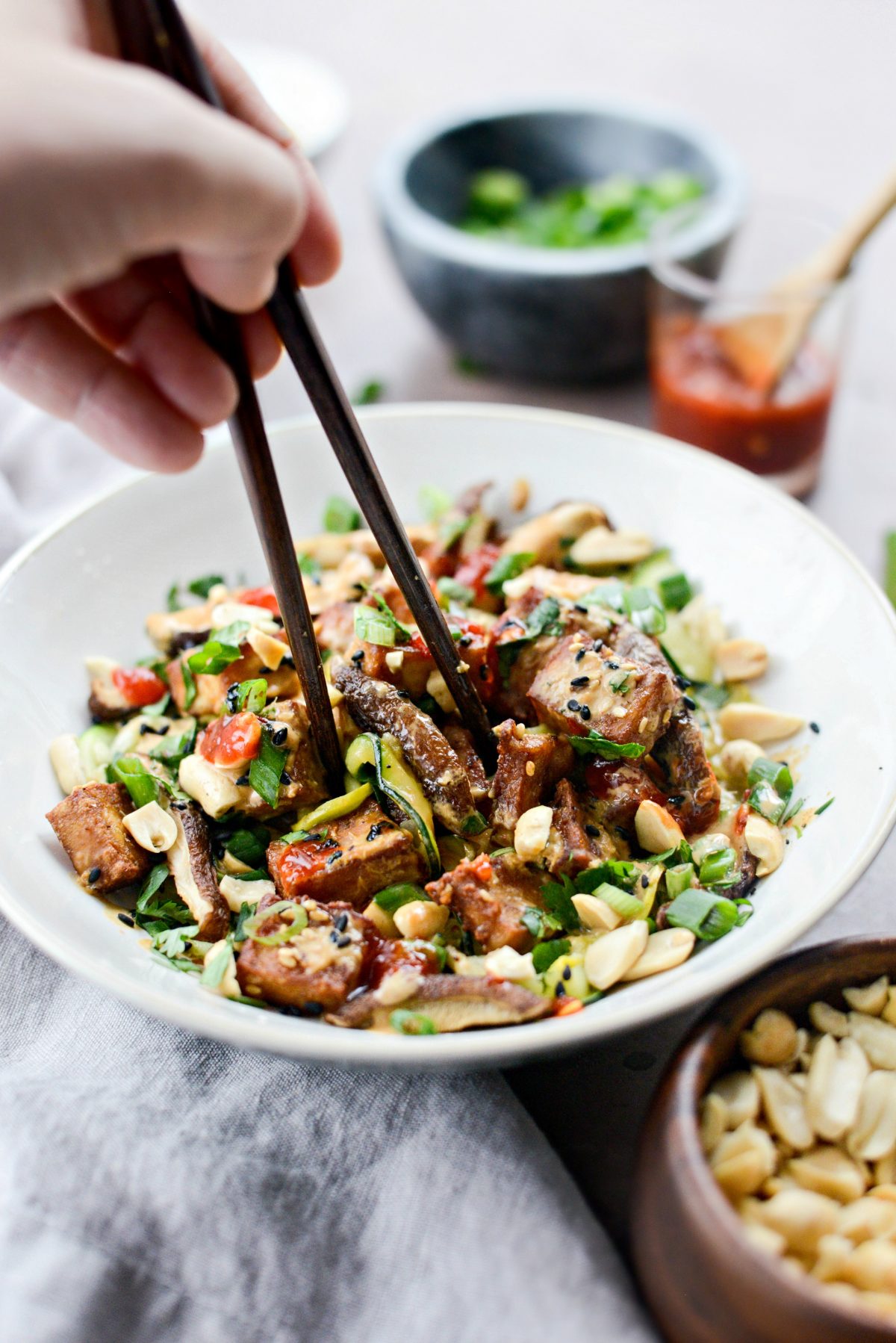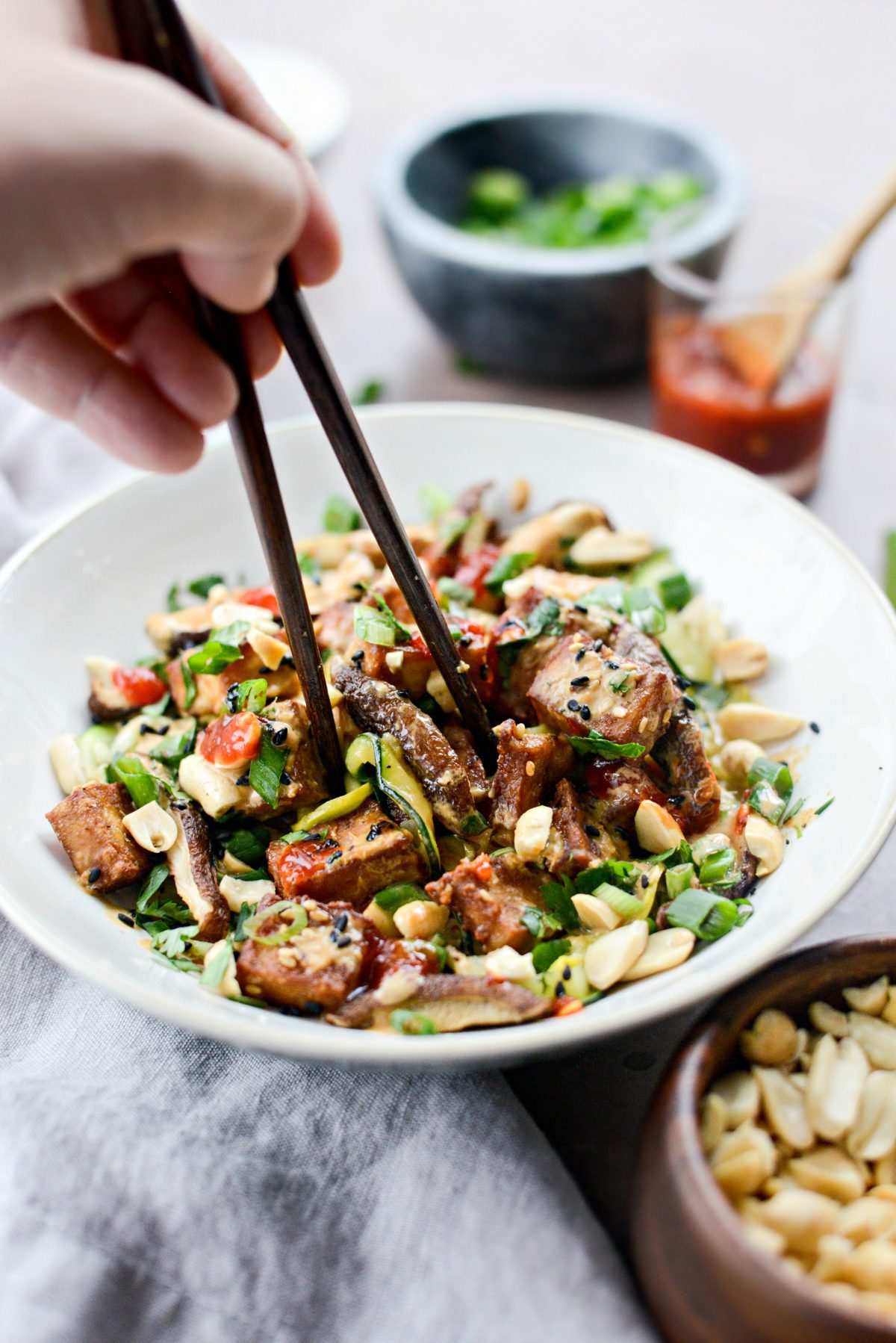 Enjoy! And if you give this Crispy Peanut Tofu recipe a try, let me know! Snap a photo and tag me on twitter or instagram!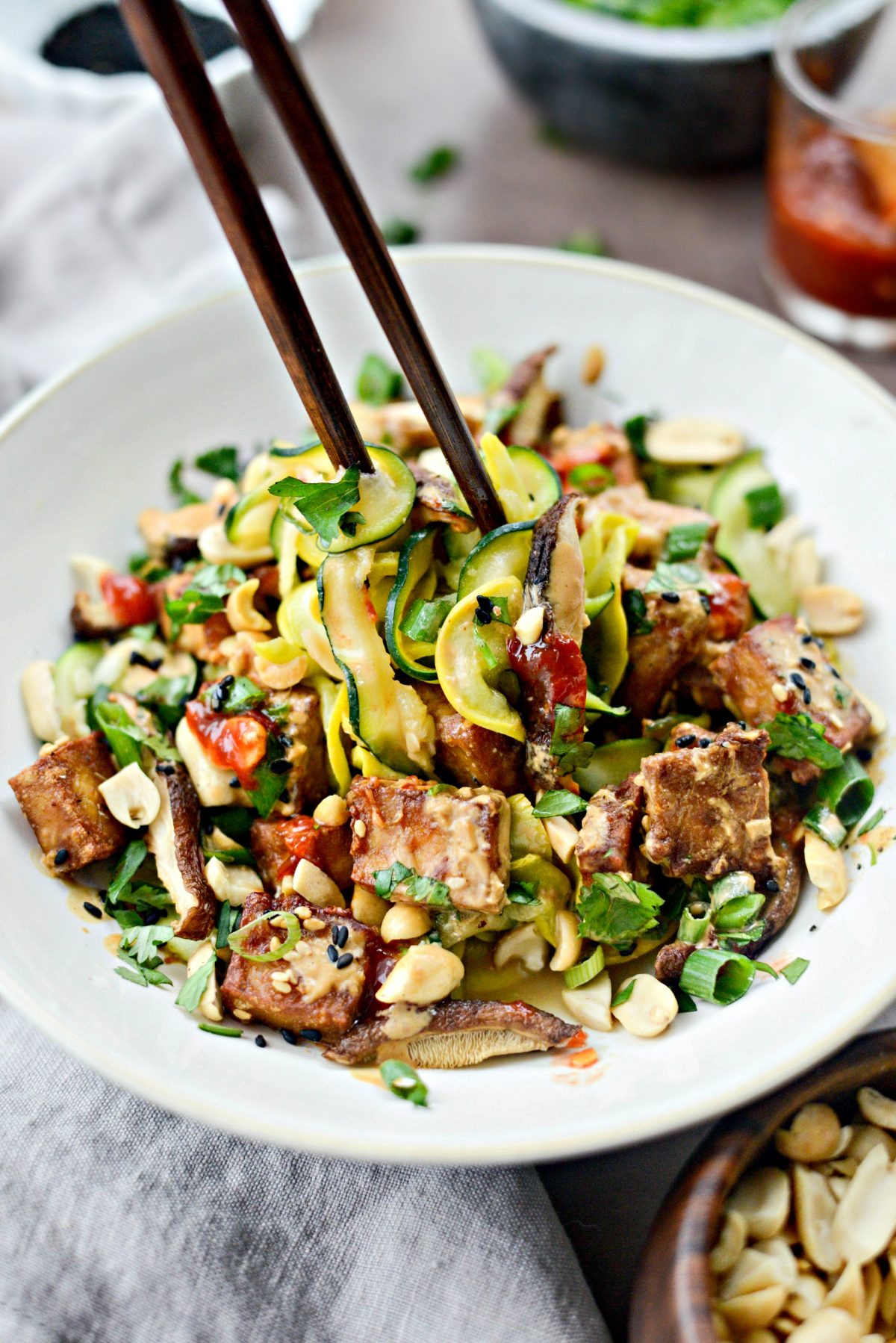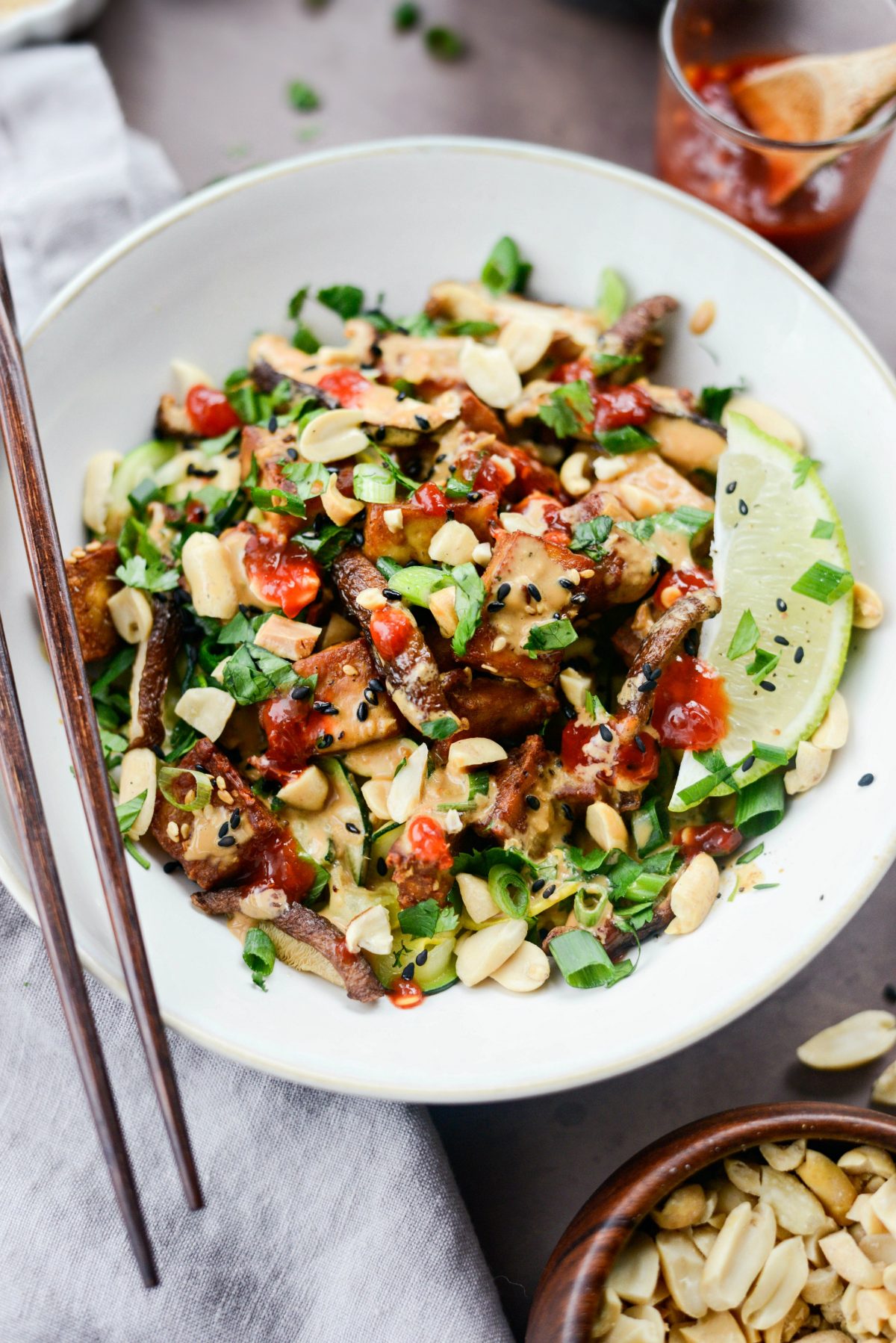 This post may contain affiliate links.
Buy the Cookbook: Simply Scratch : 120 Wholesome Homemade Recipes Made Easy Now available on Amazon »
THANK YOU in advance for your support!