These Garlic Parmesan Zoodles are a delicious way to up the veggies in your diet while lowering your carb intake. Fresh zucchini is spiraled and quickly cooked in garlicky olive oil. Season with salt and pepper and top with freshly grated Parmesan cheese. Serves 2 in about 10 minutes.
Zoodles or zucchini noodles aren't new to the culinary scene. Since the invention of the spiralizer (or maybe even before that) zoodles have become a popular substitute for pasta. And we are big fans. When I say "we", what I really mean is Pat and I. Haileigh and Mal still aren't sold on veggies masquerading as pasta, but they're young still with a youthful metabolism.
The recipe I'm sharing today, is exactly how I make them at home for things like chicken parmesan or as a bedding for seafood. It's literally only 6 ingredients and takes a few minutes.
The easiest way to make zoodles is by using a spiralizer. The one I own [affiliate] has 7 blades and makes veggie noodles in seconds. I love it.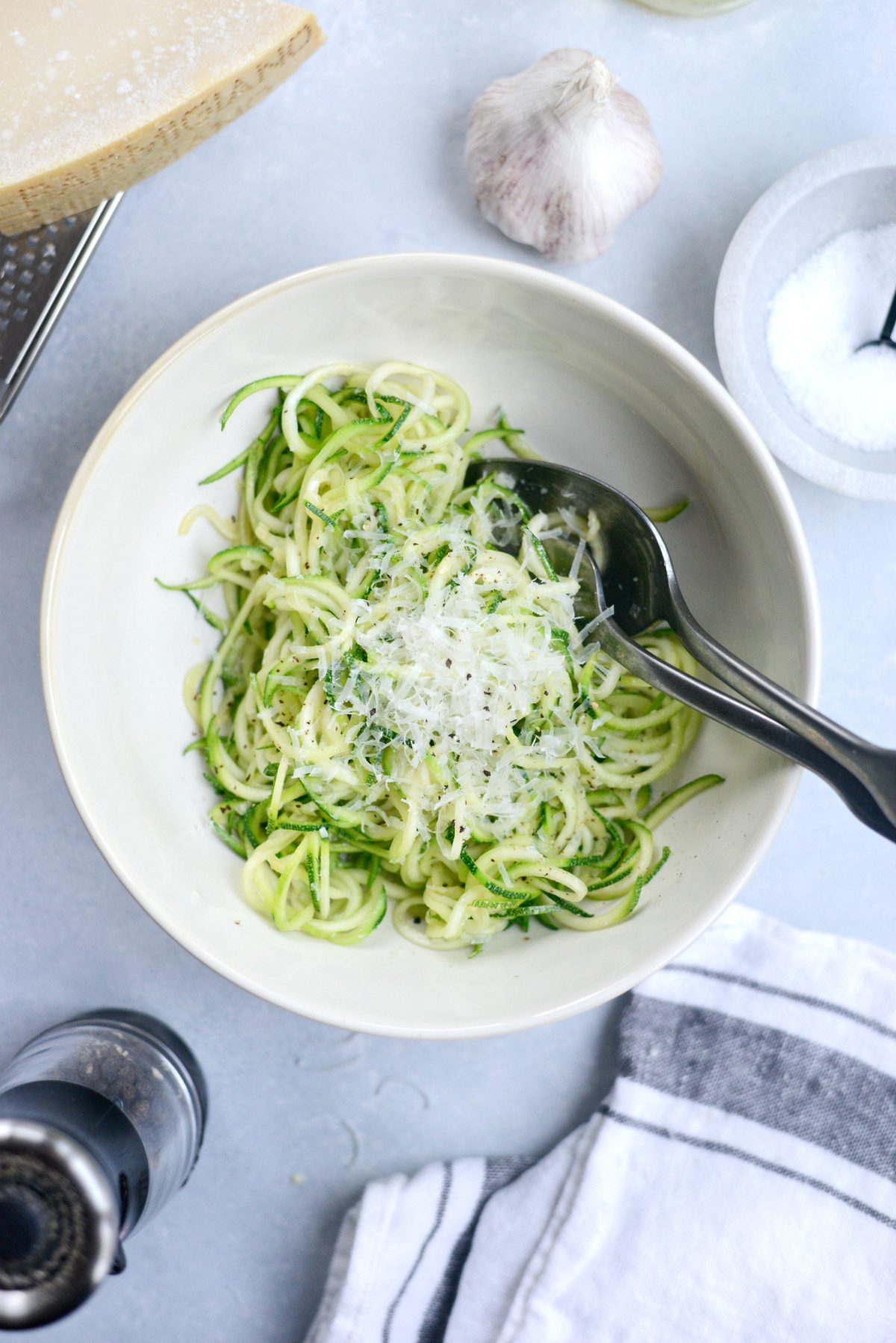 Almost as much as I love these zucchini noodles.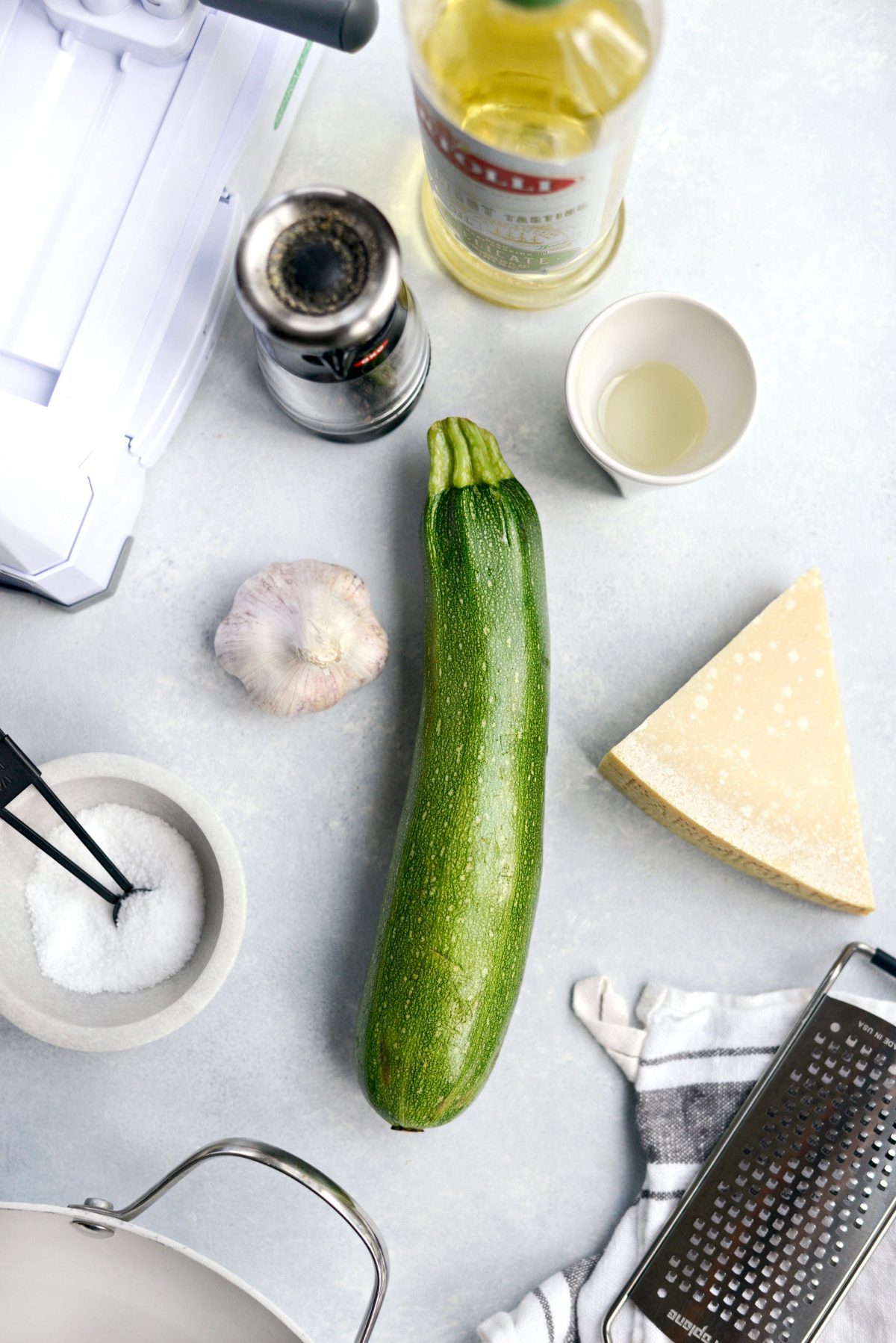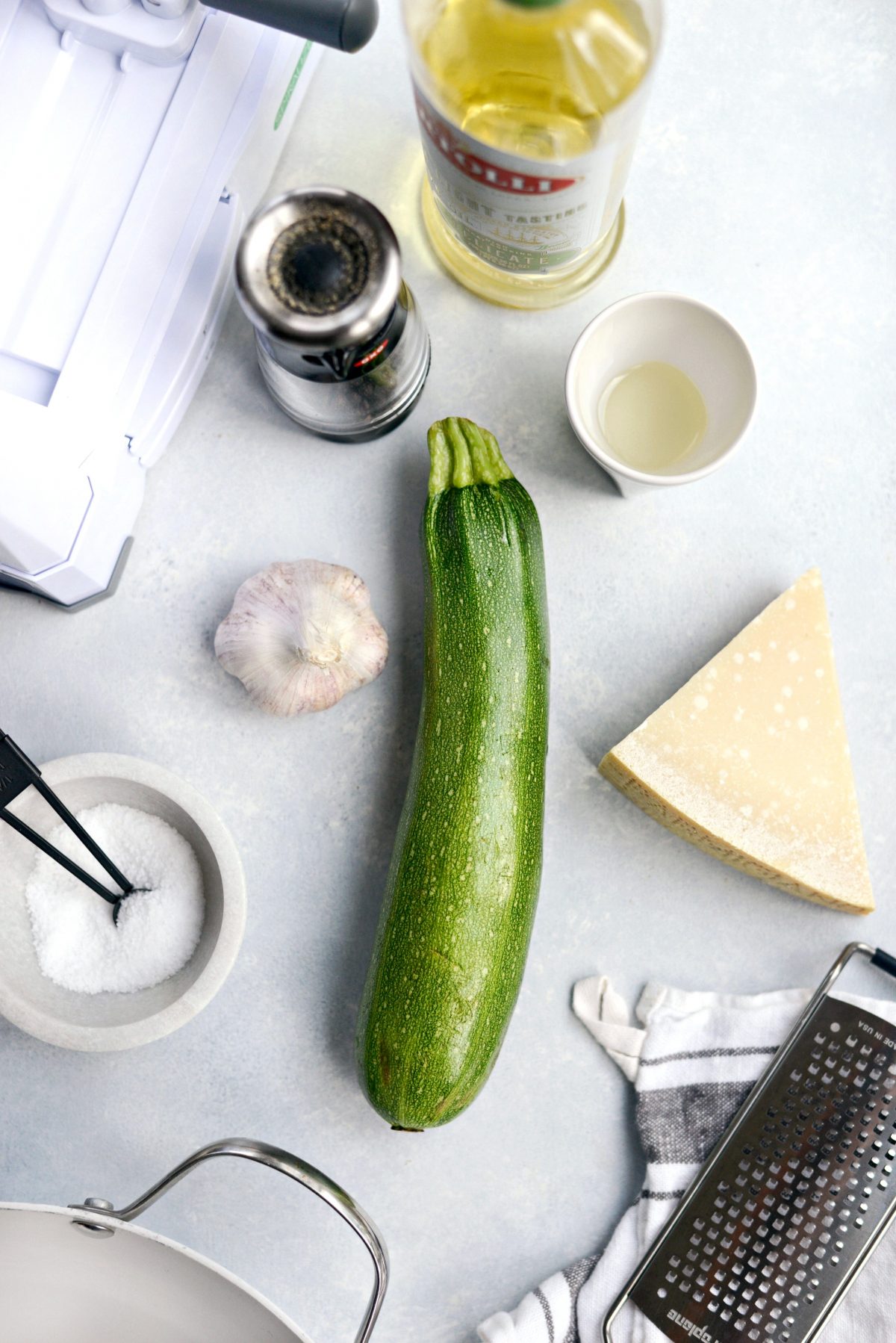 Here's what you'll need: olive oil, 1 clove fresh garlic, 1 to 2 medium-size zucchini, salt, black pepper and fresh parmesan cheese.
To make 4 servings, use 2 medium zucchini. For this post I was making a half-batch but the instructional part is for a full recipe.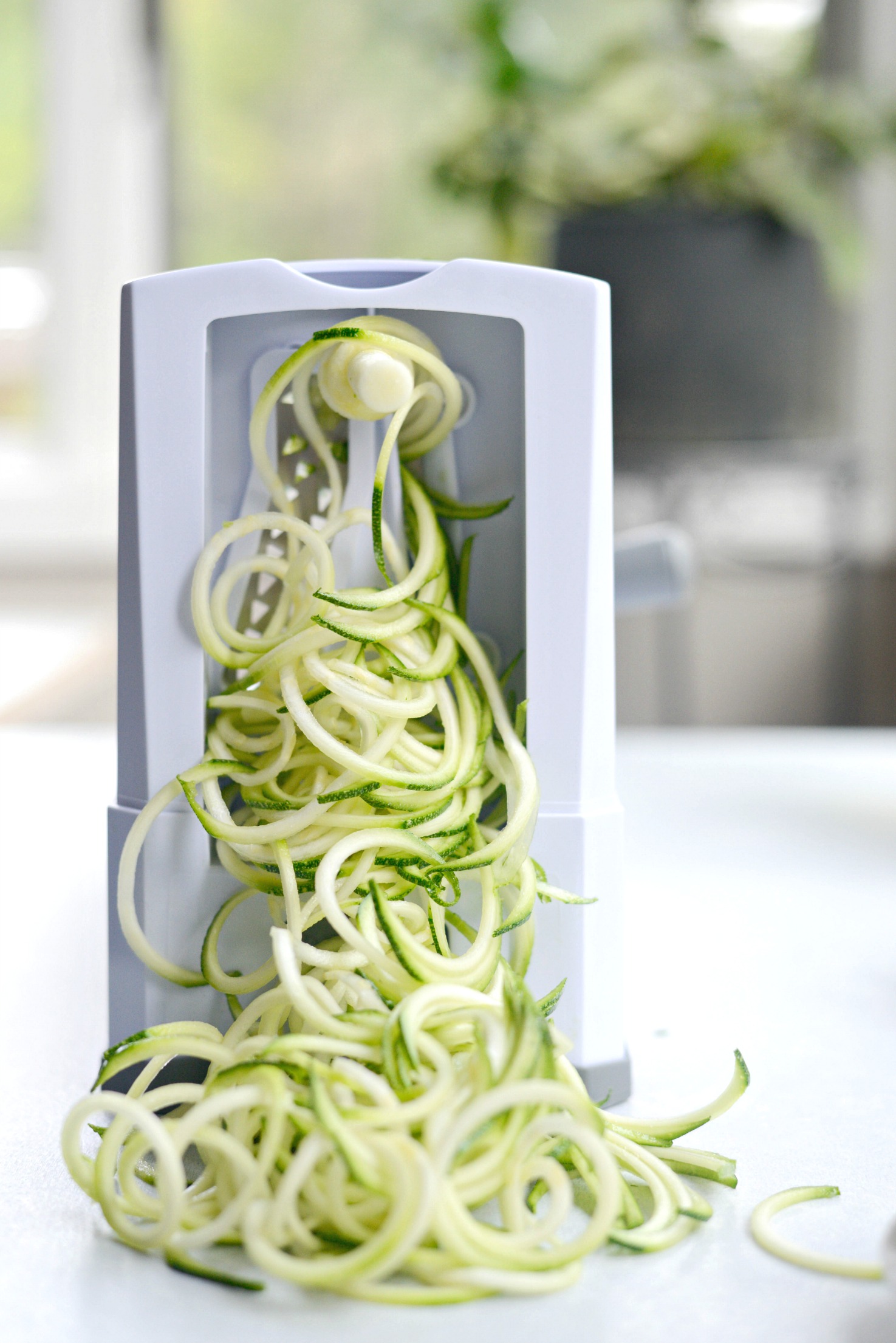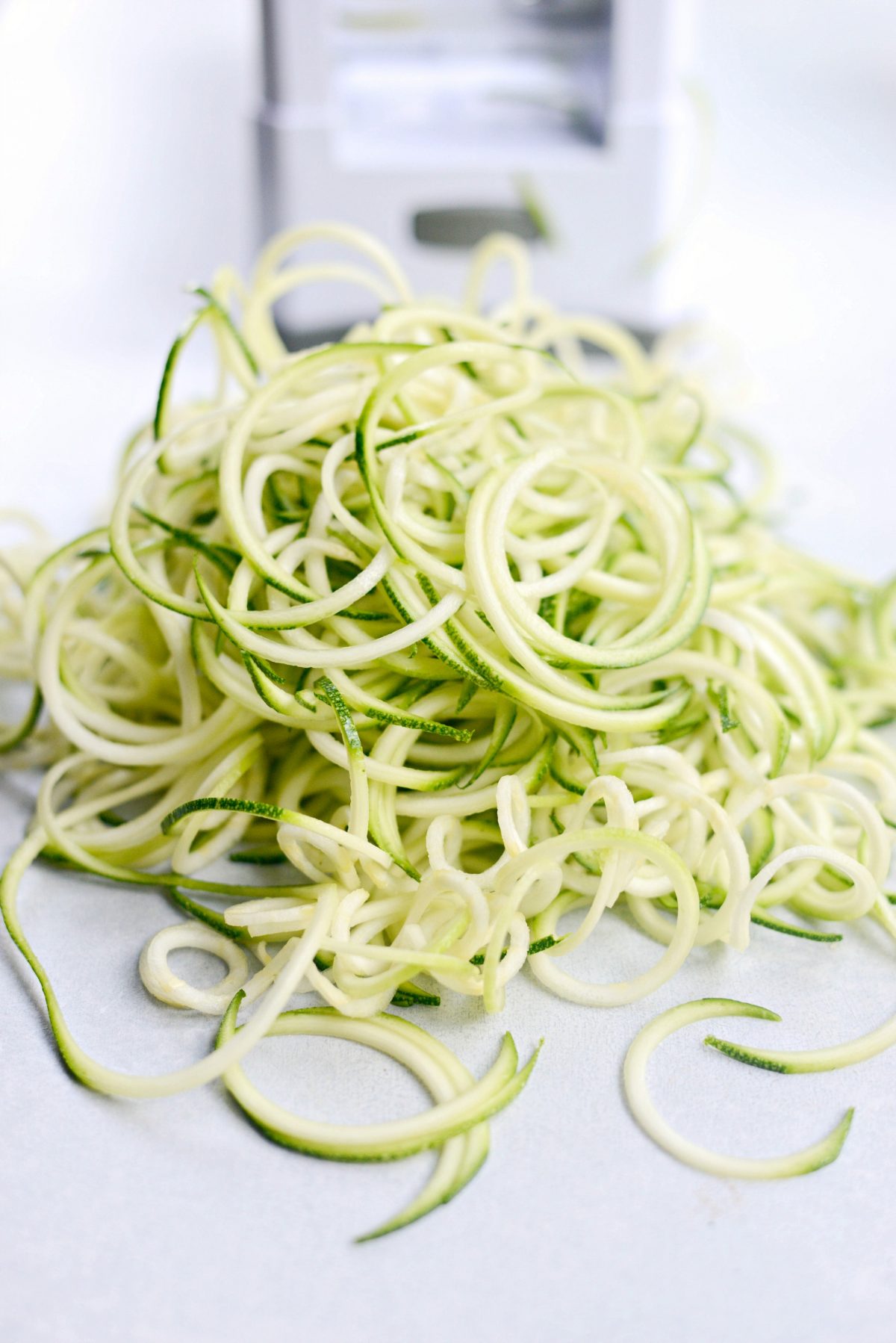 For this recipe, I'm using the XX blade to create the noodles. Follow the directions of the vegetable spiralizer you're using to create beautiful veggie ribbons;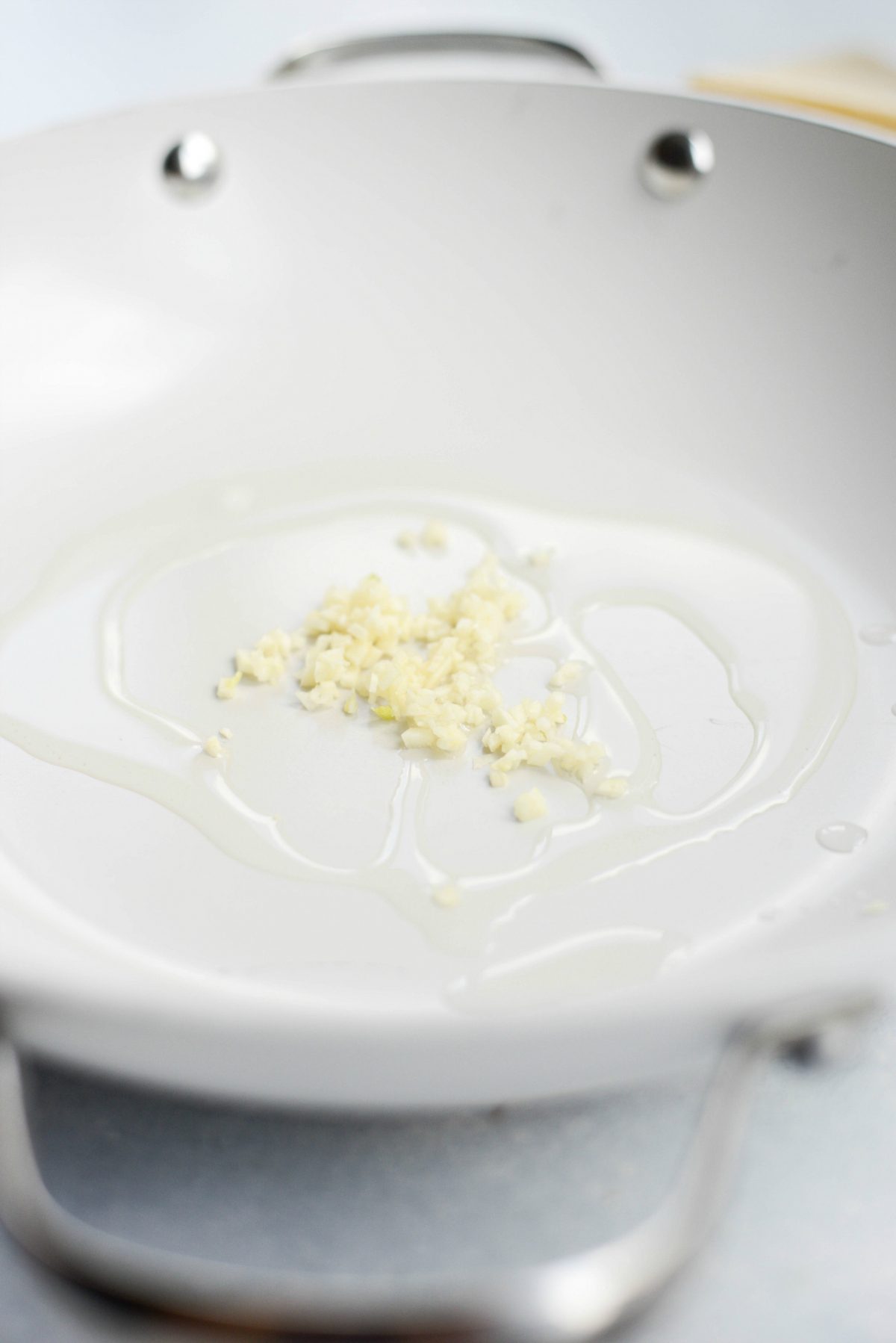 In a 10-inch skillet heat 2 teaspoons of light olive oil and one clove of garlic over medium to medium-low heat. Sauté the garlic for 30 to 45 seconds or until fragrant.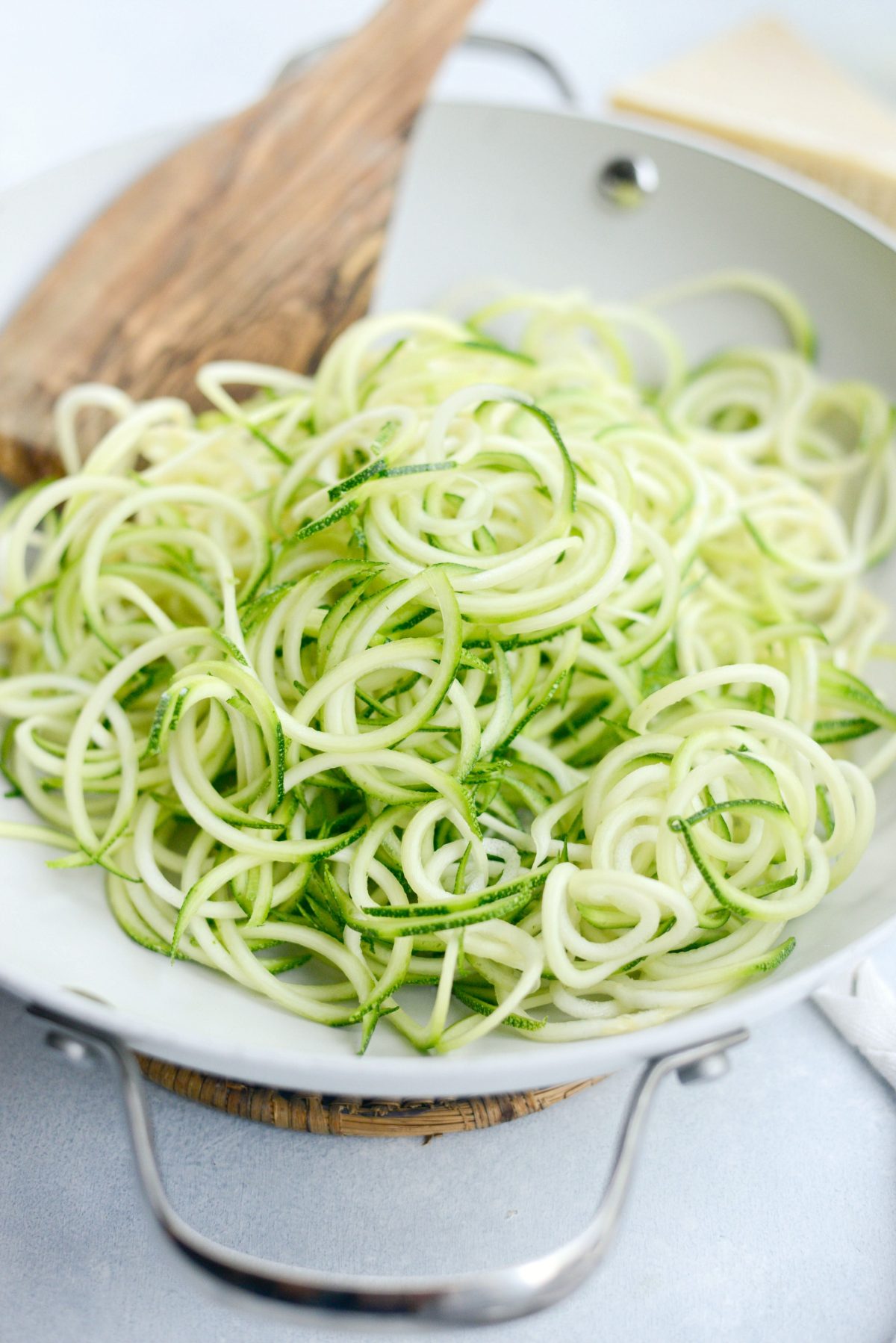 Add in the zucchini noodles and toss to coat in the garlicky oil. Cook for 5 to 8 minutes or until the zoodles reach a desired doneness. Because we prefer more texture, so I cook them for about 5 to 6 minutes.
Right before serving, season with kosher salt and black pepper to taste. Seasoning the zucchini after cooking is important because salt will draw out the water of the zucchini and to avoid watery and soggy zucchini noodles, season before serving.
And that's it friends. Simple and so delicious!
What To Use If You Don't Have a Spiralizer:
If you have a [affiliate] chef's knife (and some patience) you can slice the zucchini into thin planks and then into very fine strips.
A julienne peeler [affiliate] with smaller "teeth" work great in creating very thin vegetable "noodles". Before I had a spiralizer, I used this one in this recipe.
In a pinch, a regular vegetable peeler can get the job done as well. Use it to run the blade down the length of the vegetable to create thin strips, then julienne the thin strips into zoodles.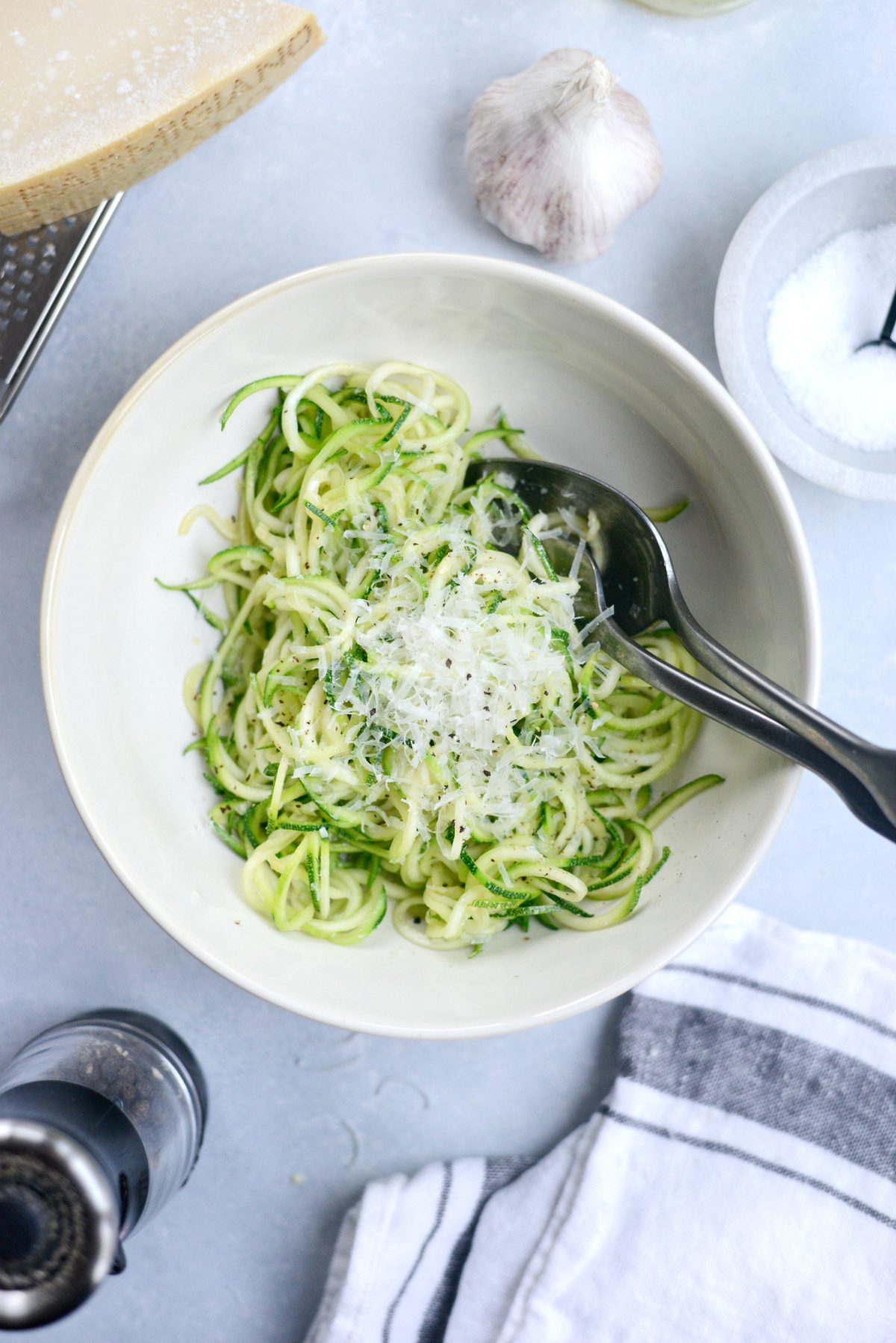 Enjoy! And if you give this Garlic Parmesan Zoodles recipe a try, let me know! Snap a photo and tag me on twitter or instagram!
My cookbook Simply Scratch : 120 Wholesome Homemade Recipes Made Easy is now available! CLICK HERE for details and THANK YOU in advance!
[this post contains affiliate links.]
This post may contain affiliate links.
Buy the Cookbook: Simply Scratch : 120 Wholesome Homemade Recipes Made Easy Now available on Amazon »
THANK YOU in advance for your support!