In these Cornmeal Silver Dollar Pancakes, toasted cornmeal mixed with the usual pancake ingredients and made into the cutest silver dollar pancakes. Once golden, I love to drizzle with a homemade honey butter maple syrup.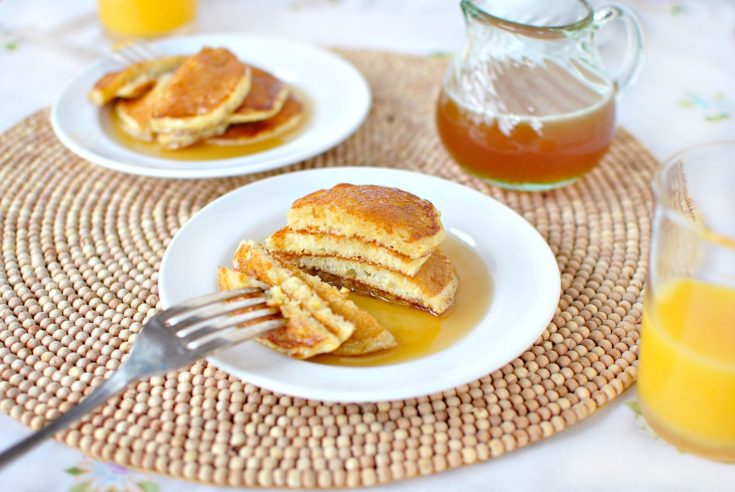 Today I made 45 pancakes.
I love making pancakes. From creating the fluffy batter, to the endless add-in options, down to the syrup (fruit, maple or peanut butter). Lately, I've had cornmeal pancakes on the brain. Ever since I made those incredible cornmeal waffles last year. The texture is what gets me – I absolutely love it. And when I think of cornmeal, I think of cornbread and when I think of cornbread I think of slathering it in butter and pouring over honey. Hence today's pancakes.
Oh and I should probably mention that these are cute teeny-tiny silver dollar pancakes. Which means you can eat like seventeen riiiiight? Oh and wait until you see the second to last shot… it's like your peeking in on a dollhouse breakfast. The truth… I ate both plates. Ugh. I hate myself.
TO Make These Cornmeal Silver Dollar Pancakes You Will Need:
for the pancakes
all-purpose flour
coarsely ground corn polenta
cornmeal
baking powder
baking soda
kosher salt
egg
honey
melted butter
low-fat buttermilk
for the syrup
maple syrup
honey
salted butter
Today I'm using two kinds of cornmeal, a finely ground cornmeal and a coarse ground polenta style or grits. I love the texture from the coarse and well the corn flavor from both.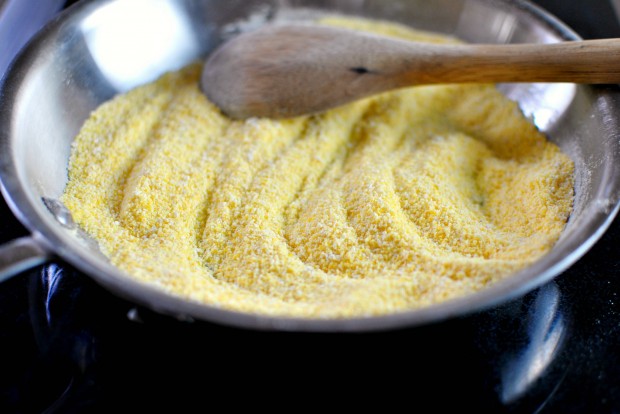 I like to toast the cornmeal.
It just takes these pancakes up a notch and gives it a subtle toasty-corn flavor. Totally optional and not crucial. But it's fun and smells like popcorn when it's toasted. Kinda crazy yet totally obvious that it would.
Toasting cornmeal is simple. Grab a 10 inch skillet. Heat it to medium, stir often and toast the cornmeal until it's fragrant. It'll smell like popcorn for REAL! It will get a little darker, but you might not notice it because you're watching it like a hawk and it's not drastic.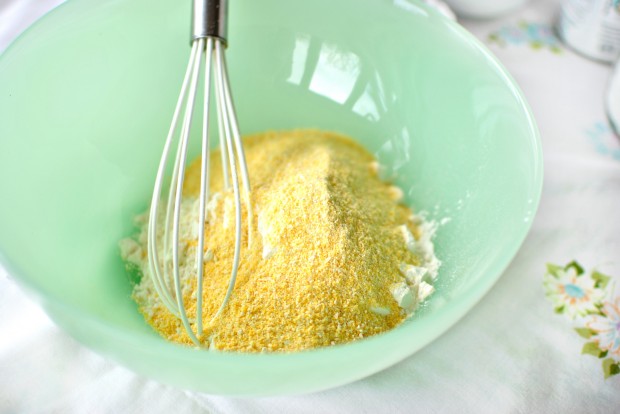 Once the cornmeal is all nice and toasty, add it into a bowl with a cup of all purpose flour.
1-1/2 teaspoon baking powder, 1/2 teaspoon of baking soda and a 1/2 teaspoon of kosher salt.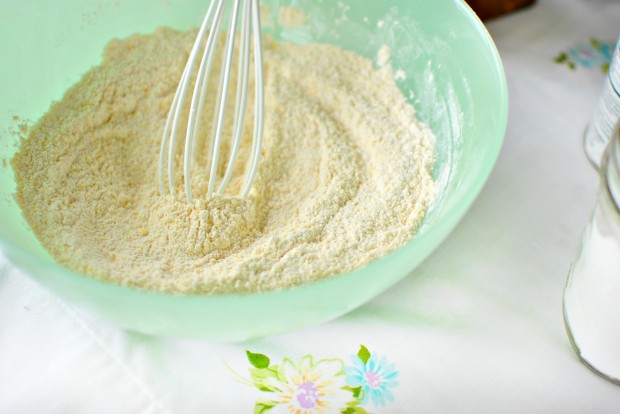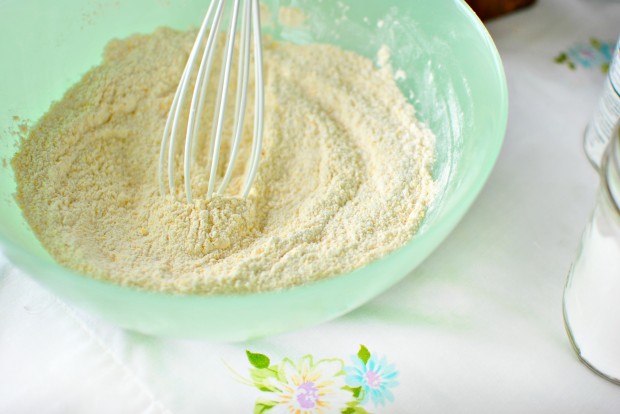 Then whisk to combine and scoot that off to the side for a moment.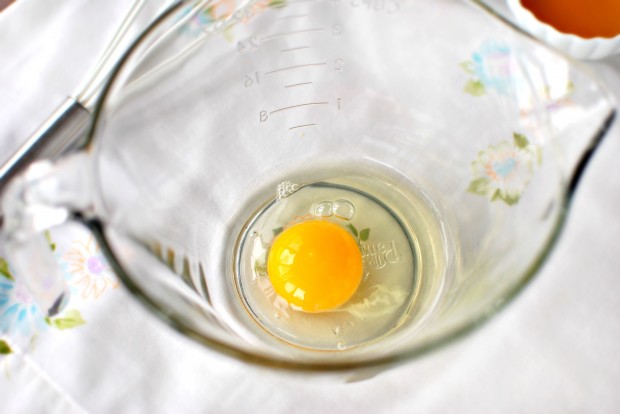 In a separate bowl, crack in one egg.
And then whisk to break it up and add in three tablespoons of honey.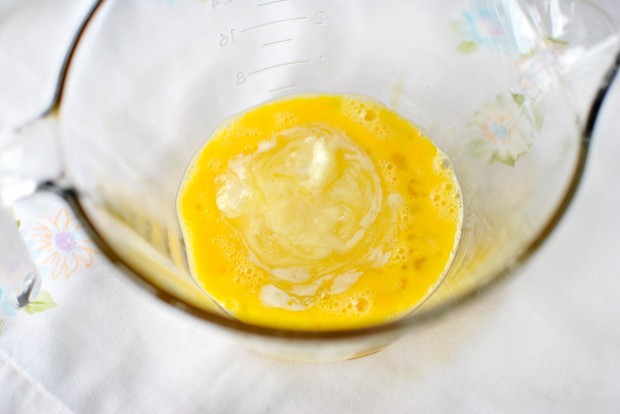 Next add three tablespoons of melted and cooled butter.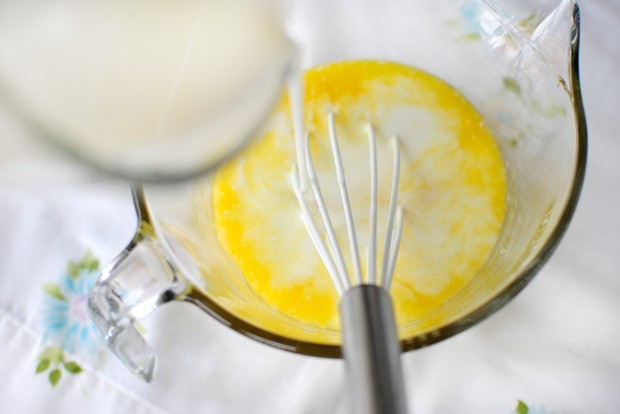 Then 1-3/4 cups of buttermilk. Whisk all of those glorious ingredients together.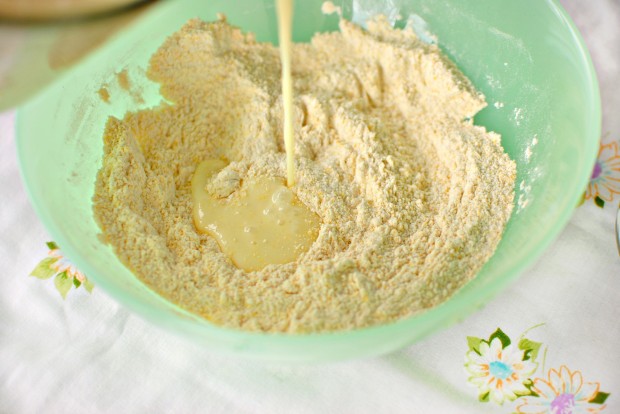 Pour it into the dry ingredients.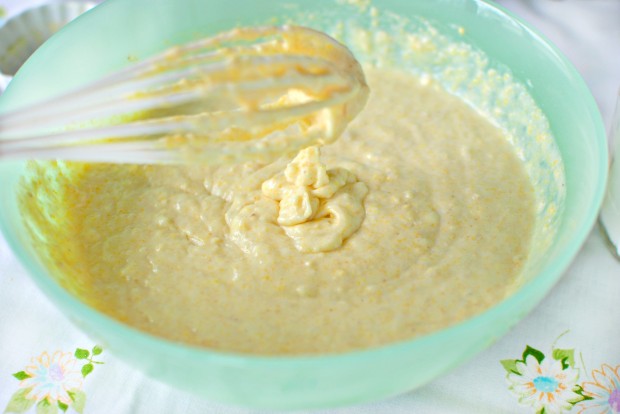 Next, whisk just until combined and let it sit on the counter for 5-10 minutes.
Meanwhile, heat up a griddle to 375°. I add a teaspoon of coconut oil and spread it all around.
Then, once your griddle is hot, measure out heaping tablespoons of the fluffy pancake batter.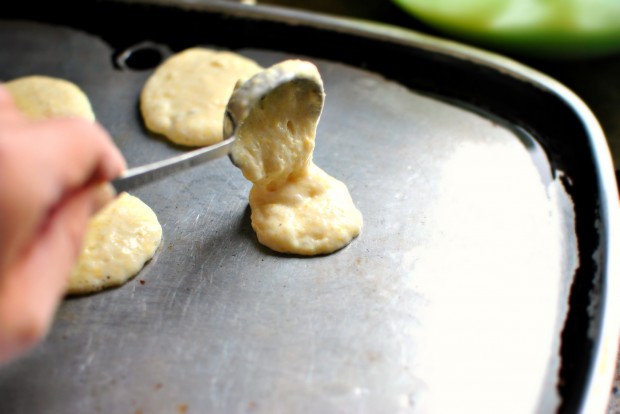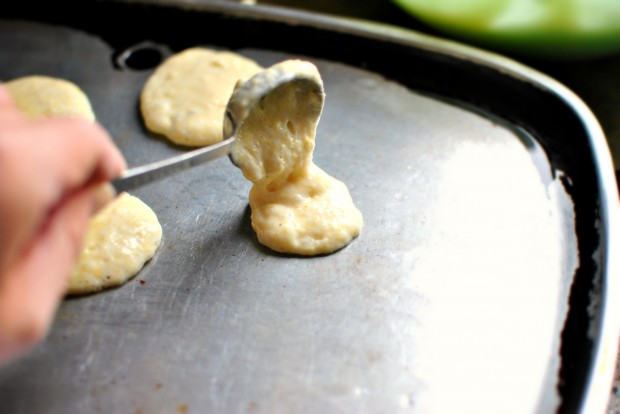 And pour it onto the griddle.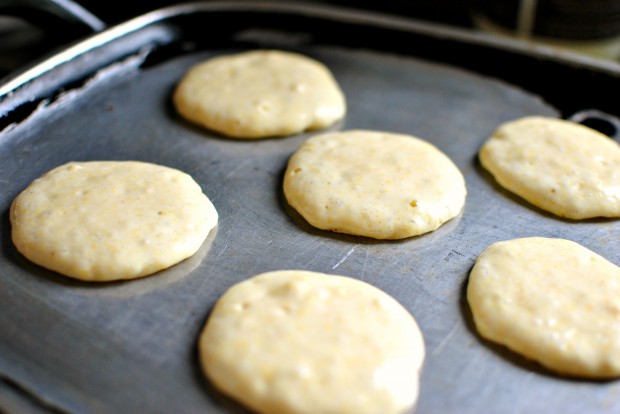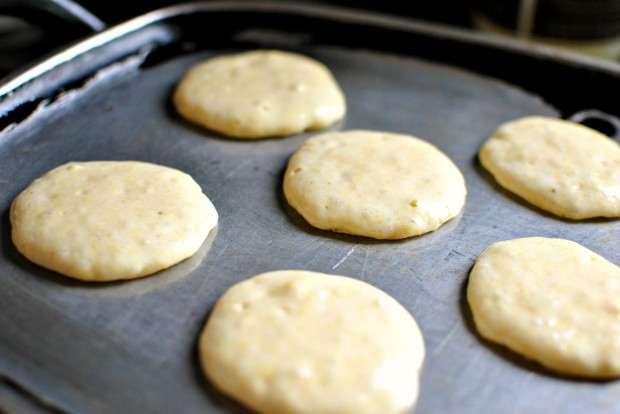 Next let these cook for 2-3 minutes.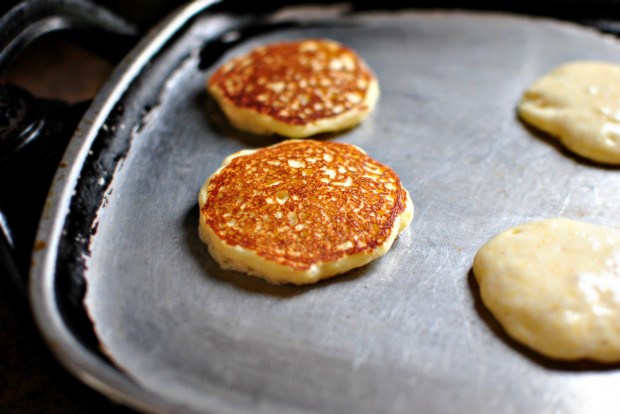 Then once the bottoms are a golden brown and slightly crispy, flip.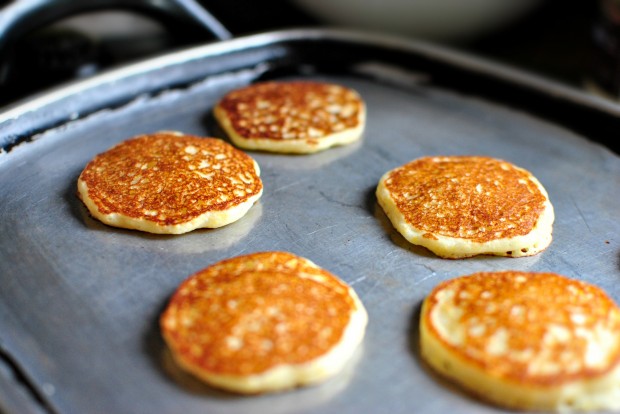 Let these cook for a minute or two.
In a small sauce pan add in a half cup of pure maple syrup, 6 tablespoons of honey and 3 tablespoons of butter. Whisk those over medium-low heat until the butter is melted and the syrup is warmed.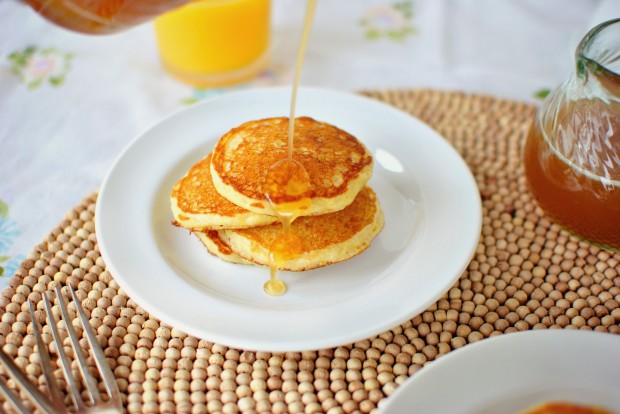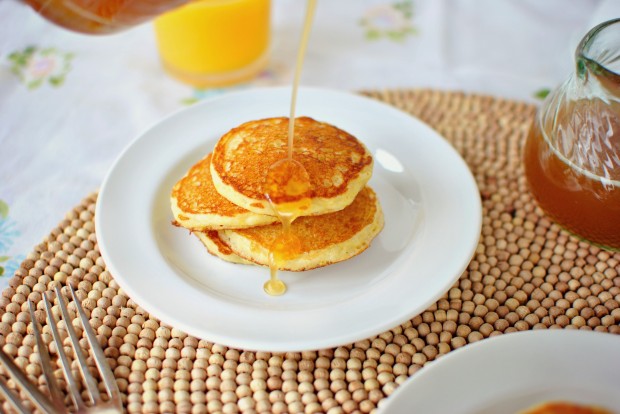 Stack your cornmeal pancakes and drizzle with the honey butter maple syrup.
I may have gotten carried away with the syrup. As expected.
These silver-dollar pancakes are so delicious and perfect for a weekend or weekday breakfast. I love to make them, flash freeze them (arrange on a sheet pan for 10-15 minutes in the freezer), pack them up in freezer-safe baggies and keep them stored in the freezer. THEN all my girls (read: me) have to do is pull them out, stack them on to a plate and pop them in the microwave.
Cute little corn stacks, I love you.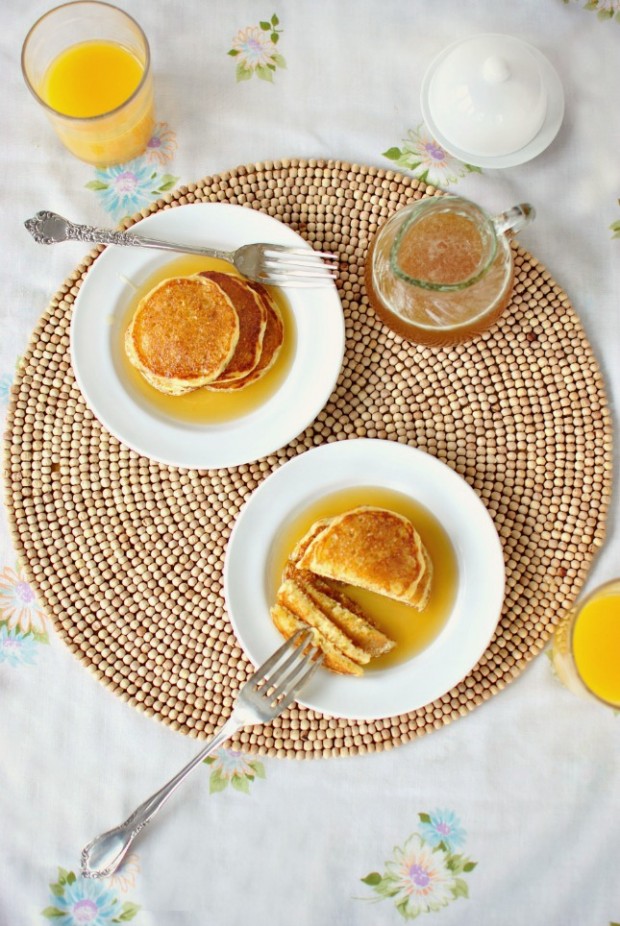 Enjoy! And if you give this recipe a try, let me know! Snap a photo and tag me on twitter or instagram!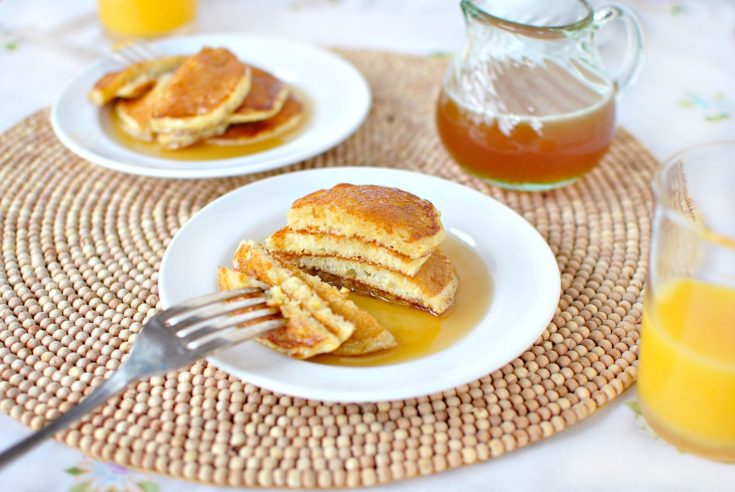 Yield: 6 servings
Toasted Cornmeal Pancakes with Honey Butter Maple Syrup
In these Cornmeal Silver Dollar Pancakes, toasted cornmeal mixed with the usual pancake ingredients and made into the cutest silver dollar pancakes. Once golden, I love to drizzle with a homemade honey butter maple syrup. This recipe yields 45 silver dollar pancakes or 12 regular size.
Ingredients
FOR THE PANCAKES:
1 cup unbleached all-purpose flour
1/4 cup coarsely ground polenta, or yellow corn grits
1/4 cup cornmeal
1½ teaspoons baking powder
1/2 teaspoon baking soda
1/2 teaspoon kosher salt
1 large egg
3 tablespoons honey
3 tablespoons melted butter
1¾ cup buttermilk
FOR THE SYRUP:
1/2 cup pure maple syrup
6 tablespoons honey
3 tablespoons salted butter
Instructions
MAKE THE PANCAKES:
In a 10-inch skillet over medium, toast both the cornmeal and the corn grits for 8-10 minutes or until fragrant and deeper in yellow.

In a large bowl, whisk together the all purpose flour, toasted cornmeal, baking powder, baking soda and salt. Set the bowl off to the side.

In a separate bowl, whisk one egg with the 3 tablespoons of honey and butter. Pour in the buttermilk and whisk until combined.

Pour the buttermilk mixture into the bowl with the cornmeal and flour. Whisk JUST until combined and let it rest for 5-10 minutes.

Meanwhile, preheat a griddle to 375° and coat with a thin layer of coconut oil or butter. Drop heaping tablespoons of the cornmeal pancake batter onto the hot griddle and cook for 2-3 minutes. Once the underneath is golden, flip and griddle for 1-2 more minutes and repeat with the remaining batter.
MAKE THE SYRUP:
In a small sauce pan heat the maple syrup, honey and butter over medium-low until the butter has melted. Stir to combine.
Serving: 2pancakes, Calories: 450kcal, Carbohydrates: 74g, Protein: 7g, Fat: 15g, Saturated Fat: 9g, Polyunsaturated Fat: 1g, Monounsaturated Fat: 4g, Trans Fat: 1g, Cholesterol: 69mg, Sodium: 531mg, Potassium: 239mg, Fiber: 1g, Sugar: 46g, Vitamin A: 525IU, Vitamin C: 1mg, Calcium: 182mg, Iron: 2mg
This post may contain affiliate links.
Buy the Cookbook: Simply Scratch : 120 Wholesome Homemade Recipes Made Easy Now available on Amazon »
THANK YOU in advance for your support!