Roasted Cauliflower Steaks are topped with a toasted walnut and parsley pesto! This recipe is completely and utterly delicious! Make it for lunch, dinner or as a side dish!
So this was lunch yesterday.
Thick slices of cauliflower are seared and then roasted and smothered in a homemade parsley pesto. Yes, please. It's low carb, healthy and so garlicky you'll taste it for days. Just kidding… one to two days tops. But needless to say, I was the only one eating this because my husband and girls left as quickly as possible once the smell of a healthy, roasted vegetable was in the air. I kid. Sort of.
This weekend we did a lot of much needed spring cleaning. I cleaned my office, hung new curtains and organized my gazillon props and dishes. Then Pat and I cleaned out our garage, emptied the last few boxes from when we moved *ahem* two years ago. I finally did something with the two wooden cilantro crates I've been storing. With my husband's help and his sawzall… we cut, constructed and glued what seems to be a pretty cool photography back drop. I just need to figure out… to stain or not to stain?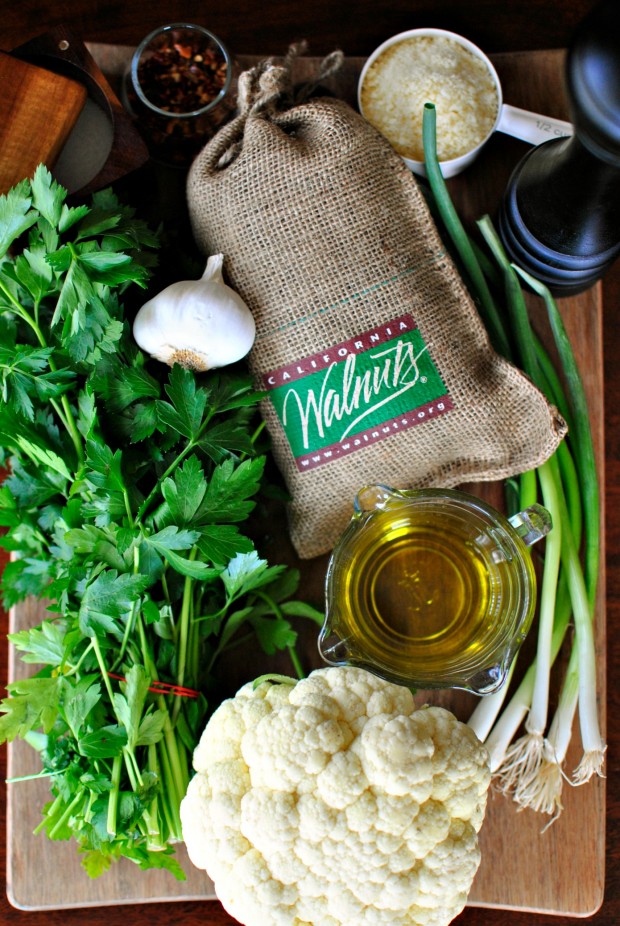 Back in early January the good people at California Walnuts sent me a big bag of walnuts. I've kept them tucked in my fridge until the thought of this recipe came to mind. So I literally didn't have to go to the store for any of this, well I mean I bought this at the store, but not for any particular reason. I just had it on hand and wanted to empty my fridge before my early week grocery store trip.
Annnd it just happens to be #meatless Monday. Soo two birds one stone. Winning.
You'll need a cup of shelled walnuts.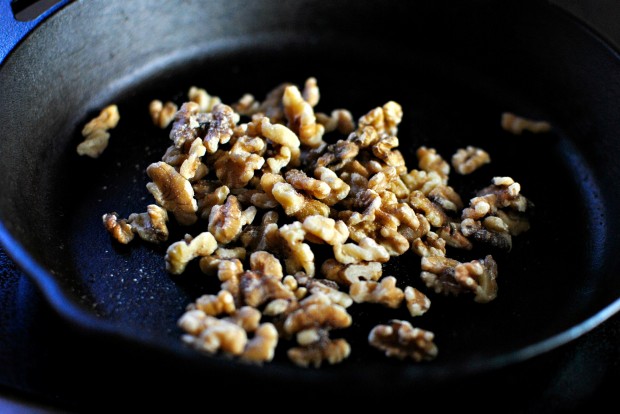 In a dry skillet add the nuts…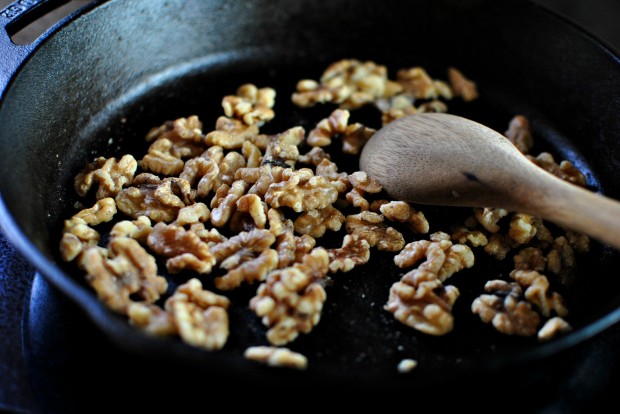 Toast over medium heat, stirring occasionally until slightly browned and nutty smelling.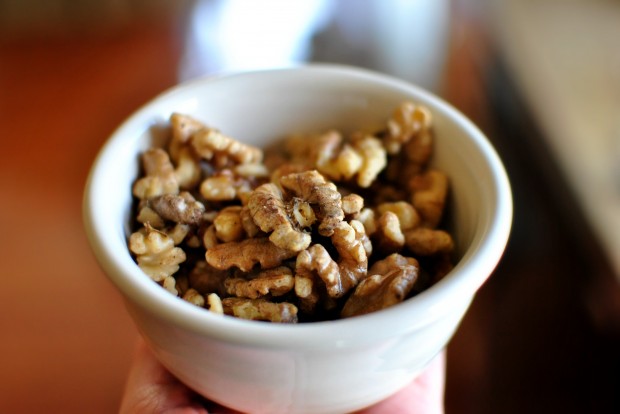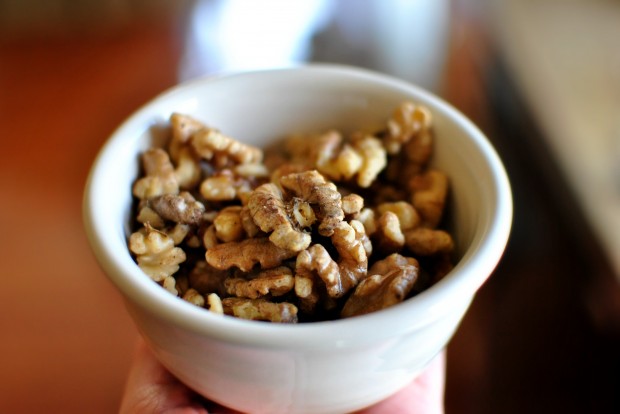 Scoop the nuts into a bowl and set off to the side.
Slice the head of cauliflower into 1 inch or so "steaks".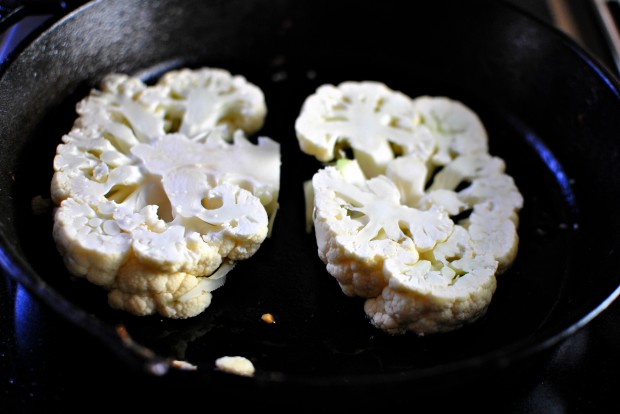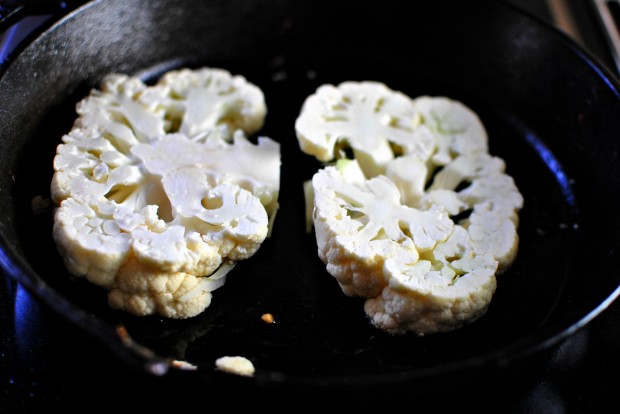 To the same skillet, add olive oil and sear each side for 3-4 minutes until golden.
Once the cauliflower steaks are seared, transfer them to a rimmed sheet pan and roast in a 450 degree oven for 15-20 minutes.
Meanwhile add the chopped garlic, green onions, parsley and grated Parmesan cheese to a food processor.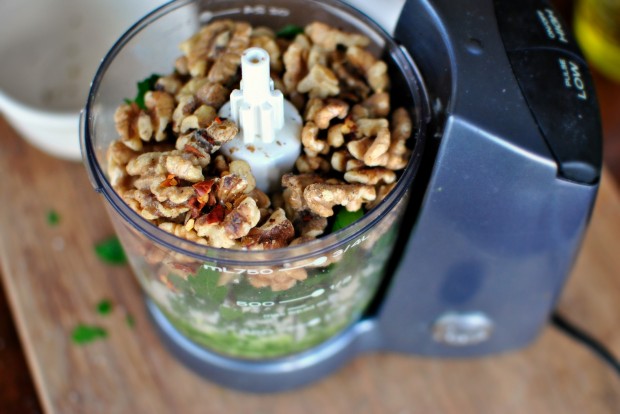 I almost forgot to add the toasted walnuts! Add those in after the garlic… they'll need some time by the blades. Also add a couple pinches of red pepper flakes and a few grinds of fresh black pepper.
Blend until smooth while pouring in a steady stream of olive oil.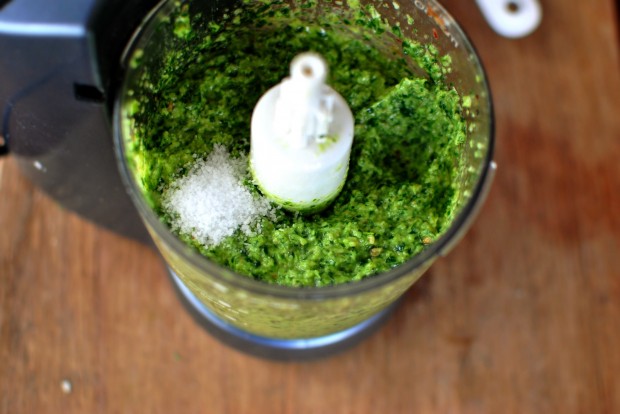 Scrape down the sides, season with kosher salt to taste and blend until smooth or preferred consistency.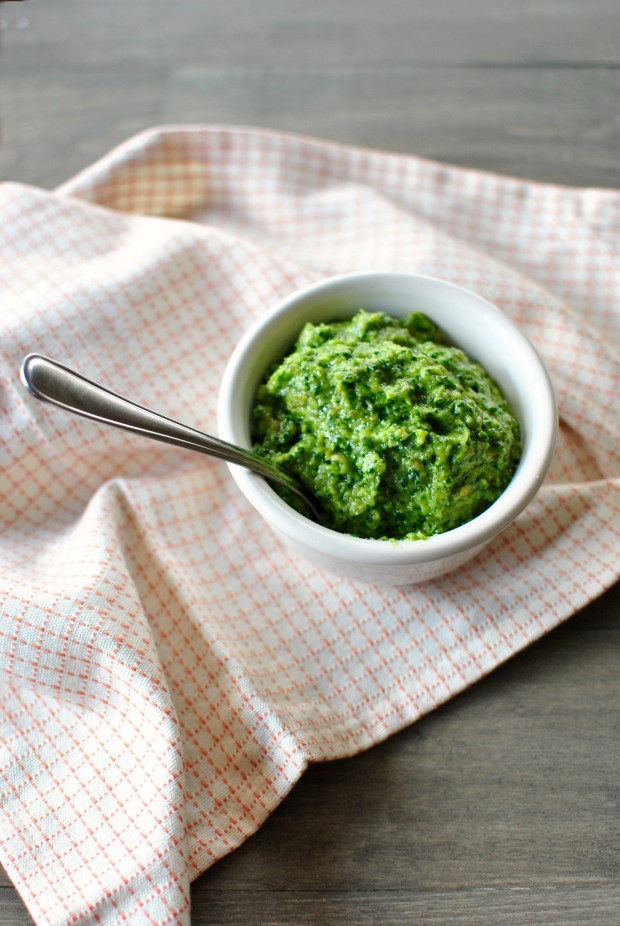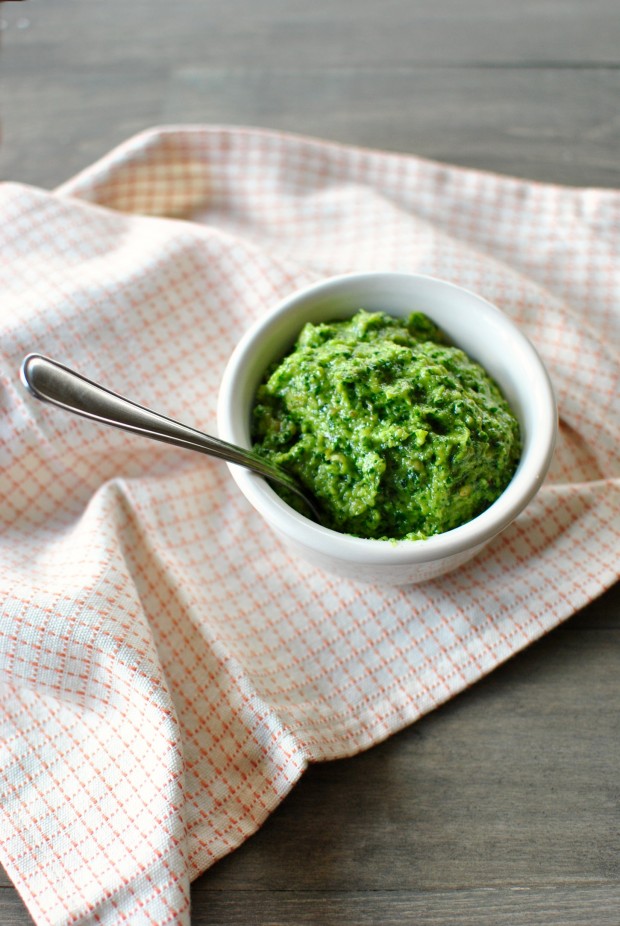 This pesto is pretty versatile. Smother it on toasty warm bread, over pasta or my favorite food-to-mouth vehicle… a spoon.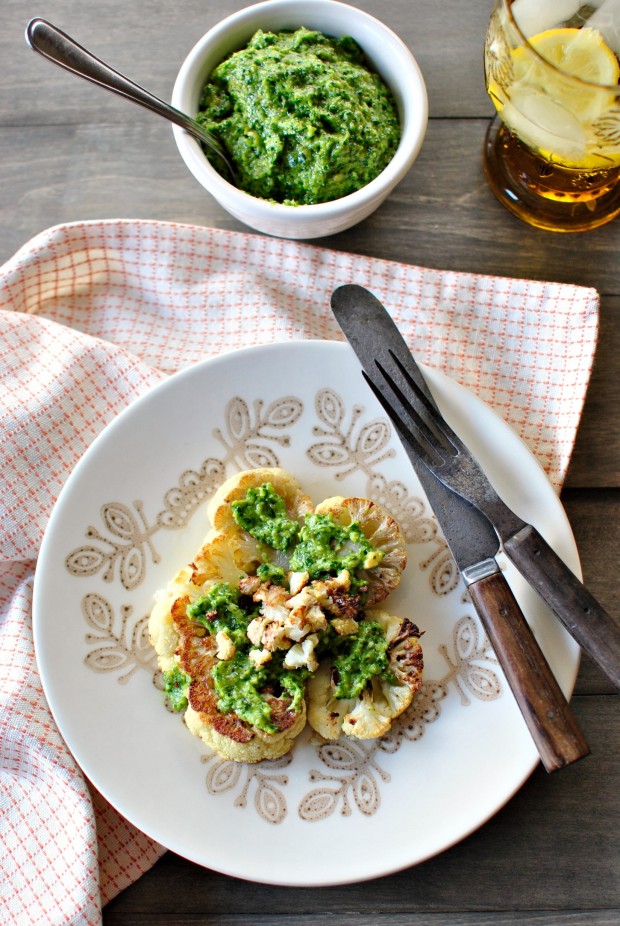 Remove the roasted cauliflower steaks to a plate, spoon on the pesto and drizzle with a smidgen of olive oil.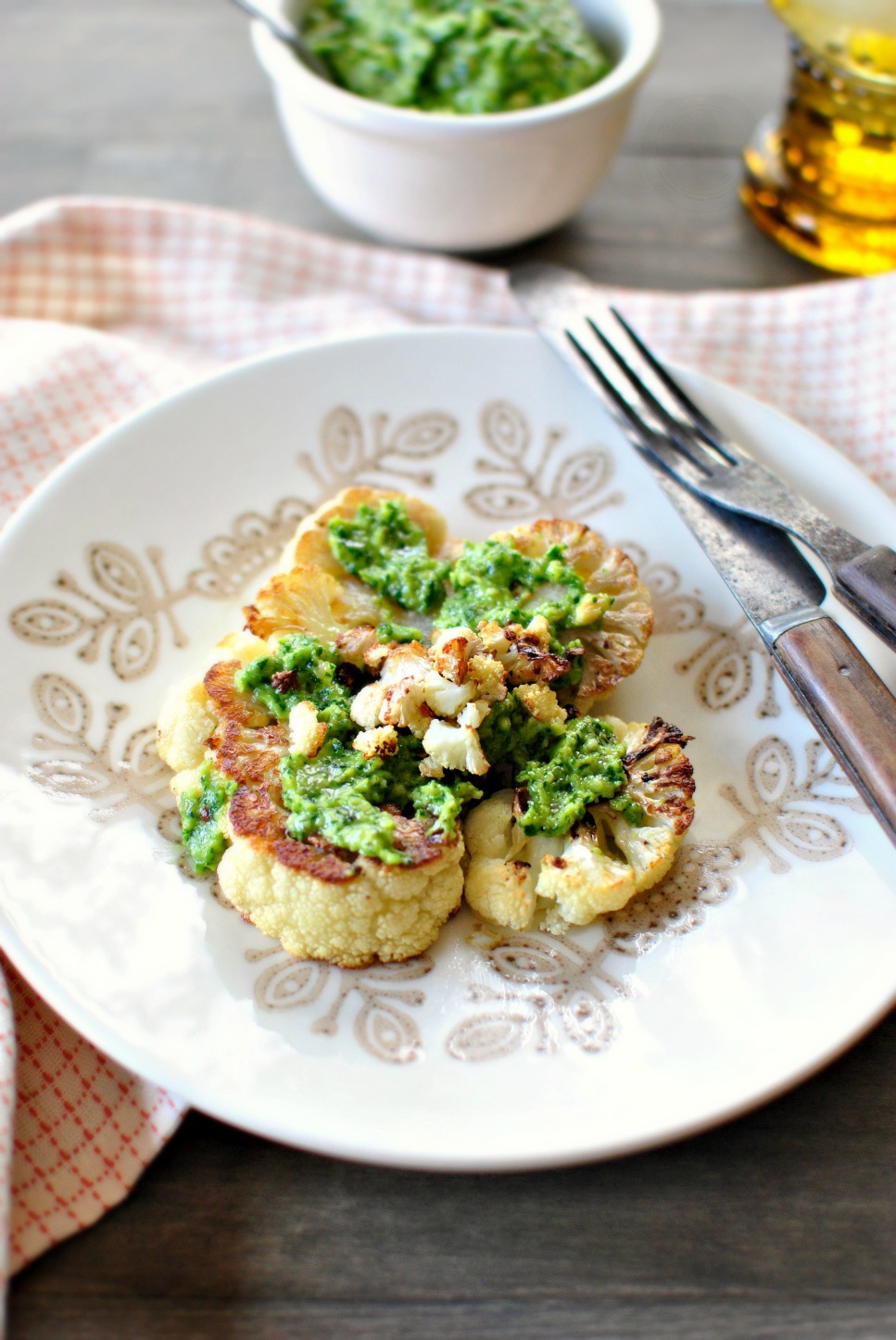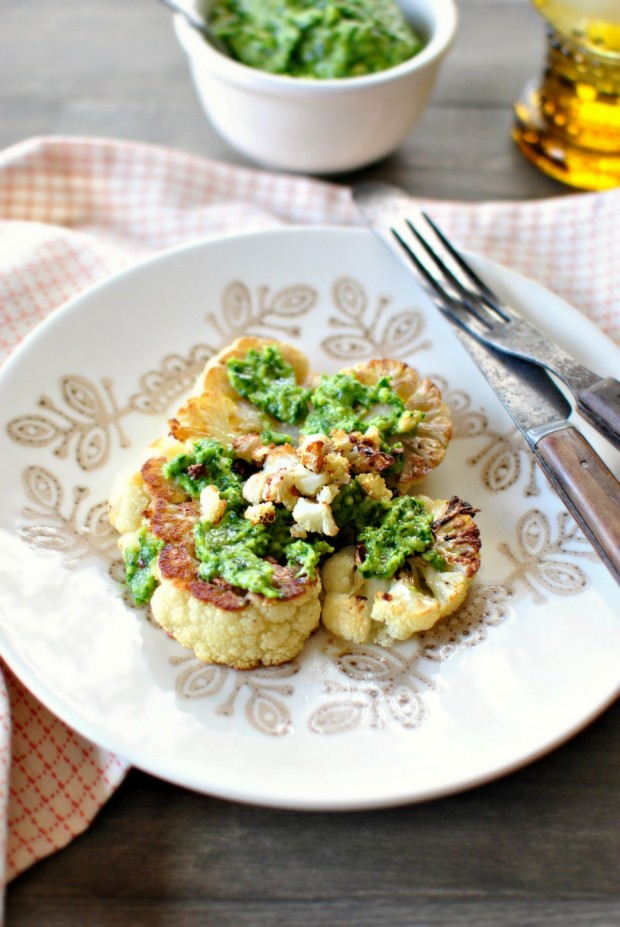 These roasted cauliflower steaks can be a quick, light main dish or a great side to fish or chicken. It's light and flavorful and those crispy cauli-bits that strayed away and turned all crispy and caramelized, work well as a little garnish on top.
Roasted cauliflower steaks and pesto for life.
Enjoy! And if you give this Roasted Cauliflower Steaks recipe a try, let me know! Snap a photo and tag me on twitter or instagram!
My cookbook Simply Scratch : 120 Wholesome Homemade Recipes Made Easy is now available! CLICK HERE for details and THANK YOU in advance!
Yield: 4 servings
Roasted Cauliflower Steaks with Toasted Walnut Parsley Pesto
Cauliflower "steaks" seared, roasted and smothered in fresh, parsley and toasted walnut pesto.
Ingredients
FOR THE CAULIFLOWER STEAKS:
1 large head of cauliflower, sliced into four 1-inch "steaks"
olive oil
kosher salt
freshly ground black pepper
FOR THE PESTO:
1 cup walnuts, toasted
4 cloves garlic, peeled and roughly chopped
1 bunch parsley, roughly chopped
5 green onions, light green and dark green parts only, roughly chopped
1/2 cup freshly grated parmesan cheese
1/2 teaspoon kosher salt
1/4 teaspoon crushed red pepper flakes
freshly ground black pepper
Instructions
Preheat your oven to 450°.

In a dry skillet, add the walnuts and toast until fragrant over medium heat. About 8 minutes or so. Remove the toasted walnuts to a small bowl and set off to the side.

Increase the heat to medium-high and in the same skillet at a tablespoon of olive oil and sear the cauliflower in batches of two until golden on both sides. About 4 to 5 minutes a side. Season with salt and pepper.

Place the seared cauliflower onto a rimmed sheet pan. Drizzle with a little more olive oil and roast It iin a preheated oven for 15-20 minutes.

Meanwhile, roughly chop up the four cloves of peeled garlic and add them to a food processor. Throw in the toasted walnuts, parsley, green onions, grated Parmesan, crushed red pepper flakes and black pepper. Secure the lid and turn on the food processor.

Slowly pour in the olive oil, stopping and scraping down the sides and repeating until smooth.

Taste and season with salt.

Remove the roasted cauliflower steaks form the oven and serve with spoonfuls of the parsley pesto, any tiny remaining roasted cauliflower bits and a light drizzle of olive oil.
Serving: 1g, Calories: 296kcal, Carbohydrates: 15g, Protein: 13g, Fat: 23g, Saturated Fat: 4g, Polyunsaturated Fat: 14g, Monounsaturated Fat: 4g, Cholesterol: 11mg, Sodium: 538mg, Potassium: 709mg, Fiber: 6g, Sugar: 4g, Vitamin A: 1501IU, Vitamin C: 92mg, Calcium: 235mg, Iron: 3mg
[this post contains affiliate links.]
This post may contain affiliate links.
Buy the Cookbook: Simply Scratch : 120 Wholesome Homemade Recipes Made Easy Now available on Amazon »
THANK YOU in advance for your support!