Corned Beef and Cabbage Chowder is everything you love about a boiled dinner but in soup form. Tender pieces of leftover corned beef, russet potatoes, cabbage with carrots, celery and onions in flavorful creamy soup spiked with Irish stout. Top with snipped chives and toasty rye croutons. Serves 6 to 8.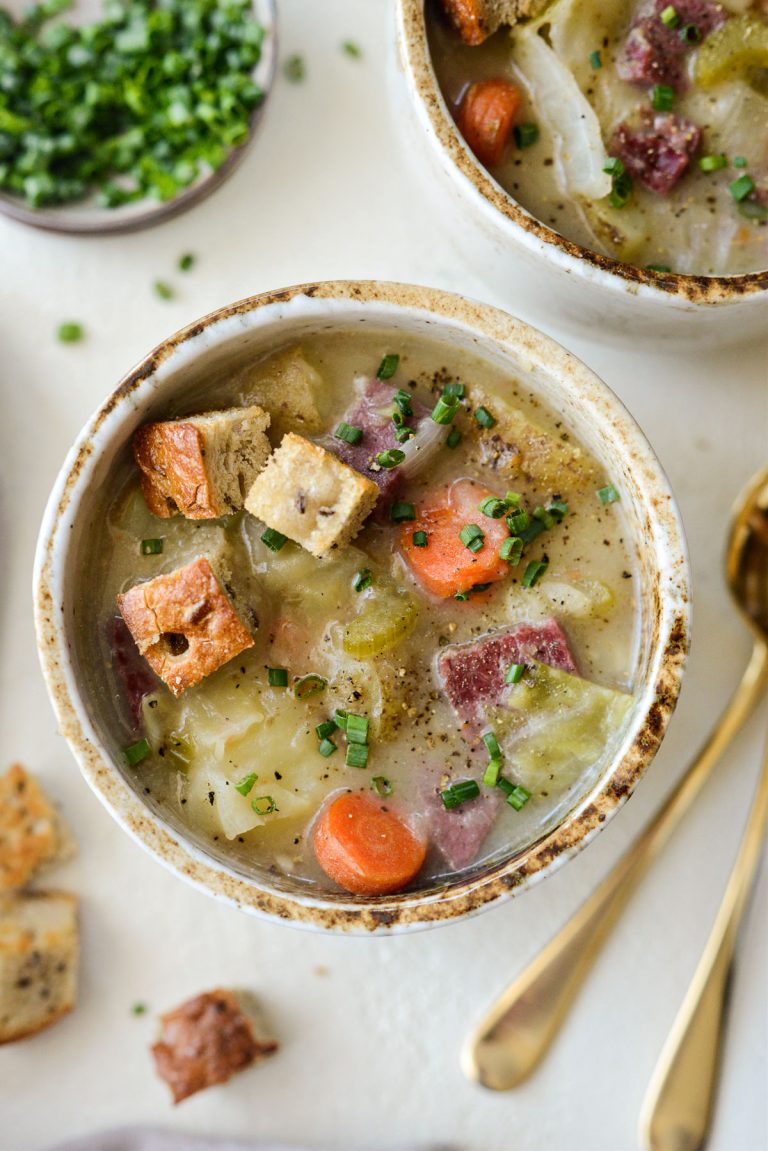 Have leftover corned beef? turn it into a delicious chowder!
You may have noticed that I love taking leftovers and turning them into entirely different meals. Especially when those meals are soups. And corned beef from St. Patrick's Day dinner is perfect in chowder.
In Michigan it's still very much soup season (although it's supposed to be 60° on Tuesday) and it most likely will still be soup season in May. Probably June too.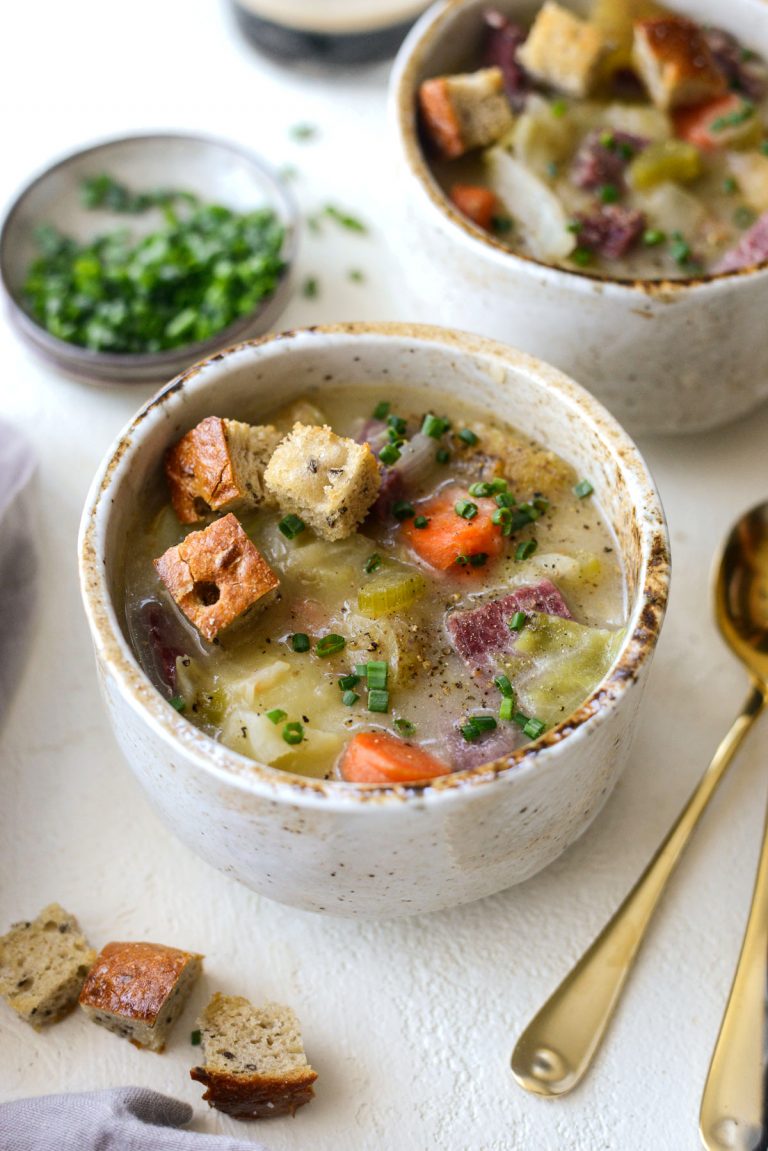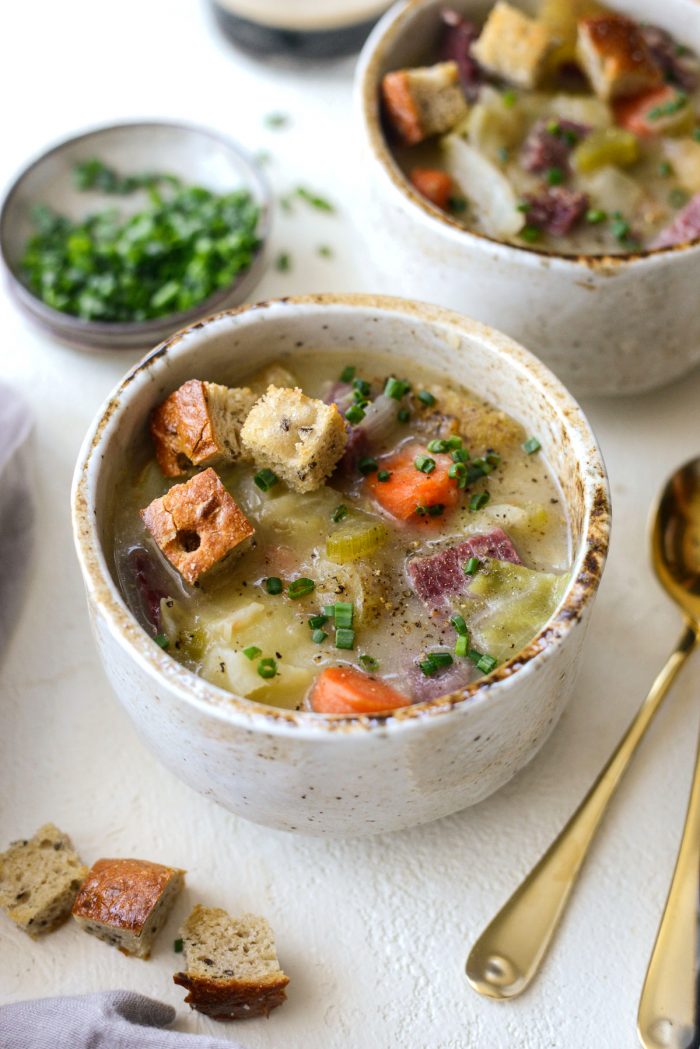 So for now, enjoy this comforting chowder that's not only easy but also incredibly delicious.
To Make This Corned Beef and Cabbage Chowder You Will Need:
olive oil
yellow onion
celery
carrot
kosher salt
garlic
russet potatoes
bay leaf
low-sodium chicken broth
cabbage
heavy cream
Irish stout (Guinness)
leftover corned beef
unbleached all-purpose flour
freshly ground black pepper
To start, in a dutch oven add 1 tablespoon oil, 1 medium diced onion (about 1-1/2 cups), 3/4 cup both sliced carrots and celery with a pinch of kosher salt. Stir and cook over medium to medium-low until just about tender. About 8 minutes.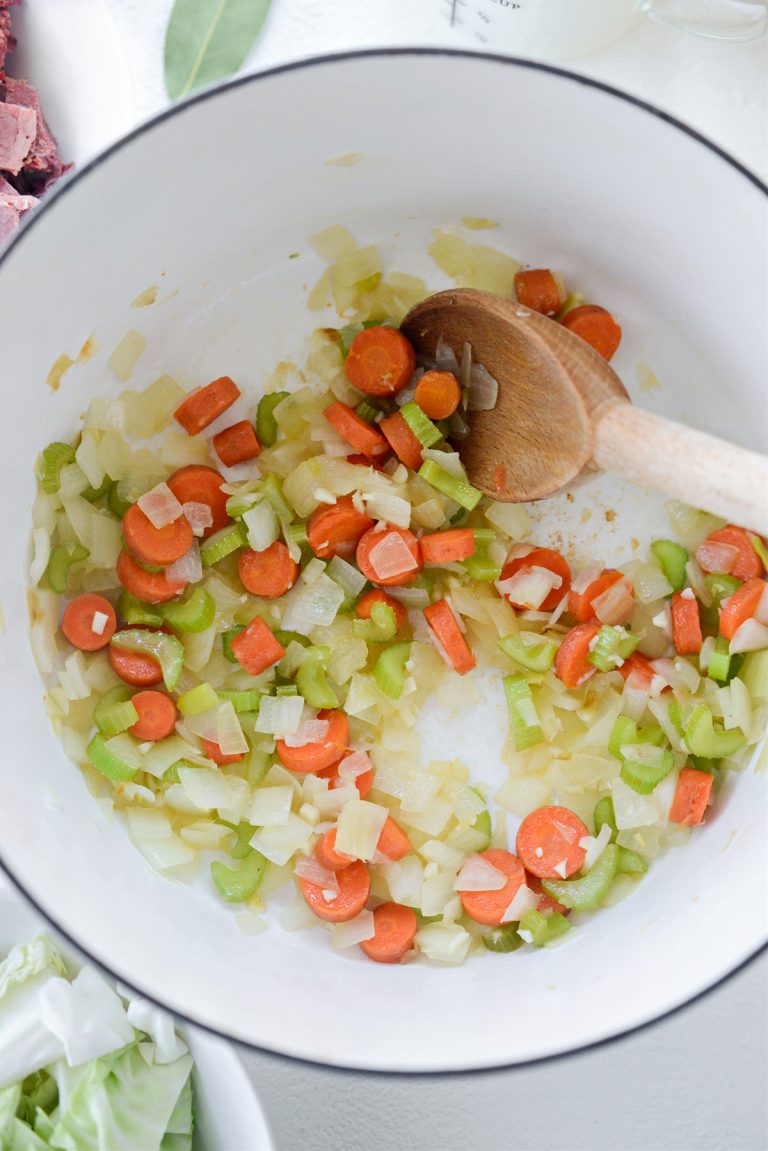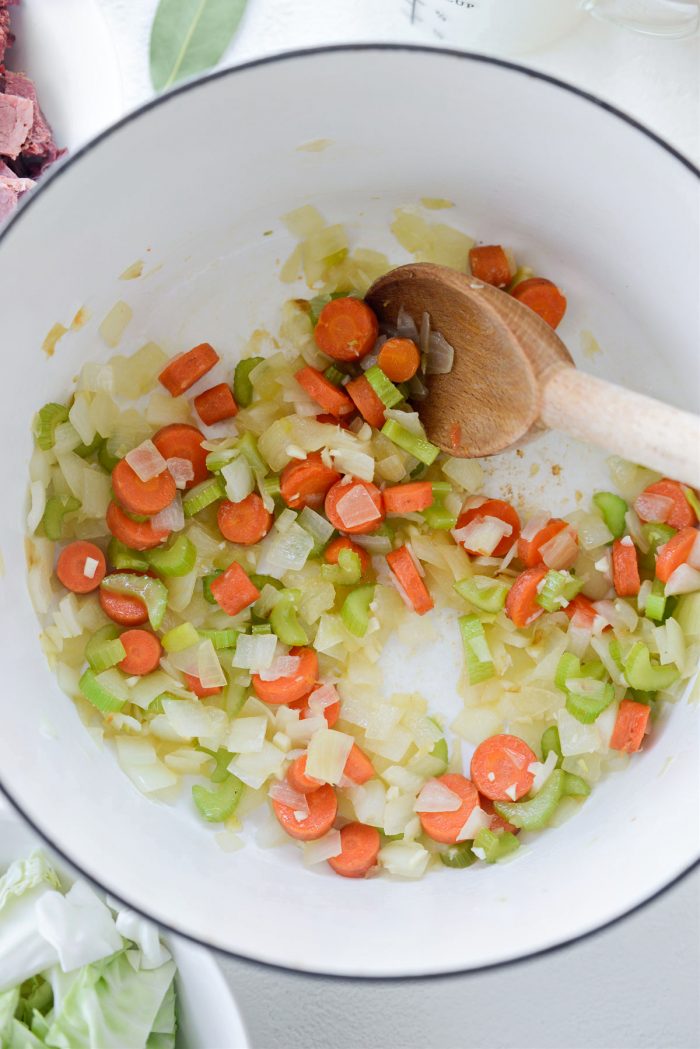 Then add in 1 minced clove of garlic, stir and cook 1 minute.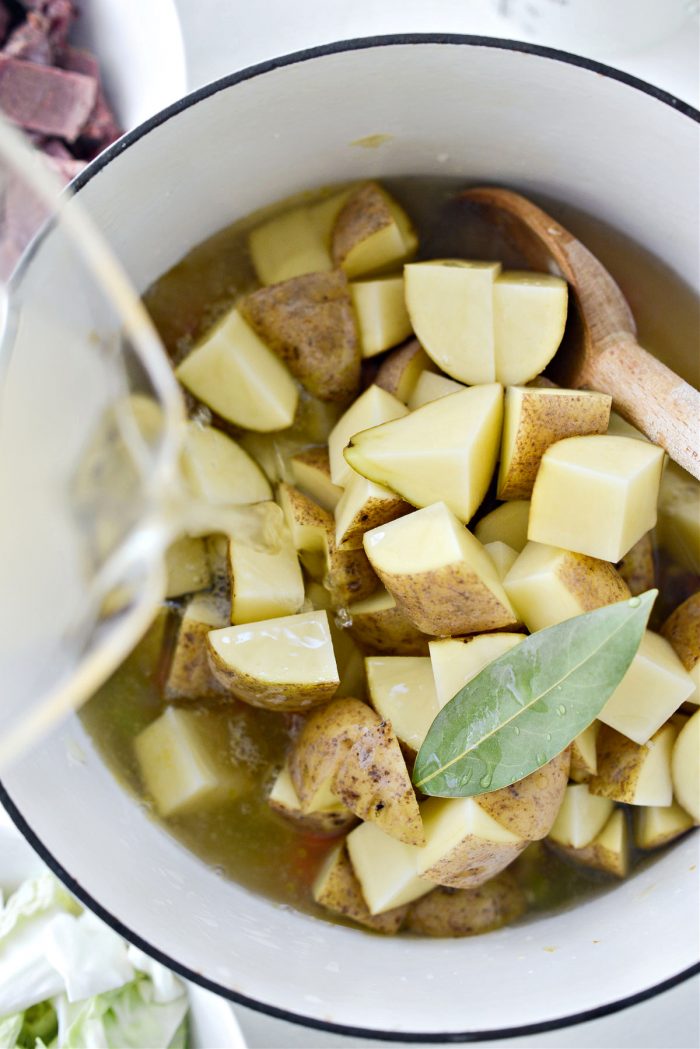 Next add 2 pound dice potatoes (about 1 to 1-1/2 inch dice), 1 bay leaf, 4 cups (1 quart) low-sodium chicken broth and 2 cups water.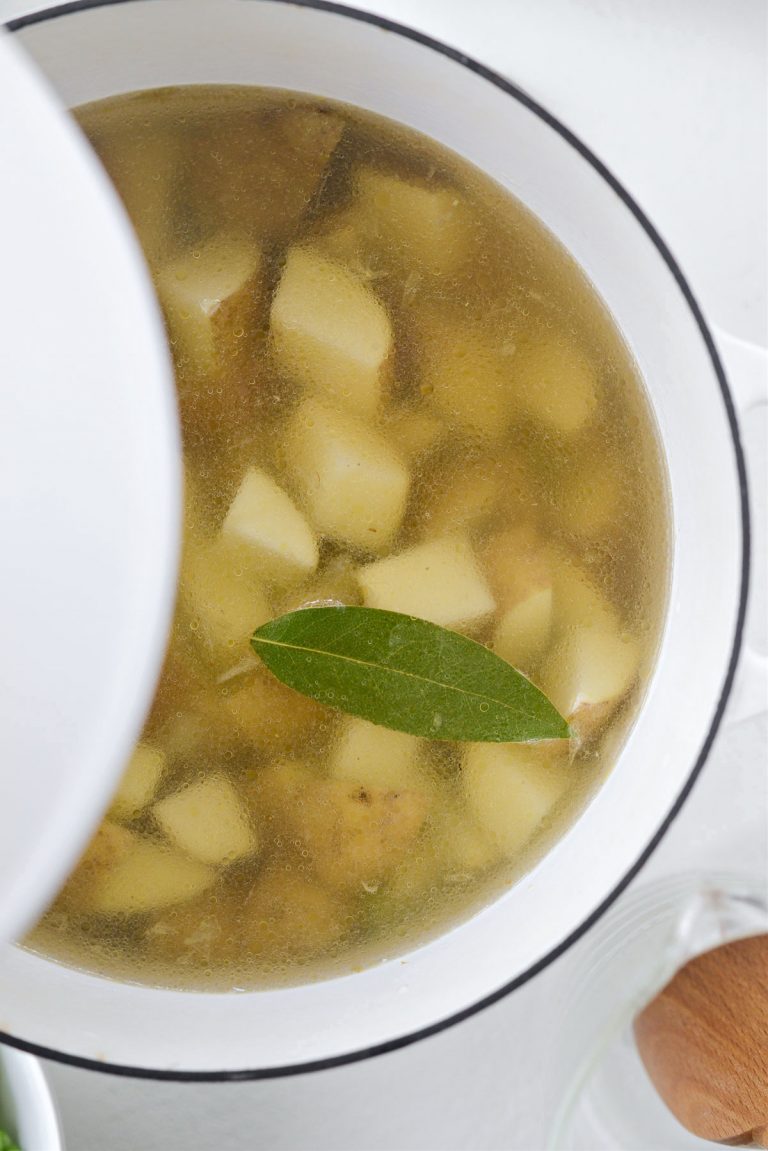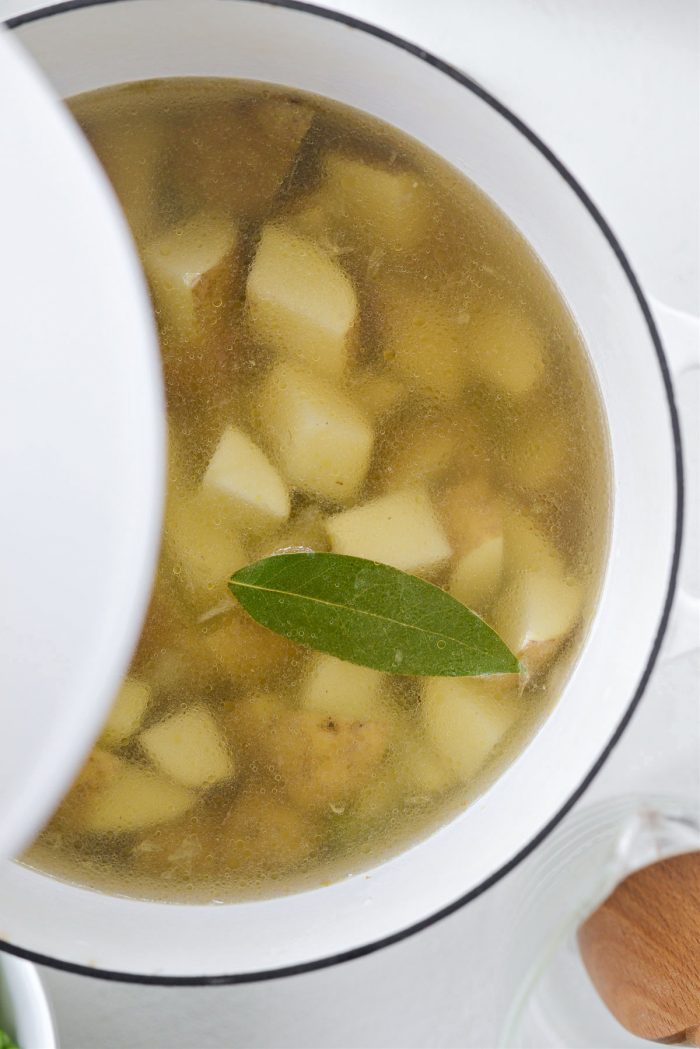 Cover and bring to a boil.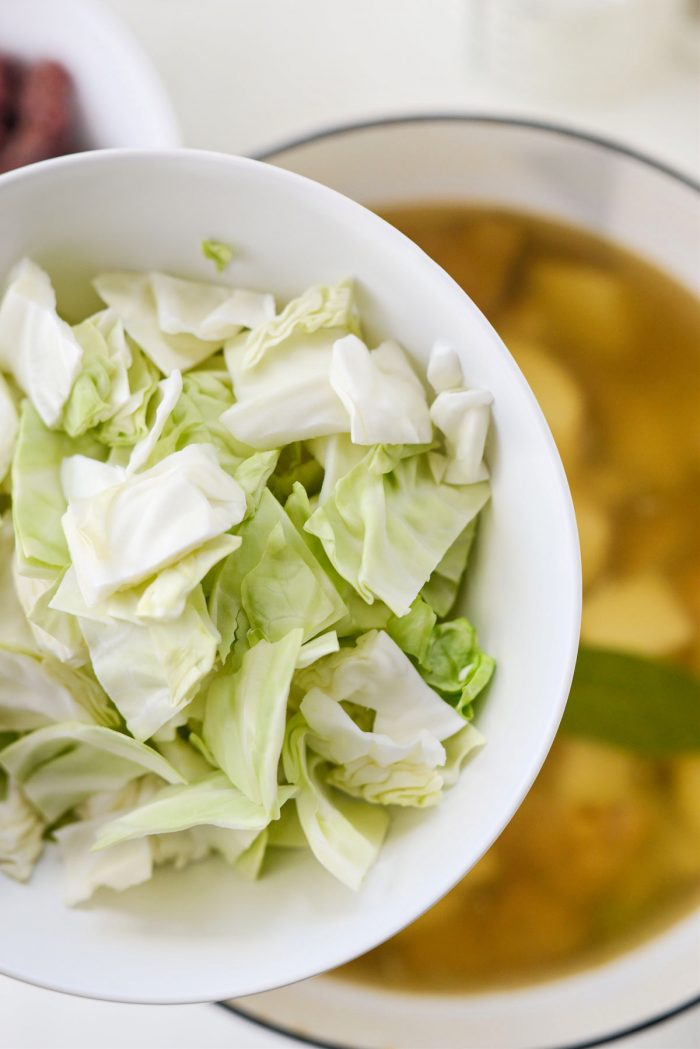 Once boiling, reduce to medium-low and quickly stir in the cabbage. With the lid askew, simmer 10-15 minutes or until potatoes are tender and cabbage is soft.
Like so.
Make sure you remove the bay leaf before…
…pureeing the soup a SMIDGE. You don't want to go bonkers here because you still want chunks, this is chowder after all. I do this so I can add less cream to the recipe.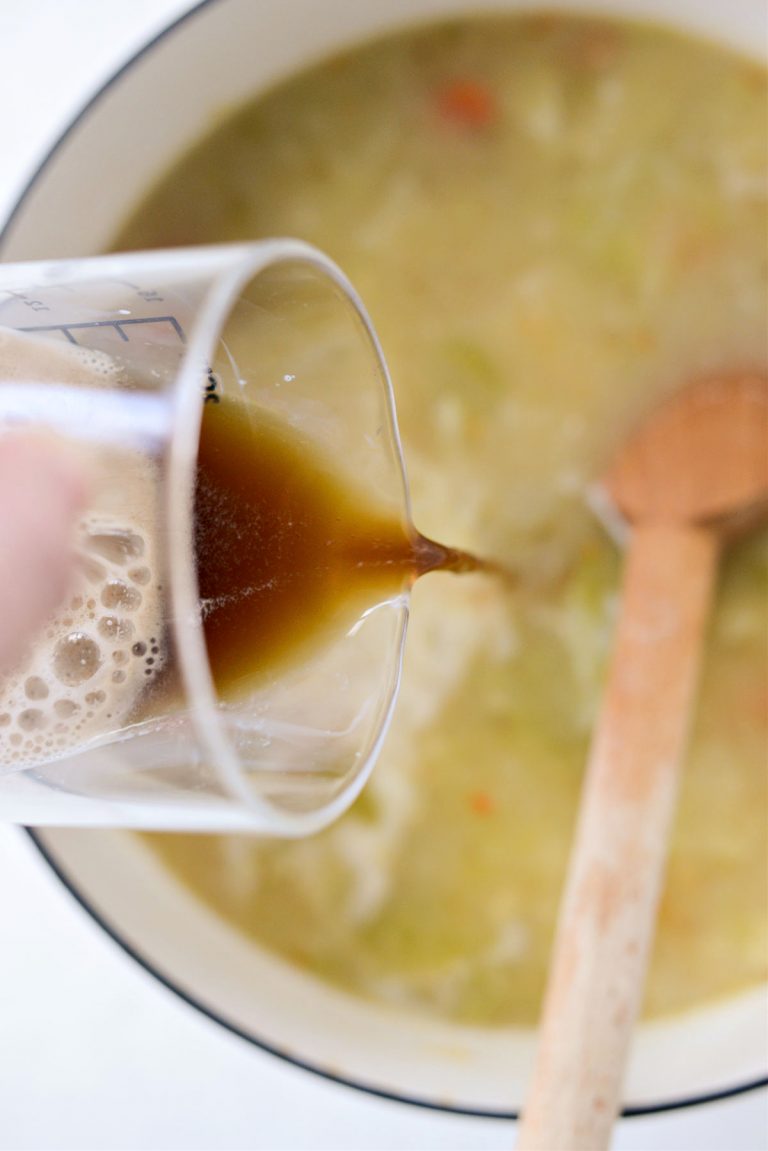 Pour in 1/2 cup heavy cream and 1/2 cup Irish stout.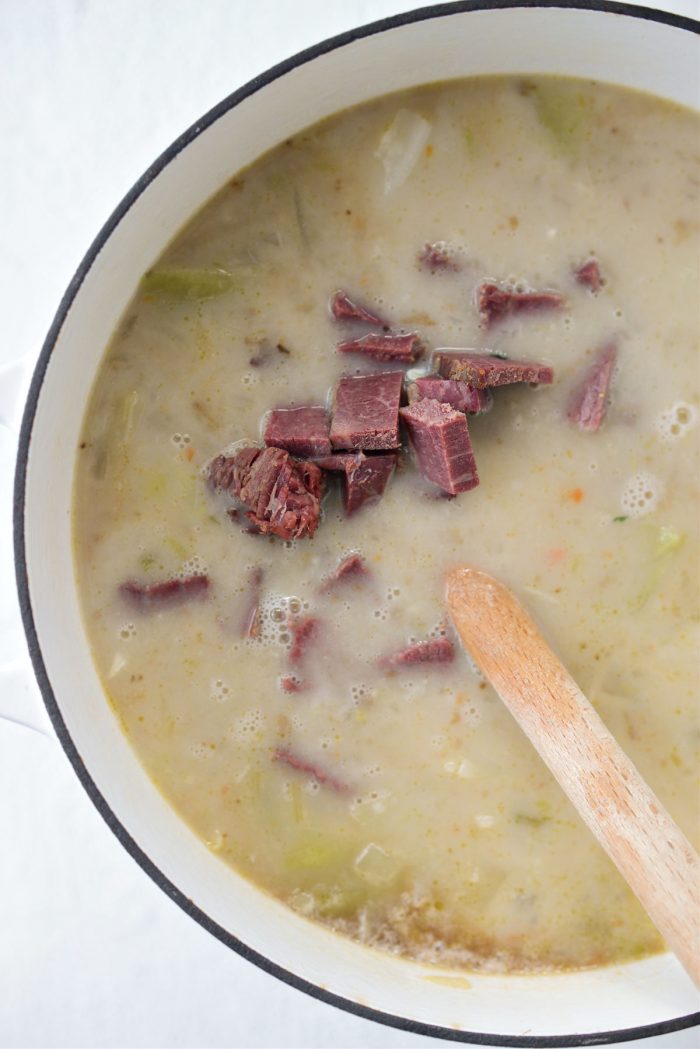 Add in 2 cups chopped leftover cooked corned beef.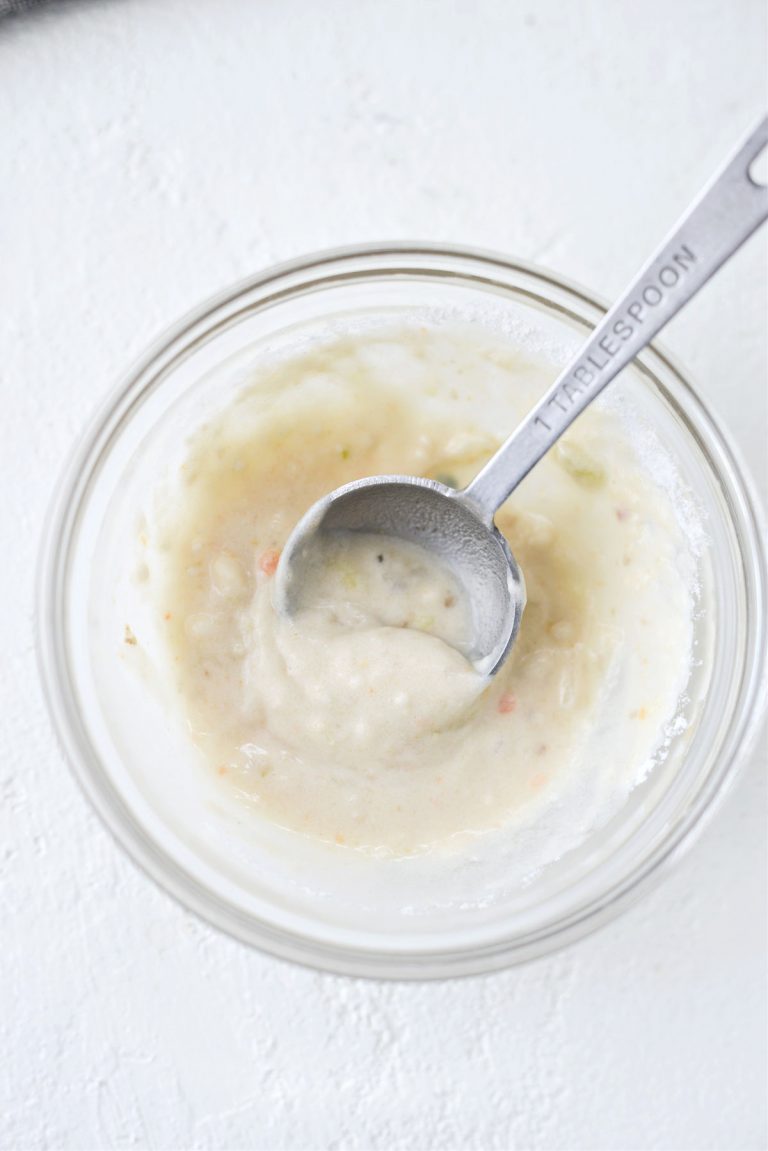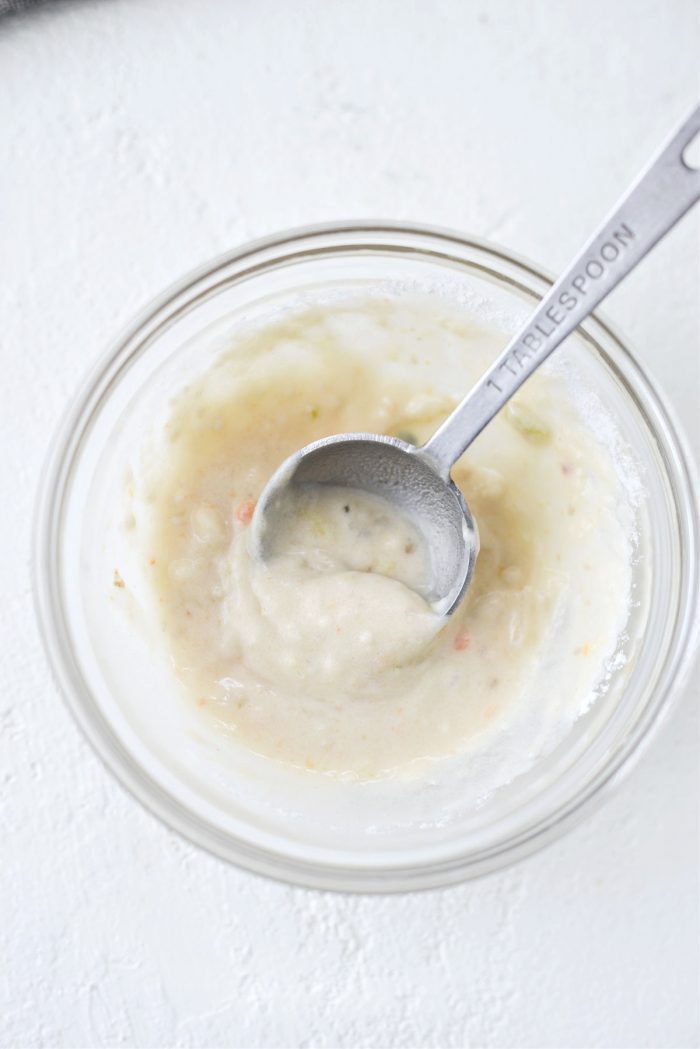 To thicken the soup a tad, add 1 tablespoon flour to a bowl and stir in 3 tablespoons hot soup liquids. It should form a paste. Stir this paste into the soup and allow the soup to simmer on low for 15 minutes or until it has thickened a bit. It shouldn't be as creamy as a cream based soup, but not thin like a broth based soup.
This chowder falls somewhere in between the two.
Taste and season with kosher salt and freshly ground black pepper.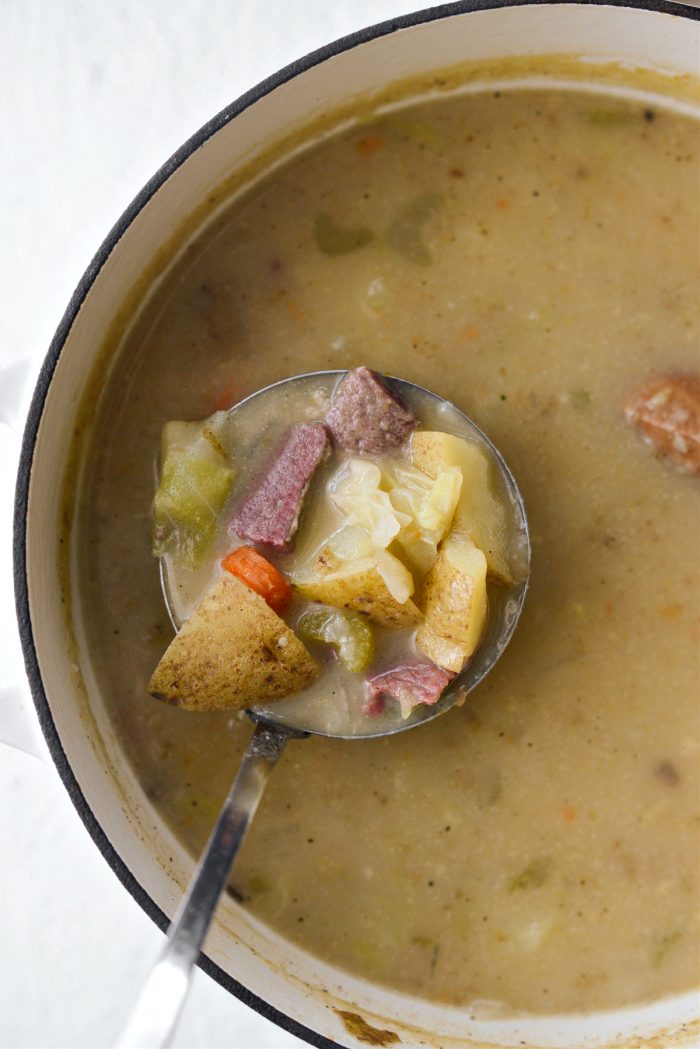 If only my mouth was wide enough.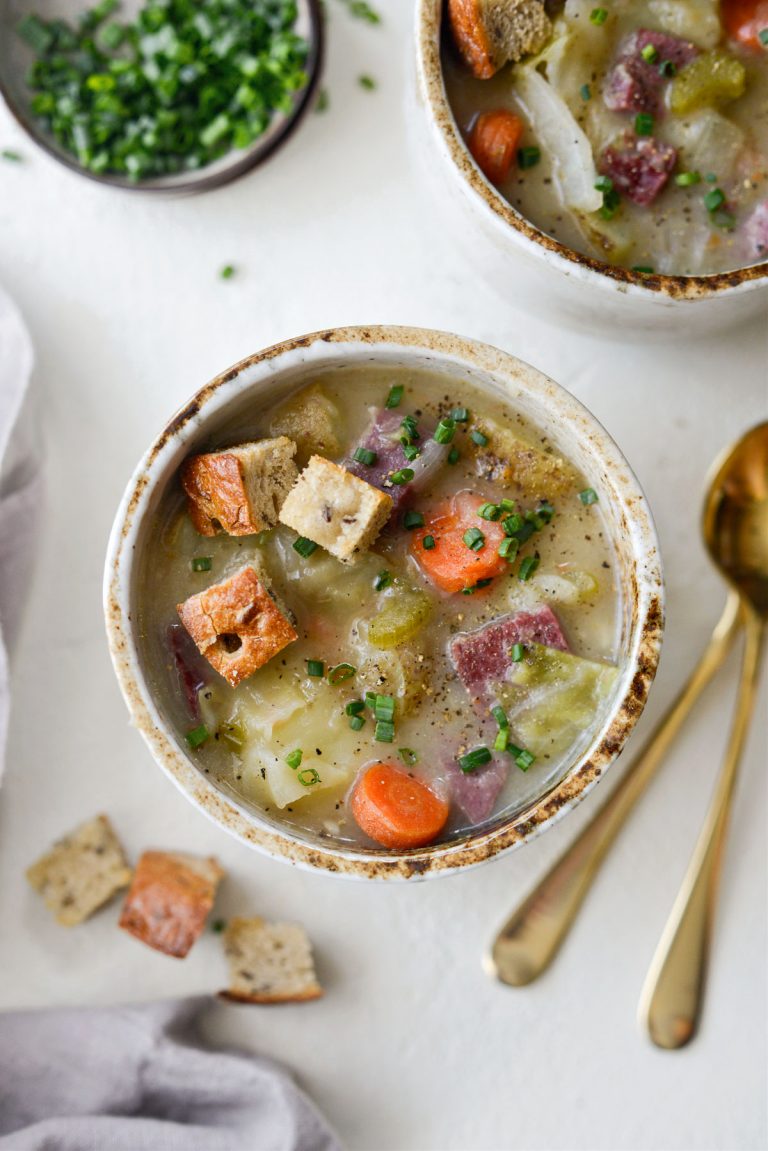 Ladle the soup into bowls.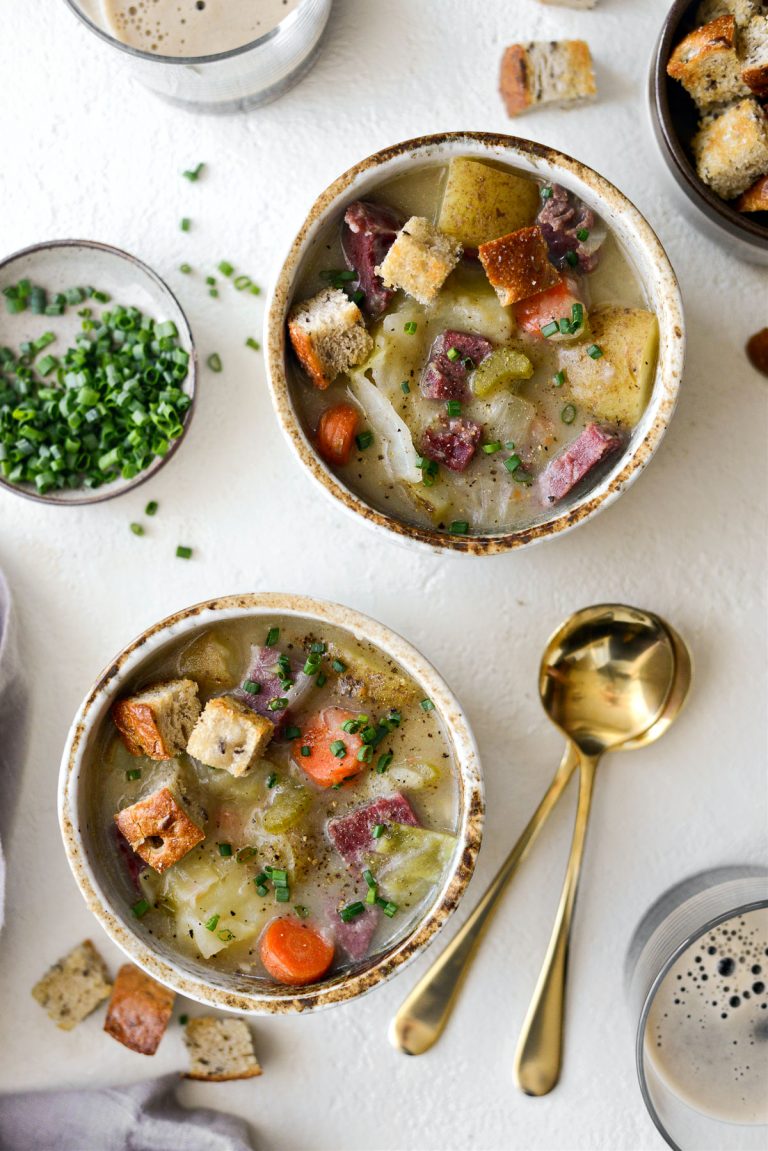 I top our chowder with freshly ground black pepper, snipped chives and toasty rye bread croutons. I love the caraway in the rye in combination with the soup. It's delicious. Oh and I've left the instructions for the croutons in the recipe printable.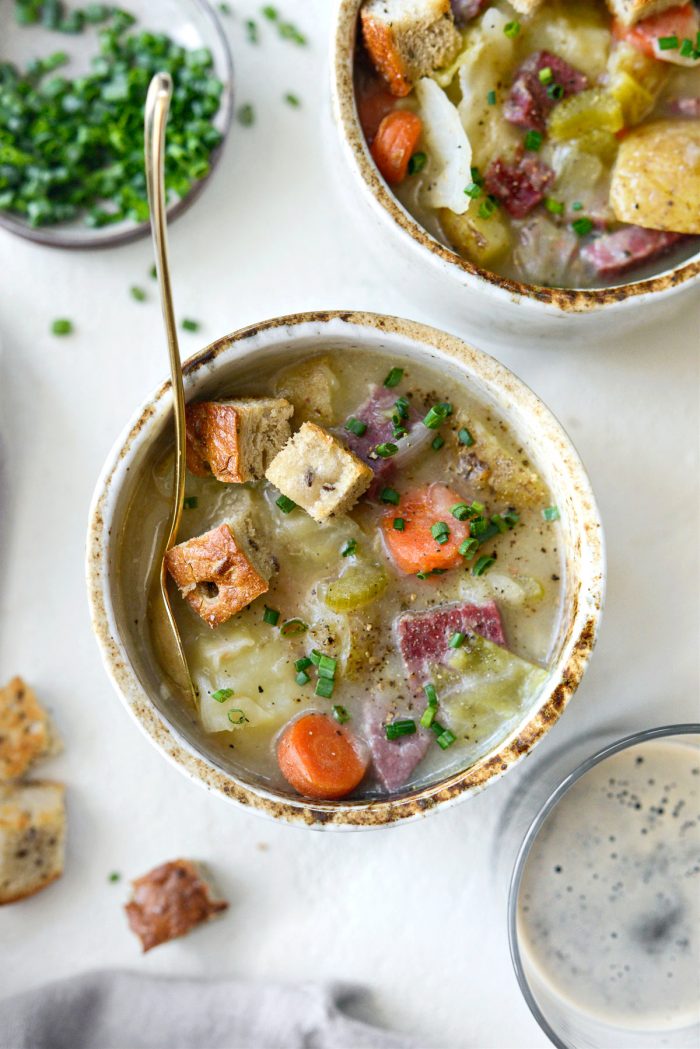 I hope you love this hearty, soul-warming chowder as much as we do!
Enjoy! And if you give this Corned Beef and Chowder recipe a try, let me know! Snap a photo and tag me on twitter or instagram!
This post may contain affiliate links.
Buy the Cookbook: Simply Scratch : 120 Wholesome Homemade Recipes Made Easy Now available on Amazon »
THANK YOU in advance for your support!