This coconut lime cake is filled with lime zest, juice and coconut! My absolute favorite cake ever!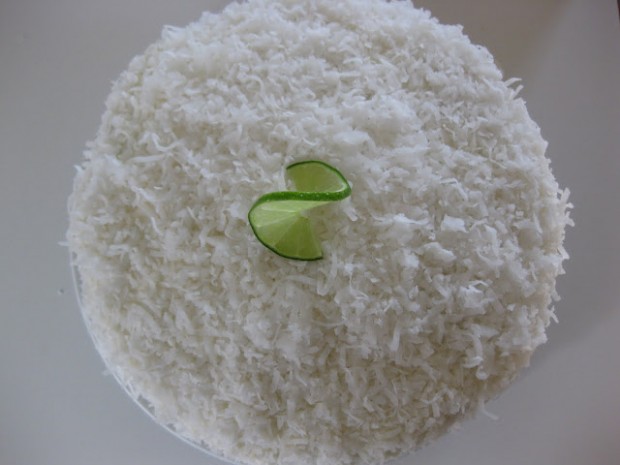 Today is my best friend Nichole's Birthday!!
I wanted to make one of her favorite cakes: "You Put the Lime in the Coconut Cake". I have waited all year to make this cake again and I'm so excited!
Nicole has been my best friend since I was about 18 and neighbors for 10 years. She is like a second mother to my girls, they've called her Nini since the day they could talk, and is like a sister to me. We have had so much fun over these years, everything from trying to make chicken tortellini alfredo in my apartment, to being there for each other when our kids were born, birthday parties and the vacations, roller-skating, karaoke and Twilight, our wine nights to our weekly driveway talks. I keep all those memories close.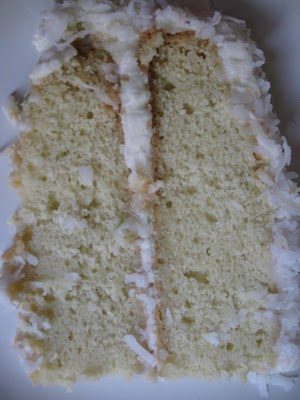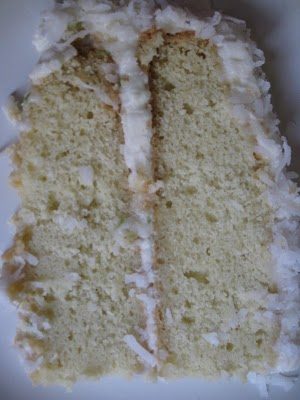 Nichole would give you the umbrella from over her head if you were standing at the bus stop getting rained on… she actually did that once! She would become an ordained minister so she could marry her sister and will literally do anything to help someone out, lord knows she has helped me quite a few times, and I feel so lucky to have her as my friend.
She will have no idea I have made this cake until she checks my blog because she is my faithful blog reader. Today she turns 32, eh hemmm 29 again and I would like to give her a special present via the internet.
Happy Birthday Nini! We Love You!!
Now come get your cake!! XOXO
Here is what you will need: Flour, sugar, baking soda, baking powder, salt, eggs, coconut oil, coconut milk (unsweetened) and butter (save those butter wrappers!).
First, pre-heat your oven to 350°. Next, butter and flour two 9-inch cake pans and line with wax paper or parchment paper (find how to line a cake pan by clicking here!). Now set off to the side for a moment.
Next cream the butter and sugar together until light and fluffy.
Then add the coconut oil and add beat in one egg at a time.
Now set the egg/sugar/butter batter to the side.
In a separate bowl whisk together the flour, salt, baking soda and baking powder.
Next, alternate adding the coconut milk and the flour mixture until both are gone (mixing in between each ingredient).
Set your prepared cake pans next two the coconut cake batter. Using a cup measure, divide the batter evenly between the two. Which will be approximately 2 heaping cups each.
Next use an offset spatula to spread the batter evenly and give each pan a tap on the counter. Bake the cakes on the middle rack in your pre-heated oven for 24-28 minutes. I check mine at the 24 minute mark, they're done and when a cake tester comes out clean after inserted.
Let cakes cool for ten minutes after coming out of the oven. Run a knife along the edges and remove cake from the pan.
Make sure you remove the wax paper!
Finally, let the cakes cool completely and prepare the glaze!
For the glaze; you'll need coconut milk, whole milk plain yogurt, zest and juice of two limes, sugar and shredded coconut.
First add all the glaze ingredients to a medium size bowl.
And then give it a good whisking!! Cover with plastic wrap and refrigerate until the cakes are cool.
Go ahead and lick the whisk, you know you want to. It is pretty wonderful!!
Next place a wire rack over a sheet pan and use a skewer to poke a few holes. Then top each cake with a quarter of the glaze and spread it evenly, flip and repeat. Because of the holes, the glaze will seep into the cake. Next cover the glazed cakes with plastic wrap and refrigerate until ready to frost.
For the frosting you will need; powdered sugar, butter, cream cheese, shortening, coconut milk, vanilla and butter.
First cream together the butter, cream cheese and shortening until light and fluffy.
Then add the powdered sugar a little at a time on low speed until combined.
Next add the remaining coconut milk and the vanilla, and mix.
Then place the first coconut lime cake layer on a platter and add generous spoonful on top and spread it over the cake.
Next repeat with the second layer of cake (right side up), add then top with more frosting. Smooth the frosting over the top and sides of the cake.
Next, take the coconut flakes and press into the top and sides of the coconut lime cake. Because there's no such thing as too much much coconut. Right?
Lastly, top with a twist of lime before slicing and serving!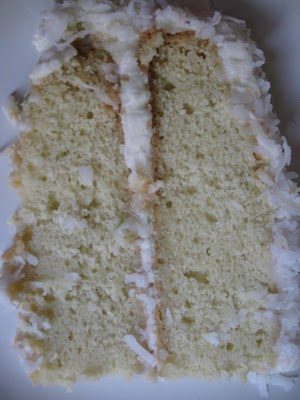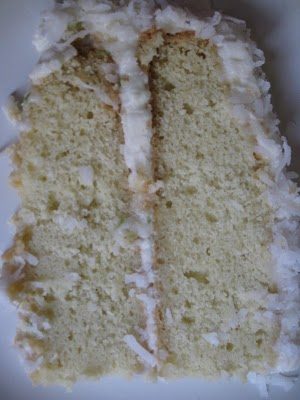 This coconut lime cake is literally a slice of heaven!
Enjoy! And if you give this coconut lime cake recipe a try, let me know! Snap a photo and tag me on twitter or instagram!
Yield: 14 servings
Coconut Lime Cake
This coconut lime cake is filled with lime zest and juice and delicious coconut! My absolute favorite cake ever!
Ingredients
FOR THE CAKE BATTER:
1 cup butter
2 cups sugar
1 teaspoon coconut oil
4 large eggs
2½ cups unbleached all-purpose flour
1/2 teaspoon salt
1 teaspoon baking soda
1/2 teaspoon baking powder
1 cup unsweetened coconut milk
FOR THE GLAZE:
1 cup whole milk yogurt
1 cup sugar
2 whole limes, zested and juiced
1/4 cup coconut milk
1 cup shredded coconut
FOR THE FROSTING:
1/2 cup butter
1/2 cup shortening
4 ounces cream cheese
1 pound bag plus 1 cup powdered sugar
1/4 cup coconut milk*
1 teaspoon vanilla
2 cups shredded coconut**
Instructions
Preheat oven to 350° and butter, flour and line the two 9-inch cake pans.

In a large bowl cream together butter and sugar until fluffy.

Add coconut oil and eggs 1 at a time.

In another bowl whisk together flour, salt, baking soda and powder.

To mixer add the coconut milk and flour mixture alternately.

Use a cup measure to divide cake batter equally between the two prepared cake pans.

Bake for 20 -25 minutes depending on your oven, the cake is done when you insert a skewer and it comes out clean.

Let cool for 10 minutes, then unmold and remove the wax paper liner.

Allow to completely. Keep cake refrigerated.

*for this recipe you will only need one can of unsweetened coconut milk.

**for this recipe one 14 ounce bag of sweetened coconut flake will be needed.
Serving: 1g, Calories: 700kcal, Carbohydrates: 72g, Protein: 7g, Fat: 45g, Saturated Fat: 28g, Polyunsaturated Fat: 3g, Monounsaturated Fat: 10g, Trans Fat: 2g, Cholesterol: 117mg, Sodium: 460mg, Potassium: 217mg, Fiber: 2g, Sugar: 53g, Vitamin A: 812IU, Vitamin C: 1mg, Calcium: 62mg, Iron: 2mg
Recipe Respectfully Borrowed From Doreen Howarth.
This post may contain affiliate links.
Buy the Cookbook: Simply Scratch : 120 Wholesome Homemade Recipes Made Easy Now available on Amazon »
THANK YOU in advance for your support!