Classic Meat Sauce with Linguine is simple, homemade and delicious. Linguine is tossed wit a ground beef ragu and is one of my favorite meat sauce recipes!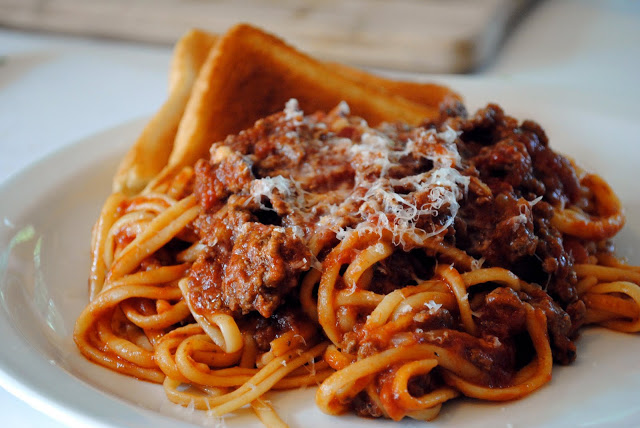 This recipe is simple, basic and comforting! In my novice years of cooking I would have bought Prego or Ragu and call it dinner. But it just doesn't come close to making it from scratch. It really is easy to do it yourself.
Just so ya know, in no way am I sure that I could claim this authentic Italian cuisine, BUT it is yummy and fills my house up with the smell of garlic and wine!
To Make This Linguine with Meat Sauce You Will Need:
olive oil
shallot
garlic cloves
wine
crushed tomatoes
tomato sauce
ground beef
linguine
red pepper flakes
kosher salt
freshly ground black pepper… Oh! Don't forget the olive oil! Hey… at least I remembered the garlic this post! 🙂
Heat some olive oil in your largest skillet over medium heat.
Take your shallot, peel and dice it up!
Grab those three garlic cloves and with the back of your knife or the bottom of one of the tomato cans, give it a good smash. Then mince the bejesus out of it.
When the olive oil is heated and all shimmery, add the shallots and cook until slightly translucent and soft. Then toss in those 3 chopped garlic cloves and cook for about a minute.
After a minute you should begin to smart smelling the garlic… it's fantastic!
Add your pound of ground meat, cook until the meat is no longer pink
Get out your bowl of red chili flakes… What?… You don't have a designated bowl for this stuff? Don't freak out you will only need a pinch.
This is my pinch 🙂
Add a pinch to the meat and season with salt and pepper.
Add both cans of sauce to the ground beef. My can of crushed tomatoes had basil in it. But if yours doesn't, feel free to add minced fresh basil right at the end!
Uncork that bottle of wine and pour yourself a glass… but make sure to save enough to add to the sauce.
I add a "splash", whatever that means… I don't measure it. Just go with your gut! I say "go big or go home".
Which is also my life motto!
Season with some kosher salt and pepper. Stir, cover and reduce to a simmer for about 15 minutes. While that's cooking heat a large pot of salted water.
Then add your pound of linguine and cook as directed on the box. You could definitely use spaghetti if you want… I just am a fan of these noodles.
When the noodles are done, dump them in to a colander and then back into the sauce. PS… I LOVE this photo!
Toss until all the sauce is distributed among the noodles.
Serve a heaping amount on a plate with garlic toast and fresh grated Parmesan. Because pasta is alway better with Parmesan.
I hope you love this as much as my family does!
Enjoy! And if you give this recipe a try, let me know! Snap a photo and tag me on twitter or instagram!
Yield: 8 servings
Classic Meat Sauce with Linguine
Classic Tomato Meat Sauce with Linguine is simple, homemade and delicious. Linguine is tossed wit a ground beef ragu and is one of my favorite meat sauce recipes!
Ingredients
1 tablespoon olive oil
1 large large shallot, diced
3 cloves garlic, minced
1 pound ground chuck or sirloin
2 tablespoons red wine, like merlot, cabernet or anything in your fridge!
28 ounces crushed tomatoes
15 ounce tomato sauce
1/2 teaspoon kosher salt, plus more to taste
1/4 teaspoon black pepper, freshly ground, more or less to taste
1 pinch red pepper flakes
3/4 pound linguine, dried pasta
1/4 cup fresh basil, torn, for serving
Instructions
Heat olive oil in a large pan over medium heat.

Add diced shallots and cook until soft and translucent.

Next add diced garlic and cook for one minute.

To that, add ground chuck and cook until browned. Season the meat with salt, pepper and red pepper flakes.

Add the can of crushed tomatoes and tomato sauce. Add a splash of red wine, stir, cover and reduce heat to low for about 15-20 minutes (at least).

Mean while, bring a large pot of salted water to a boil. When the water has reached a boil, add the one pound of pasta and some olive oil and cook as directed on the box.

Drain the pasta and toss with the sauce when finished.

Serve with freshly grated parmesan and garlic toast.
Serving: 1g, Calories: 223kcal, Carbohydrates: 42g, Protein: 8g, Fat: 3g, Saturated Fat: 1g, Polyunsaturated Fat: 1g, Monounsaturated Fat: 1g, Sodium: 558mg, Potassium: 574mg, Fiber: 4g, Sugar: 8g, Vitamin A: 487IU, Vitamin C: 13mg, Calcium: 54mg, Iron: 2mg
This post may contain affiliate links.
Buy the Cookbook: Simply Scratch : 120 Wholesome Homemade Recipes Made Easy Now available on Amazon »
THANK YOU in advance for your support!