Nothing beats the fresh flavors of a classic Margherita pizza. Homemade pizza dough is topped with my favorite from scratch pizza sauce, ripe Roma tomatoes, fresh mozzarella and basil.
If I had to pick a single one food item as my food-bff –go with it– it would be pizza.
It's the one thing I could (do?) eat weekly and never get sick of.
Homemade or carry-out, classic, pizza lovers or just cheese… it's all good with me and because there's just so many types of toppings, cheeses and crust variations that it leaves little room for boredom.
I will say the only pizza I don't like is cold pizza. I'm not sure if it's a cold sauce and non-melty cheese that puts me off, but I definitely don't like it. Warm, crispy, gooey and fresh for the win. Every time.
As you could probably guess, I've made a lot of pizzas in my life. And if I had a list of my top favorite pizzas of all time, the classic Margherita pizza would be at the top. It's the best of the best. How can it not be with fresh toppings like roma tomatoes, fresh mozzarella cheese and basil leaves. And thanks to the crust for being the vessel in which I can consume it all.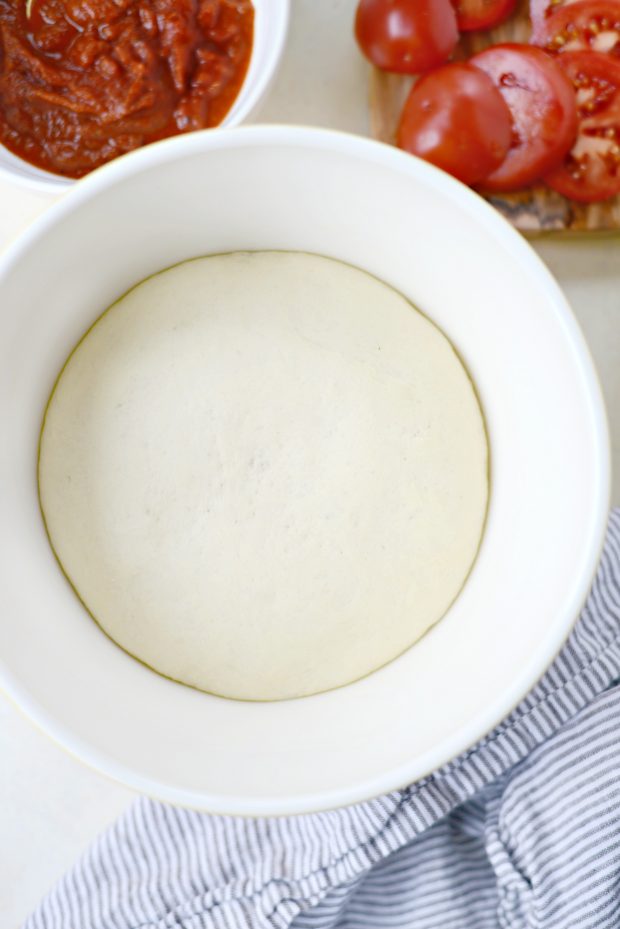 In my pizza loving world, there is only one dough recipe I use. If you've bought my book (you rule!) and it's in the basic chapter. You can also find it here. How many times in one post can I claim something is the best? Seriously. We've go the best pizza dough, the best homemade pizza sauce and all of those together and topped with cheese will yield one of the best pizzas.
#justsayin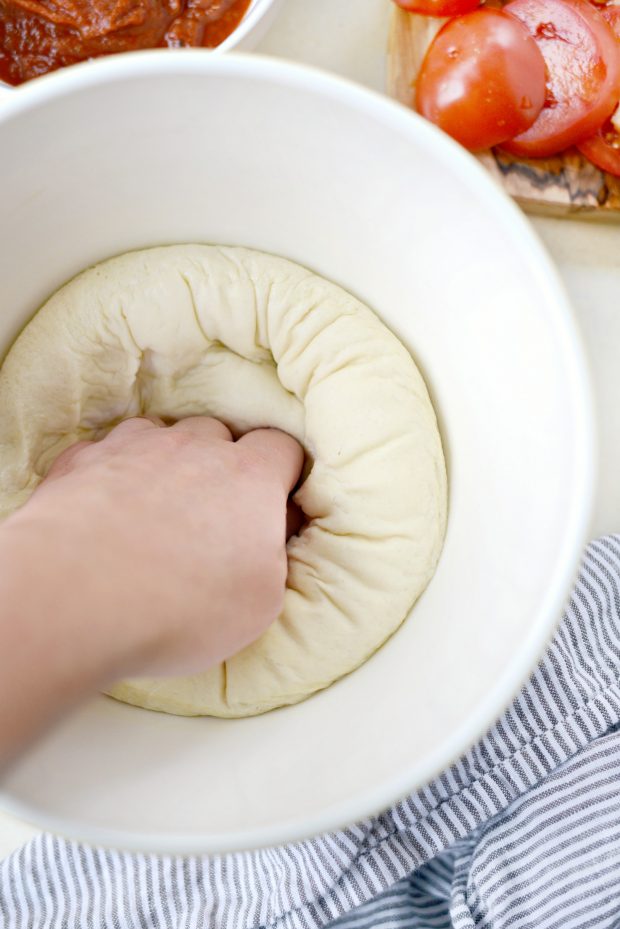 After I mixed the dough ingredients together, I split the dough in half and then I placed them into two lightly oiled bowls. Then I covered each bowl with a tea towel and placed them in a warm spot (on top of my dryer with a load going) to rise for 1 hour. Once the dough has risen, punch it down and deflate it a bit.
Then on a clean and lightly floured surface, stretch and shape each pizza.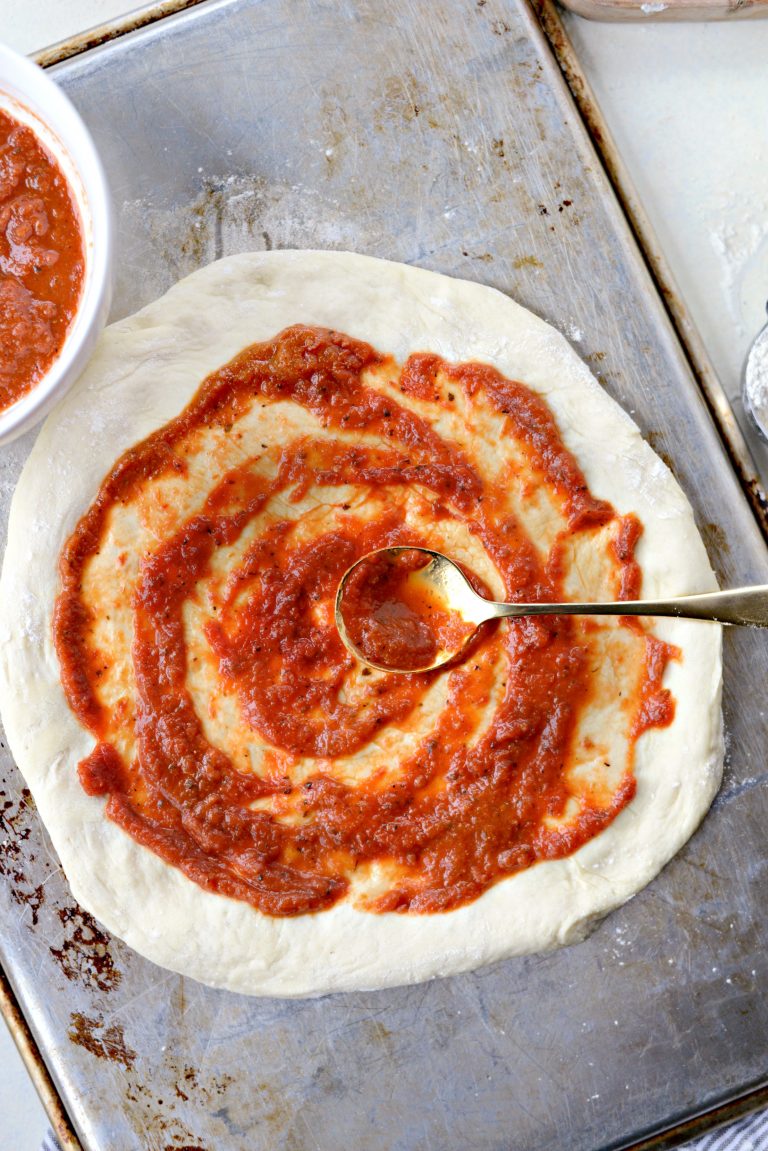 Transfer dough onto an inverted metal baking sheet that has been brushed with a little oil. This will help the dough to crisp and brown while not sticking.
Then spoon a desired amount of sauce onto the pizza and spread. Because we're adding sliced tomatoes, I like to spread a thin layer and not over-sauce it.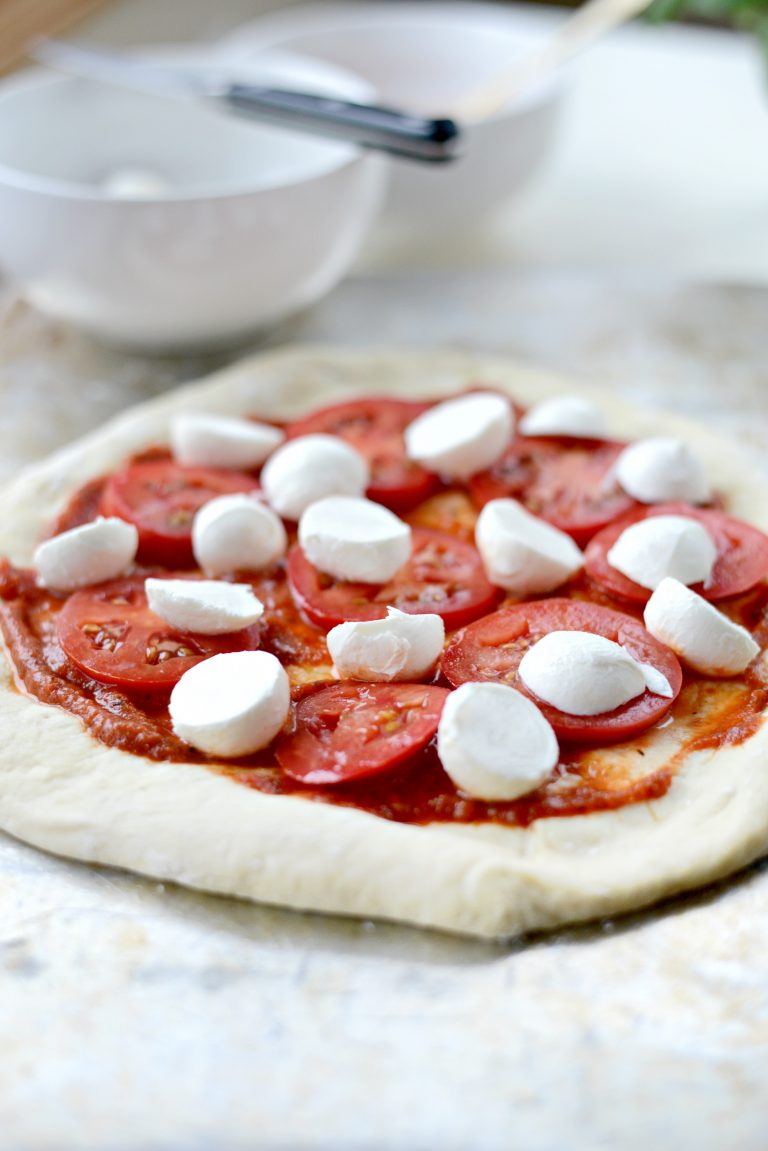 Lay slices of roma tomatoes over of the sauce. I find slicing fresh mozzarella a burden, so I bought ciliegine mozzarella and just cut them in half and scattered those overtop as well.
Then I slid the whole pan into my 425° oven and baked it for about 16 to 18 minutes.
Last, but definitely not least, scatter fresh basil leaves over top.
Slice…
And serve.
If you like caprese flavors, you will LOVE the Margherita pizza.
Enjoy!
My cookbook Simply Scratch : 120 Wholesome Homemade Recipes Made Easy is now available! CLICK HERE for details and THANK YOU in advance!
Yield: 6 servings
Classic Margherita Pizza
Nothing beats the fresh flavors of a classic Margherita pizza. Homemade pizza dough and sauce is topped with ripe Roma (or plum) tomatoes, fresh mozzarella and basil!
Ingredients
1 recipe homemade pizza dough, divided in half]
1 recipe homemade pizza sauce
2 Roma tomatoes, sliced
8 ounces fresh Mozzarella cheese, I used ciliegne size and cut each in half
fresh basil leaves, for serving
red pepper flakes, for serving
Instructions
Prepare the dough and let rise for 1 hour.

Preheat your oven to 425°.

Punch down the dough and on a lightly floured surface, stretch and shape the dough into 10 to 12-inch rounds.

Transfer the dough to a lightly oiled, inverted metal sheet pan.

Spread the dough with pizza sauce and top with sliced roma tomatoes and fresh mozzarella. Bake for 16 to 18 minutes or until the dough is crisp, golden and the cheese has melted.

Allow the pizza to cool for 5 minutes before topping with fresh basil leaves and red pepper flakes. Slice and serve.
Serving: 2slices, Calories: 214kcal, Carbohydrates: 15g, Protein: 11g, Fat: 12g, Saturated Fat: 5g, Polyunsaturated Fat: 1g, Monounsaturated Fat: 5g, Trans Fat: 1g, Cholesterol: 30mg, Sodium: 323mg, Potassium: 199mg, Fiber: 2g, Sugar: 2g, Vitamin A: 507IU, Vitamin C: 9mg, Calcium: 218mg, Iron: 1mg
[this post contains affiliate links.]
This post may contain affiliate links.
Buy the Cookbook: Simply Scratch : 120 Wholesome Homemade Recipes Made Easy Now available on Amazon »
THANK YOU in advance for your support!