Skip the take-out and make this Chipotle Chicken Fajita Rice Bowl at home! Bright, fresh and slightly spicy. It's everything you love about Chipotle's fajita bowl but better! With ingredients like cilantro lime rice, chipotle chicken, caramelized peppers and onions with all the toppings yet only a fraction of the calories.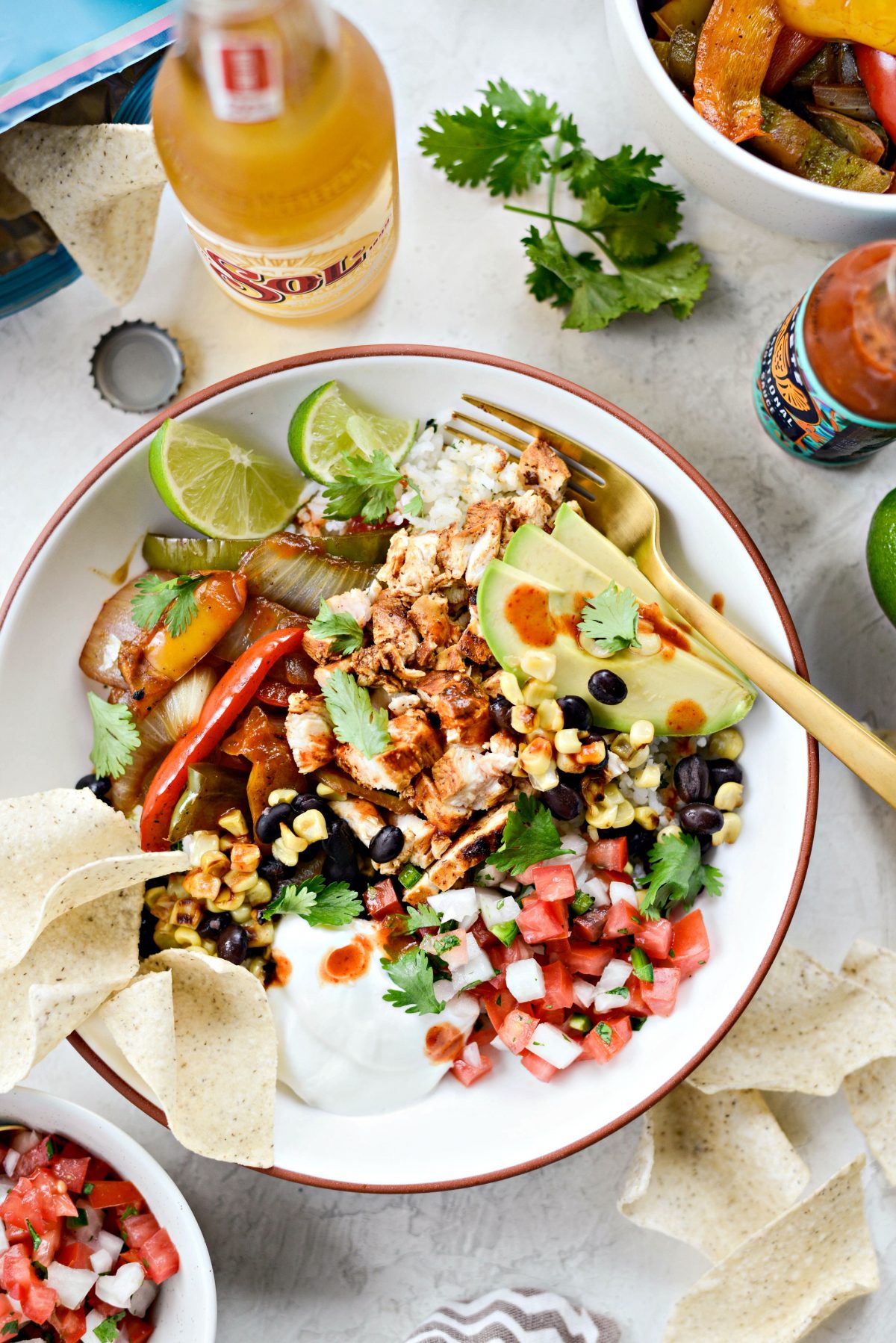 I've made it no secret that Chipotle is my most favorite "fast food" restaurant. I would go there all the time when I was working. Each and every time I order the same darn thing, the chicken fajita bowl. One giant bowl of cilantro lime rice, chipotle chicken topped with the mild pico and the corn salsa. Then I add cheese lettuce and sour cream to the mix. And if that wasn't enough I get a bag of their delicious sea salt and lime tortilla chips and use those to shovel it all into my face.
Because who really needs a fork? I'm helping save the environment.
I'm sure the whole bowl is like 8,000 calories. I won't dare calculate it but I swear it's totally worth each and every one. But after so many trips to Chipotle (and after sooooo many chicken bowls, probably a gazillion calories worth) it was about time I make my own homemade version of Chipotle Chicken Fajita Rice Bowl .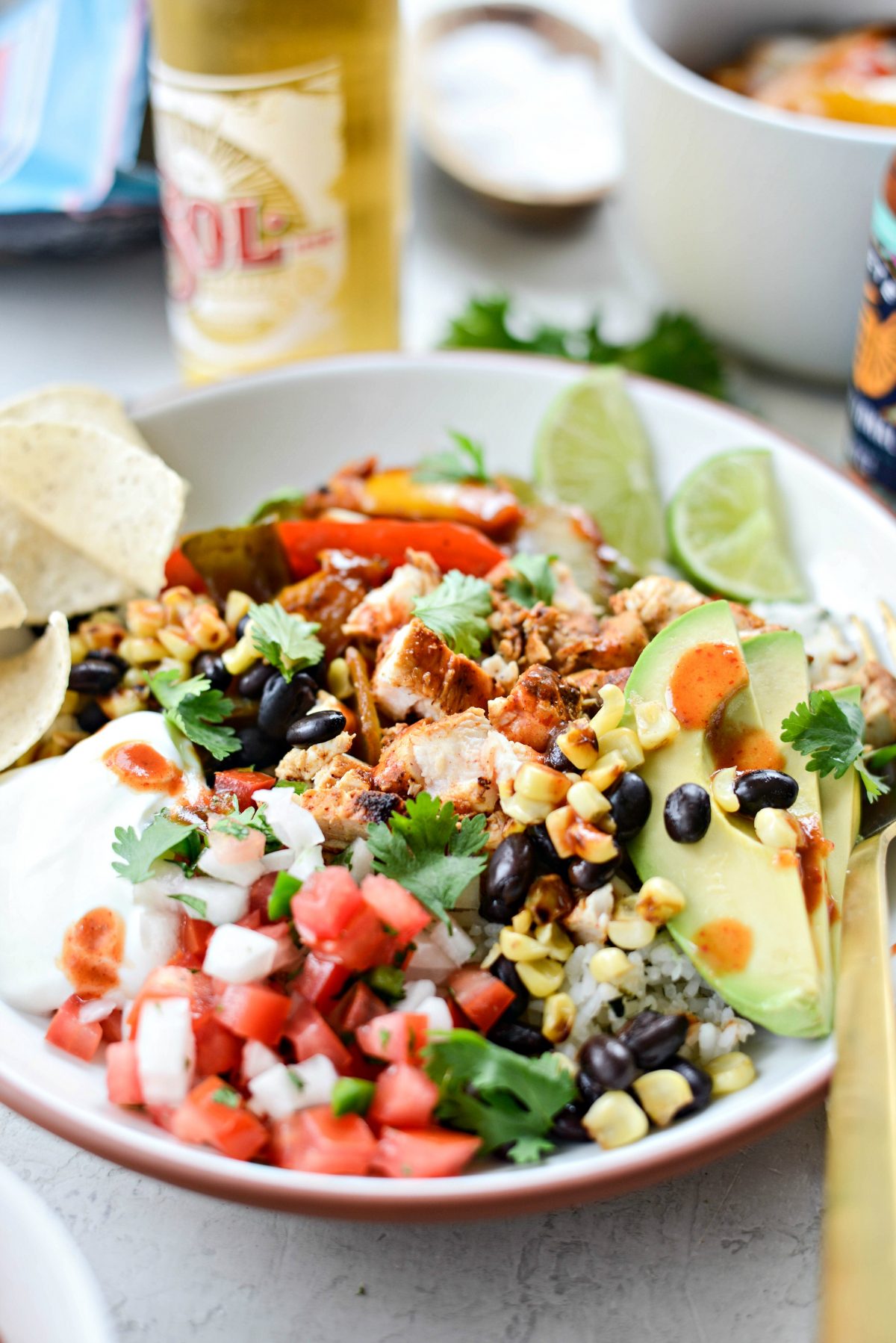 Also, these bowls are totally customizable, is that a word? Like today, I left off the cheese and I didn't make the corn salsa. Instead I went with charred corn and homemade pico. SO delicious, I promise.
You'll need this taco/fajita seasoning, olive oil, ground chipotle powder or substitute with 1 to 2 chipotle peppers in adobo, lime juice and zest, and of course chicken breasts.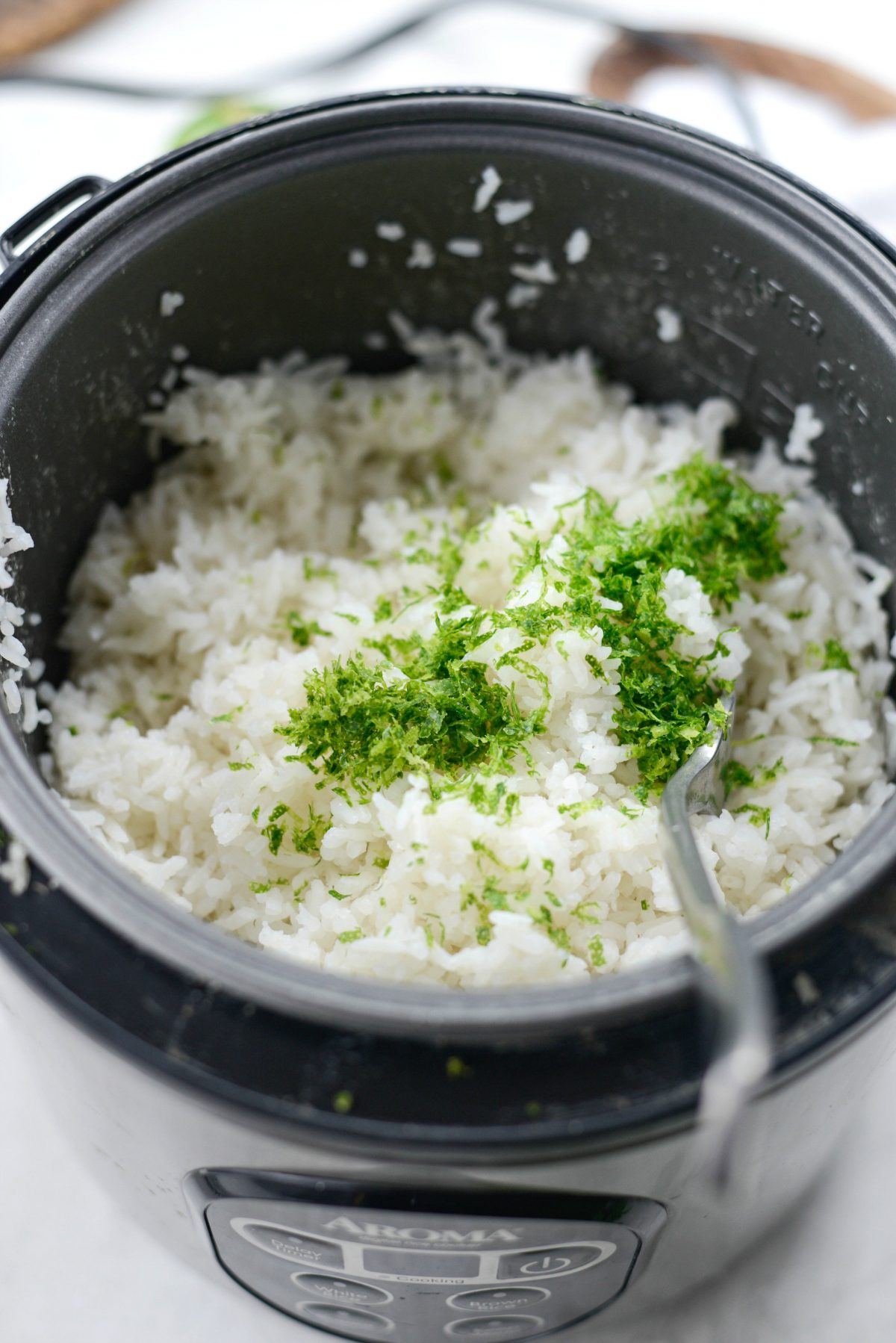 Always start cooking the rice first, using my favorite appliance, the rice cooker. Once cooked, fluff it with a fork and throw in some grated lime zest, the juice of 1/2 a lime, minced cilantro, salt and a 1/2 teaspoon extra light olive oil.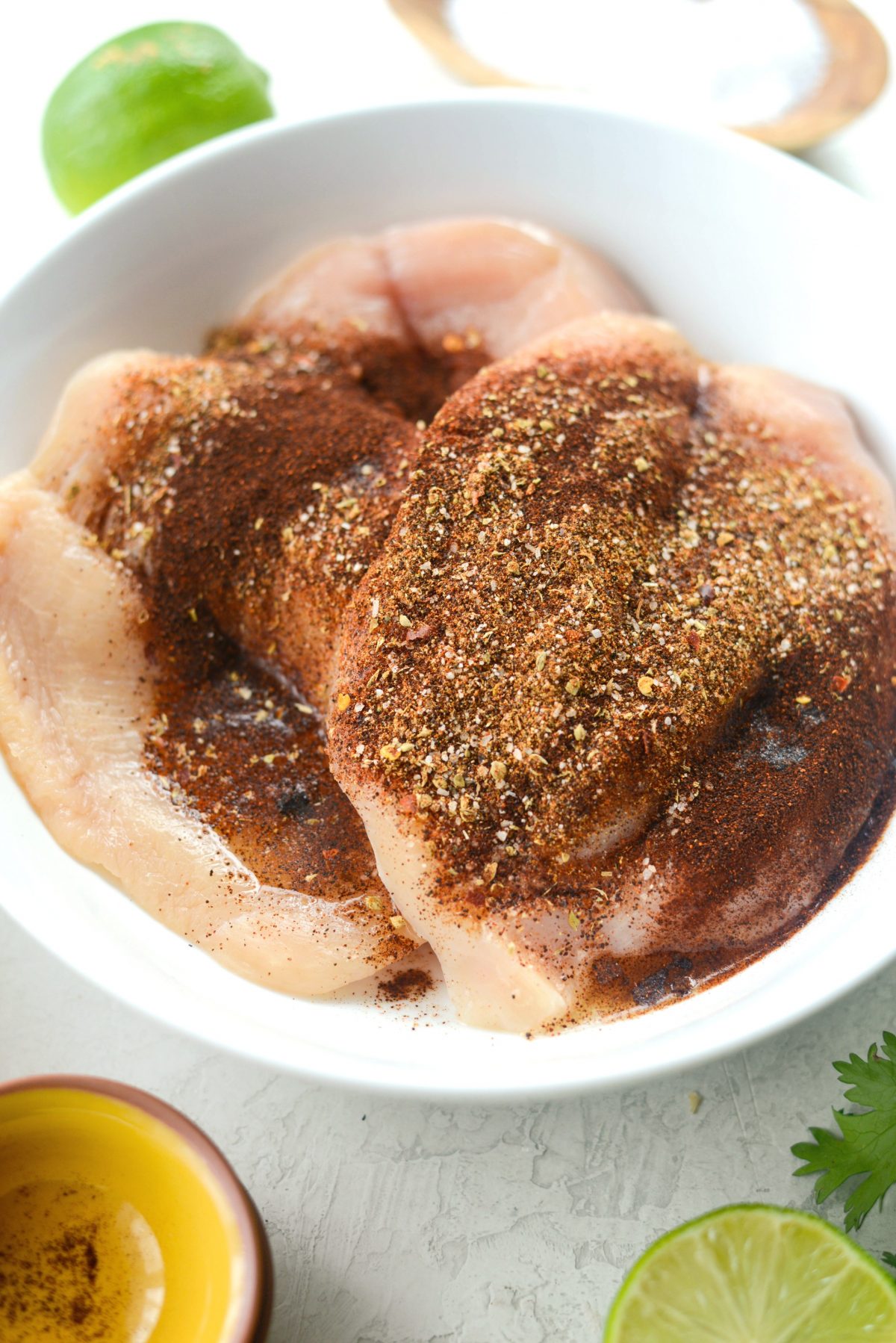 Place 1-1/2 pounds of boneless, skinless chicken breast halves (or butterflied) into a large bowl. Measure and add in 1/2 teaspoon extra light olive oil, the juice from 1 lime, 1-1/2 tablespoons taco or fajita seasoning and 3/4 teaspoon ground chipotle powder.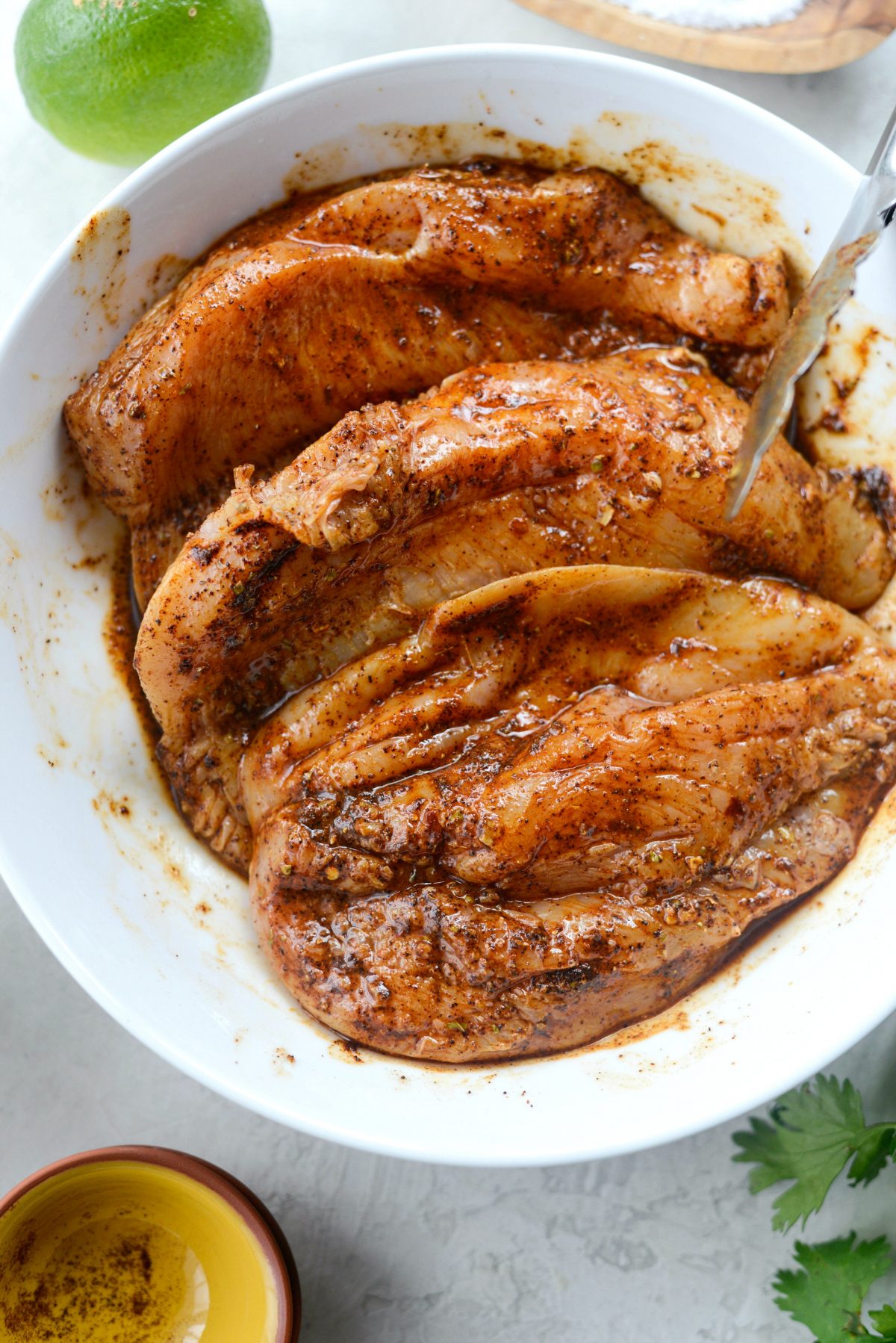 Toss the chicken to coat every square inch. Set this off to the side for a few.
Meanwhile get a little more prepping out of the way. Thaw 2 cups of frozen corn, drain and quickly char in a dry skillet over medium-high heat. Also, drain and rinse 1 (15 ounce) can of black beans.
Slice up a small-ish red, orange, yellow and green bell pepper. Along with a large sweet onion, or any onion you have on hand.
Next, lightly spray (with olive oil) and preheat a large 12-inch nonstick or cast iron skillet on medium-high heat. Work in batches (if necessary) and cook each of the chicken breasts for 6 to 8 minutes on each side or until fully cooked.
Once they are fully cooked, transfer them to a cutting board and repeat with any remaining chicken breasts. Allow the chicken to rest for at least 5 minutes before chopping. Keep the chopped chicken warm under foil.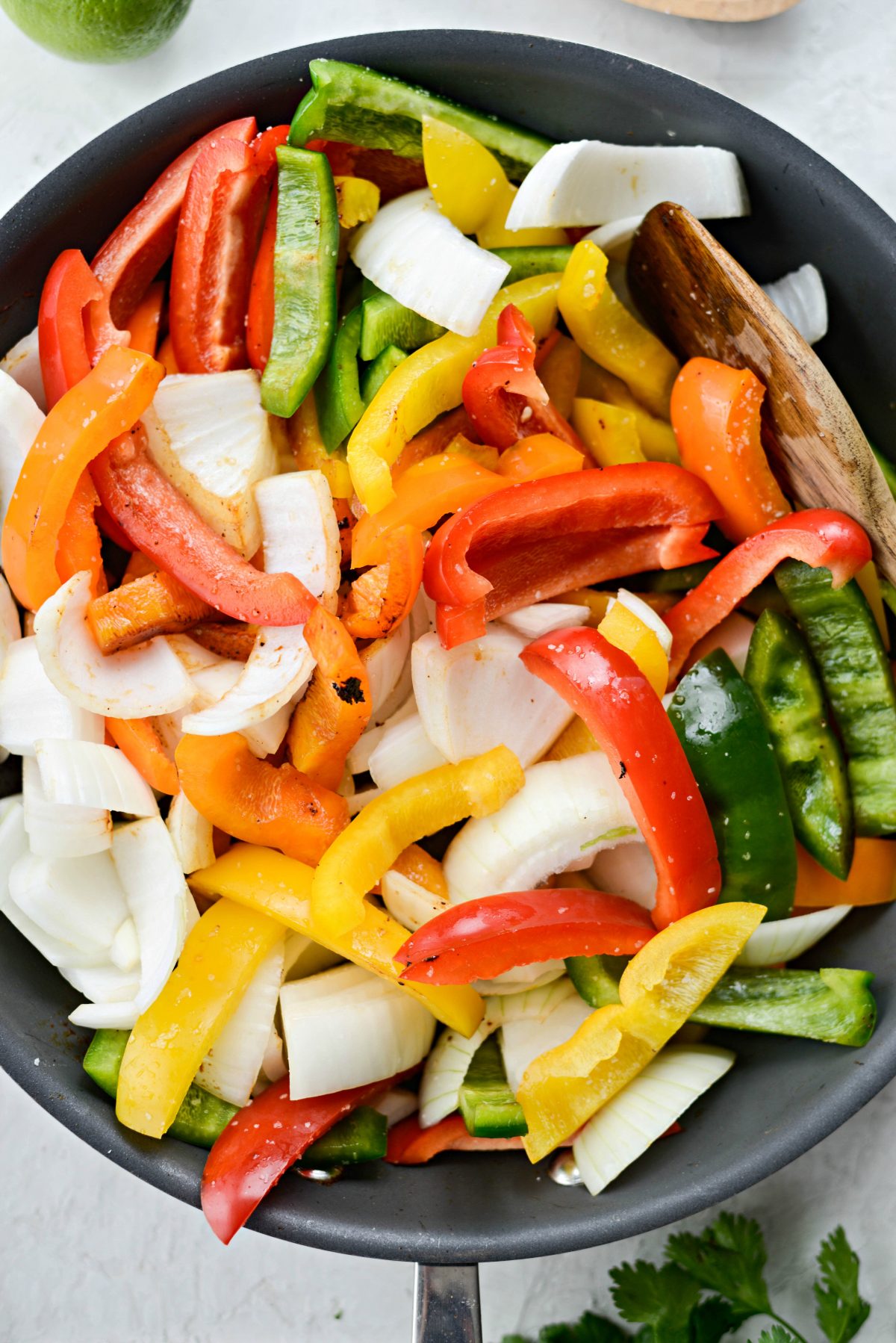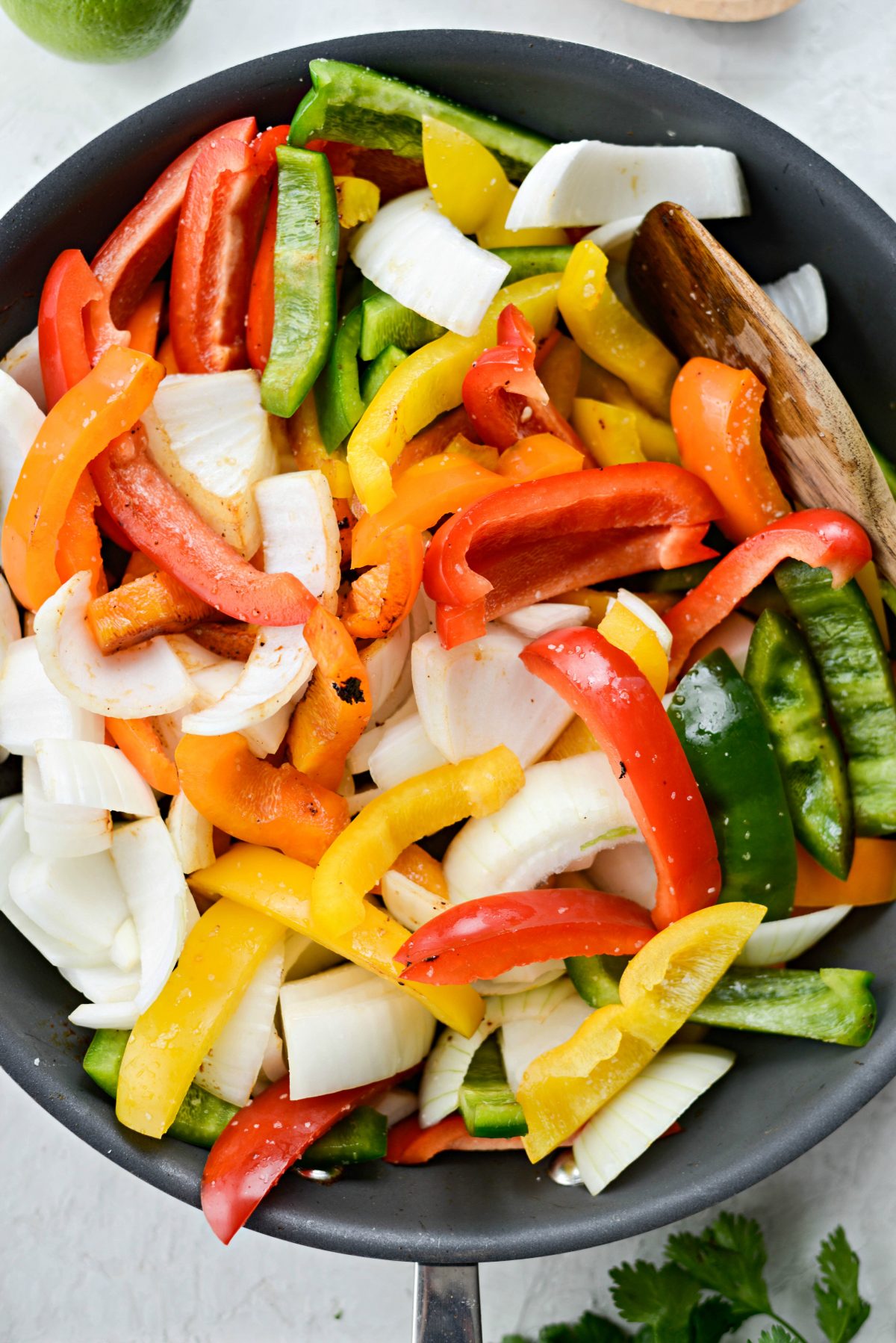 Increase the temp under the same skillet used to cook the chicken to high. Drop in the peppers and onions with a few pinches of kosher salt. Toss them around to coat in any remaining oil and then let them just sit there undisturbed so they can develop a good char.
Stir occasionally so they cook evenly. I like mine to be soft yet still a bit firm. Pat likes them melt-in-your-mouth soft. So with that said, remove the peppers and onions to serving bowl when they're the way you like them.
Finally it's time to start building your Chipotle Chicken Fajita Rice Bowl.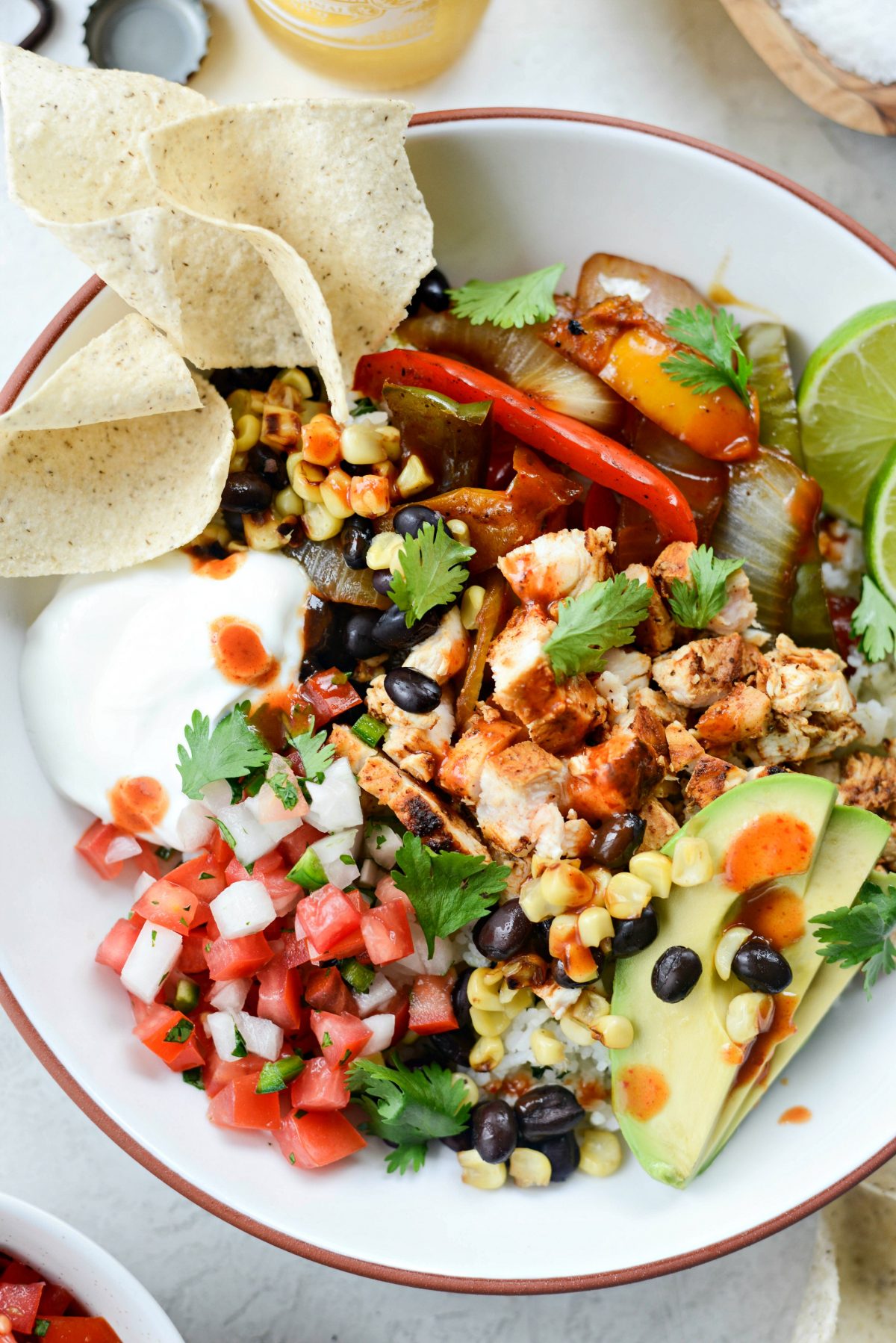 Build your bowls by layering cilantro lime rice, black beans, caramelized peppers and onions, charred corn, chopped chipotle chicken. Garnish with a slices of ripe avocado, pico de gallo and nonfat plain greek yogurt or sour cream.
A squeeze of lime, a few dashes of hot sauce and then inhale.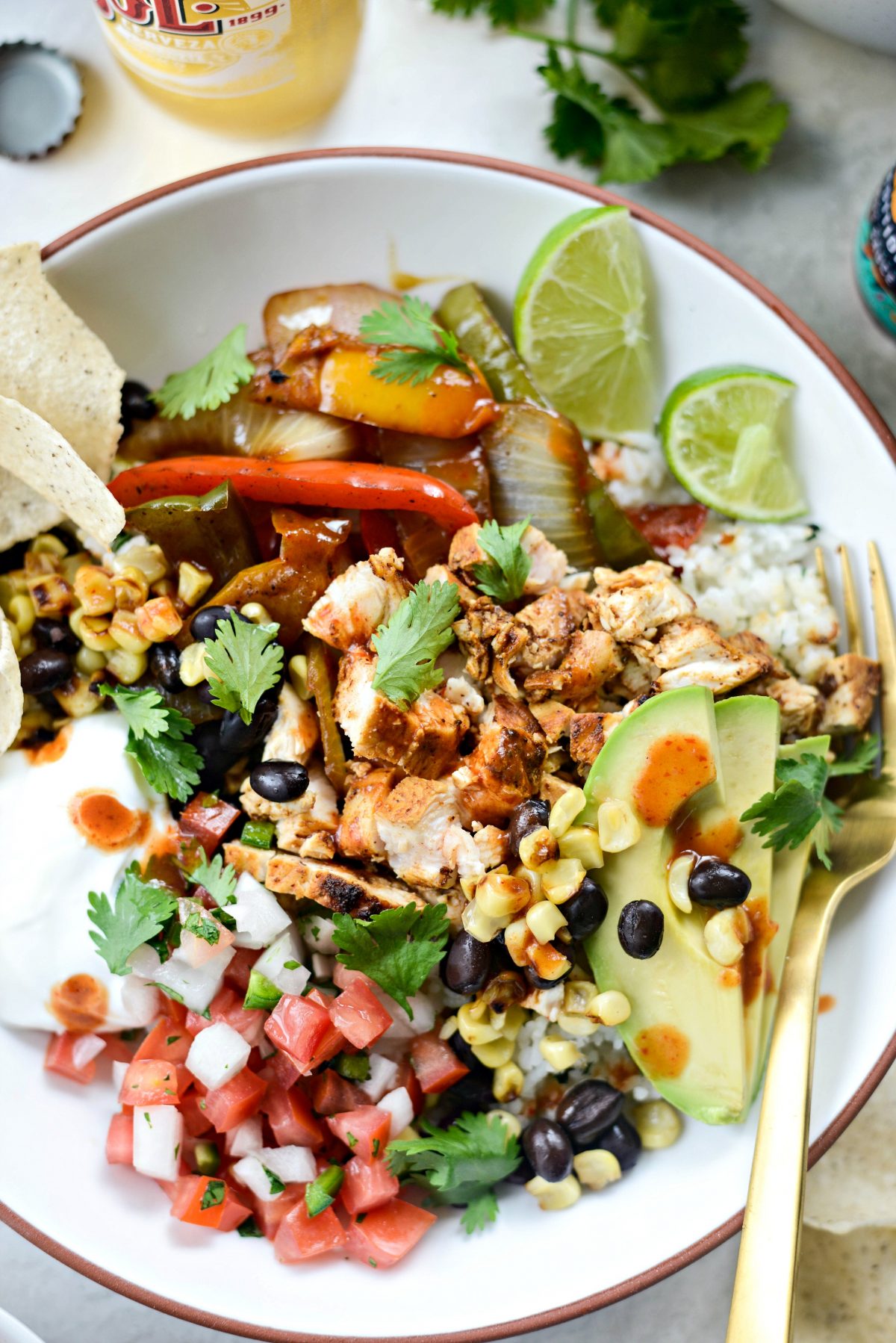 Oh how I LOVE this Chipotle Chicken Fajita Rice Bowl! Bright, fresh and slightly spicy with a billion toppings. And dare I say these are better than the "real" thing? Skip the carry out and make these epic bowls in the comfort of your own kitchen. You won't regret it.
Enjoy! And if you give this Chipotle Chicken Fajita Bowl recipe a try, let me know! Snap a photo and tag me on twitter or instagram!
This post may contain affiliate links.
Buy the Cookbook: Simply Scratch : 120 Wholesome Homemade Recipes Made Easy Now available on Amazon »
THANK YOU in advance for your support!