These Homemade Chicken Pot Pies are incredible. Homemade pie crust tops ramekins filled with an easy, lusciously creamy homemade chicken and vegetable filling. Yields 8 in about 90 minutes.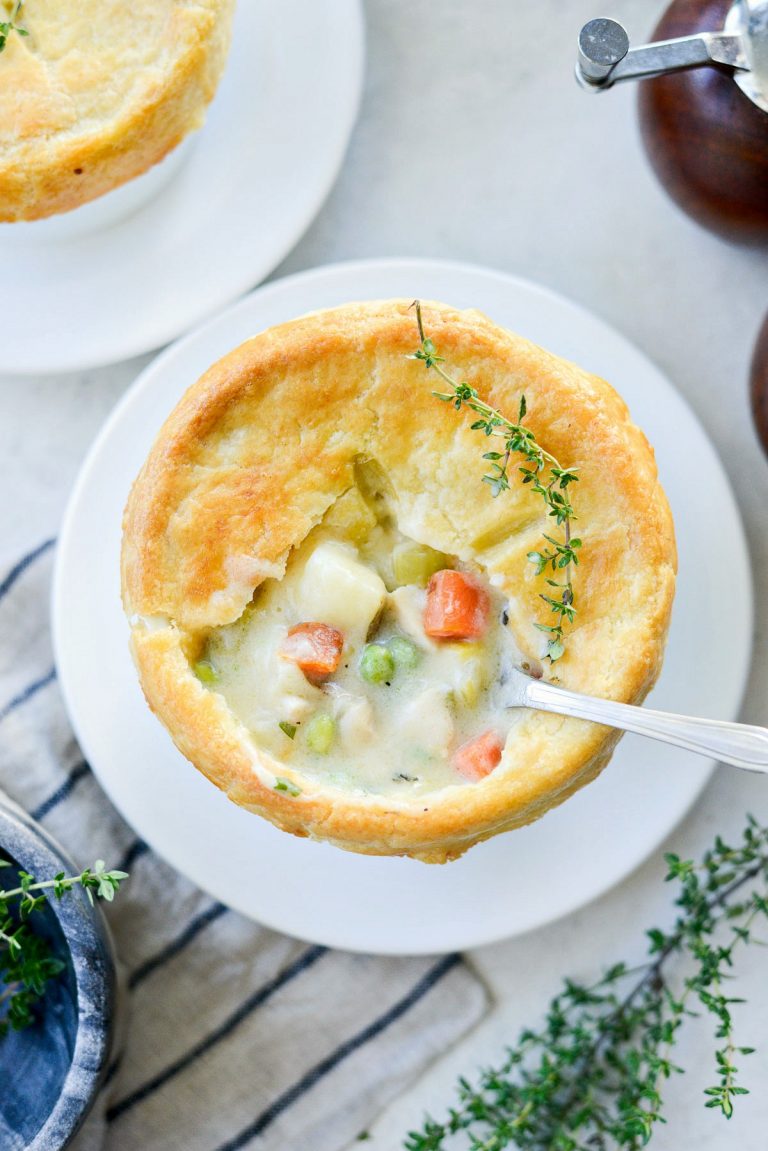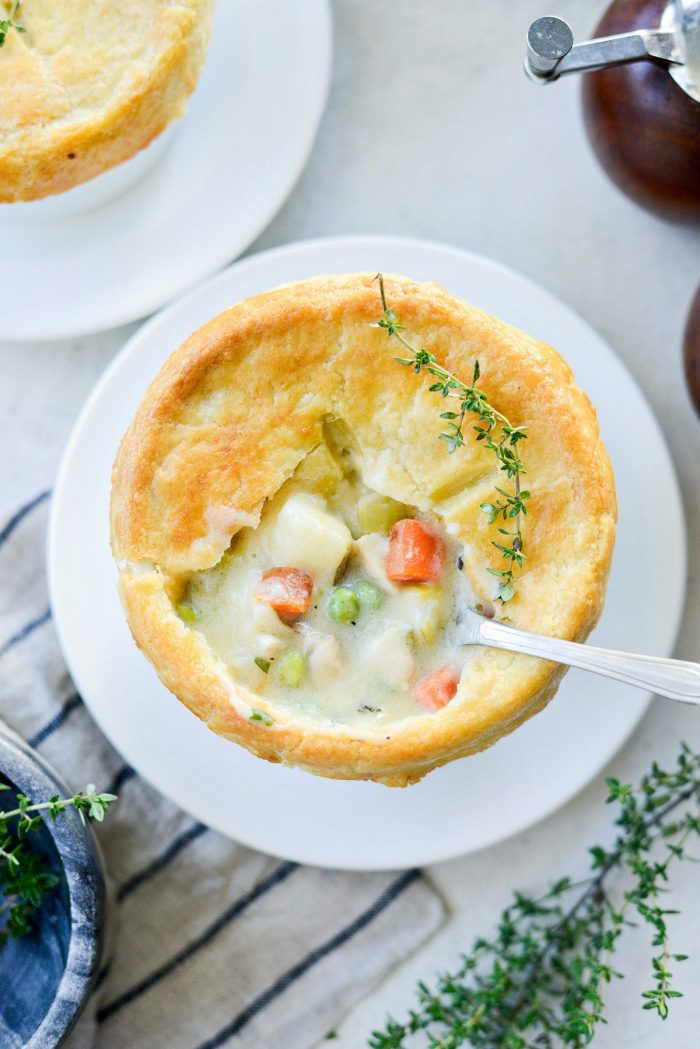 Meet the best homemade chicken pot pies you'll ever taste.
Homemade crust – check. Loaded with chicken and vegetables – check. Easy to prepare – check. These pies check all the boxes.
However, I super picky when it comes to pot pie making. For example, I prefer them to be in individual portions. They're cute and perfectly portions and because no one wants to fight me over the corner edge. Also there no "cream of chicken soup" what-so-ever. Just simple ingredients :).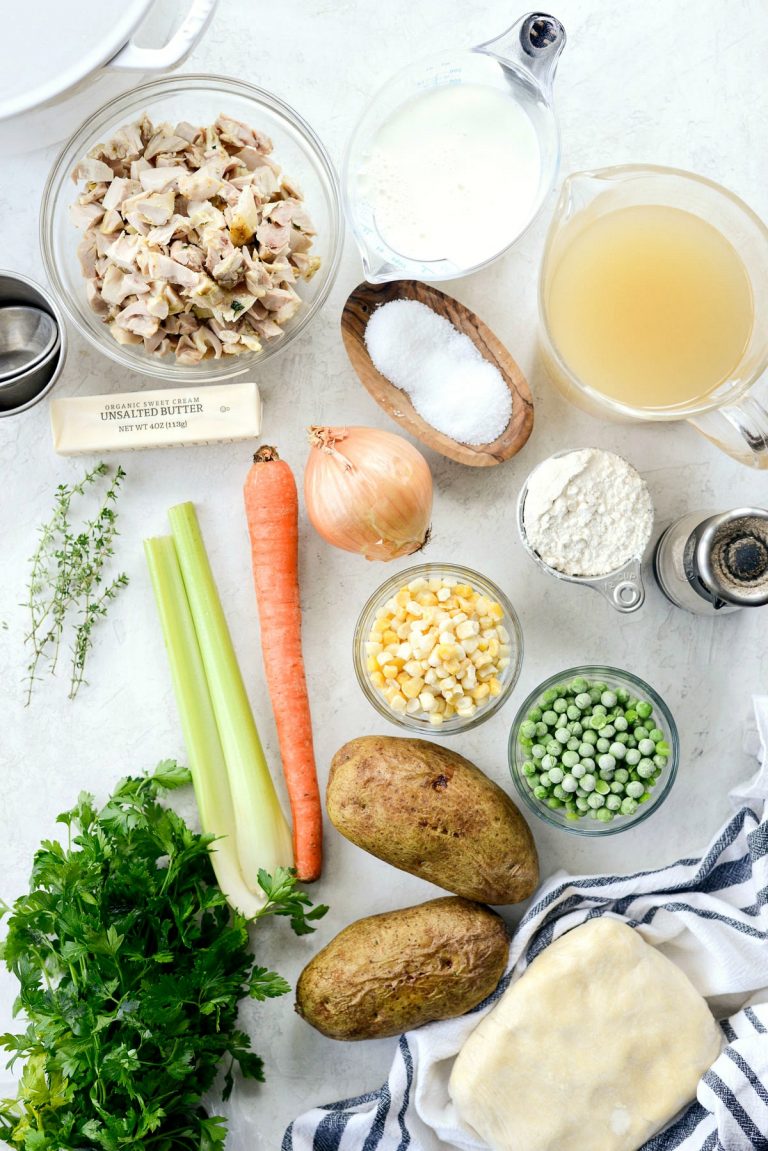 To Make These Homemade Chicken Pot Pies You Will Need:
butter
carrots
celery
onion
unbleached all-purpose flour
low-sodium chicken broth or stock
whole milk
peas (frozen)
sweet corn (frozen)
cooked potatoes
kosher salt
freshly ground black pepper
parsley
thyme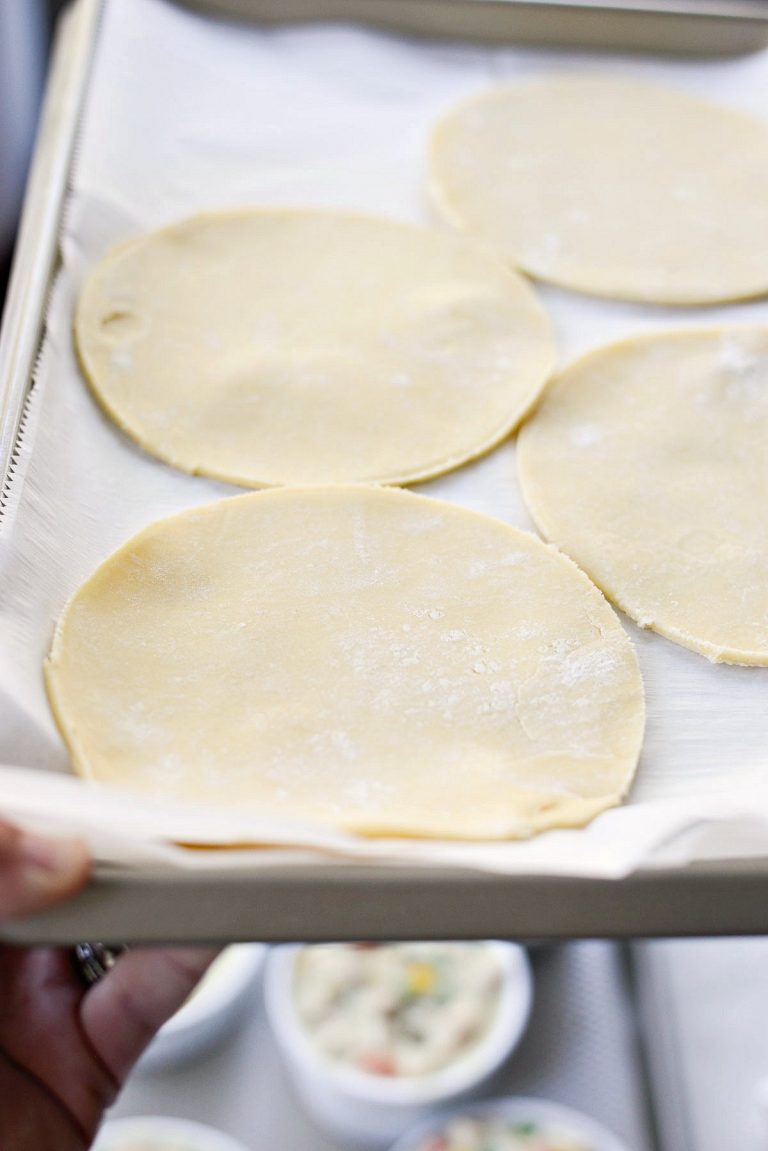 I always make the pie dough in the morning on the day I plan to make the pot pies. Just to get it out of the way. I roll the dough out and use a knife to trace a bowl that's slightly larger than the ramekins I'm using. I layer them on parchment paper placed in a rimmed sheet pan and keep them in the fridge.
I also bake a few potatoes, let them cool completely and dice them. I bake my potatoes at 350° for about an hour. Sometimes I even do this a day or two in advance as they're easier to dice when cold.
Let's start on the filling!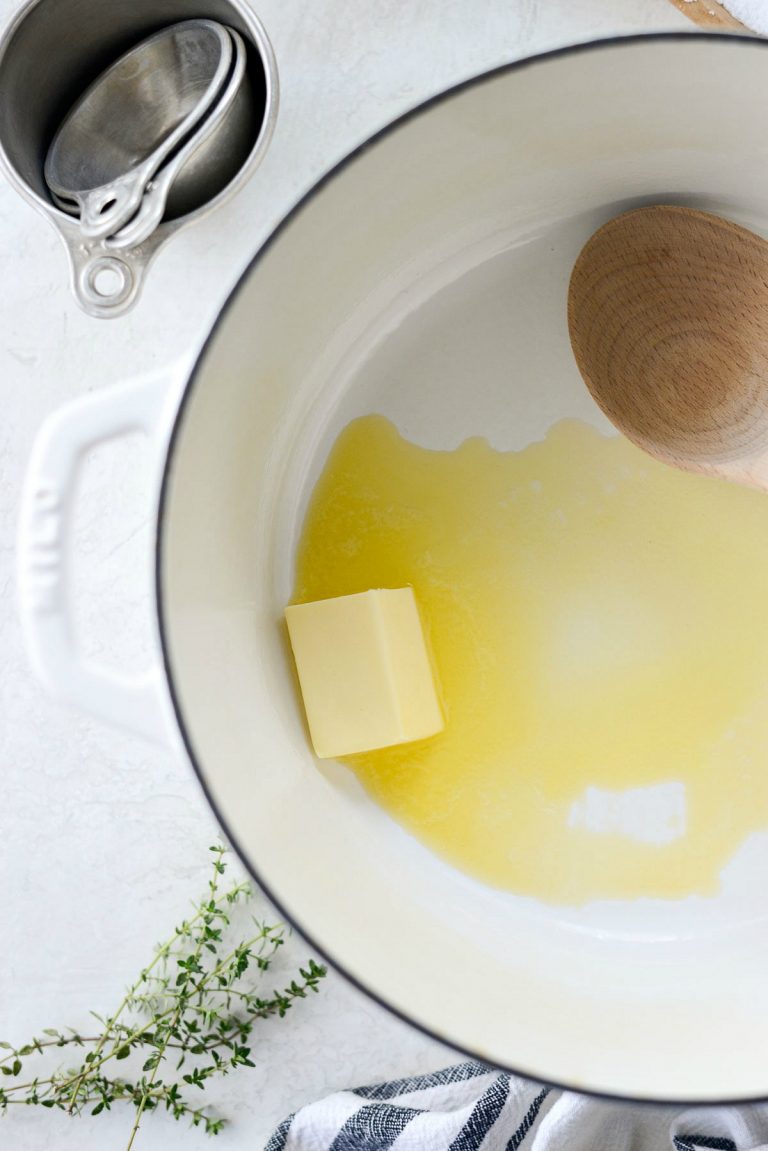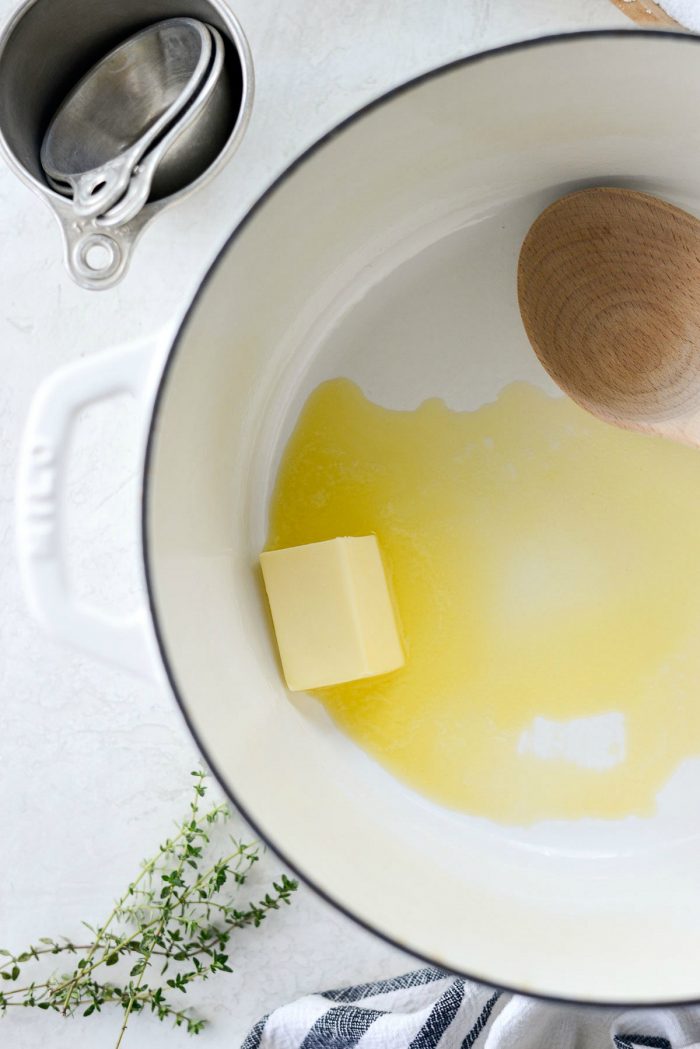 Heat a dutch oven on medium and melt 3 tablespoons of unsalted butter.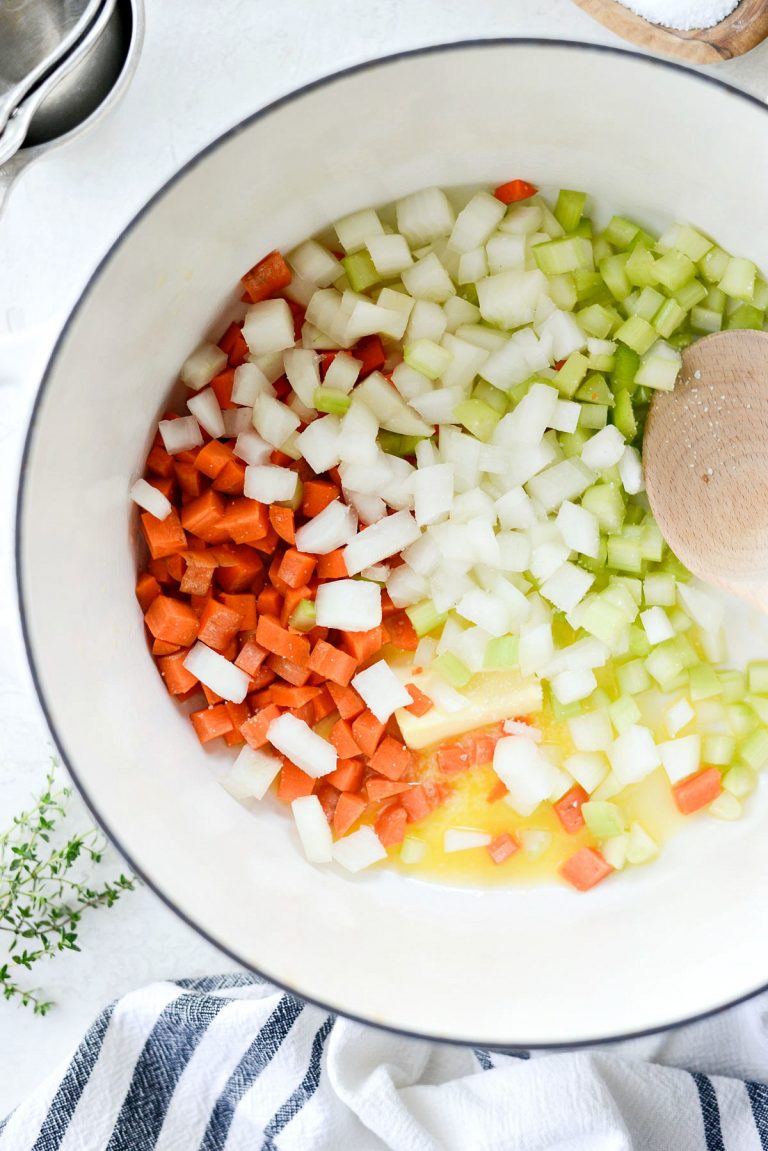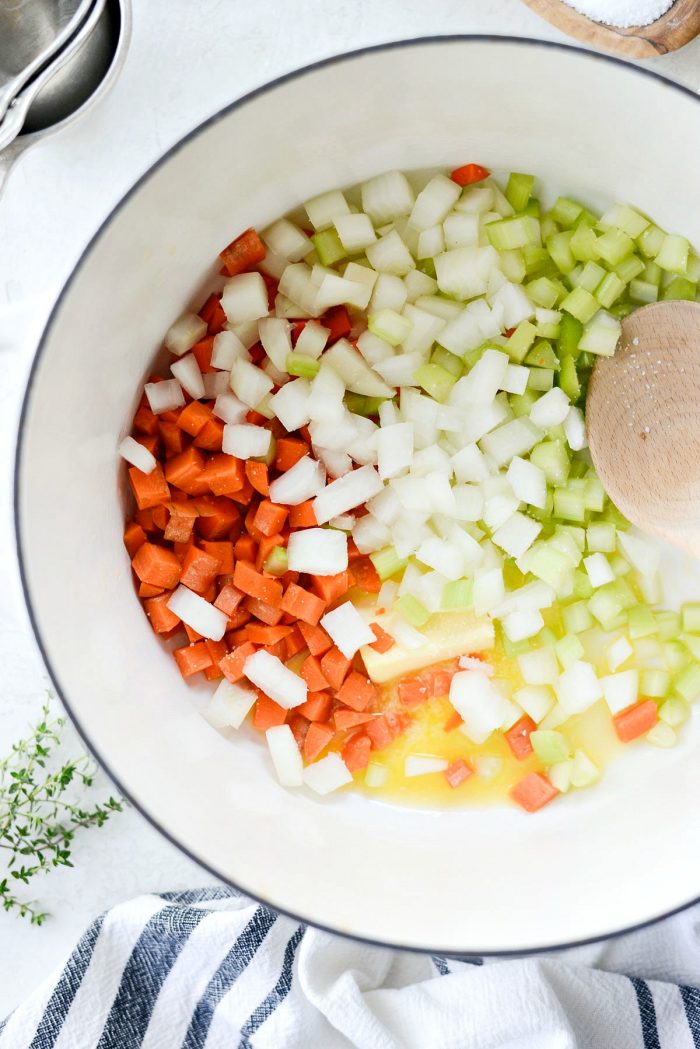 Dice 1 carrot, 2 stalks of celery and 1 medium yellow onion and add them in with a pinch of kosher salt.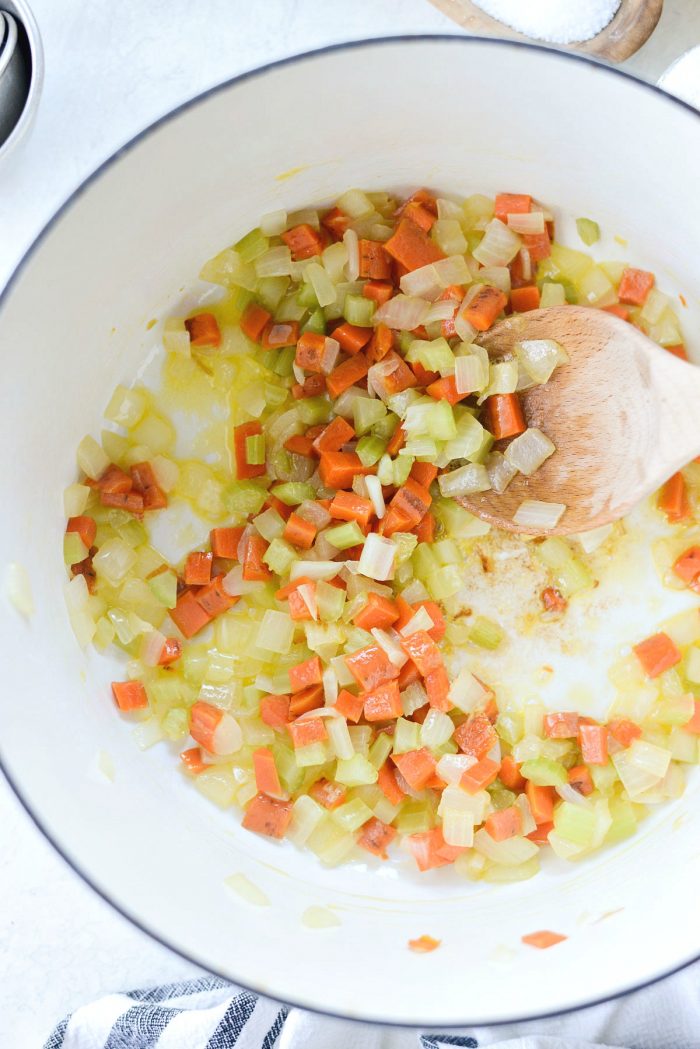 Sauté the veggies until tender, about 10 to 12 minutes.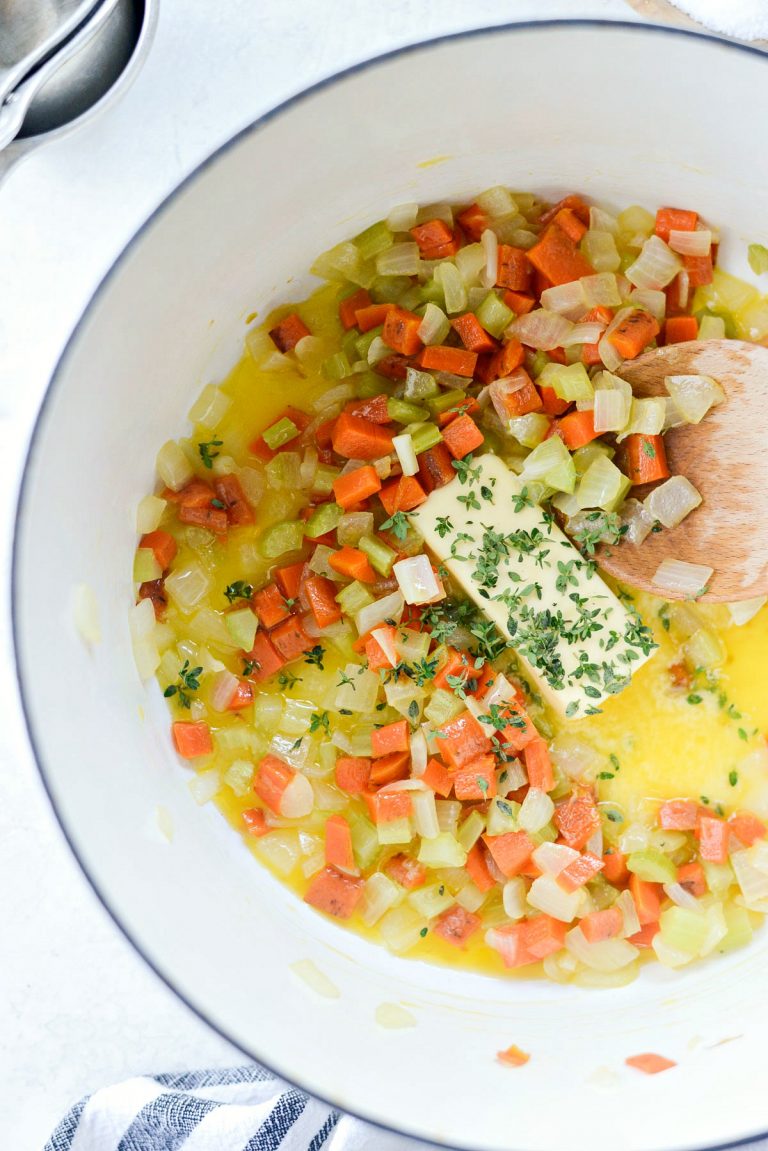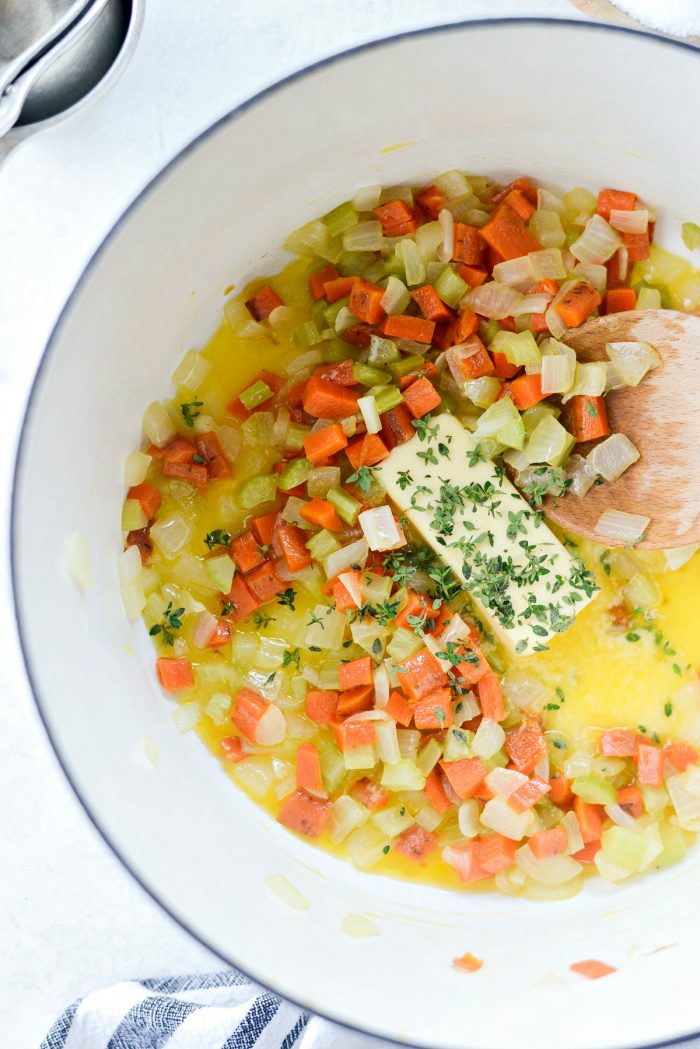 Once softened, add the remaining 5 tablespoons of butter along with a teaspoon of fresh thyme. Stir and cook for a minute or until the butter has melted.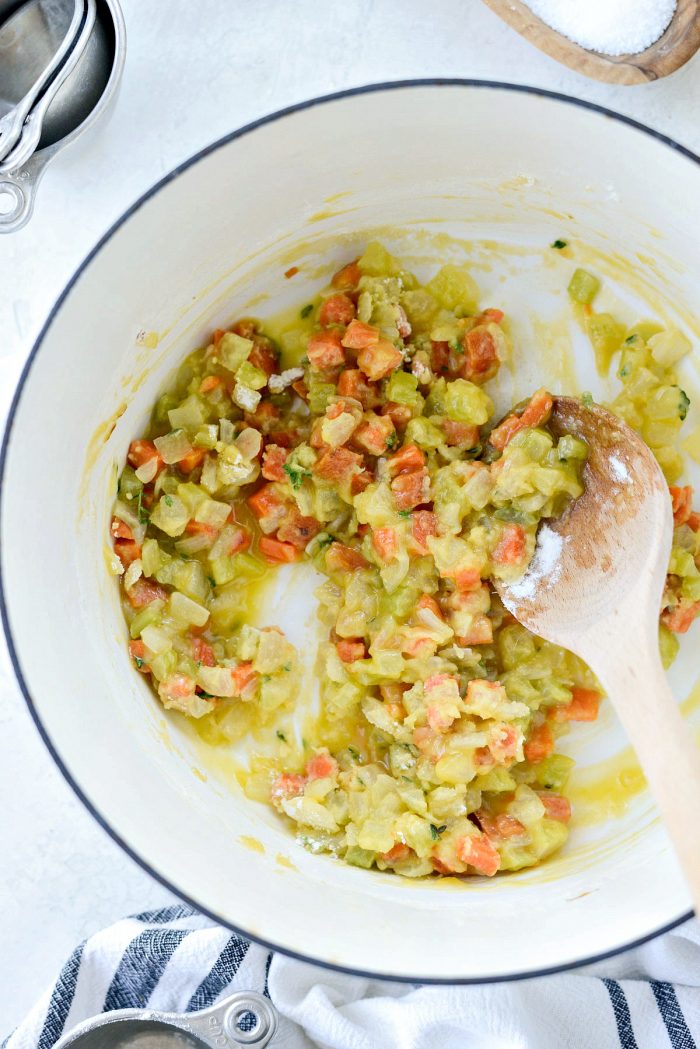 Next add in the half cup of flour and stir, cooking the flour for about 2 minutes.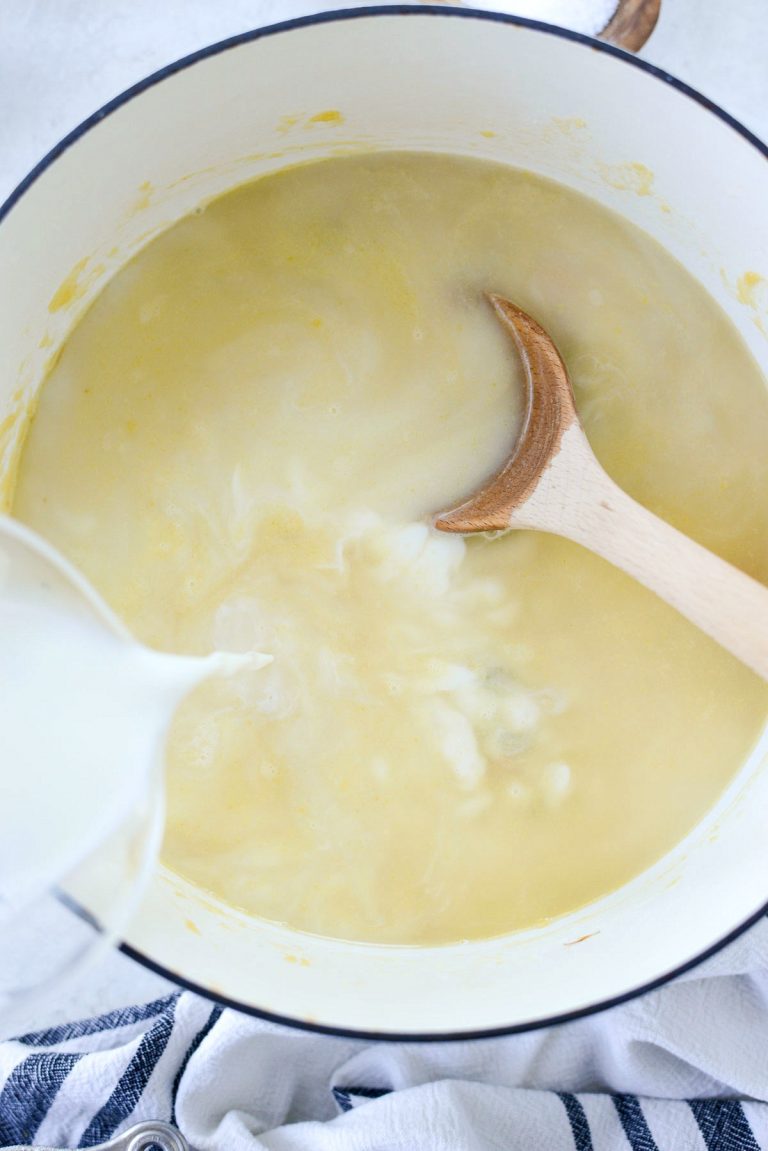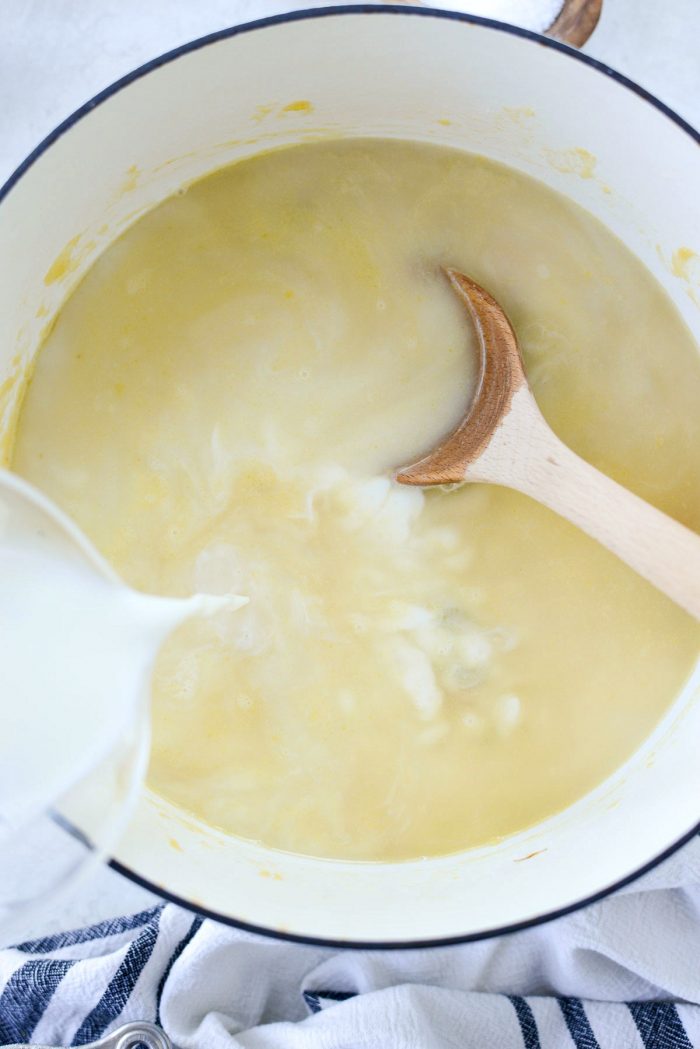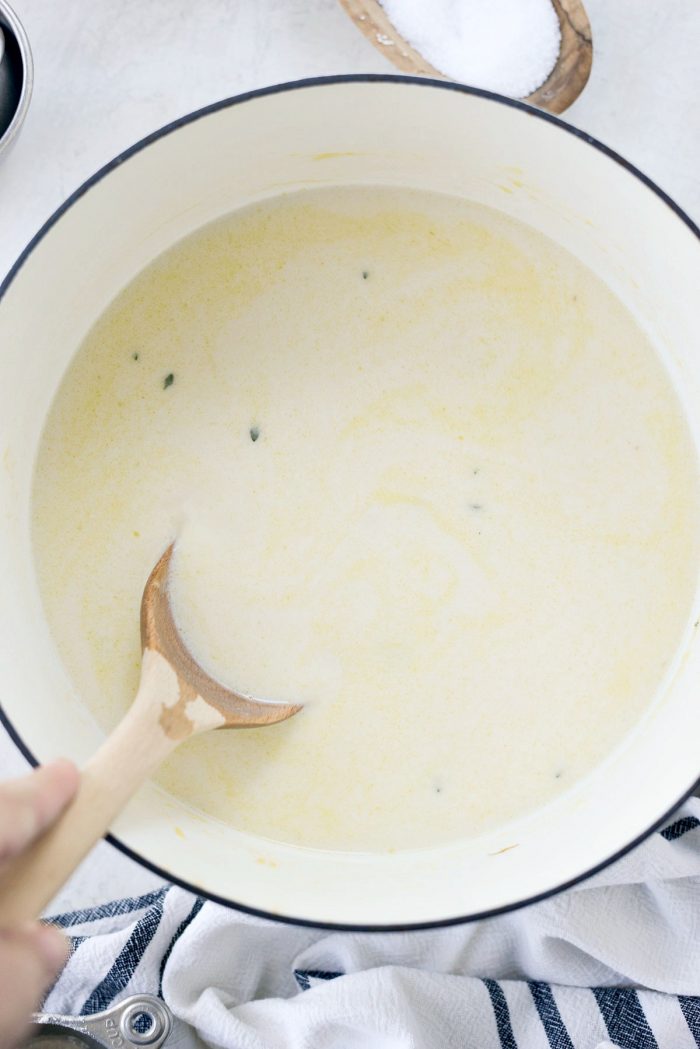 And then pour in the 3 cups of the broth and 1-1/2 cups of whole milk. Simmer until thick, about 15 minutes.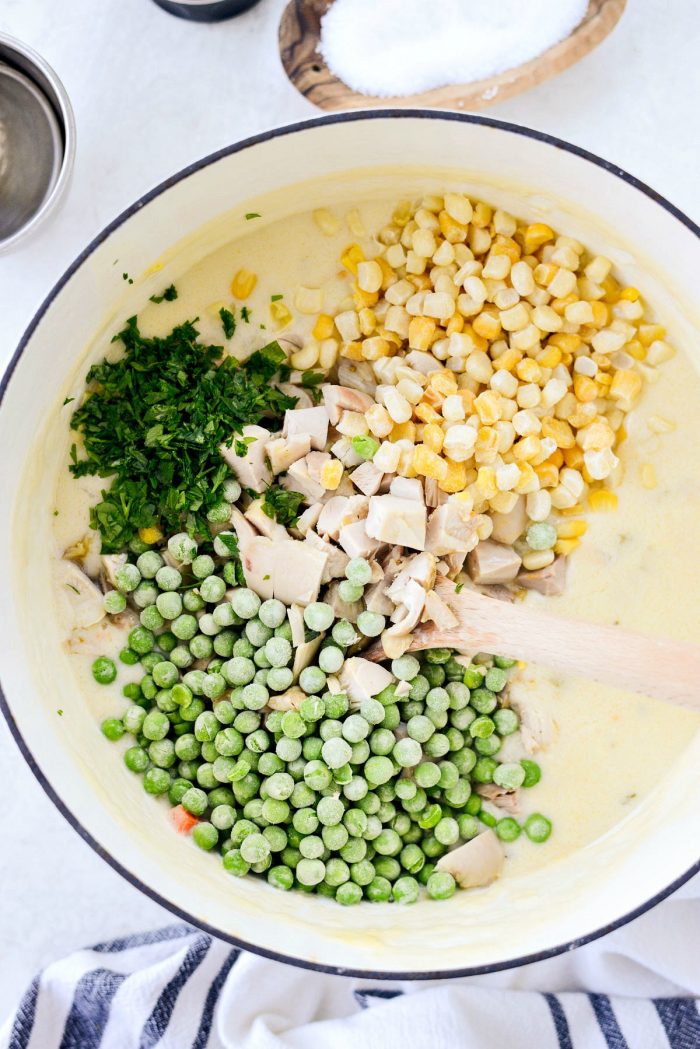 Once the pot pie gravy or sauce has thickened, remove off of the heat and add in 3 cups diced cooked chicken, 3/4 cup of frozen peas, 3/4 cup frozen sweet corn and 1 tablespoon minced fresh parsley.
This mixture will need to cool significantly before topping it with pie dough, otherwise it will melt the butter in the dough creating a mess. Adding the frozen vegetables will help this happen quickly.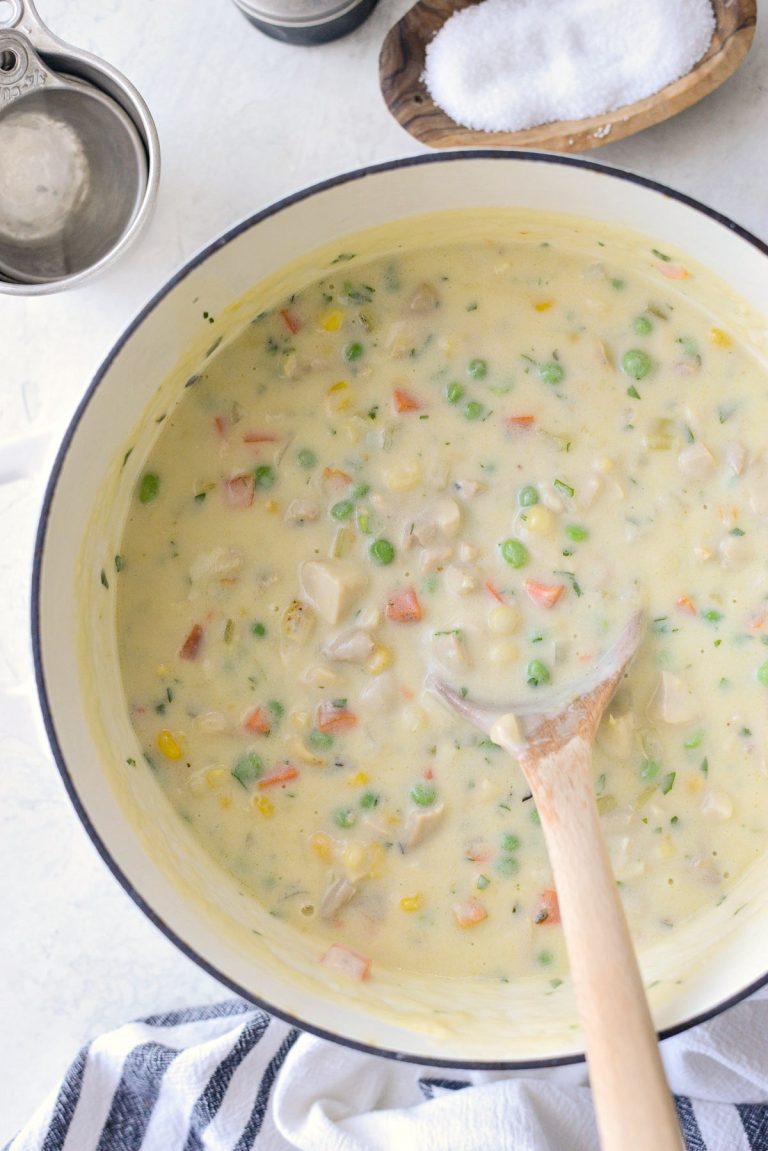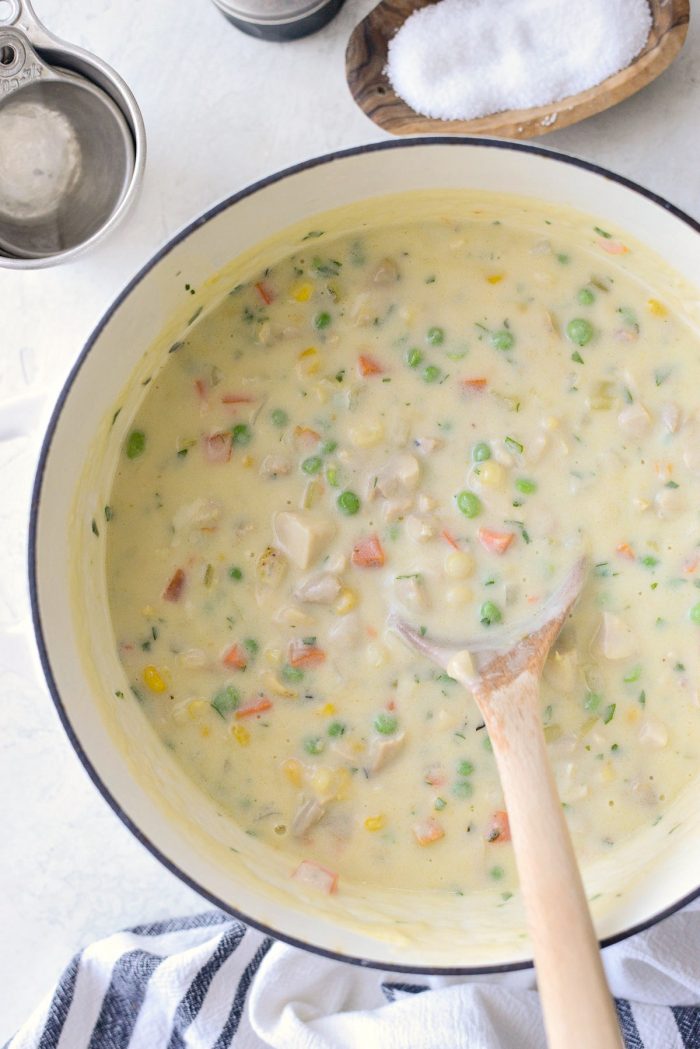 Stir everything together and season with 2 teaspoons of kosher salt and lots of freshly ground black pepper, or to taste.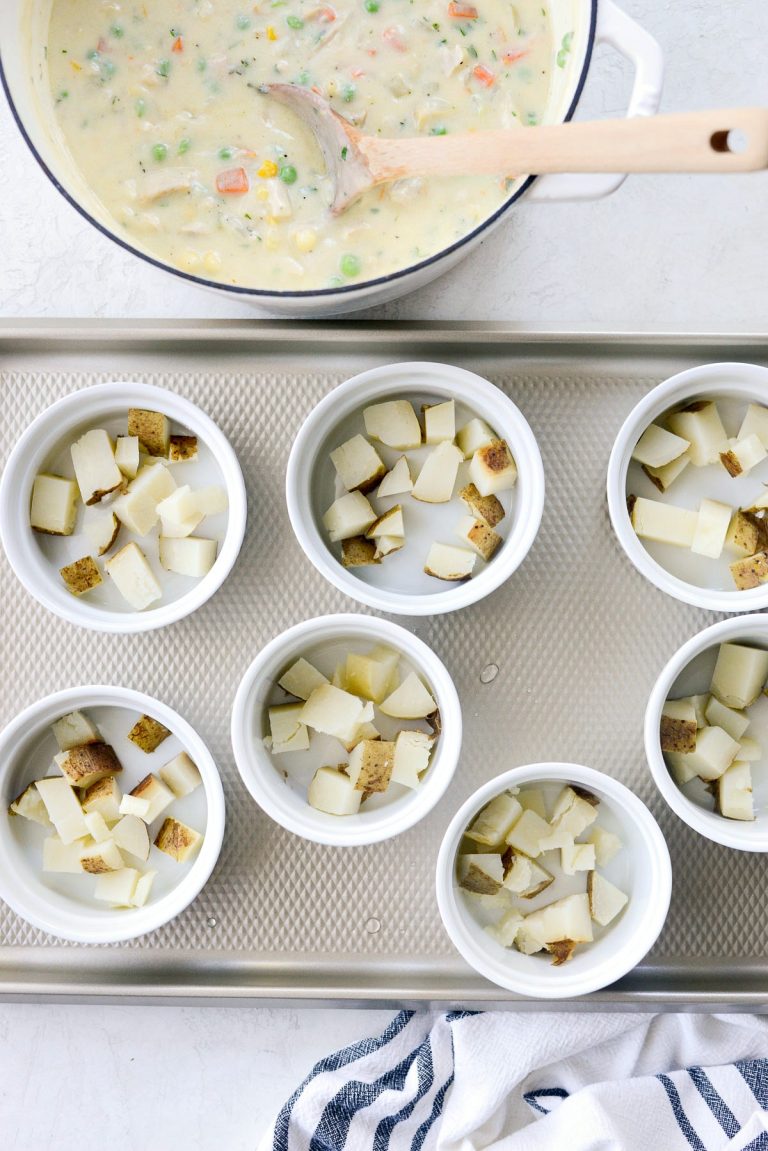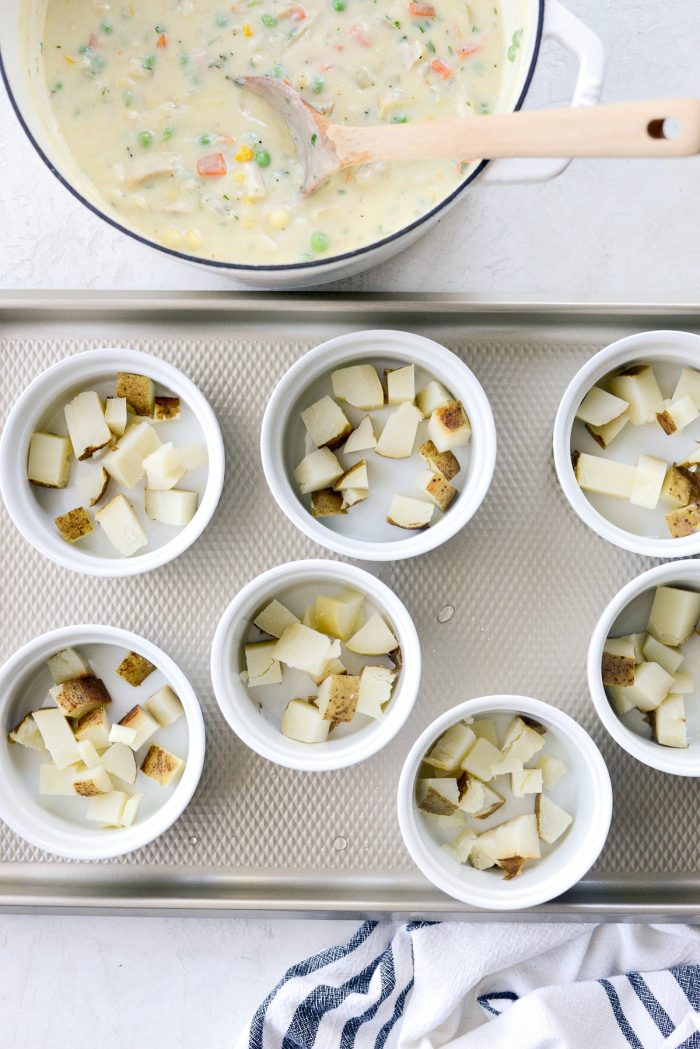 Add a few of the diced cooked potatoes into 8 (12 ounce) ramekins that are set into a rimmed metal baking sheet. I don't add the potatoes directly into the filling because they tend to get lost or dissolve when stirred.
Plus, this way it ensures there is potato in every pot pie.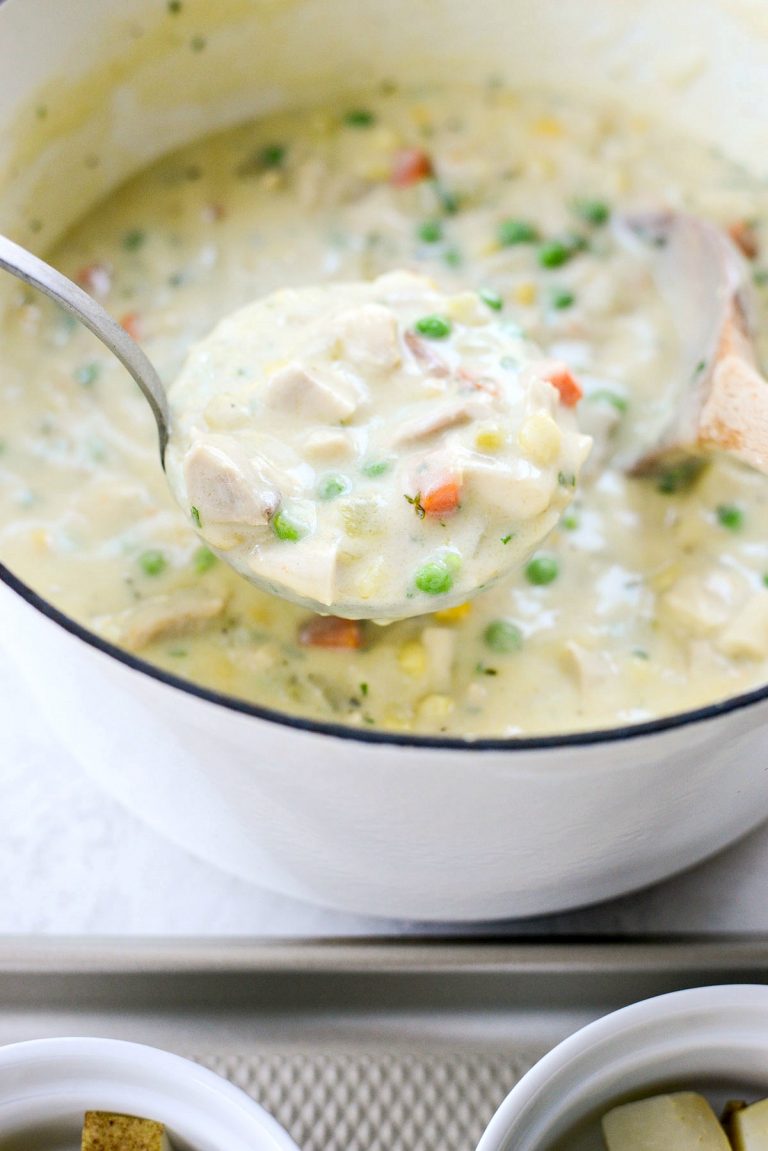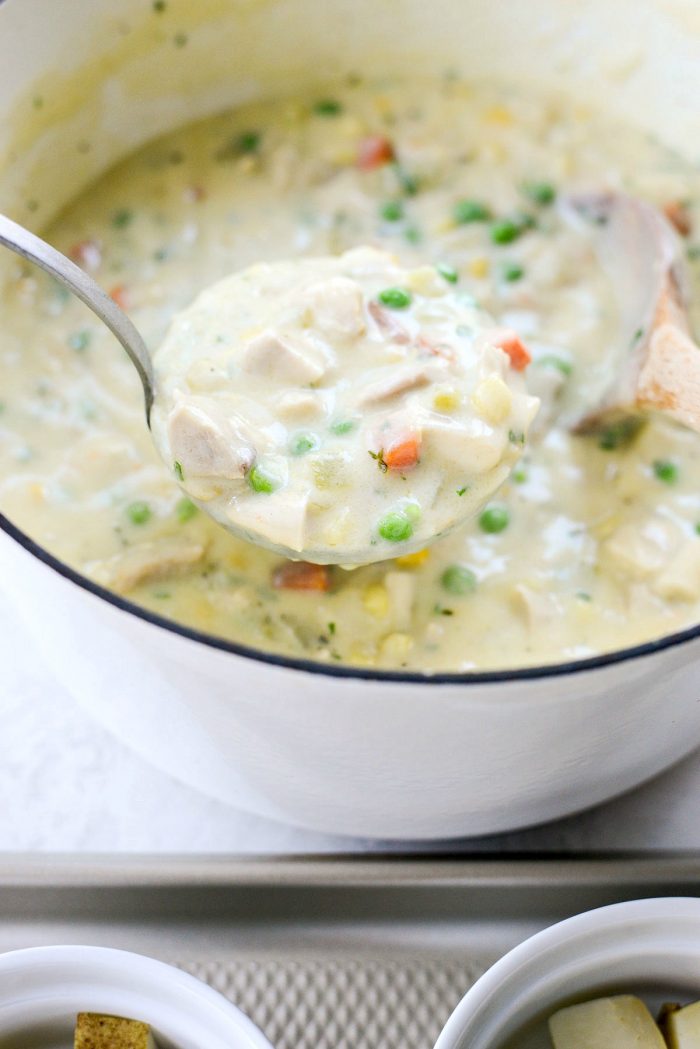 Pour the filling over the potatoes, filling the ramekins to the brim.
If I have any diced potatoes leftover, I like to add a few more potatoes to the top.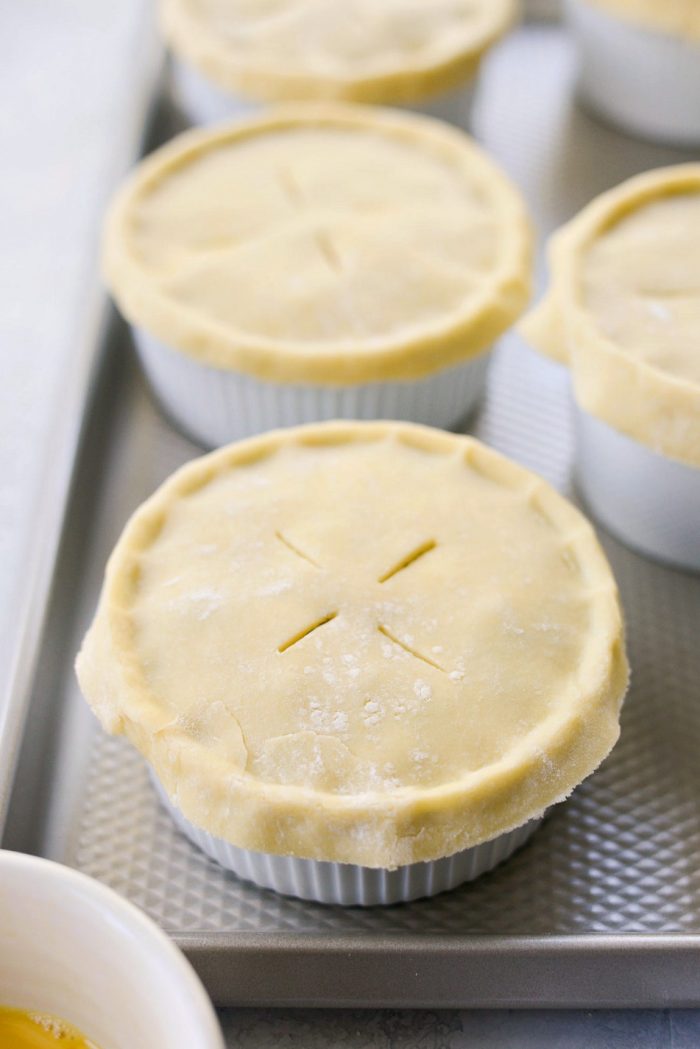 Once the filling has cooled, top each ramekin with one of the round pieces of dough. Pinch the dough around the edge of the ramekin. Then use a sharp knife to make a few slits for ventilation.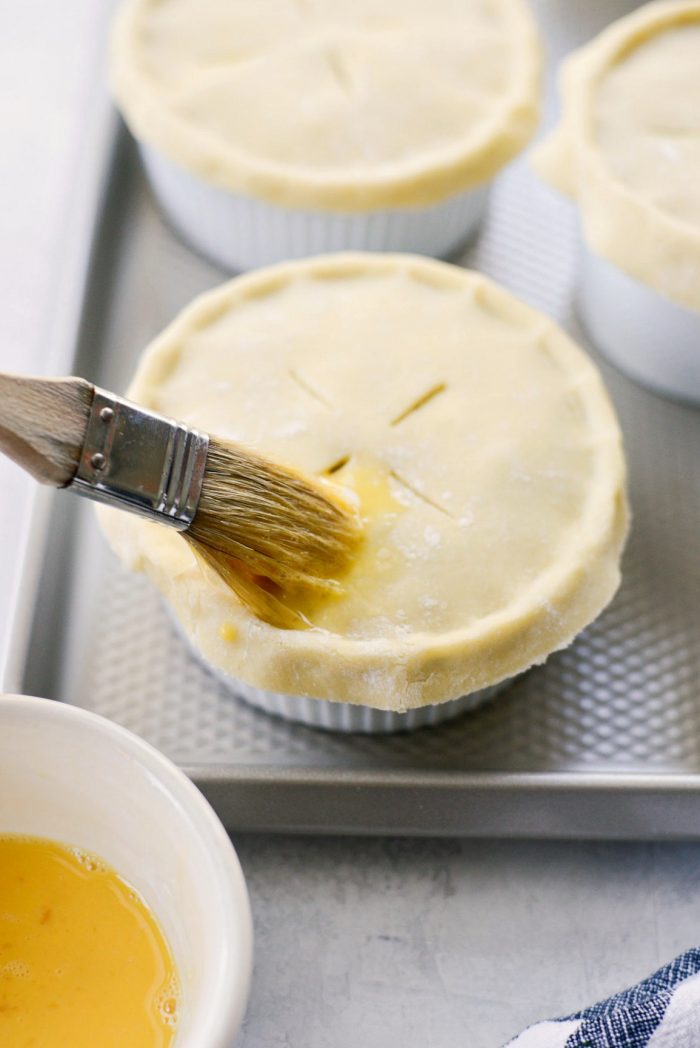 Brush the top of each pot pie with a little egg wash. Which is just 1 egg beaten with a splash of water.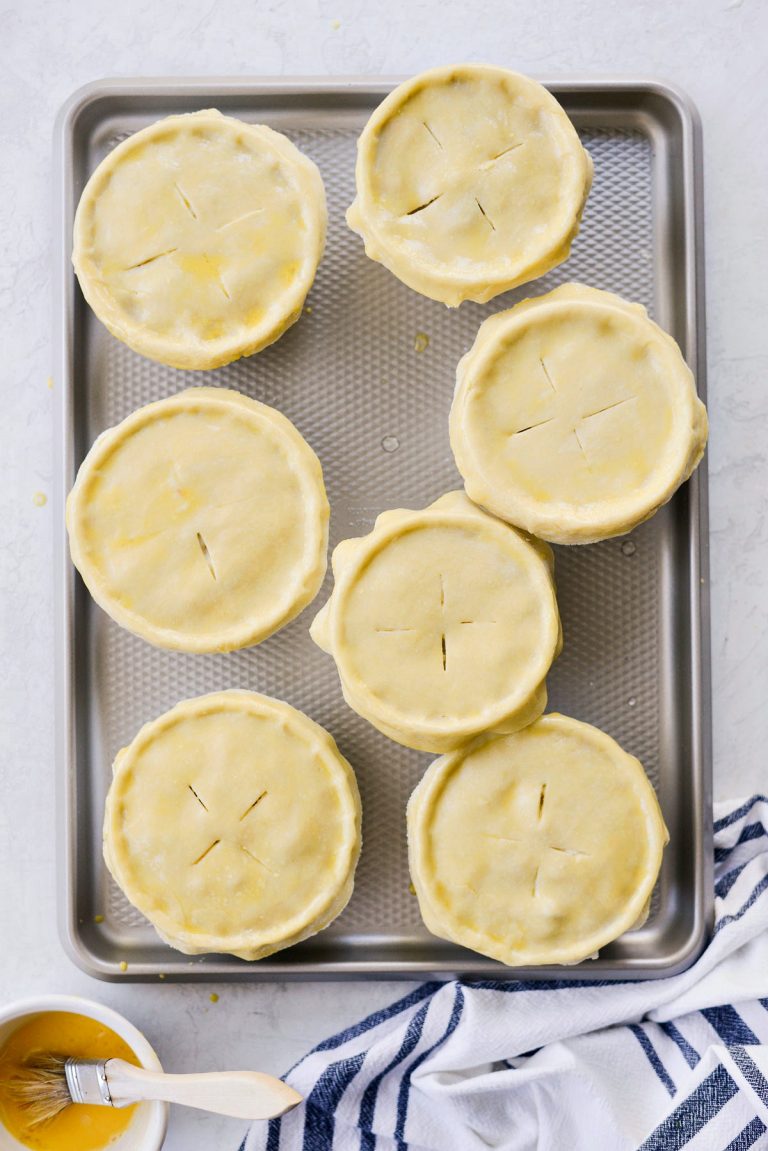 Slide the pan onto the middle rack of your preheated 375° oven and bake for 30 minutes. I rotate my pan halfway through for even cooking and browning.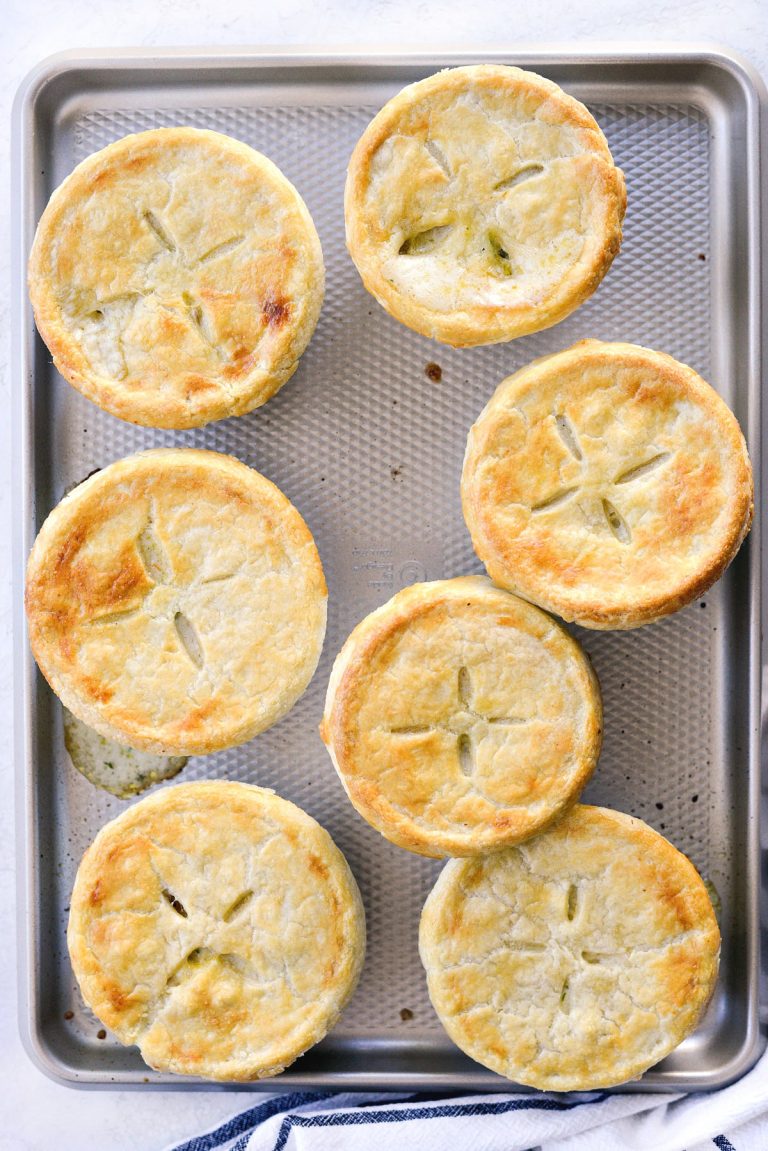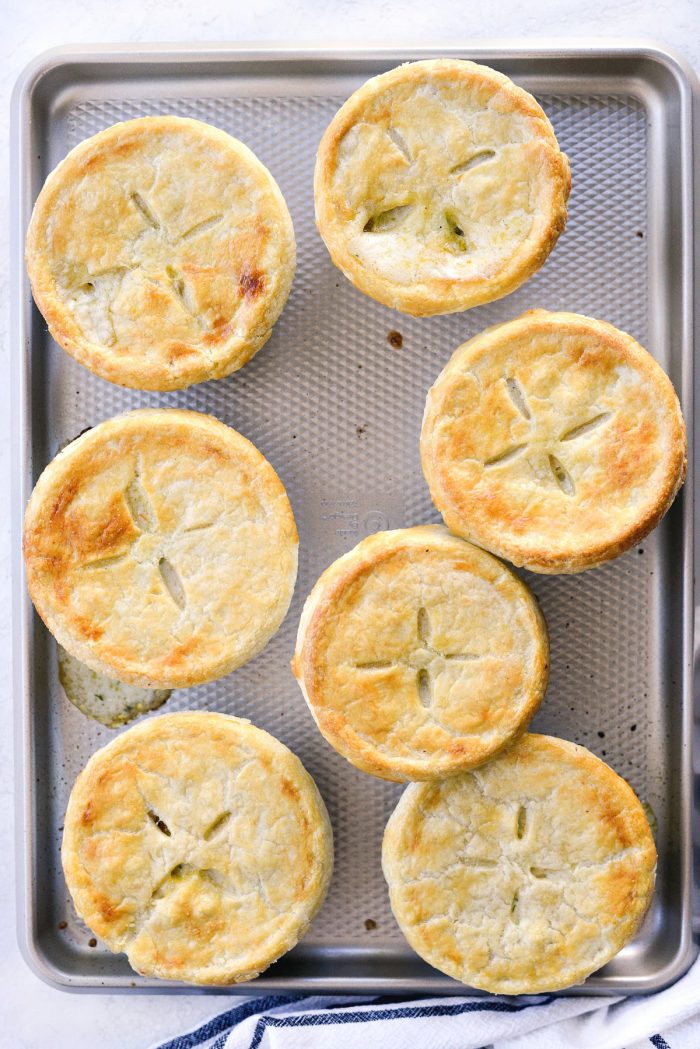 You know your Homemade Chicken Pot Pies are done when the crust is golden brown and the filling is bubbly and dripping down the side.
ps. it smells. so. good.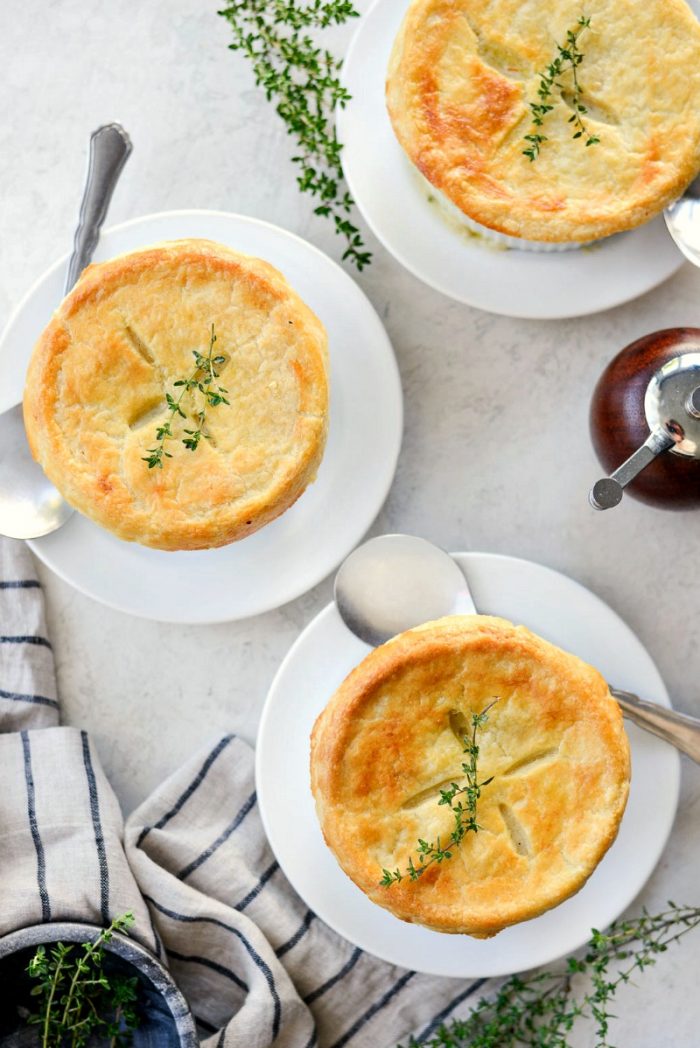 Voila! Your very own chicken pot pie! One that you don't have to share and has plenty of crust.
Homemade Chicken Pot Pies are comfort food to the max.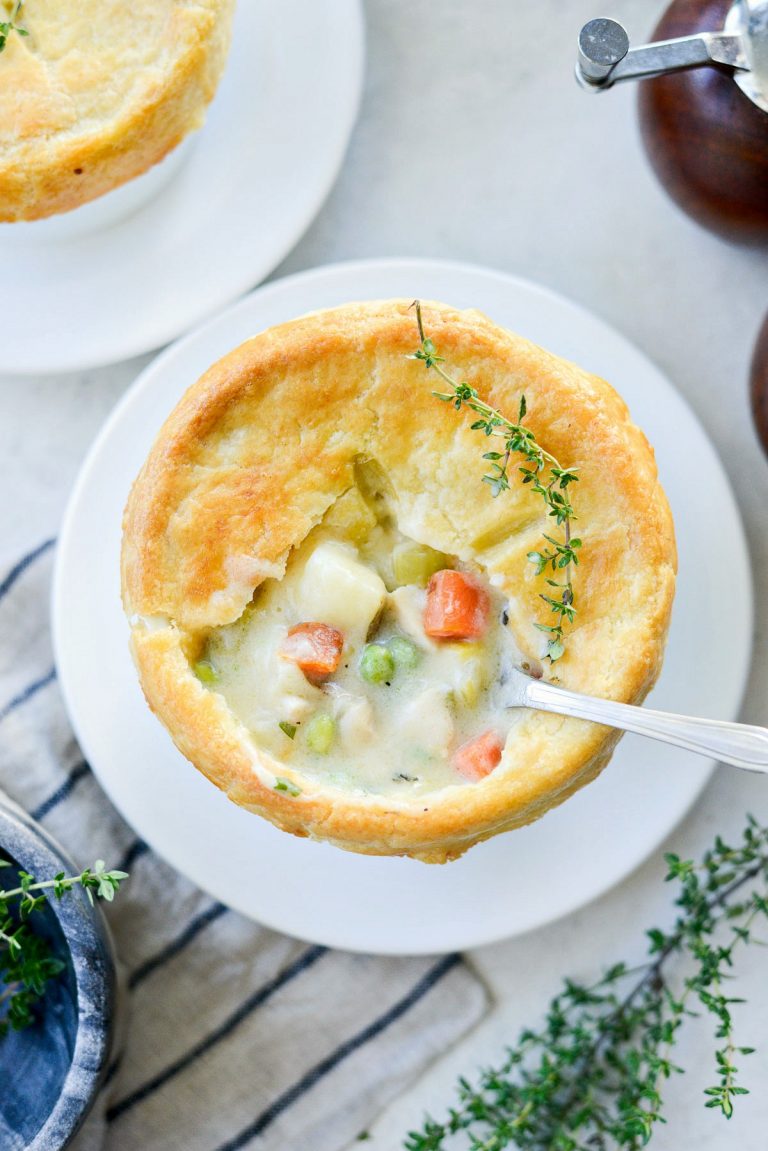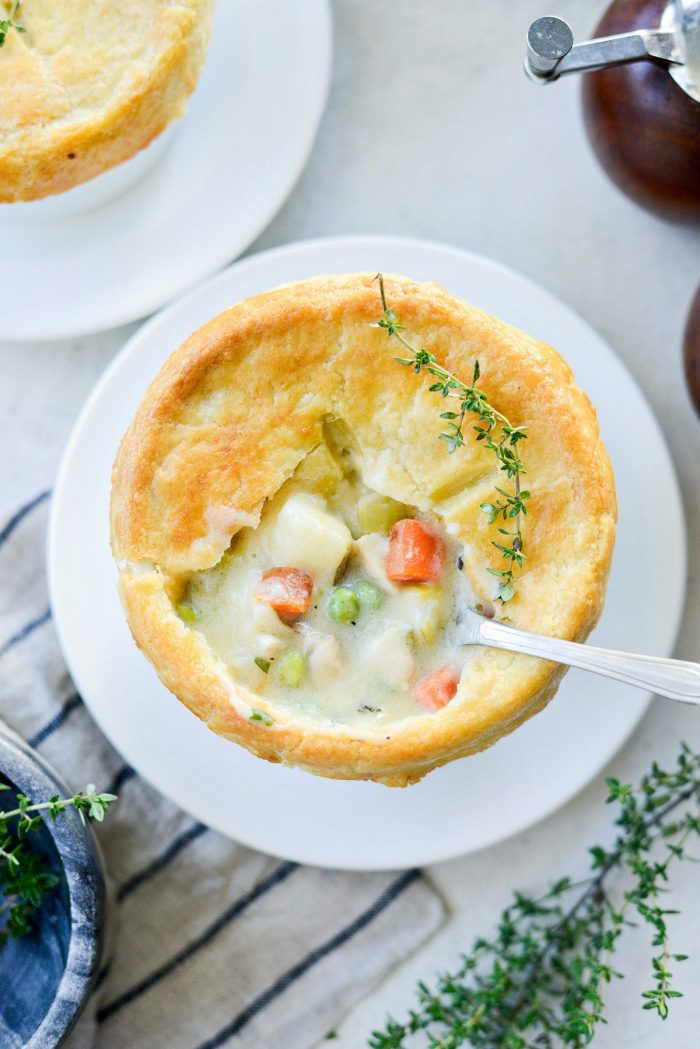 Enjoy! And if you give these Homemade Chicken Pot Pies a try, let me know! Snap a photo and tag me on twitter or instagram!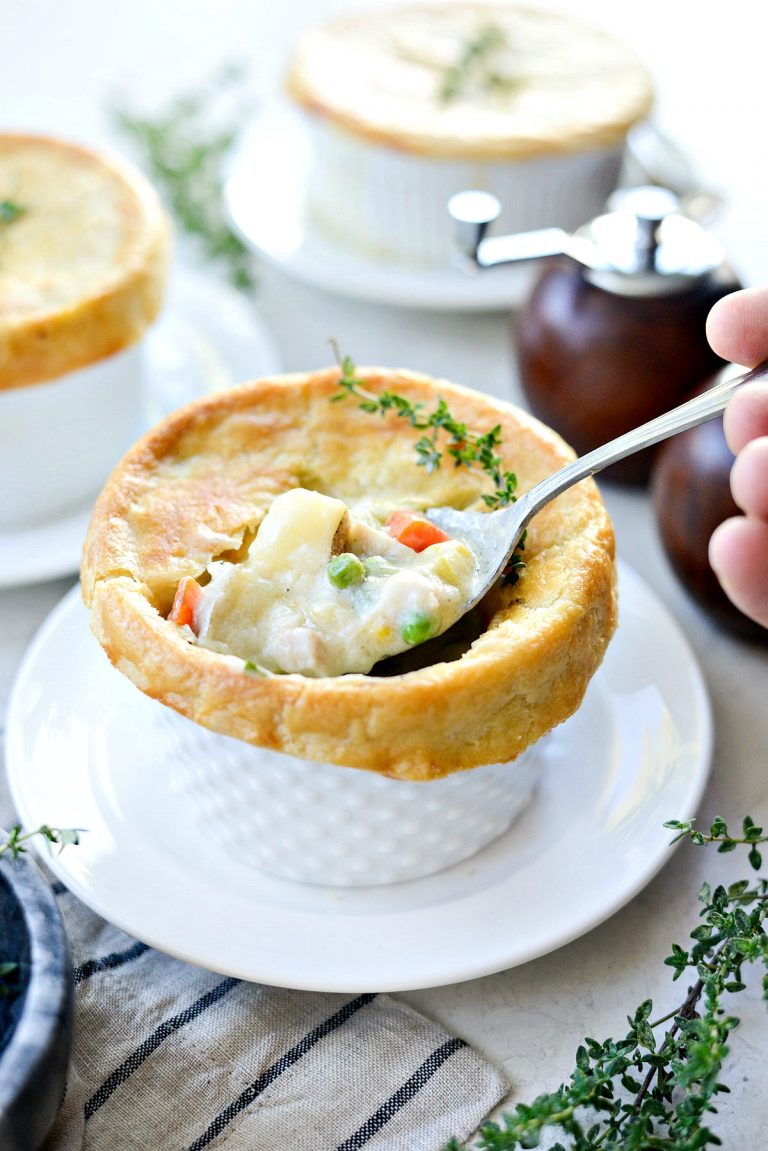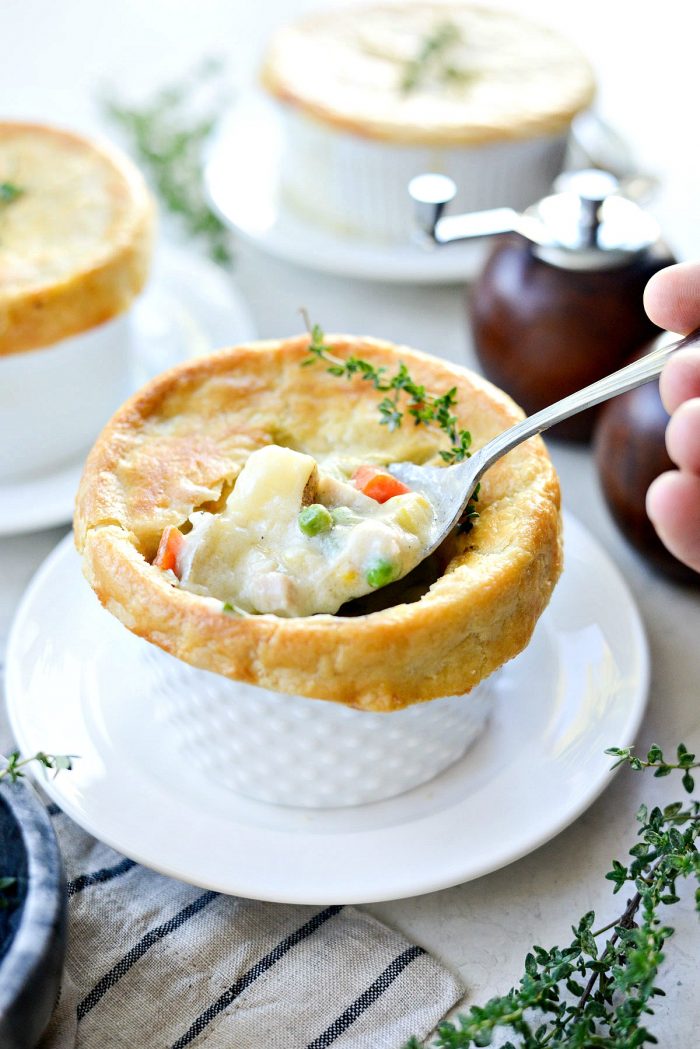 This post may contain affiliate links.
Buy the Cookbook: Simply Scratch : 120 Wholesome Homemade Recipes Made Easy Now available on Amazon »
THANK YOU in advance for your support!