I found this recipe by accident when I typed in the words "lemon snacks", and low-n-behold on the second page of my Google search… there it was, Chex Lemon Buddies.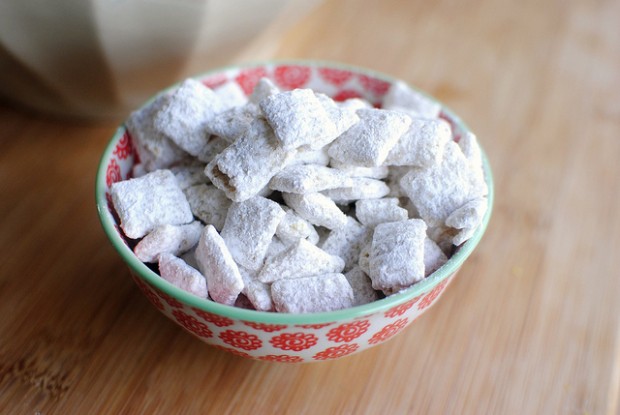 I've never heard of lemon buddies in my life.
How could this be? I'm like the biggest lemon fan there is and I felt duped… all of these YEARS?! So if I haven't heard of these cuties… who else in the world is deprived of this snack too then?? I feel as if I'm doing the public a service by passing this recipe on to you all… I hope you love them as much as I do!
To Make Chex Lemon Buddies You Will Need:
Chex rice cereal
white chocolate chips (I used Ghirardelli)
unsalted butter
lemon zest
lemon juice
powdered sugar
After I saw this recipe I thought this would be a perfect little excuse to eat snack to make and use up the rest of those meyer lemons that I had on my counter. But not to worry, if you only have regular lemons those are just as good to use in this recipe too! Then I thought about not telling my girls about these… I thought about hiding them and myself in the closet and not coming out until I had ate all the buddies and sported a powdered sugar-stache and all the evidence eaten… but with my luck they walked in the front door just as I was stirring the giant bowl of powdered sugar "evidence"… and I was busted. So I shared.
First, zest and juice a few lemons.
You'll need 4 teaspoons of zest and 2 tablespoons of the juice. I strained my lemon juice through a strainer to catch the pulp and any seeds.
Then cube up 4 tablespoons butter – you know the butter I forgot to put in the ingredient picture, yeah that.
Next, add the white chocolate chips with the zest and butter into a medium bowl that will fit over a small pot of simmering water without falling in.
Then add in the lemon juice.
Place the bowl over a small pot of simmering water. Be sure the water doesn't touch the bottom of the bowl and stir until melted.
Once the chips are just about melted, pull it off of the heat and sample. SO.DANG.DELICIOUS!
Then, spread the 9 cups of Chex cereal out on a large sheet pan.
Then poured the lemon/white chocolate mixture over top of the cereal. You see where this is going don't you… yumsville. 😉
Next, stir and coat the cereal with all that citrus-y goodness.
Pour the coated cereal in the largest bowl you have or use 2 sealable gallon size bags.
Lastly, add in the powdered sugar.
And gently stir to coat all the cereal. Spread out on a clean piece of parchment paper to cool/dry before storing in an airtight container.
These snacks are perfect treat for a birthday party, or pack in small baggies for your kiddo's lunchbox OR to hoard and eat it privacy. Dig in!
Enjoy! And if you give this Chex Lemon Buddies recipe a try, let me know! Snap a photo and tag me on twitter or instagram!
Yield: 18 servings
Chex Lemon Buddies
This snack is perfect treat for a party! Makes 18 (1/2 cup servings).
Ingredients
9 cups Chex Rice Cereal
1¼ cup white chocolate chips, I used Ghirardelli
1/4 cup unsalted butter
4 teaspoons lemon zest
2 tablespoons fresh lemon juice, strained from pulp and seeds
2 cups powdered sugar
Instructions
Combine the white chocolate chips, butter, zest and lemon juice into a medium bowl. Bring a small pot of water to a simmer and place the bowl over top making sure the bottom of the bowl doesn't touch the water. Stir while the steam gently melts the chocolate and butter until just about smooth. Remove off of the heat and set aside.

Spread the cereal evenly in a large sheet pan. Drizzle the white chocolate/ lemon mixture and toss to coat.

Place the coated cereal in a large bowl and add in the powdered sugar. Gently stir to coat the cereal in the powdered sugar. Spread back out on a large piece of parchment paper and let cool/dry.

Eat immediately.
Serving: 4ounces, Calories: 193kcal, Carbohydrates: 32g, Protein: 2g, Fat: 7g, Saturated Fat: 4g, Polyunsaturated Fat: 1g, Monounsaturated Fat: 2g, Trans Fat: 1g, Cholesterol: 9mg, Sodium: 133mg, Potassium: 61mg, Fiber: 1g, Sugar: 22g, Vitamin A: 333IU, Vitamin C: 4mg, Calcium: 76mg, Iron: 5mg
This post may contain affiliate links.
Buy the Cookbook: Simply Scratch : 120 Wholesome Homemade Recipes Made Easy Now available on Amazon »
THANK YOU in advance for your support!