These butterfinger cookies are a great way to use up leftover candy bars. Soft, chewy and butterfingery. These cookies are everything!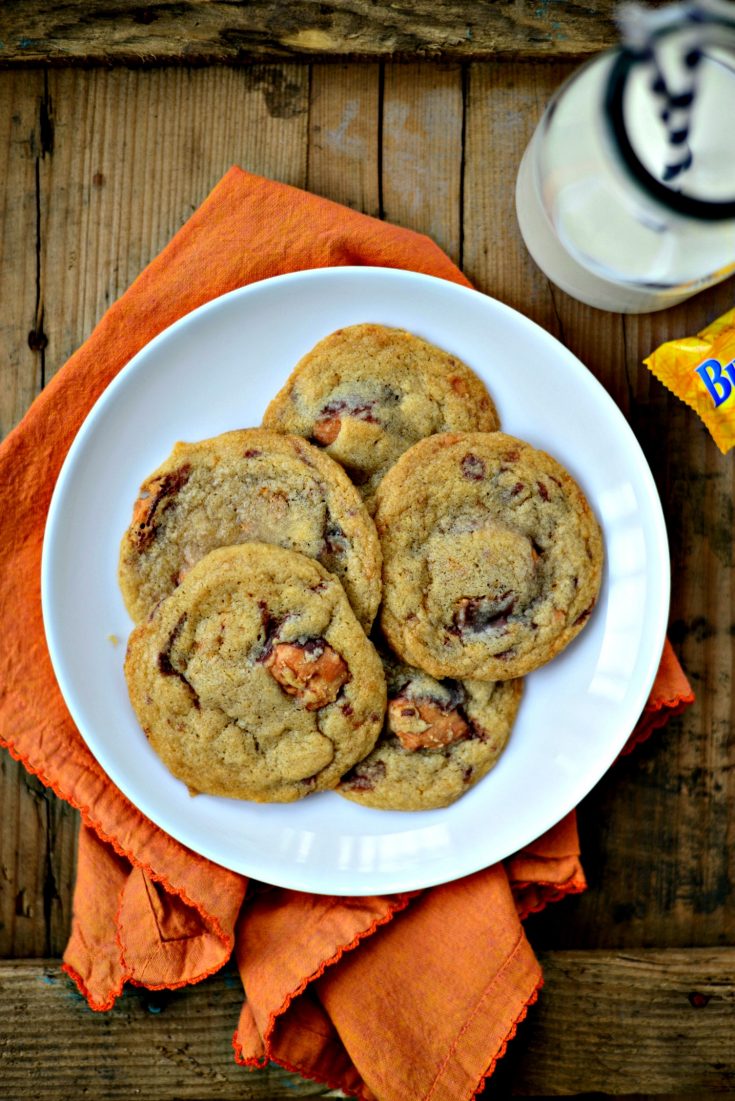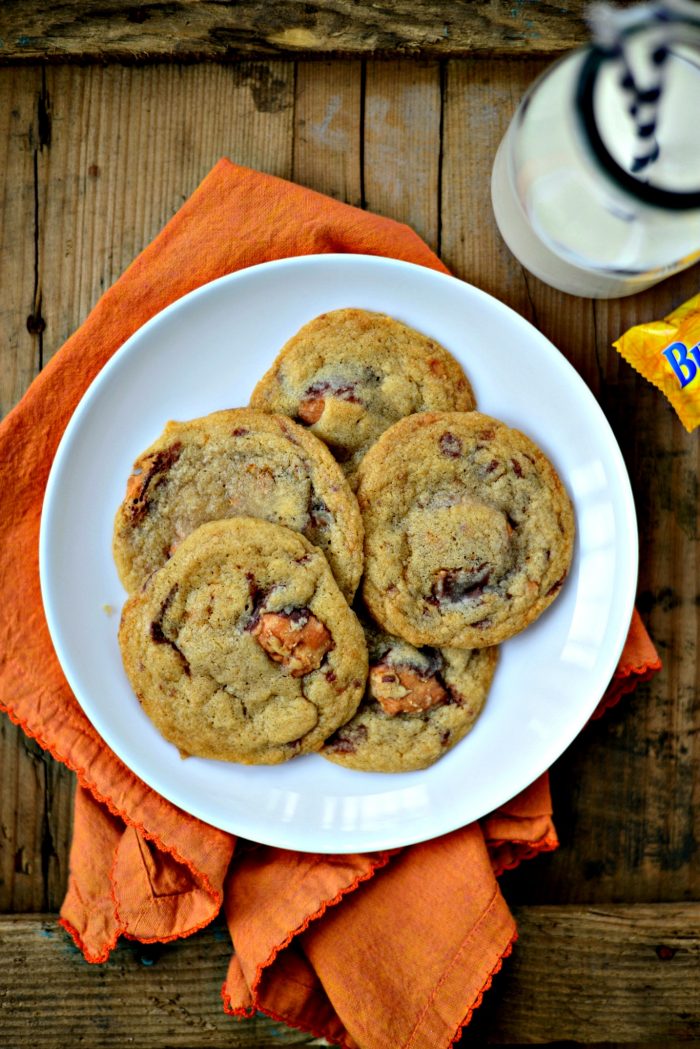 Sometimes we just have one of those days.
My friend, Stacey had hers the day before and to be honest it was much worse than mine. I pretty sure I jinxed myself when I went to bed Tuesday with plans to have a cooking/baking extravaganza the following day. A non-stop cooking-and-baking-stay-in-my-sweats-and-not-shower-sort-of-deal. But when I realized my daughter needed her physical paperwork (so she could try out for volleyball) signed and that I would have to make a trip up to the school… that nixed any ideas of staying in my sweats. No big deal… a shower wasn't the worst thing in the world.
So then while doing the dishes that afternoon, my (favorite) glass liquid measuring cup literally exploded.
Right after I washed it and set it onto the towel to dry. And yes, I instagram'd it. We're talking shards, form big and teeny-tiny, of glass everywhere. It was so darn scary and minutes afterwards I could still hear the pieces crackling like hot embers would in a fire, in the garbage. It was the strangest thing! And I loved that measuring cup, so dumb I know… but I did. So naturally I had to clean all the broken glass fragments, sweep, vacuum, re-wash dishes and counters and pretty much anything in the vicinity.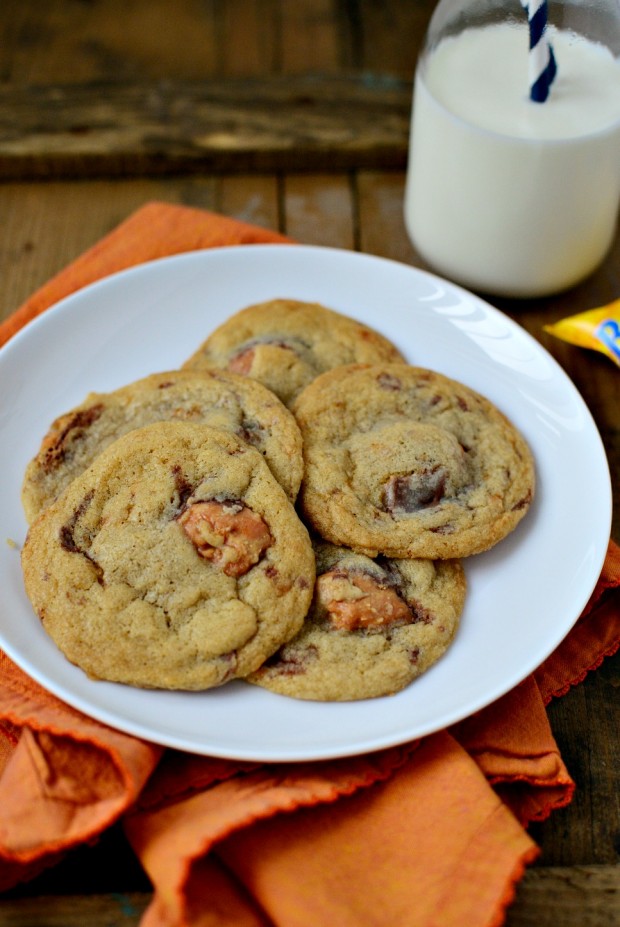 With my day gone to hell in a hand-basket I thought that I would just make cookies. My daughter had her first volleyball tryout, I lost my beloved measuring cup… why not? So I grabbed the leftover bag of butterfingers and my camera and made cookies. The first batch was baking, they smelled to die for… and then all this popping and bursts of light was coming from my oven. I killed the heat, slowly opened the doors and noticed it was coming from the lower heating element. Long story short, the bottom baking element shorted out. But I was determined to make these cookies. So I finished them in the oven, with only the top element to heat it up. Fingers were crossed. It took a little longer than it should have and the bottoms weren't necessarily crisp, but I wasn't about to waist Butterfinger cookie dough. No way.
So I pretty much threw in the towel after that. Later I grabbed a book and a glass of wine and a cookie or three.
So enough about my horrendous day, let's talk about these cookies. So incredibly simple. It's just a soft, chewy cookie studded with big hunks of Butterfinger candy bars. Really you could do this with Snickers (which will be happening ASAP) or my kid's favorite Take 5 bars.
They are an excellent way to use up that Halloween candy or brighten a day spent cleaning up glass shards. (Trust me)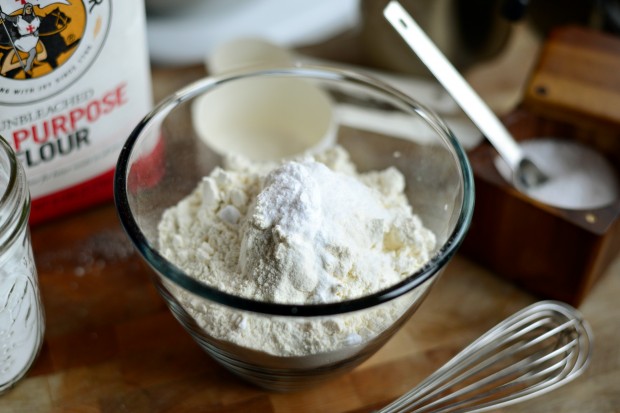 Start by measuring the 2-1/4 cup flour, 1 teaspoon baking soda and 1 teaspoon kosher salt into a medium bowl.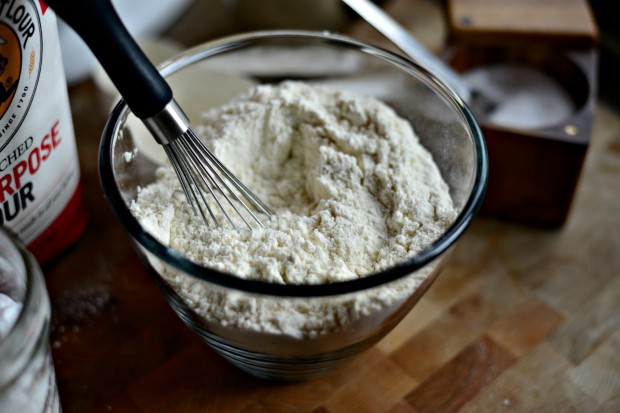 Give it a gentle whisking to fluff and break up any heavy clumps.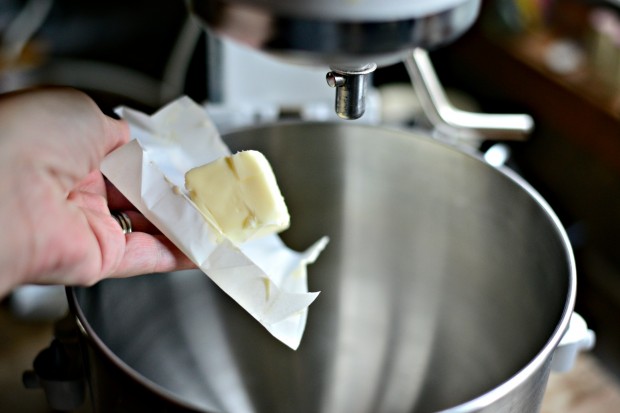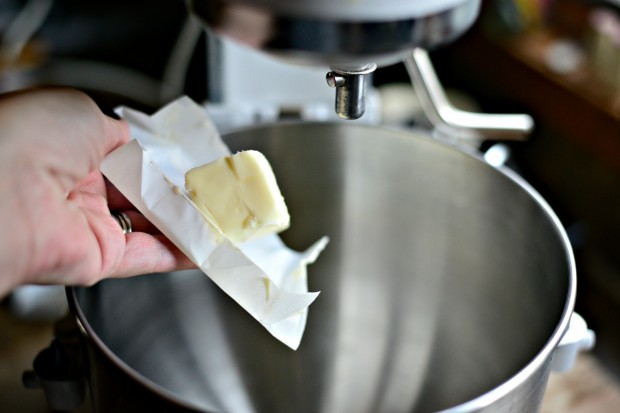 Add 2 sticks, unsalted, room temperature butter into the bowl of your stand mixer.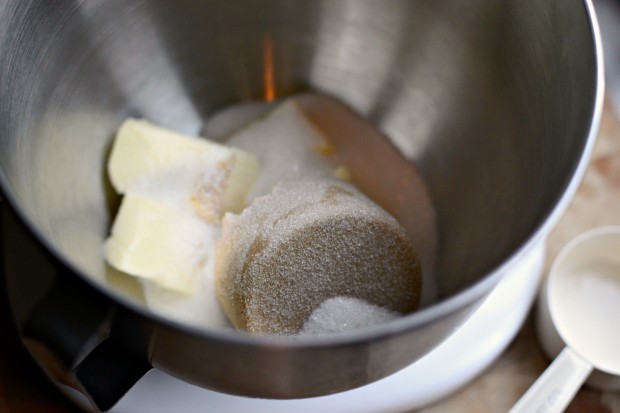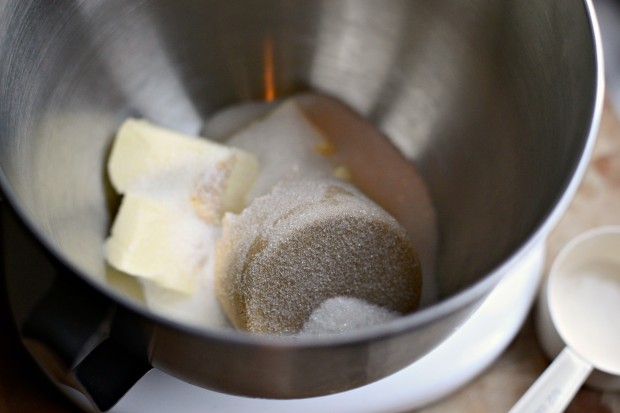 Add 1 cup light brown sugar along with 1/2 cup granulated sugar.
Mix on low to medium-low speed until light and fluffy.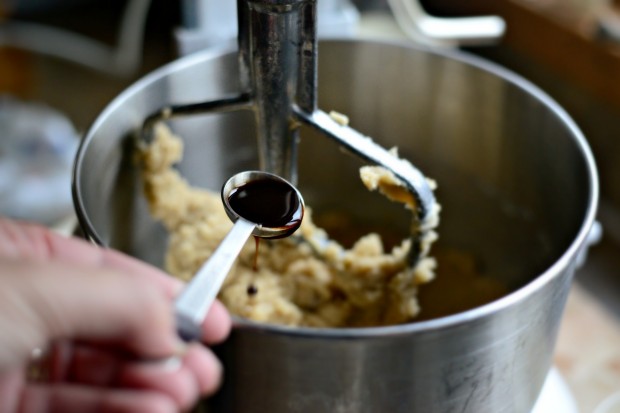 Add in a teaspoon of real vanilla extract…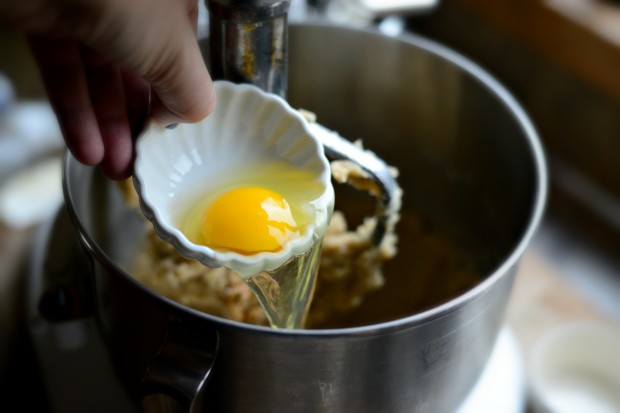 Add in one egg at a time, mixing and scraping down the sides of the bowl after each one.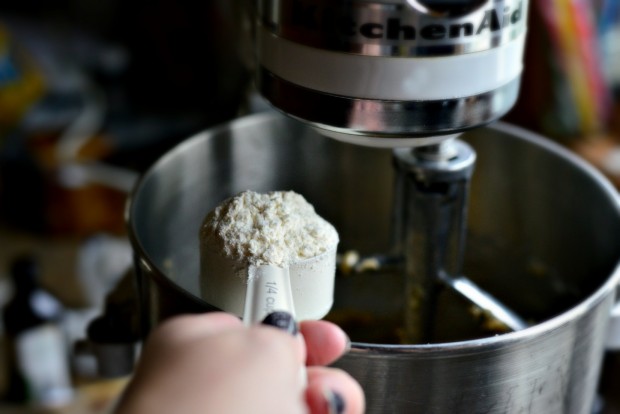 Once combined, with the mixer on low, slowly add in the dry ingredients. Stop mixing just when they are combined. Scrape the sides and bottom of the bowl.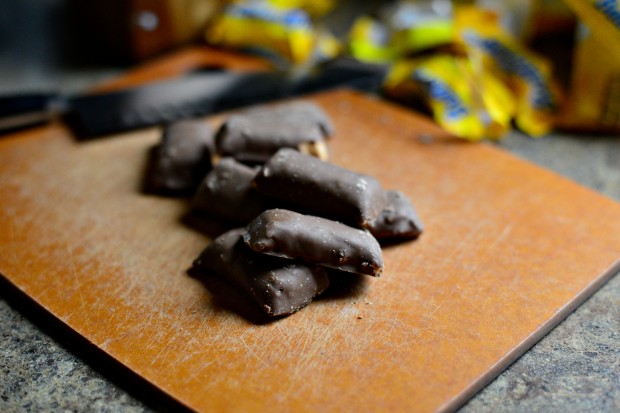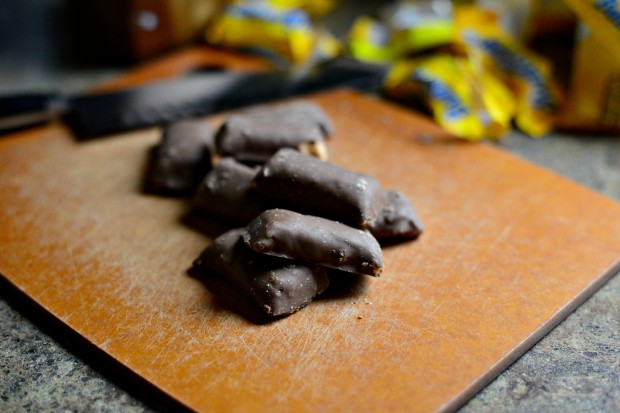 Grab 10 or so mini Butterfinger candy bars.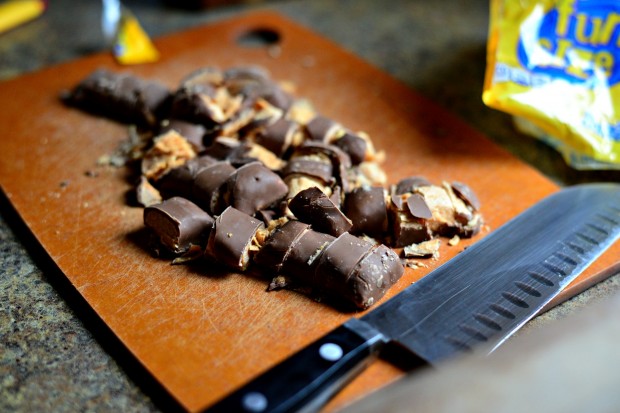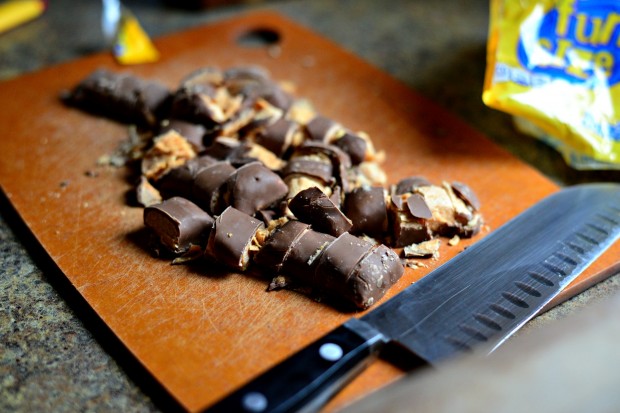 And give them a rough chop. I like big fat chunks in my cookies, but you could cut them smaller if you wish to do so.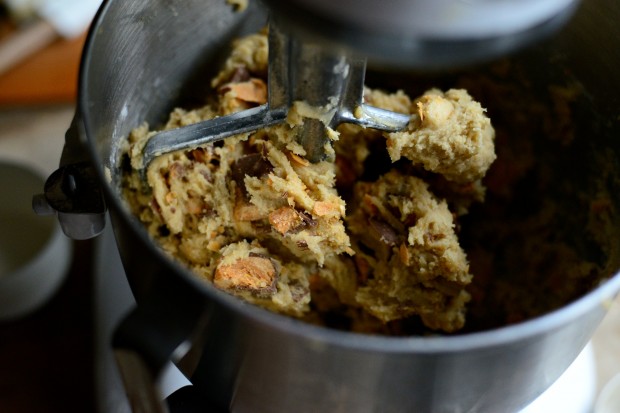 Add the candy pieces into the mixer and mix until they are throughout the dough.
I contemplated sitting down with the paddle-o-dough and skipping the cookie part.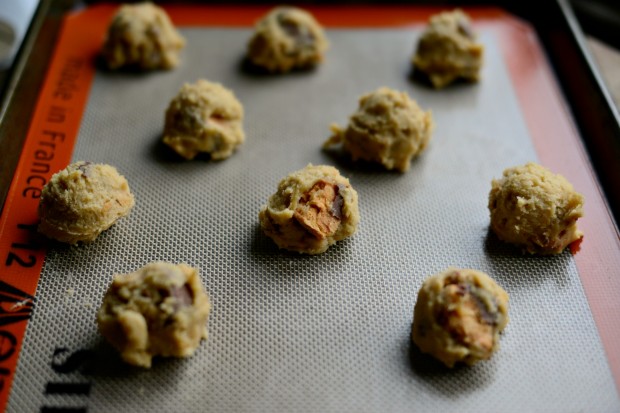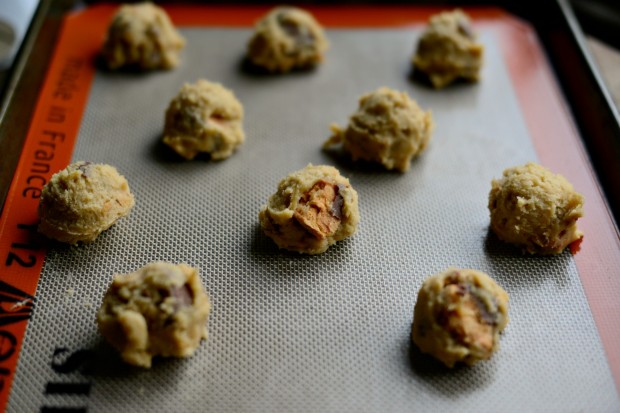 I used a 2-tablespoon scoop and doled out the dough onto a lined cookie sheet.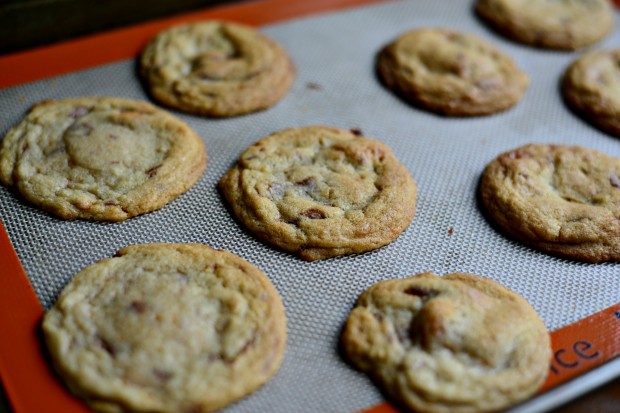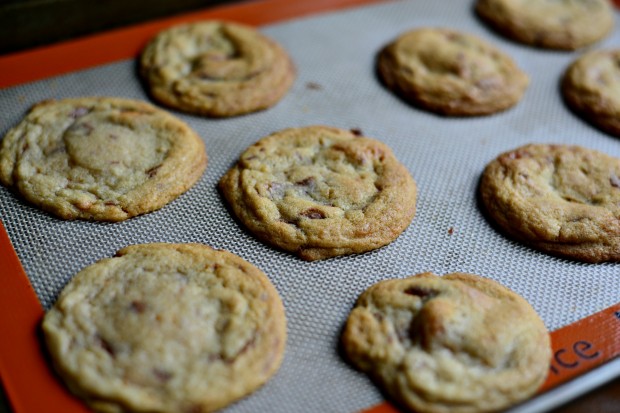 Bake the Butterfinger cookies for 8 to 10 minutes or until the edges are slightly golden.
After a few minutes of cooling on the pan, transfer the butterfinger cookies to a wire rack to cool.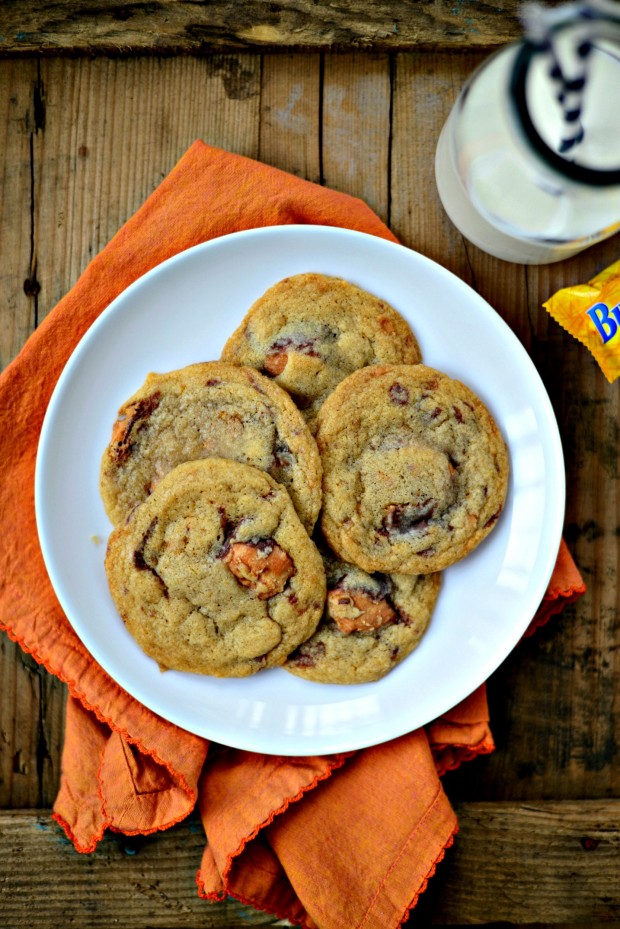 I really love them the day after when the Butterfinger candy pieces have returned back to being their crispy-flaky-selves while suspended in all that delicious cookie goodness. Actually, all this talk about candy in cookies has me thinking I'll just mosey on into the kitchen and have one with my morning cup of coffee.
My favorite candy bar in a cookie, I can't believe I didn't think of this sooner.
Happy Halloween!
Enjoy! And if you give this Butterfinger Cookies recipe a try, let me know! Snap a photo and tag me on twitter or instagram!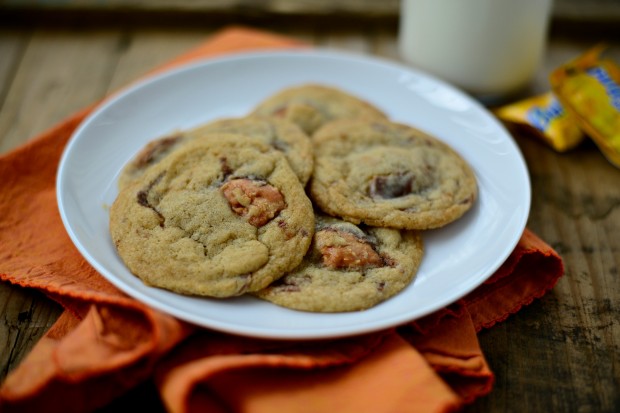 Yield: 24 cookies
Butterfinger Candy Bar Cookies
Soft, chewy and butterfingery. A great way to use up leftover Halloween candy.
Ingredients
2¼ cups unbleached all-purpose flour
1 teaspoon baking soda
1 teaspoon kosher salt
1 cup unsalted butter, softened
1 cup light brown sugar
1/2 cup granulated sugar
1 teaspoon pure vanilla extract
2 large eggs
10 mini Butterfinger candy bars, chopped
Instructions
Preheat your oven to 350° and line two metal sheet pans with parchment or silicon liners.

In a medium bowl, whisk together the flour, baking soda and salt. Set aside.

In the bowl of your stand mixer beat together the butter and both sugars until light and fluffy. Add in the vanilla and one egg at a time, mixing and scraping down the sides of the bowl after each egg.

With the mixer on low, gradually add in the dry ingredients until just incorporated. Add in the chopped candy bars and mix until through the dough.

Use a 2-tablespoon scoop and place rounded scoops of dough onto prepared pans. Bake for 8-10 minutes or until the edges of the cookies are lightly golden brown. Let cool on the pan for 5 minutes before transferring to a wire rack. Repeat with remaining dough.
Serving: 1cookie, Calories: 181kcal, Carbohydrates: 24g, Protein: 2g, Fat: 9g, Saturated Fat: 5g, Polyunsaturated Fat: 1g, Monounsaturated Fat: 2g, Trans Fat: 1g, Cholesterol: 36mg, Sodium: 159mg, Potassium: 40mg, Fiber: 1g, Sugar: 14g, Vitamin A: 259IU, Calcium: 15mg, Iron: 1mg
This post may contain affiliate links.
Buy the Cookbook: Simply Scratch : 120 Wholesome Homemade Recipes Made Easy Now available on Amazon »
THANK YOU in advance for your support!