In this brown butter peach cobbler, there's fresh peaches, browned butter and cake. This is a fun twist on a classic peach cobbler recipe!
Brown butter makes the world go round. It's delicious in cookies and in cake. Over roasted vegetables and mixed with breadcrumbs.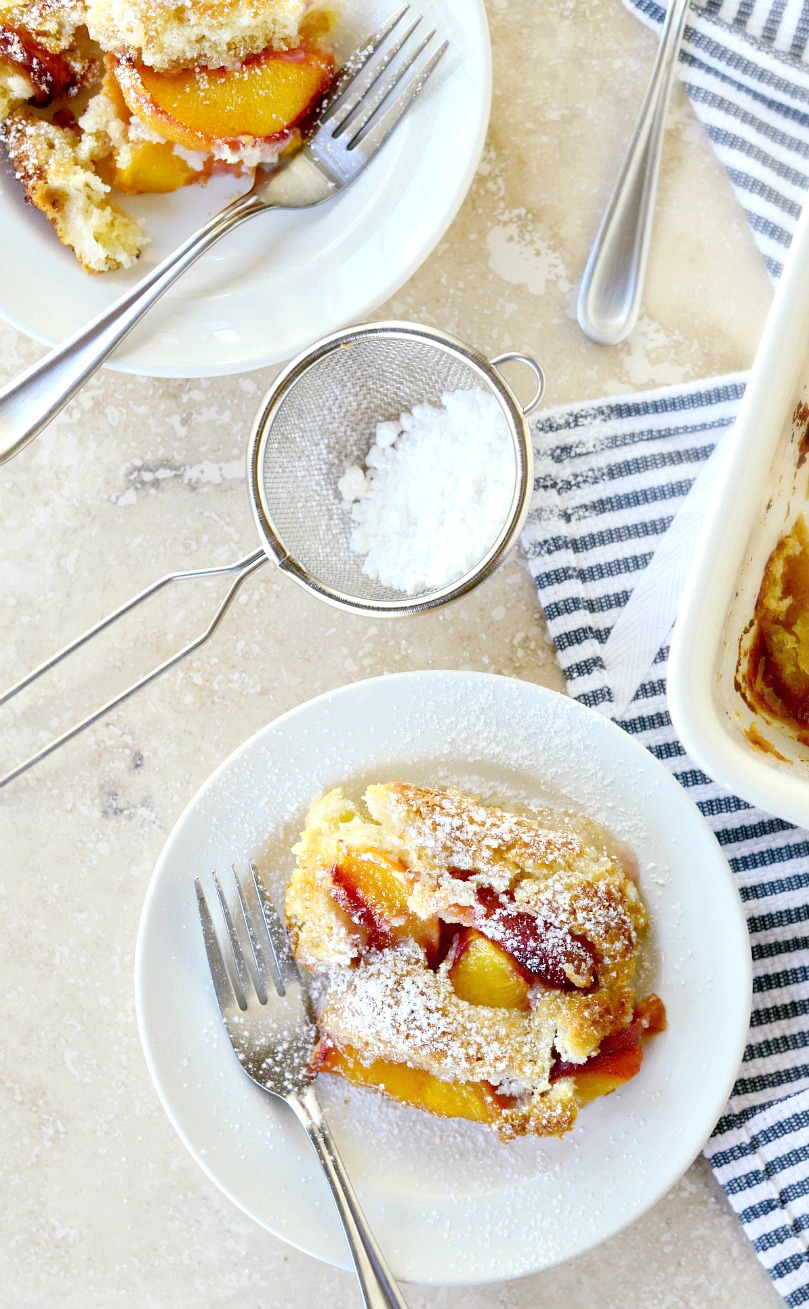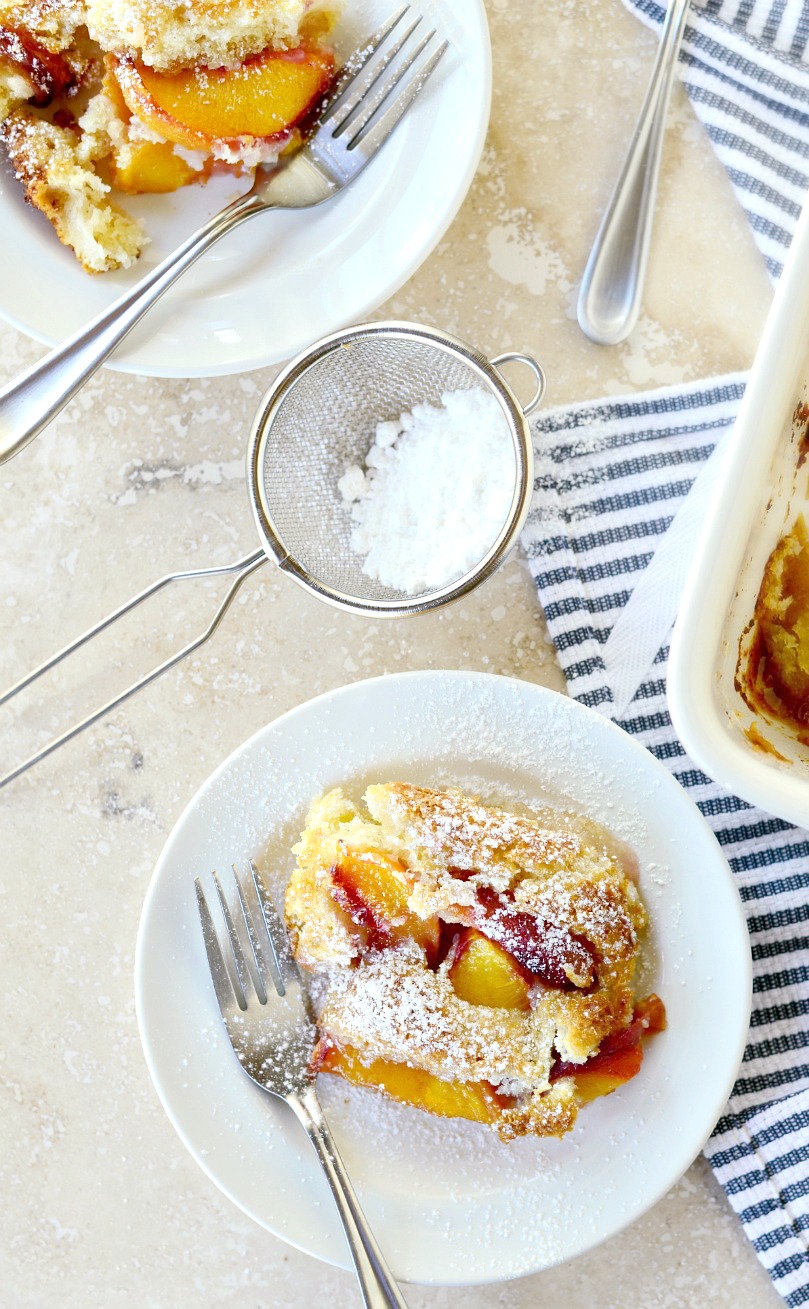 It only seemed natural to add it to peach cobbler. I mean seriously, what is there not to love? Fresh peaches, brown butter and cake. You really can't go wrong with that winning combo.
Peach cobbler has to be one of my all time favorite summertime desserts. It's a relatively simple dessert and will fill up your home with an amazing, cozy aroma that will no doubt having you standing by the oven impatiently watching the timer until it has finished baking. Remember those old Mervyn's commercials? Where the lady has her hands on the store windows sayin "open-open"? Basically that's me except I'm say "hurry-hurry".
Ps that commercial came out in 1992 😳.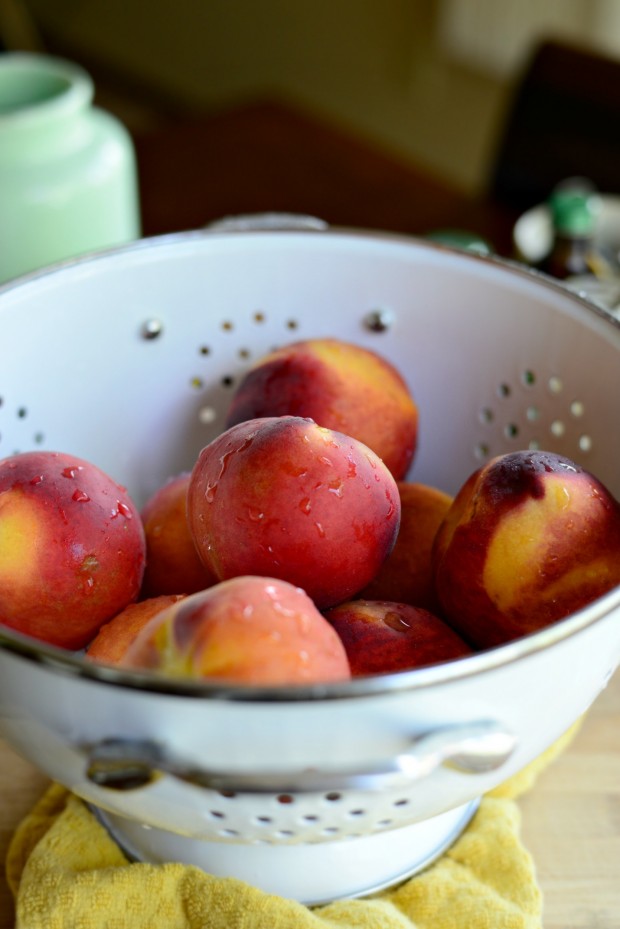 Start by browning up a stick of unsalted butter. If you want a handy-dandy how-to then here is my post on that. If you aren't up for browning the butter then you can simply melt the butter and stop there.
Next, pour the brown butter into a 9×13 baking dish.
Then, into a large bowl, measure and add in a cup of unbleached all-purpose flour, plus a cup of sugar too. Next, measure and add in a tablespoon of baking powder and a 1/8 teaspoon of kosher salt.
.Lastly, stir to combine.
Next, pour in a cup of half and half, and gradually stir it in with the dry ingredients until just combined.
Then, pour the batter into the baking dish with the brown butter. Now set this off to the side for just a moment to work on the peaches.
First, slice up 5 cups of ripe peaches leaving the skin on because I'm incredibly lazy for extra fiber.
Then throw the peaches into a medium pot and add in a cup of sugar.
Next, squeeze in the juice of a medium lemon.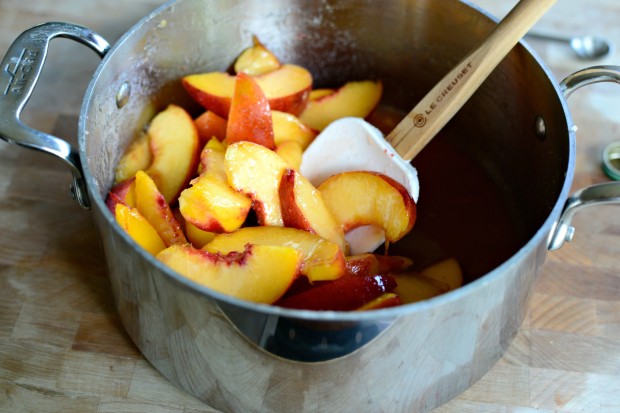 Then stir the peaches and heat on high and bring the liquids to a boil.
Once the liquids come to a boil, remove the pan off of the heat and then add in a half teaspoon of vanilla and 1/8 teaspoon of ground cardamom. If you don't have cardamom on hand you can definitely use ground cinnamon.
Next, grab a heaping spoonful and scatter the peaches with all their juices over top of the top of the batter.
Then, slide the baking dish into a preheated 375° oven and bake for 40 minutes or until golden and bubbly.
Once baked and smelling pretty amazing, remove and allow the cobbler to cool for at least 10 minutes.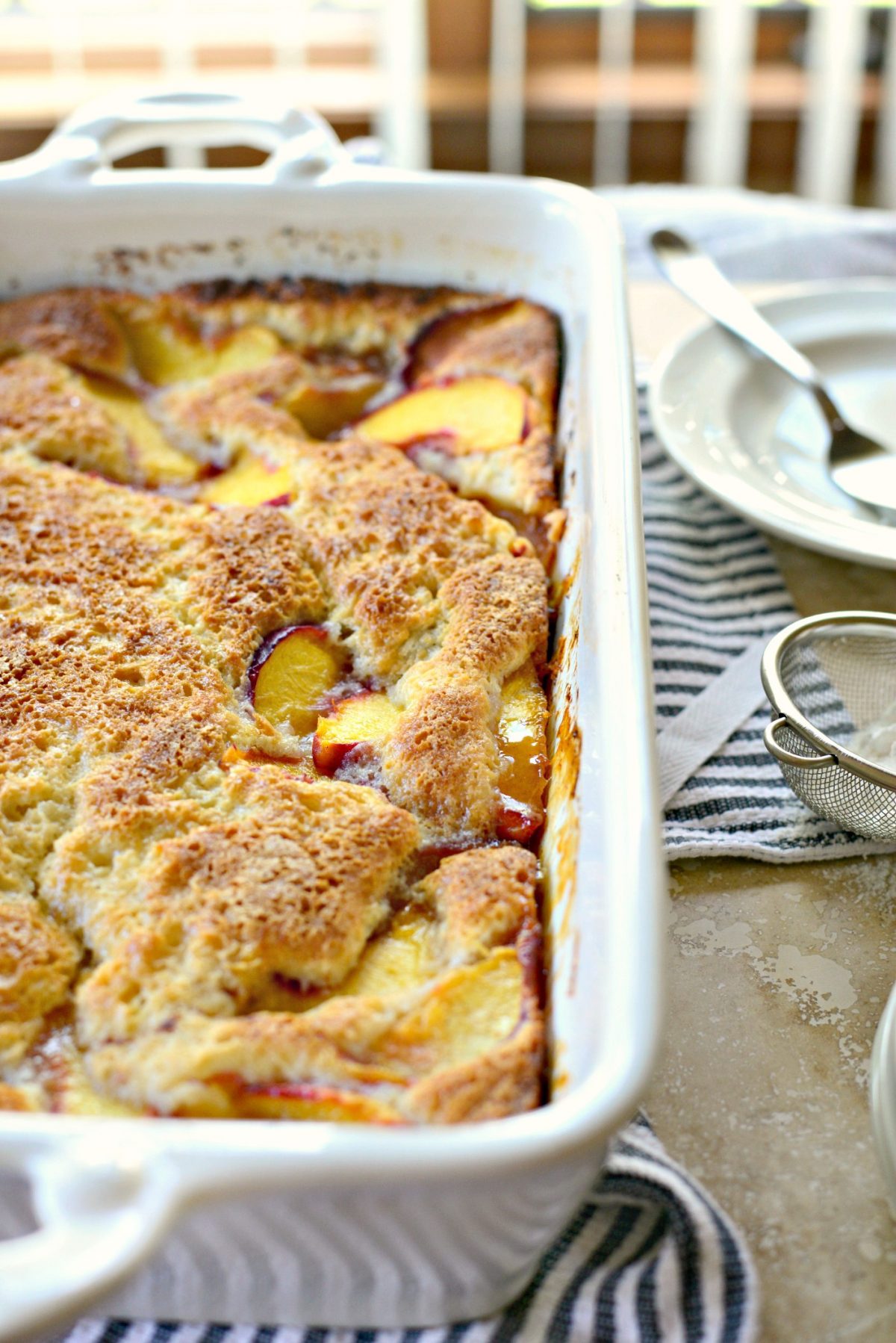 Finally serve scoops on to plates or in bows with a dusting of powdered sugar. However vanilla ice cream is delicious as well. Whether you serve this warm or cold, it will no doubt blow your mind.
Brown butter peach cobbler for life.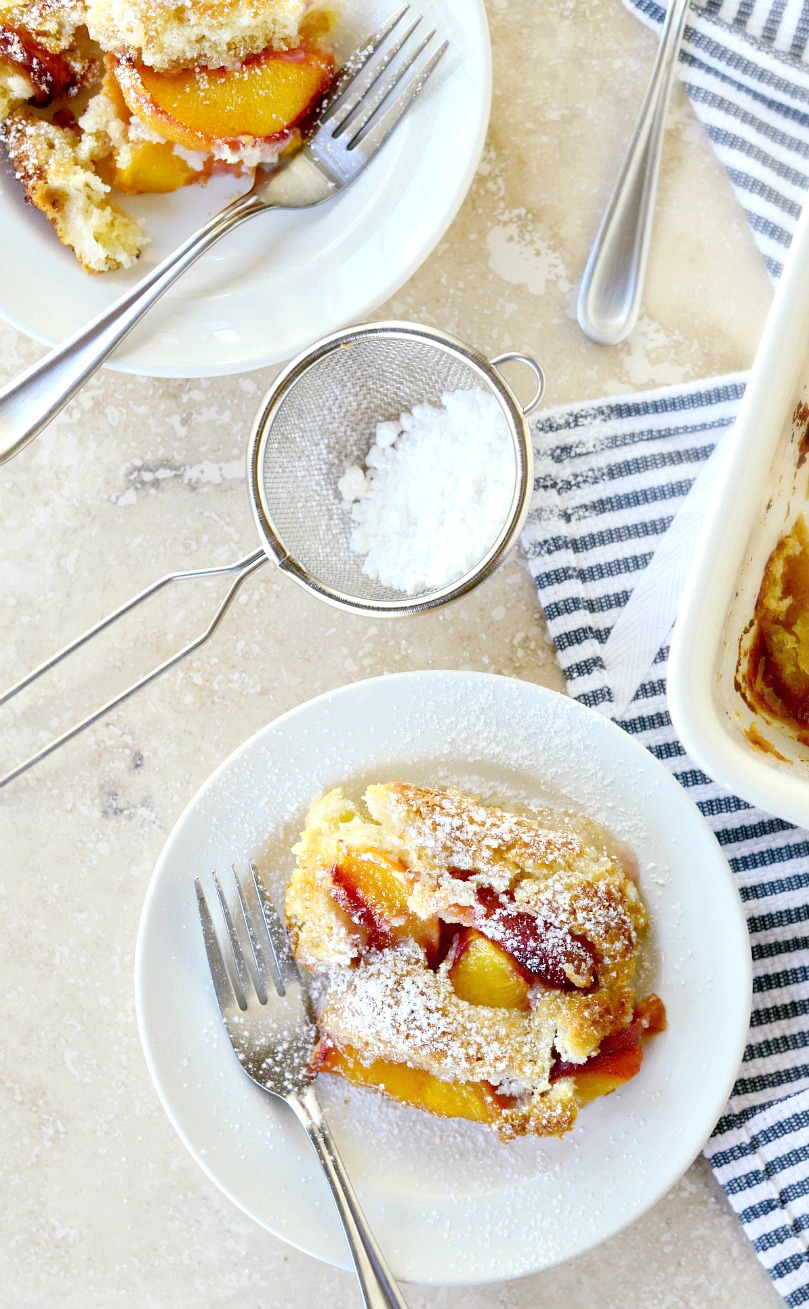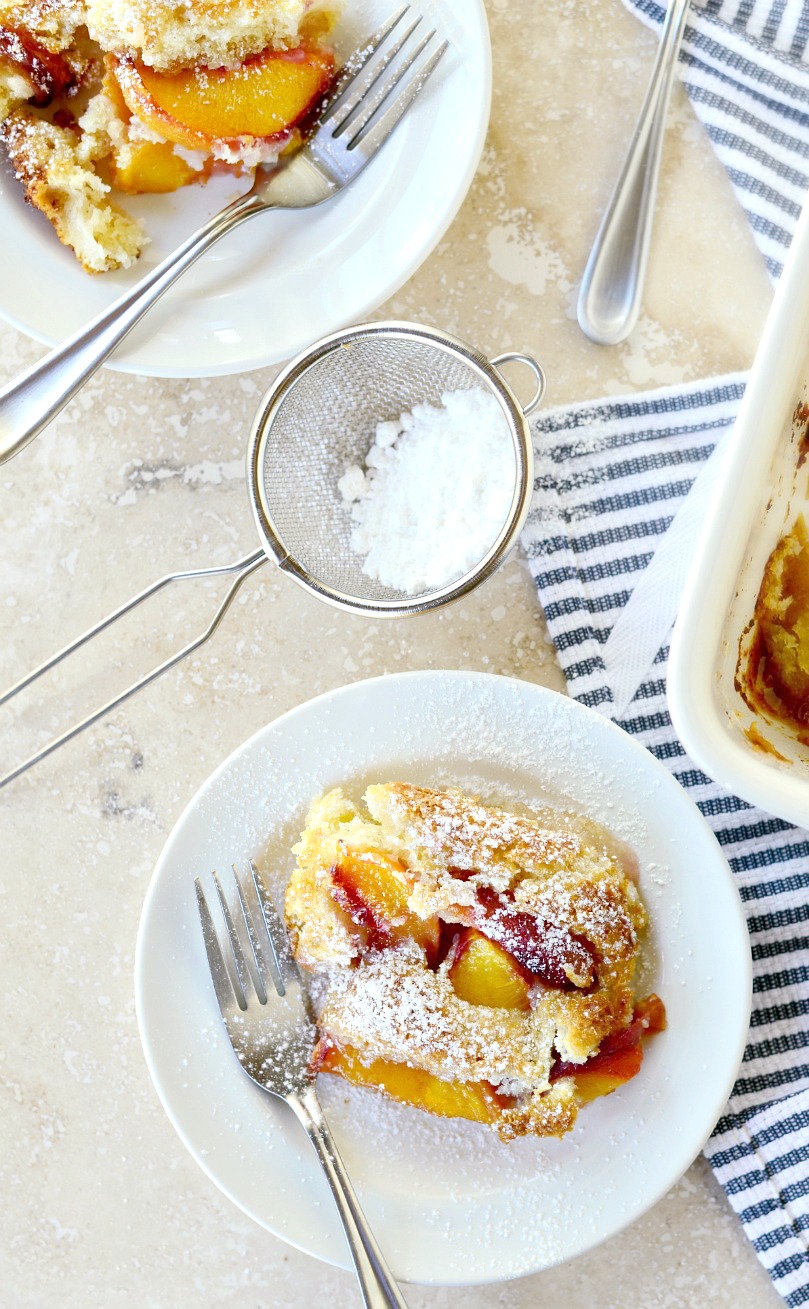 Enjoy! And if you give this Brown Butter Peach Cobbler recipe a try, let me know! Snap a photo and tag me on twitter or instagram!
My cookbook Simply Scratch : 120 Wholesome Homemade Recipes Made Easy is now available! CLICK HERE for details and THANK YOU in advance!
[this post contains affiliate links.]
This post may contain affiliate links.
Buy the Cookbook: Simply Scratch : 120 Wholesome Homemade Recipes Made Easy Now available on Amazon »
THANK YOU in advance for your support!