In this Greek avocado feta guacamole, fresh avocado is tossed around with tomato, garlic, red onion and feta cheese! Get your chips ready!
This is what happens when you buy a Costco bag of avocados. Of course they went from rock hard to ripe in three days and I had six super ripe avocados on my hands. Good thing I can eat guac by the bucketful.
Besides smashing it on toast, I wanted to make was this fresh feta guacamole. It's not an original recipe creation, but since the very first time I tried it a couple years ago I've been meaning to make it and post it to share it with all of you.
One thing I've learned over the past years of blogging is that there are some people who don't like the idea of non-traditional ingredients added to guacamole. Once I was slammed and posted to a guacamole-hall-of-shame facebook page for putting blue cheese and bacon in guacamole. So all the guacamole purists out there… you might want to turn your heads. 😉
A couple Memorial Day's ago my friend Lynne brought this Greek avocado feta guacamole to our other friend, Nichole's house. It was literally gone in 3.2 seconds. It's so fresh and the feta is so unexpected and really delicious.
First start by carefully running a knife around the length of the avocado, twist open and then remove the pit.
Next, take paring knife and make horizontal and vertical cuts.
Then use a spoon and scoop out the avocado and place it into a medium bowl.
How To Get Ripe Avocados To LAST:
The trick to storing ripe avocados so they last is a no-brainer, it's easy and effective and has saved me SO much money. First buy hard to the touch, bright green avocados and allow them to ripen on the counter. Once they are black, soft to the touch (NOT squishy) pop them into the fridge. Because here is where they will last for quite a few days! You guys this has changed my life and I owe this trick to my sisters. No more wasted avocados!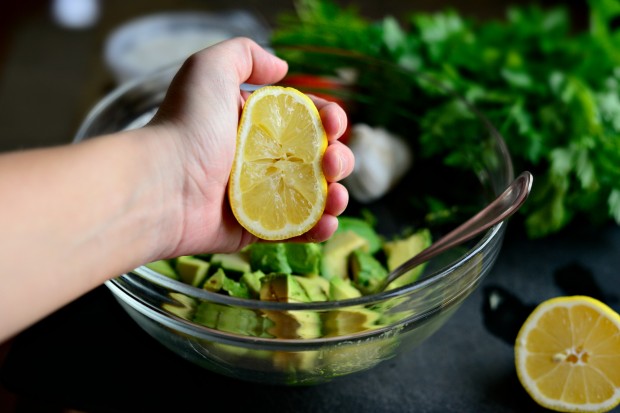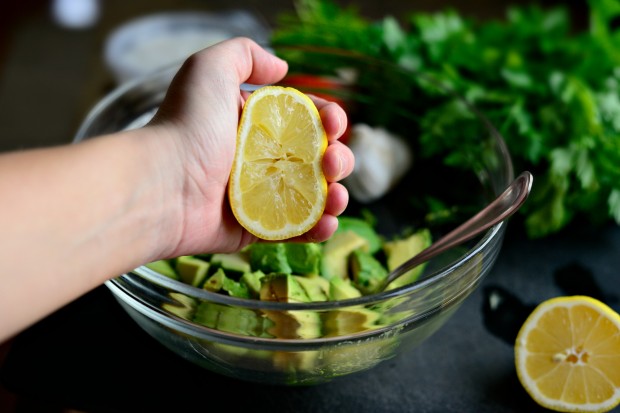 Next, squeeze in half a lemon.
Then give it a quick toss to coat the avocado in lemon so it won't oxidize and turn that gross brown-green color.
Nice up half of a medium red onion and add it to the bowl with the avocados.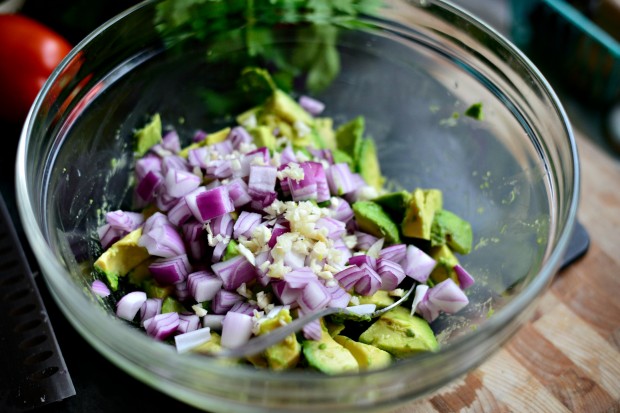 Then mince and add a clove of garlic.
Grab about a 1/4 cup of fresh parsley…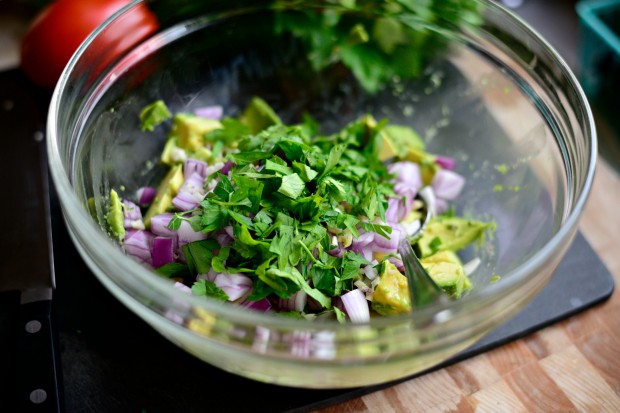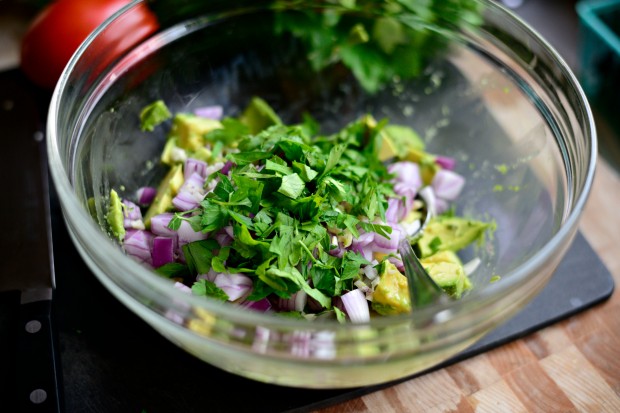 …give it a chop and throw it into the bowl as well.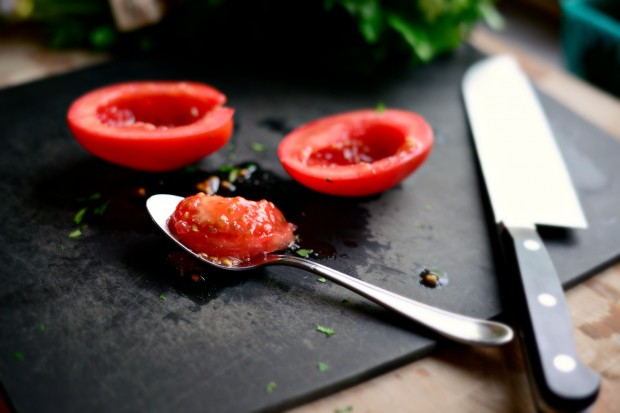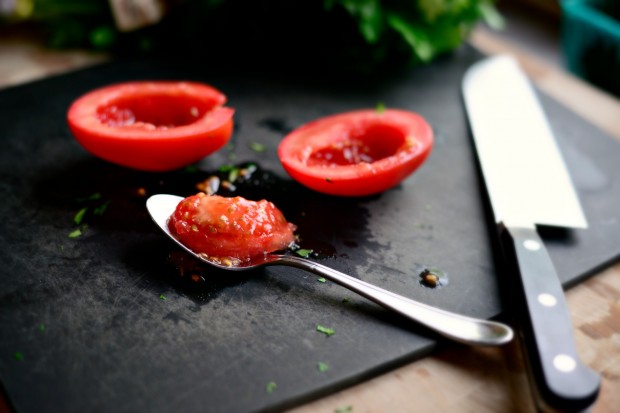 Scoop out the seeds of one roma tomato.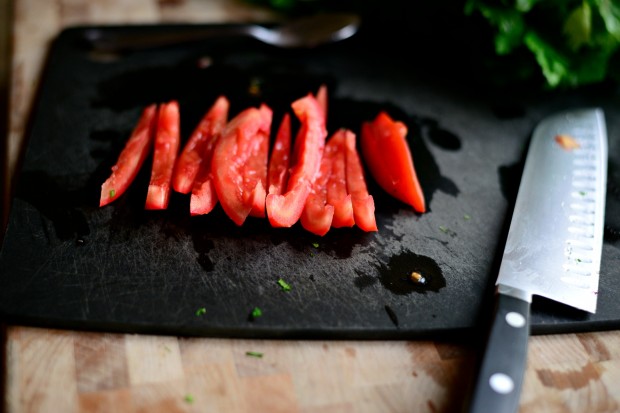 Slice it…
…dice it and, you guessed it… add it to the bowl.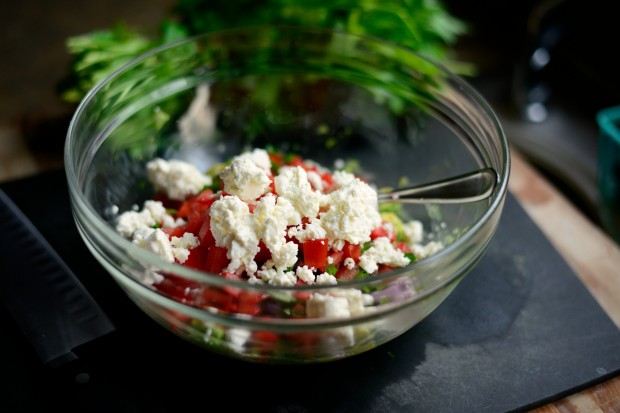 Lastly throw in the feta. I eyeball it, somewhere in between a quarter and a half cup.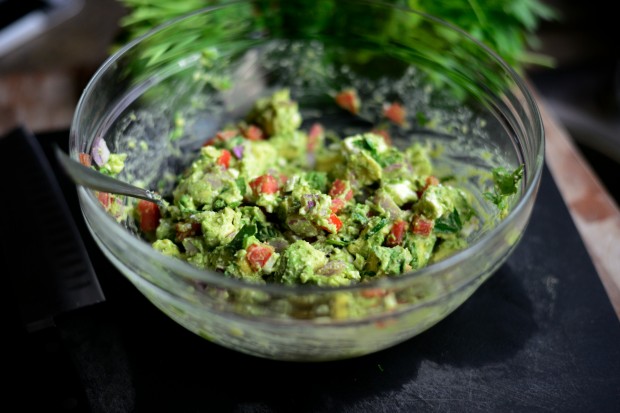 Season with a little salt and give it a stir, a taste and serve!
This bowl of Greek avocado feta guacamole is for me. Only me. Mu-ha-ha-ha-yum.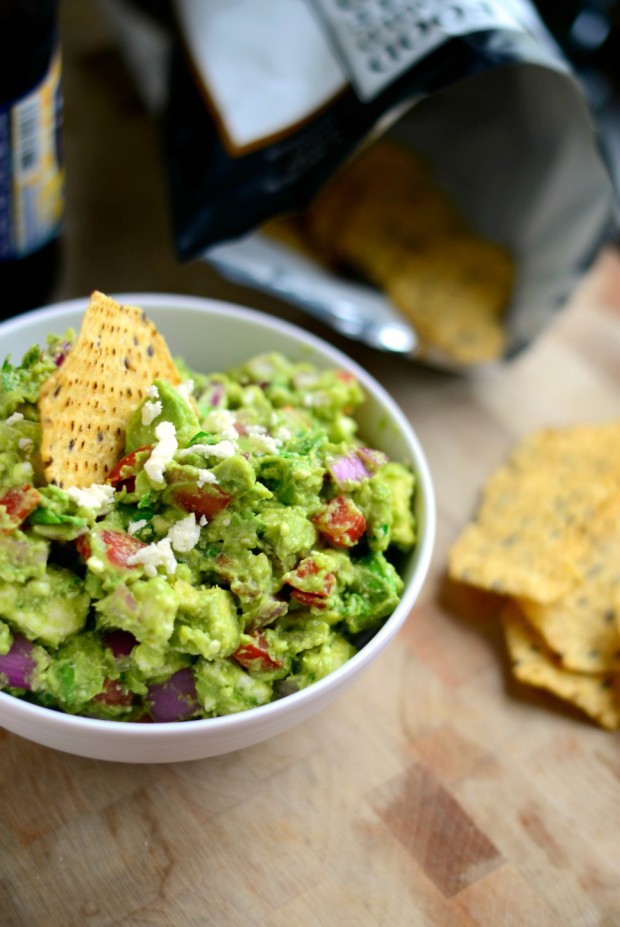 Man, I love my job.
Now I'm curious… what do you put in your guac?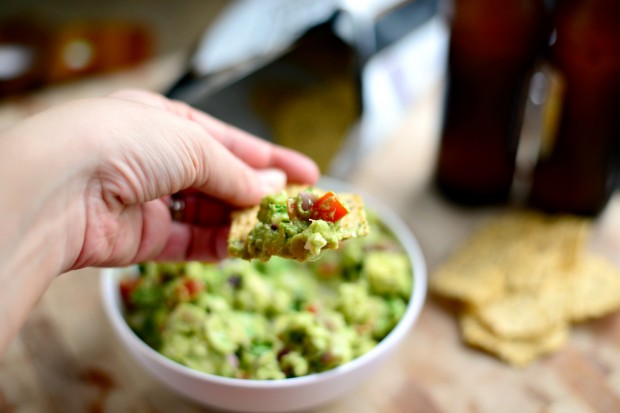 Until then…
Enjoy!
My cookbook Simply Scratch : 120 Wholesome Homemade Recipes Made Easy is now available! CLICK HERE for details and THANK YOU in advance!
Yield: 8 servings
Avocado Feta Guacamole
Fresh avocado is tossed around with tomato, garlic, red onion and feta cheese!
Ingredients
2 avocados, diced
1/2 lemon, juiced
1 medium Roma tomato
1/2 medium red onion, diced
1 clove garlic, minced
1/4 cup fresh parsley, coarsely chopped
1/3 cup feta cheese, freshly crumbled
kosher salt, to taste
Instructions
Combine the diced avocado, lemon juice, diced tomatoes, onion, garlic, chopped parsley and stir.

Taste and season with kosher salt as desired.

Serve with chips.
Serving: 2ounces, Calories: 104kcal, Carbohydrates: 6g, Protein: 2g, Fat: 9g, Saturated Fat: 2g, Polyunsaturated Fat: 1g, Monounsaturated Fat: 5g, Cholesterol: 6mg, Sodium: 75mg, Potassium: 297mg, Fiber: 4g, Sugar: 1g, Vitamin A: 324IU, Vitamin C: 13mg, Calcium: 44mg, Iron: 1mg
[this post contains affiliate links.]
This post may contain affiliate links.
Buy the Cookbook: Simply Scratch : 120 Wholesome Homemade Recipes Made Easy Now available on Amazon »
THANK YOU in advance for your support!