Air Fryer Chipotle Chicken Black Bean Tacos are a mouthful. Literally. Soft corn tortillas are filled with chipotle seasoned ground chicken, black beans and cheese and then air fried until crispy. Topped with a garlicky jalapeño crema, pickled red onions and hot sauce. Serves 8 (2 tacos).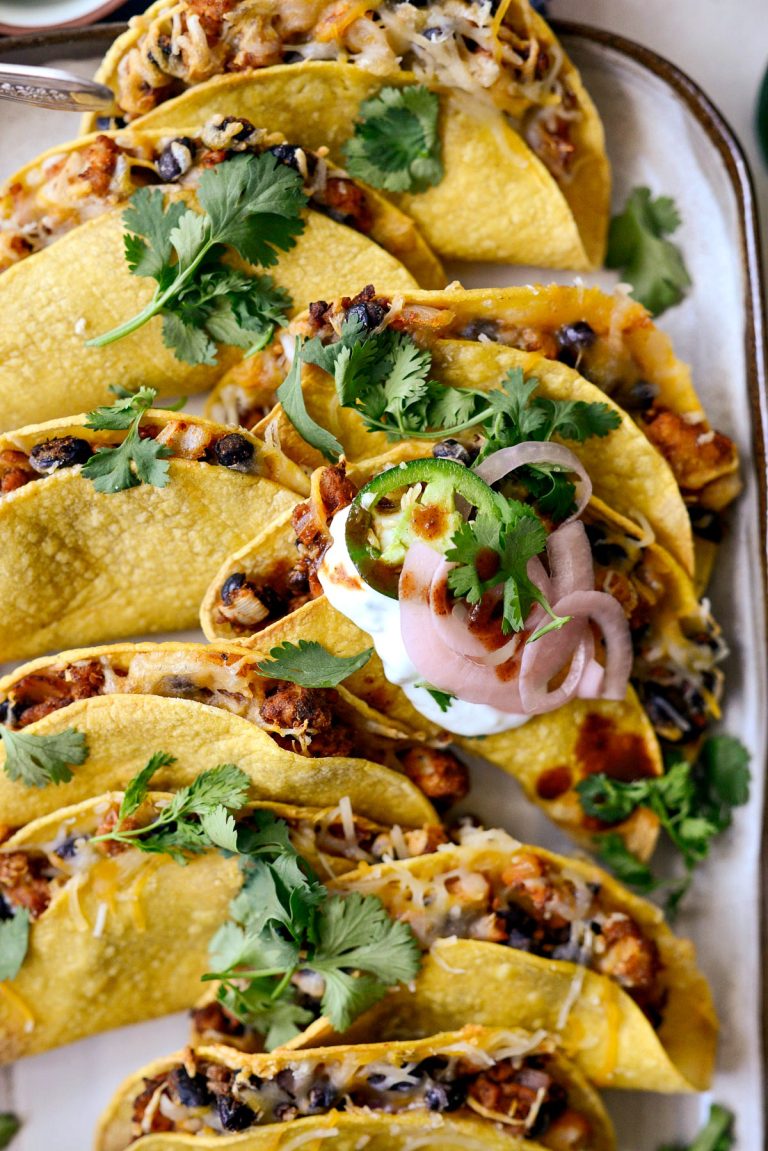 Tacos for your Tuesday!
You guys. Have you made tacos in your air fryer yet? You must! Easy and fun and bonus! the shell won't-slash-shouldn't crack, meaning your filling actually will-slash-mostly stay inside of your taco.
These tacos remind me of my high school years. Back then Pat and I were on a pool league and would order mini tacos from the pool hall kitchen. We'd get a big plate of them and dip them in sour cream and salsa. ohmygoshsogood! Next to fried battered mushrooms and mozzarella cheese sticks, they are a nostalgic favorite!
So I suppose you should think of these as a healthier and full-size version of those appetizer tacos. They're also homemade and most definitely not deep fried – thank you air fryer! These days we dip them into a garlicky jalapeño crema and eat them with a plethora of toppings.
crispy. smoky. cheesy. all of our favorite things!
And just in time for #tacotuesday!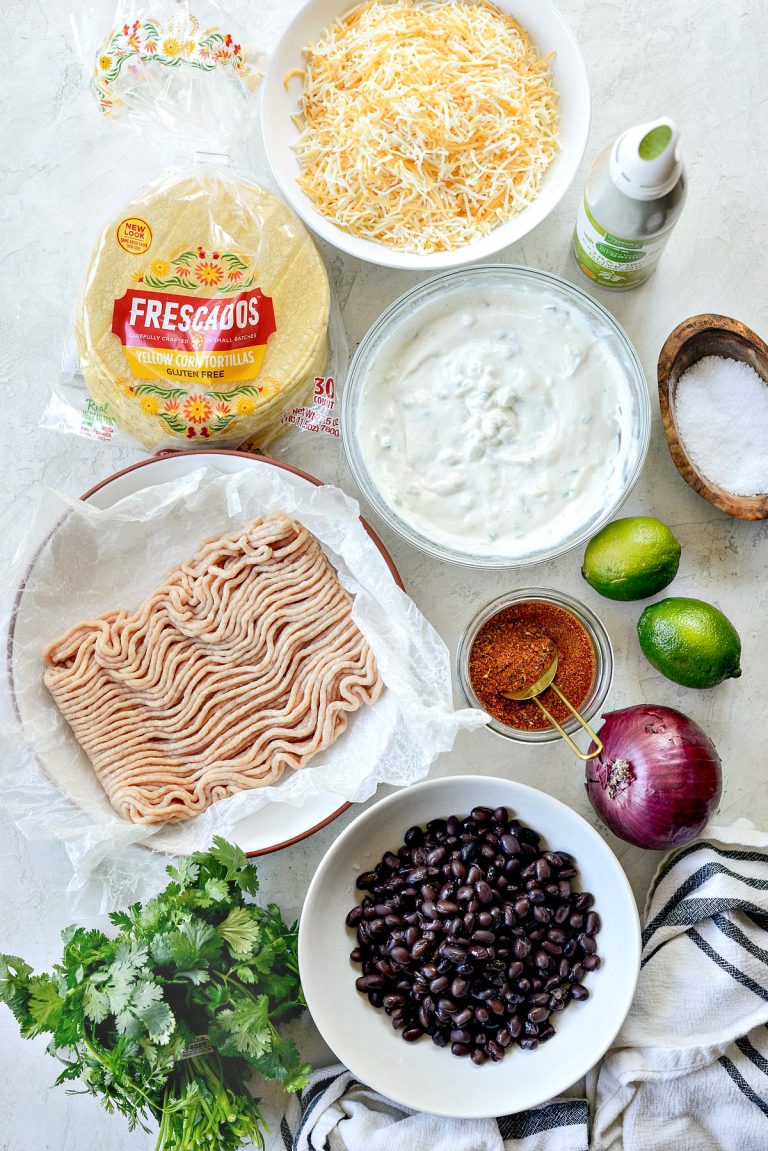 To Make These Air Fryer Chipotle Chicken Black Bean Tacos You Will Need:
olive oil spray
lean ground chicken
red onion
black beans
soft corn tortillas
Mexican shredded cheese blend
jalapeño crema
First things first, make the jalapeño crema. The ingredients are simple; plain non fat greek yogurt, mayo, garlic, jalapeño, lime juice, sugar and salt.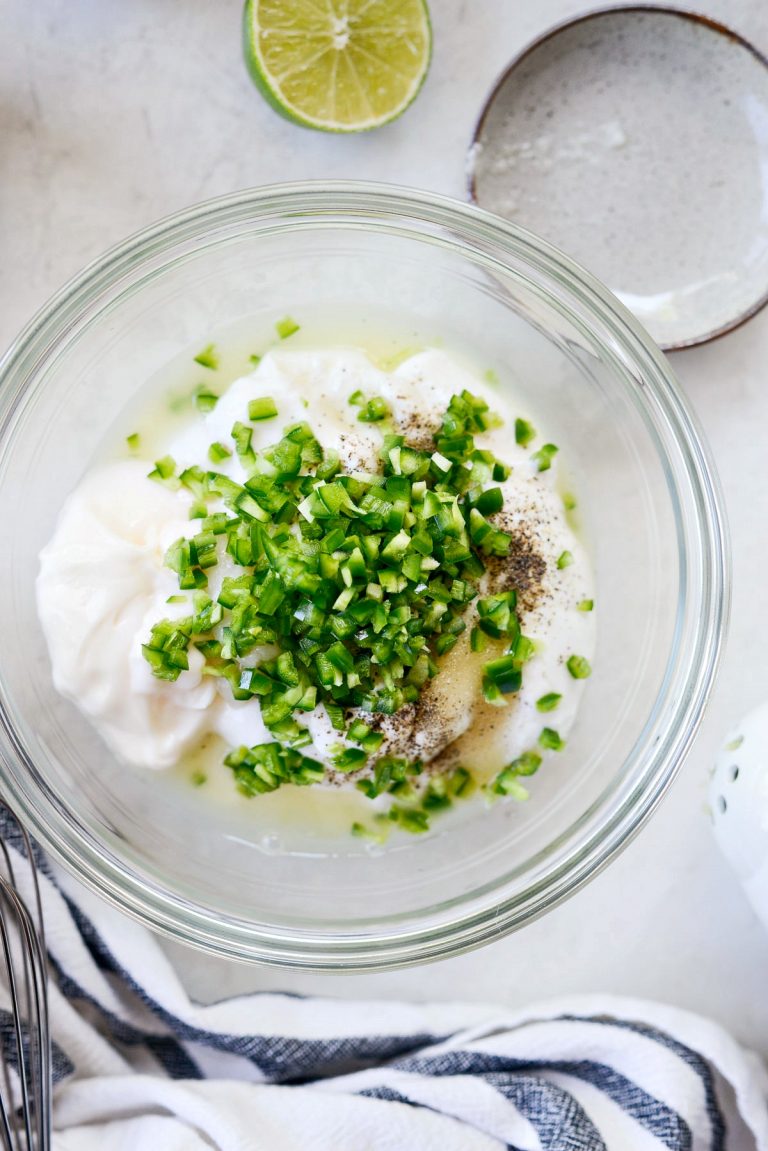 In a mixing bowl, measure and add 1 cup plain nonfat greek yogurt, 2 tablespoons mayonnaise, 1 diced small jalapeño pepper – seeds and ribs removed for less heat (this is optional), 1 to 2 cloves garlic or 1 to 2 teaspoons grated (to taste!), 1/2 teaspoon sugar and season with salt to taste.
Whisk to combine and then cover and refrigerate until ready to serve.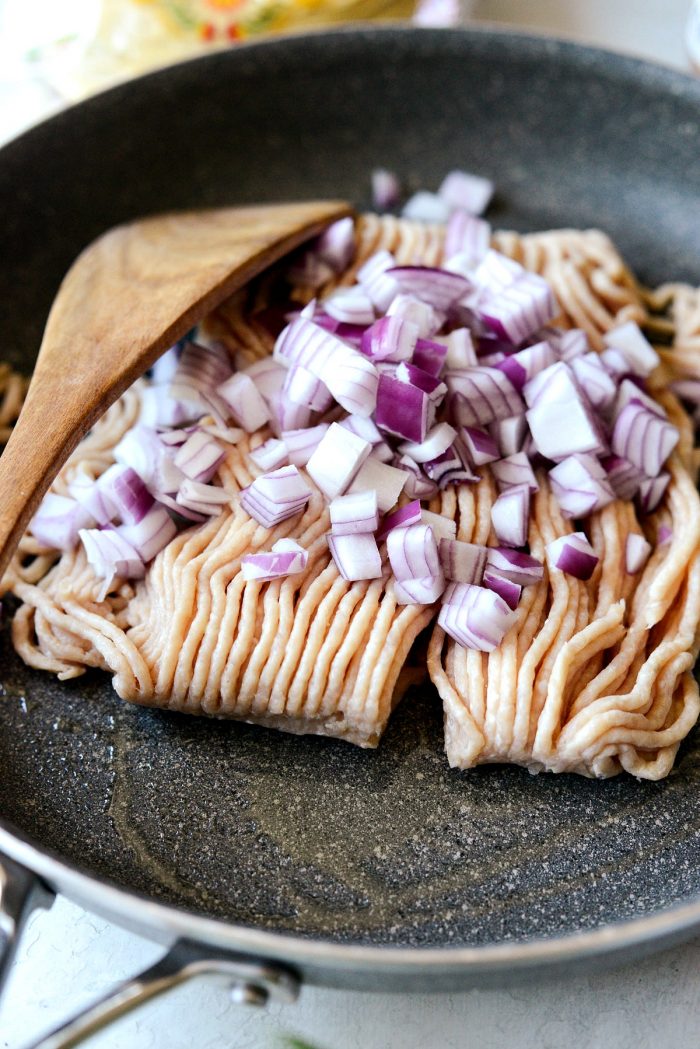 Spray a nonstick skillet lightly with olive oil before adding 1 pound lean ground chicken and add 1/2 of a diced red onion.
Stir and cook over moderate heat, breaking up the chicken into crumbles. Once fully cooked, add in 1 can (rinse and drained) black beans and 2 rounded tablespoons of smoky chipotle seasoning.
Stir well to combine and remove off of the heat.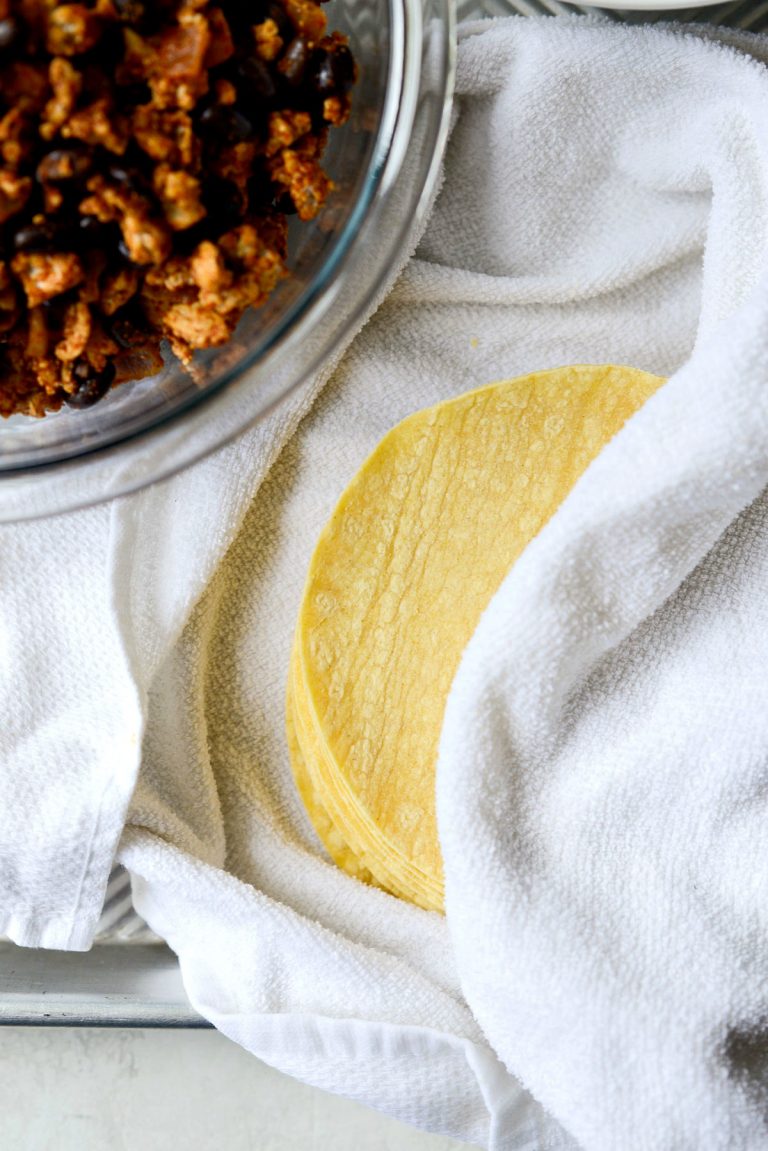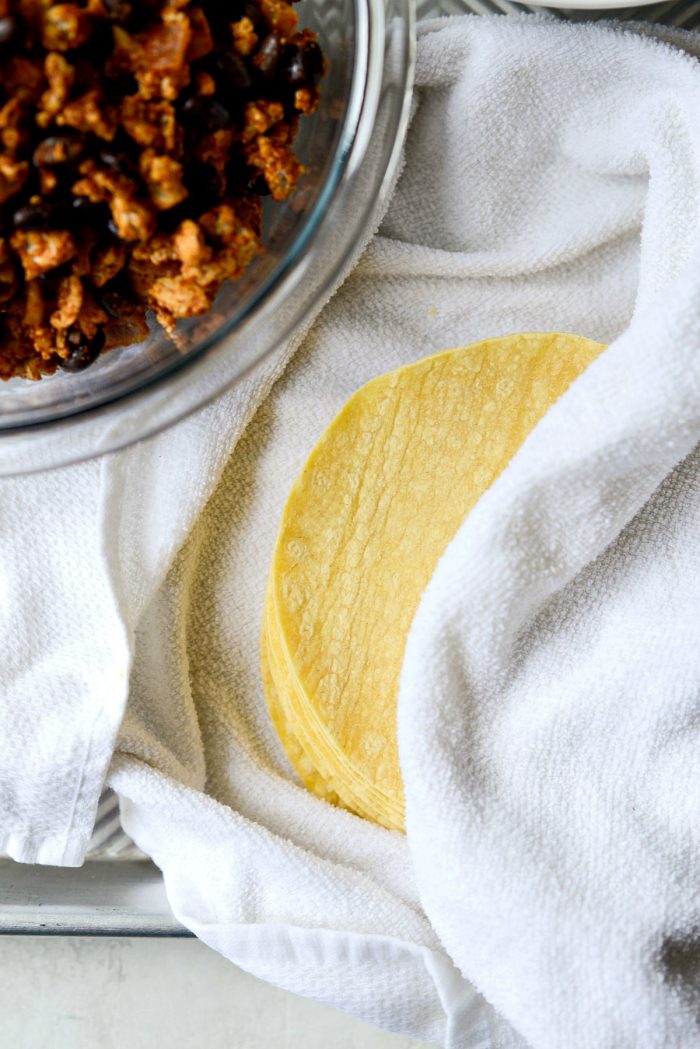 Wrap 16 corn tortillas in a damp kitchen towel. Heat in the microwave for 45 seconds to 1 minute or until pliable. Keep the covered with the towel while working in batches of 3.
Meanwhile, preheat your air fryer to 390 to 400° depending on your make and model.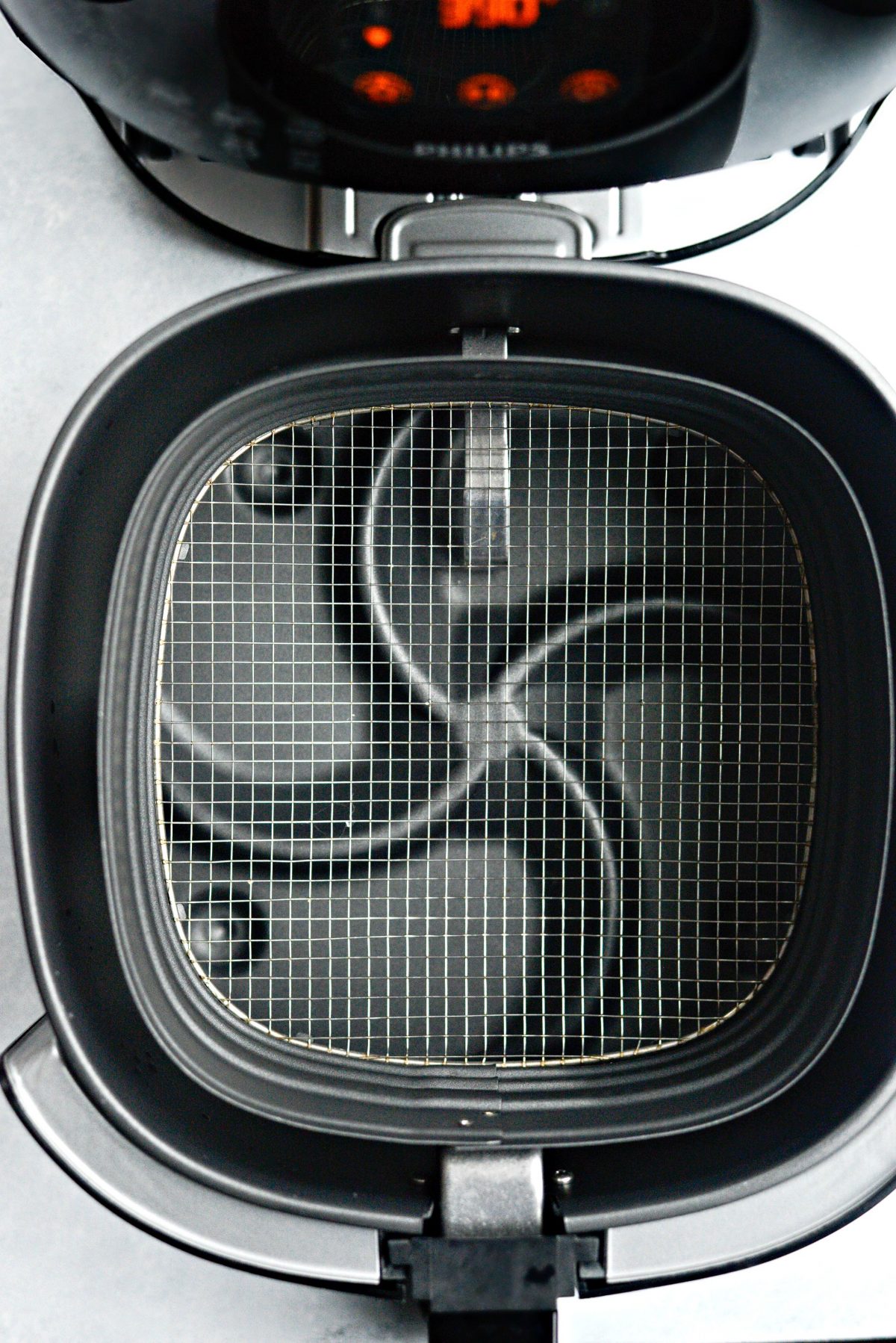 What Is Air Frying?
An air fryer is a counter top appliance that requires less oil (anything from a few spritz to 1 tablespoon) yet produces crispy food that rivals most deep fried foods. By using circulating hot air, it moves at a high speed so the food tends to cook in a fraction of the time.
There are a bunch of different makes and models of air fryers. My husband did the research (as he's known to do) and found this air fryer [affiliate] to be one of the best. But do your research and purchase one that fits your lifestyle.
How is Air Frying Healthier?
Air frying is healthier because only a thin layer of oil coats the food and when the hot air comes in contact it will crisp. Saving you a ton of fat and calories (without sacrificing any flavor!) because food is not being submerged in a vat of hot oil.
Keep in mind, not all air fryers are equal. Some preheat and some do not. Some are smaller than others therefore you may need to work in smaller batches to air fry.
For more Air Fryer recipes, click here for my growing collection.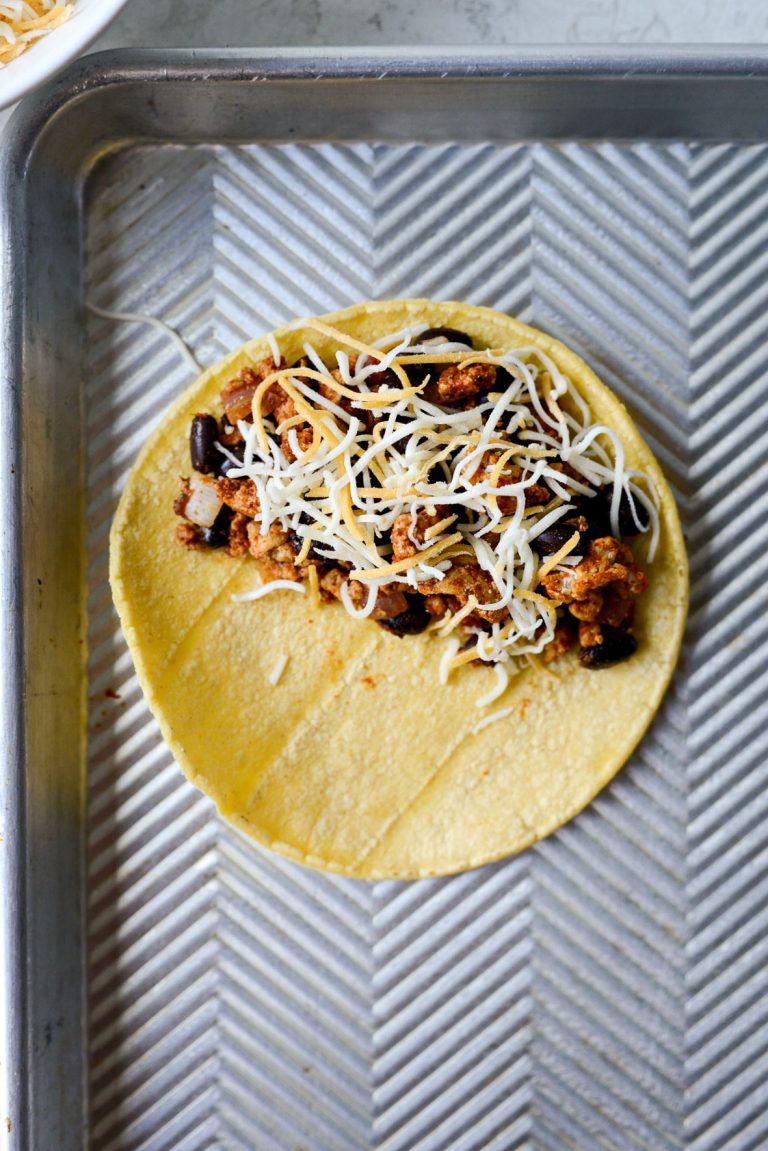 Moving on… grab 3 tortillas, add a few spoonfuls of the smoky chipotle chicken and black beans onto one side of the tortilla and top with a little of the Mexican shredded cheese.
Fold over and lightly spray with olive oil.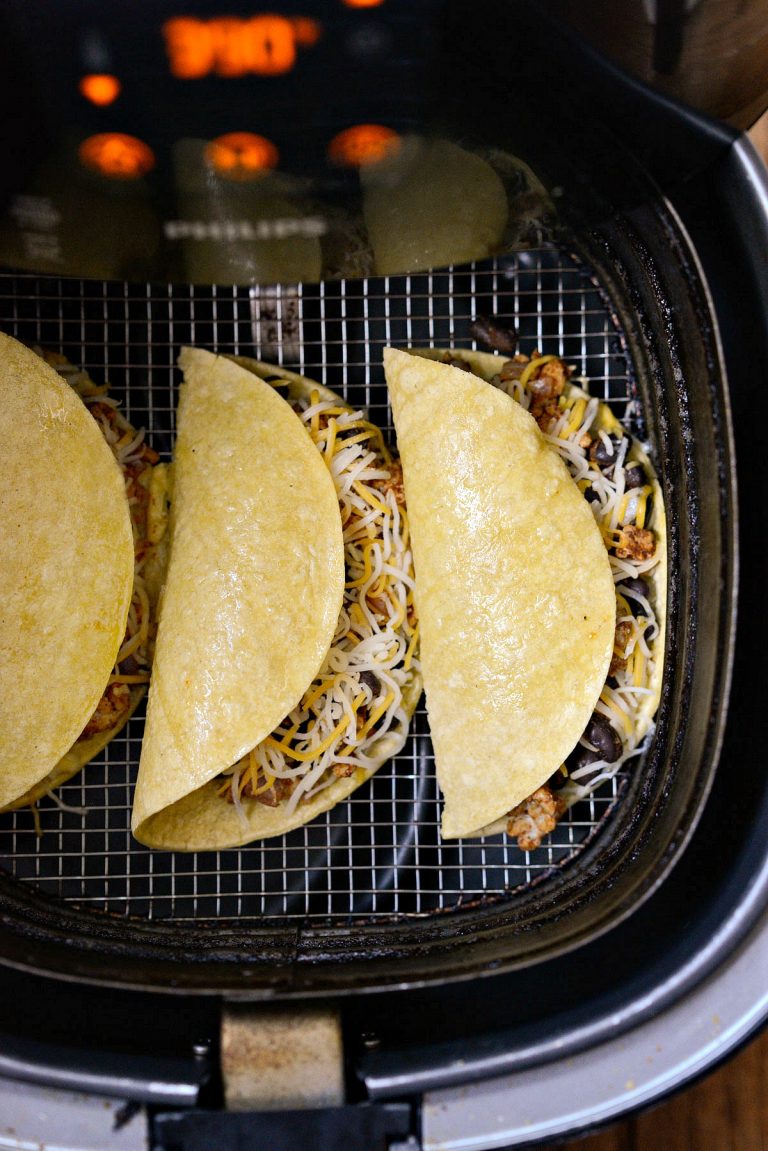 Place the three tacos into your preheated air fryer and air fry for 2 minutes. Check and pressing down on the top of the tortilla (if not sticking already) so it can stick to the cheese and stay closed. Close and continue cooking for an additional 3 to 4 minutes or until crispy.
Remove and serve immediately or transfer to a rimmed metal baking sheet to keep warm in a low 200° oven while repeating with remaining taco shells and filling.
I personally do not make these all at once before air frying. I work in batches because I worry the shells will dry out and crack while waiting to be air fried. However you can totally take the risk if you choose to.
Serve sprinkled with cilantro and any other topping you would like.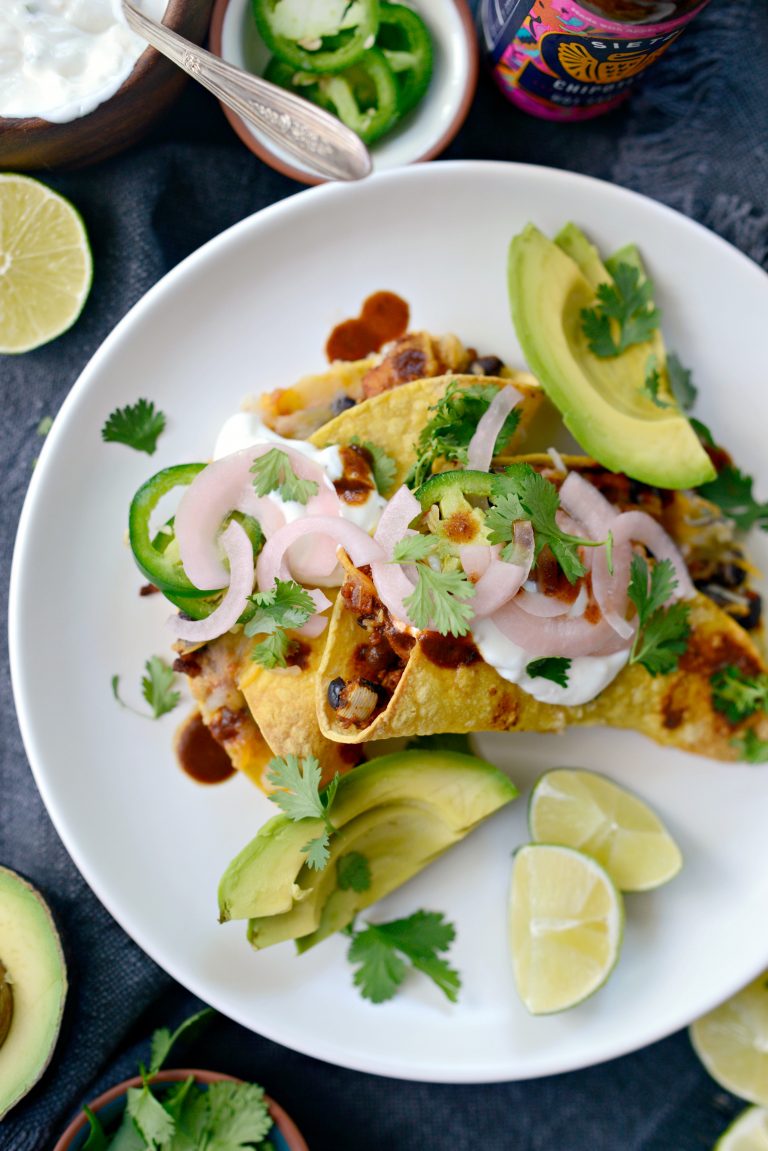 Some toppings we really enjoy are:
cilantro
avocado
extra sliced fresh jalapeños
pickled red onion
hot sauce (we like Siete's chipotle hot sauce)
jalapeño crema
Eat with your hands or with a fork. Just be sure to dip it in that jalapeño crema because the smokiness of the taco with the cool creaminess and fresh jalapeños is aaamaaazzziiinnngg! And because there are simply no rules when it comes to tacos!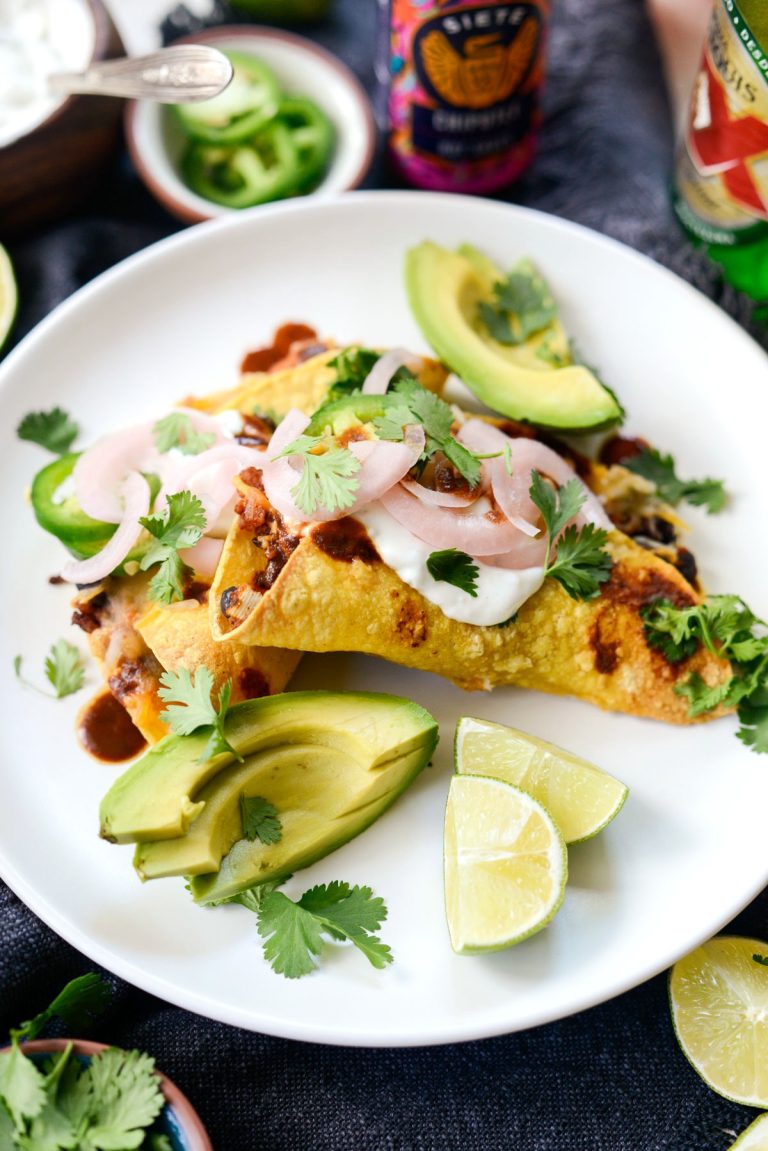 Enjoy! And if you give this Air Fryer Chipotle Chicken Black Bean Tacos recipe a try, let me know! Snap a photo and tag me on twitter or instagram!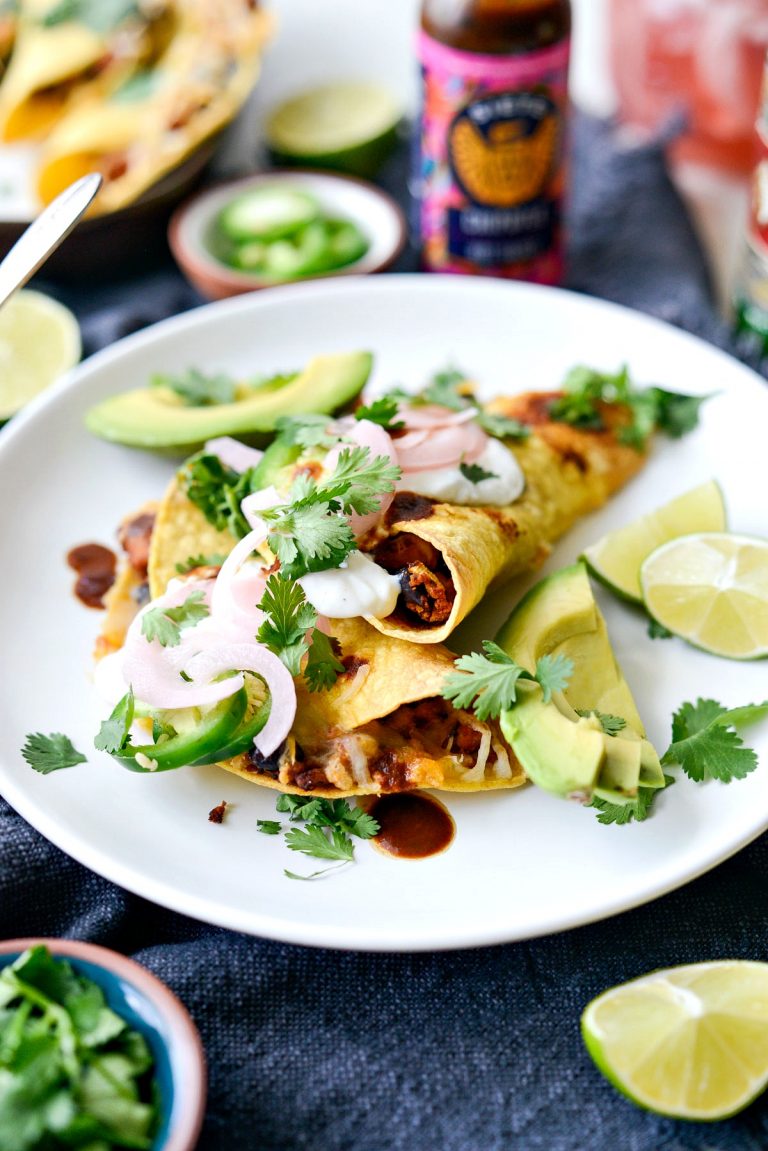 This post may contain affiliate links.
Buy the Cookbook: Simply Scratch : 120 Wholesome Homemade Recipes Made Easy Now available on Amazon »
THANK YOU in advance for your support!