Crispy and delicious, these Air Fryer Beer Battered Onion Rings are simple to whip up for when you're feeling snacky! Sweet onions are dredge and then dipped in a simple beer batter and breadcrumbs. The air fryer crisps these up beautifully in minutes.
Onion rings. One of the most beloved bar foods ever! Err at least they are to me because, set a basket down infront of me and I literally see rays of sunshine beaming from the glistening freshly-fried batter. No. Joke. Onion rings are better than (yes!) French fries or potato chips. And crispy beer battered onion rings are legit, I tell you. However, extremely deep fried ->insert sad face<- and also my kryptonite.
Unless of course you air fry! Bless the person who invented the air fryer, amiright?! Because now we all can indulge and feel a little less guilty. And, for the record, I felt nothing when I devoured these crispy golden halos. Not. A. Thing. #guiltless
Lucky for you, I'm giving you 2 (T-W-O!) ways to make them in the air fryer. Crispy and EXTRA CRISPY. Because why not. And also because people like different levels of crisp. Look at it like a choose your own adventure sort of thing.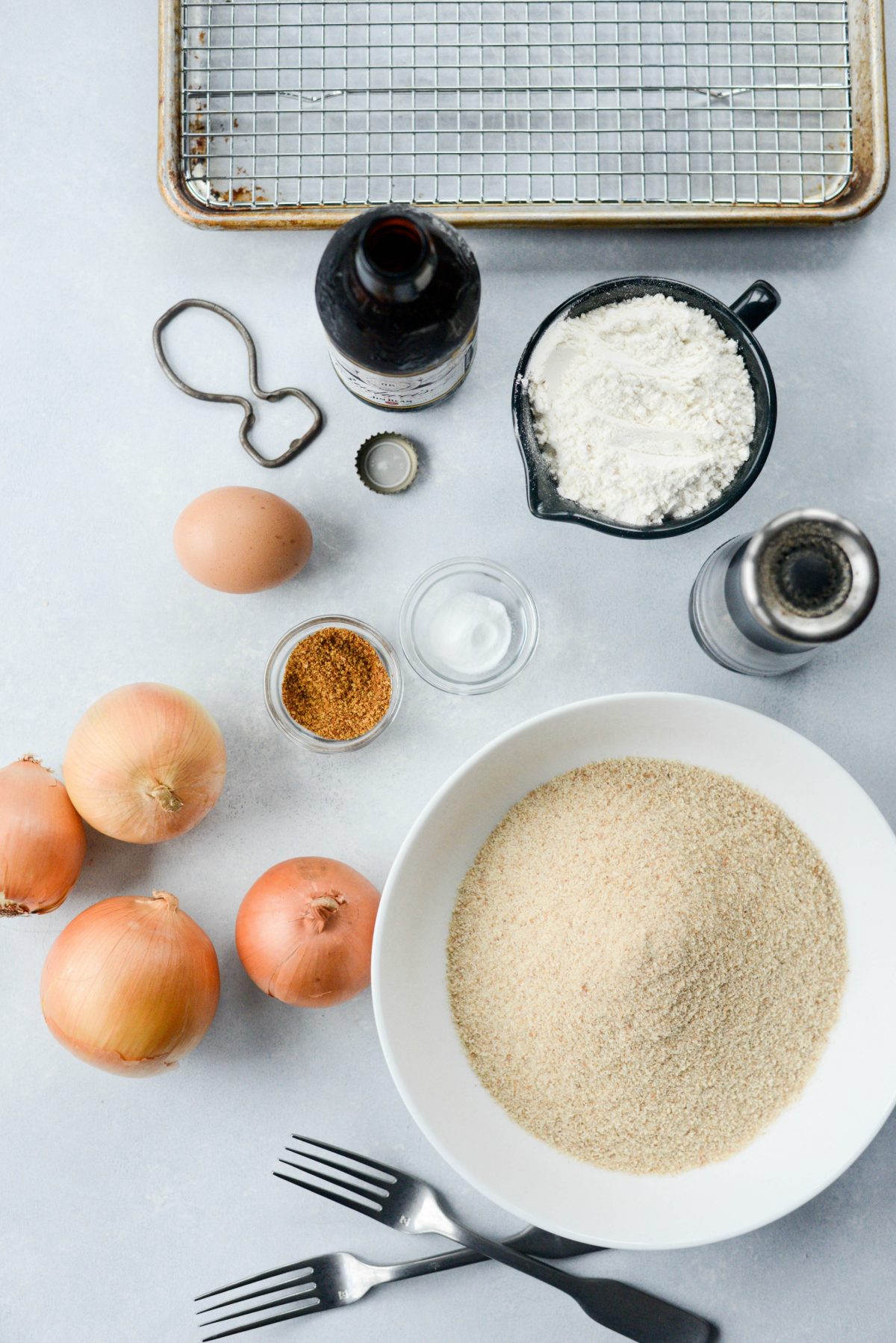 To Make These Beer Battered Onion Rings You Will Need:
onions
1 cup unbleached all-purpose flour
a tablespoon season salt
3/4 teaspoon baking soda
1/2 teaspoon freshly ground black pepper
an egg – beaten
8 ounces beer ( I use lager)
2 cups plain breadcrumbs
olive oil spray
sea salt (for seasoning after air frying)
Do yourself a favor and hunt down some vidalia onions. In a pinch, sweet onions work (see above photo) but vidalias are the absolute best.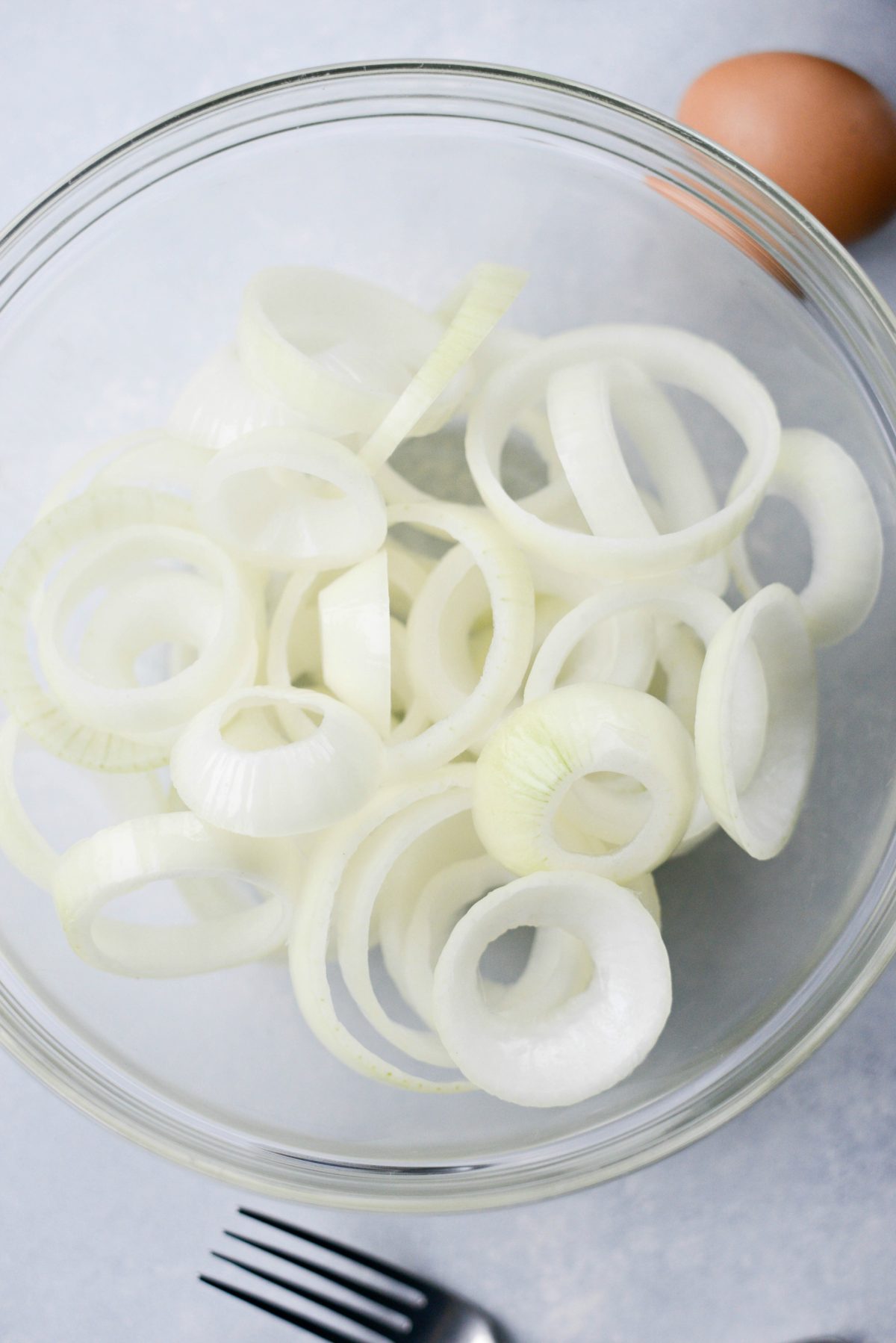 FOR CRISPY ONION RINGS:
First, peel and slice your onions into 1/2-inch to 3/4-inch slices. Then separate them into rings.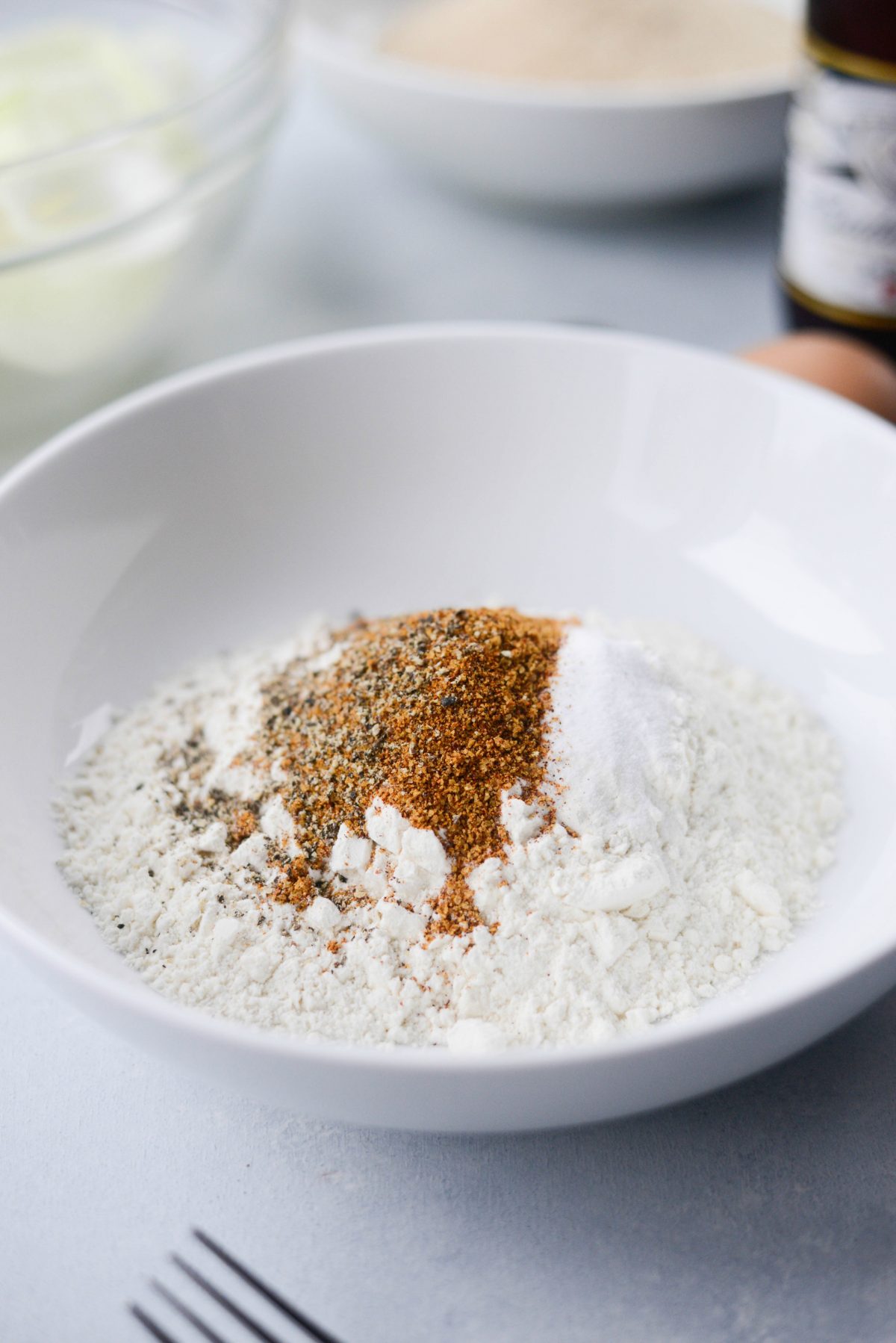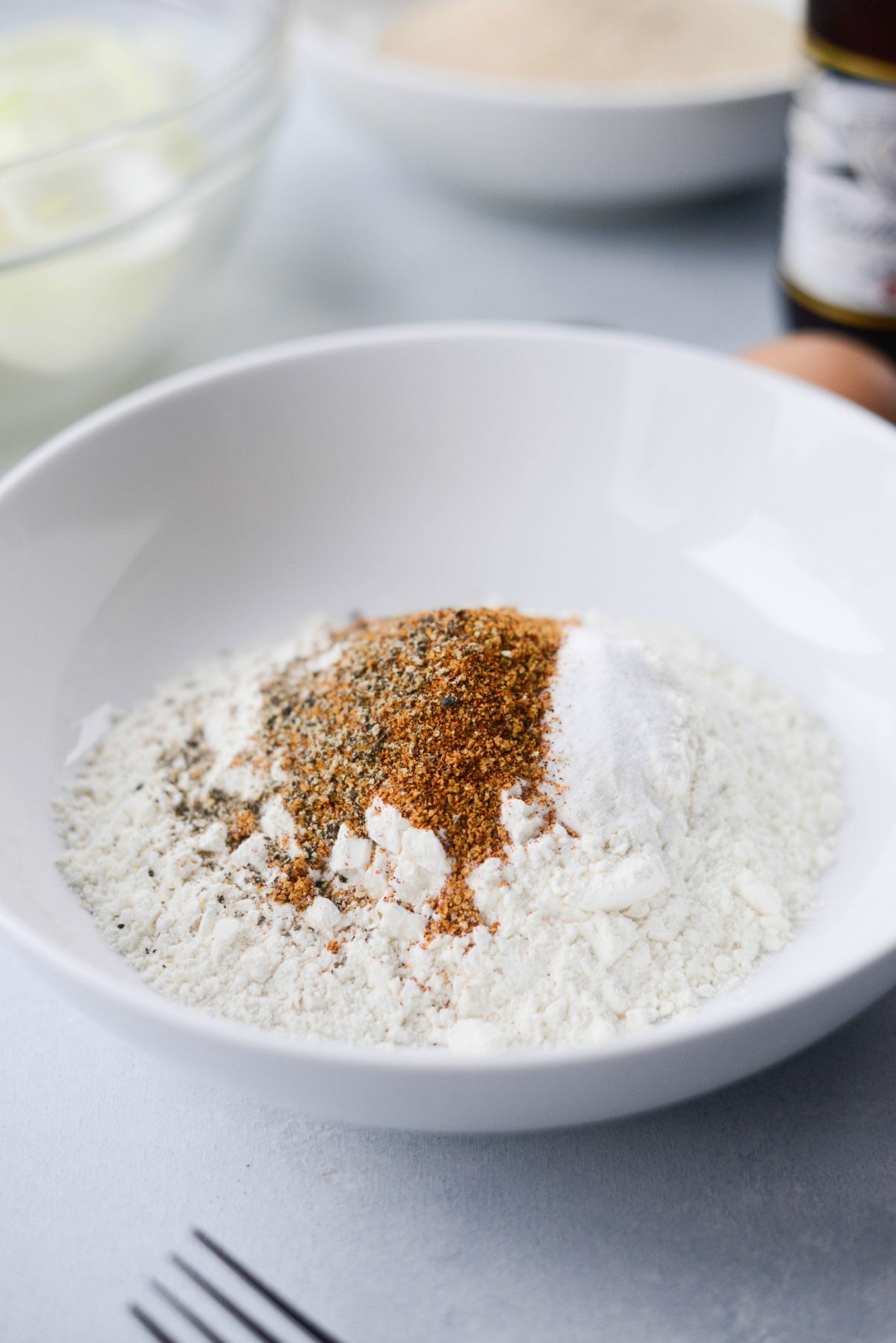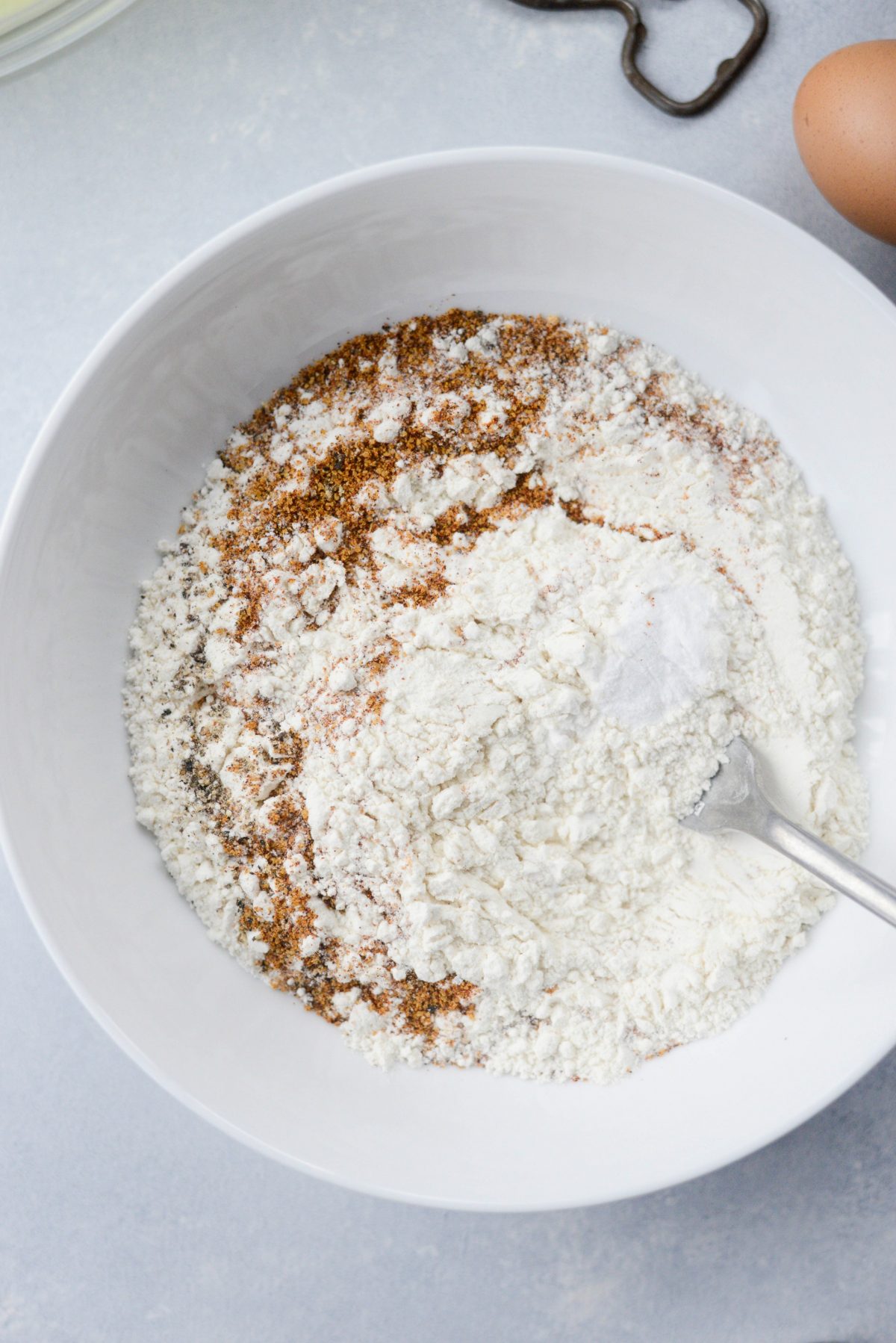 In a shallow bowl, combine the 1 cup of flour with 1 tablespoon seasoning salt, 3/4 teaspoon baking soda and 1/2 teaspoon freshly ground black pepper.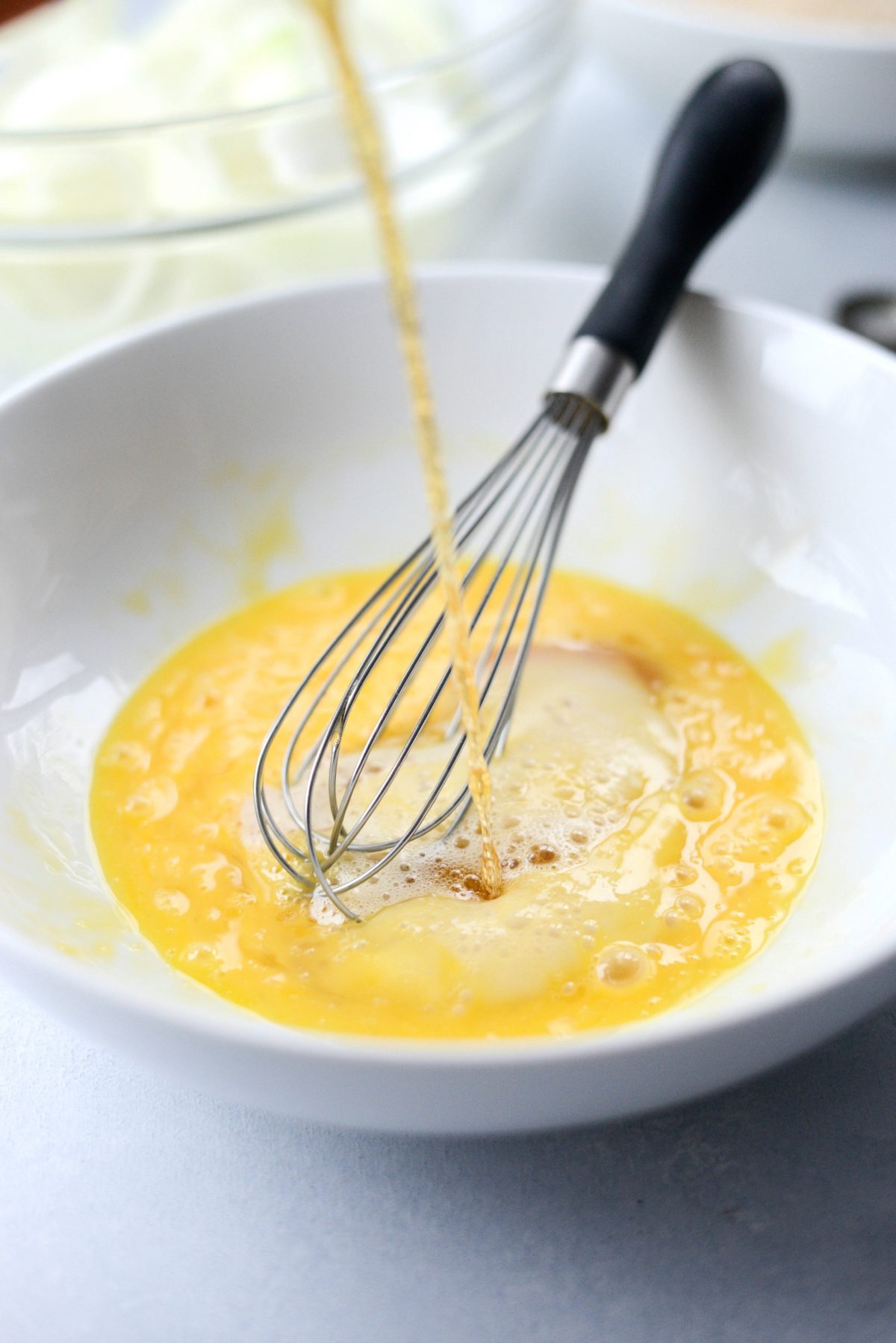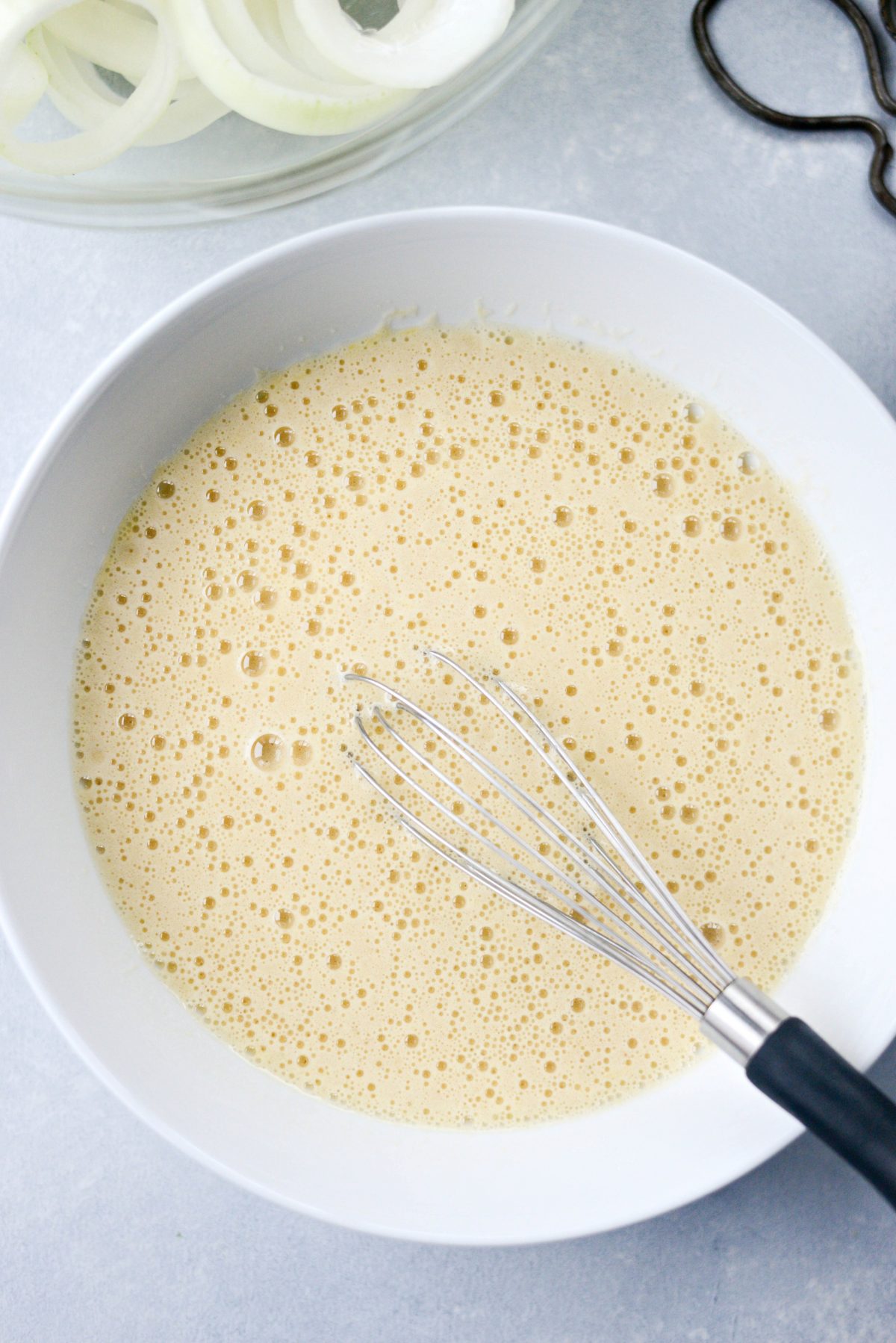 Then, in a shallow bowl, whisk together the cup of beer with the beaten egg.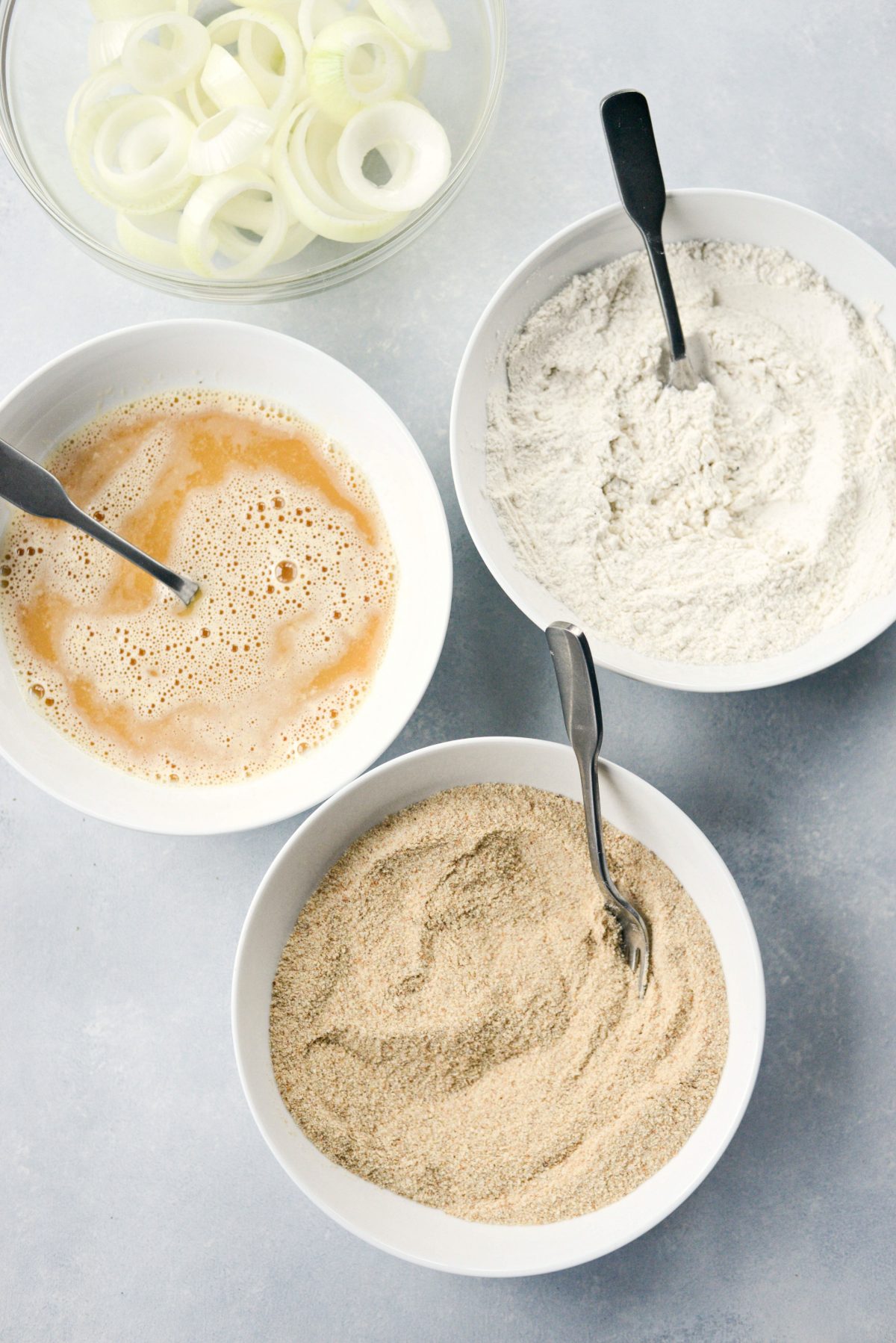 Lastly, set up your work station. 1 bowl with the oinions, another with the seasoned flour, one with the beer batter and another bowl with the plain bread crumbs.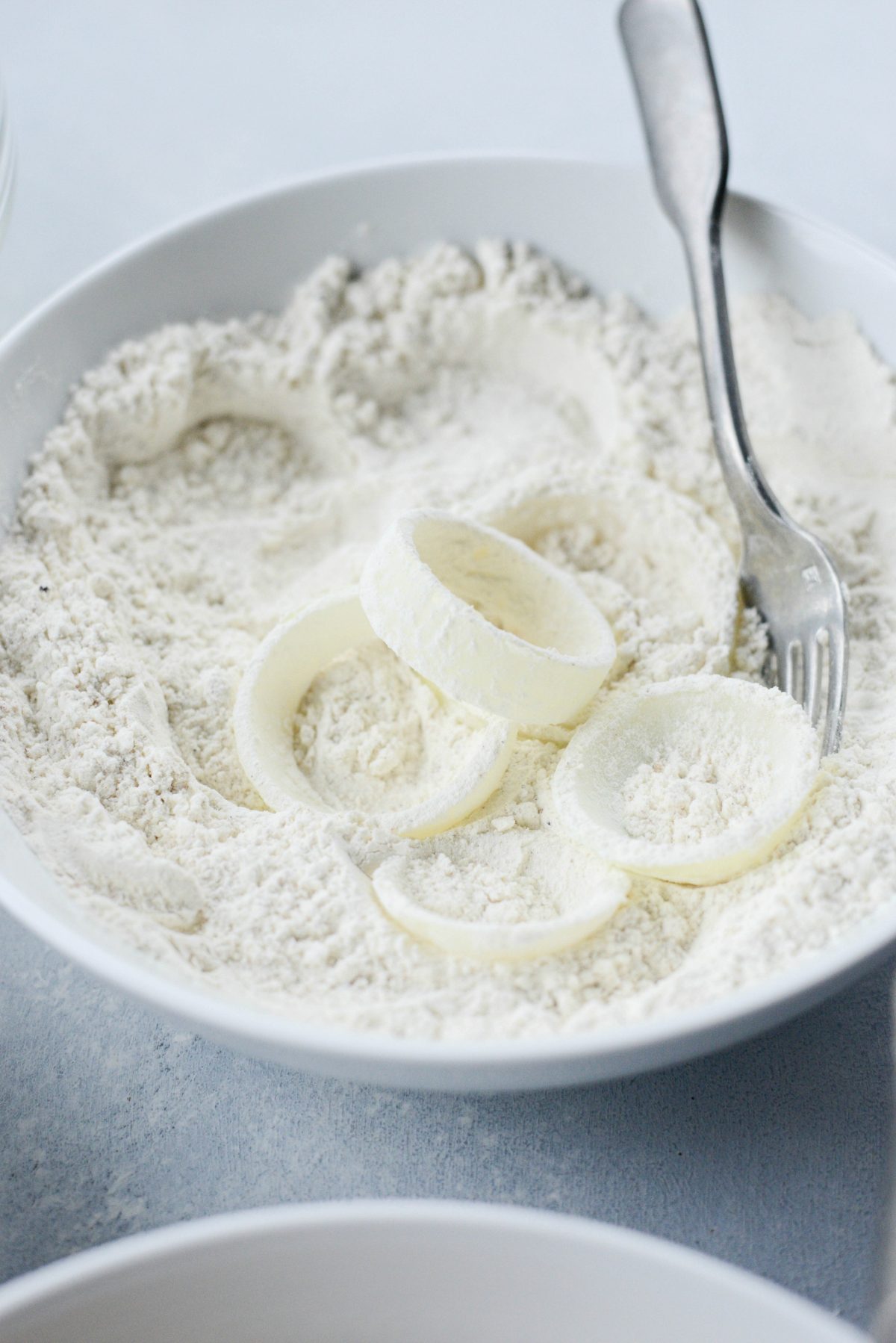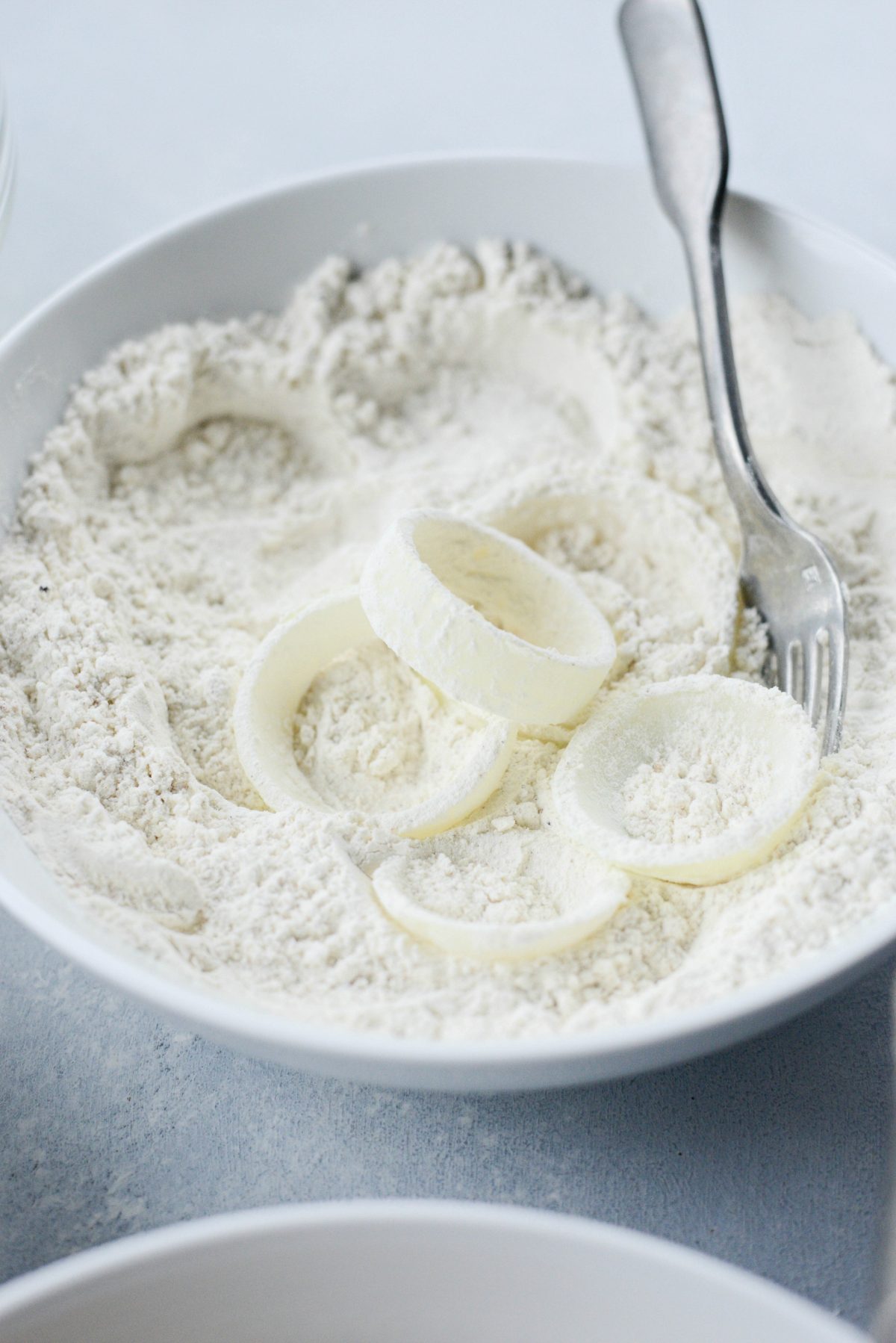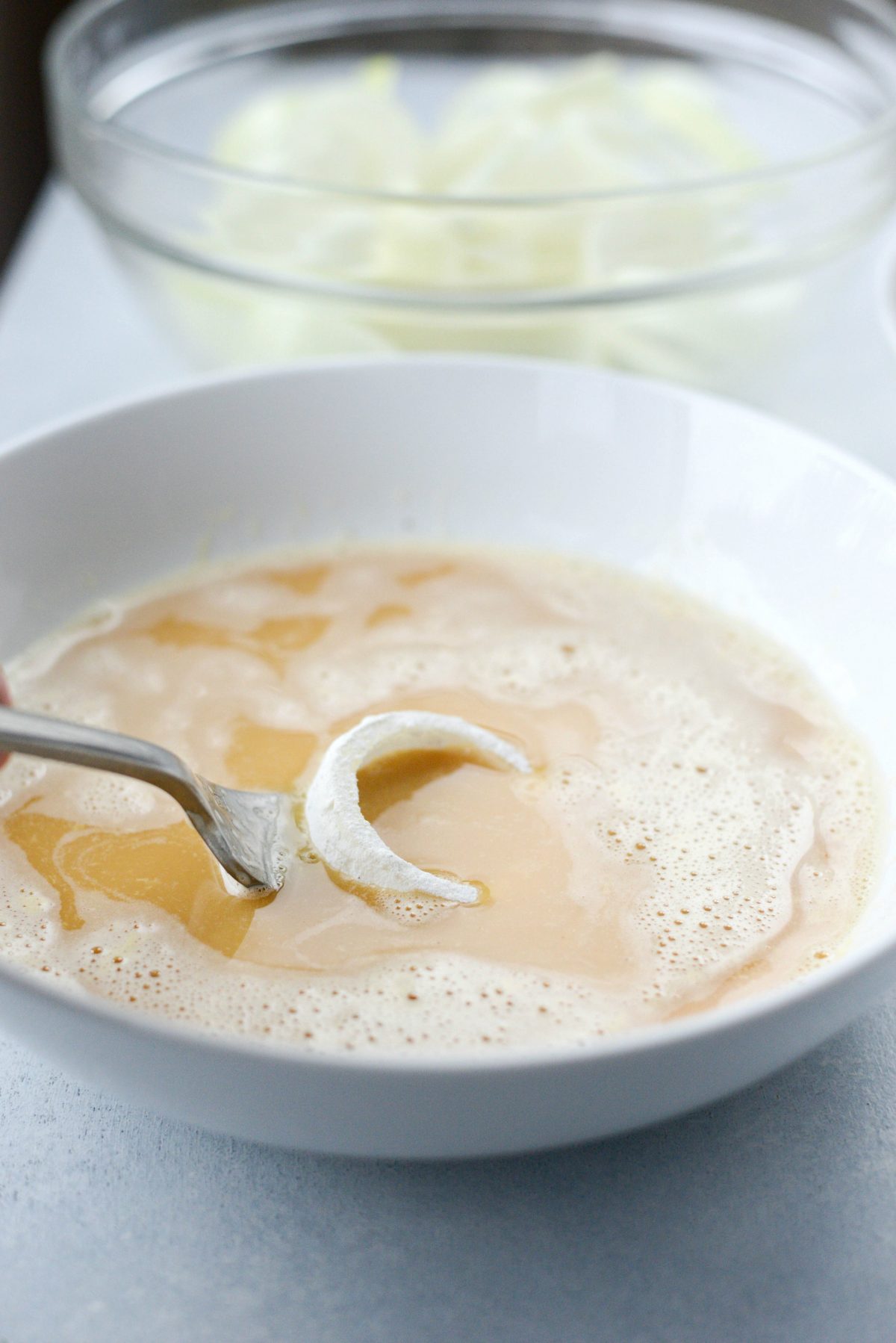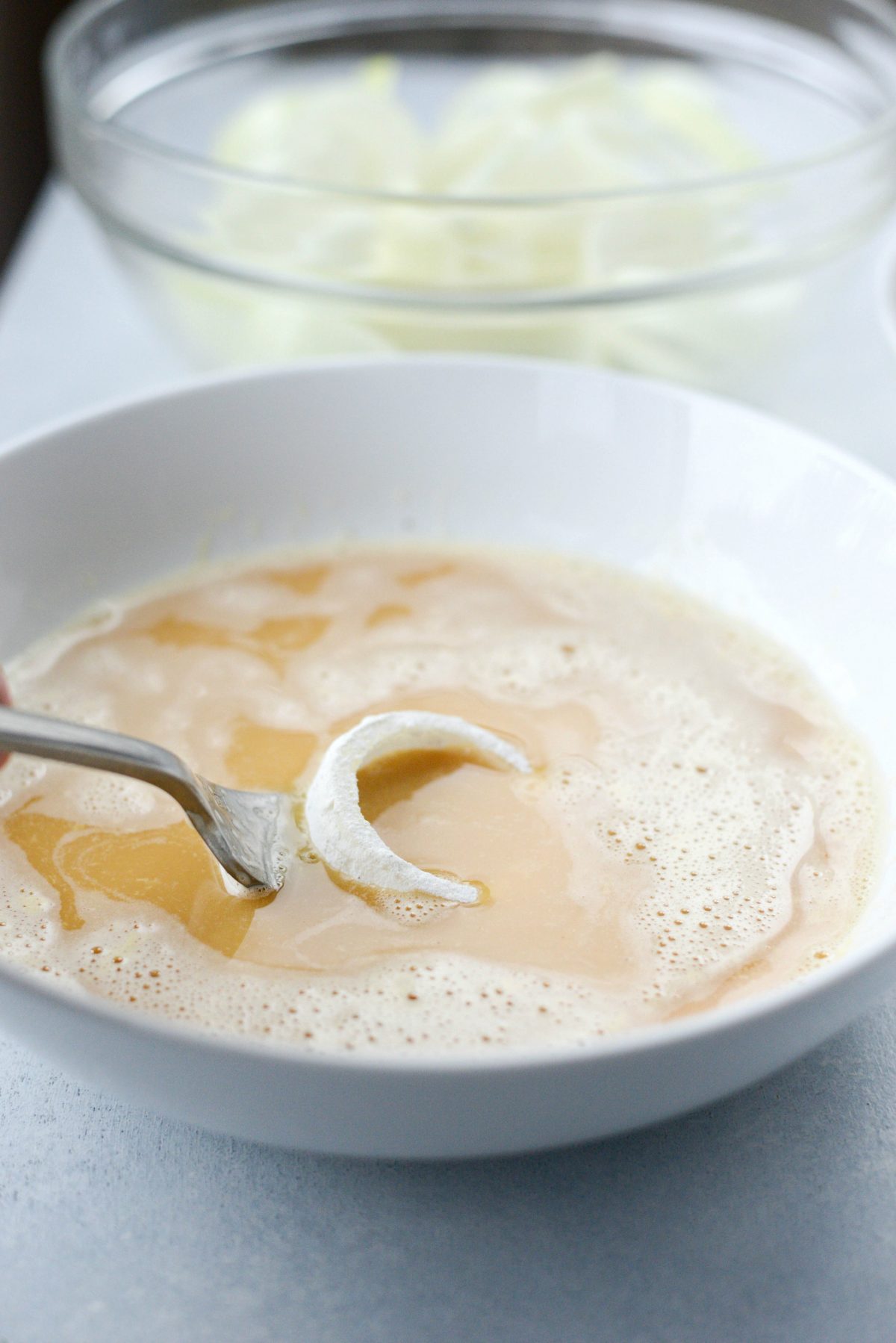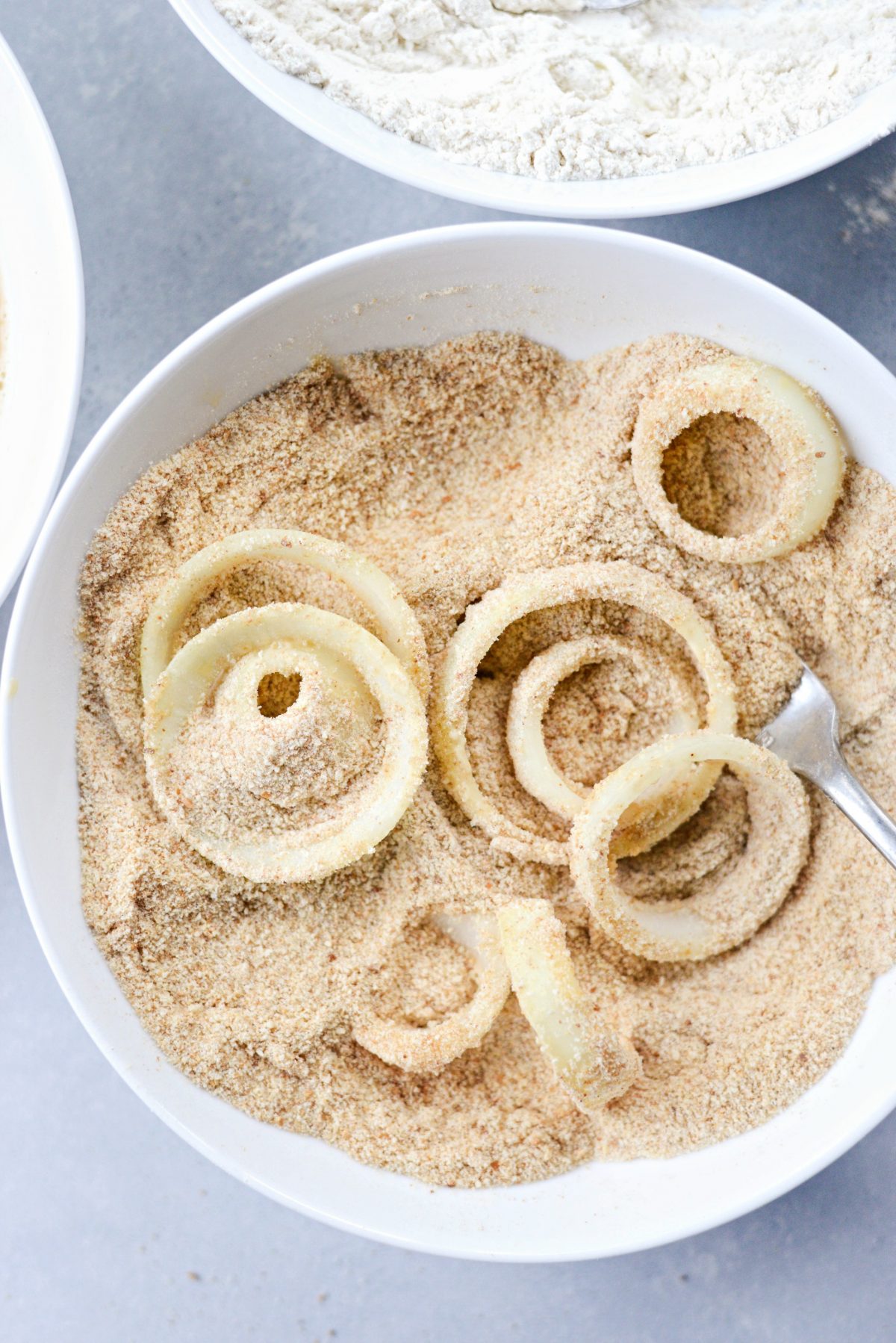 Next add the a few onion rings to the flour mixture and toss to coat. Then transfer, one ring at a time, to the beer/egg mixture and quickly toss to coat. Next transfer to the bread crumbs and then toss to combine.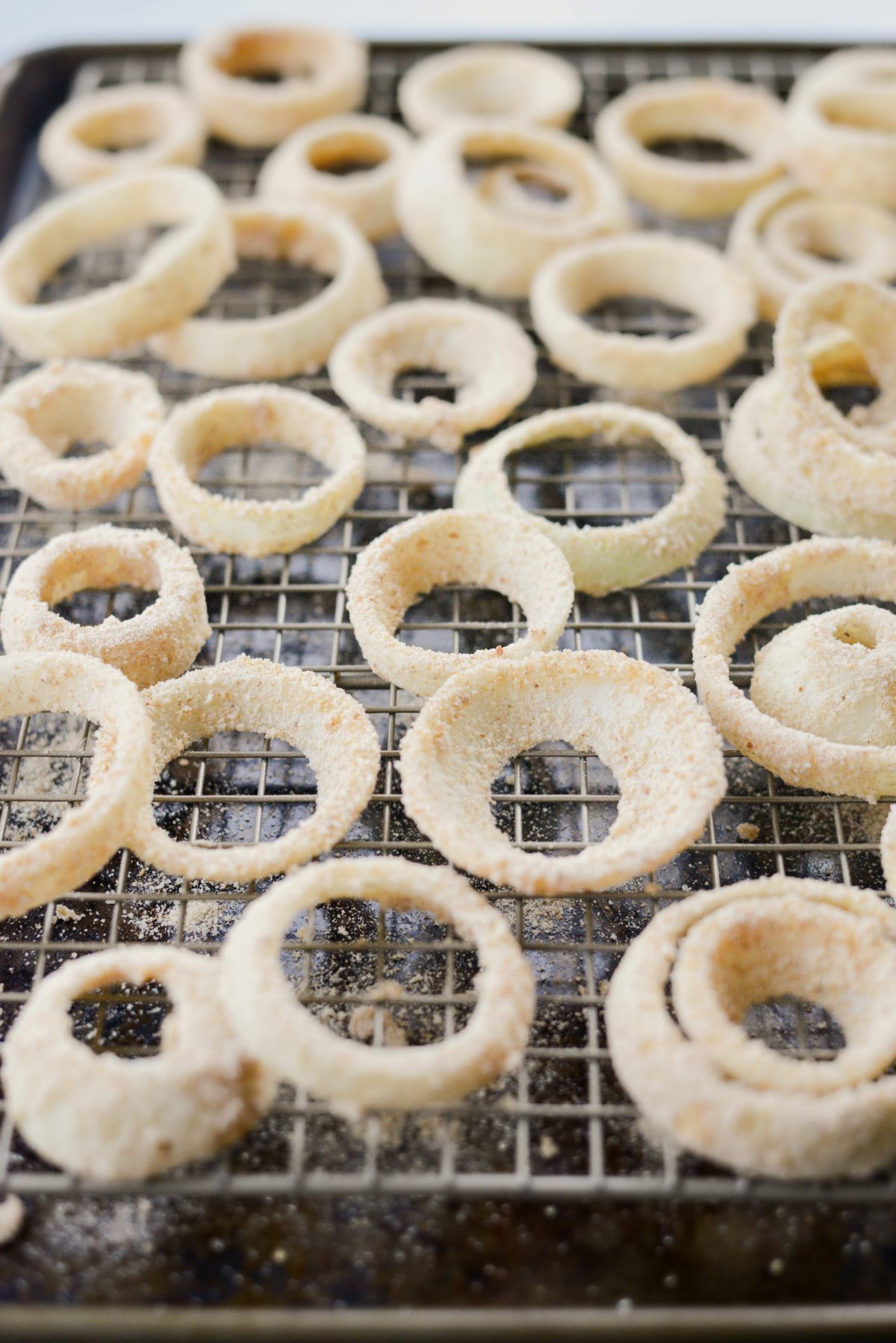 As you work, place the battered onion rings onto a wire rack set over a rimmed metal baking sheet.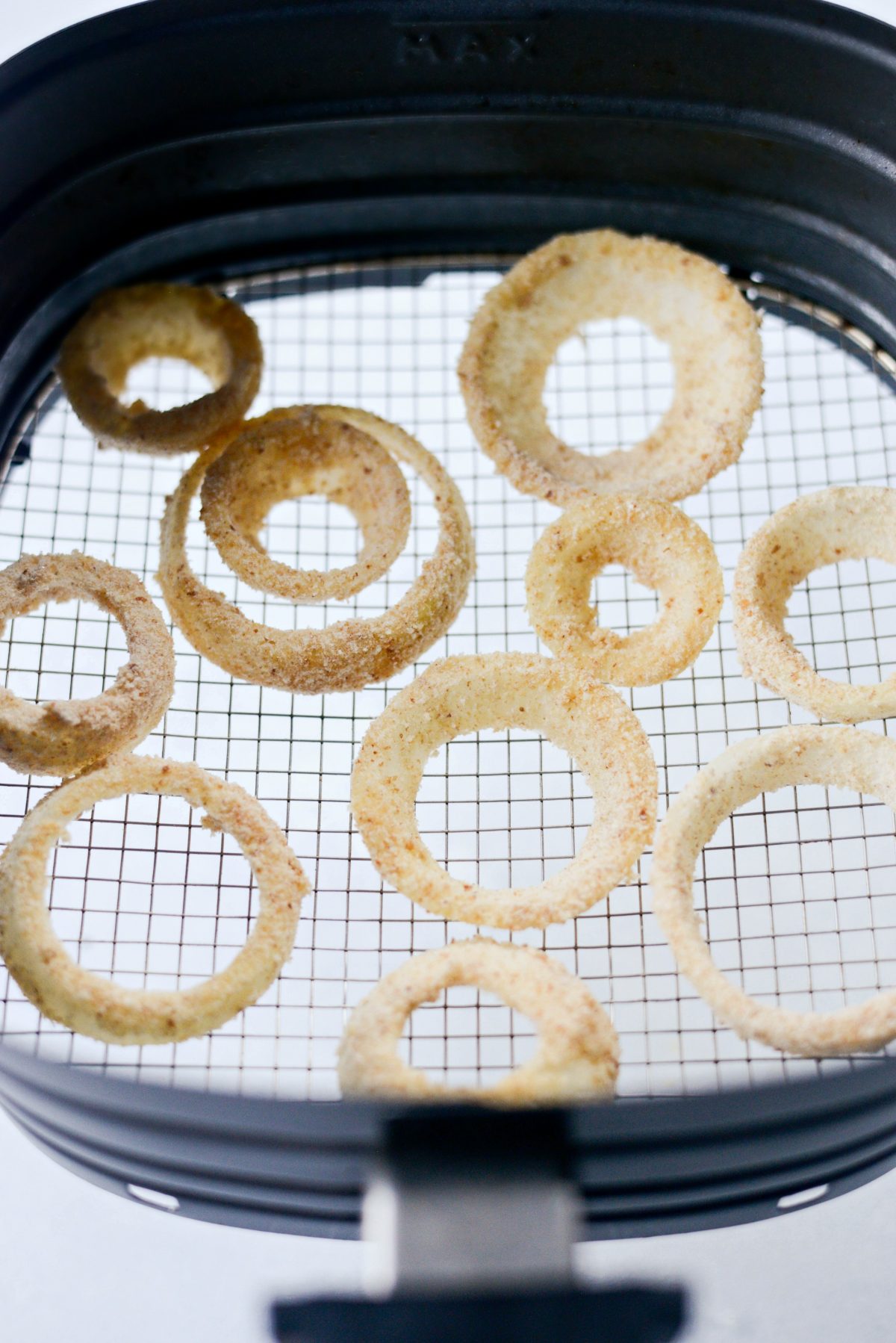 Preheat your air fryer to 360°. Lightly mist the battered onion rings with olive oil spray. Work in batches, air frying the beer battered onion rings for 5 to 6 minutes. Or until lightly golden brown and crispy.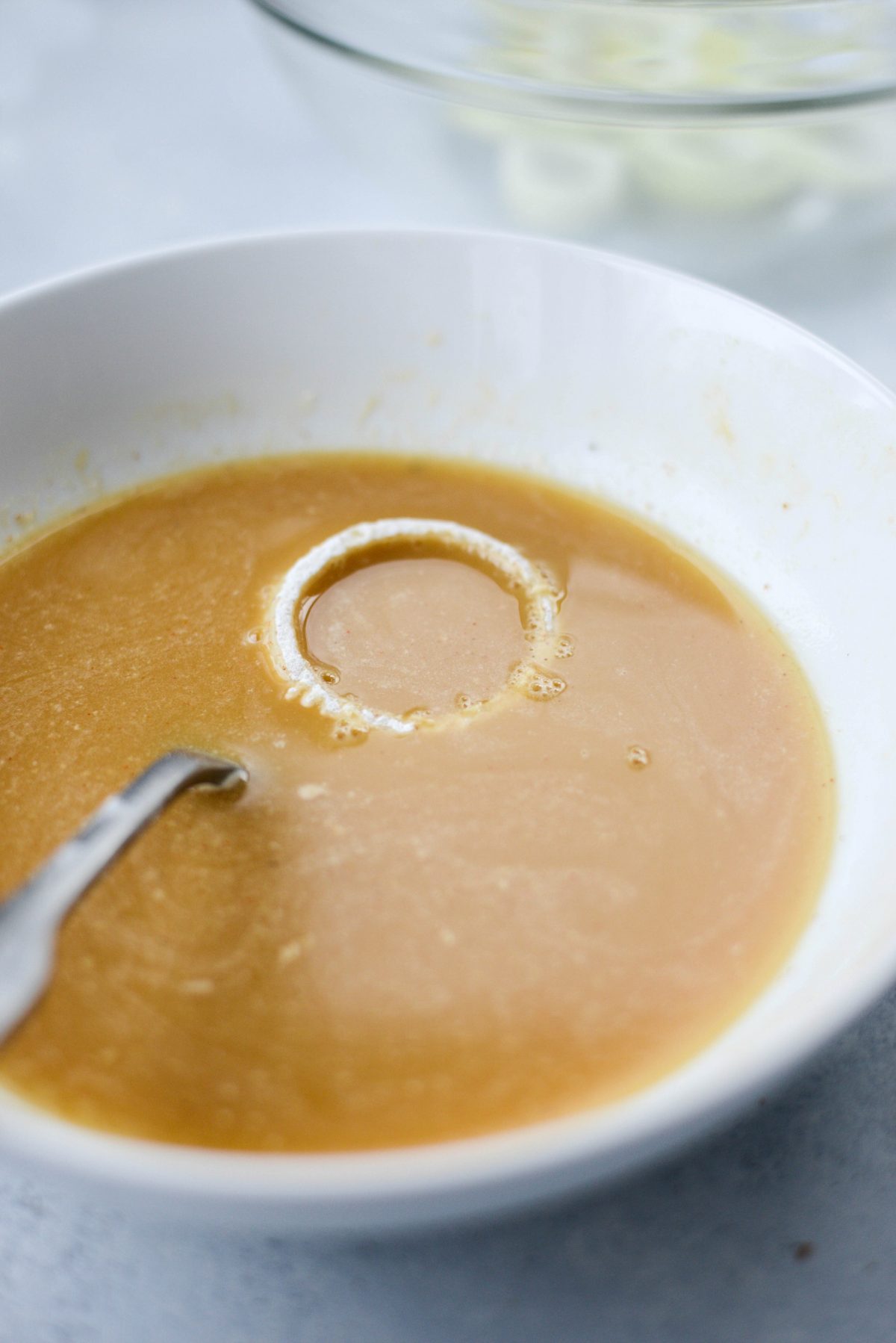 FOR THE EXTRA CRISPY ONION RINGS:
To make the onion rings "extra crispy" you simply batter the onions twice. First, coat the onion slices in flour and then dip in the egg mixture.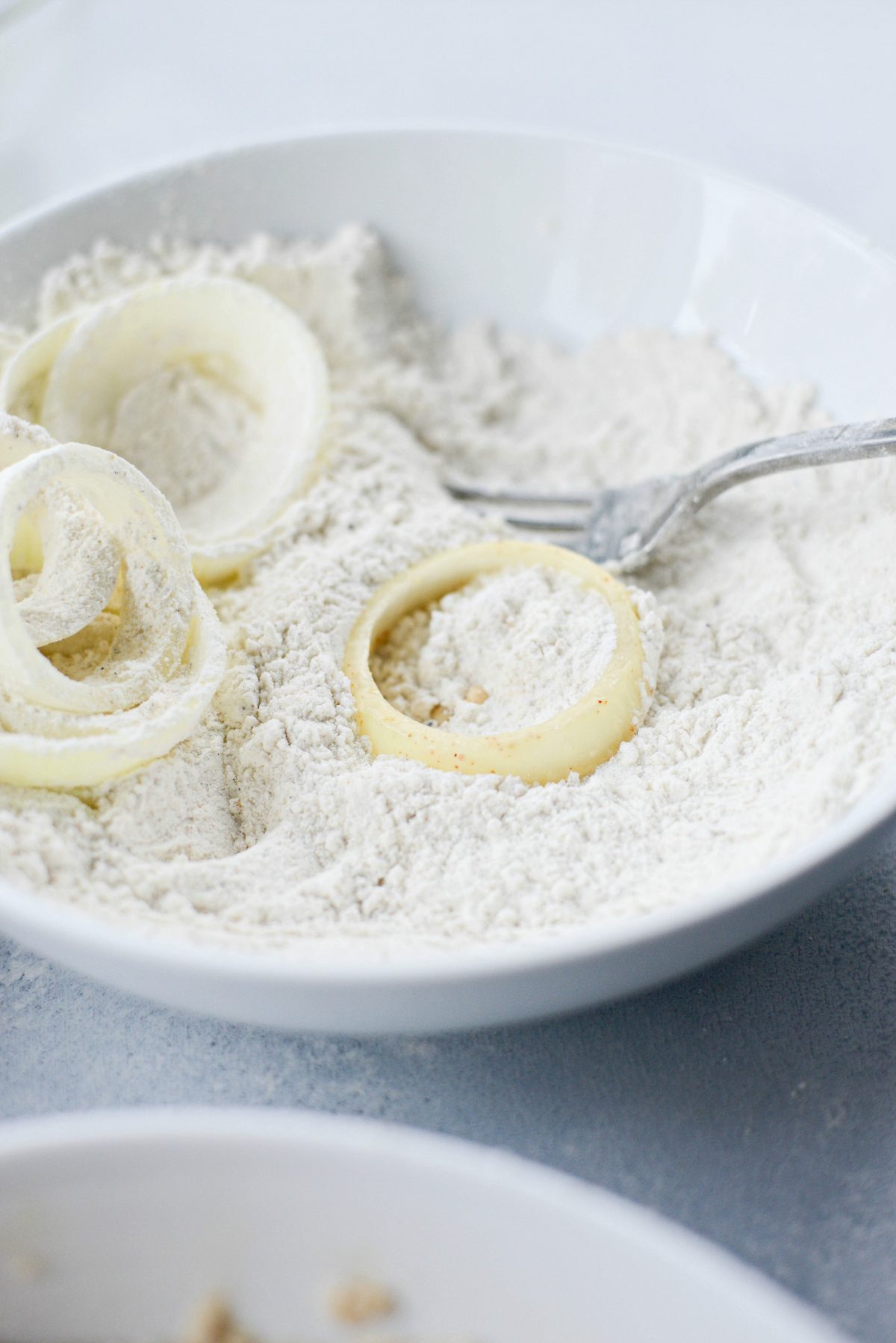 Next dip back in the flour mixture and then again the egg mixture before dredging the onion rings in the breadcrumbs.
You see what I did there, right? You dip: flour, egg, flour again, egg again and then breadcrumbs. Okay, just making sure. Doing this yields a thicker coating yielding in a crispier onion ring.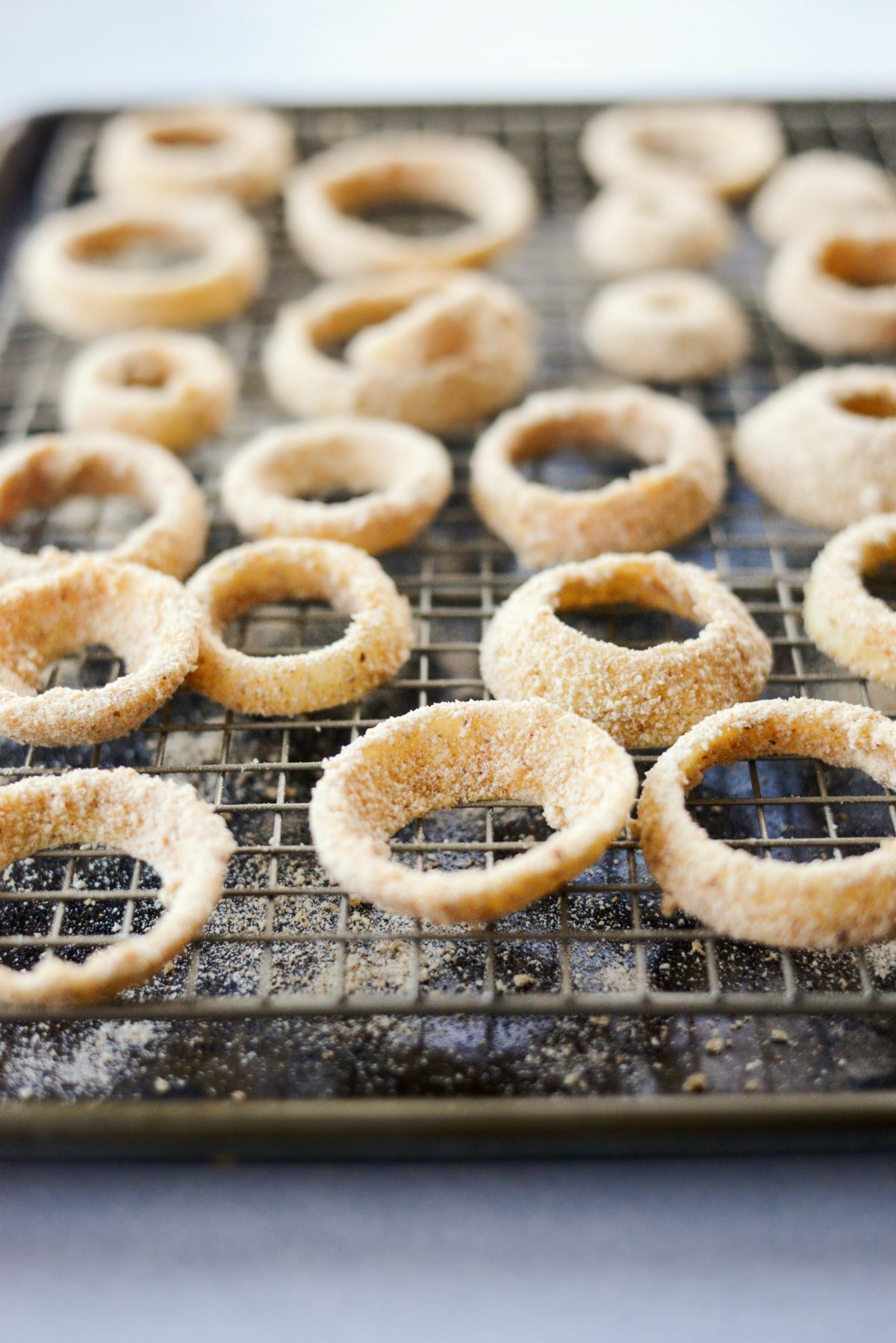 As you work, you'll want to place the battered onion rings on a wire rack. Next, mist the onion rings with olive oil spray and air fry the "extra crispy" onion rings at 360° for 6 to 8 minutes or until gloriously golden.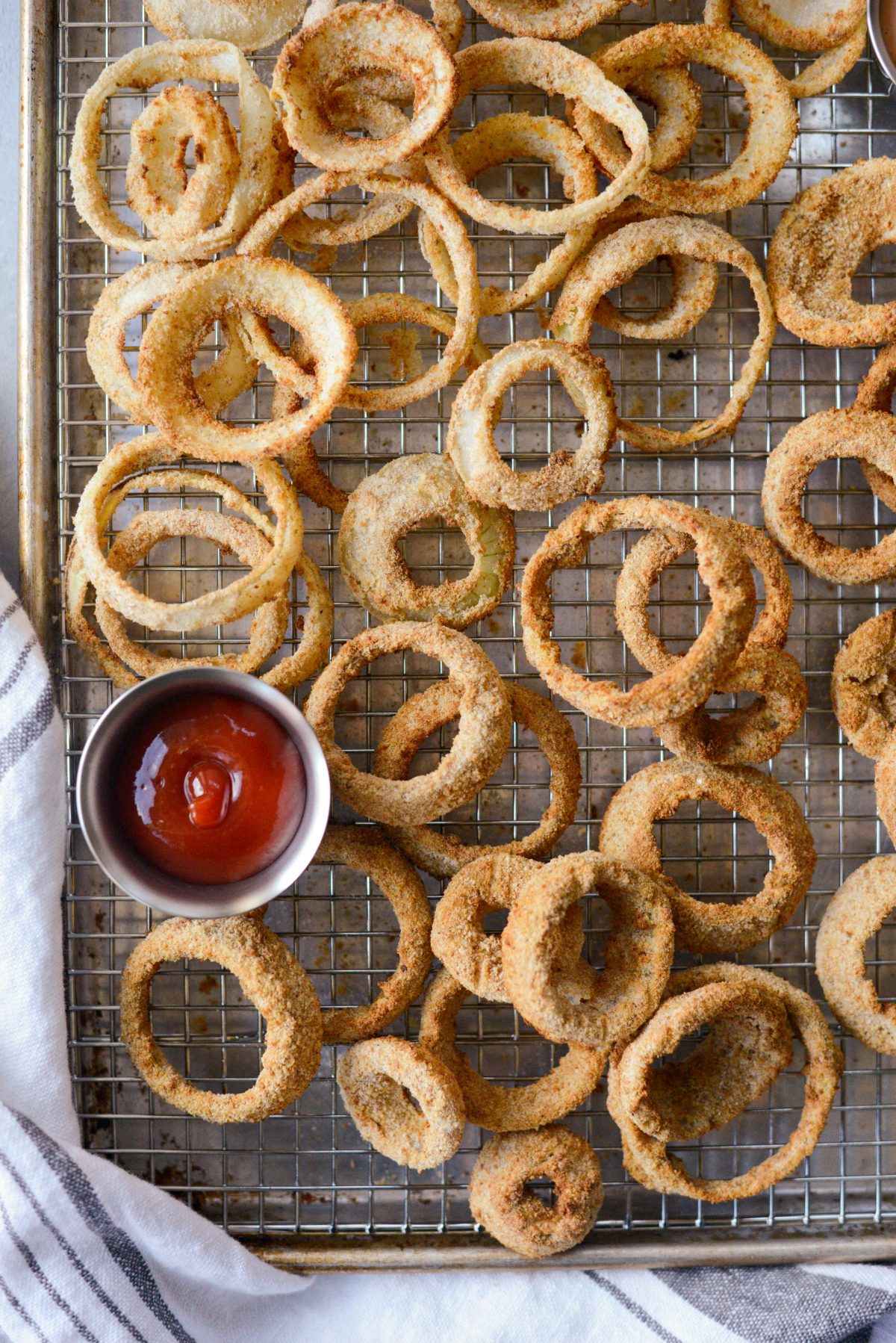 The hardest thing might be deciding what to dip them in. Ketchup or fry sauce? OR both?
What Is Air Frying?
An air fryer is a counter top appliance that requires less oil (anything from a few spritz to 1 tablespoon) yet produces crispy food that rivals most deep fried foods. By using circulating hot air, it moves at a high speed so the food tends to cook in a fraction of the time.
There are a bunch of different makes and models of air fryers. My husband did the research (as he's known to do) and found this air fryer [affiliate] to be one of the best. But do your research and purchase one that fits your lifestyle.
How is Air Frying Healthier?
Air frying is healthier because only a thin layer of oil coats the food and when the hot air comes in contact it will crisp. Saving you a ton of fat and calories (without sacrificing any flavor!) because food is not being submerged in a vat of hot oil.
For more Air Fryer recipes, click here for my growing collection.
Enjoy! And if you give this Air Fryer Beer Battered Onion Rings recipe a try, let me know! Snap a photo and tag me on twitter or instagram!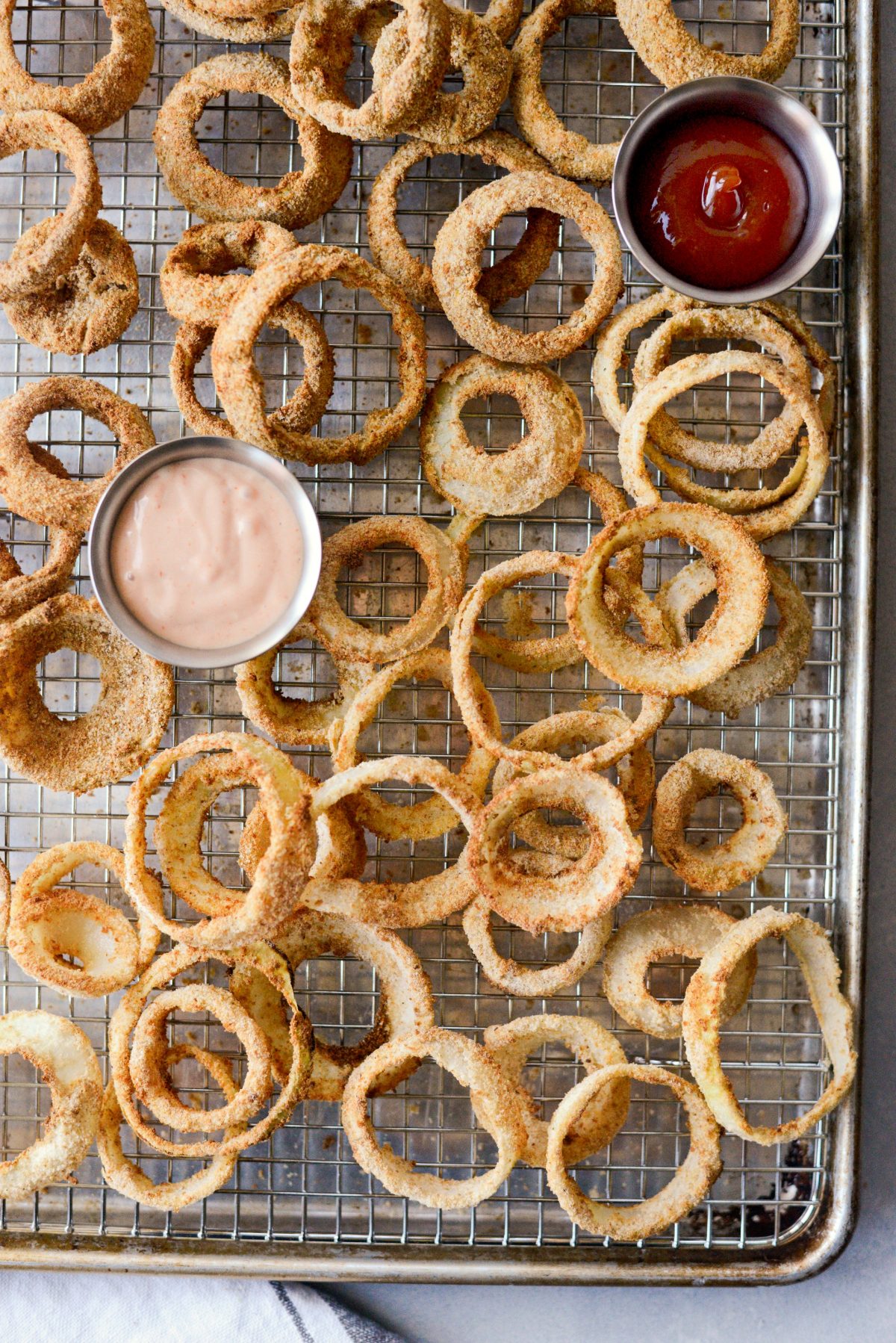 This post may contain affiliate links.
Buy the Cookbook: Simply Scratch : 120 Wholesome Homemade Recipes Made Easy Now available on Amazon »
THANK YOU in advance for your support!