Air Fryer Buffalo Chickpea Caesar Salad is a simple and yet flavorful salad. Romaine lettuce is quickly air-fried and topped with crispy buffalo chickpeas, Caesar Dressing, crumbled blue cheese, shaved parmesan and snipped chives. This recipe will serve 4.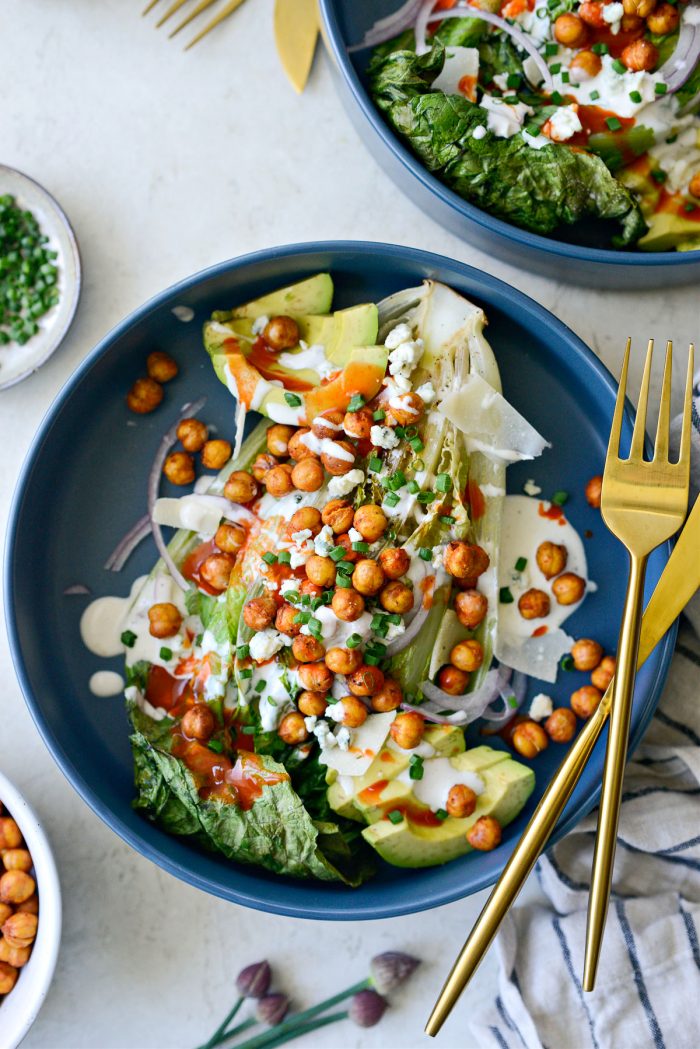 Buffalo vs. Caesar.
Actually it's more of a mash up of two of my favorite things. You know I couldn't post a buffalo chickpeas recipe and NOT share my favorite way to eat them. This salad is little spicy and a lot delicious. And it all starts with air fried romaine lettuce. YES. I decided that since I love grilled romaine so much, why not put it in the air-fryer? It gives it some crispy edges while still keeping its freshness.
The rest is pretty simple; crispy buffalo chickpeas, Caesar Dressing, extra buffalo sauce (because why not?), crumbled blue cheese, shaved parmesan and snipped chives from my garden.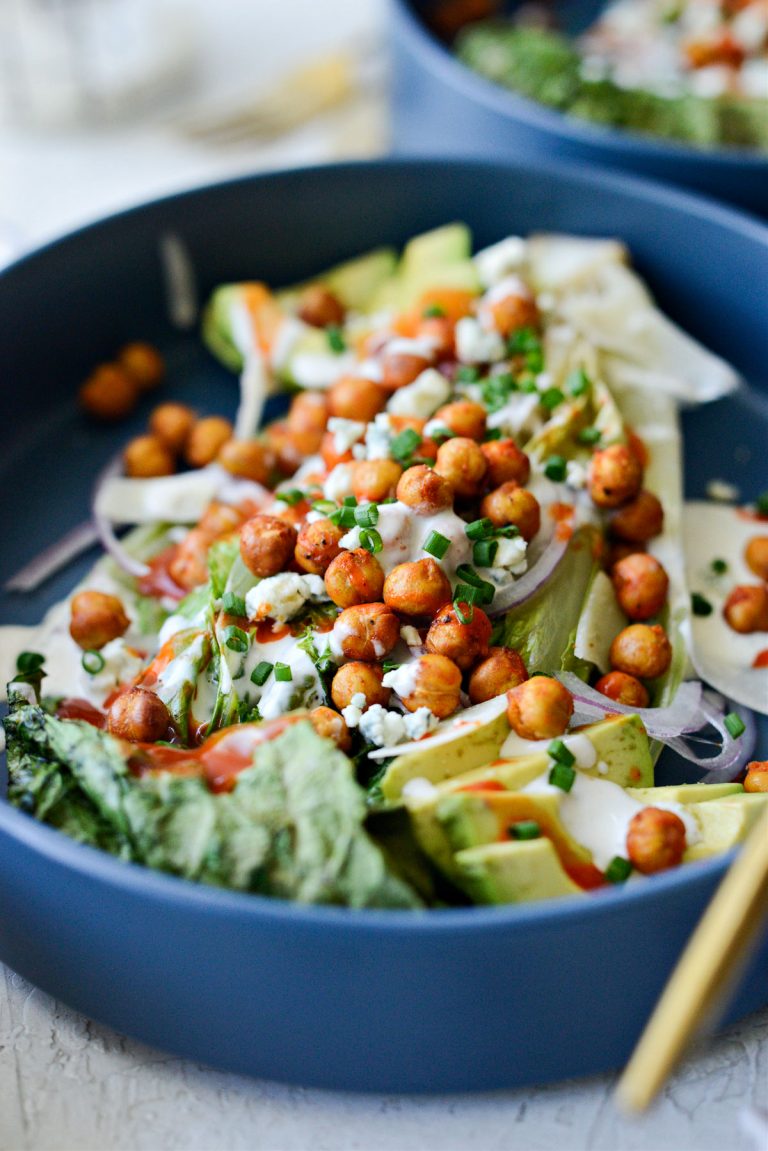 Grab your knife and fork and prepare your tastebuds for this spicy caesar.
To Make This Air Fryer Buffalo Chickpea Caesar Salad You Will Need:
heads of romaine
olive oil spray
salt and pepper
red onion
buffalo chickpeas
caesar dressing
buffalo sauce – store bought or homemade
crumbled blue cheese
shaved parmesan cheese
snipped fresh chives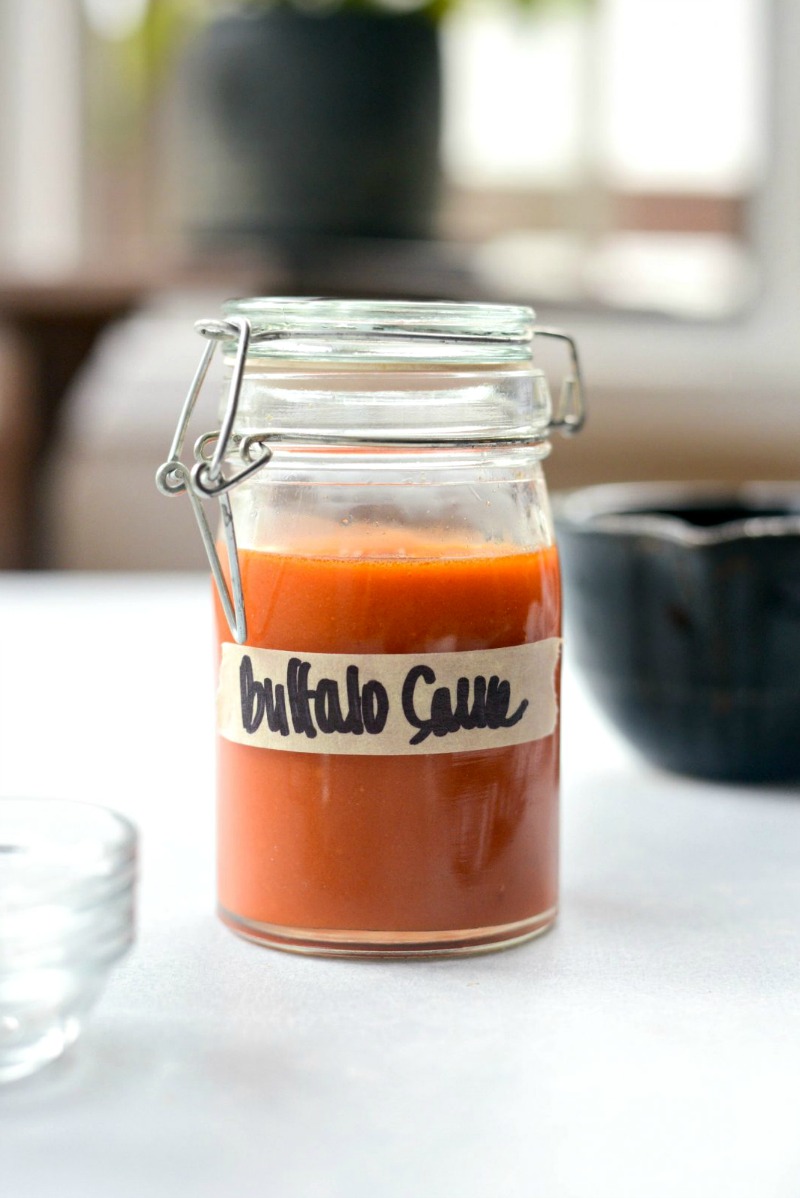 There's really no need for store bought when you can make it yourself with just a few ingredients! Butter, garlic powder and cayenne pepper dress up regular hot sauce for a simple buffalo style sauce. It might not be 100% from scratch but it is SO much better than store-bought.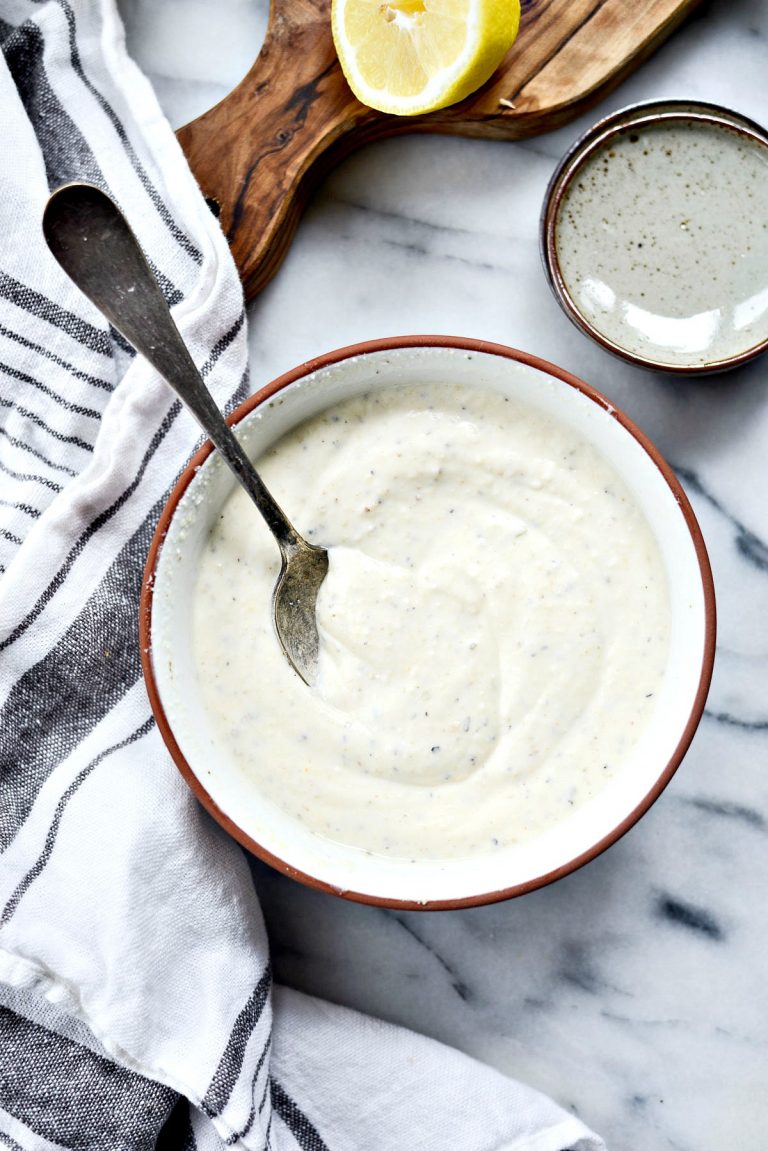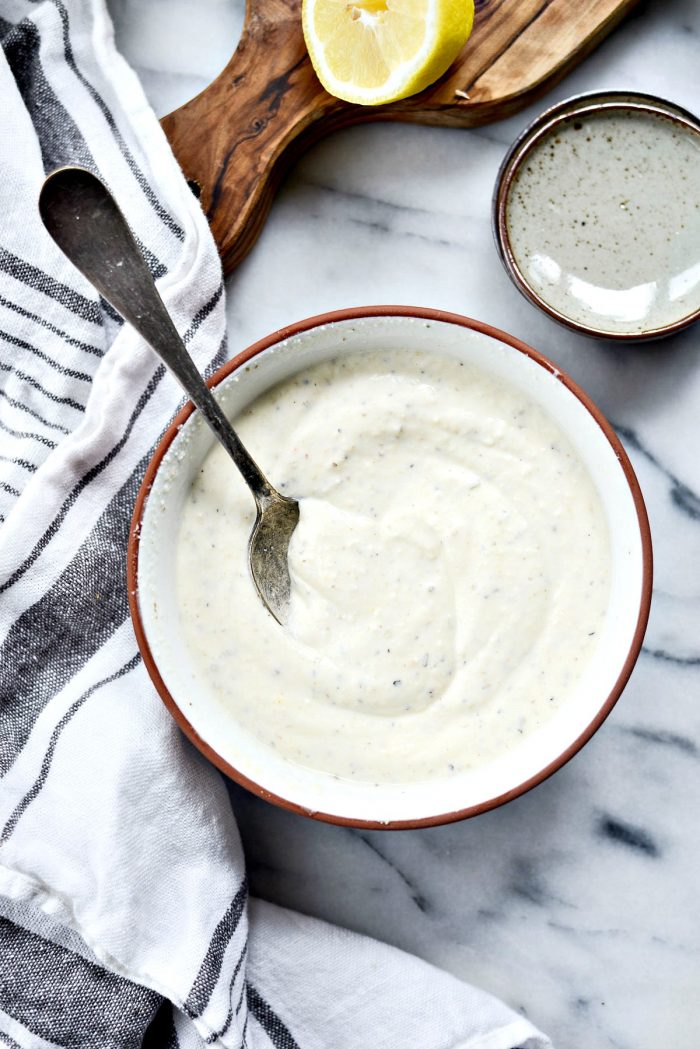 There are a thousands of Caesar dressings in the world. For this salad, use your favorite! Store bought or homemade, either way no judgment. On this site I have a more classic Caesar dressing, tahini based, a greek yogurt and a Caesar vinaigrette.
Next, preheat your air fryer to 390° or 400° – depending on the make and model.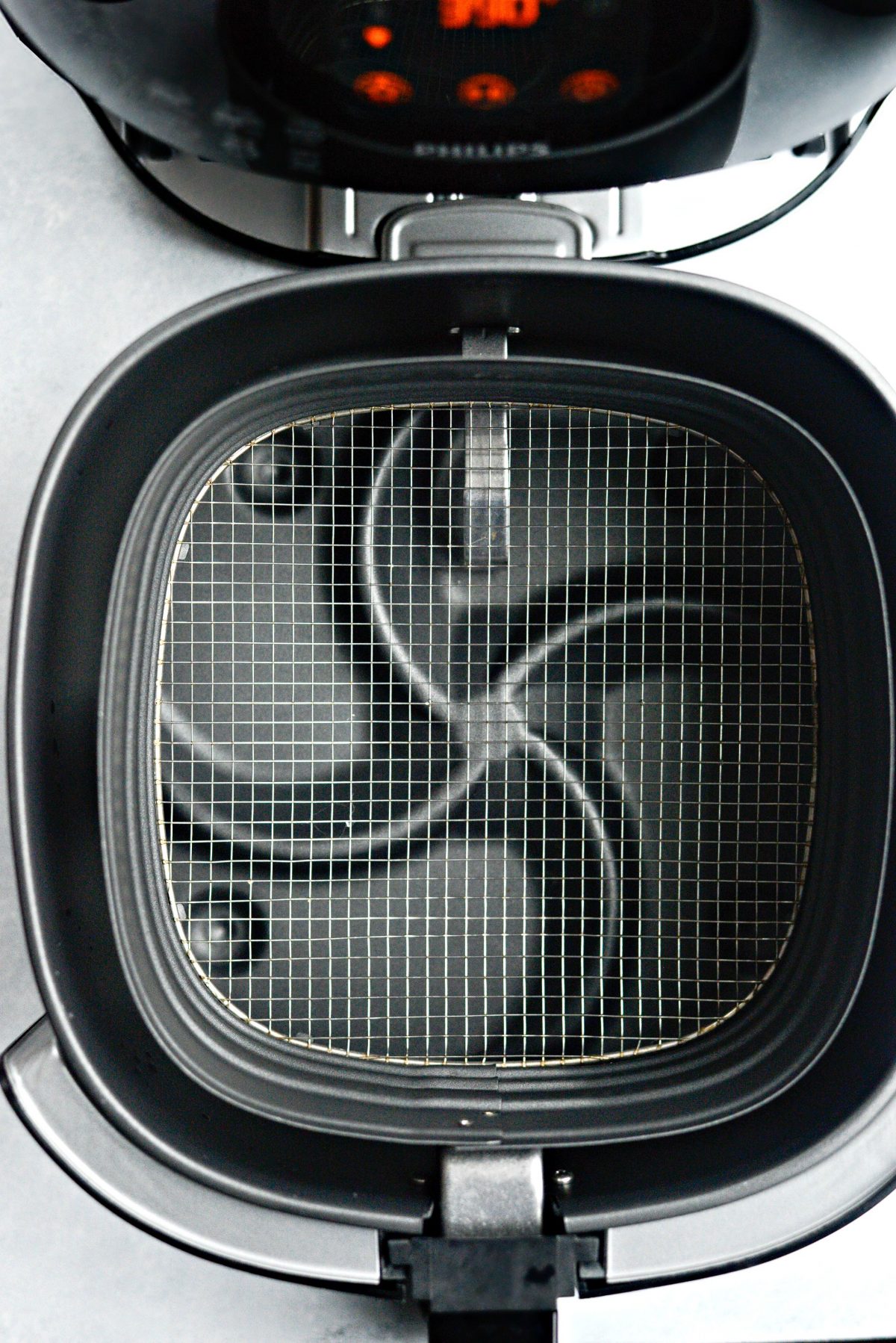 What Is Air Frying?
An air fryer is a counter top appliance that requires less oil (anything from a few spritz to 1 tablespoon) yet produces crispy food that rivals most deep fried foods. By using circulating hot air, it moves at a high speed so the food tends to cook in a fraction of the time.
There are a bunch of different makes and models of air fryers. My husband did the research (as he's known to do) and found this air fryer [affiliate] to be one of the best. But do your research and purchase one that fits your lifestyle.
How is Air Frying Healthier?
Air frying is healthier because only a thin layer of oil coats the food and when the hot air comes in contact it will crisp. Saving you a ton of fat and calories (without sacrificing any flavor!) because food is not being submerged in a vat of hot oil.
Keep in mind, not all air fryers are equal. Some preheat and some do not. Some are smaller than others therefore you may need to work in smaller batches to air fry.
For more Air Fryer recipes, click here for my growing collection.
While that preheats, cut your romaine in half, give a quick rinse and pat dry. Lightly spray the cut side with olive oil and season with salt and pepper.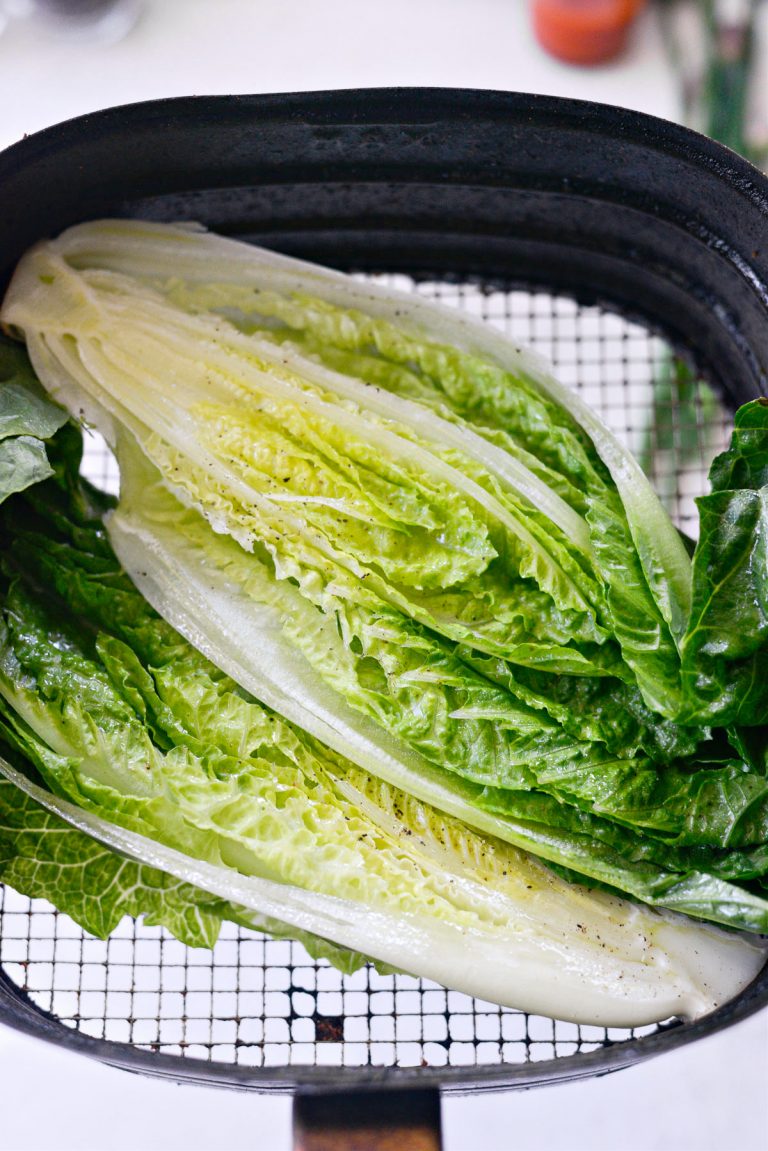 Once your air fryer is preheated, work in batches (if necessary) place two halves in the basket, and air fry for 3 to 4 minutes.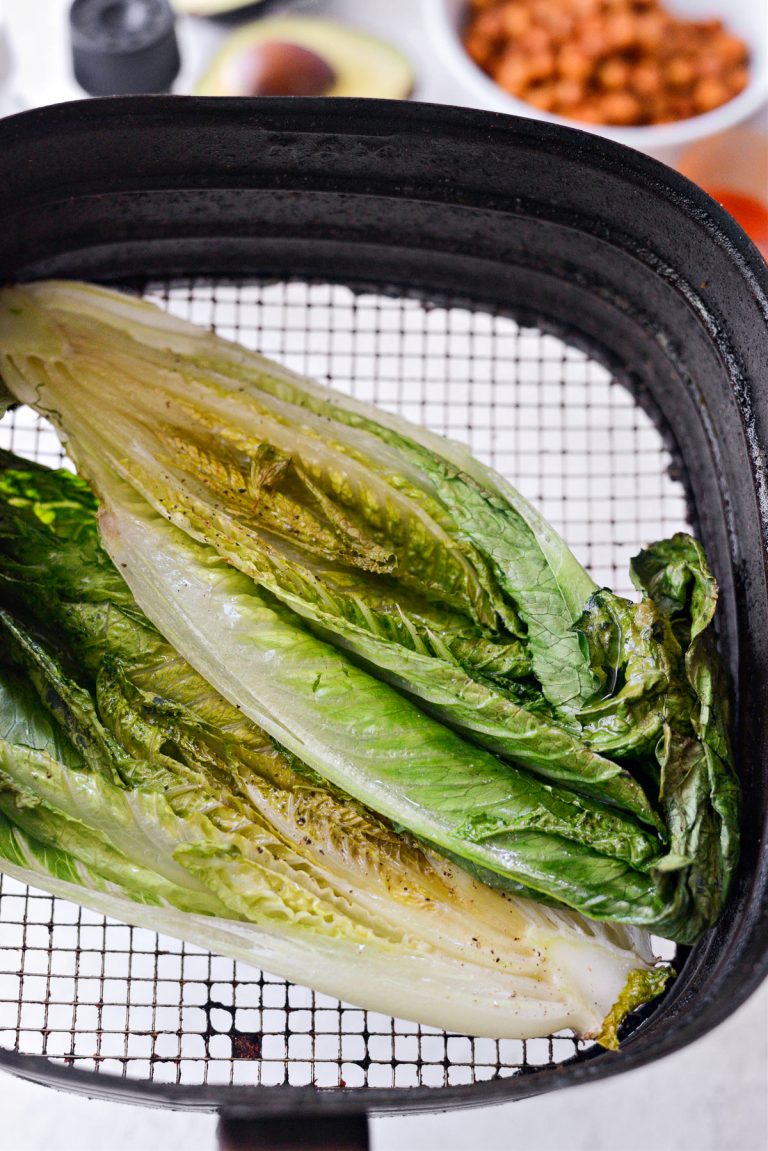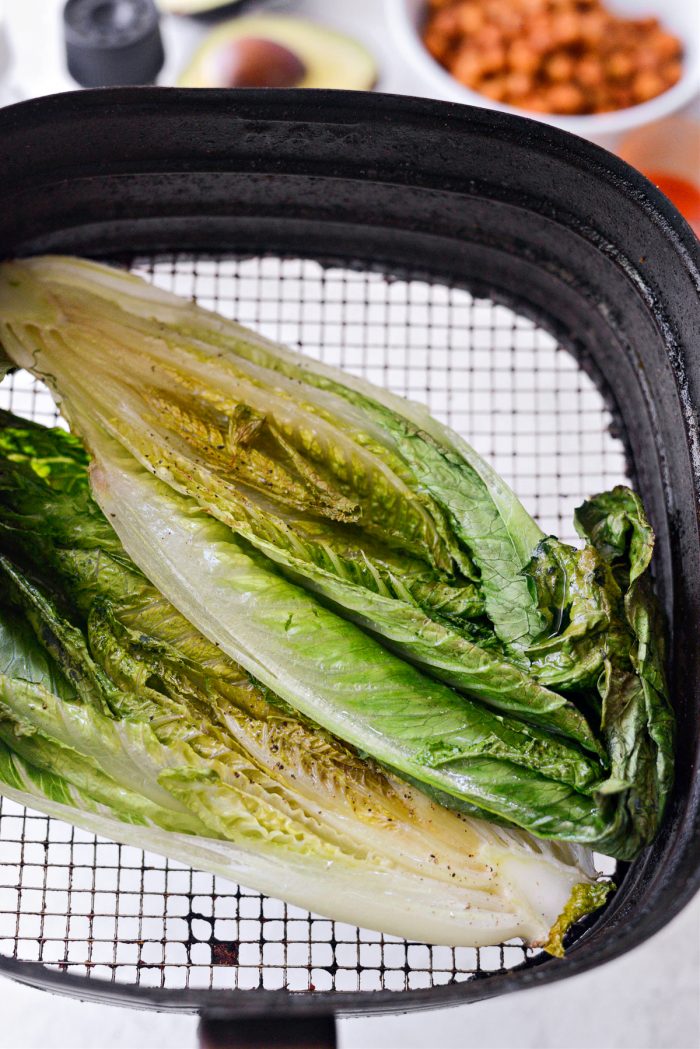 The romaine should be bright green still but crispy and golden brown in spots.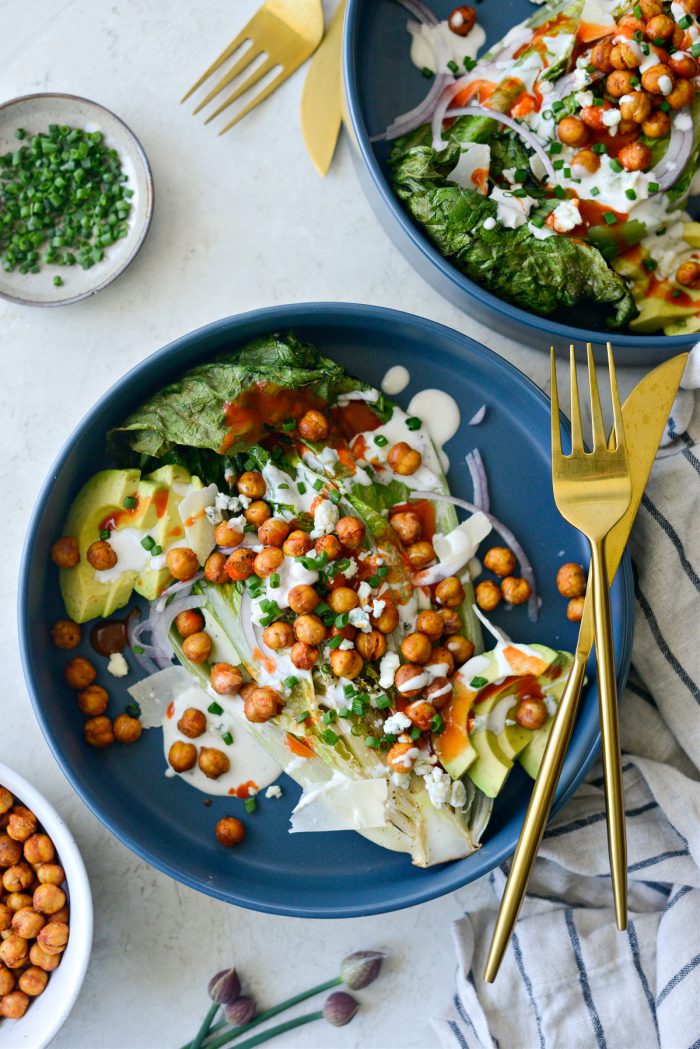 Top with thinly sliced red onion, sliced avocado, crispy buffalo chickpeas, crumbled blue cheese, shaved parmesan and drizzle it all with caesar dressing of your choice and buffalo sauce.
Lastly, top with snipped chives or sliced green onions.
The best bite is when you have a little bit of everything. Absolutely delicious.
Enjoy! And if you give this Air Fryer Buffalo Chickpea Caesar Salad recipe a try, let me know! Snap a photo and tag me on twitter or instagram!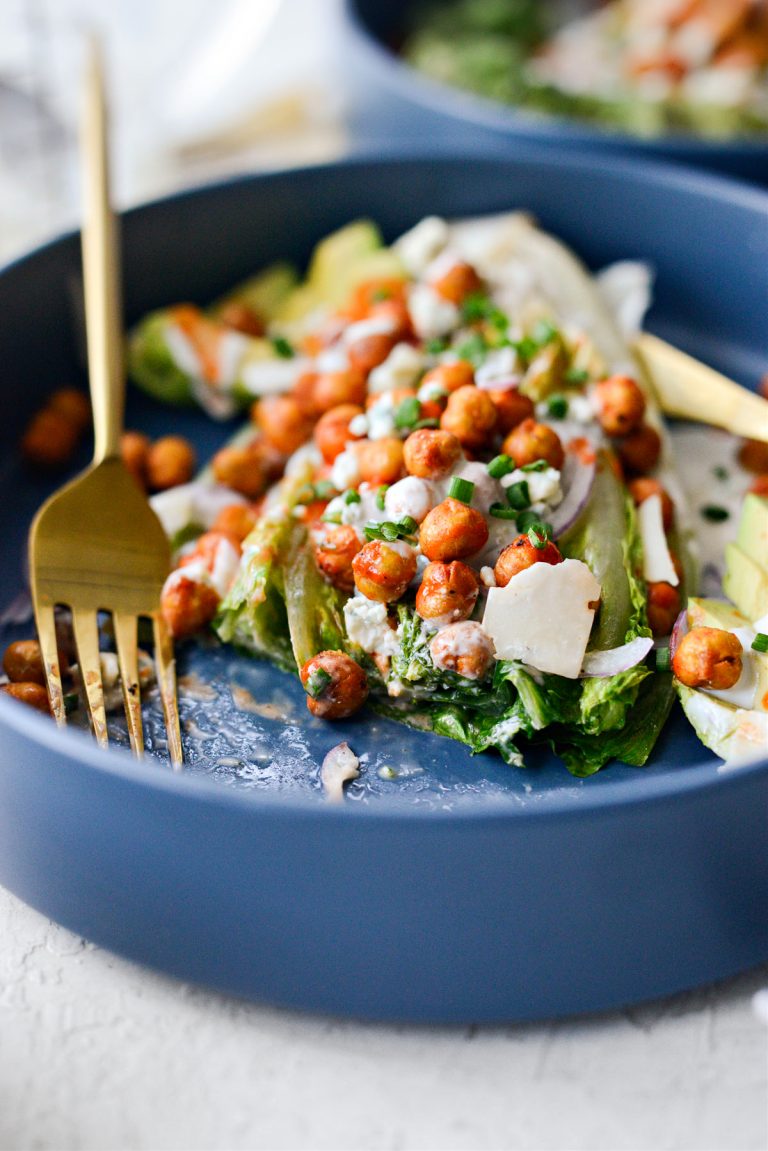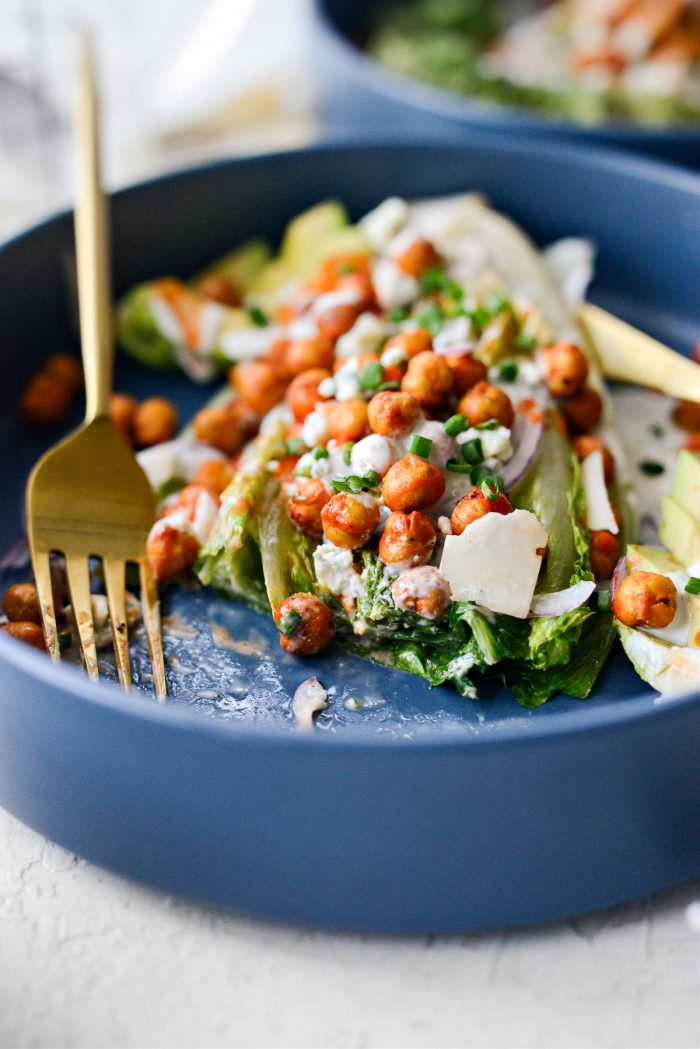 This post may contain affiliate links.
Buy the Cookbook: Simply Scratch : 120 Wholesome Homemade Recipes Made Easy Now available on Amazon »
THANK YOU in advance for your support!