This kale Caesar salad is a lighter and healthier version of the classic. A kale leafy blend, homemade croutons, shaved Parm and a light mayo-less dressing.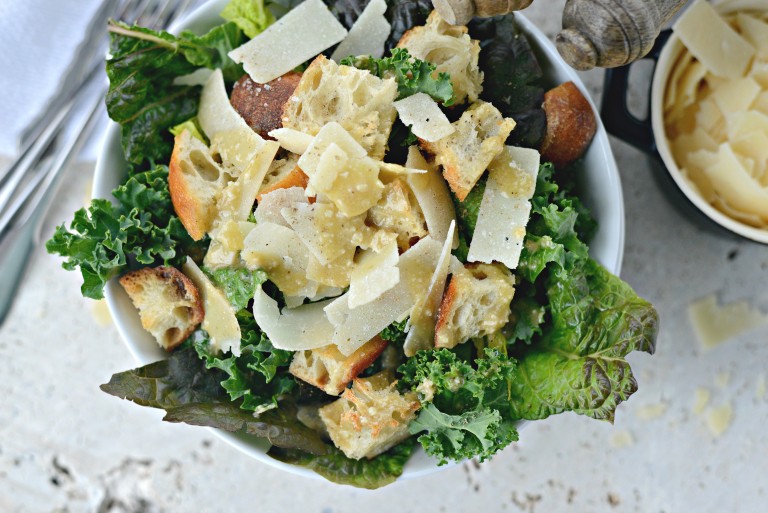 My oldest daughter, Haileigh, LOVES Caesar salad.
It's a requirement of hers that I have the ingredients on hand so when she gets home from school or even after softball practice she can make herself a small salad. She'll order it at any restaurant that has it listed on the menu and never, ever gets tired of it.
This past summer we ate chicken Caesar salad for dinner just about every other week, for a while there it was every Tuesday for like a month and a half! No complaints here but it did get me thinking about making a lighter, more healthy version.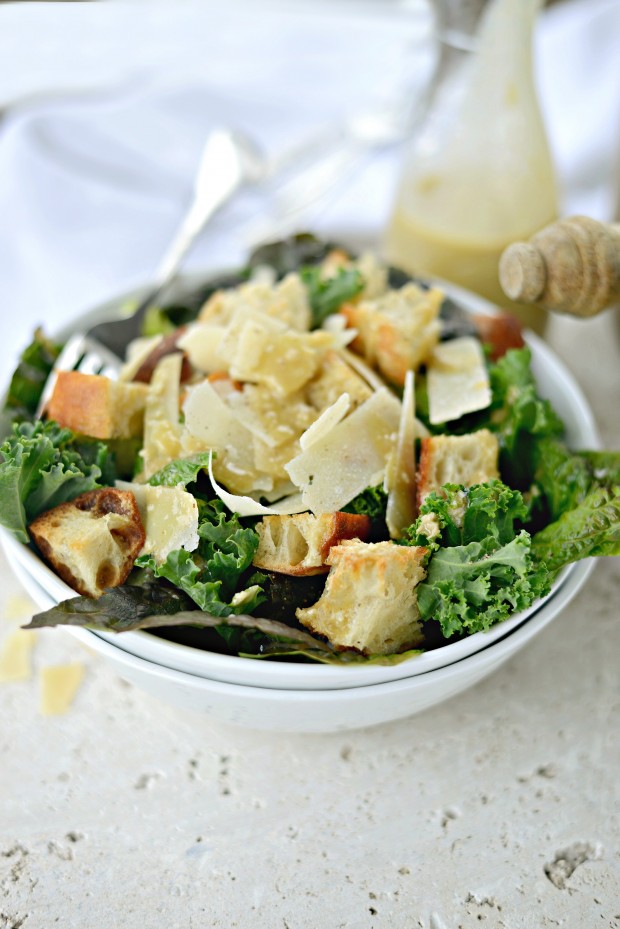 Enter this kale and Caesar vinaigrette.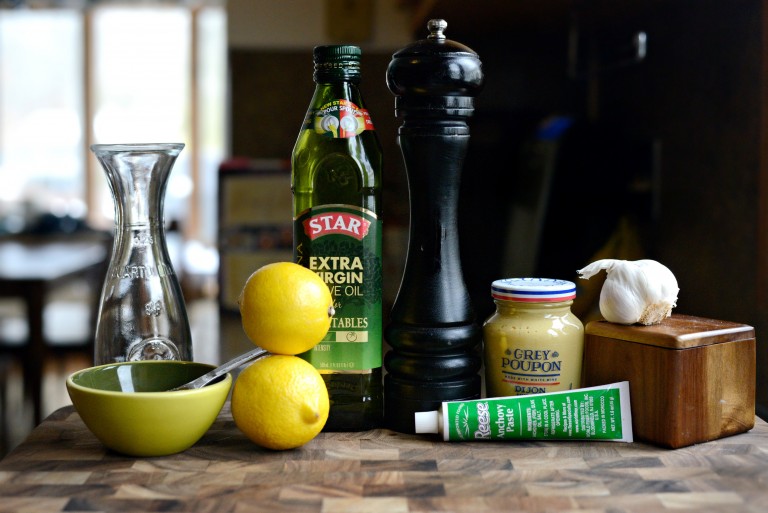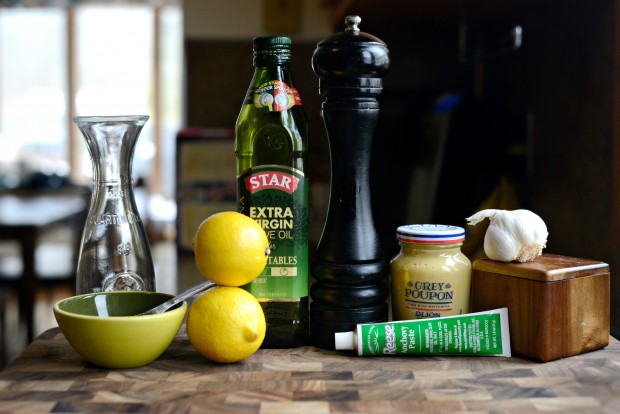 TO Make The Caesar Vinaigrette You Will Need:
a garlic clove
anchovy paste
dijon mustard
kosher salt
freshly ground black pepper
freshly grated Parmesan cheese
freshly squeezed lemon juice
olive oil
FOR THE SALAD:
ciabatta
olive oil
kosher salt
kale
red leaf lettuce
Parmesan cheese shavings
black pepper
First things first, the dressing. In the dressing recipe that I usually make for Caesar salads, it calls for mayo and a lot of Parm. This one does not. It's a vinaigrette base; lemon juice and olive oil but made creamy with a little Dijon and Parmesan cheese (only a couple tablespoons). Garlic and anchovy paste gives it that classic Caesar taste and it couldn't be any easier to make.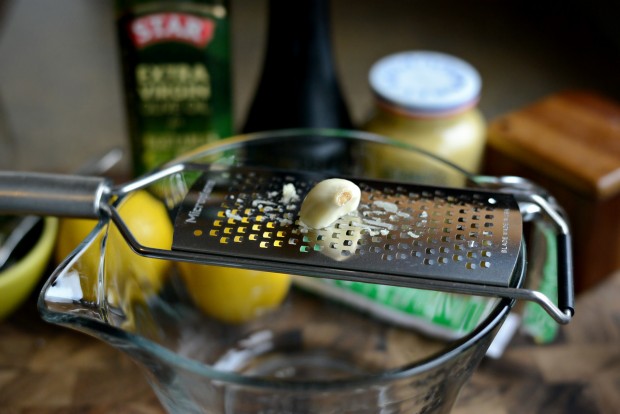 Next, peel and grate 1/2 to 1 cloves of garlic depending on how garlicky you would like it.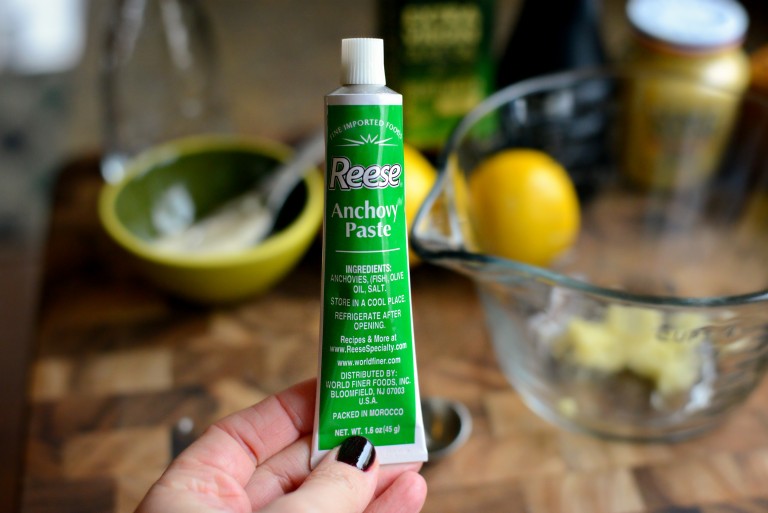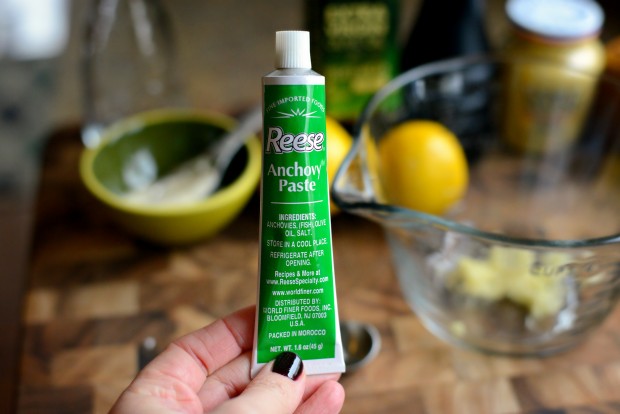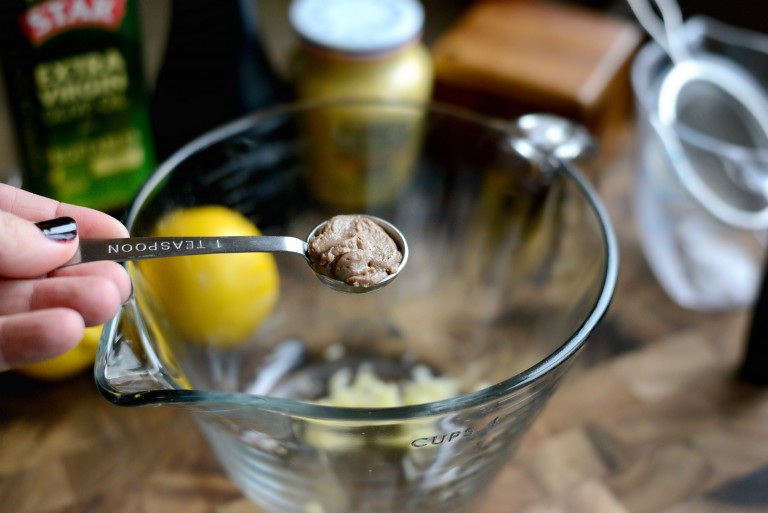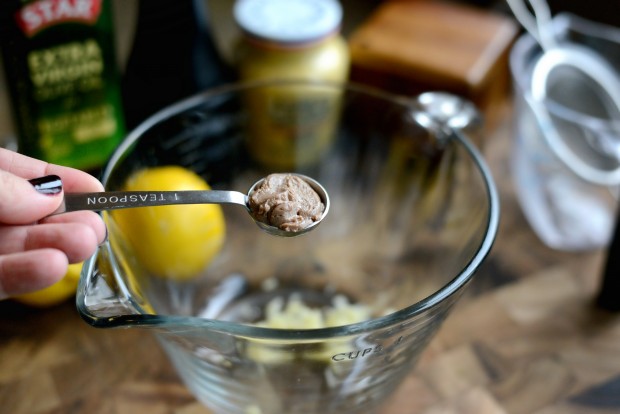 Then grab the anchovy paste, seriously don't be afraid of this! It truly gives this dressing it's unique yet distinct flavor. You'll need two teaspoons.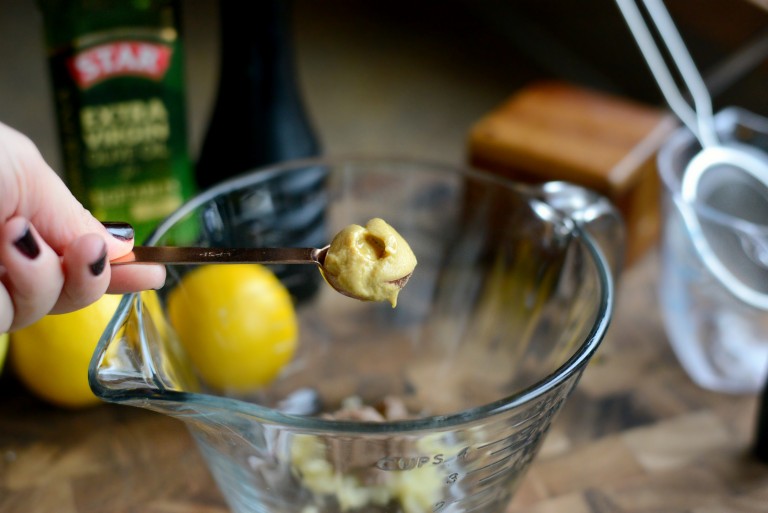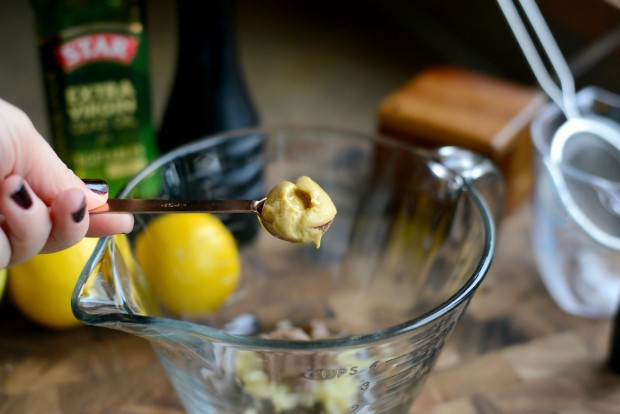 Along with two teaspoons of Dijon mustard.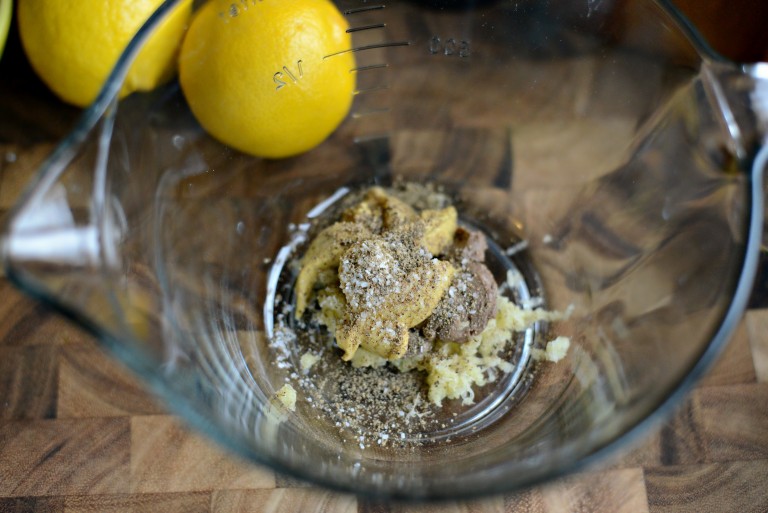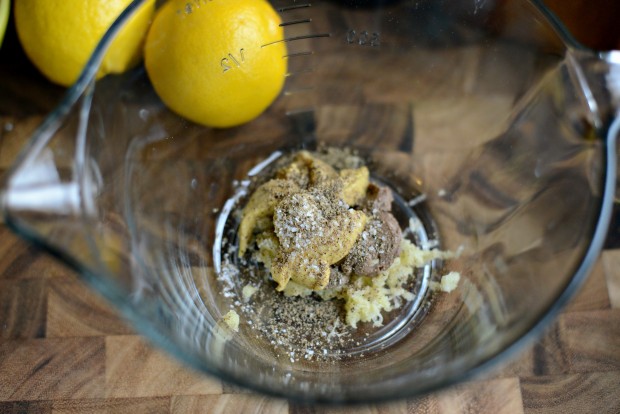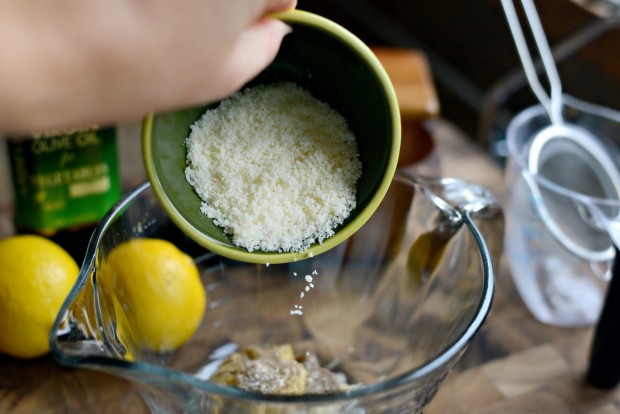 Next, season with salt and pepper and then add in 2 tablespoons freshly grated Parmesan cheese…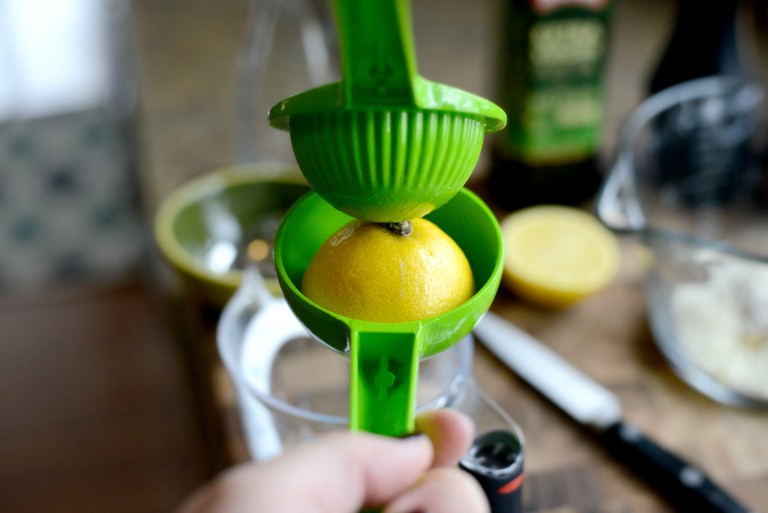 You'll also need some freshly squeezed lemon juice. If you don't own one of these juicing contraptions, then you're missing out.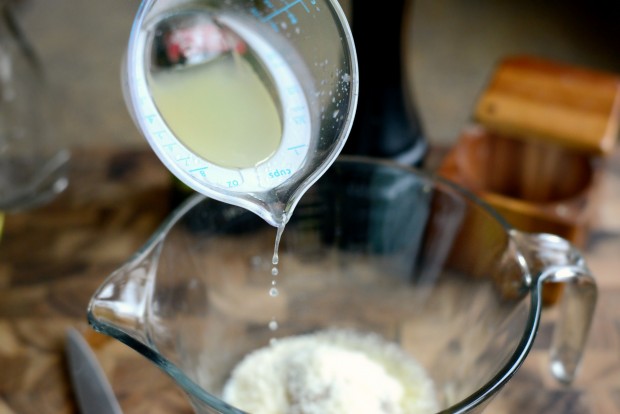 You'll need 1/3 cup of lemon juice.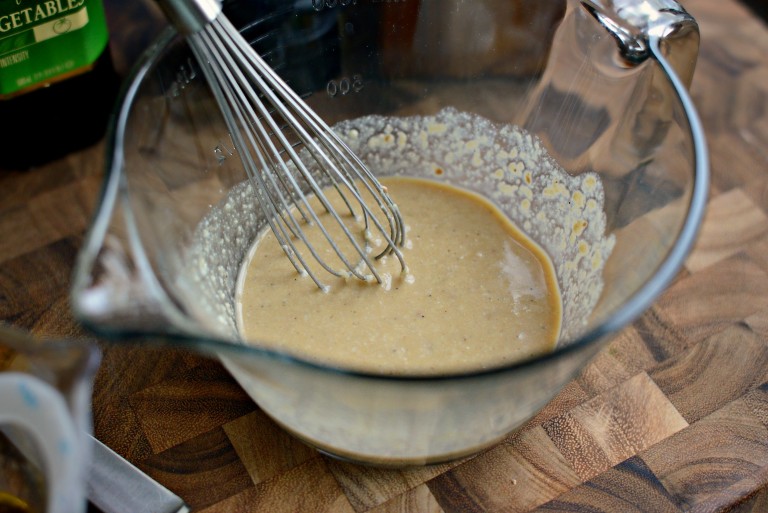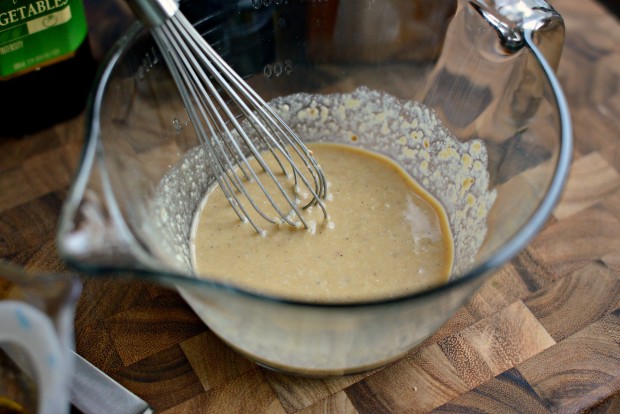 Whisk those ingredients to blend the anchovy paste with the garlic with the Dijon with the Parmesan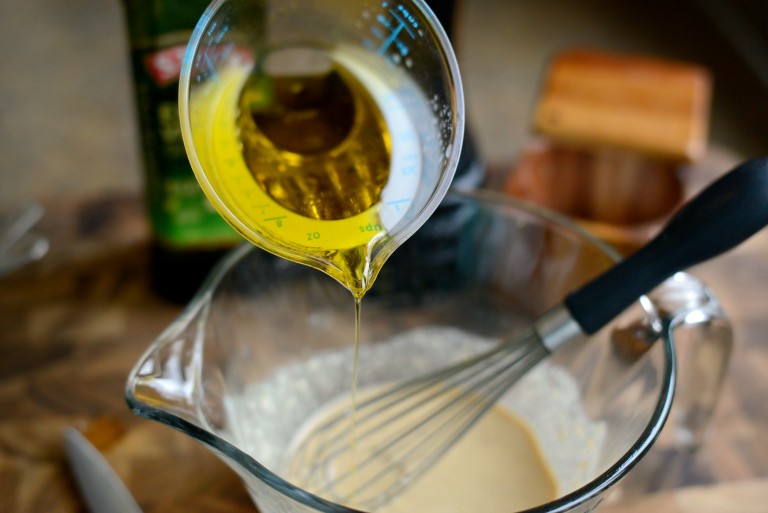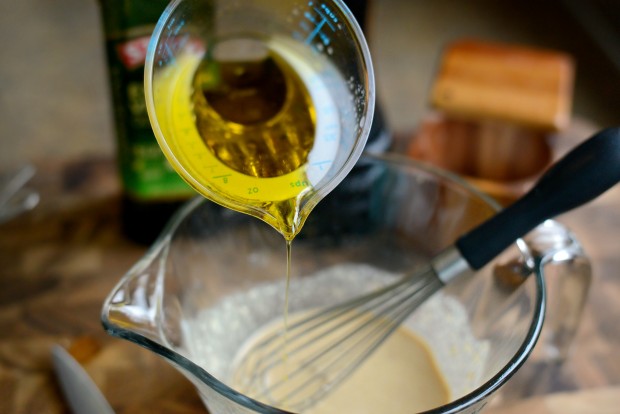 Continue to whisk while you slooooowly drizzle in the olive oil.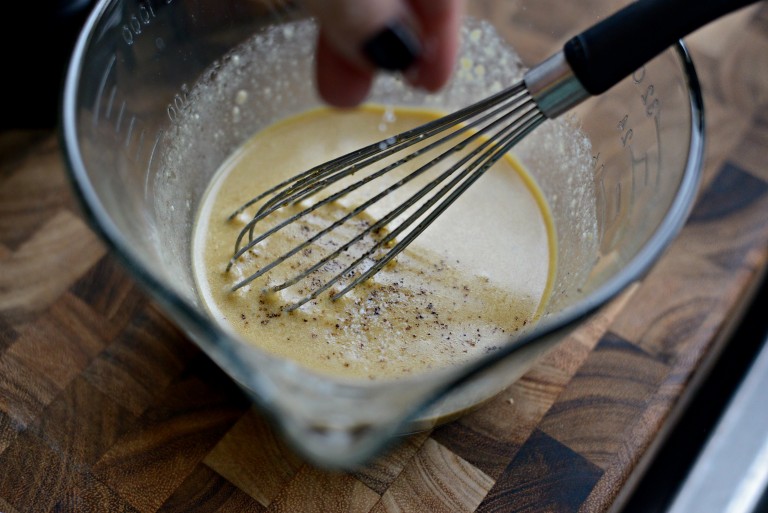 Season with salt and pepper to taste and set off to the side.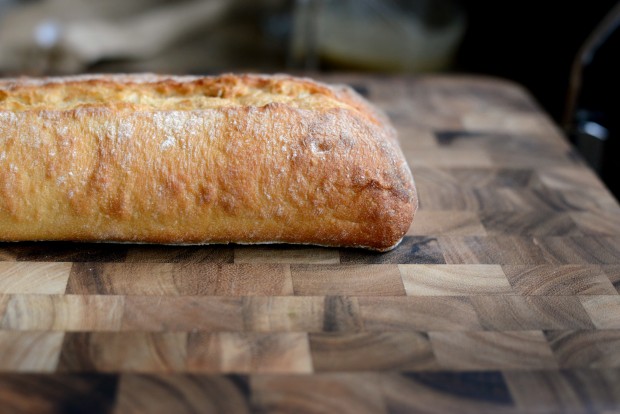 Now it's time for the CIABATTA CROUTONS!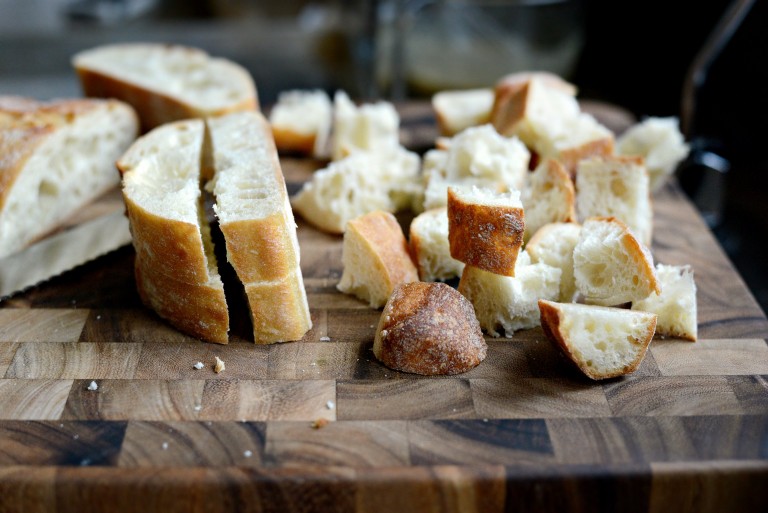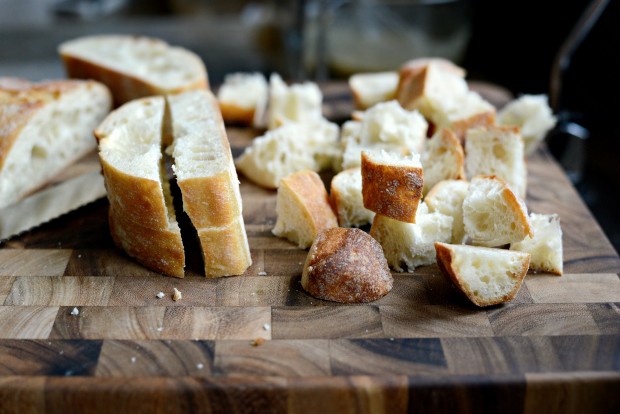 Slice the loaf of ciabatta and cut it into roughly 1-inch pieces. Again, I hate to sound like a nag, but if you're not making your own croutons by now you're totes missing out.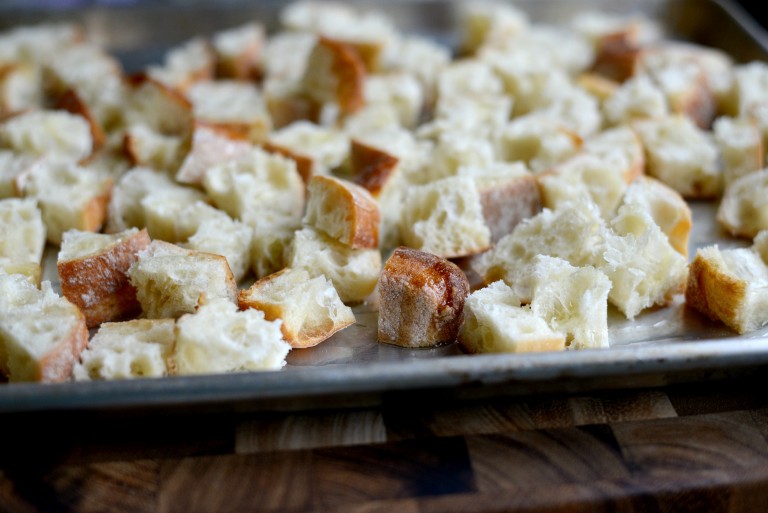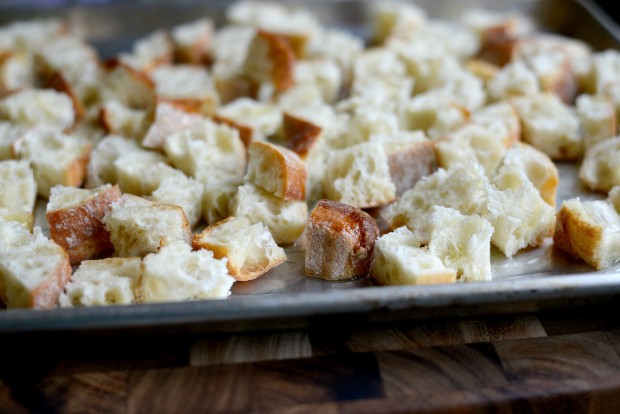 Toss the cubes of ciabatta in olive oil and a few pinches of kosher salt get baked in a 400 degree oven for 8-10 minutes or until golden.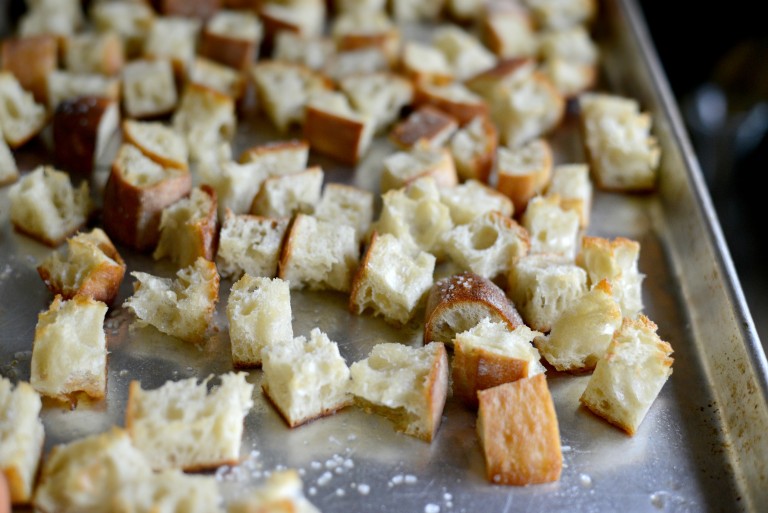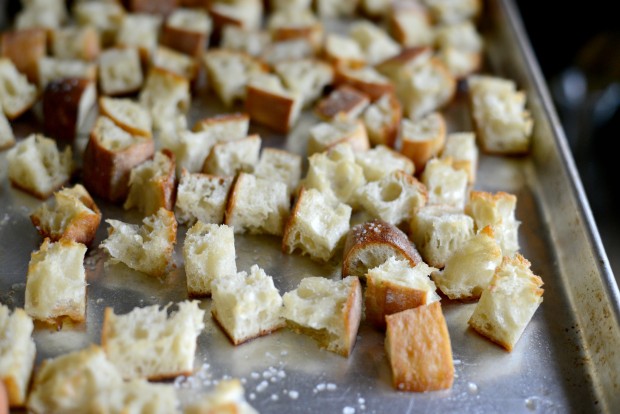 No need to toss or flip, just let them do their thang.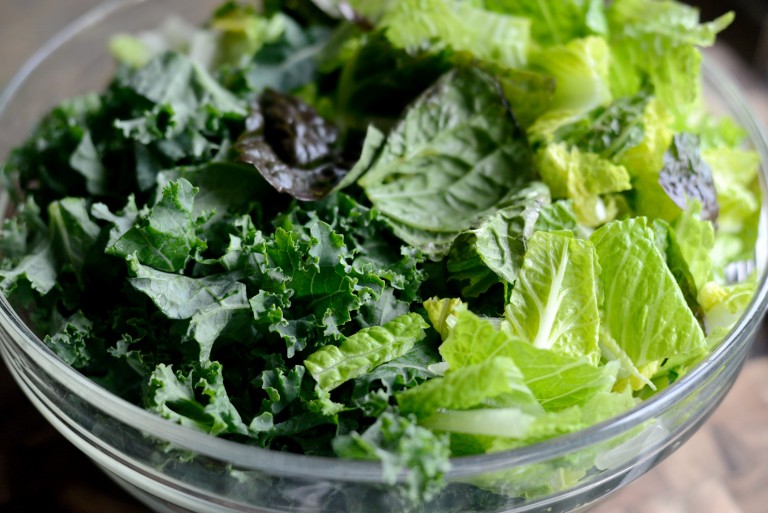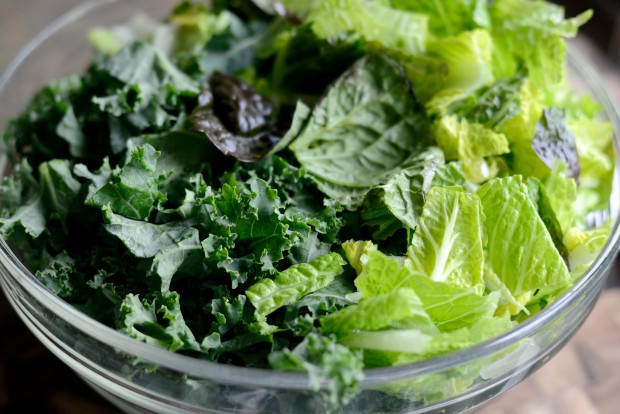 To sell my family on a "kale salad" I decided to cut the kale with a little red leaf romaine lettuce. Of course you could do an all kale salad… it's totally up to you! But I'll admit, I do like the texture mix up with using the two lettuces.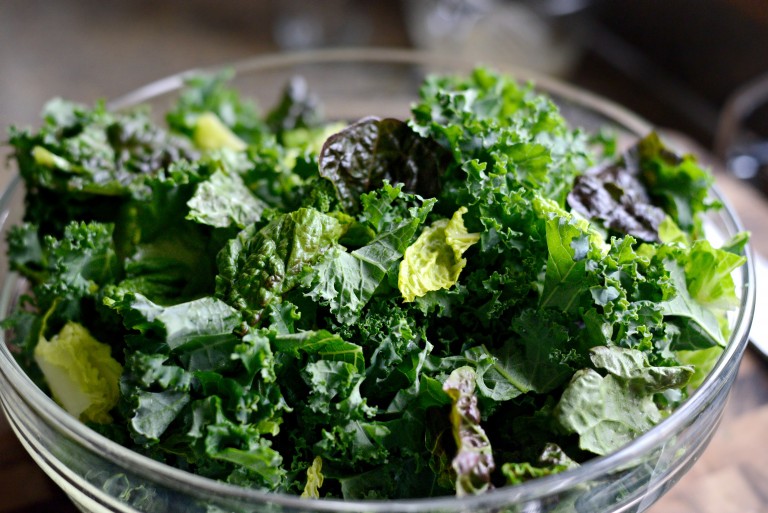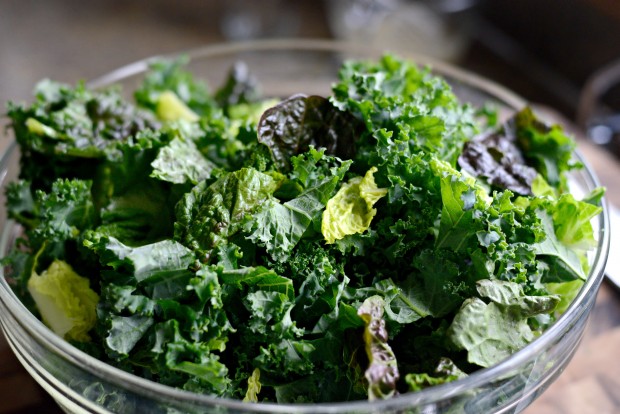 Not only is it gorgeous but texturally the kale with the romaine it's just right for picky mouths.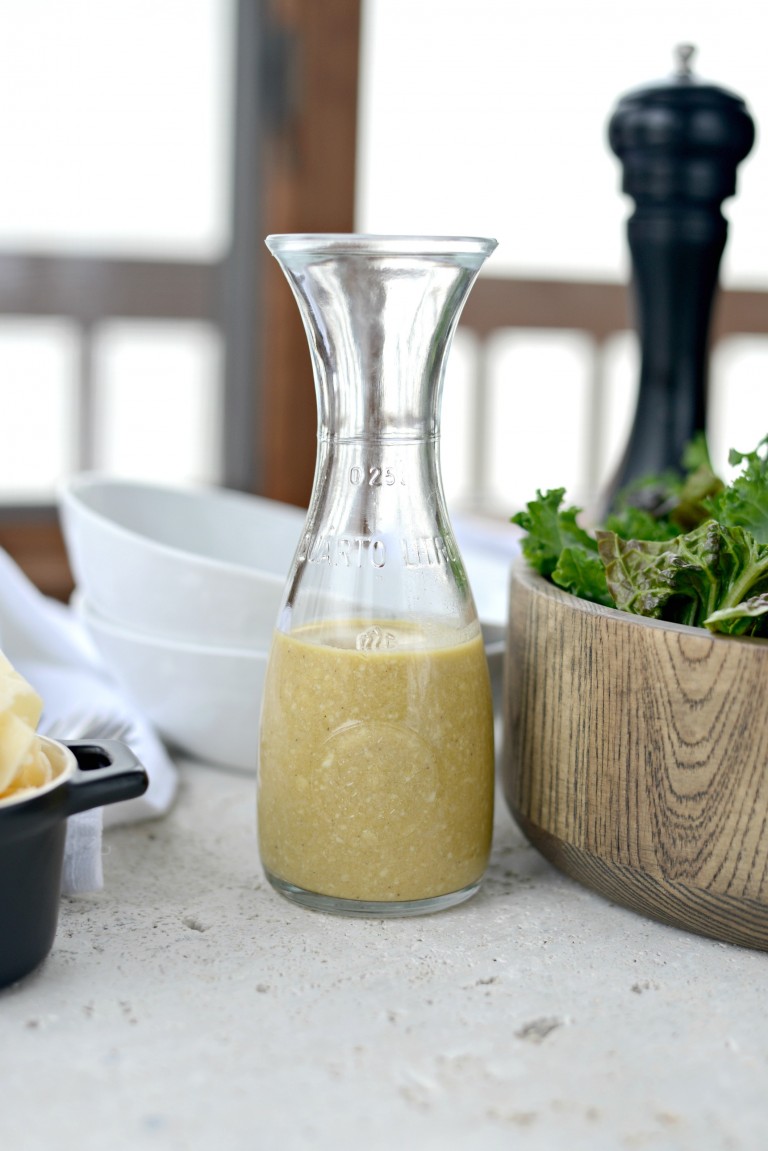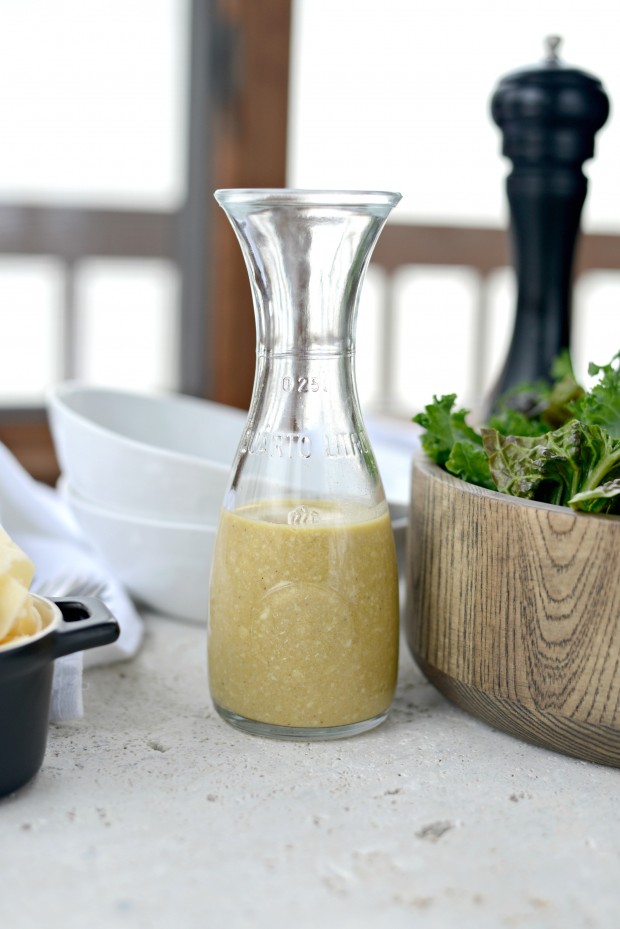 It's now time to build our salad!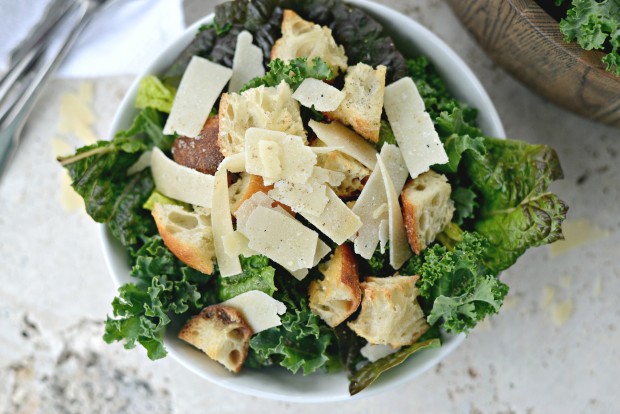 Fill a bowl with the leafy greens, top with croutons, shaved Parmesan cheese and lots of black pepper.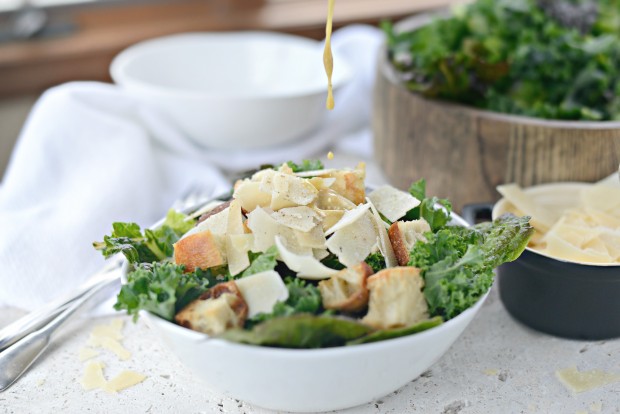 Drizzle with the Caesar vinaigrette.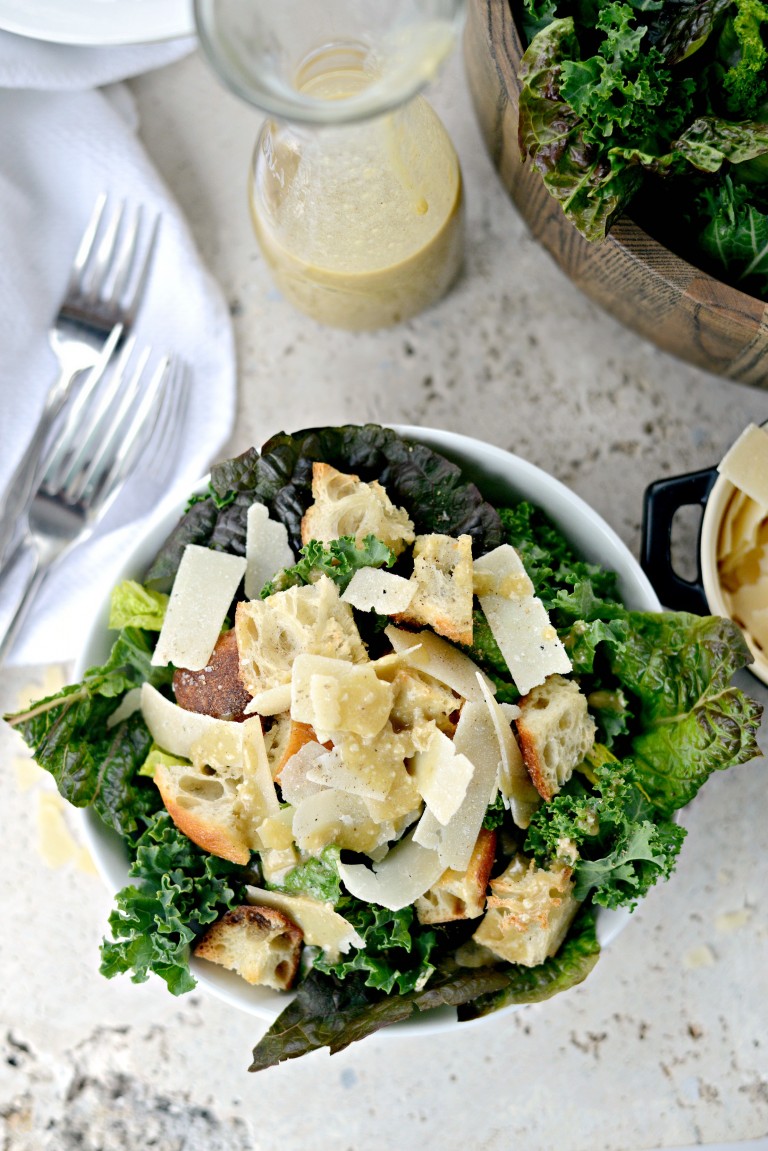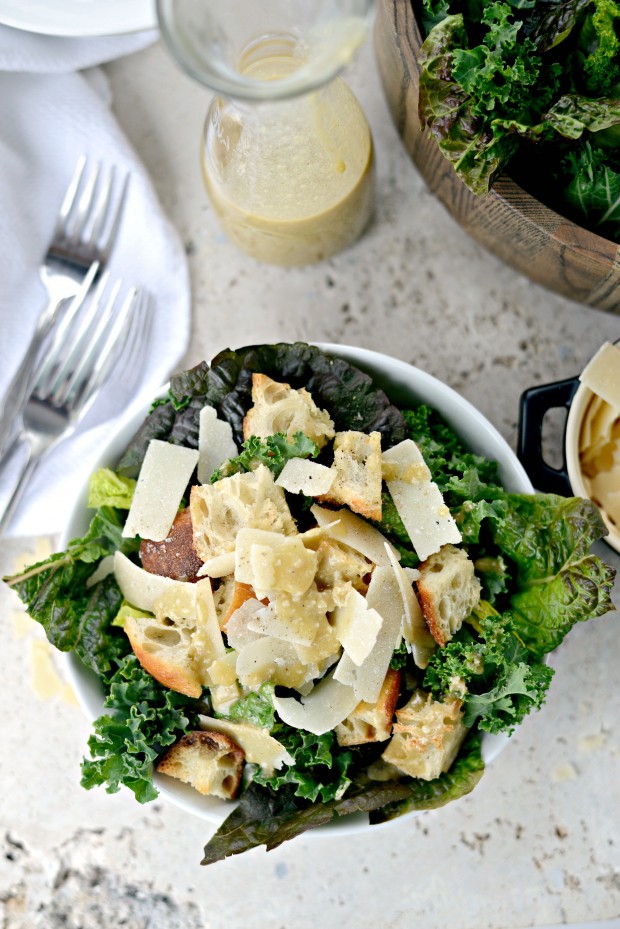 Grind some fresh black pepper over top and prepare to fall in love with this kale Caesar salad!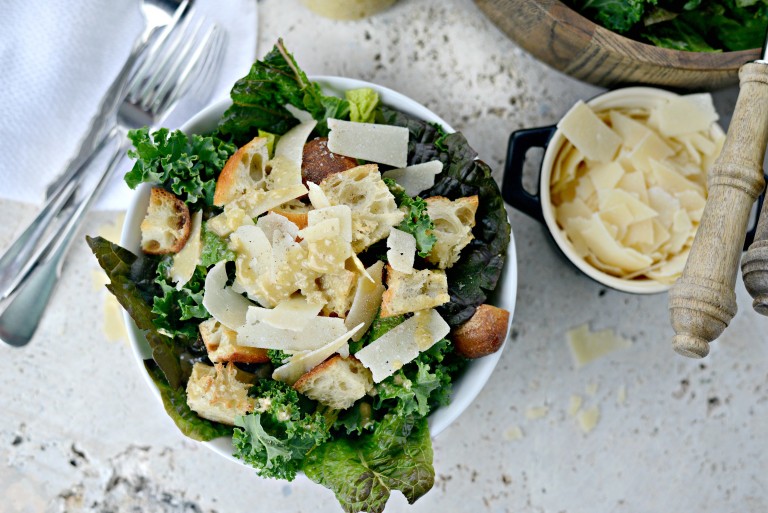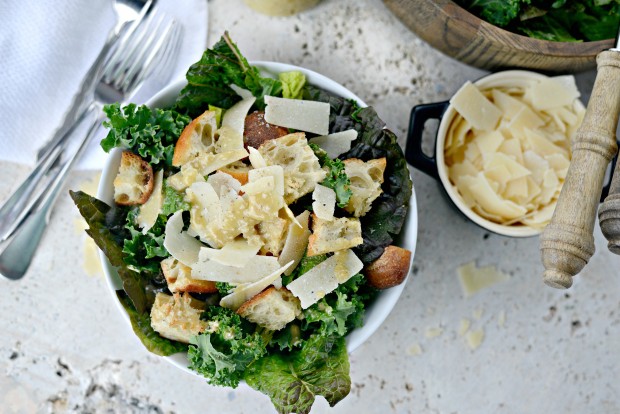 So good and a little lighter than traditional and without lacking in flavor.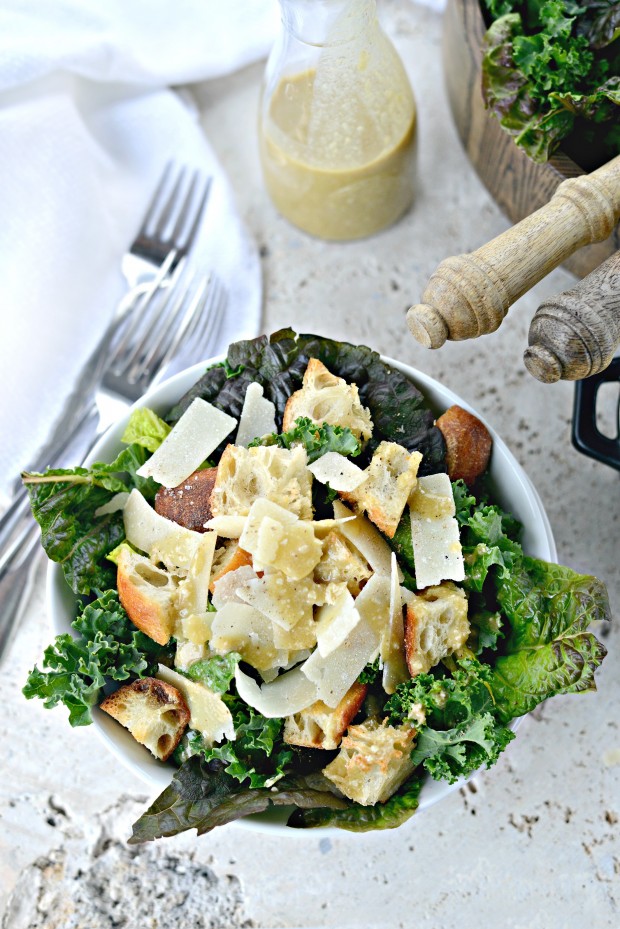 Enjoy! And if you give this Kale Caesar Salad recipe a try, let me know! Snap a photo and tag me on twitter or instagram!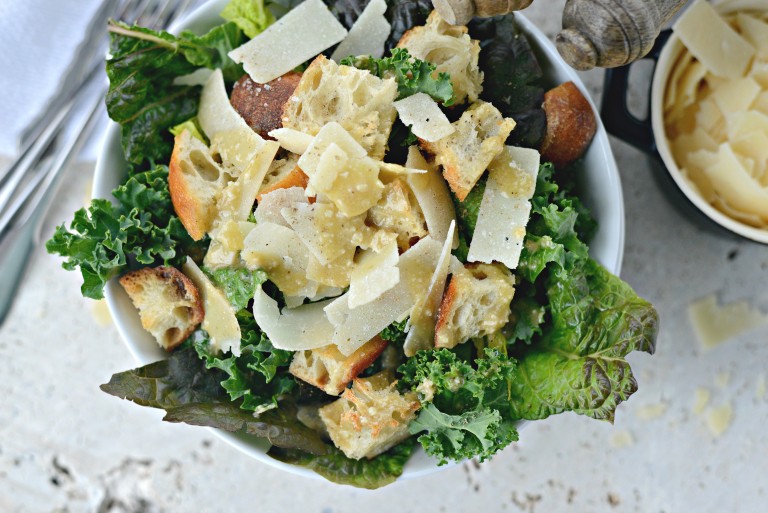 This post may contain affiliate links.
Buy the Cookbook: Simply Scratch : 120 Wholesome Homemade Recipes Made Easy Now available on Amazon »
THANK YOU in advance for your support!