Slow Baked Spaghetti Sauce incredibly delicious and EASY! Ground beef, sautéed finely minced carrots, celery and onion simmer with garlic, herbs and tomato sauce gently in the oven. It's my new favorite way to make homemade spaghetti sauce.
Baking spaghetti sauce is the best thing to happen to me in 2021.
Well, so far. And I'm not sure what I love more – the incredible homey flavor? The way it makes my house smell like an italian restaurant? Or that it gives me 45 minutes to clean up any dirty dishes and throw a load in the wash.
Like a bolognese sauce, it starts with sautéing finely minced celery, carrot and onion. Throw in garlic, dried spices, crushed tomatoes and tomato sauce. Cover and slip into the oven where it will gently simmer. The flavors melding and giving off the most mouthwatering aroma.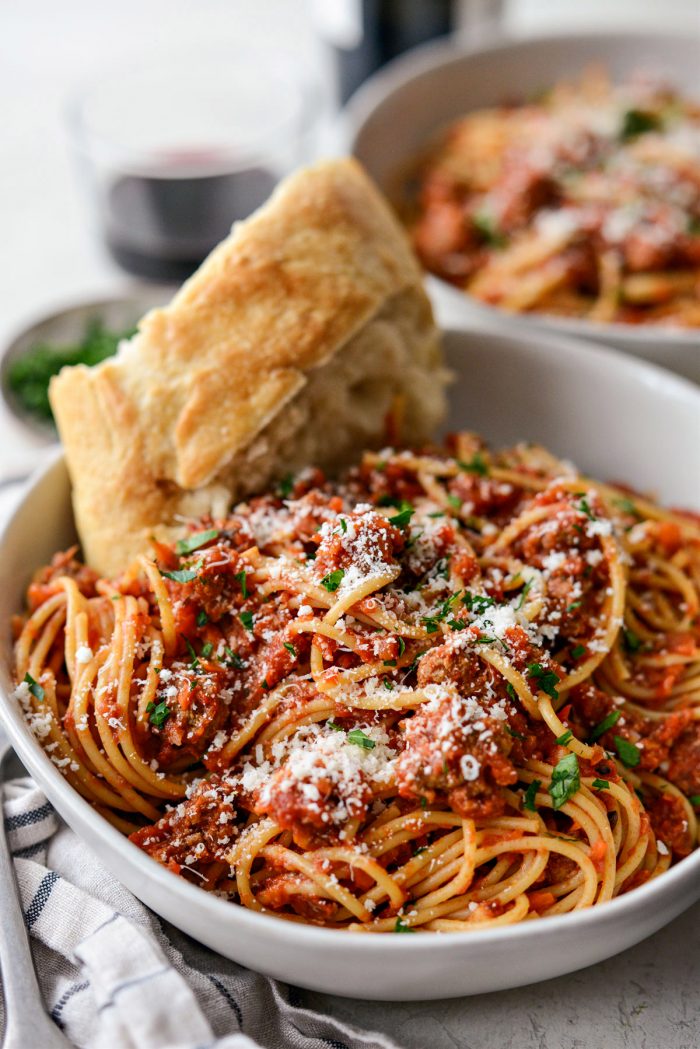 Serve with crusty bread and parmesan. YUM!
To Make Slow Baked Spaghetti Sauce You Will Need:
olive oil
carrots
onion
celery
garlic
ground beef
italian seasoning
dried parsley
dried basil
crushed tomatoes
tomato sauce
sugar
kosher salt
black pepper
Move your oven rack to the lower third of your oven and preheat to 375°. Drizzle 2 teaspoons oil into a large dutch oven and heat over medium to medium-low.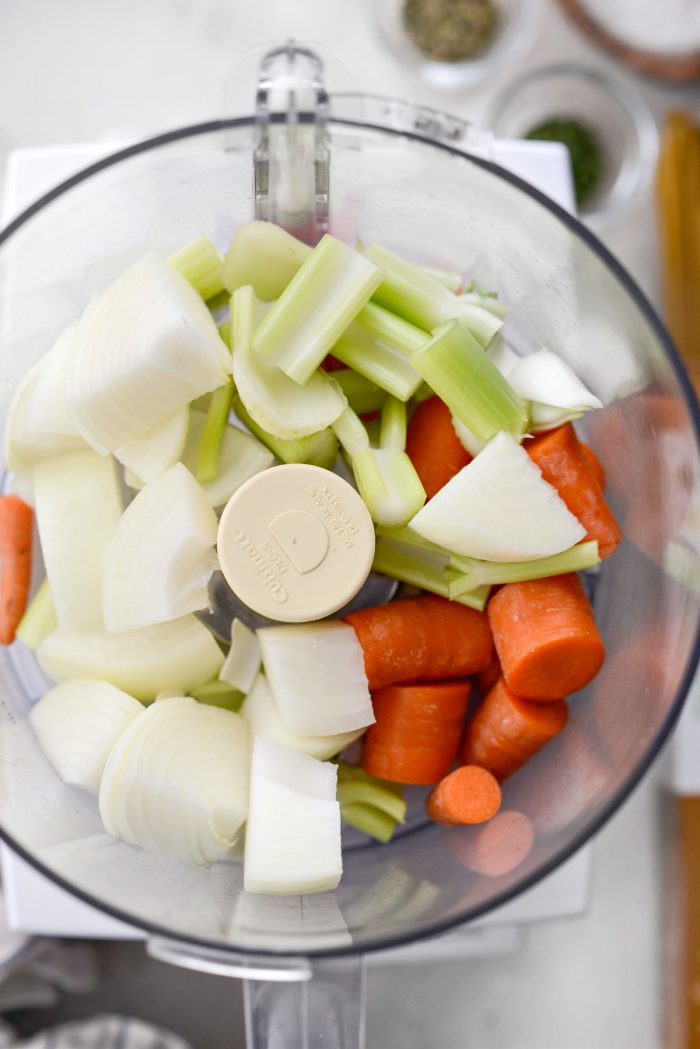 In the bowl of your food processor, fitted with the blade attachment, add 2 small carrots – roughly chopped, 3 short stalks of celery – roughly chopped and 1 medium yellow onion – peeled and quartered.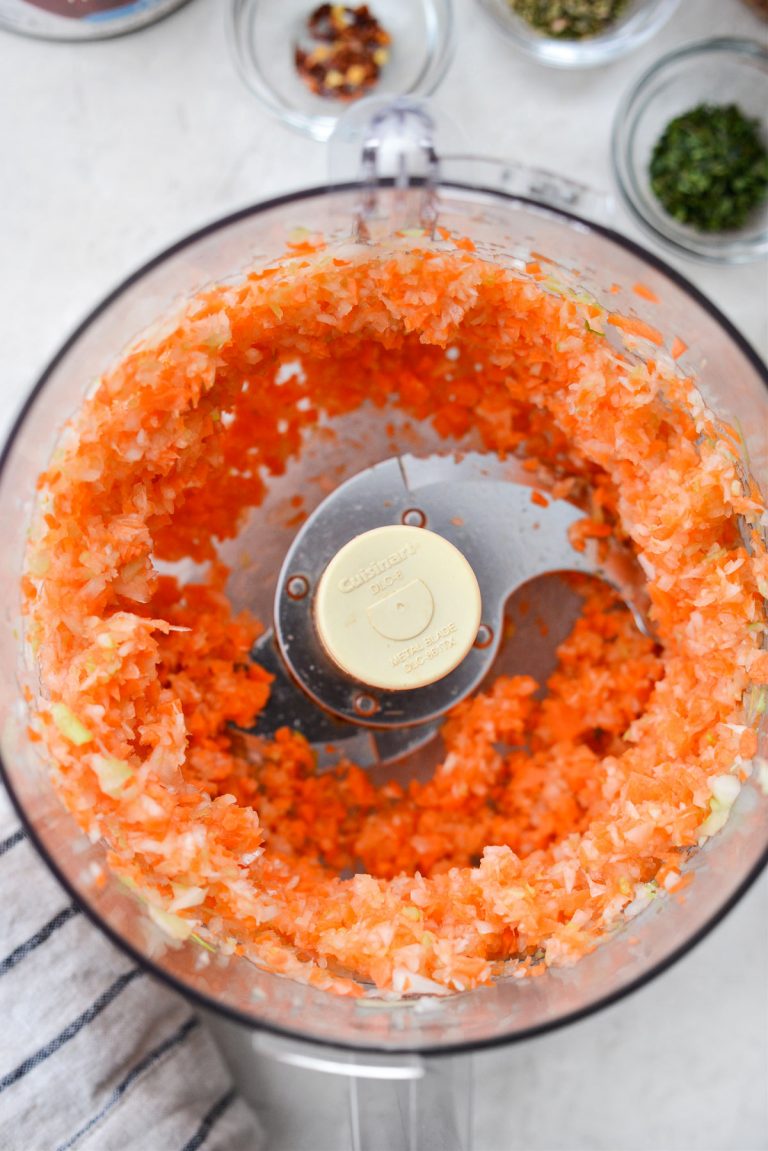 Secure the lid and pulse until finely chopped. You may need to scrape the sides of the bowl as you go.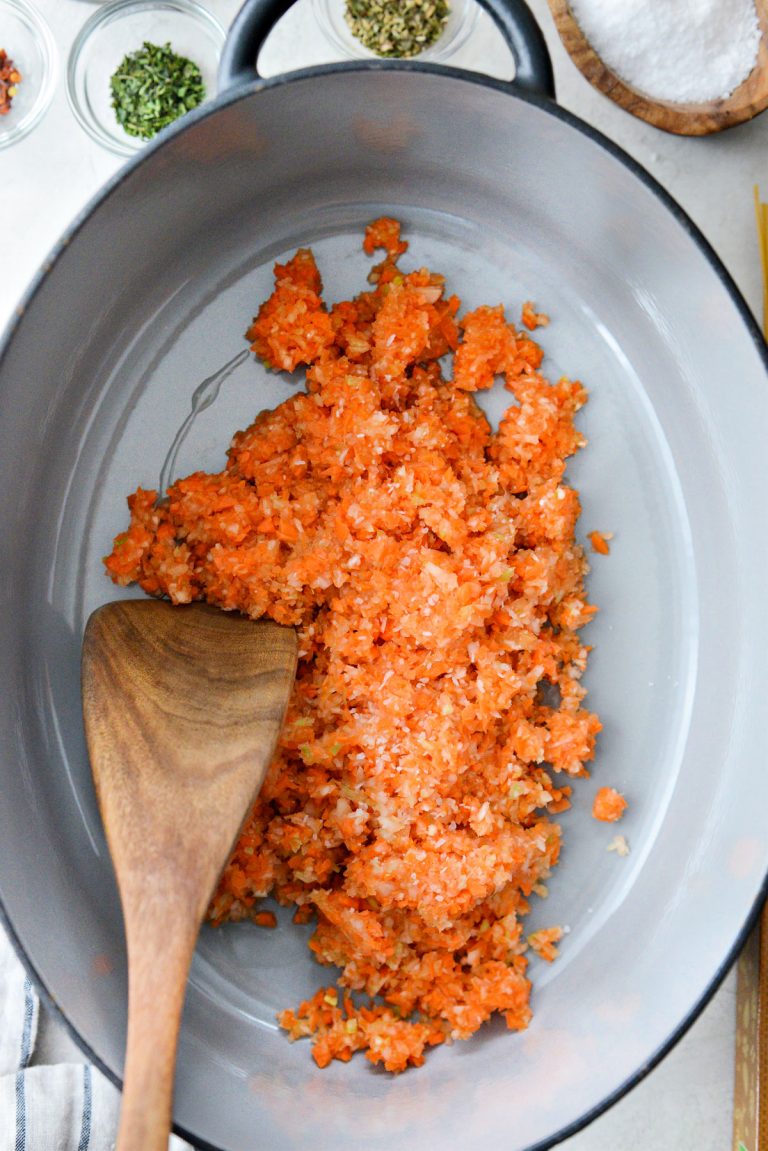 Transfer the carrot mixture to the pot and season with a pinch of kosher salt.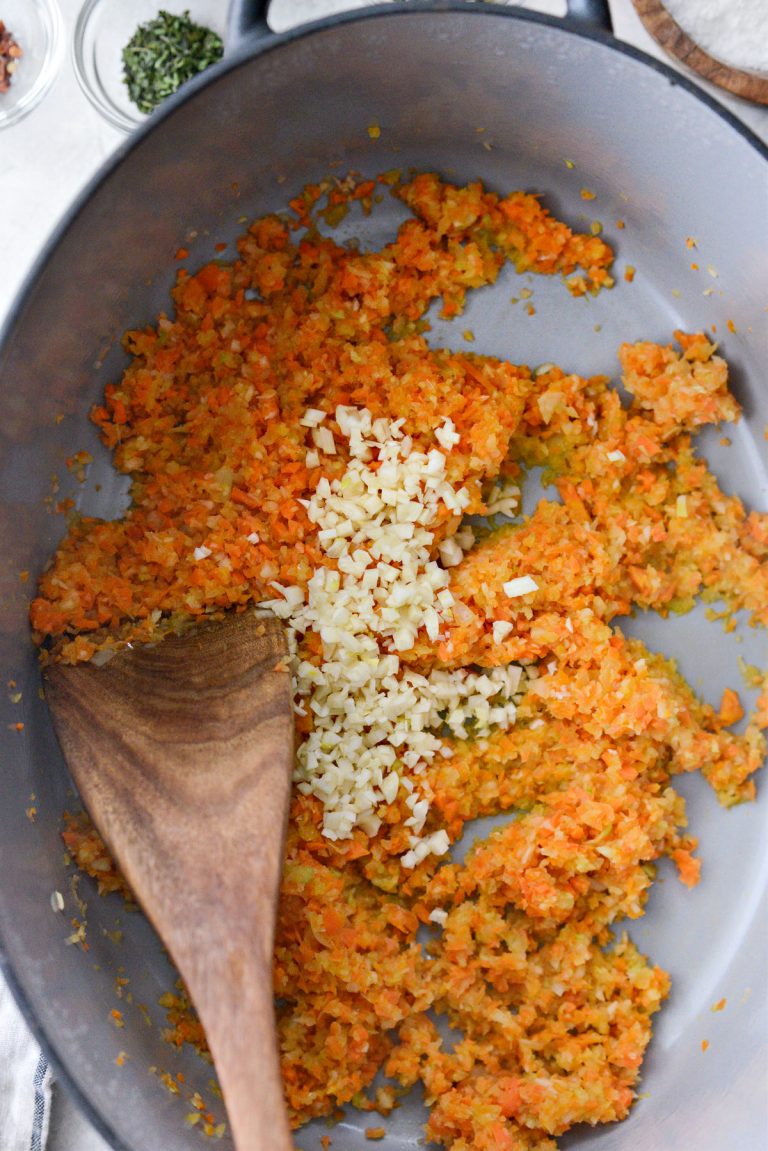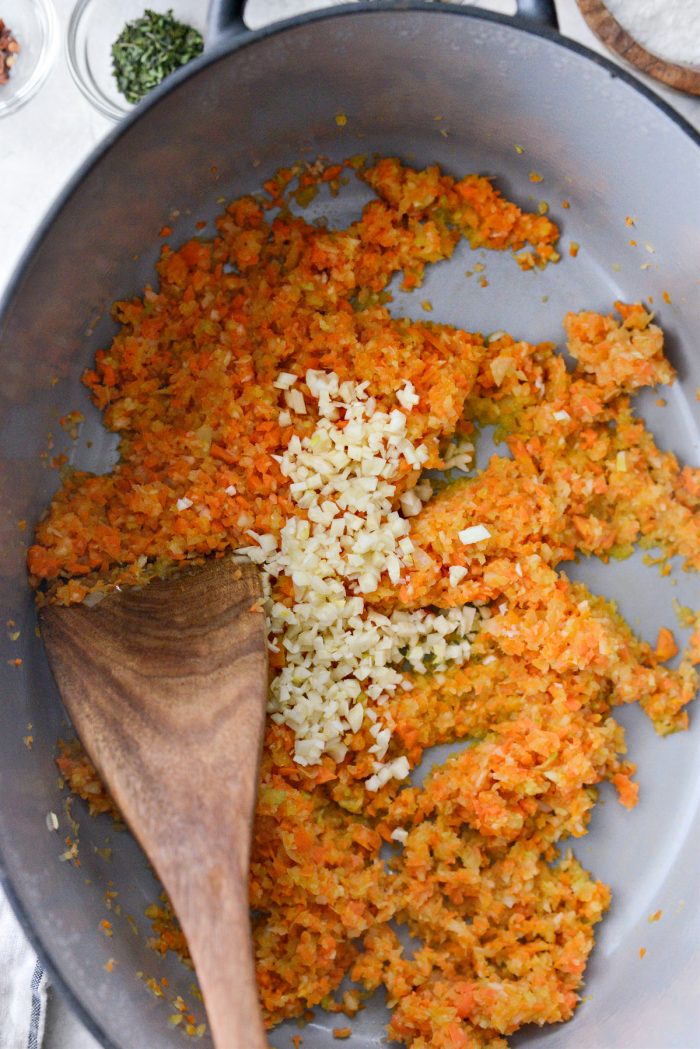 Stir and cook until softened. About 5 to 8 minutes. To the softened veggies, add the 4 cloves minced garlic. Stir and cook 1 minute.
Next add in the lean ground beef. Use a wooden spatula or spoon to break up the meat. Cook until no longer pink. About 12 minutes.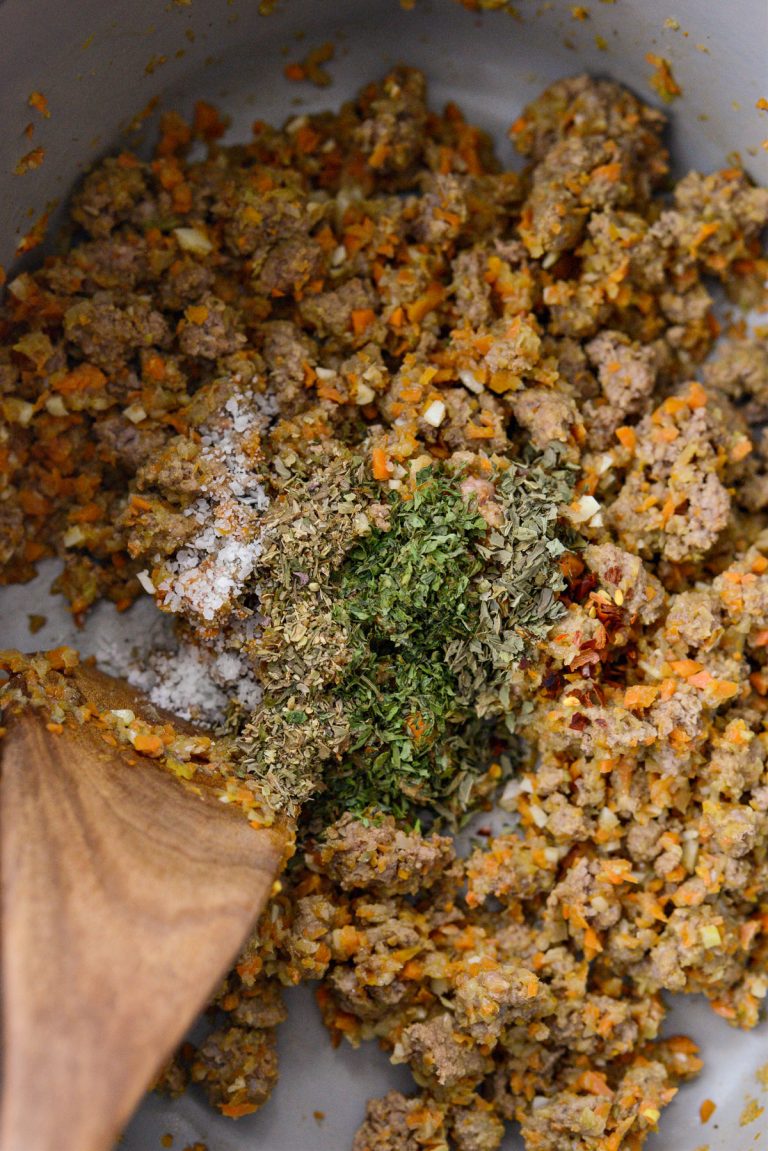 To the veggie and meat mixture, measure and add in; 1 teaspoon italian seasoning, 1 teaspoon dried parsley, 3/4 teaspoon kosher salt and pinch or two of red pepper flakes. Stir and cook 1 minute.
Lastly, pour in 1 (28 ounce) can crushed tomatoes and 1 (15 ounce) can tomato sauce with a pinch of sugar. For the crushed tomatoes, I like Delallo or Tutterosso (not sponsored) because of the flavor and that there isn't any large tomato pieces – which is just a personal preference.
Again, stir well to combine.
Cover and bake in the lower third of your oven for 45 minutes.
After 20 minutes have passed, bring a large pot of water to boil. Once boiling, stir in a palmful (roughly 2 tablespoons) fine sea salt to the water. Add the pasta and cook to al dente according to package instructions.
The sauce can ALWAYS wait for the pasta. Plus it will keep very warm in the dutch oven. With that said, after 45 minutes, remove the pot and keep covered until the spaghetti is done.
Once the pasta is cooked, remove the lid off the dutch oven and give the sauce a stir.
Your home will smell incredible.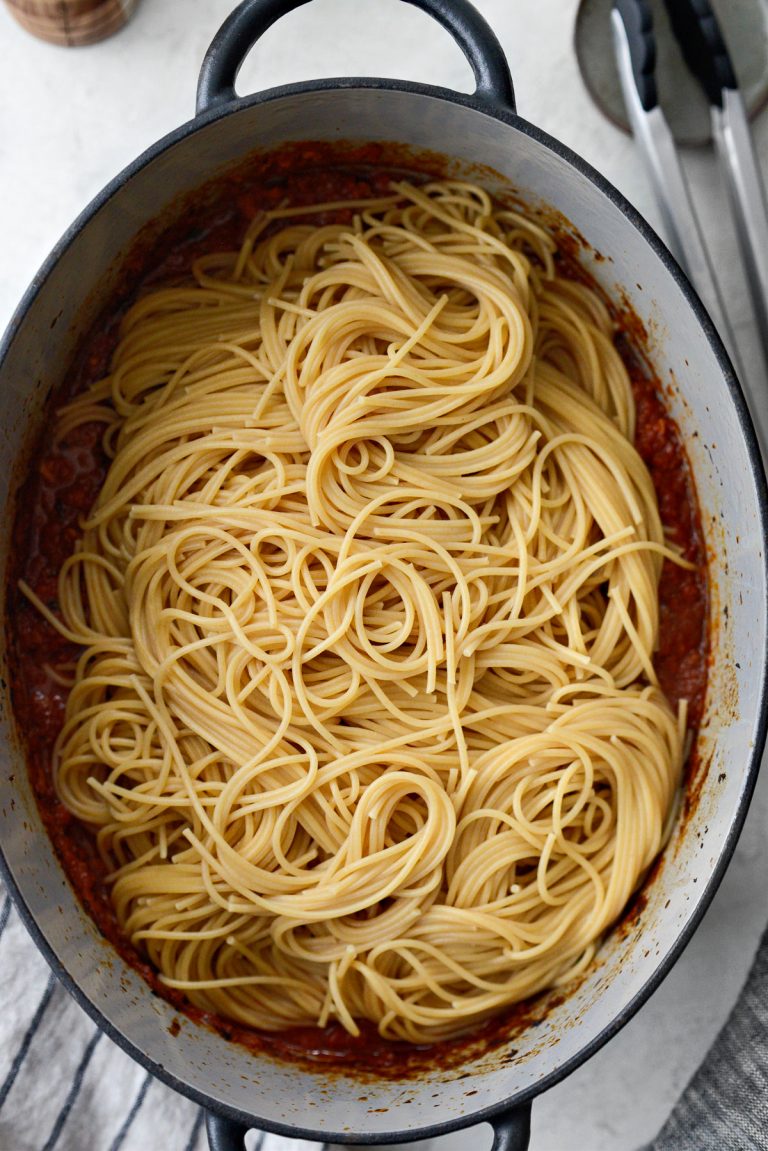 Use tongs to transfer the pasta from the water and directly into the pot with the sauce.
Toss well to combine.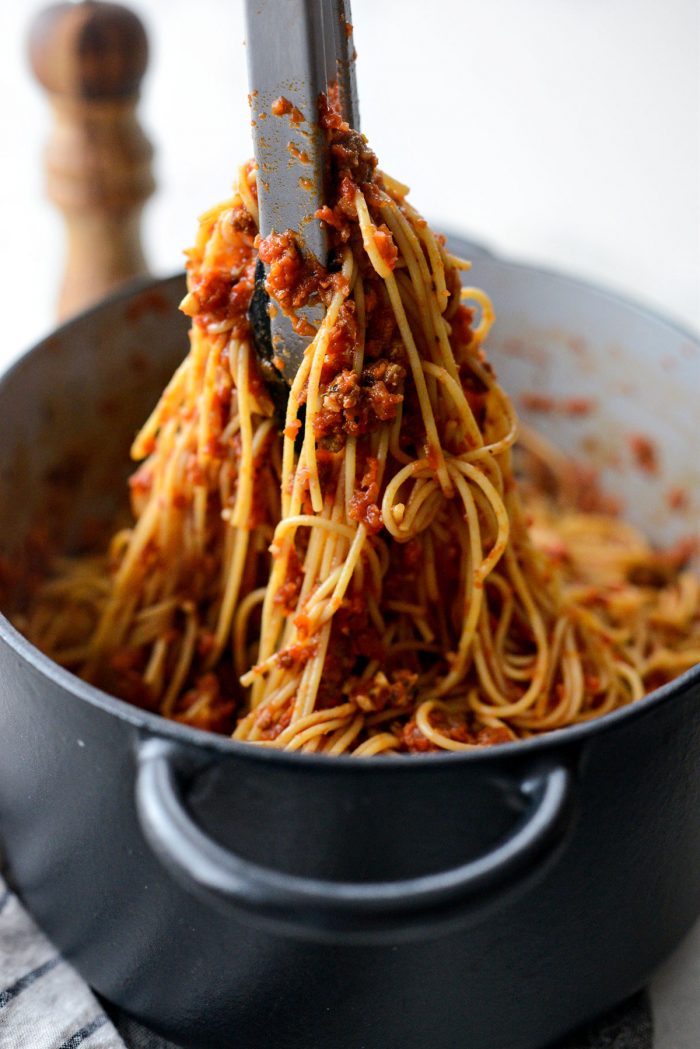 Would you look at that saucy deliciousness?!
Serve with freshly grated parmesan cheese, minced parsley and crusty bread. I made this easy bread recipe earlier in the morning.
So good.
Rustic. Robust. Ridiculously good.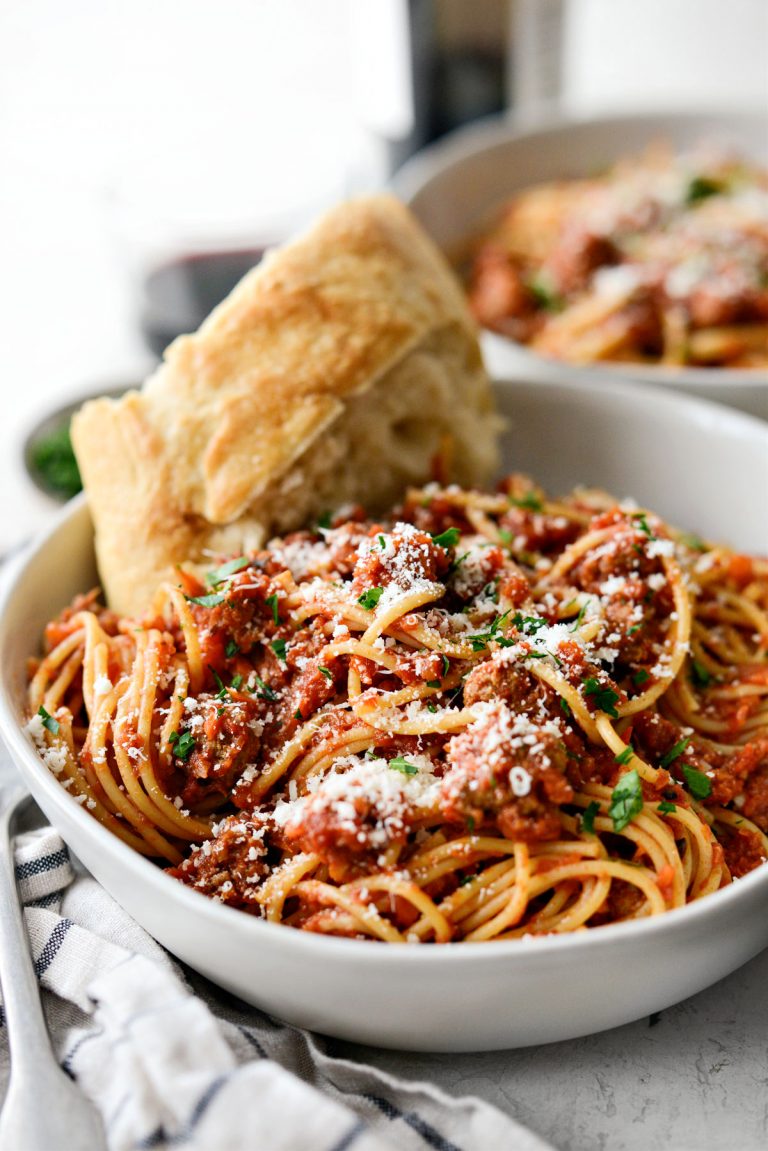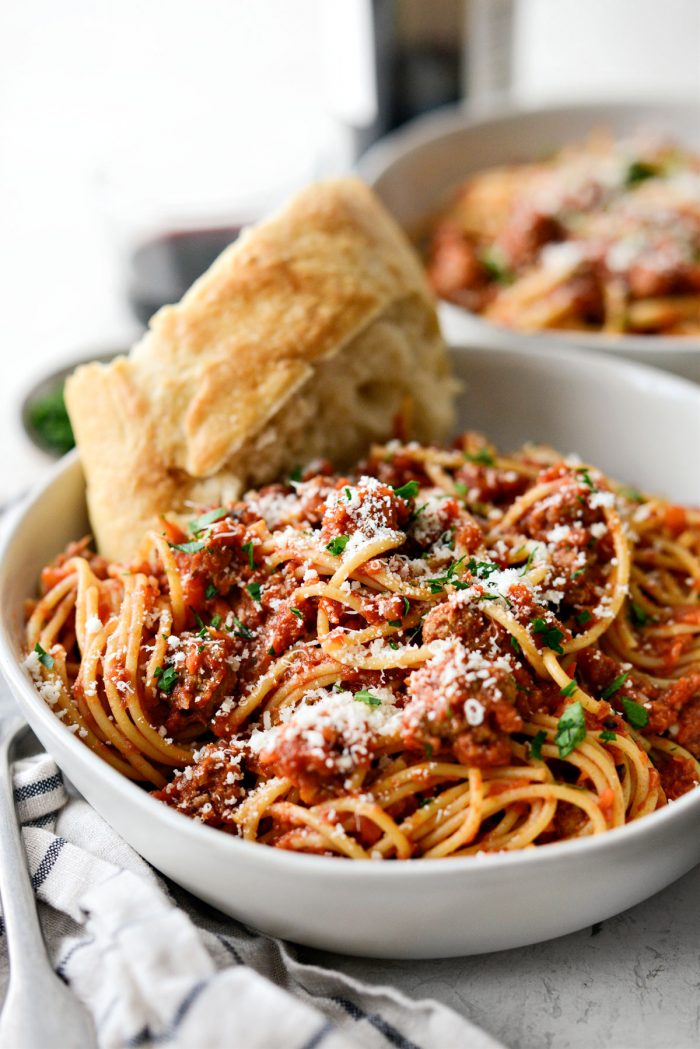 Enjoy! And if you give this Slow Baked Spaghetti Sauce recipe a try, let me know! Snap a photo and tag me on twitter or instagram!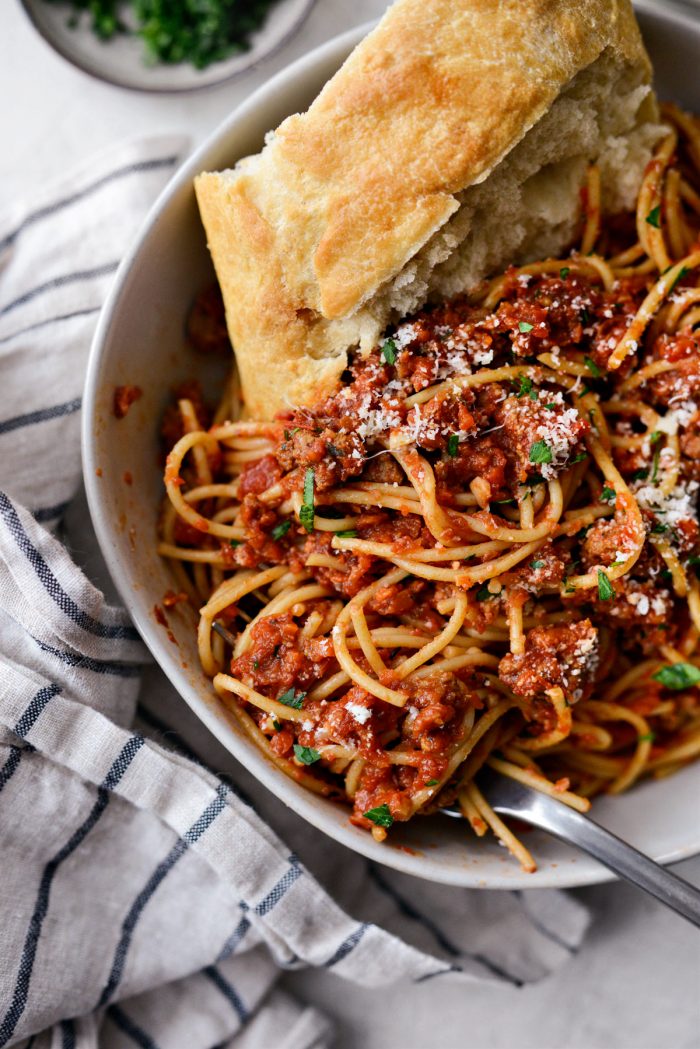 This post may contain affiliate links.
Buy the Cookbook: Simply Scratch : 120 Wholesome Homemade Recipes Made Easy Now available on Amazon »
THANK YOU in advance for your support!