Easy Homemade French Bread recipe that can be made in the comfort of your home! Great served warm with butter or use it to make garlic bread, French bread pizzas and homemade croutons! Yields 1 loaf.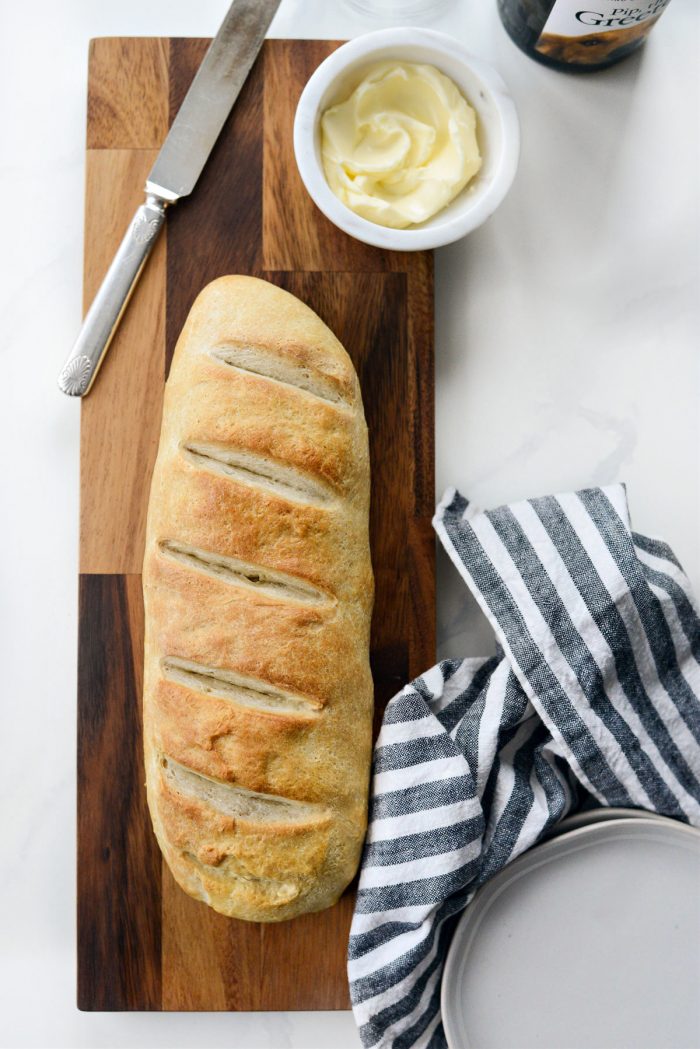 Who doesn't love the smell of bread baking?
It's better than any smell a nose could possible… uh, smell. But don't get me wrong I love the smell of so many other things whilst cooking. For example like onions in butter, chocolate chip cookies baking and of course, anything being grilled. However nothing and I mean nothing is better than when your house smells like Subway (eat fresh!).
Mmmm French bread! Crisp crust, soft chewy center and full of delicious, addictive carbs. Some one pass me some butter! This recipe is so easy. If you can make toast, you can make this easy homemade French bread.
Looking for a more traditional bread? Click here for my no-knead French bread recipe.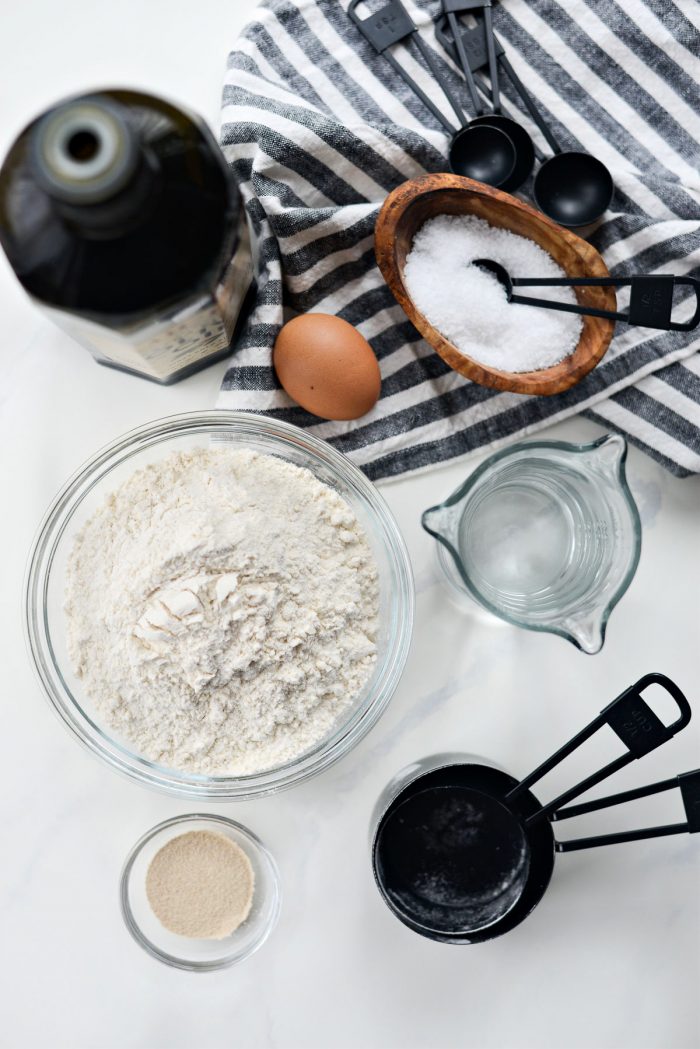 To Make This Easy Homemade French Bread You Will Need:
warm water
rapid rise yeast
bread flour
kosher salt
olive oil
egg wash
Rapid rise yeast is CRUCIAL to making this bread quick and effortless, being that you can totally skip the first rise if in a rush. Easy-peasy!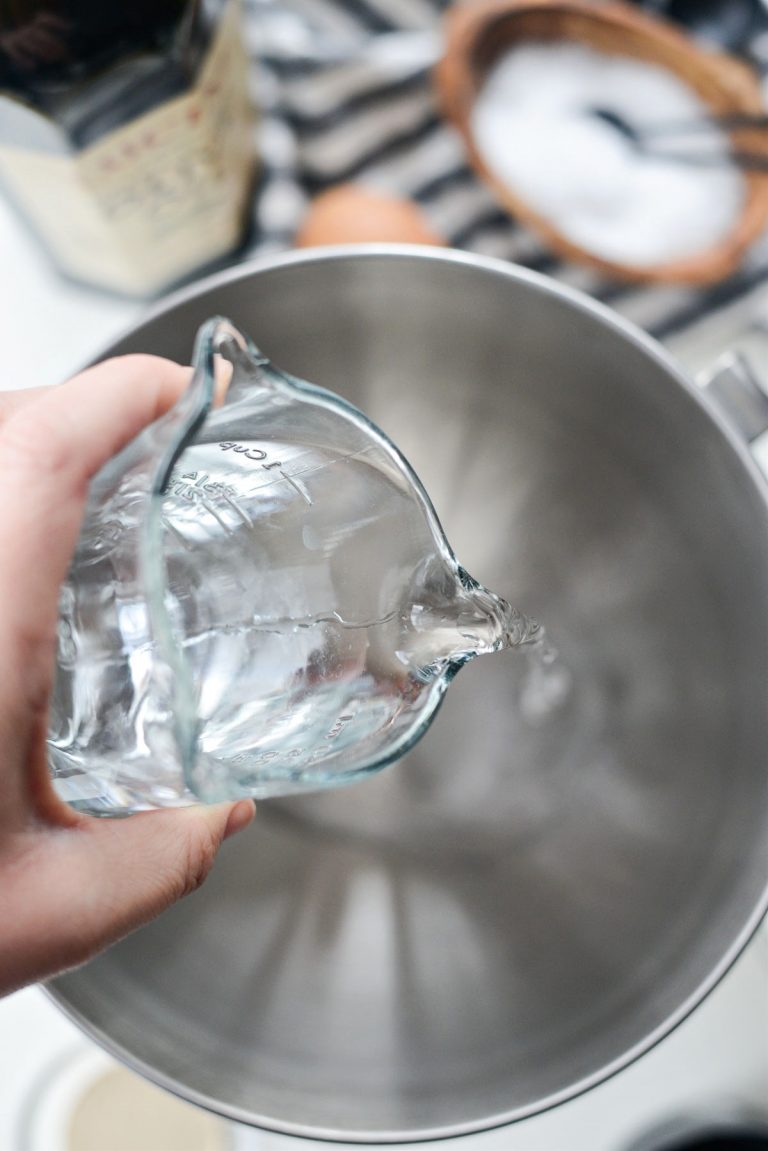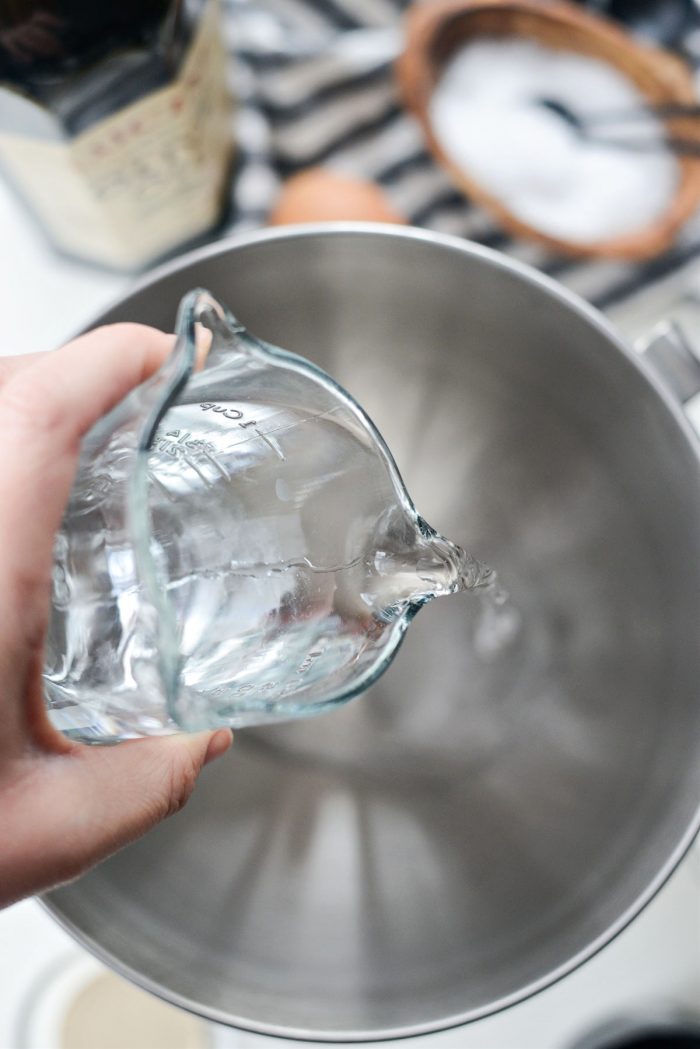 Add 1 cup warm water (about 110-115°) into the bowl of your stand mixer. Too hot of water can kill your yeast. For a while I would use an instant read thermometer to get an accurate temperature of my water.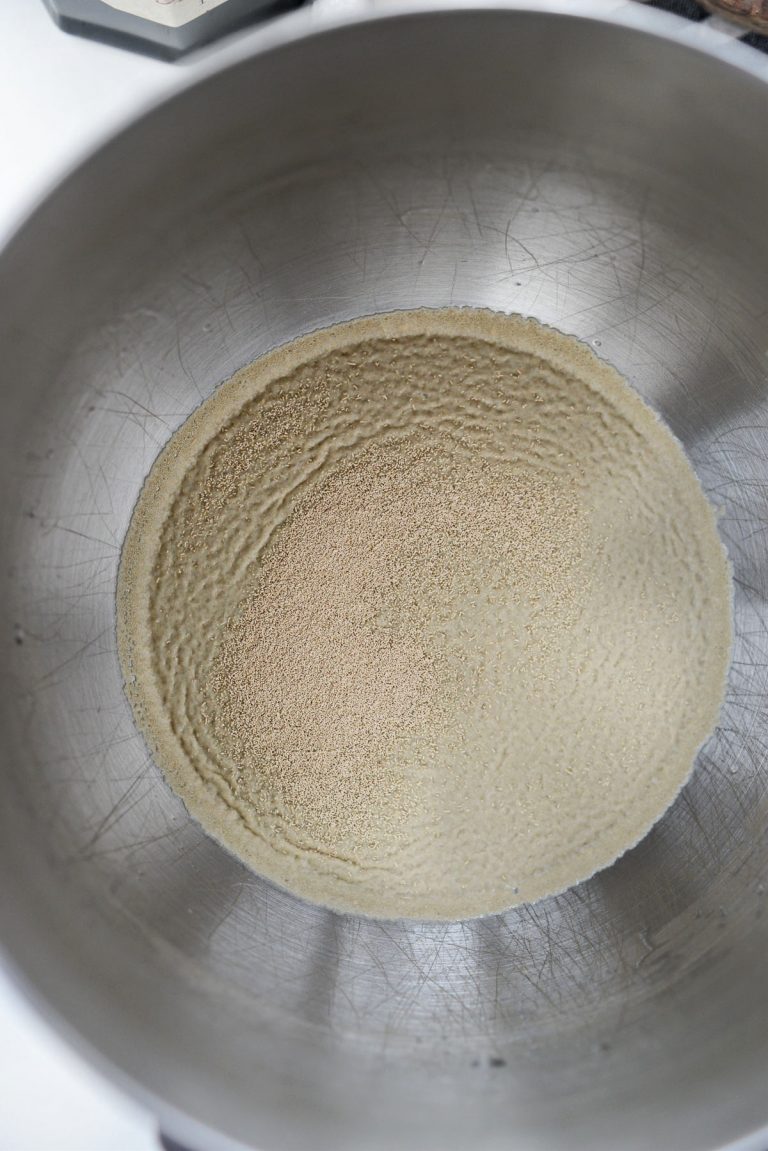 Sprinkle 2-1/4 teaspoon (or one 1/4 ounce envelope) rapid rise yeast over top and watch it bloom.
Am I the only crazy one or are there others out there that love the smell of yeast? I just wish it was called something else, like anything else but yeast.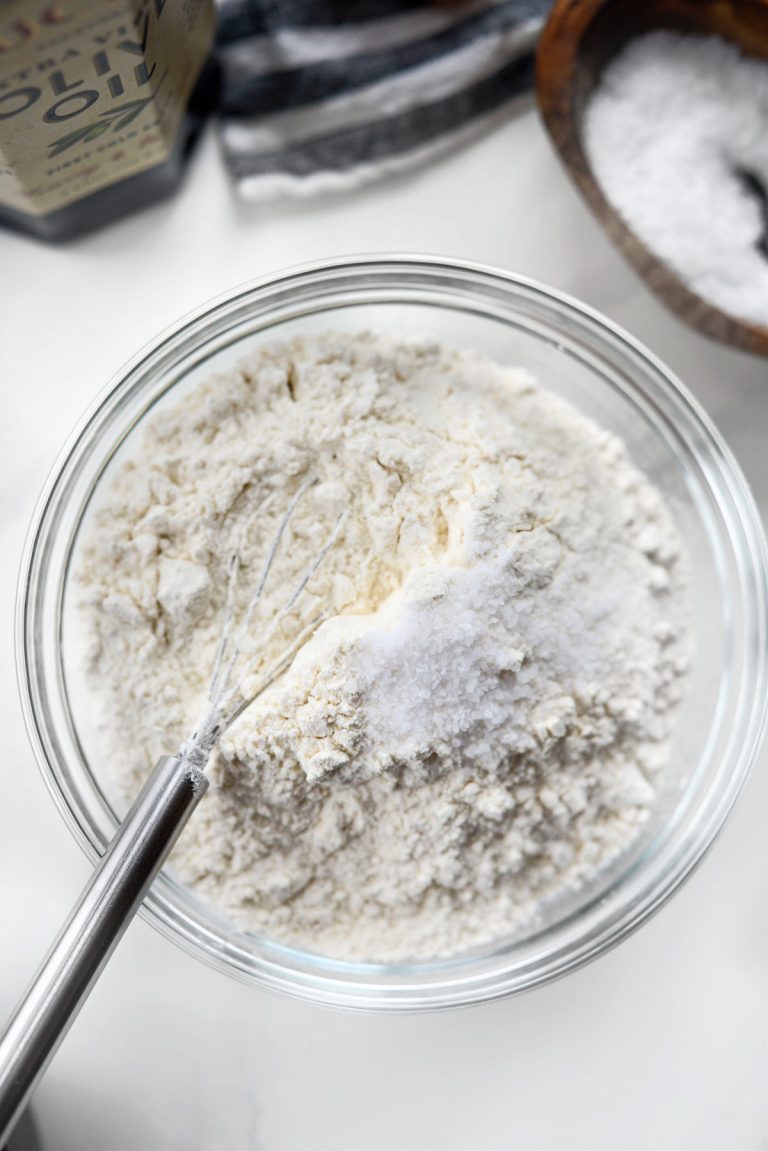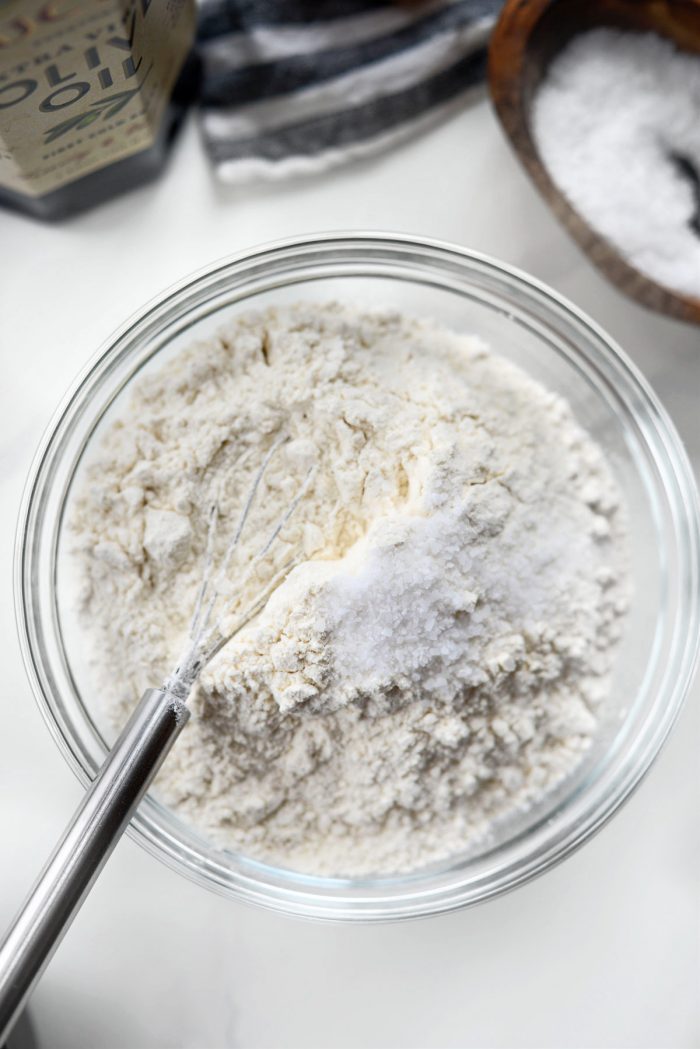 Next, while the yeast is doing it's thing, in a bowl add 2-1/2 cups bread flour and 1 teaspoon kosher salt. Give it a quick whisk to combine. In a pinch, all-purpose flour can be used. However the crumb or texture of the bread will be different than if you used bread flour.
The top loaf was made with unbleached all-purpose flour and the bottom loaf was made with bread flour. A slight difference in texture and crumb.
All-purpose vs. Bread Flour?
It all boils down to high protein. Protein content will affect many aspects of the flour and doughs/batters such as water absorption, cohesiveness, viscoelasticity, dough strength, texture, loaf volume, and crumb grain. <—I learned that from the bakerpedia.com. Typically (not always) if a recipe is yeast leavened (i.e breads) you should use bread flour. If a recipe is chemically leavened (baking powder and/or baking soda) it will need less protein and all-purpose flour is usually called for. Like in biscuits, cakes and cookies, for example.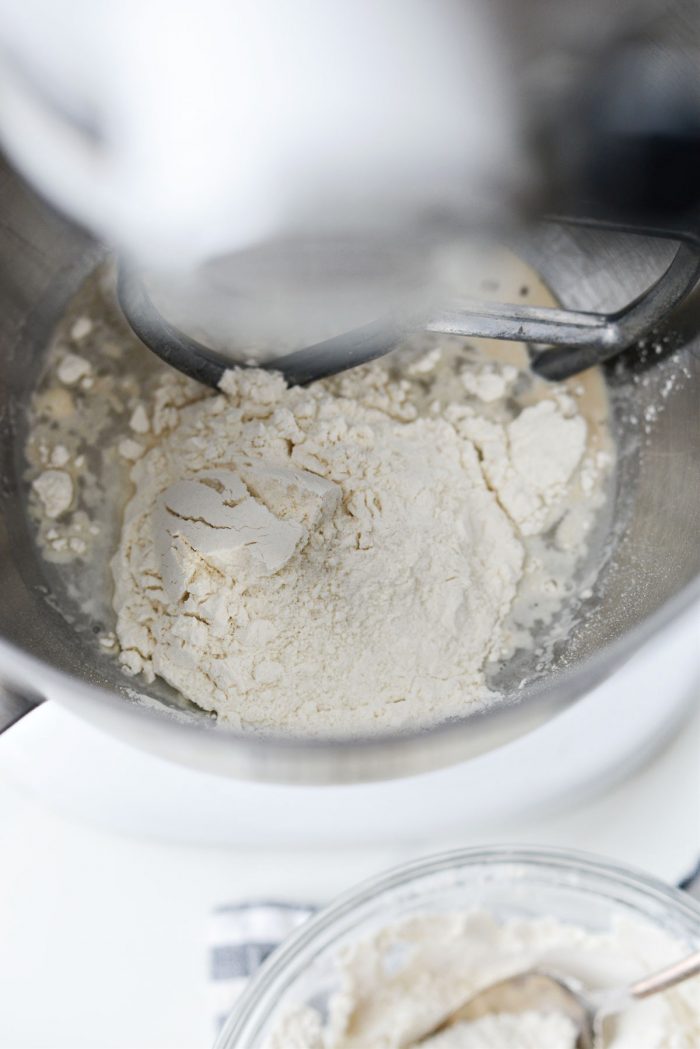 Work in batches, mixing 1/3 of the flour in with the yeast water until just combined.
Mix it on low, just until the flour is incorporated.
Next, switch over to the dough hook attachment.
Mix on low speed until the dough is smooth and pulls away from the sides of the bowl. This should take 4 to 6 minutes. If you find it's still a little too sticky you can add a smidgen (like a teaspoon or two) more flour.
In a large, clean bowl add some olive oil. I eyeball it, but it's around 2 teaspoons.
Once the dough has finished, remove from the dough hook and shape into a smooth ball.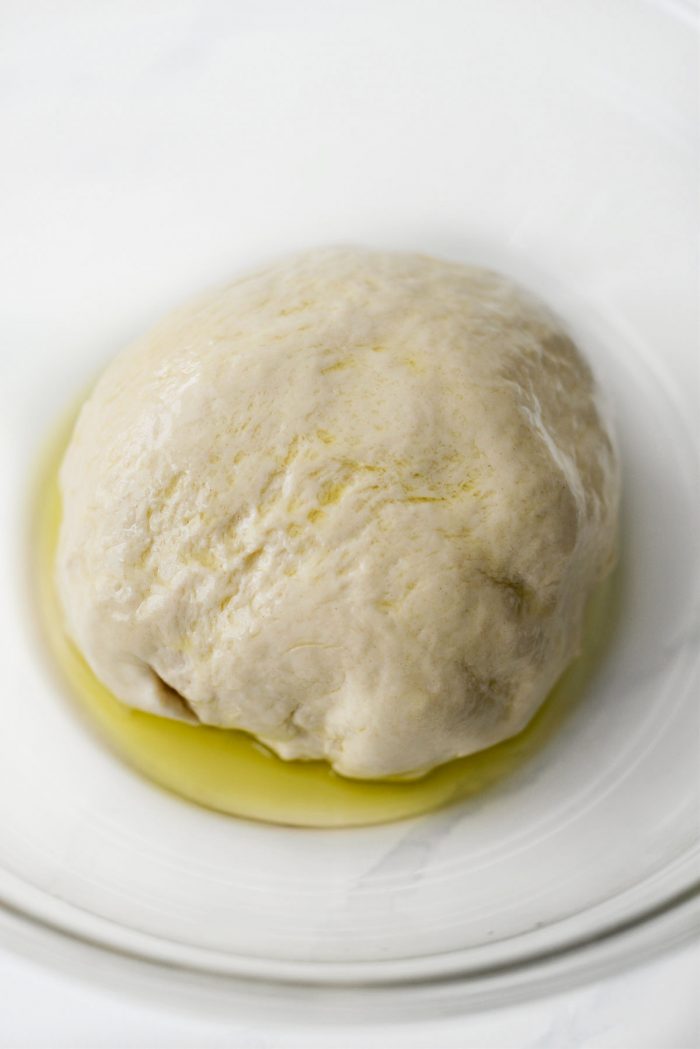 Place the dough into the bowl and use it to coat the inside of the bowl with oil.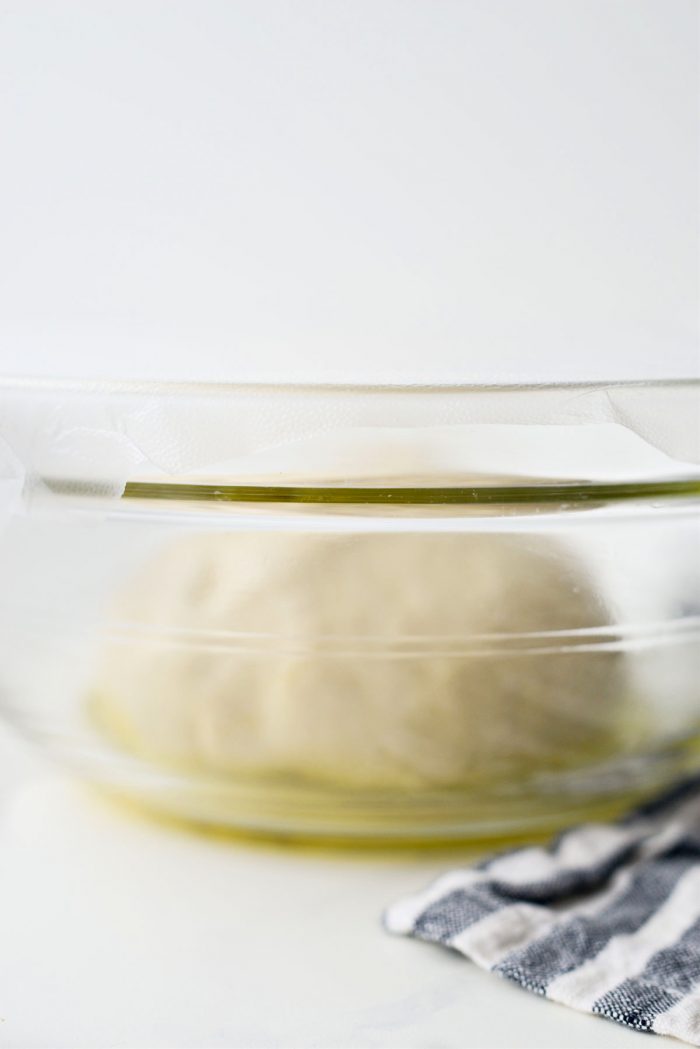 Cover with plastic wrap or a clean kitchen towel and place it in a warm place to rise for 1 hour.
By now it should have doubled in size.
Press or "punch" it down the dough to release the air bubbles and deflate it.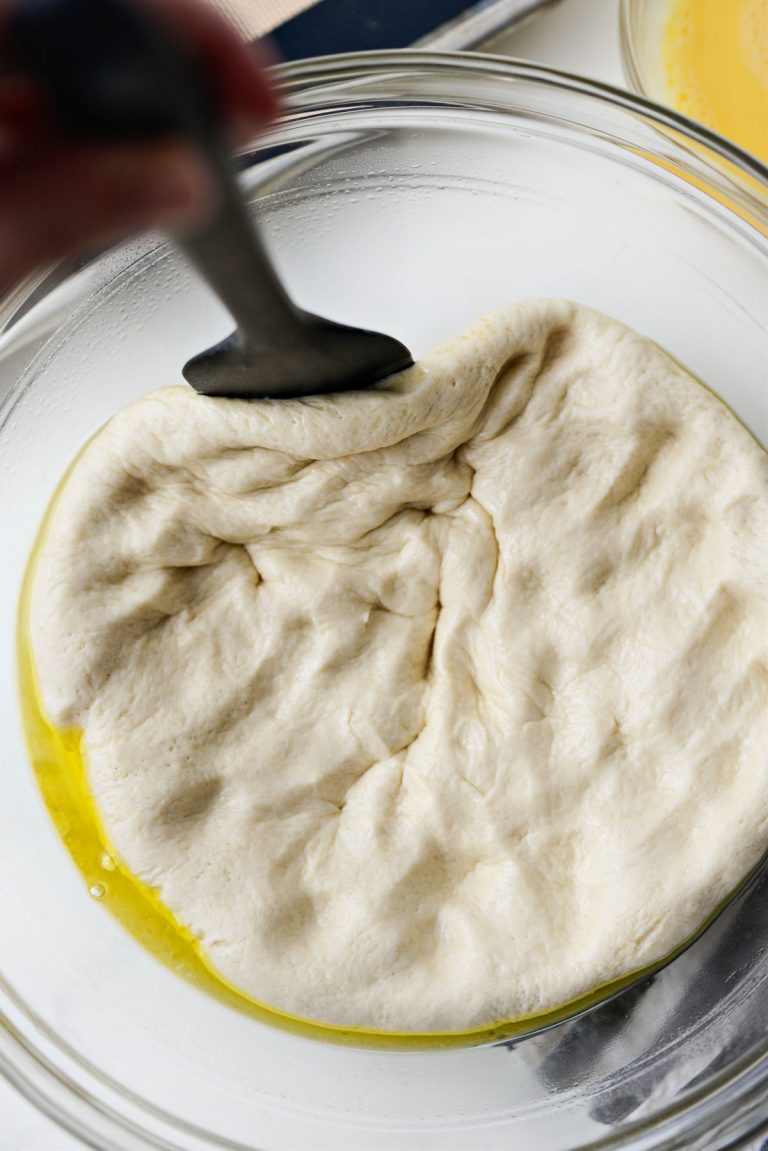 Starting on one side, use a spatula to scrape underneath and roll or fold over 1/3 of the way.
Continue until the dough is shaped like a log.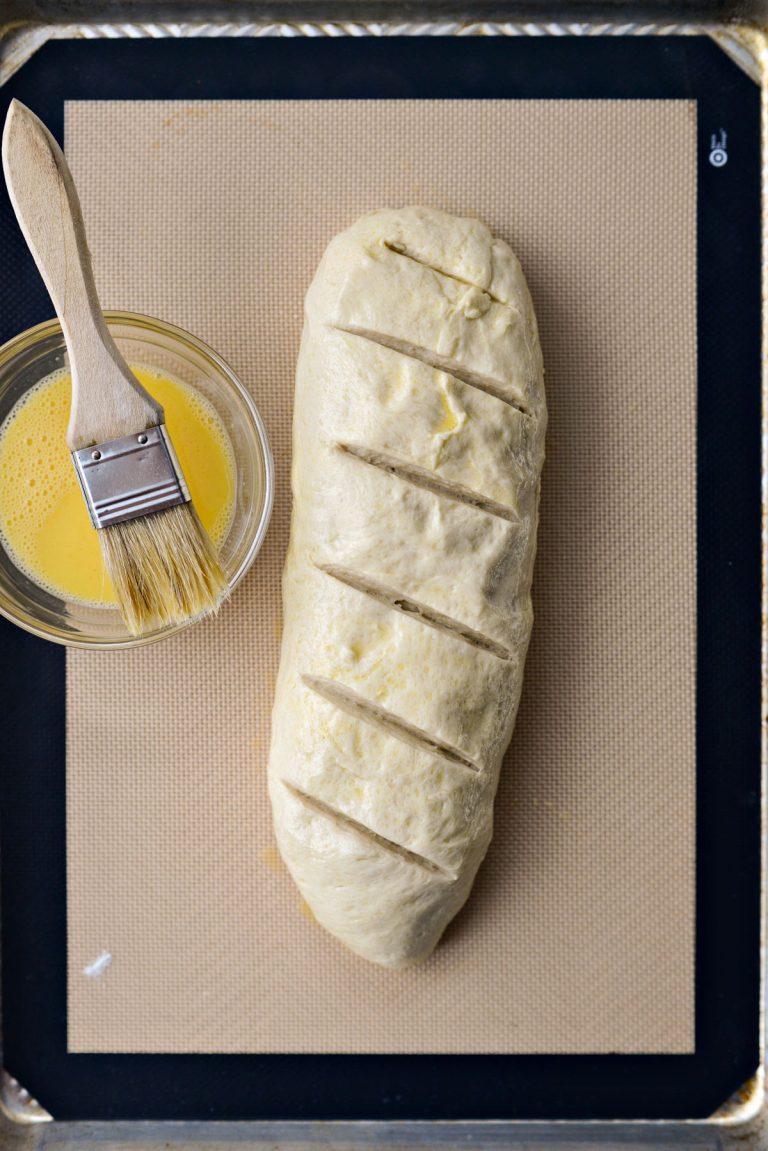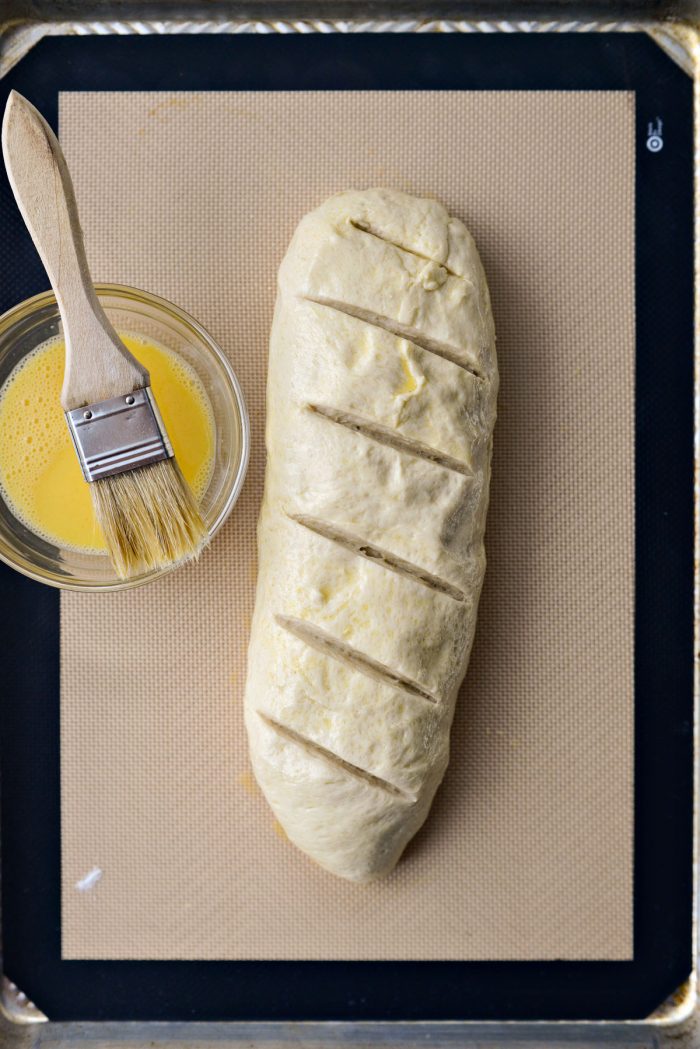 Transfer the loaf, seam side down, onto a parchment paper or a silicone mat lined, rimmed metal baking sheet. From here, shape or stretch the dough to form a classic "French loaf" shape or shape it however you like. Brush the tops and sides with an egg wash (1 egg beaten with a splash of water) and make a few slits on the top with a knife. I stick the entire blade in flour before doing this.
Slide the pan onto the middle rack of your cold oven. YES COLD OVEN.
Shut the oven door (yes, with the loaf inside 😉) and turn your oven on, with the temperature set to 375°. As the temp slowly climbs, the bread will slowly rise and bake. Bake the bread for 30 to 35 minutes.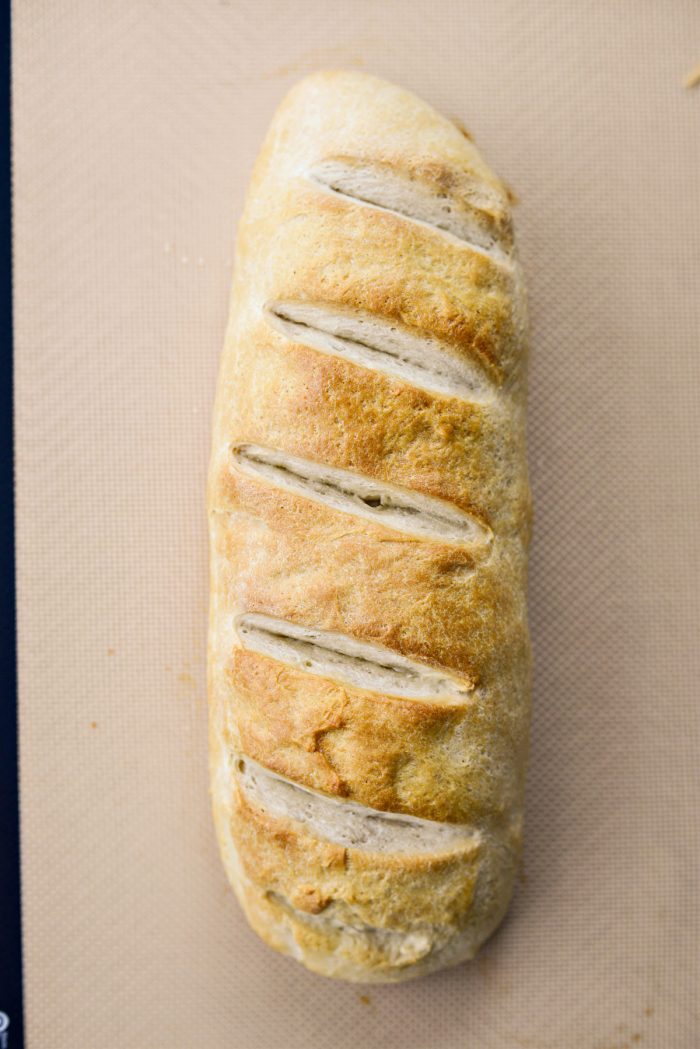 Awww look it's a bread baby. SO cute!
And what's the best thing to make with French bread you ask?
Besides smearing with salted butter? French bread pizzas of course! That and garlic bread!)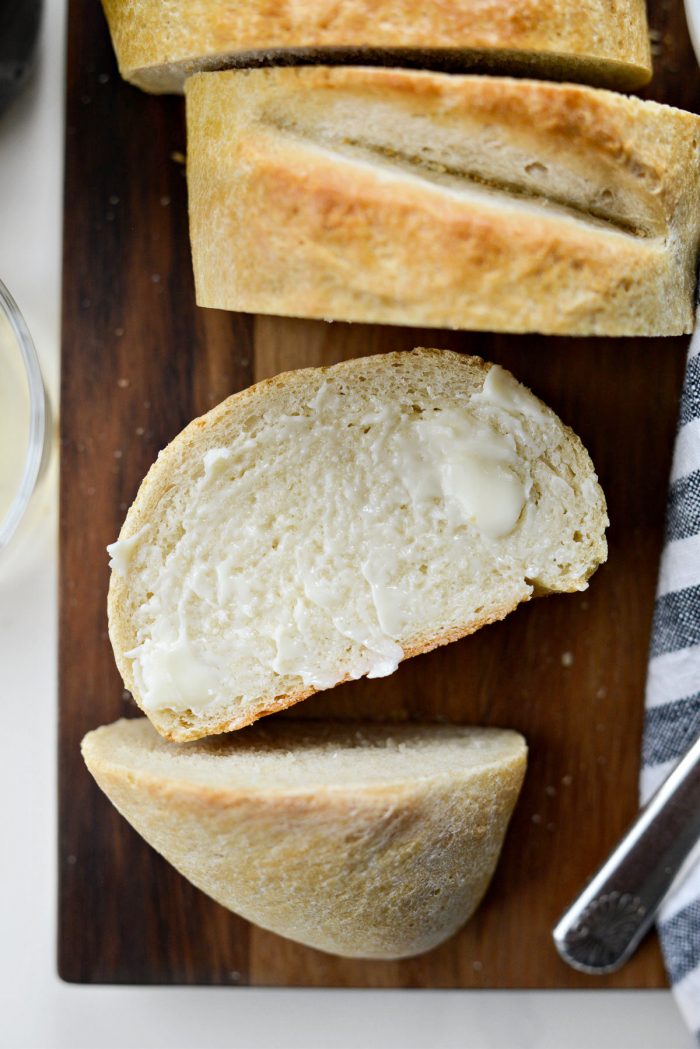 Enjoy! And if you give this Easy Homemade French Bread recipe a try, let me know! Snap a photo and tag me on twitter or instagram!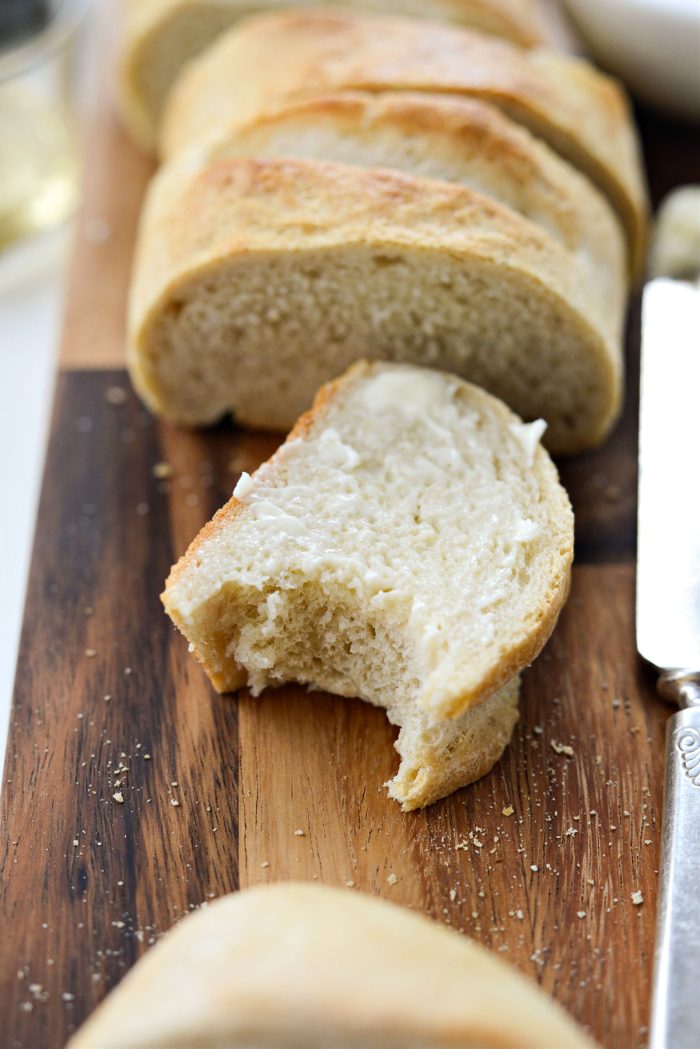 This post may contain affiliate links.
Buy the Cookbook: Simply Scratch : 120 Wholesome Homemade Recipes Made Easy Now available on Amazon »
THANK YOU in advance for your support!