Strawberry Pretzel Dessert Bars are a classic spring and summertime dessert. This make ahead and semi-from scratch treat consists of a salty almond pretzel crust, sweetened whipped cream cheese filling and topped with a strawberry gelatin. This recipe will serve 16.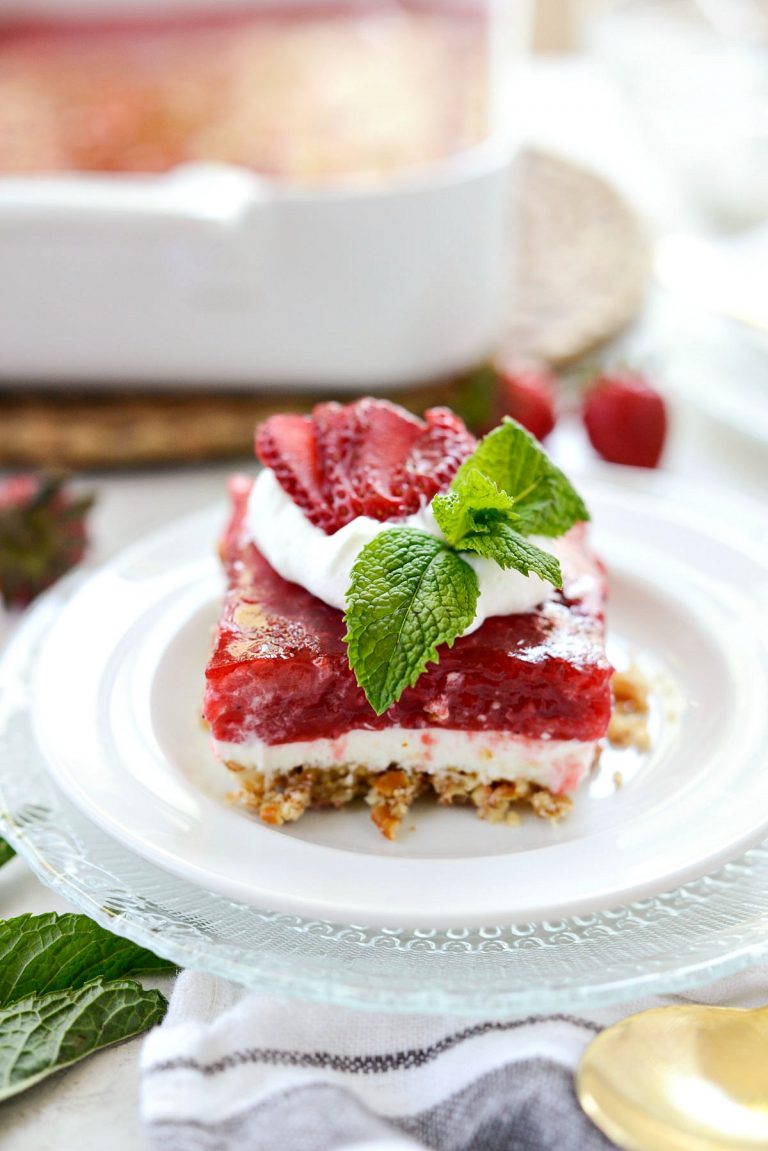 You might know these as strawberry pretzel dessert.
Maybe strawberry pretzel salad (<—this one confuses me) or by holy deliciousness in a pan.
No matter which name you call these by, there's just something so magical about a salty pretzel crust layered with creamy whipped center and sweet strawberry jello topping that is tantalizing for the taste buds. Relative easy to make, I prefer to make the strawberry pretzel dessert bars in advance to ensure the jello topping has time to properly set.
If you go searching online for this recipe, you'll find pretty much the same recipe: 2 cups crushed pretzels, 1 pkg cream cheese, whipped cream topping… etc. I took that standard and kicked it up a notch by adding ground almonds to the pretzel crust, used homemade (unsweetened) whipped cream and added vanilla extract to the filling. Just a few minor tweaks to make this dessert extra.
And nothing is more prettier than all those layers.
To Make This Strawberry Pretzel Bars You Will Need:
crushed pretzels
ground or finely chopped balanced almonds
melted unsalted butter
sugar
heavy whipping cream
cream cheese
strawberry Jell-O mix
frozen sweetened sliced strawberries
In a mixing bowl add; 2 cups crushed pretzels, 1/2 cup finely chopped or ground blanched almonds and 3 tablespoons sugar. Mix to combine.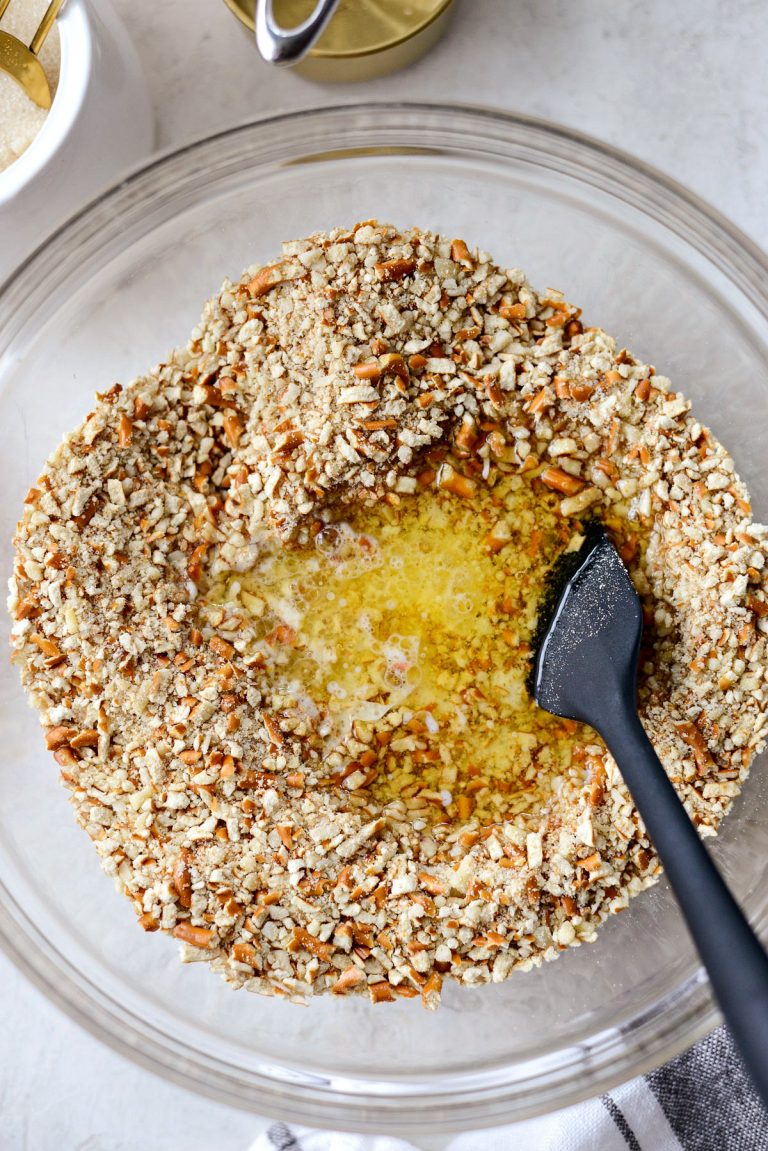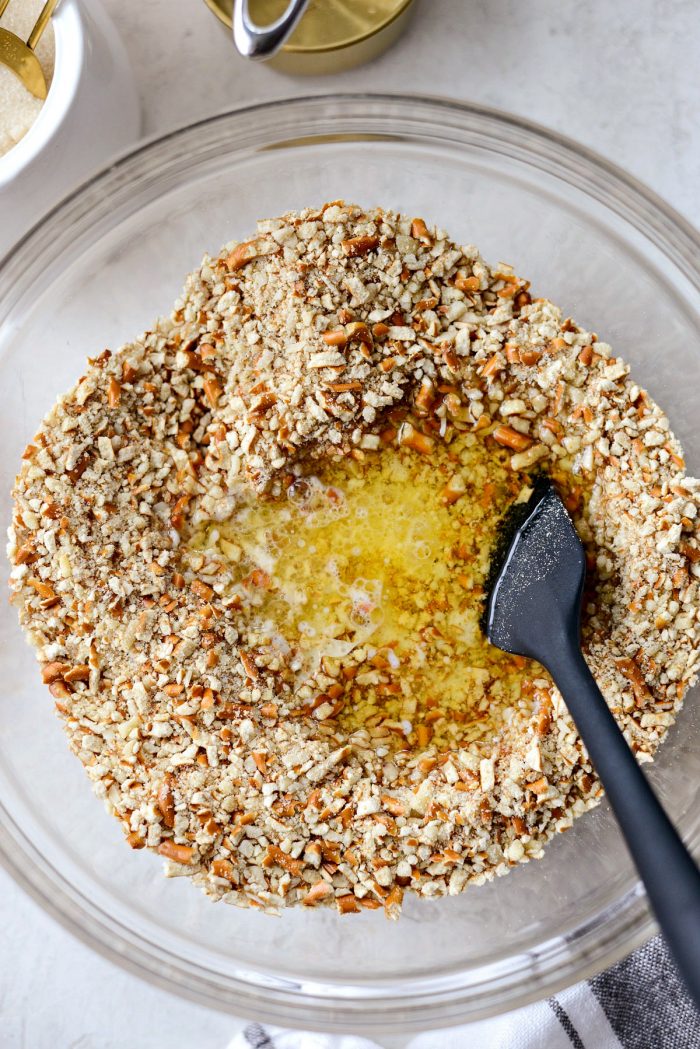 Pour in 3/4 cup melted unsalted butter to the crumb mixture.
Stir well to incorporate the butter into the pretzel almond mixture.
Transfer the crumb mixture to you 9 x 13 baking dish.
Use the bottom of a glass or measuring cup to press the crumb evenly into the pan. Then and bake for 10 minutes in your preheated 350° oven. Once baked, let this crust cool completely.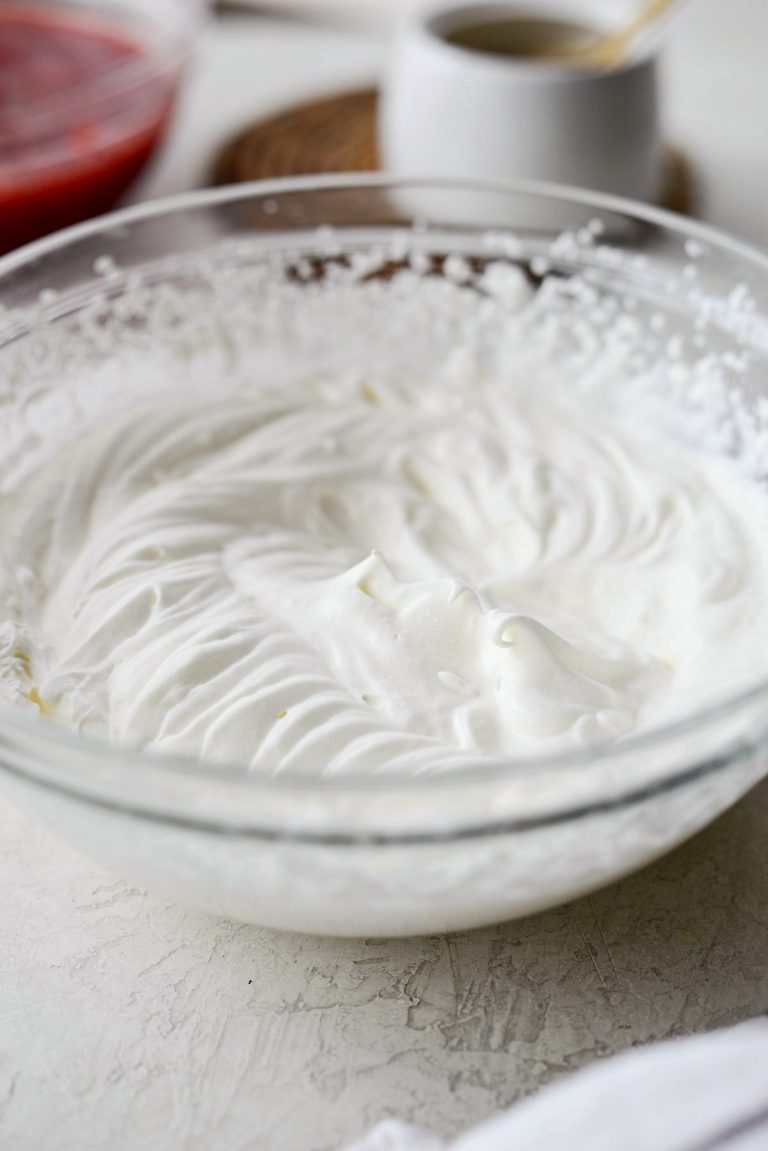 Then pour 1 cup heavy whipping cream into a mixing bowl. Using a hand mixer or stand mixer, beat until stiff peaks form.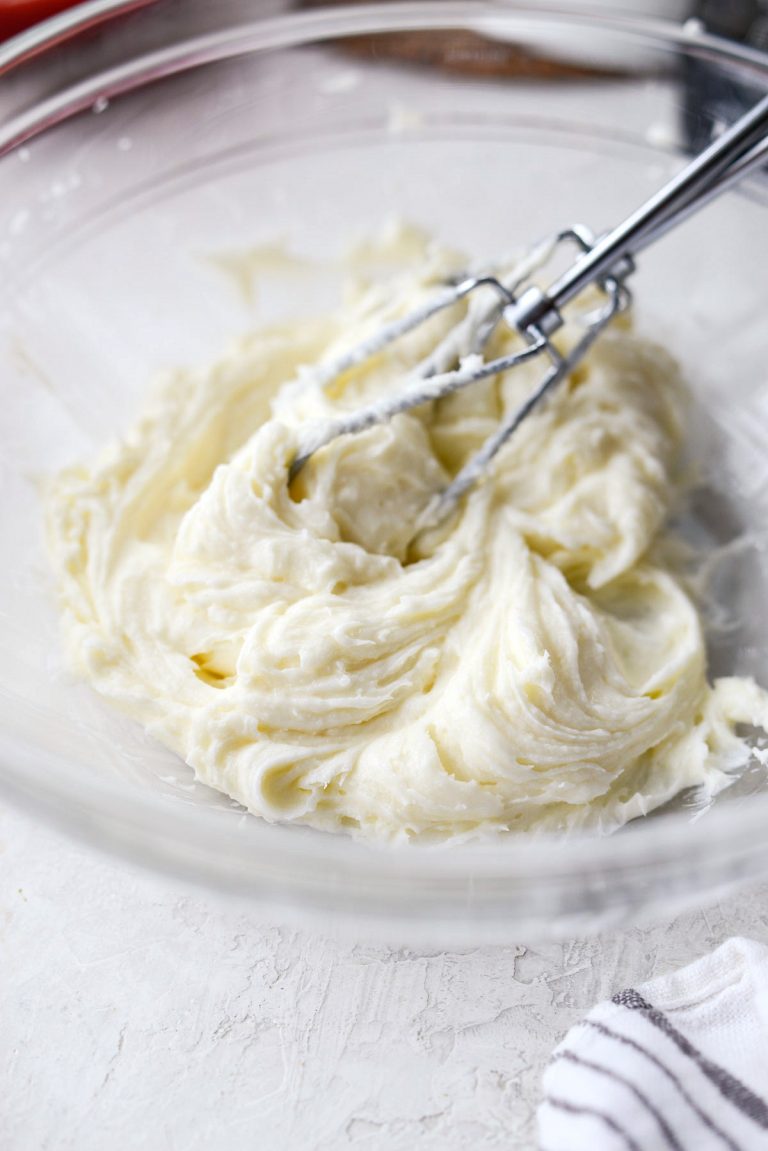 In a larger mixing bowl, add the softened cream cheese, 3/4 cup sugar and a splash of vanilla. Blend until smooth.
Add the unsweetened whipped cream to the bowl with the sweetened cream cheese.
And gently fold using big sweeps until no streaks remain.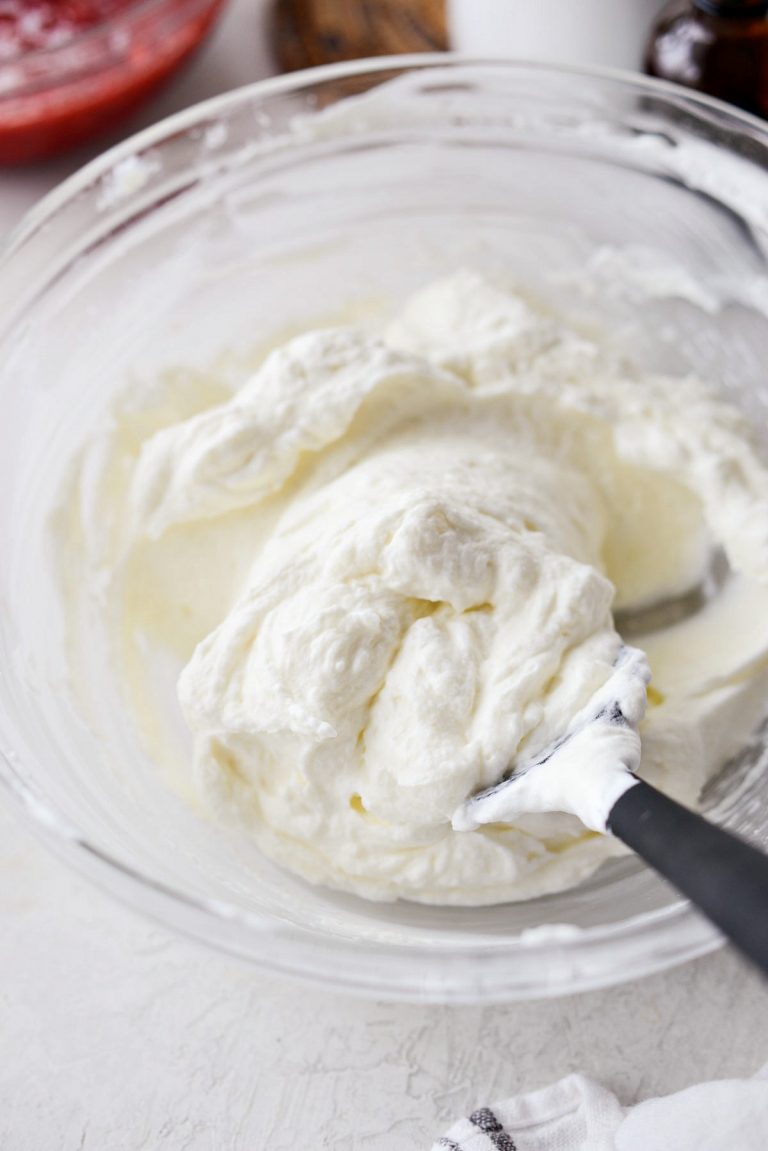 Like so.
Add this mixture to you cooled crust.
Once the crust has cooled, spread the whipped cream mixture over top of the crust, corner to corner to seal the crust in. This is important so the jello topping doesn't break through and sog the crust.
Chill for 1 hour.
Pour the strawberry Jell-O mix into a heat safe bowl. Bring 2 cups water to a boil and carefully pour it into the bowl with the Jell-O.
Stir until completely dissolved.
To that, add the thawed strawberries and stir to combine. Place the bowl of strawberry jello mixture in your fridge to chill for 1 hour or until thickened but not completely set. I usually time this with the crust so they both are ready at the same time.
So pretty!
Once thick, pour the strawberry Jell-O mixture over top of the chilled whipped cream cheese mixture and refrigerated 6 hours or overnight.
This festive sweet treat tastes like summer and is perfect for gatherings, however can be easily halved and made smaller.
Cut and serve! This recipe will feed 16 but can easily be cut in half to make a smaller batch.
I top ours with sweetened whipped cream, fresh strawberry slices and mint for a pop of color.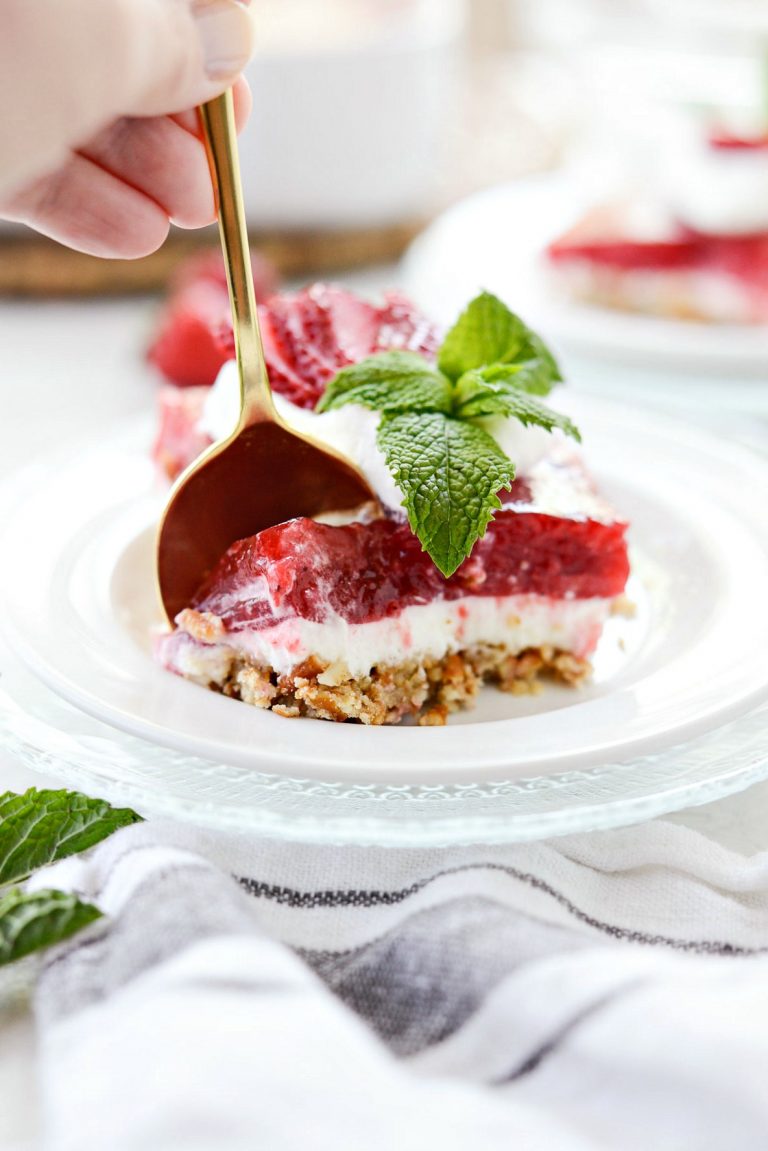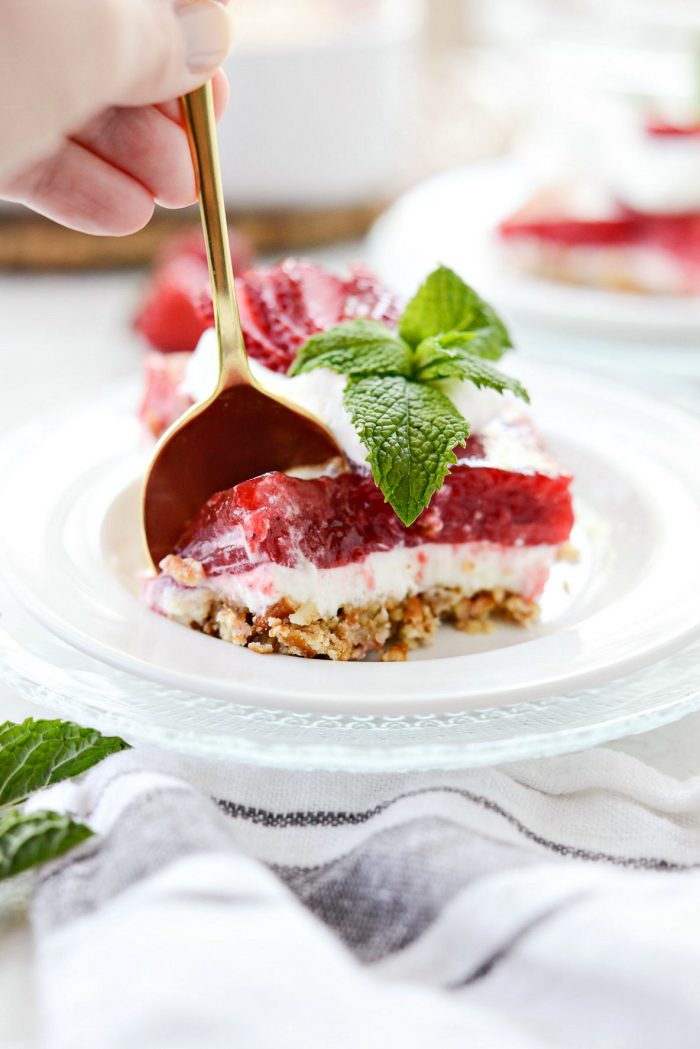 This is my dream dessert. Salty pretzel crust, light and creamy cheesecake-esque middle with a sweet strawberry topping.
Prepare yourself to fall in love.
For More Summer Cookout Favorites Click Here!
Enjoy! And if you give these Strawberry Pretzel Bars a try, let me know! Snap a photo and tag me on twitter or instagram!
This post may contain affiliate links.
Buy the Cookbook: Simply Scratch : 120 Wholesome Homemade Recipes Made Easy Now available on Amazon »
THANK YOU in advance for your support!