This St. Patrick's Day, serve up this easy Slow Cooker Corned Beef and Cabbage Dinner! In this recipe, corned beef brisket and vegetables cook low and slow in beer with onions and garlic for a simple and easy St. Patrick's Day meal.
Corned beef and cabbage has been gracing our dinner table on St. Patrick's day for years. It's one of those recipes that fills your house with its distinct aroma with promise of a comforting meal. Needless to say, when I found out it wasn't technically Irish, I was a little bummed out. However that doesn't stop me from making it every year.
This year, I want to make it easier on you and so I'm sharing how you can pull this meal off using your slow cooker. YES, this whole corned beef dinner can be make in your beloved slow cooker! Sure, this isn't a new idea, but it's definitely worth making just for the fact you'll avoid any boil over therefore also avoiding spending the better part of the evening scrubbing your stove top. Or maybe that's just me? every. single. year.
Luckily those days are gone. (thank you, slow cooker!)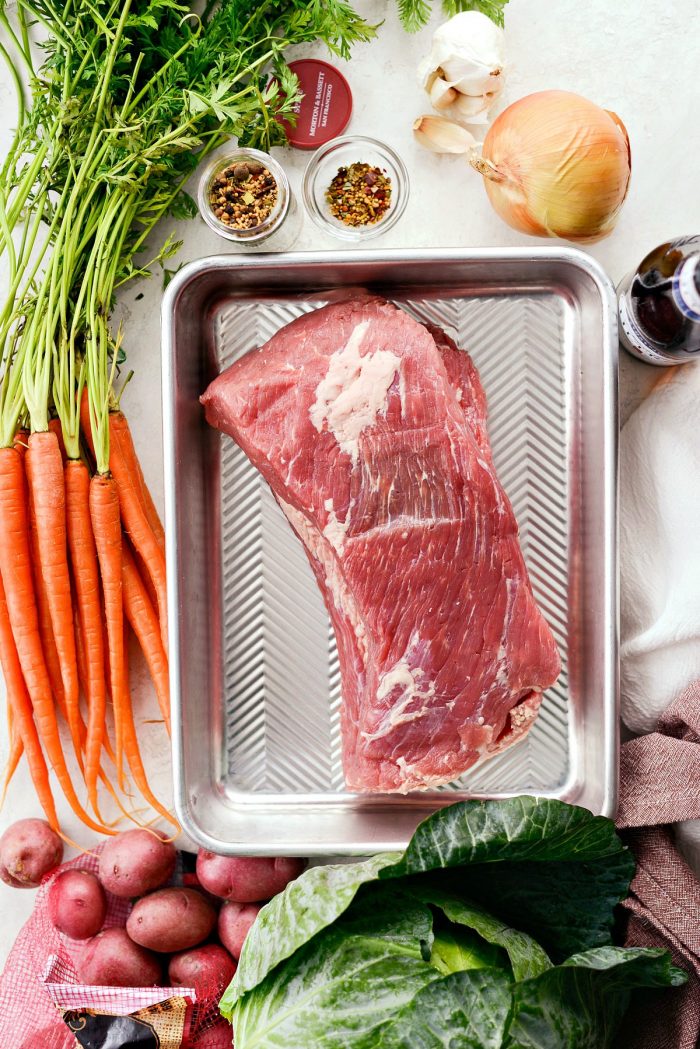 To Make This Slow Cooker Corned Beef and Cabbage Dinner You Will Need:
carrots, scrubbed clean – traditional, heirloom or baby carrots. Any carrots will do.
baby redskin potatoes
yellow onion
fresh garlic cloves
corned beef brisket, plus seasoning pack
pickling spice , optional (Morton & Bassett is my favorite!)
light beer
green cabbage, cut into wedges
In your 6 quart or larger slow cooker, add carrots, baby potatoes, onion and garlic.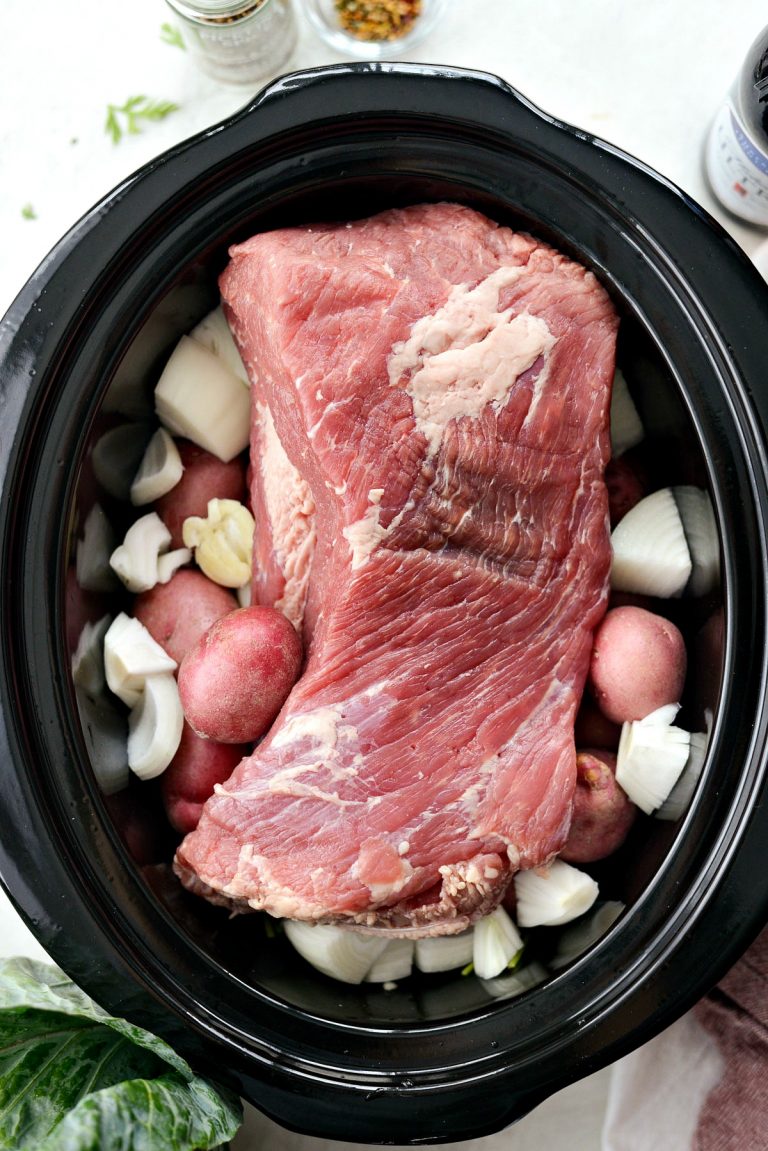 Place the brisket on top.
Which Corned Beef to buy: Flat cut or Point Cut?
You'll most likely find flat cut corned beef brisket in your local grocery stores, and is all I've ever used. Point cuts have a pointed end (hence the name) and tend to be more fatty and marbled. Flat cuts are usually rectangular in shape and usually have less fat, usually just a cap of fat which is enough to keep it moist while cooking.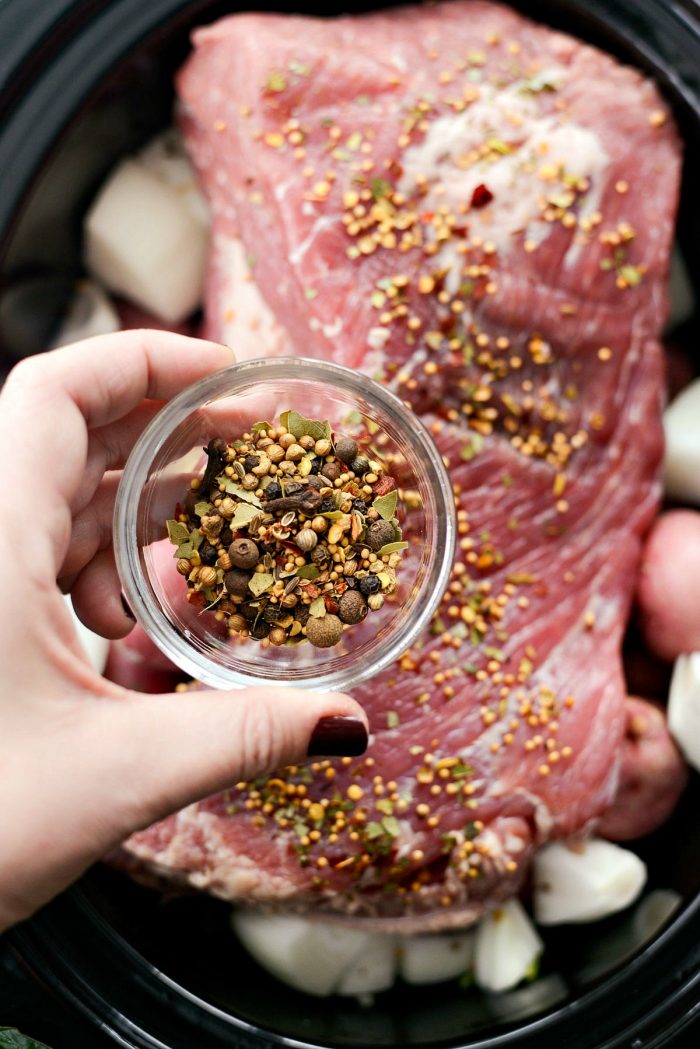 Next add the seasoning packet plus the extra 1 tablespoon pickling spice (if using). In my opinion the pickling spice provide doesn't do a whole lot, which is why I add more. But if you don't have any on hand, this step can be skipped.
I have yet to make my own pickling spice, but I do purchase one that has whole juniper berries and whole cloves, among other spices. But you can use whatever you like!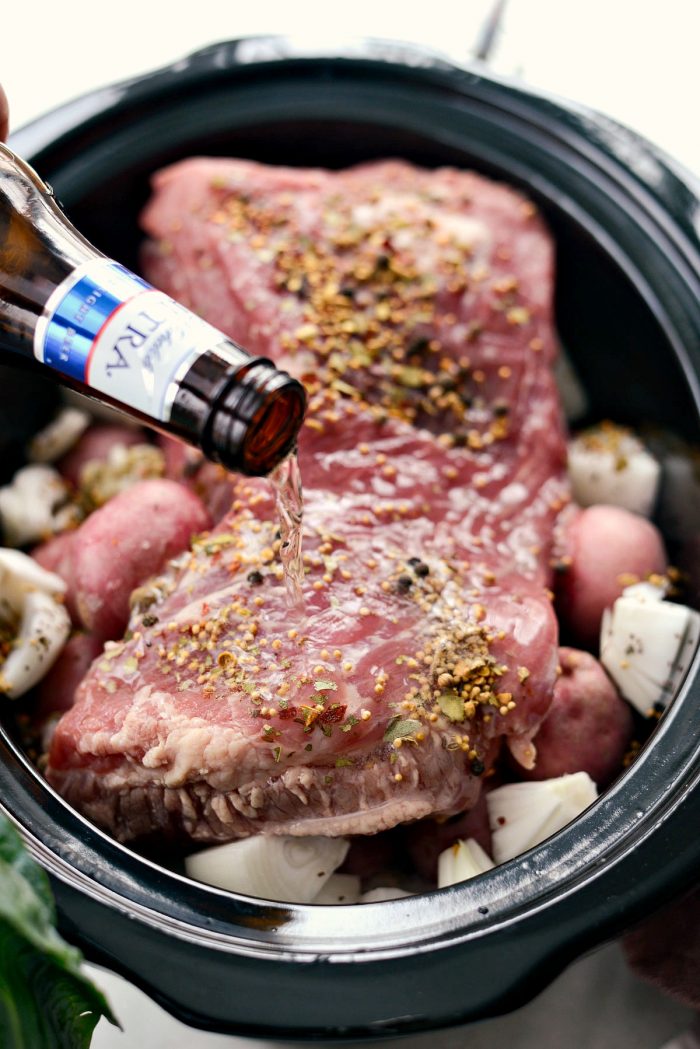 Lastly, pour in 1 (12 ounce) light beer. Alternatively, you can substitute water or low-sodium broth for the beer.
Stout or dark Irish lagers could negatively affect the flavor of this recipe, I recommend saving your Guinness for drinking with your meal.
Secure the lid and cook on low for 8 hours.
To be completely transparent, I have never tested this recipe using high heat with a shorter cooking time. Therefore, I cannot tell you with certainty how it will turn out. If you try it, please let me know how it works for you!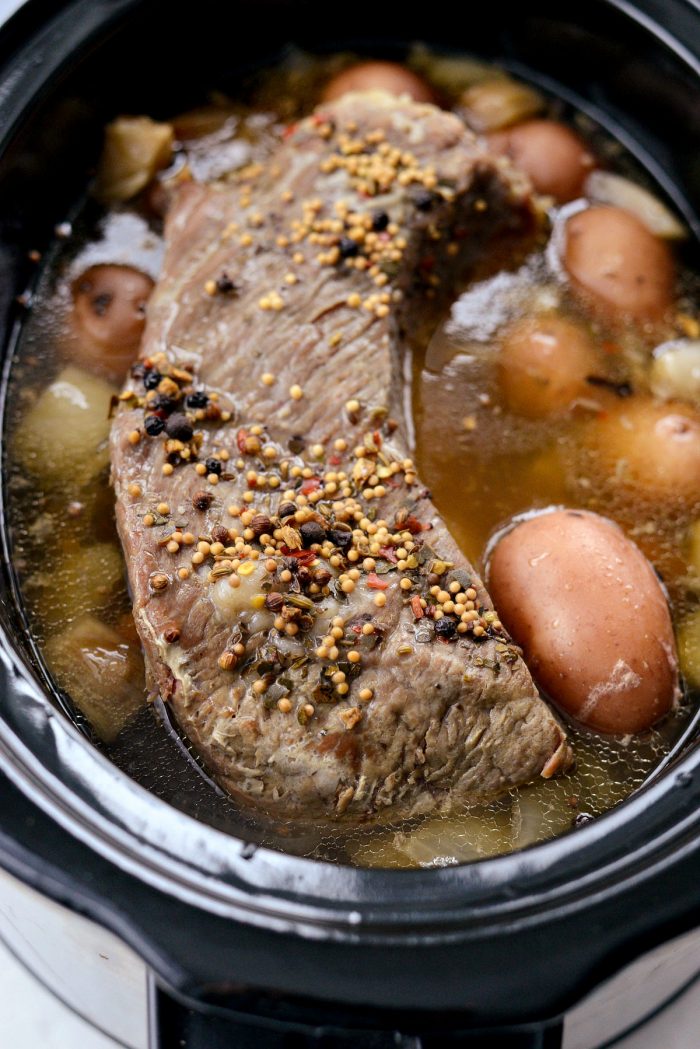 Once the corned beef has cooked for 8 hours, use tongs to remove the brisket and transfer it to a small, rimmed metal baking sheet. Cover tightly with foil and keep warm in your oven on the lowest setting.
Quarter and submerge the cabbage into the cooking liquids as much as possible (if necessary, remove some of the carrots and potatoes – keep warm in a dish covered tightly with foil) and cook the cabbage for 1 hour or until the cabbage is fork tender.
The smaller the cabbage the faster it will cook.
If boiled cabbage isn't your thing, have you tried roasting it? Roasted cabbage is incredibly quick, easy and delicious!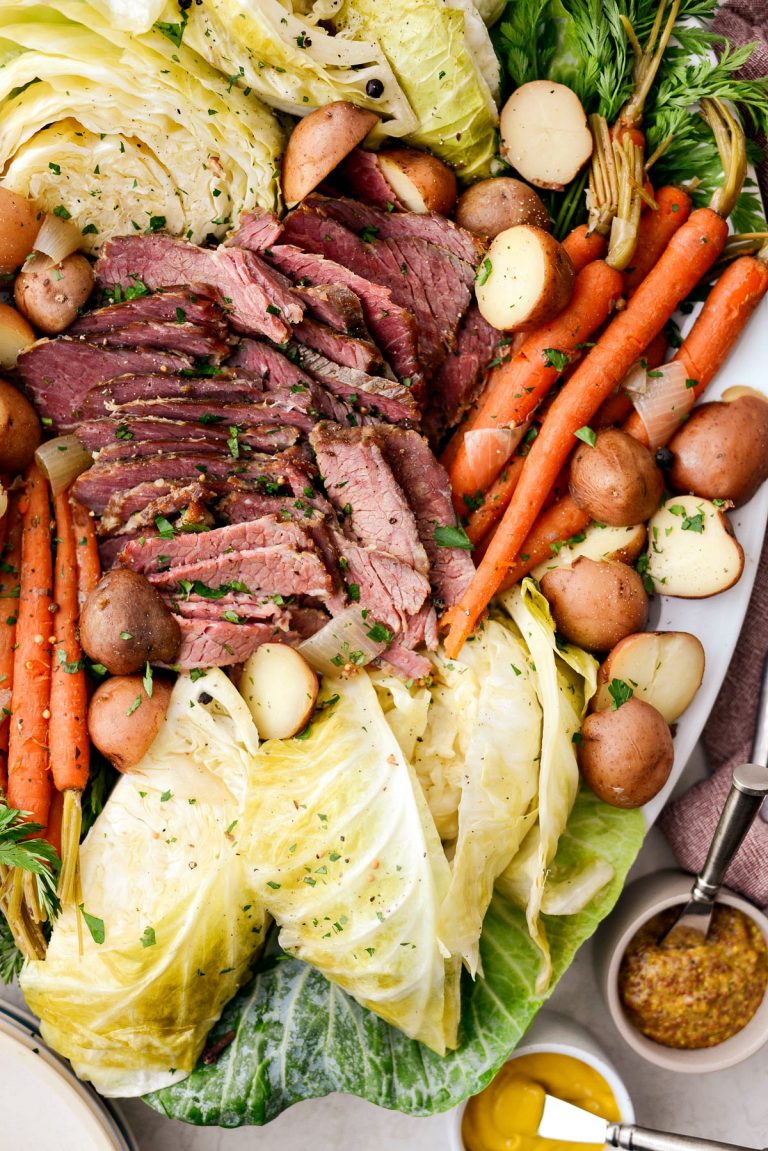 What is the Best Way to Cut Corned Beef?
In my observations, there is two types of people: those that love thin slices and those that like it shredded. I'm not a fan of shredded corned beef, so in order to get perfect slices, cut the tender corned beef against the grain with your knife slightly angled towards the meat. If you prefer it shredded, cut with the grain.
Serve the sliced corned beef with the tender cooked vegetables topped with butter, salt and pepper. If you are avoiding butter for whatever reason, you could also us a pastry brush and dab the cooking liquids on the meat and vegetables. So much flavor in those liquids!
A dollop of mustard to dip my corned beef in is a must. Any mustard, doesn't matter. Being a food blogger I always have different mustards in my fridge. Growing up yellow mustard was my standard go to, but these days I love stone ground because of its spicy bite and also the pop of the seeds is oddly satisfying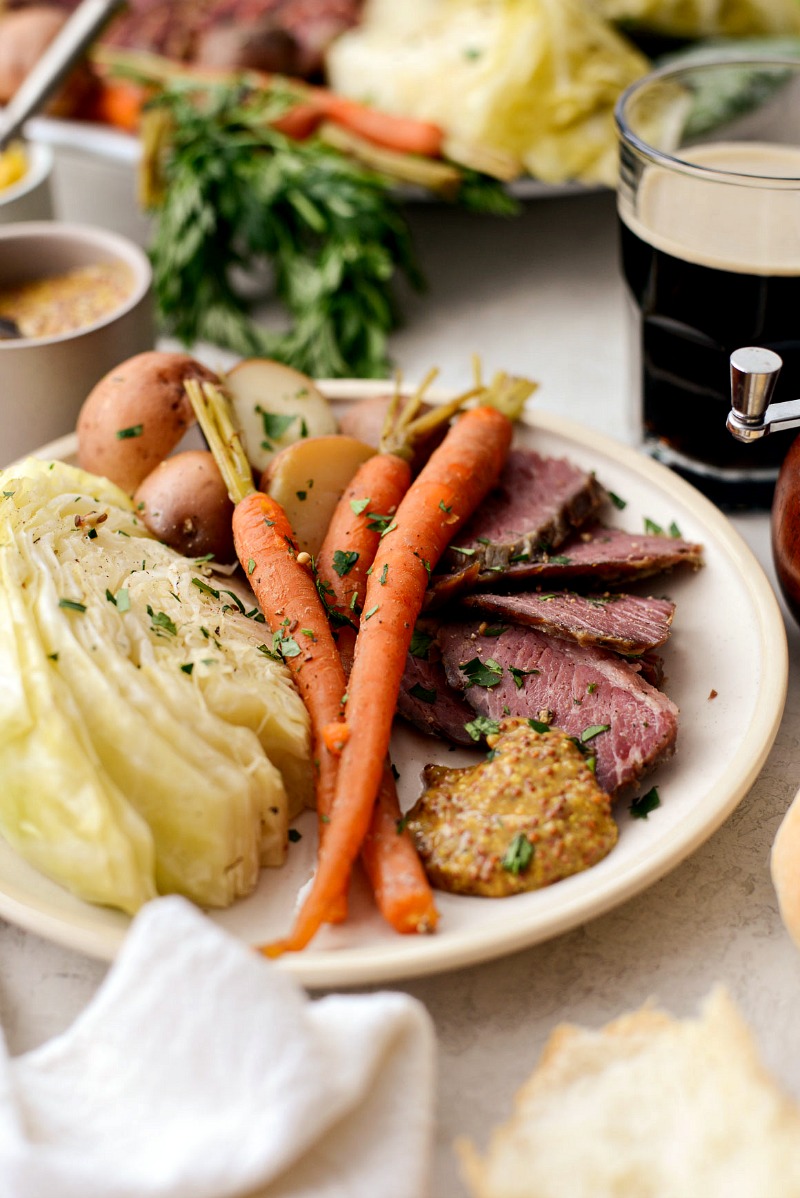 Enjoy! And if you give this Slow Cooker Corned Beef and Cabbage recipe a try, let me know! Snap a photo and tag me on twitter or instagram!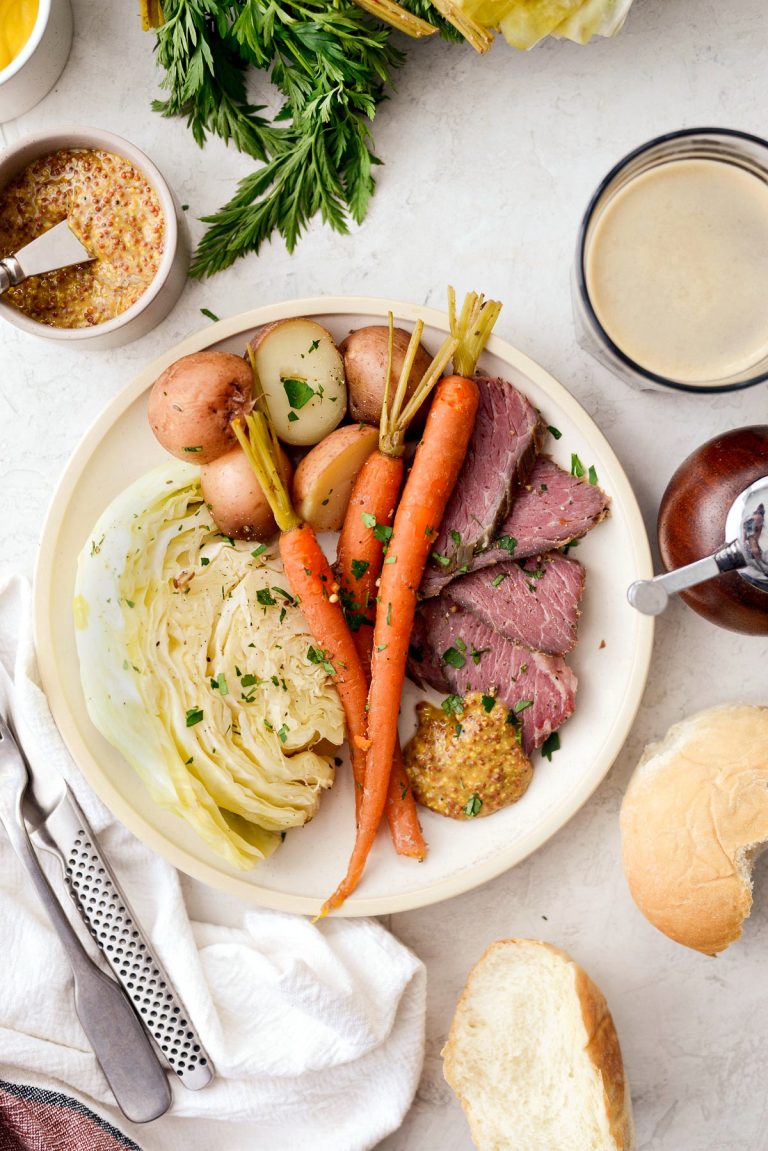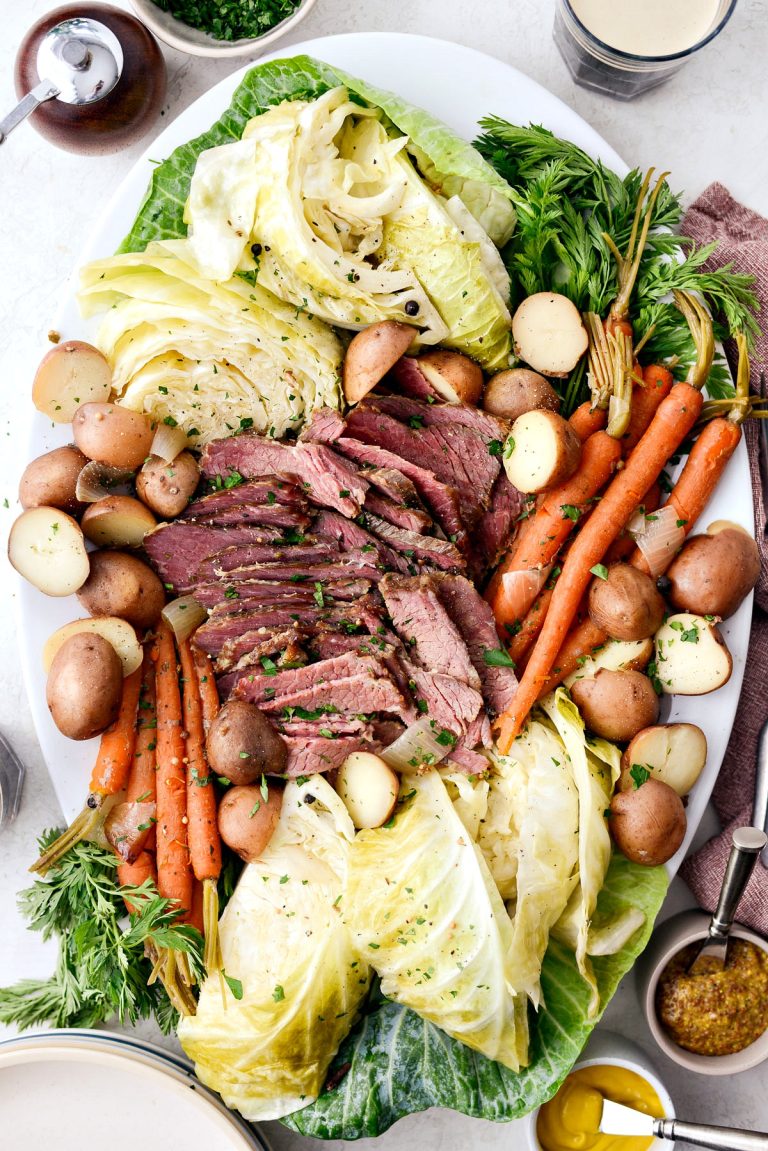 This post may contain affiliate links.
Buy the Cookbook: Simply Scratch : 120 Wholesome Homemade Recipes Made Easy Now available on Amazon »
THANK YOU in advance for your support!